Today, I'm sharing how to make a DIY engineer print large welcome sign. I fell in love with this beautiful sentiment as soon as I found it. I knew it would be perfect in the Vermont guest house where I am finally at the stage of decorating! I also already knew how easy and quick I could make large wall decor out of an engineer print, not to mention how budget friendly the project would be.
The choice was a no-brainer.
We were down to the last week or so of work before I had to head back home to FL and this big blank wall was just that, big and blank. The crazy thing was that after all the work we did in this room, painting, lighting, building a new kitchen table – more on that later 🙂 the room still didn't feel complete because of the big blank space.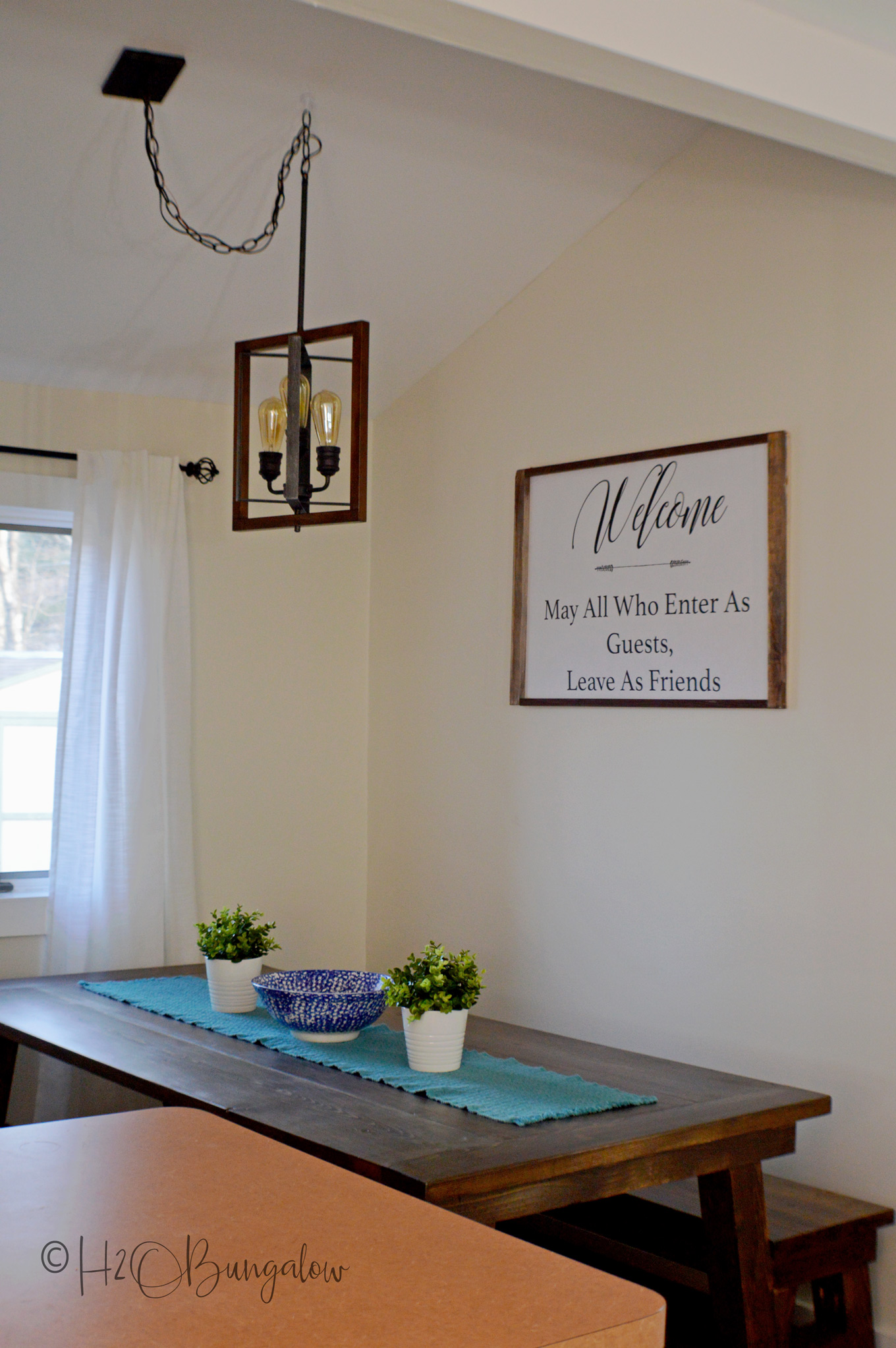 Even though the difference from where we started was dramatic!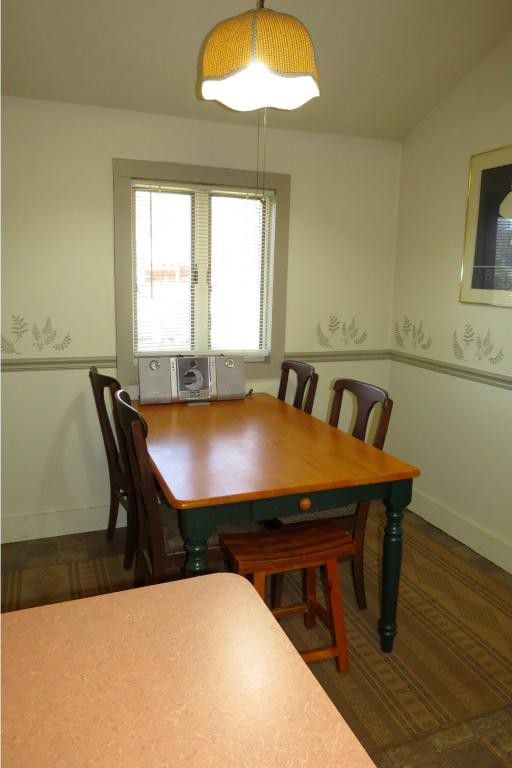 Anyhoo…as I was saying. Using an engineer print to make large wall decor is smart, stylish and easy. So that's what I did.
See my simple instructions below to make a big welcome sign like mine below.
DIY Engineer Print Large Welcome Sign
I use affiliate links to help you find the supplies I used. You can read my full disclosure policy here.
This is such an easy project my friends!
Supplies needed to make a DIY engineer print large welcome sign.
graphic – use mine or make your own on PicMonkey
1/4 " plywood
Gorilla Clear Glue – non-foaming, I love this stuff!
1″x 2″ wood for frame
D ring picture hangers – I buy the quantity bags because the price is so good.
3/4″ brad nails and Ryobi Airstrike brad nailer or small screws
Step one – Choose a graphic, use PicMonkey or another program to make the words you want to make. You can also have mine for free if you are a subscriber to my blog. Sign up below and I'll send you a link to download a copy. By downloading my file, you agree to only use this graphic for personal use.
Don't worry about getting two emails if you're already a subscriber!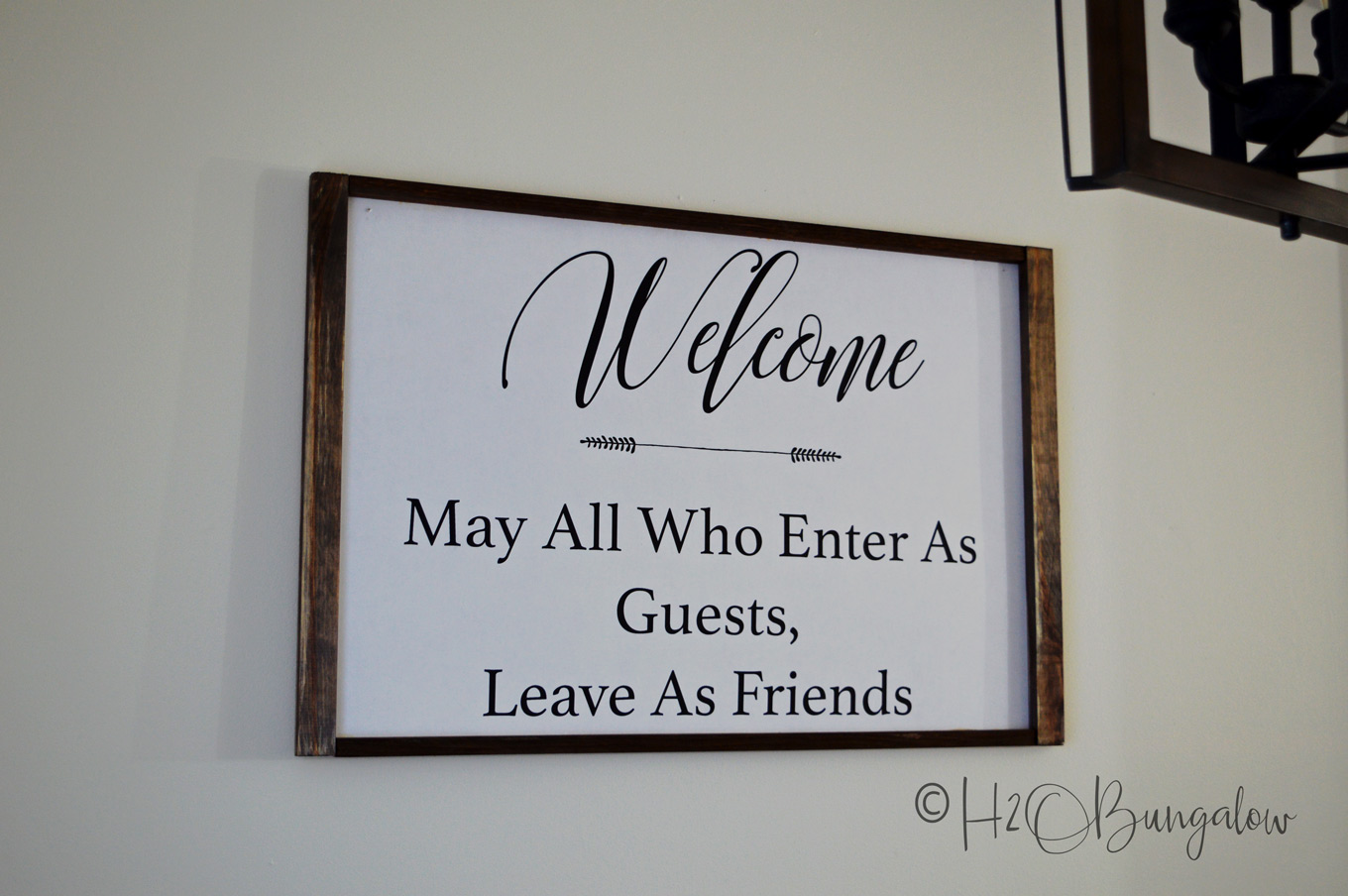 Step two – order your engineer print. Upload your file to Staples or Office Depot's print services online and order the size engineer print you want. Mine is the 24″ x 36″ size, but you can choose another engineer print size if it fits your wall space better.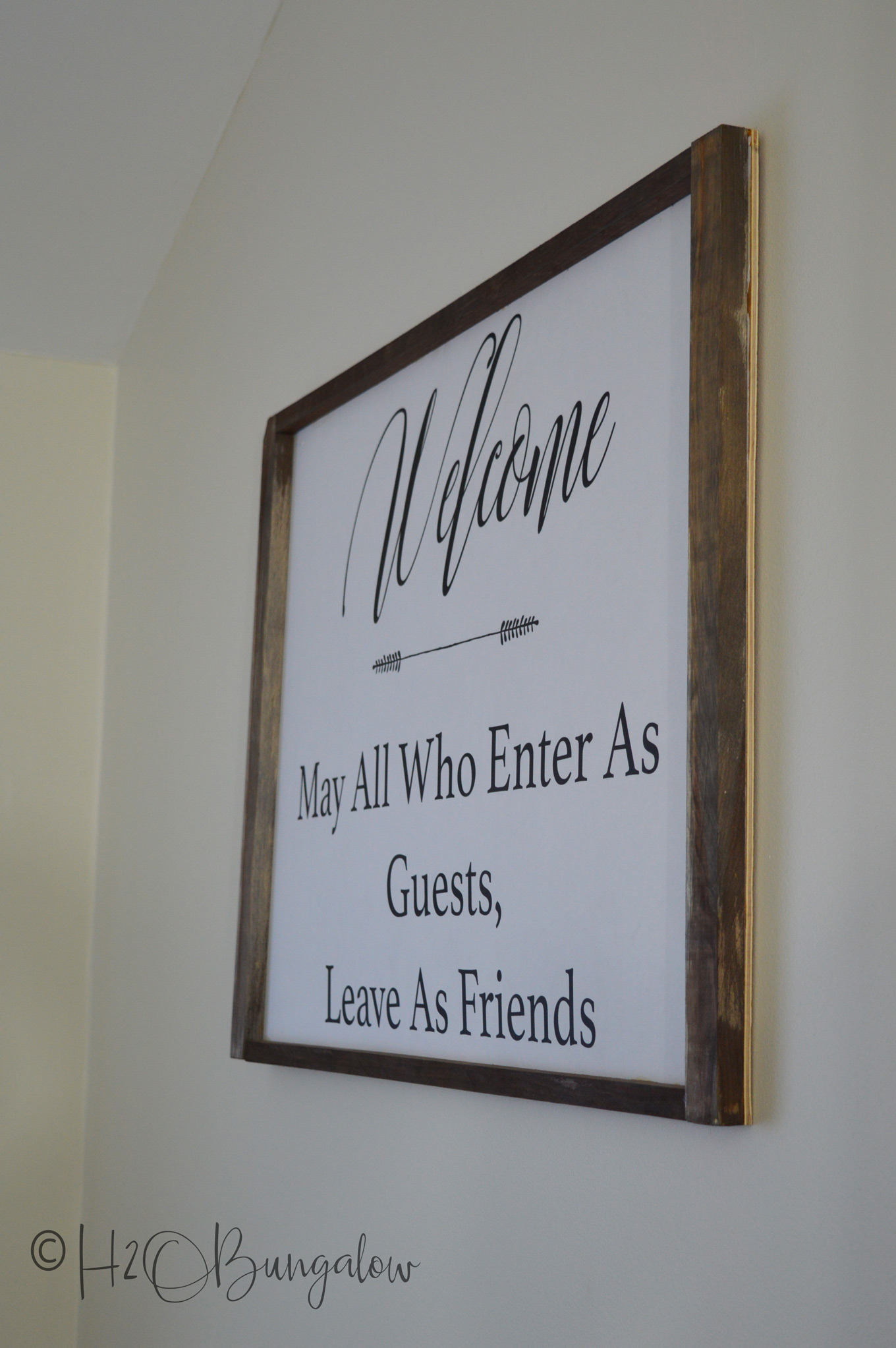 Step three – Cut a 1/4 plywood piece to fit your print.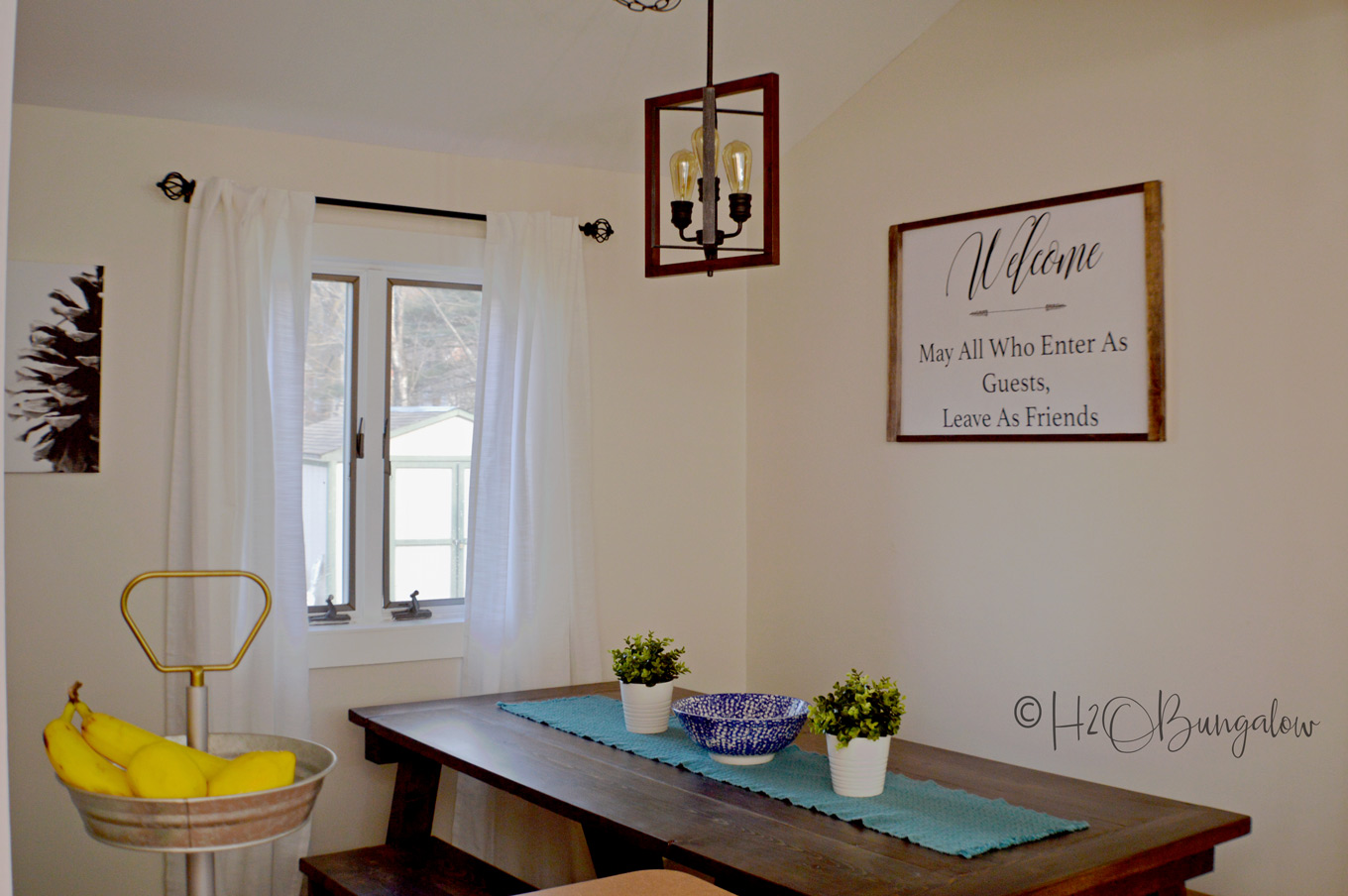 Step four – Attach your engineer print onto the 1/4 inch plywood backing with decoupage. After trying several ways of attaching the engineer prints, I've decided I like using ModPodge the best. The trick is to pour it onto the 1/4″ plywood, and use a foam roller to evenly distribute the adhesive all over the board. Wipe off excess with a paper towel. Note, if it's too wet or too dry the paper will bubble. Follow my instructions in How To Mount Large Engineer Prints on Wood to attach it.
Step five – Frame your engineer print. Make a frame or use a premade one to frame your large welcome sign. If you'll make one. cut your 1″ x 2″ wood to frame the engineer print. Stain the wood before assembling the frame. You could easily purchase a large poster frame too. I liked this barnwood frame and it comes in several sizes.
Step Six- Add hanging hardware. I used d-rings on the back of the sign for hanging. If you do too, be careful and place them on the frame edges where the wood is thick. You don't want to have screws or nails poking out from the back into your pretty sign!
That's it. Hang and enjoy your supersized engineer print wall decor 🙂
Pin my DIY engineer print large welcome sign for later!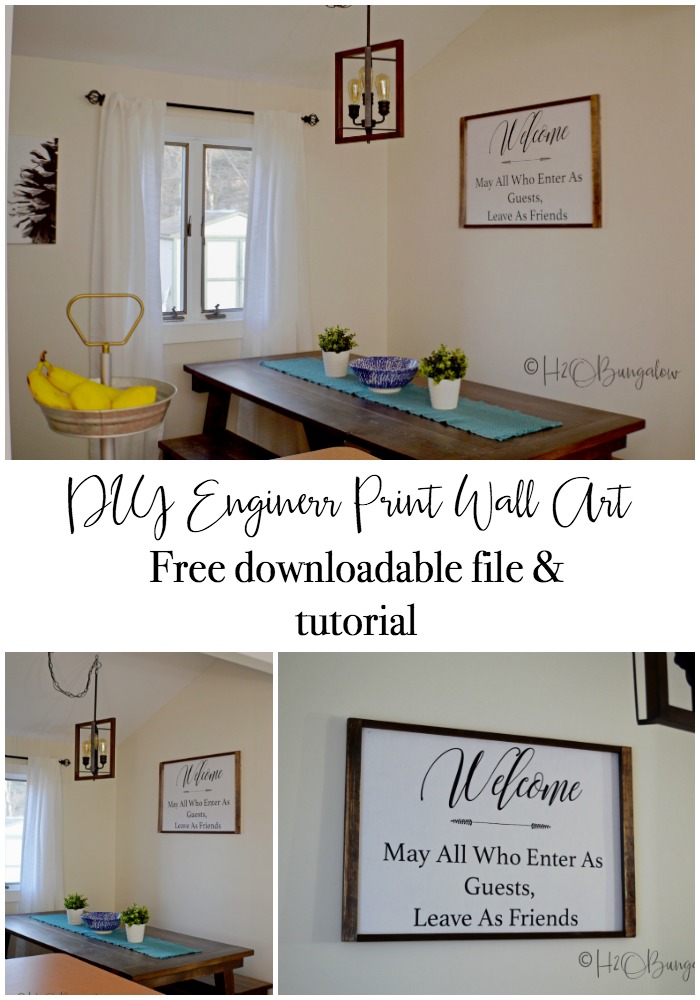 Filling the big open space along the back wall of the kitchen with my large DIY engineer print welcome sign finished the space and solved my blank wall challenge. The big scale of the print complements the chunky kitchen table and modern light fixture beautifully. Come over and check out The North House #54 Home Tour for more inspiration.
Do you like it?
Do you have a favorite saying or sentiment you love to see in a big framed wall art? Share in the comments below what it is!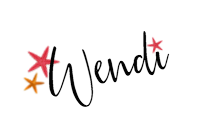 More welcoming sign and frame projects you may enjoy!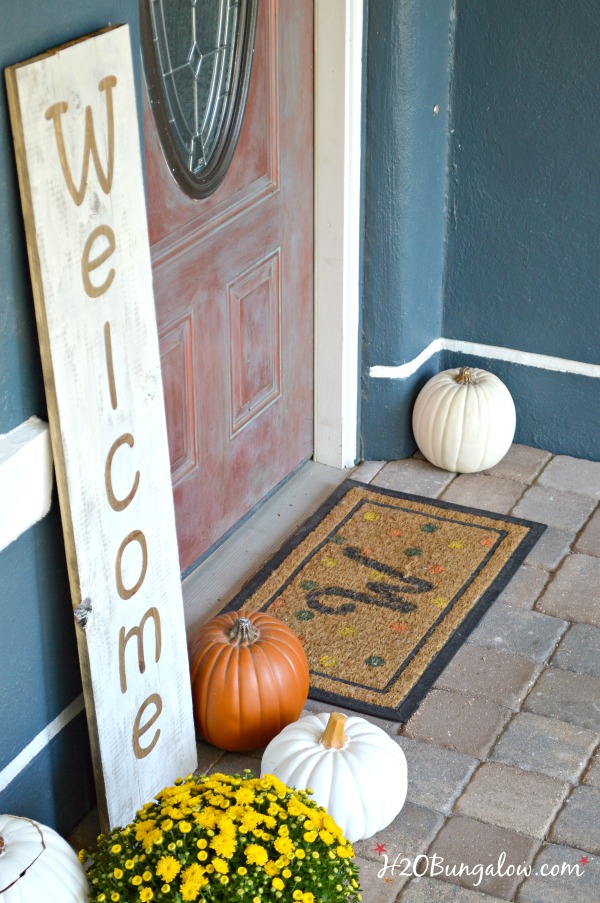 Indoor Outdoor Large DIY Wood Welcome Sign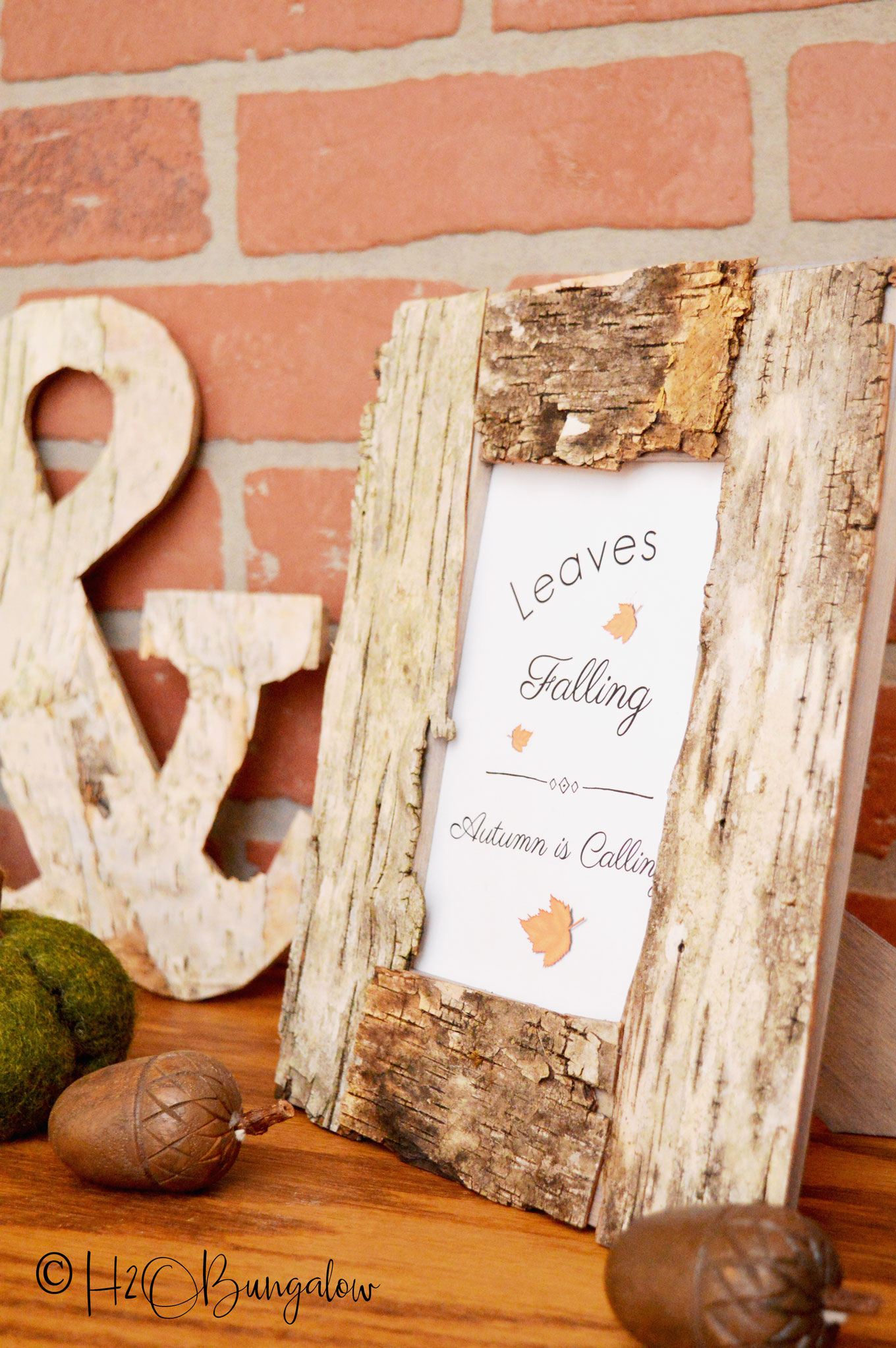 Easy DIY Birch Bark Picture Frame