While I have a long list of fabulous new home décor and DIY projects to share from the last four months of work in the North House, sharing a mini Christmas home tour seemed more fitting for the first week in December. I had fun getting my holiday decor done when I was home for Thanksgiving a few weeks ago.
I picked through past DIY projects and rummaged through lots of holiday boxes before I made up my mind about what style I wanted to decorate our home for this year's holiday season.
Decisions, decisions…
Coastal? Traditional? This year felt like a simple year. I think I choose neither, but I do like the way it came together. I used several years of DIY projects and linked to the tutorials so you can easily find them 🙂
I use affiliate links to help you find the supplies I used. You can read my full disclosure policy here.
Welcome friends! Com'on in and visit!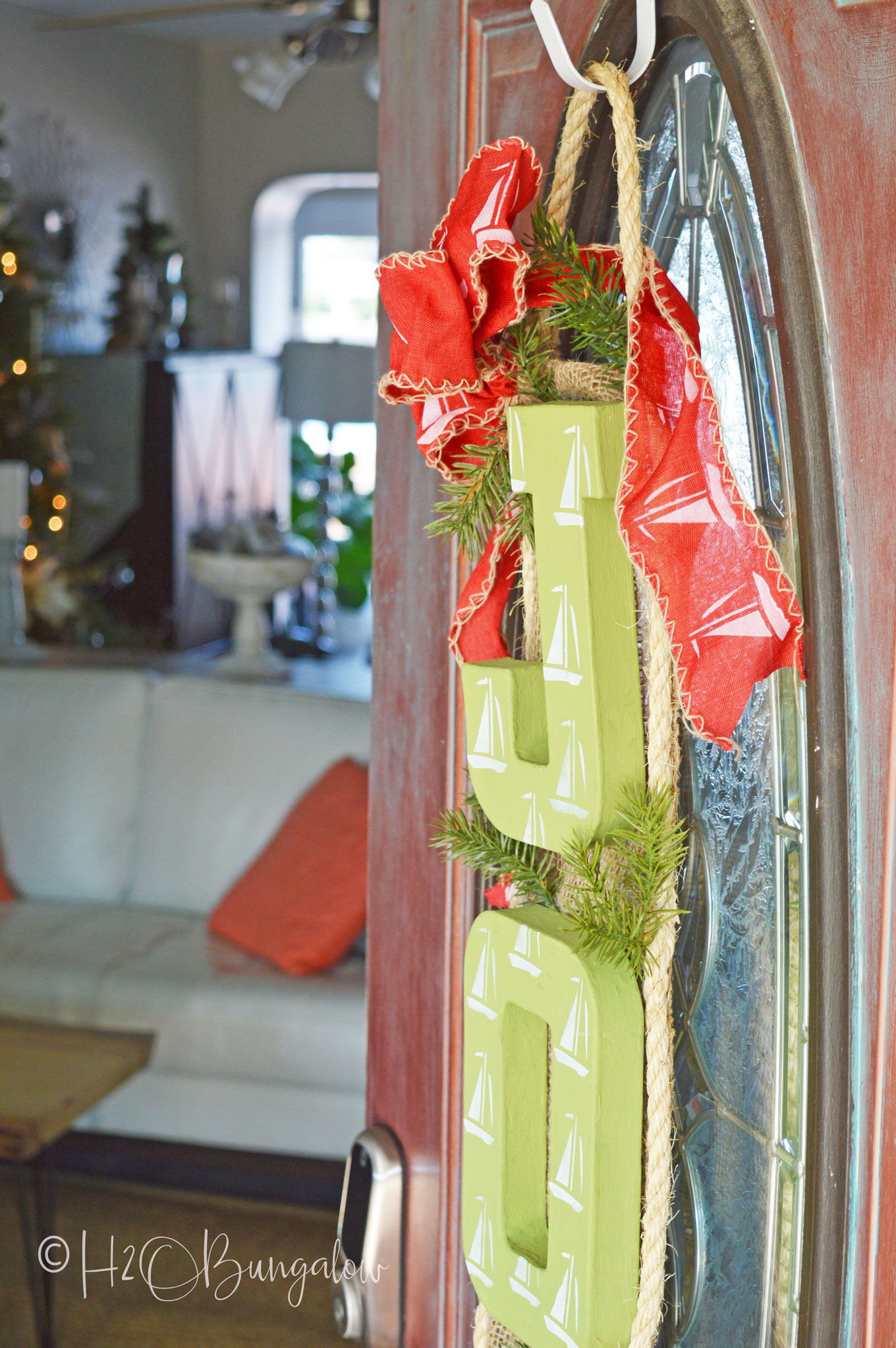 Nautical Sailboat Christmas Wreath
I'd offer you a cup of tea or a warm mulled cider if you were here. But… since you are there and I am packing up in VT to go home (yay!). We'll have to settle for a visual tour.
I like that our living area is wide open and the tree can be seen from the front door or out back on the boat dock. I was inspired to use understated and natural items this year from our trip to Dallas over the Thanksgiving holiday. Texas had the most beautiful Christmas trees, especially in the shops in the Old Town section of Rockwall where we used to live.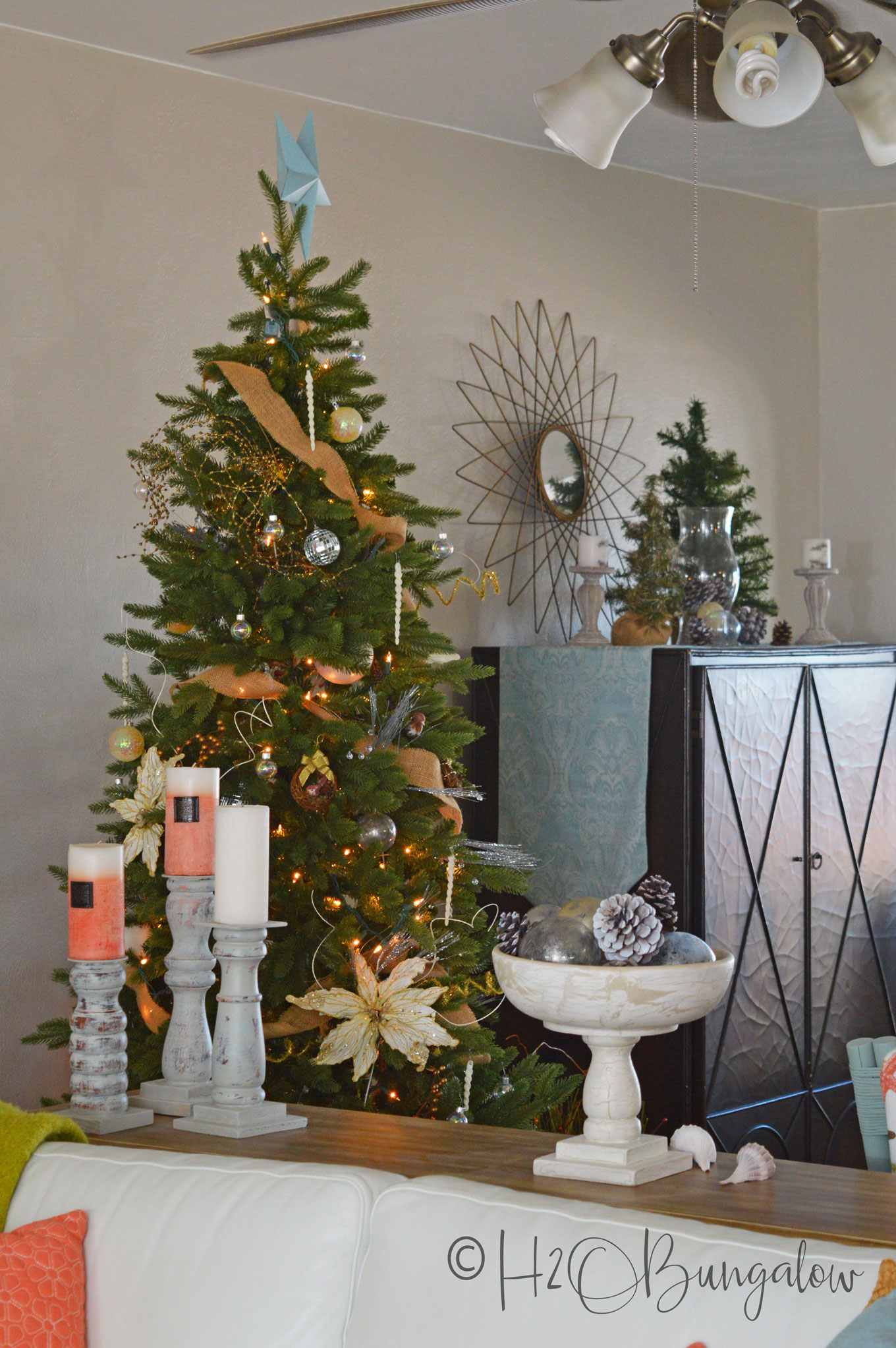 Bed Spindle Pedestal Bowl with painted pine cones and clear glass ornaments sprayed with Looking Glass to make mercury glass ornaments.
I used a lot of what I had, like left over burlap strips and white fabric poinsettias in the tree from a daughters Christmas wedding a few years back.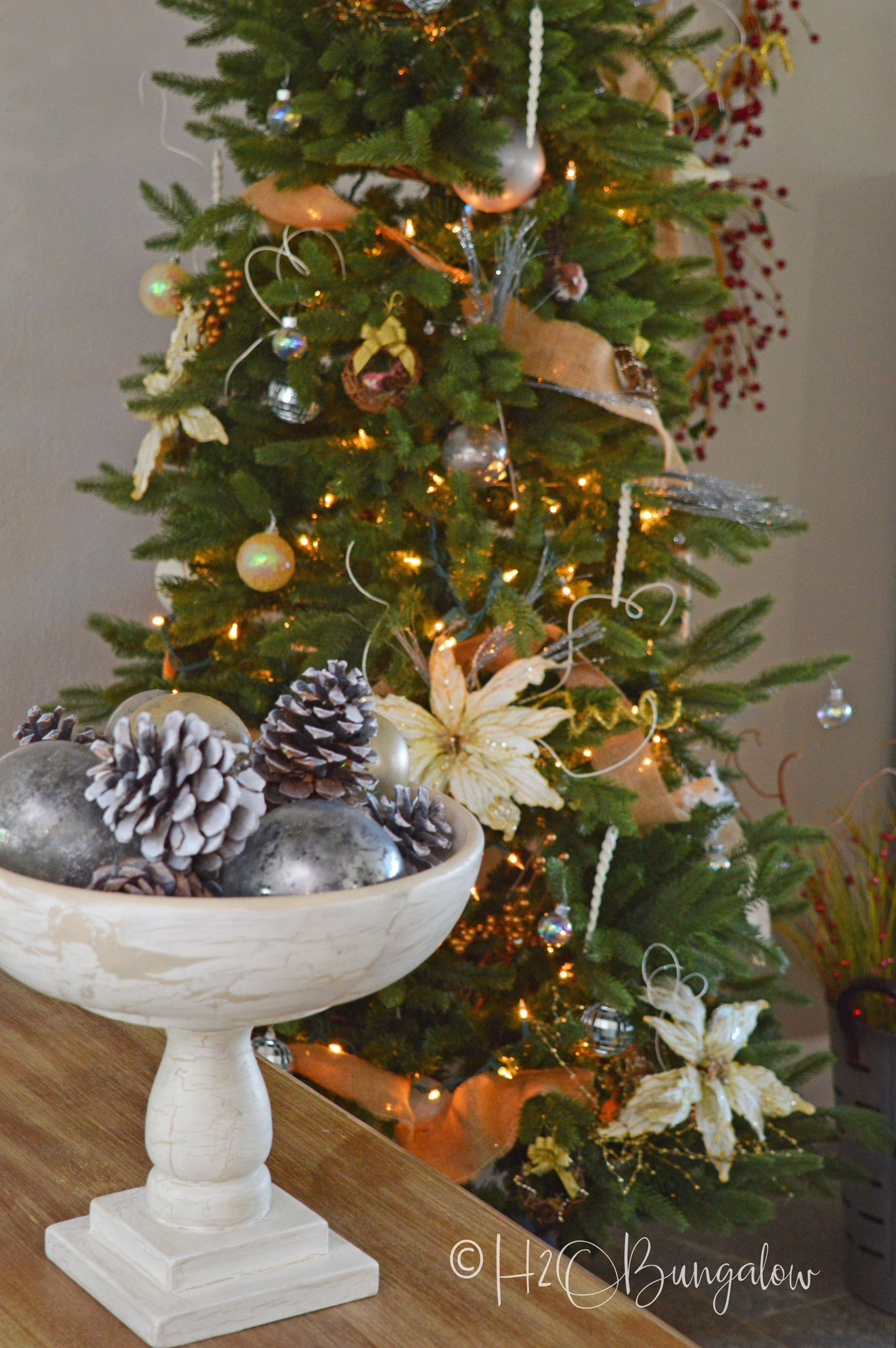 Then set up a vignette by the entryway table along with a leaning metal ladder to display Christmas cards from friends and family. I found a similar metal leaning ladder here if you like this idea.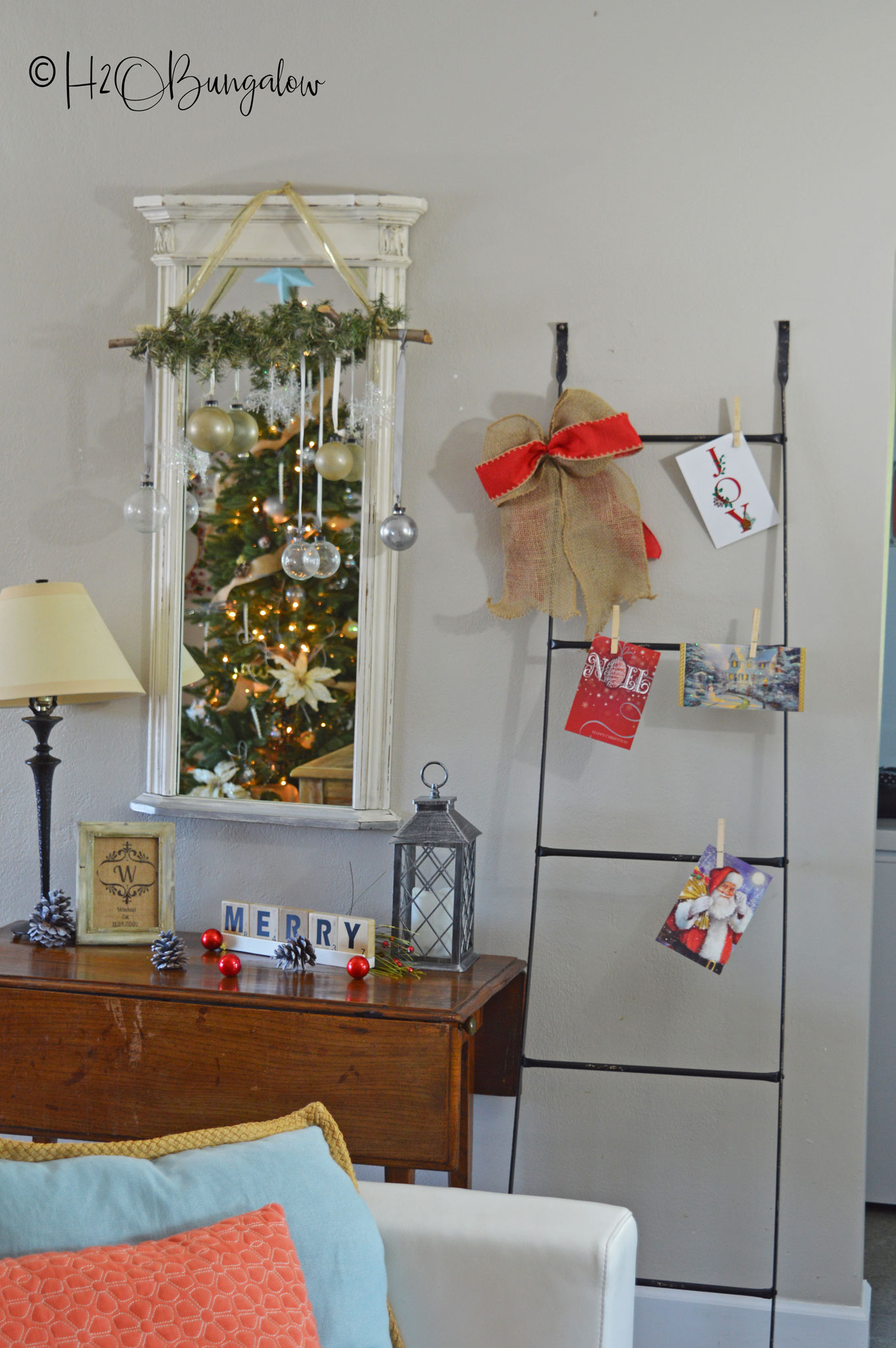 Ballard Inspired Knock-Off Tinsel Stick with Silver and God Mercury Glass
I love the look of these ornaments hung on a ribbon, it gives it a vintage vibe.
Don't you think so?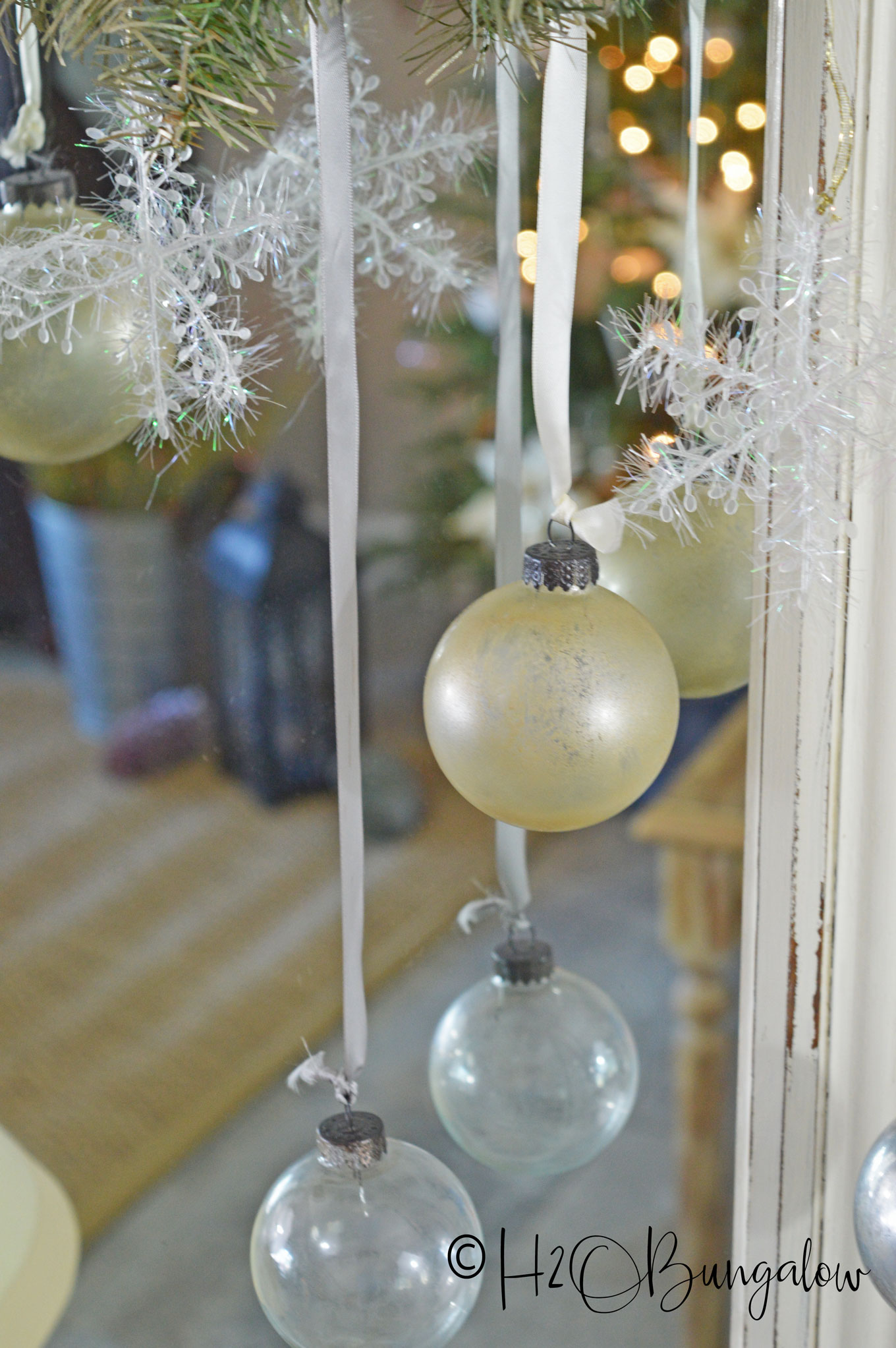 Family and guests love when I put out my DIY Holiday Scrabble Tiles. One of these days I'll make some giant ones.
Even though I didn't decorate for the holidays with a lot of traditional colors, I feel like I added just enough color to be festive.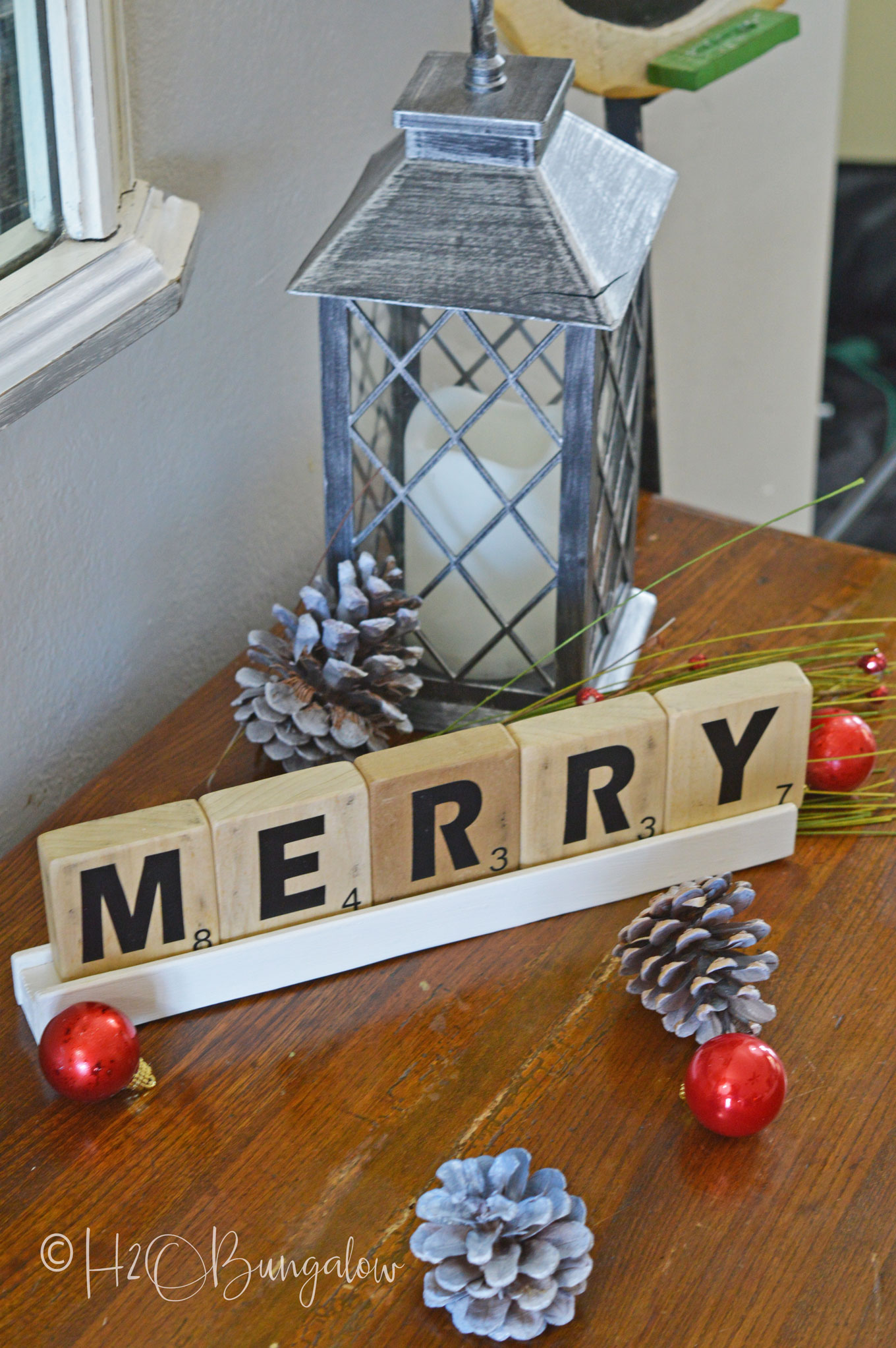 To me, it's a challenge having reds, tinsels and greens next to soft blues and coastal colors.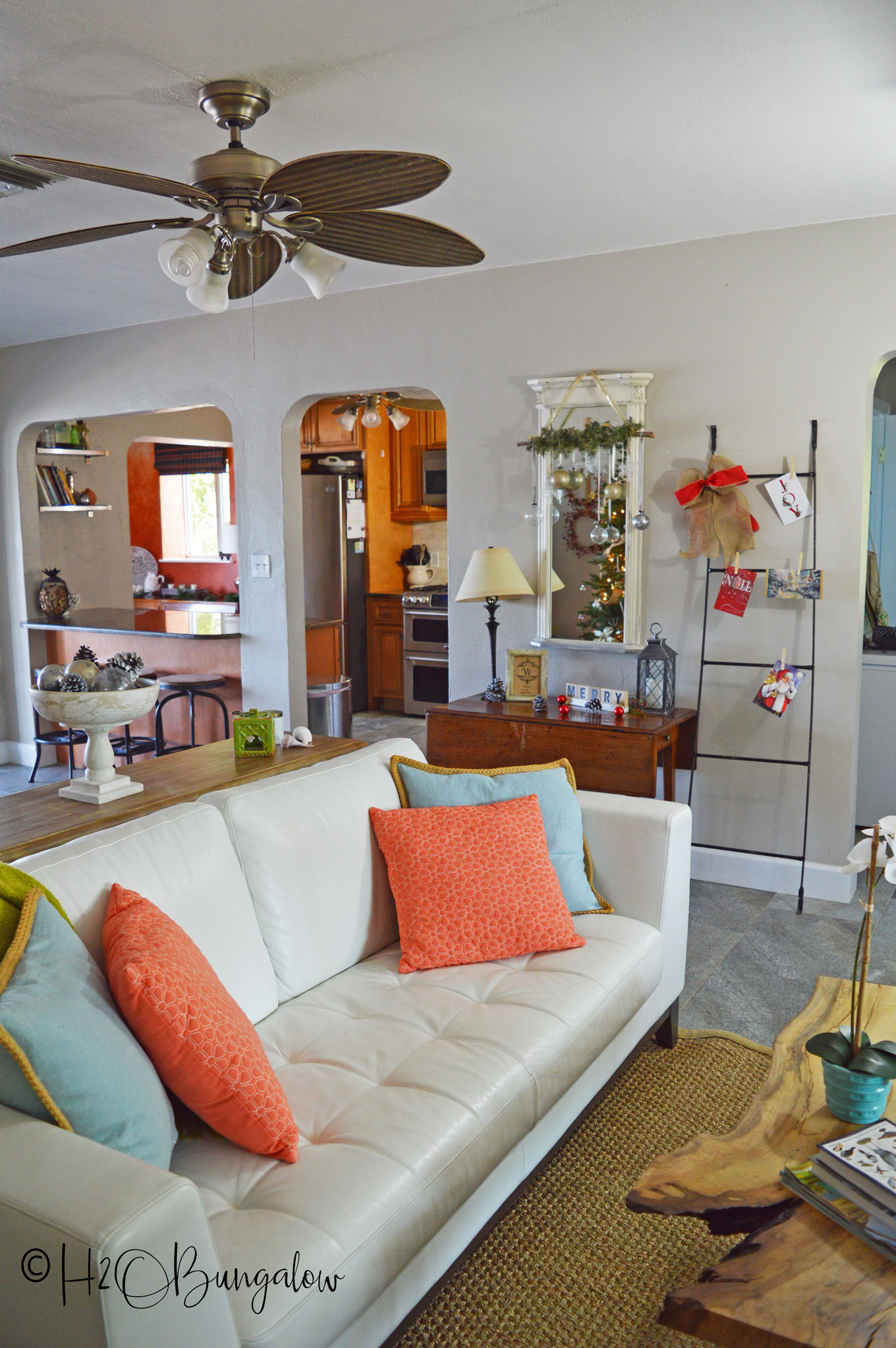 I like to take what we already use year round, like my Limed Wood Holiday Candle Holder, and add a little holiday cheer to it.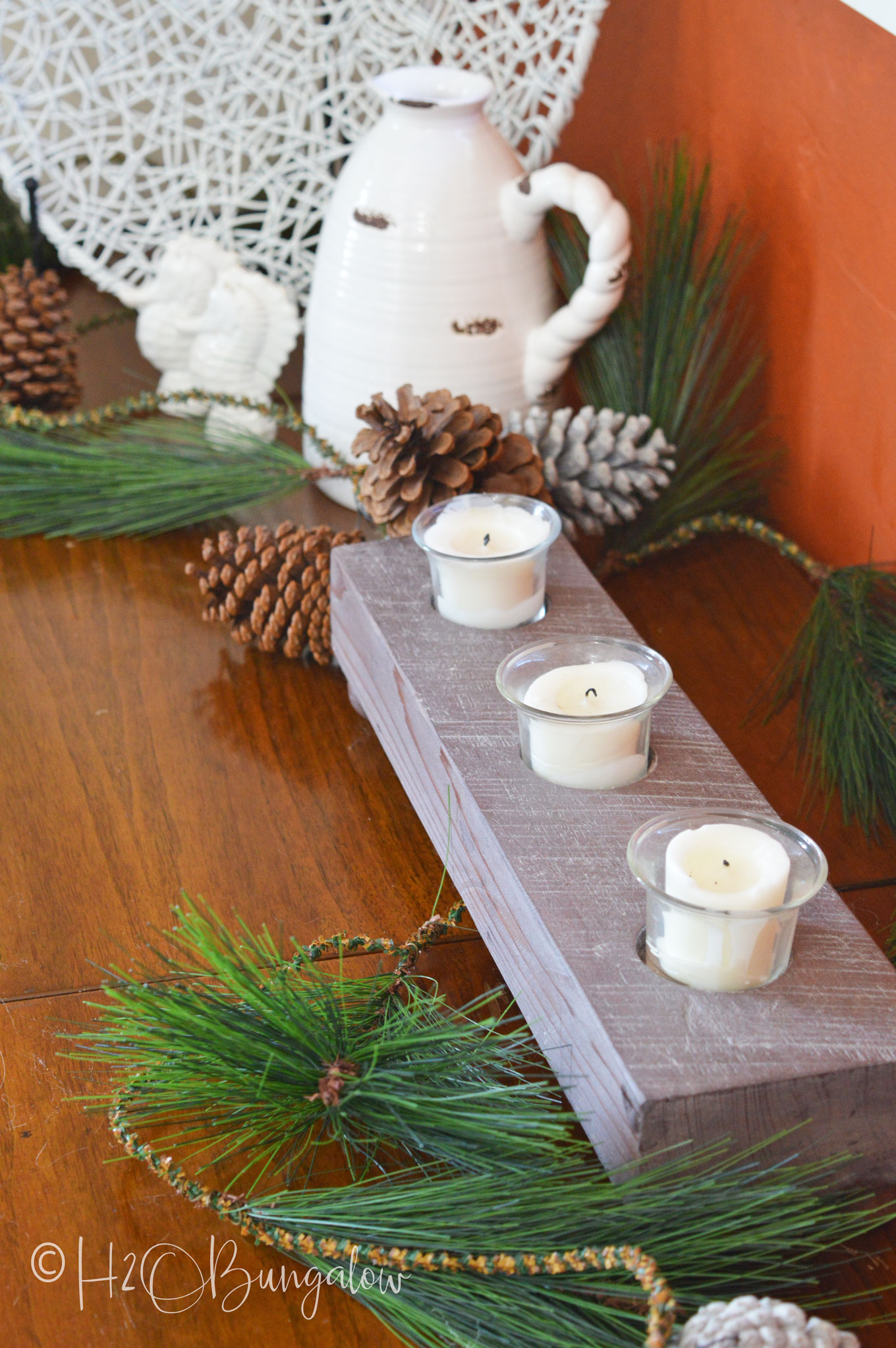 Like this faux greenery on our favorite dining area consoles.
We don't have a proper fireplace mantel to decorate …yet. I'm working on talking Rob darling into letting me build one 🙂 Hopefully this spring! In the meantime, I used my armoire to set up this holiday vignette with my favorite Joy Candles.
Maybe this year I'll actually get around to making another batch of these. You'd be surprised at how easy it is to Add Images to Candles and they make the sweetest gifts. You can download my graphics from the post too.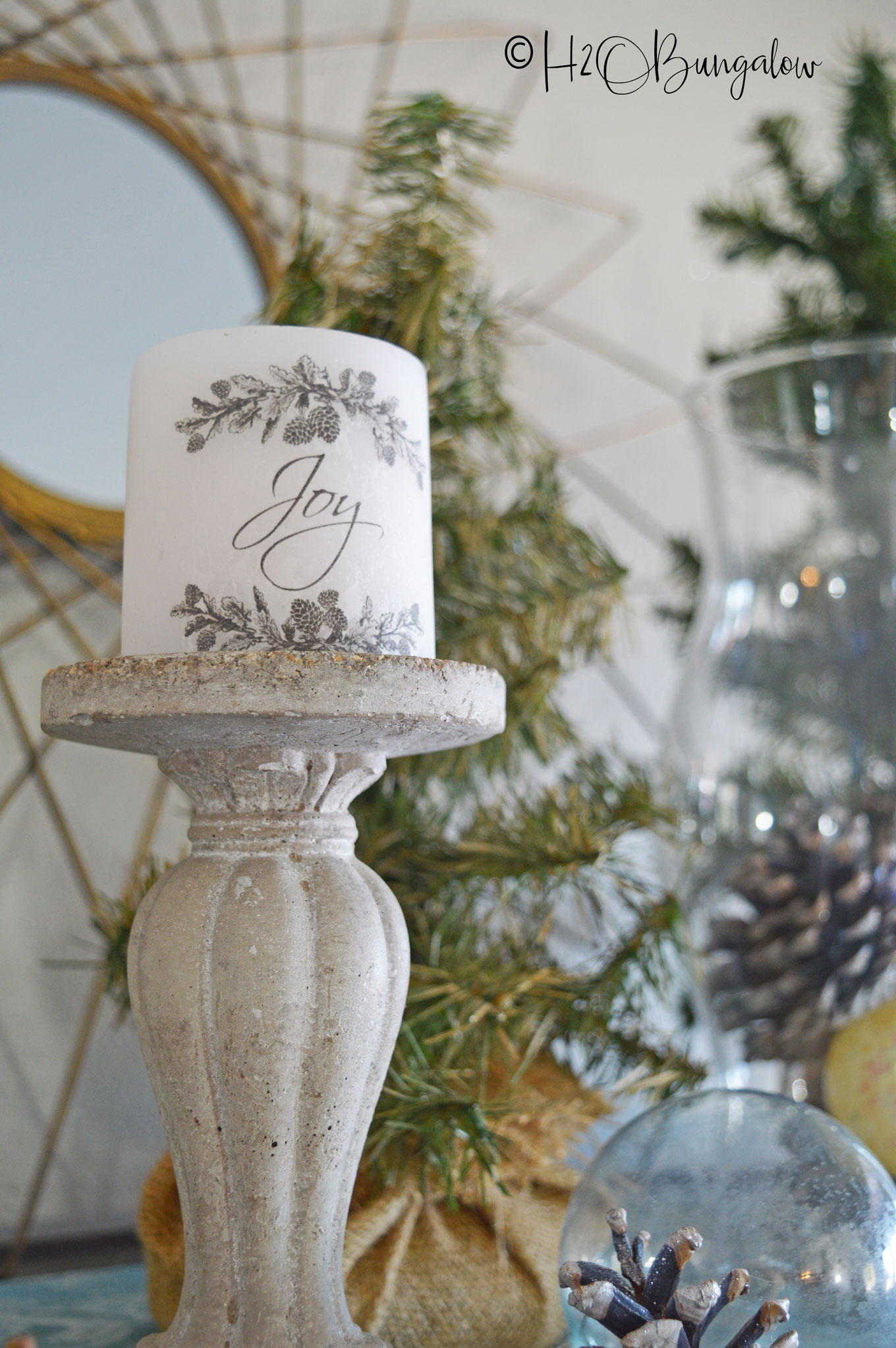 I love this time of year when the tree is lit and Christmas carols are playing in the background as I work or fiddle in the kitchen.
This is the part where I should be playing the Christmas carol "I'll Be Home For Christmas"…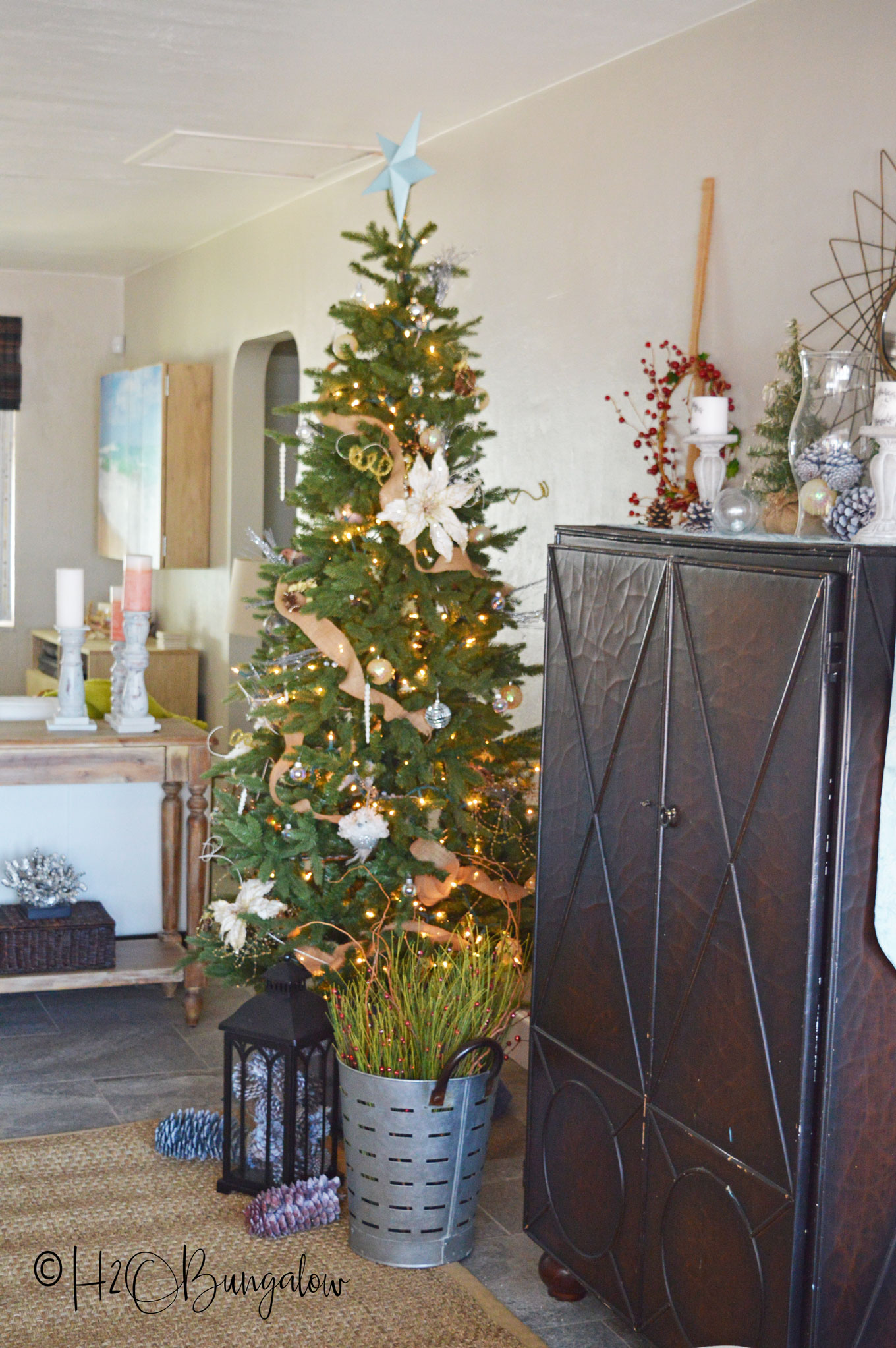 Because, I will!
Hopefully, I'll be home the first of next week and will get to enjoy the rest of the season with my sweet patient husband who has let me follow my dream of renovating an old building for the past several months.
I hope you've enjoyed my little Florida holiday home tour. I've shown you all so much of the North House over the past few months you may have forgotten what the Bungalow looks like!
I'll see you all back in Fl soon!