Today's project is DIY outdoor string lights on poles, moveable poles to be specific. With summer just around the corner it was time to start thinking about our outdoor space and new ways to make it cozy. I was feeling a bit of pressure to get this project done. I'd already invited several couples over for dinner and the only place I could comfortably fit that many people was our back yard.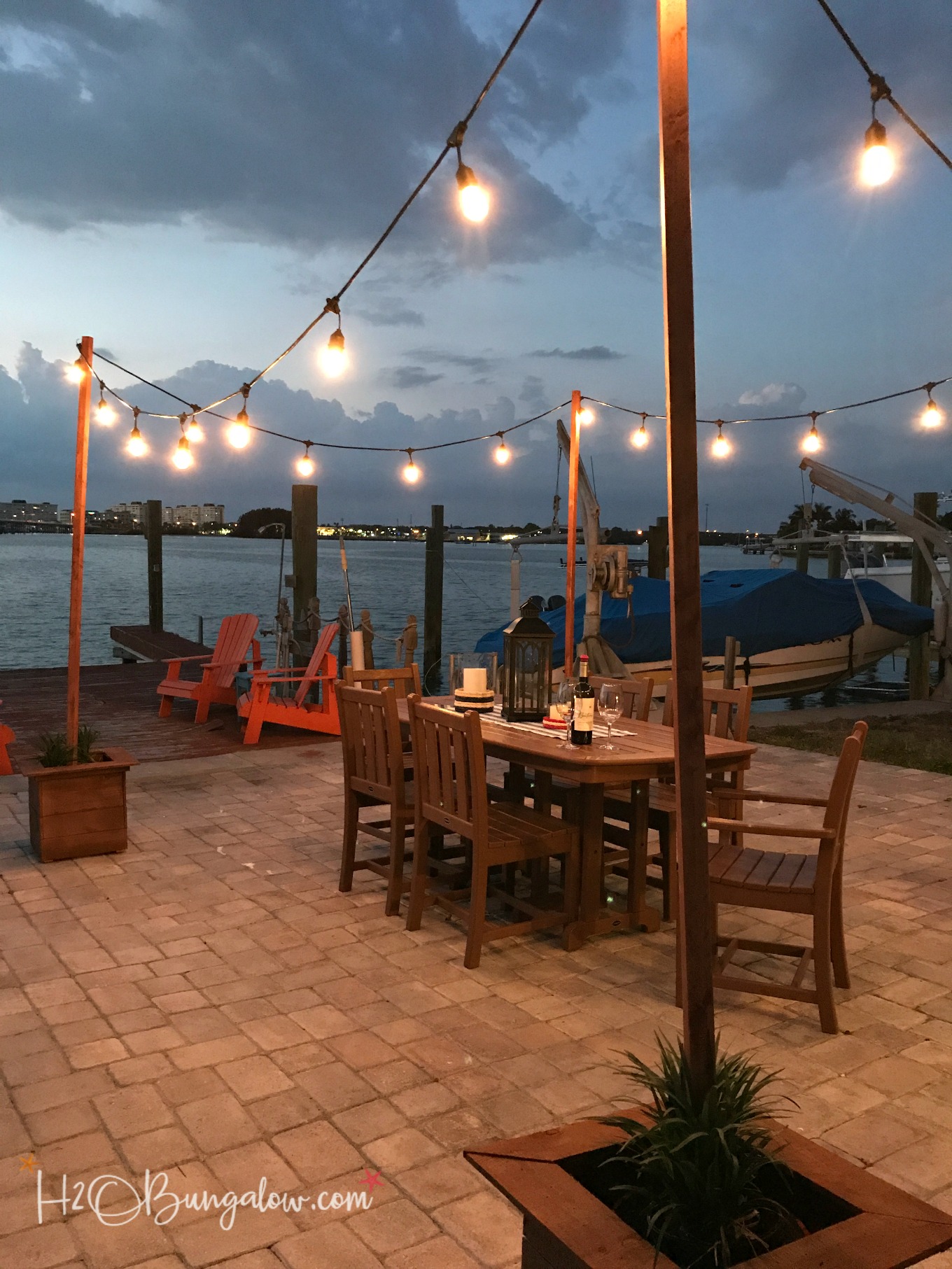 Like any good hostess I wanted to make the evening special and create a beautiful outdoor setting. Good lighting is one of the easiest ways to create ambiance and outdoor string lights seemed like the perfect DIY project. Silly me, thinking I'd have them built and up in a few hours.
What was I thinking by waiting until the day before to build them? Ugh..
Truth be told this DIY outdoor string lights on poles project isn't hard to make. In hindsight, I'd plan for more than 2 or 3 hours, especially if you have plans like friends coming for dinner. You'll enjoy having more time to do other things like your hair and makeup. Scroll down to the end of this post to find my DIY Outdoor string lights on poles tutorial.
**Update** Since this post, I've made over my backyard again and shared a new outdoor lighting project, How To Hang String Lights. It covers different hanging methods and lots of useful info for planing a backyard string light project.
I use affiliate links to help you find the products I used. If you make a purchase I get a small commission at no cost to you. Thank you for supporting the overhead costs of H2OBungalow.
How to Make DIY Outdoor String Lights on Poles
Supplies needed to make outdoor string lights on poles.
For each freestanding outdoor string light box and pole you will need:
plastic 5 gallon bucket
1″ brad nails
1- bag 50-60lb quick set concrete
1 1/2″ screws
Cut List
4 – 2″ x 2″ @ at 17″, box inside frame
1 – 2″ x 2″ @ 8ft, light pole
extra 2″ x 2″ to add a support collar around the top.
cedar fence boards

8 – @ 14″, box short sides
8 – @ 15″, box long sides
4 – top frame pieces with each end cut at a 45 degree angle and 12″ on the inside length.
My best advice when building multiple items is use a measuring tool like the Kreg Measuring Tool. Set it and mark all the pieces at once which is so much faster than using a ruler to mark each piece!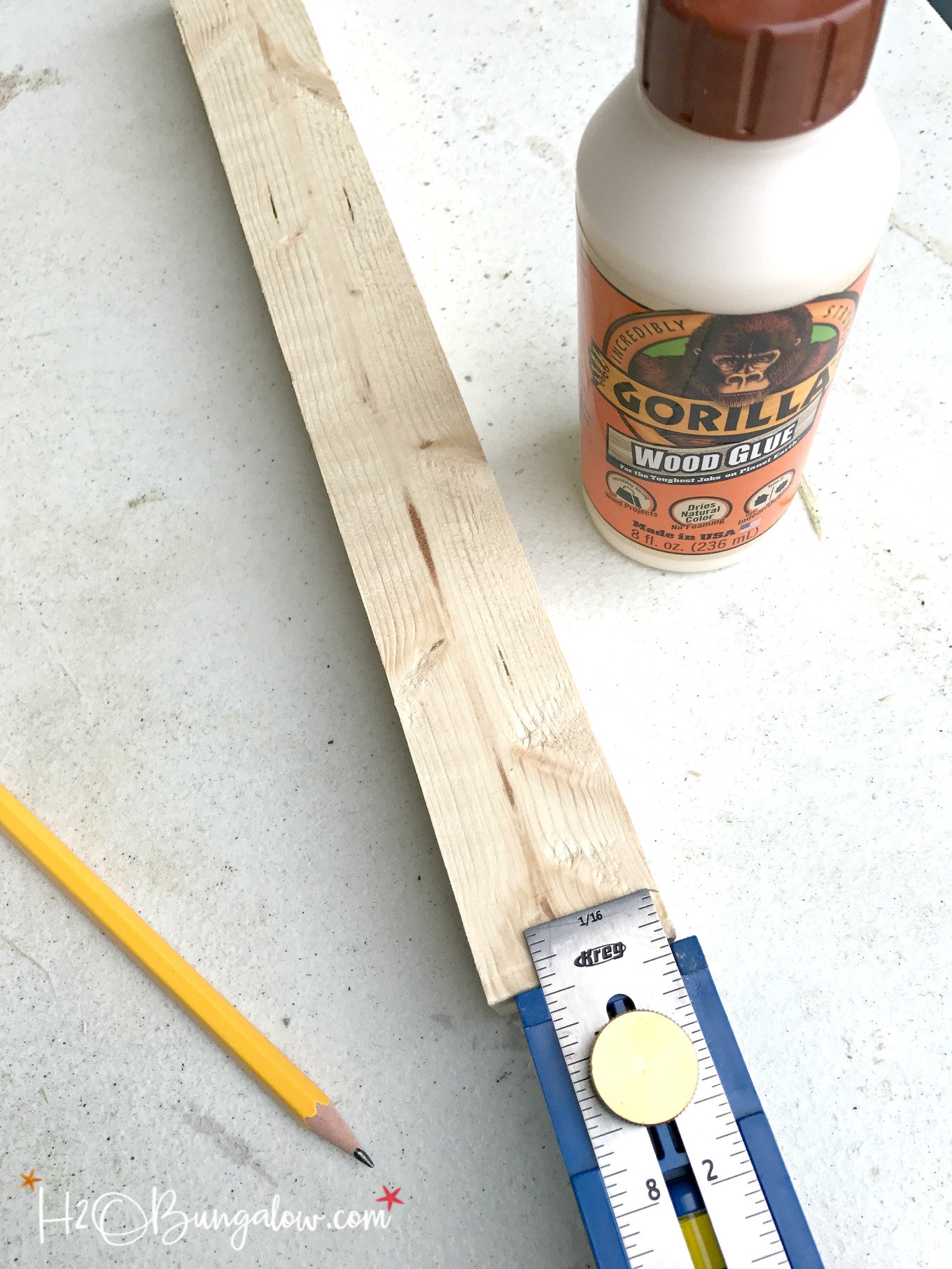 Step one: Assemble the box frame with the 4 inside supports.
Use wood glue and assemble the box with 1″ brad nails. Leaving a 1/2″ space on the bottom of each leg attach the first row of boards to the frame. I attached the two short sides by lining them up flush with the edge of the leg. Secure them with a nail gun. Next, join the two sides together with the two long (15″) boards. The edge of the long boards will line up flush with the end of the short boards to make a nice corner. See the picture below. Continue attaching all of the side boards.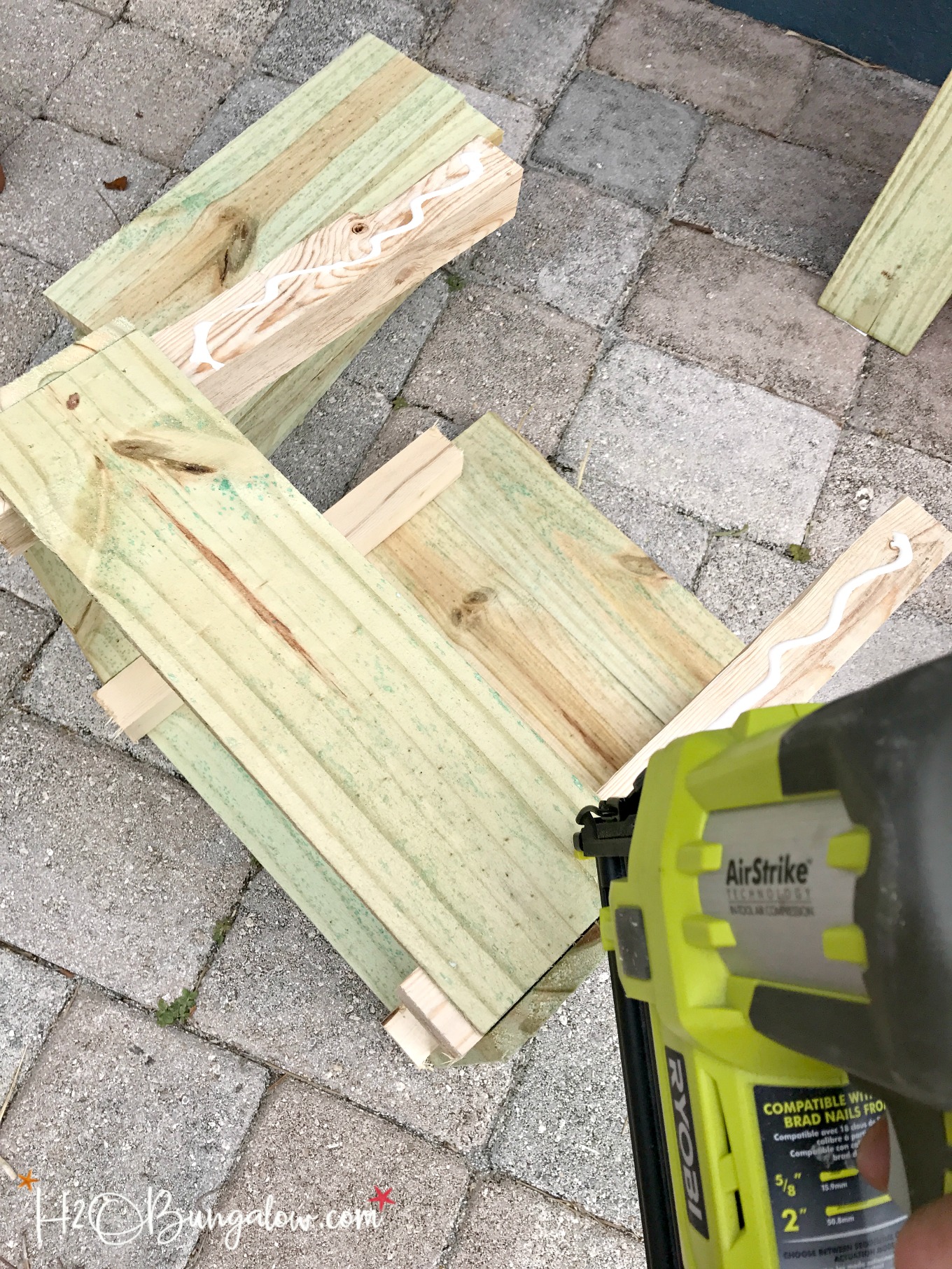 Step two: Add a the mitered frame onto the top of the box.
Add a collar around the outside of the top of the box. Measure your box and cut pieces to fit. I used wood scraps for this part but 2″ x 2″ would be fine. Align and attach the top frame onto the box.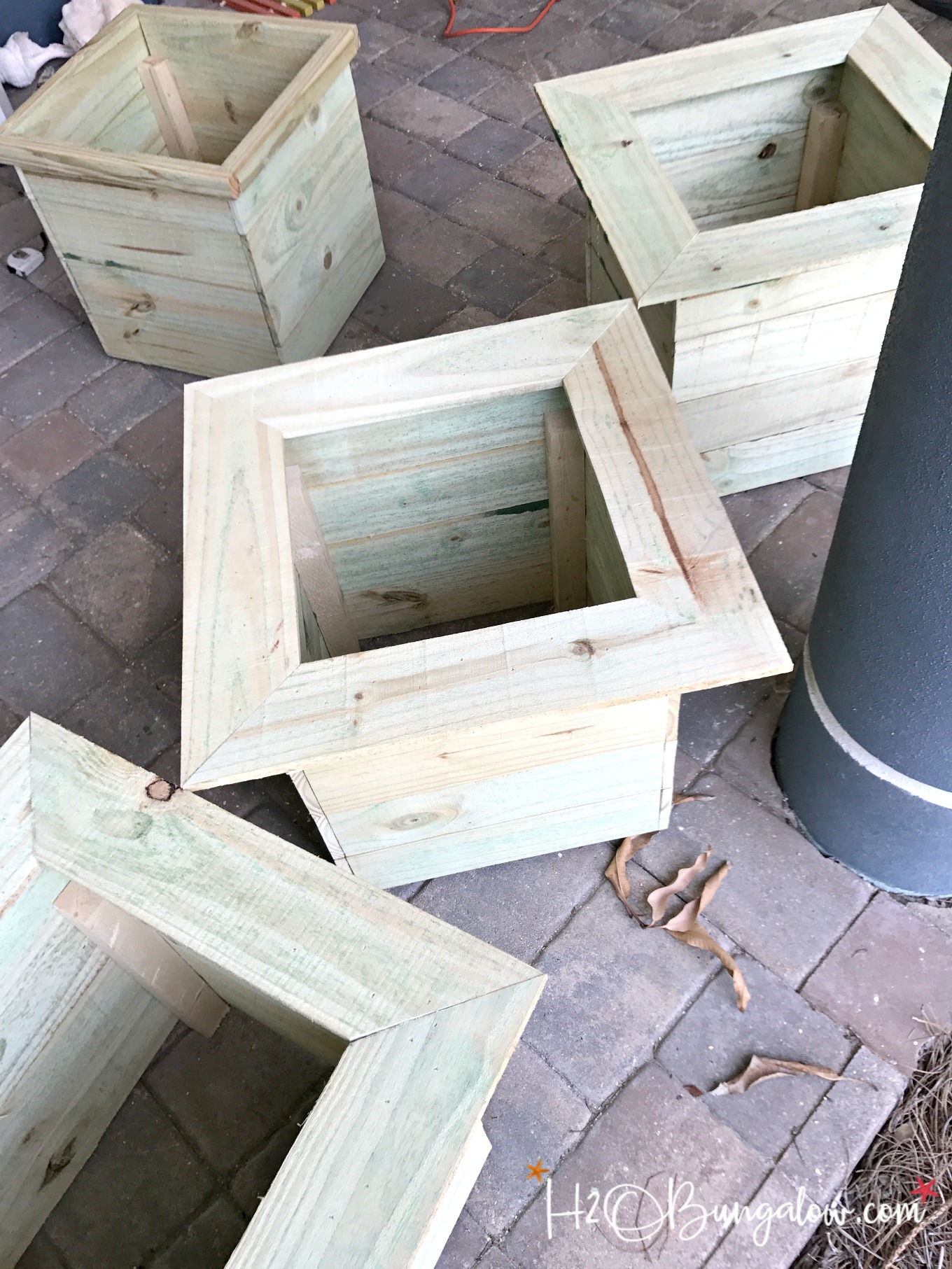 Step three: Stain or weather seal the outdoor string light box base.
I used my Homeright Small Paint Shelter and my Finish Max to stain all of my boxes and the outdoor light poles with Thompson's Water Seal in Nutmeg.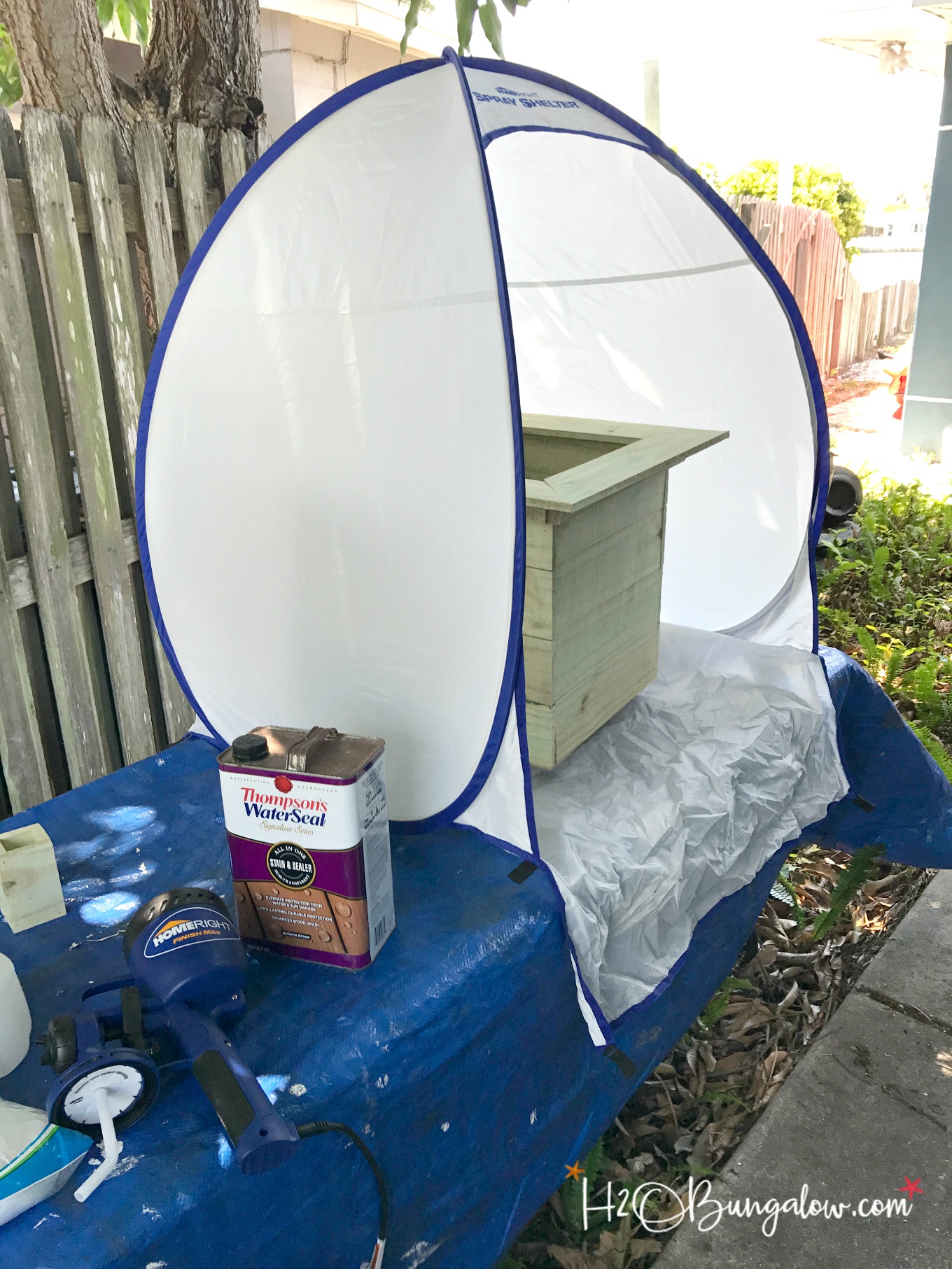 Step Four: Attach cup holder bracket at the top of each light pole.
Screw in 1 or 2 screws per side at the bottom of each 8 ' light pole. Leave at least 1-1/2″ of the nail sticking out. Yes it will look like a porcupine but it will help ensure your pole doesn't lift easily out of the concrete when dry. I didn't get a picture of this step…sorry!
Step Five: Mix concrete in anchor buckets.
Follow directions for your brand of quick set concrete and mix 1 bag per 5 gallon anchor bucket. Insert a light pole. Use a level on the pole to adjust for straightness if needed and secure with Duck Tape to hold in place while the concrete is drying. When dry, drill a few drain holes by the top of the concrete if you're planning on adding plants.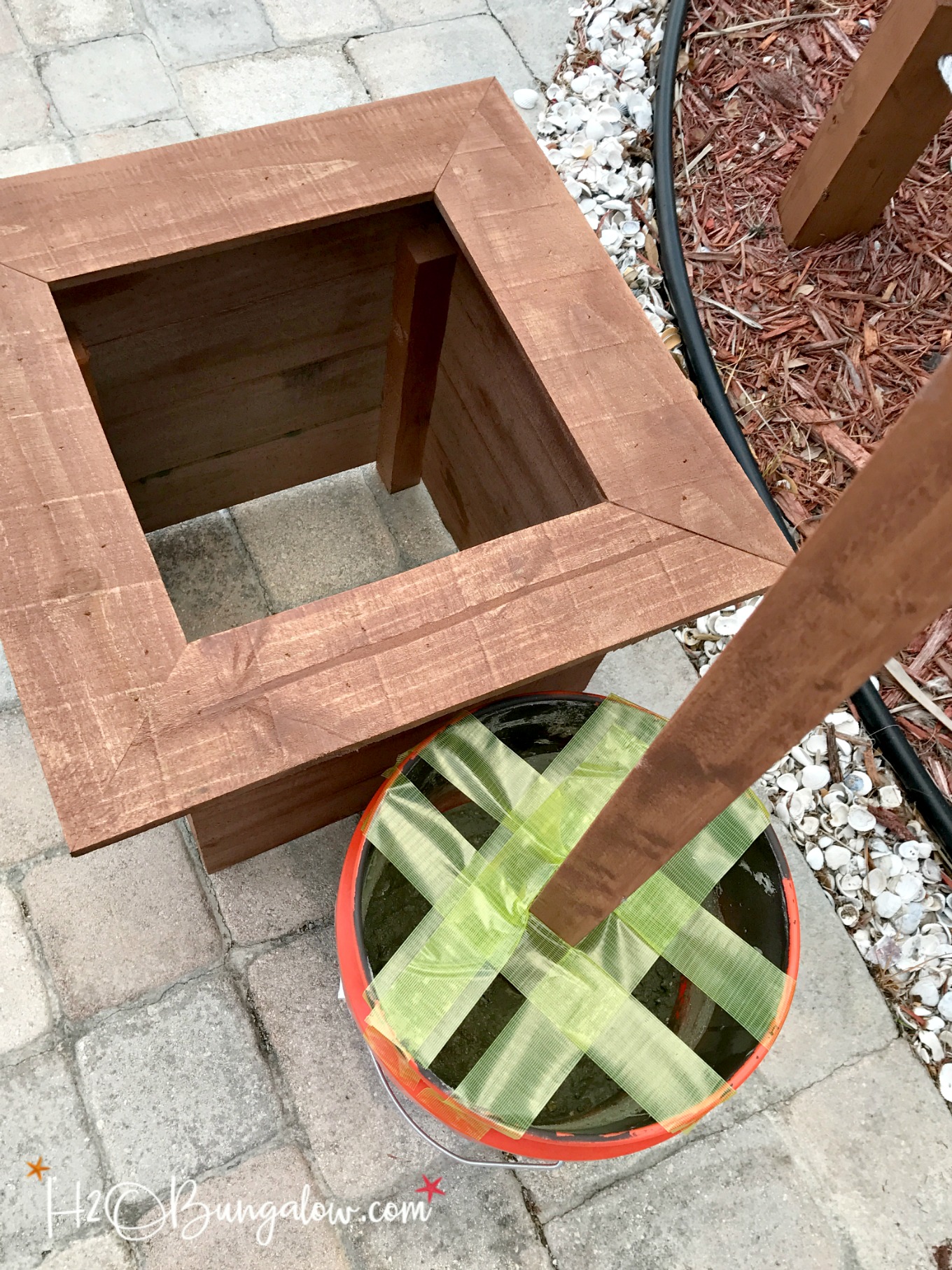 Step Six: Assemble the DIY outdoor string lights.
Place bucket inside of the cedar box or lift over the pole if needed. I wanted to hide the buckets as much as possible and my top frame is slightly narrower than the top of the bucket so I lifted my wood box over the pole. Add plants as desired.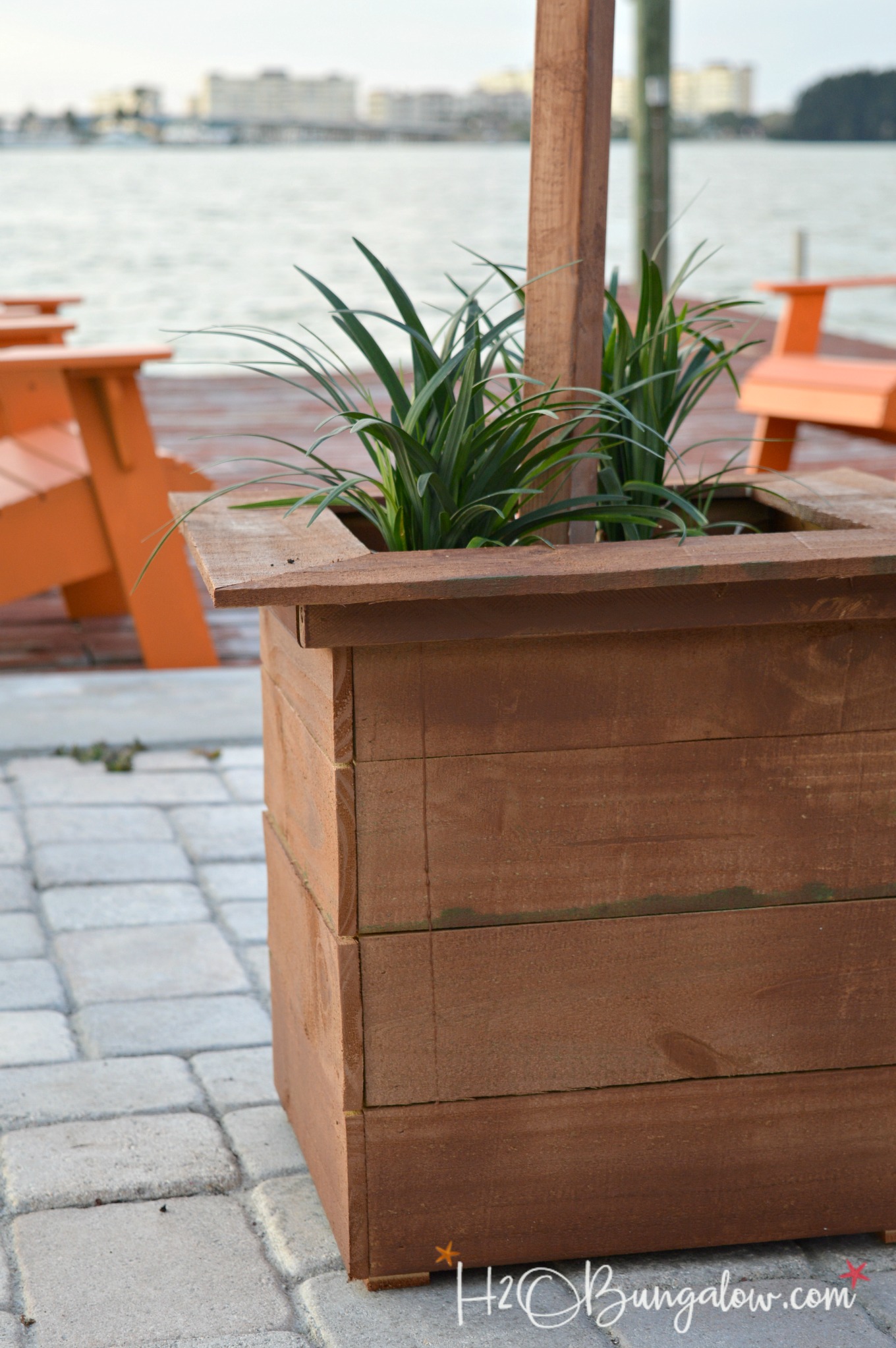 Last, add the outdoor string lights and enjoy!
I love that these outdoor string lights on poles look good day or night in my backyard.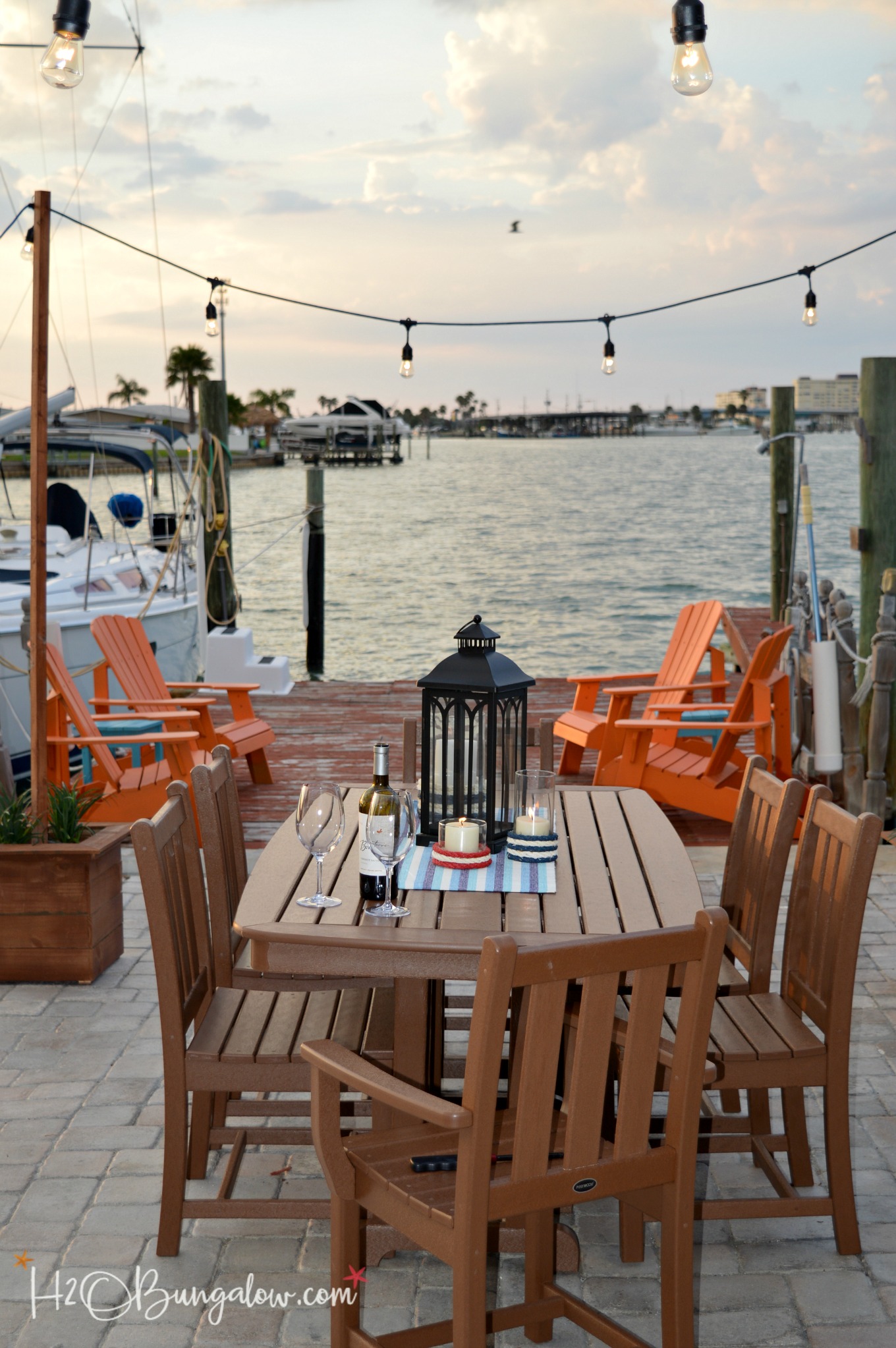 Choosing to make moveable outdoor light poles and boxes that complimented our outside decor and furniture was the right choice. Since our patio area is flat and wide open it helps break up and define the dining space. Before I added our DIY outdoor string lights the table was kind of sitting there on our big open patio all by itself. It wasn't inviting or cozy. The outdoor lights changed that!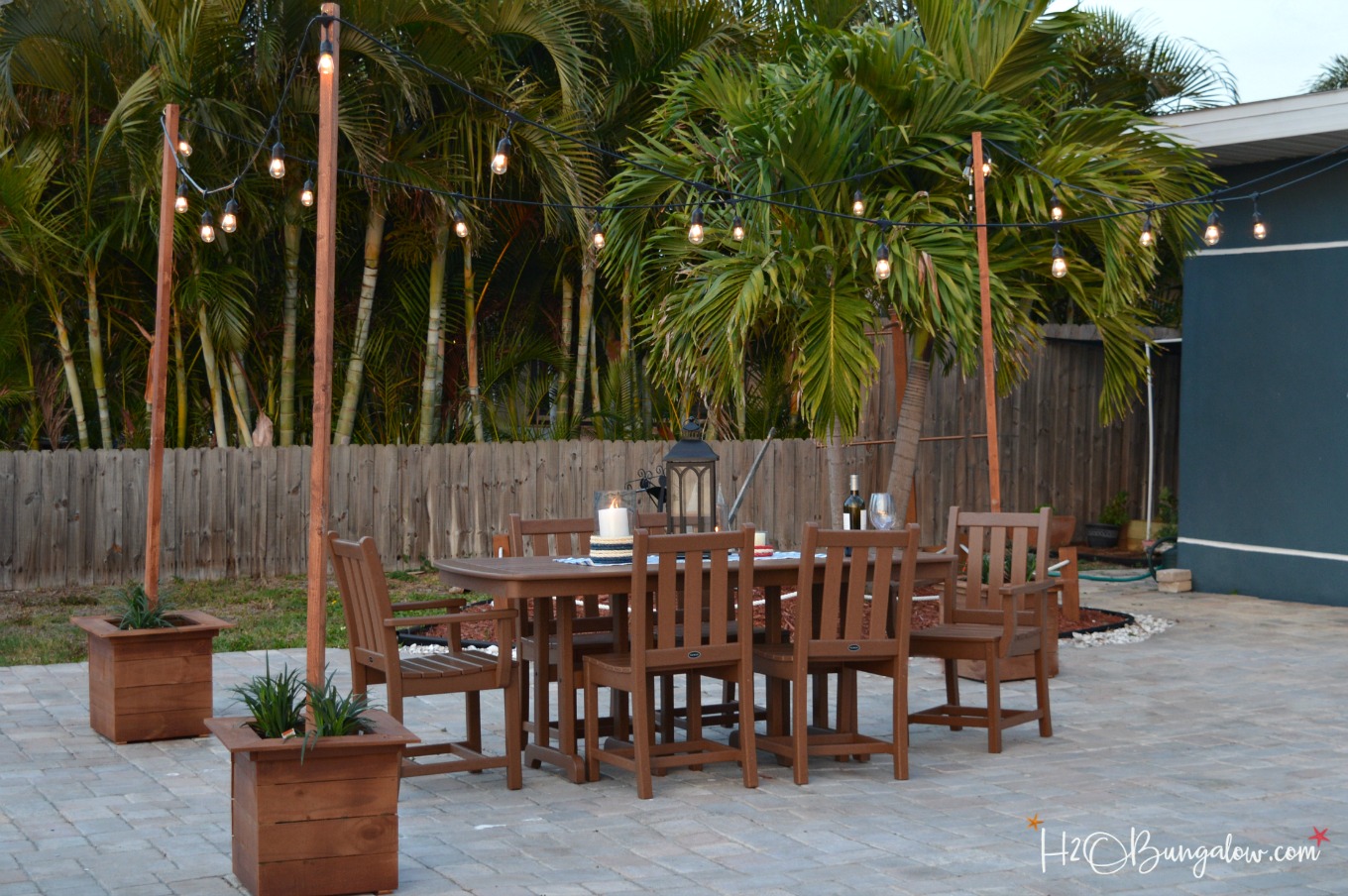 Our dinner party was a big success. The last minute rush of building my outdoor string lights on poles was well worth it. Everyone loved them. Our entire group, all ten of us, sat at the table for hours and talked long after dinner was served.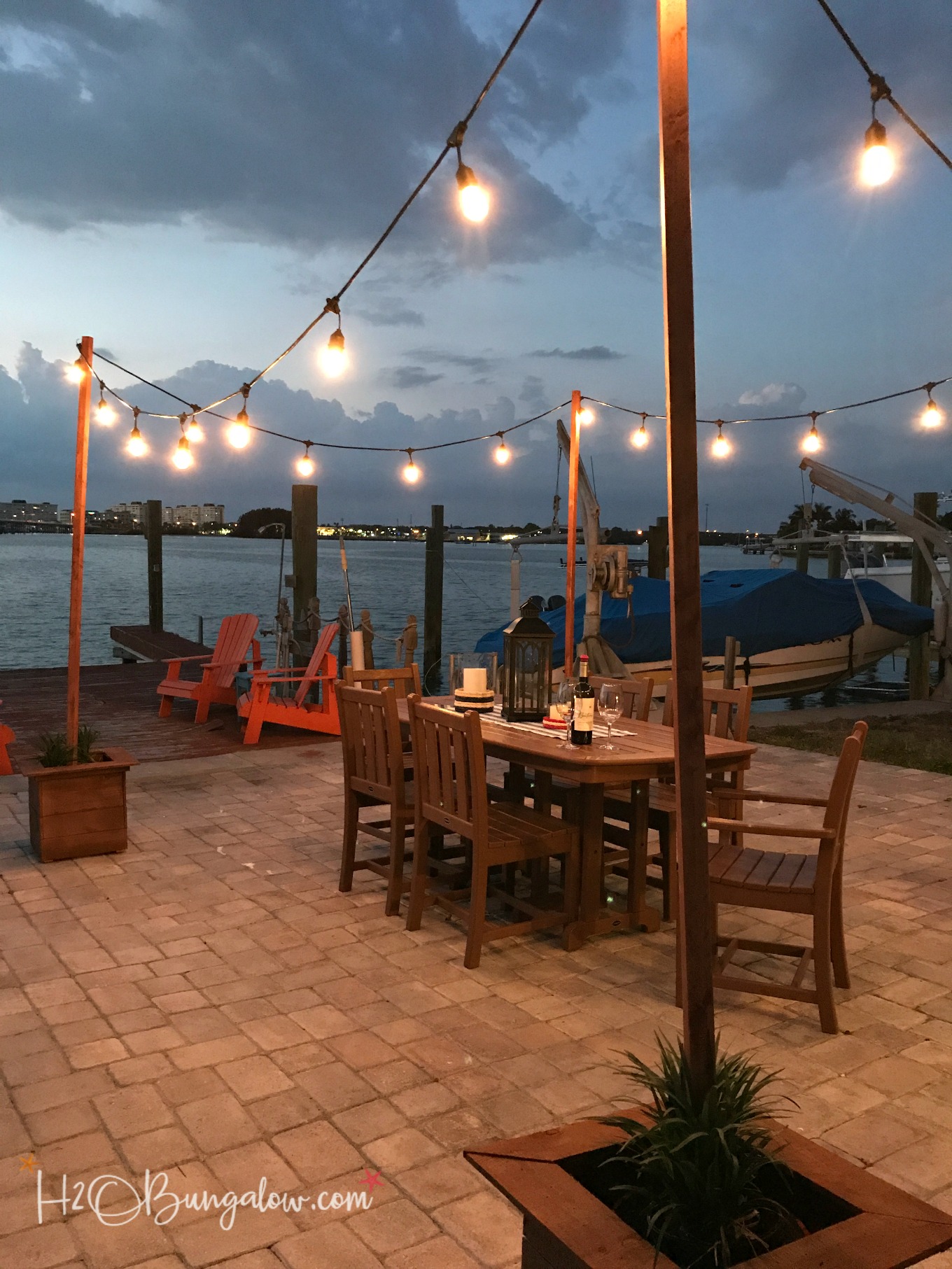 I'm looking forward to our next get together to use them again. This time I'll budget more time for planning the evening which should be easier since I've built our outdoor lights already!
Don't forget to pin this project for later!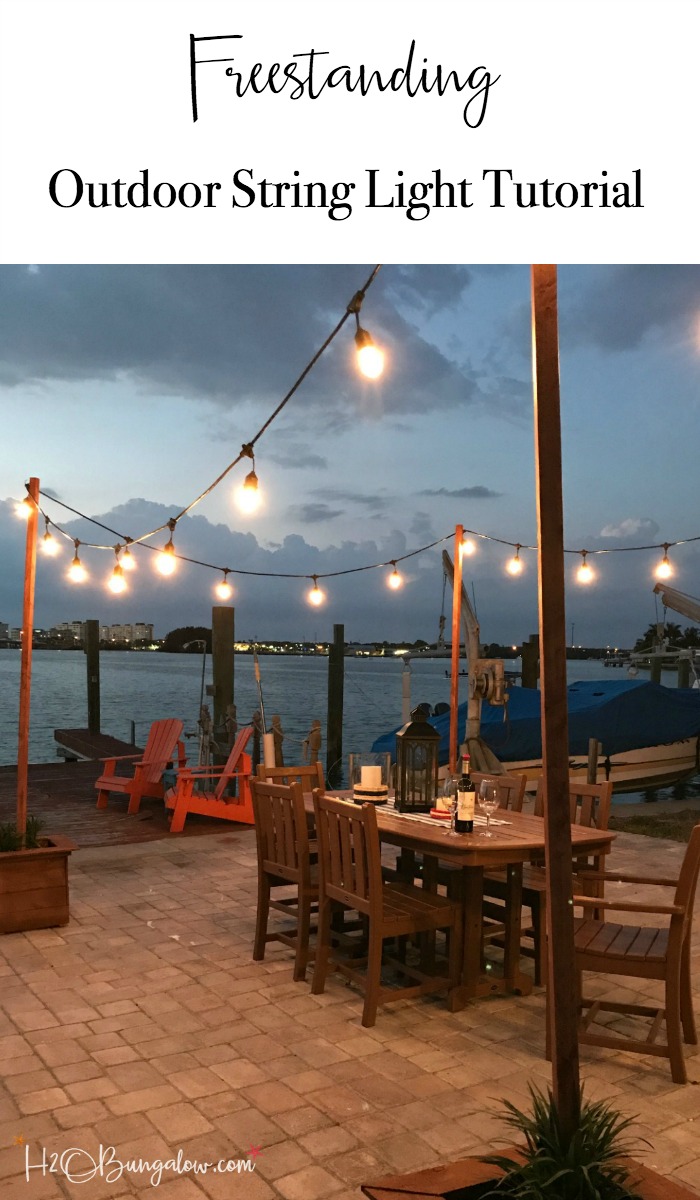 Are you ready for summer entertaining or quiet nights in your backyard? Where would you put outdoor string lights?
Did I mention yet today is the Power Tool Challenge Team's theme day? It is, and our theme this month is outdoor. Take a look at what the rest of the Power Tool Challenge Team came up with for this month's theme. You could use any one or all of these creative DIYs to add style to your backyard entertaining. You could also check out How to make DIY shutters with sailboat cutouts.…or whatever shape you'd like.
Create and Babble – Picnic Caddy
Designed Decor – Flip up Deck Bar
The Weathered Fox – DIY Hanging Plant Stand
My Repurposed Life – Patio Garden Hose Organizer
Pin this for later!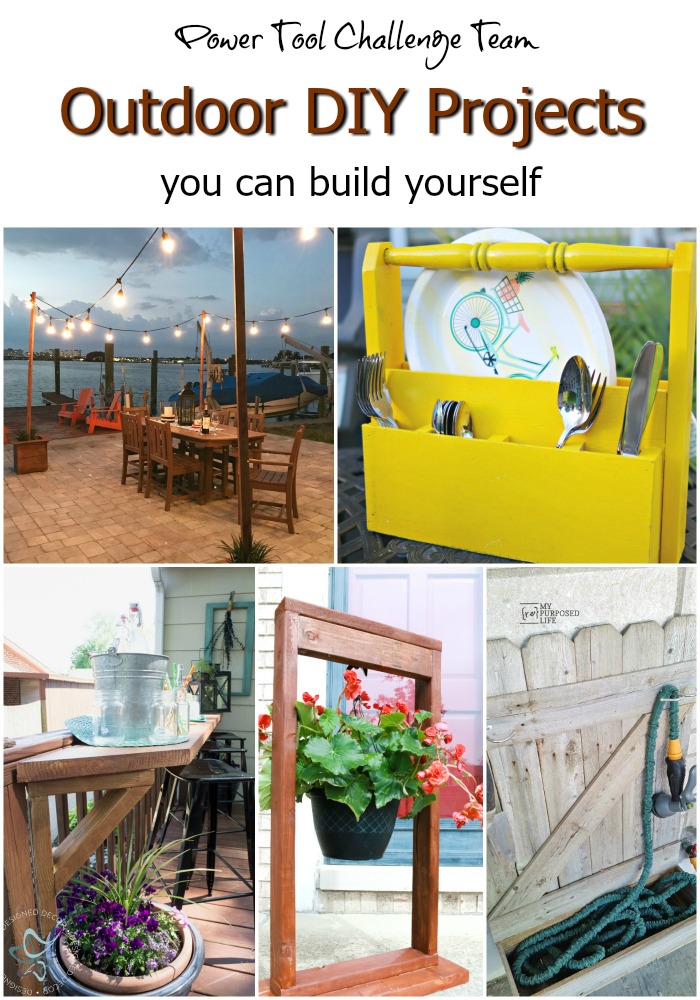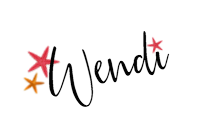 Other posts you may enjoy to help get your outdoor ready for the warm weather
DIY Outdoor Sofa Table Tutorial
3 Tips for Spray Painting Outdoor Planters