Today's project is an easy to make DIY industrial style media stand with wheels tutorial.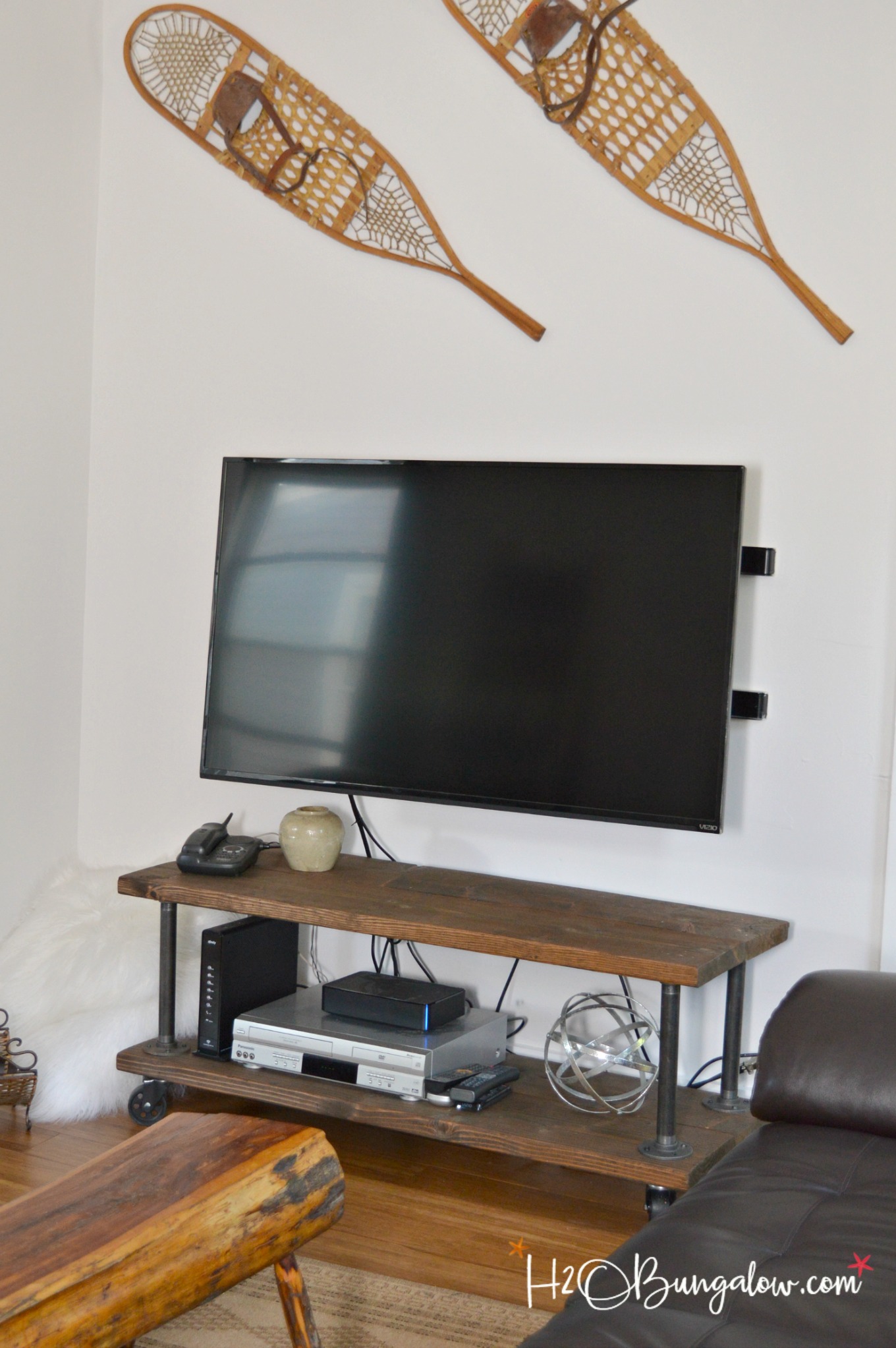 Boy oh boy… do I have my work cut out for me! With only about six weeks to get as much done as I can to make this place look good before I turn it over to the property manager to rent I need to pick my projects wisely. This spot drove me nuts every time I walked by.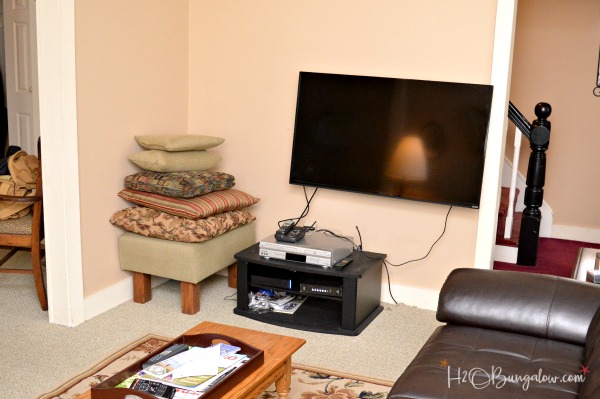 I can't do much about the off-centered TV for the moment but knew I could do something about the awful TV stand! I had a design idea in my head and did a quick search on Pinterest for an industrial style media stand with wheels just to be sure I didn't find something better. Funny, I did. A good friend and awesome blogger's project came up. Debbie from Refresh Restyle made an awesome 7 foot long console media stand. I modified her plans for my compact size and love it!
How To Make A DIY Industrial Style Media Stand
I wanted to make an easy to build DIY tv or media stand that didn't take a lot of cutting or tools. You could actually skip the cutting all together and have Home Depot cut 2 eight foot 10″ x 2″ boards in half and just do the assembly. You'll find the pipe supplies to make this DIY industrial style media stand in a plumbing department. I use affiliate links to help you find the products I used on this project.
I made two of these DIY industrial style media stands, one for each unit, at the last-minute I decided to make the smaller unit media stand three feet long and trimmed a foot off one set of my boards.
Notice the floor rug on my folding table? Use a rubber backed throw rug to keep a saw or tool from slipping and sliding on a slick surface 🙂 It's one of my favorite tricks.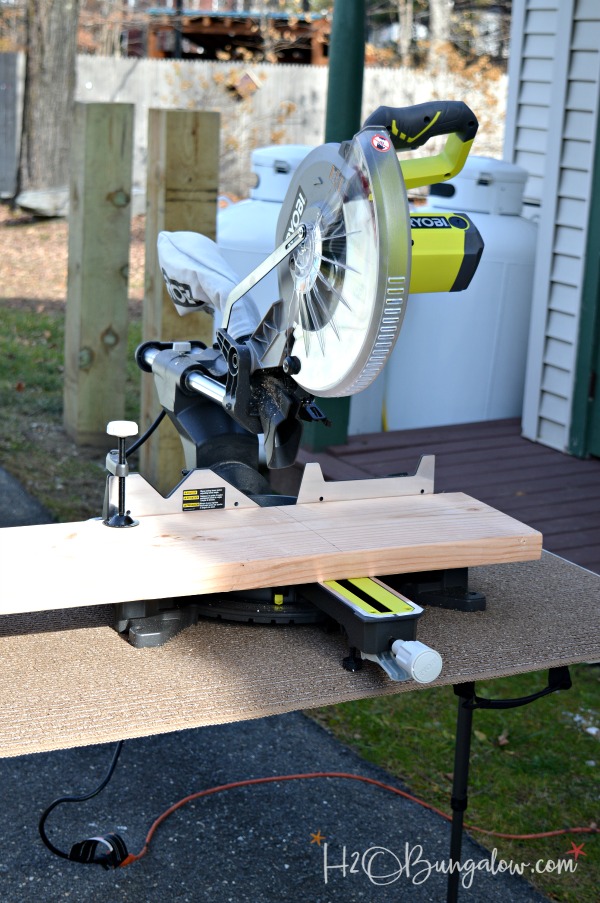 Step 1. Make the media stand shelves. Put pocket holes on each side of two boards with the Kreg Jig set at 1 1/2″. Make one set for the top and one set for the bottom. The number of pocket holes I made is overkill. Three sets on one side and two sets on the other are more than sufficient 🙂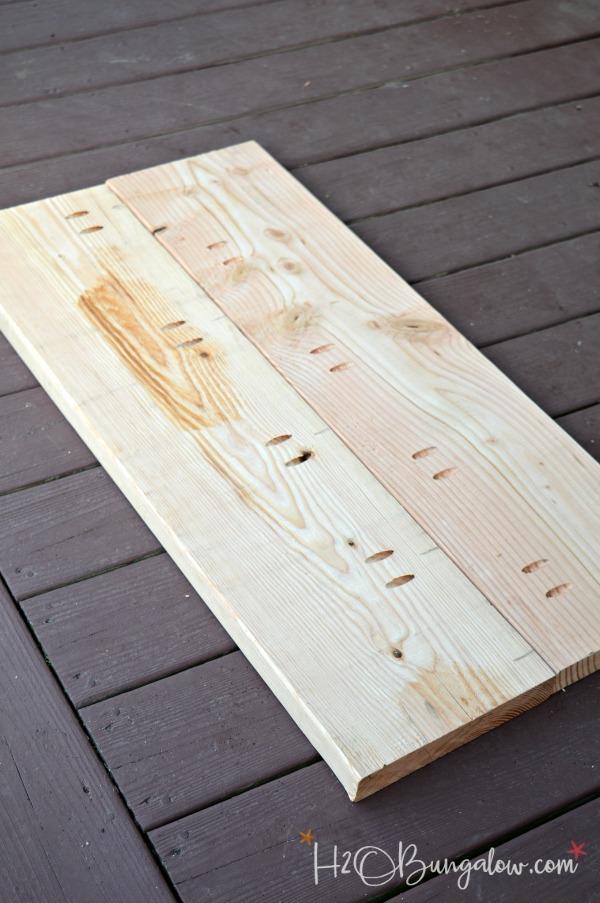 Step 2. Prestain and stain the wood shelves before assembling and let dry. Spray paint the hex head screws black by sticking them into a piece of styrofoam or cardboard to keep them standing. If you want the castor wheels black on your DIY industrial style media stand, spray paint them now. I didn't spray paint my pipes and flanges because I like the finish they came with. If you want them all the same color as the wheels, paint them at this time too.
Step 3. Install four of the flanges onto the underside of the top shelf with the #12 hex head screws. Screw the galvanized pipes into the flanges. Next, add the other flange onto the other end.
Step 4. Flip the top piece over and position it on top of the lower shelf. Attach the flanges to the bottom shelf with the #12 hex head screws. I used my new favorite tool, my Kreg Multi-Mark to quickly measure the distance to place my castors. What a time saver it is!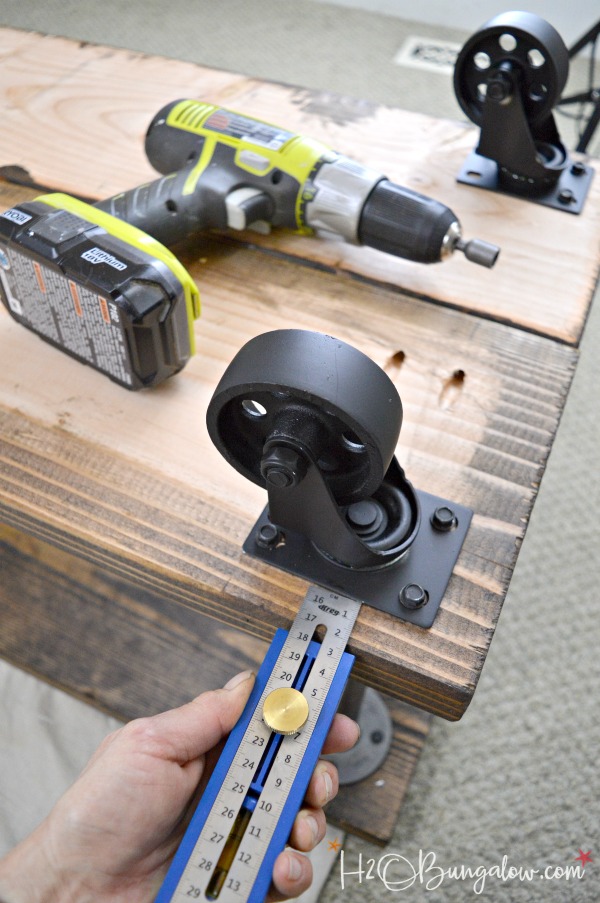 Step 5. Turn the media cart over and attach the wheels to the bottom with the #14 hex head screws.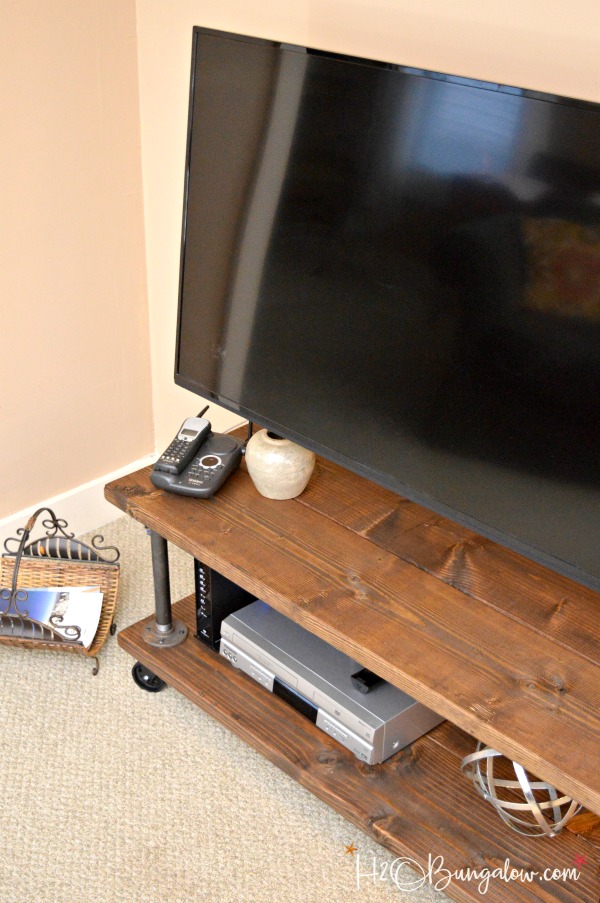 My DIY Industrial media stand with wheels is a huge improvement in the room already!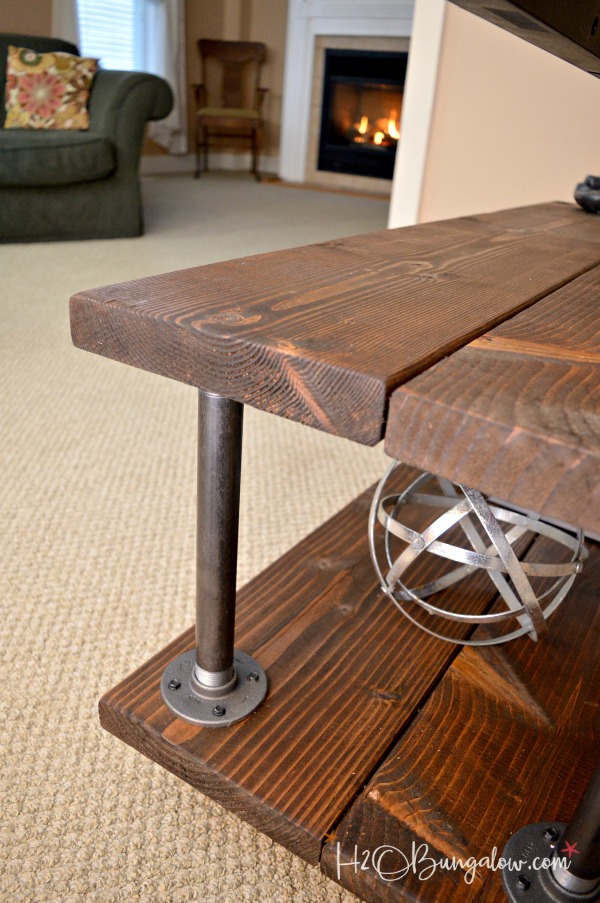 One project down and huge list of more to come! I've updated the photos to include a few after we painted the room and put down the wood floors. Whew! We've come a long way and there's still more to come!
Do you love this project? Be sure to pin it or share it with your friends on Facebook!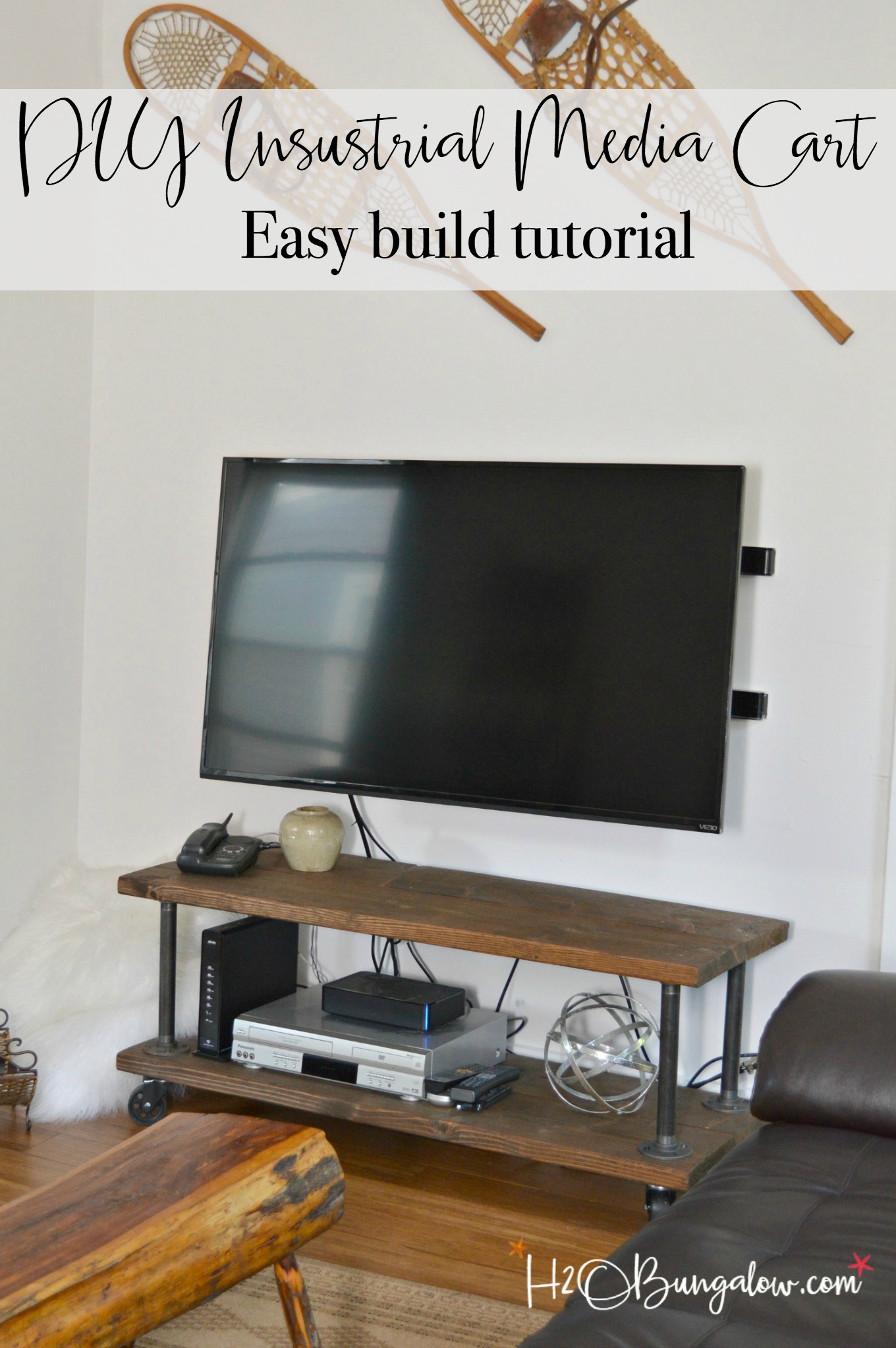 Are you looking for more industrial style projects? You might also like my DIY Industrial Wall Shelves I made for our place in FL. MY DIY Open Shelf Vanity is also a simple build, semi-industrial style as well.
Do you already have a nice looking tv and media stand or would your living area benefit from a DIY industrial style media stand with wheels too?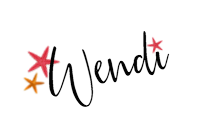 You'll find my project linked up to these fabulous parties!
Love a good dose of DIY home decor, home improvement, the challenge of woodworking and creative ways to make your home look fabulous?
Me too!
I'd love to share mine with you. Click here to sign up for my post emails and I'll send a quick note when I have a new project to share.