I have a large modern inspirational wall art tutorial and a new downloadable print for you guys today. You can't beat the price and wow factor of big wall art made with an engineer print. Today's project will share my best tips for making a large inspirational wall art piece for your home from an engineering print. It's also Power Tool Challenge Day and this month's theme is signs you can make. You'll see several more really creative signs that my friends made in this post as well.
You guys know how much I love decorating with large wall signs and using big framed words for decor. I've used them a bunch in the North House Lodge up in Vermont and at home in Florida. Other large modern inspirational wall art sign projects I've made are my big DIY Engineer Print Large Welcome Sign for the North House kitchen…which I'm looking at as I type this 🙂 I've used a large engineer print to mount on the front of my Wall Mounted TV Cabinet and also as a textured picture to look like a canvas print when I shared how to Turn Your Photo into DIY Faux a Canvas Print.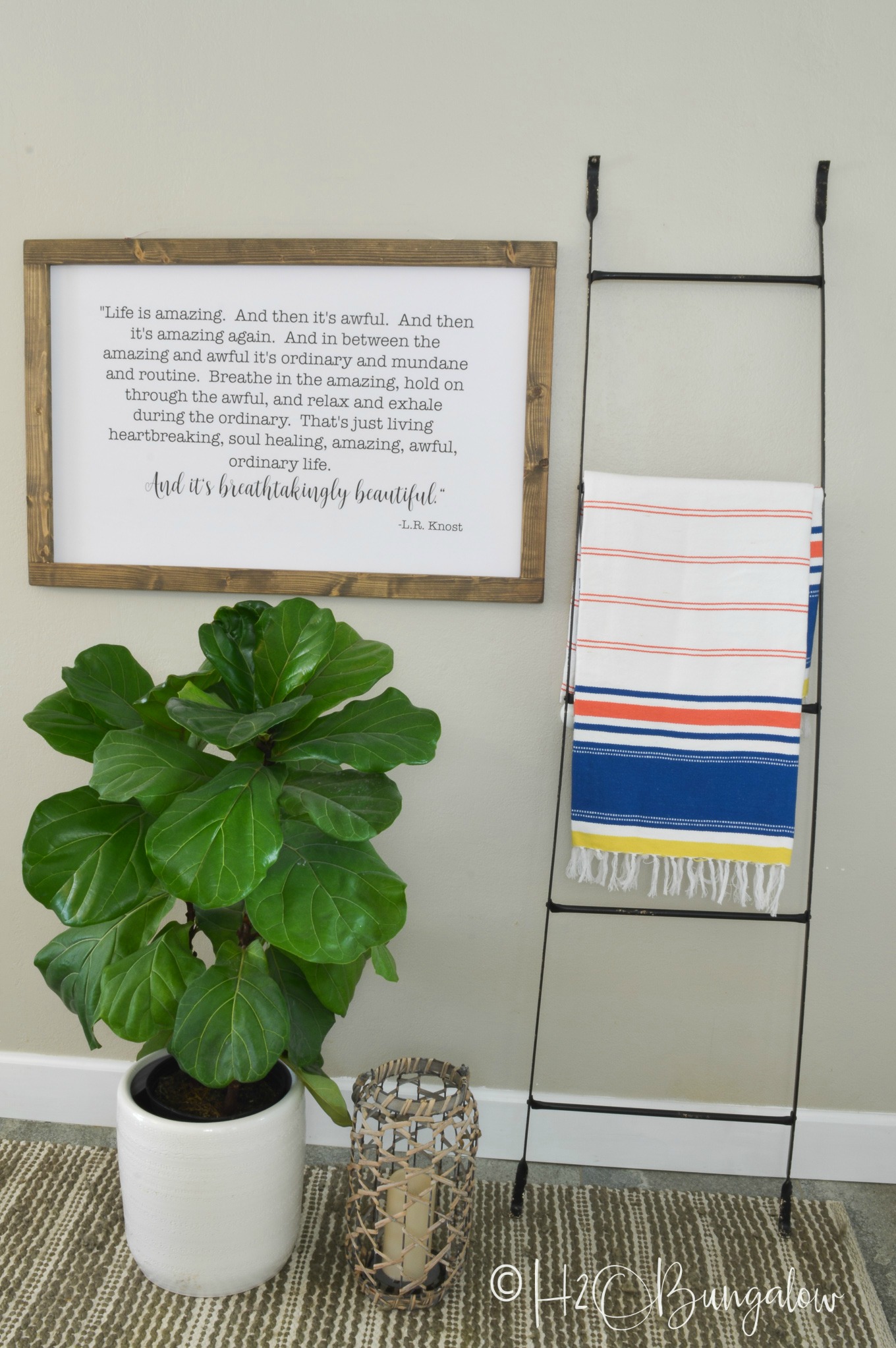 Bottom line, I don't think you can find a more economical or faster way to make a large modern inspirational wall decor piece for your home or office. I fell in love with an Ordinary Life by L.R. Knost for my inspirational modern wall decor sign today. I love this sentiment and knew it had to find a place in my home in Florida!
I'm apologizing in advance for my lack of process photos, I'm using a new camera (yay!) and accidentally erased my photos (boo!).
How to Build a Frame for Your Large Modern Inspirational Wall Art
I use affiliate links to help you find the supplies I used. You can read my full disclosure policy here.
Download the quote I used here.
Here's a list of supplies you'll need to needed to build a wood frame for your large modern inspirational wall art project.
1″x4″ board, ripped in half or 1″ x 2″ boards
Luan or 1/4″ plywood for the back
Kreg Jig – this is a really good deal
Wood glue – this is my favorite
Orbital Sander – My favorite one
stain or paint
2- d-rings for hanging hardware – another very good deal. They are about $5 for a small pack at the local store.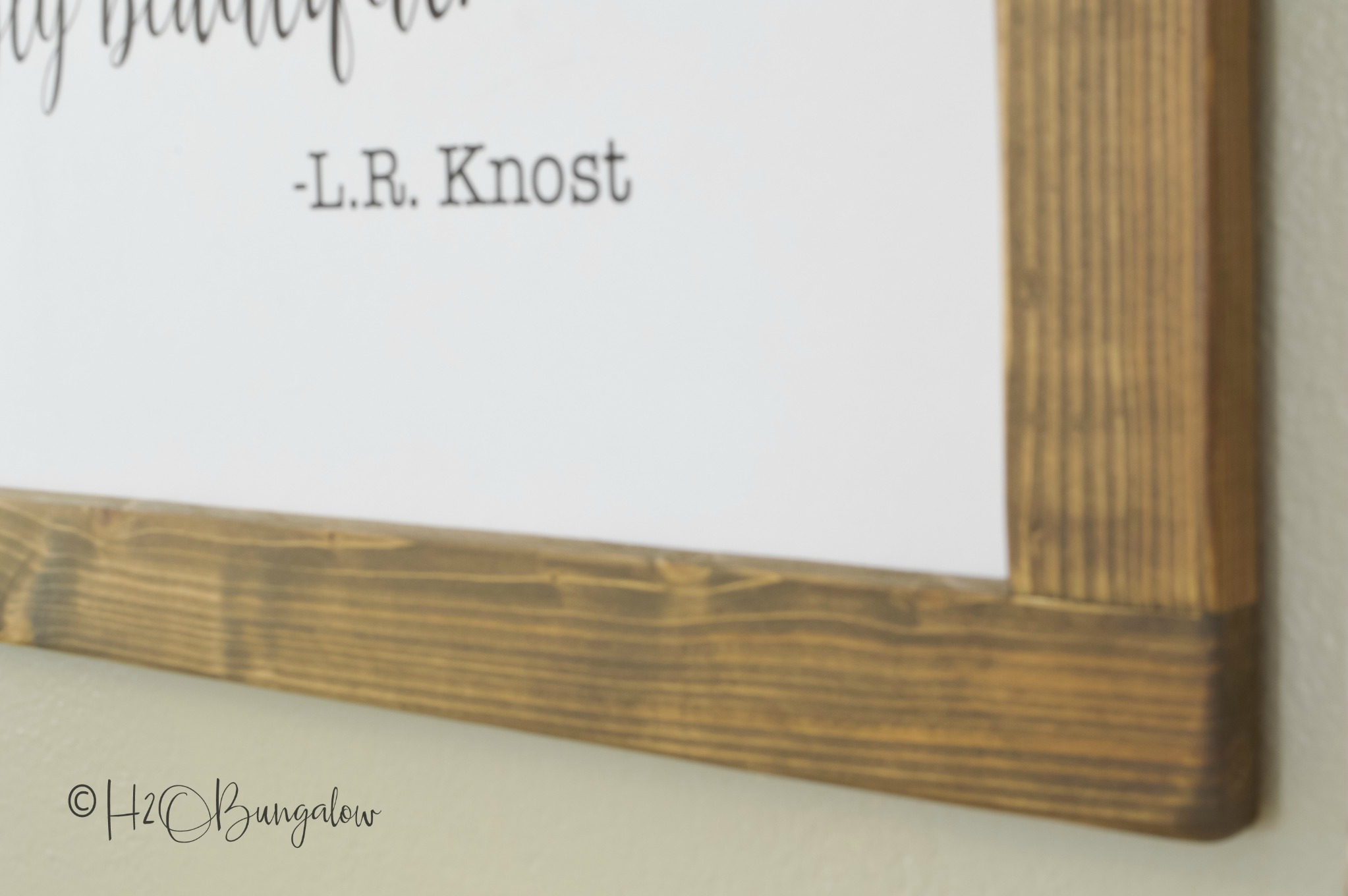 Step one – Cut the 1/4″ plywood to the size of your large engineer print. Mine is 24″ x 36″
Step two – Cut the frame. My sign is 24 x 36″, I cut 2 frame pieces at 36″ for the top and bottom and two pieces at 32 1/2″ for the sides.
Step three – Make two pocket holes at each end of the 32 1/2″ sides like the diagram below. Use 1 1/4″ pocket screws and assemble the frame. Use wood glue at the joints.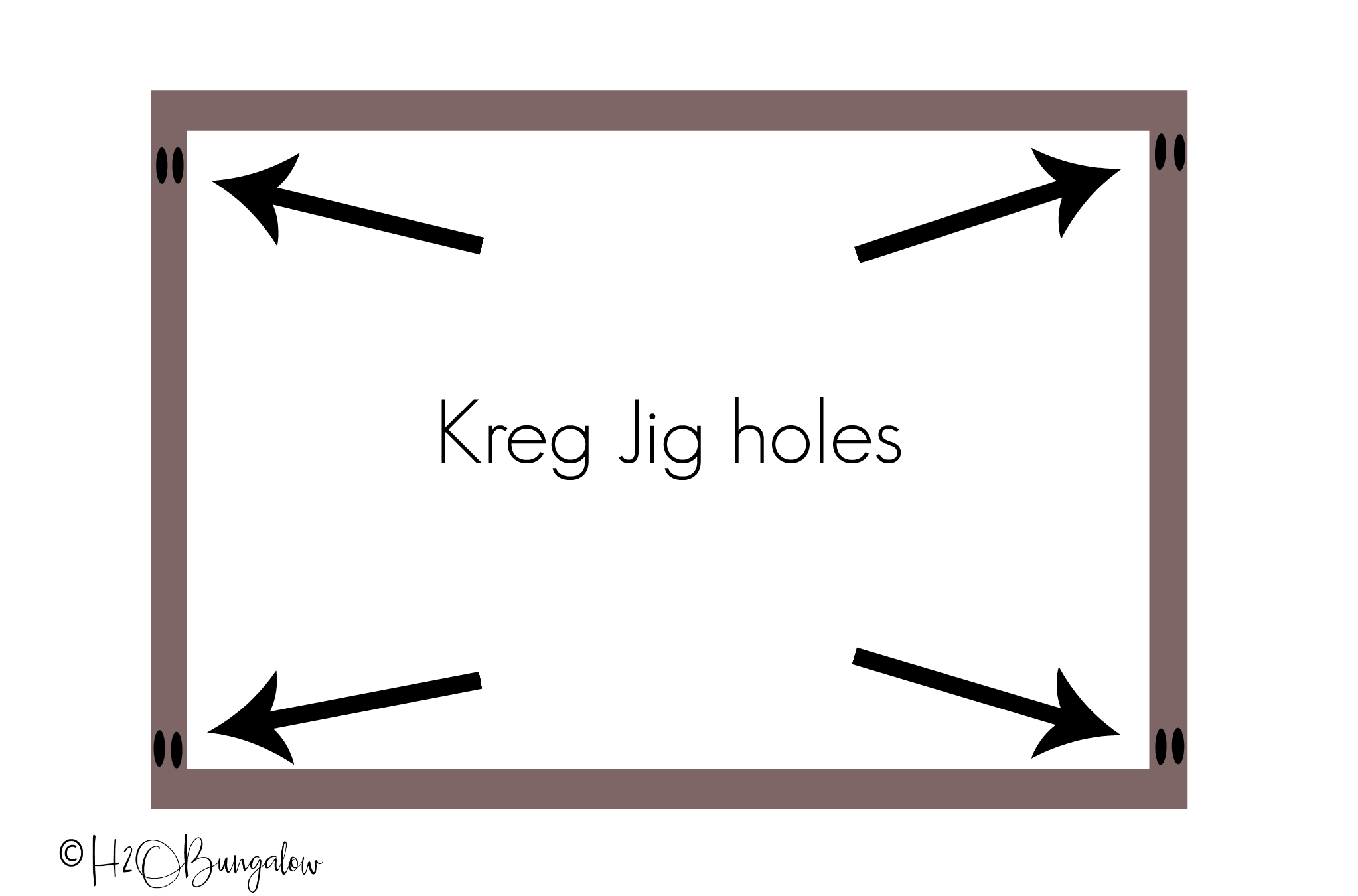 Step four – Sand all of the sharp edges and corners down until smooth. This step is important! It's the step that makes a frame a wow, vs. it looking like a basic build. Look at my frame close-up and you'll see how much sanding I did on my frame.
Step five – Paint or stain your large engineer frame and let dry.
Tips to Mount a Large Inspirational Wall Decor Print
While your large engineer print frame is drying, mount your print. Here are the supplies you'll need to mount your engineer print.
Inspirational print, you can get mine above
wood back cut to the size of your print (the 1/4″ plywood from the list above)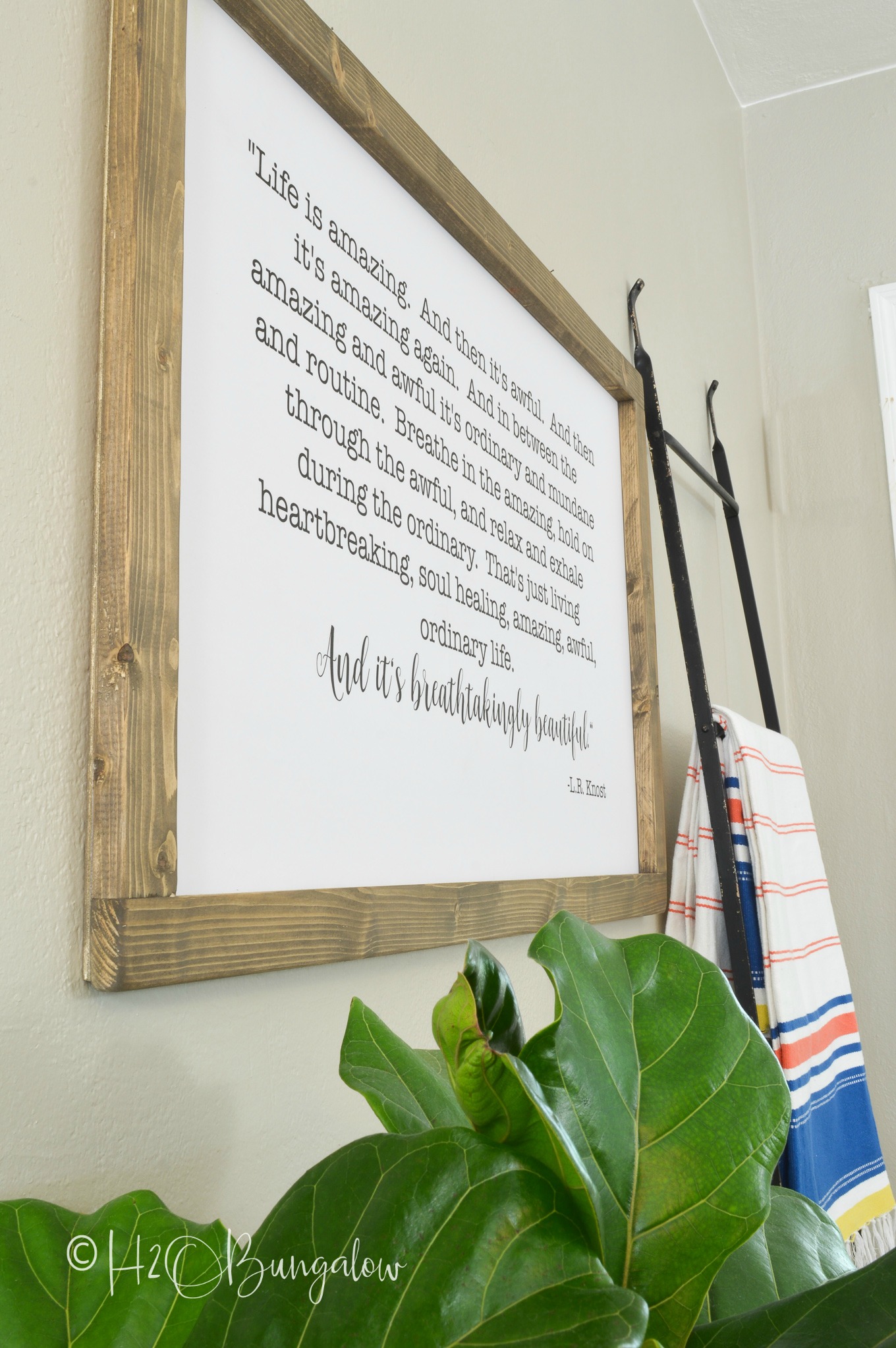 Best tips to mount a large inspirational wall sign
Coat the backing board evenly all over with the spray adhesive.
Line one side of the short edge of the engineer print up first.
Slowly unfurl the print, pressing down and pushing out any air bubbles.
Gently press the print down onto the glued board all over after it's positioned.
Use a sanding block to gently rub down on any paper edges that stick over the edge, it will cut them off perfectly at the board edge.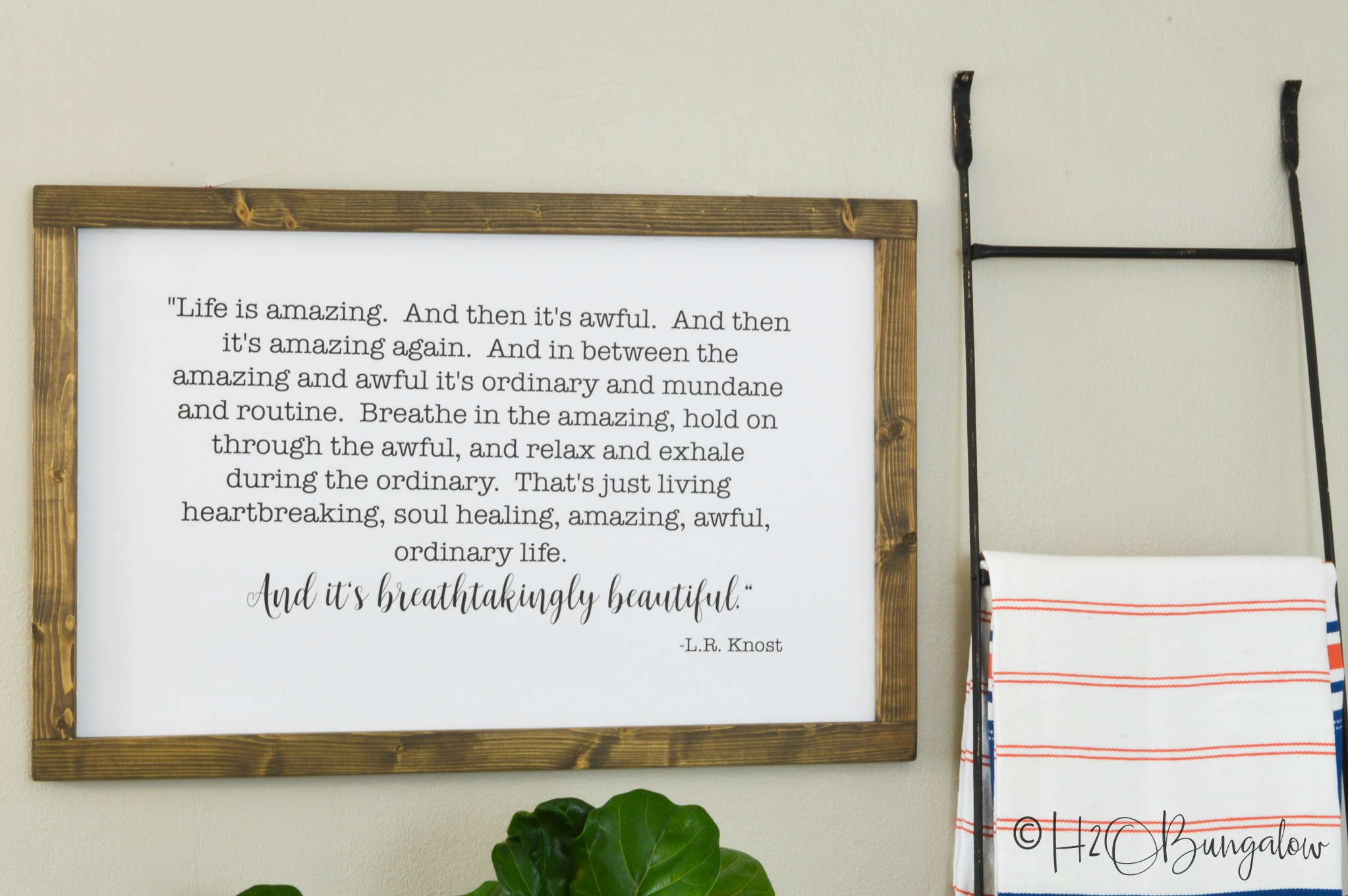 Assemble the DIY wood frame to the mounted large engineer print
Now it's time to put everything together. Finish your large modern inspirational wall decor by Laying the frame face down on a flat surface so the pocket holes face you (the back of the frame). Place the mounted inspirational words print face down on top of it. Use 1/2″ brad nails to attach the back of the mounted print to the frame. Pop in a brad nail every 4-5 inches. Add a d-ring hanger on each side of the back of the frame about 1 1/2″ down from the top. Be sure to mount it on the edge in the frame! Otherwise your screws will pop through your beautiful print and you don't want that to happen 🙂
Hang your beautiful DIY large modern inspirational wall art and enjoy! The best part about this kind of project it that it's versatile. Start with a sentiment you love, and finish the wood frame in any style of decor, rustic, coastal, farmhouse , you name it. Adding a personalized favorite sentiment is such a beautiful way to make a statement. Plus, it's so easy and affordable!
Pin my large modern inspirational wall decor project for later and share it with your friends on Facebook!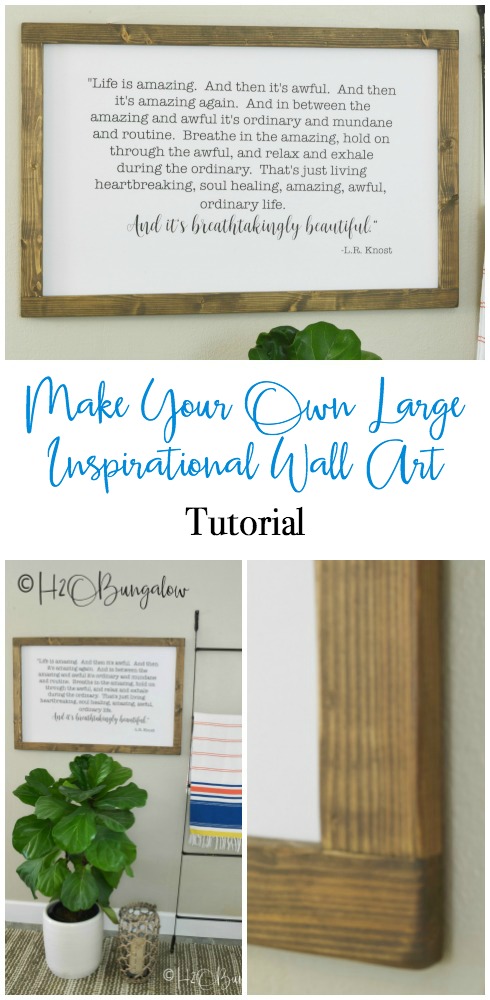 Now let's take a look at more fabulous wall art that you can make! As always, my talented friends from the Power Tool Challenge Team outdid themselves with this months theme of signs.
Take a peek at the picture below and click on any link to go to that project and tutorial!
Virginia Sweet Pea – How to Make a Pallet Wood Arrow Sign
Create and Babble – How to Make Double Sided Framed Wood Sign
My Repurposed Life – Hello Fall Rustic Pumpkin Sign
Designed Decor – Framed Laundry Room Sign
H2OBungalow – Large Modern Wall Decor Sign Tutorial – that's me!
Domestically Speaking – Beach Signs
Refresh Restyle – How to Make a Two Sided Sign
The DIY Village – DIY Raised Wood Lettered Sign
Pin and share these awesome ideas too!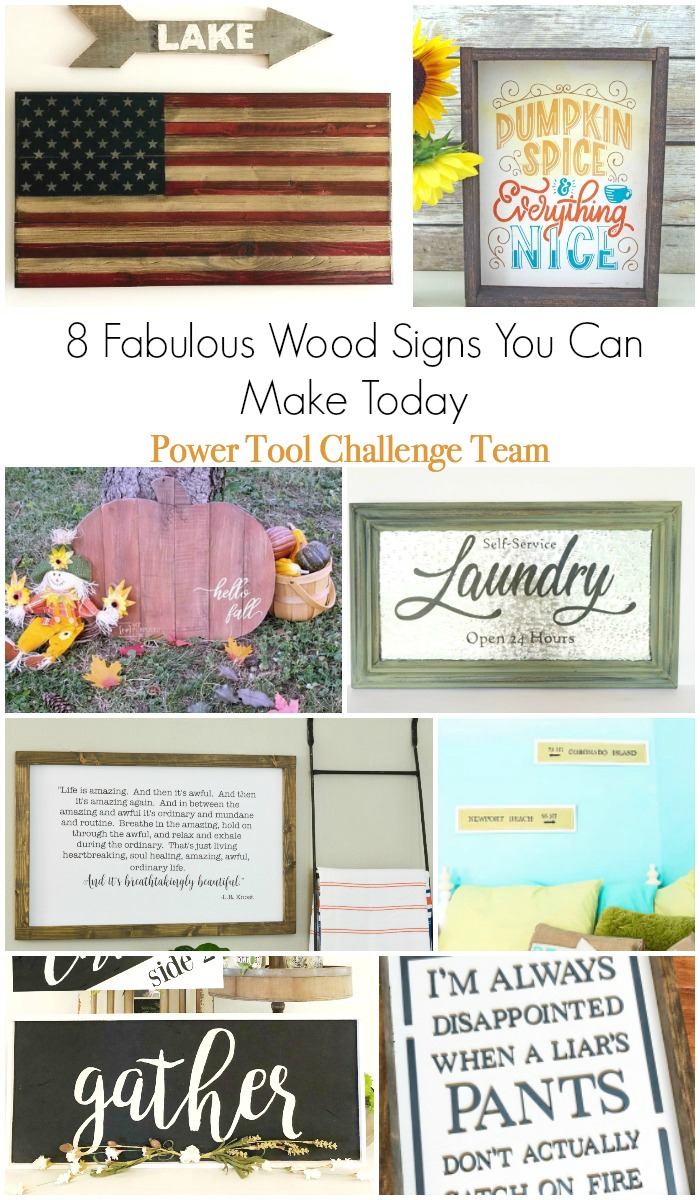 Today, I've shared lots of wood sign wall decor ideas for your home. It's easy to be creative and make your own wall decor. Whatever your style, from my large modern inspirational wall decor project to a two sided wood sign or a raised letter wood sign you can create budget friendly home decor.
Here's the hard part… Which one is your favorite and do you have a special sentiment you'd love to make into wall decor?