I did it! I thought I'd never actually build a DIY wall mounted TV cabinet for our living room. Partly because I wasn't sure how to hide the TV. Partly because the thought of me mounting our expensive TV on the wall and running the wires myself seemed intimidating. Guess what? It wasn't. Building a TV cabinet that looks like art to hide the TV,  installing the TV mount and doing the wiring wasn't so hard after all. I'm sharing my free plans to build a flat screen wall mounted TV cabinet and hosting a huge Ryobi Power Tool Giveaway with this project too. See the details below.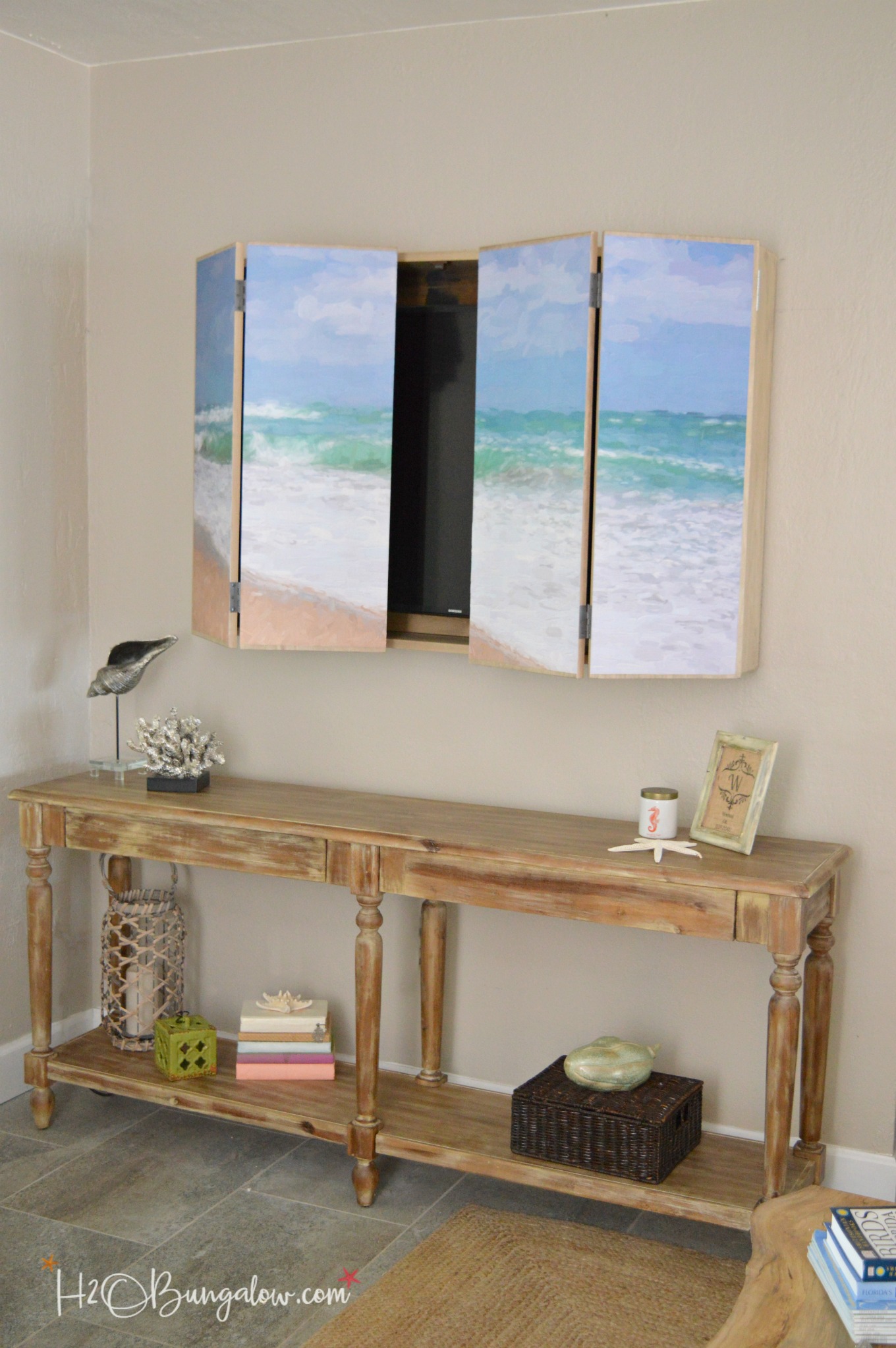 My inspiration/determination to face my fears head on for this project came with an invitation from Ryobi Power Tools to create a project that fixed a challenge in my home. I didn't hesitate one split second with a project idea. I knew I wanted to build a cabinet for a wall mounted TV and in the process get rid of what we had been living with for far too long. I just needed a push to get it started.
My decorating nemesis for the past 5 years has been the broken TV stand that held our old TV in the corner. It was an unsightly huge black shape that took up a significant amount of space in my small seating area. Bottom line, it was cramping the décor style I've been trying to create in our living area.
Seriously, it was.
I'd already built my Hairpin Leg DIY Live Edge Coffee Table and not too long ago I finished my popular Painted Upholstered Chair Makeover . My design ideas were starting to come together.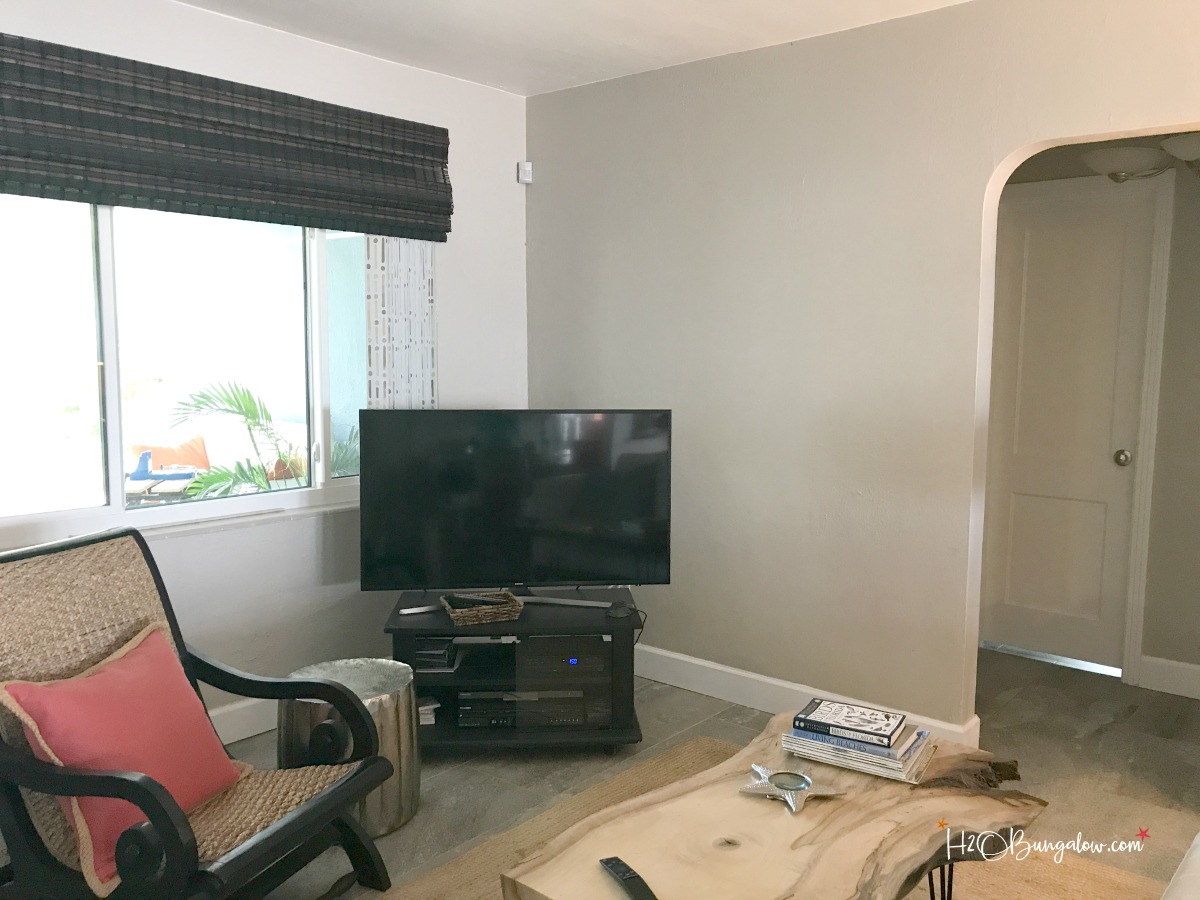 It was time for the old TV stand in the corner to go.
DIY Wall Mounted TV Cabinet
After a lot of research and thinking I came up with the idea of designing a wall mounted TV cabinet with doors that would hide the TV and look like art when the doors were closed. My plan was basically a simple cabinet with doors to hide the TV.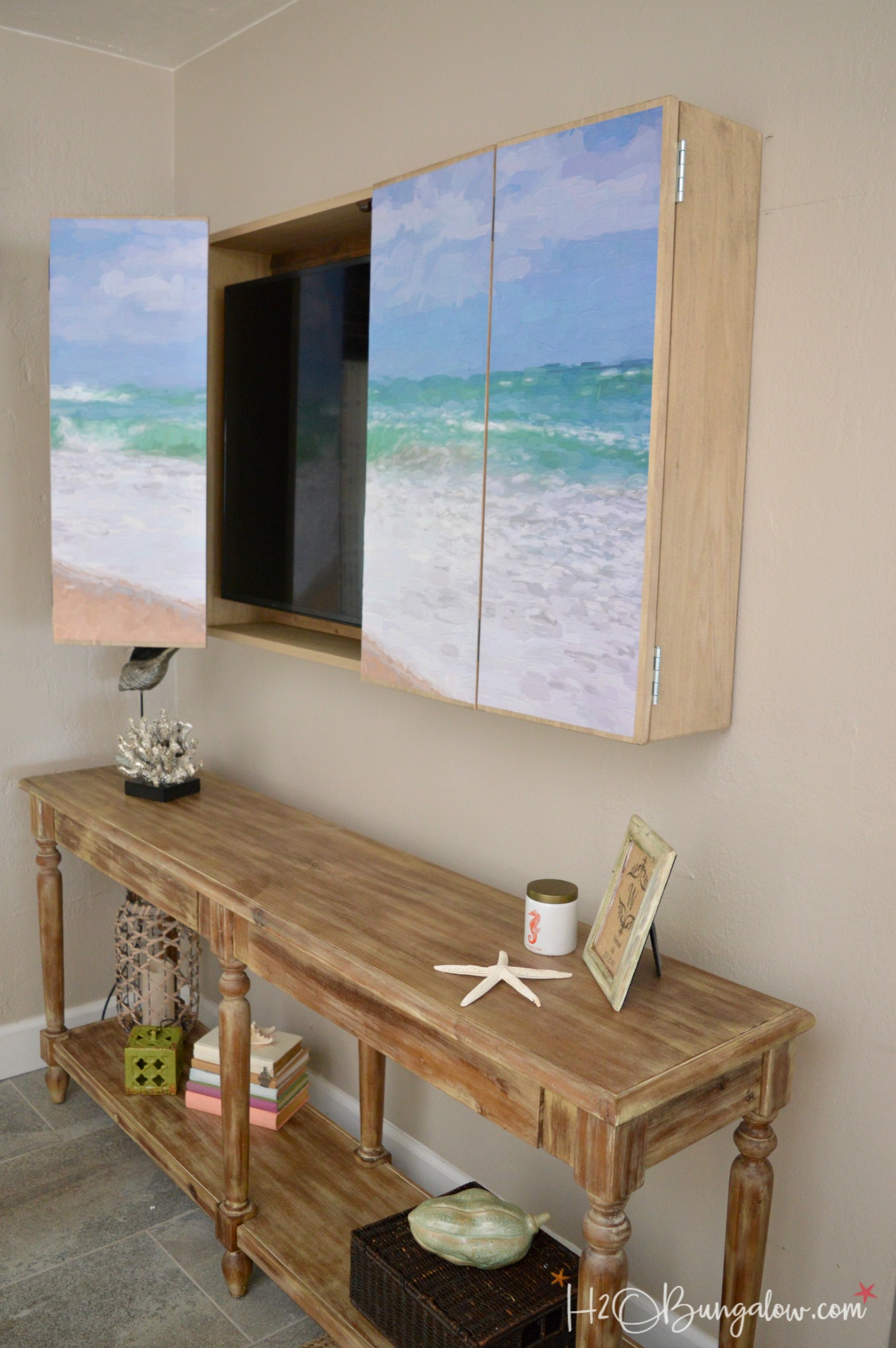 Designing a cabinet to hide my TV was pretty simple. I needed a frame deep enough to hold the TV with doors to cover the TV when we weren't using it. Simple enough, right? Figuring out how to make it look like art and a trendy piece of furniture was the bigger challenge.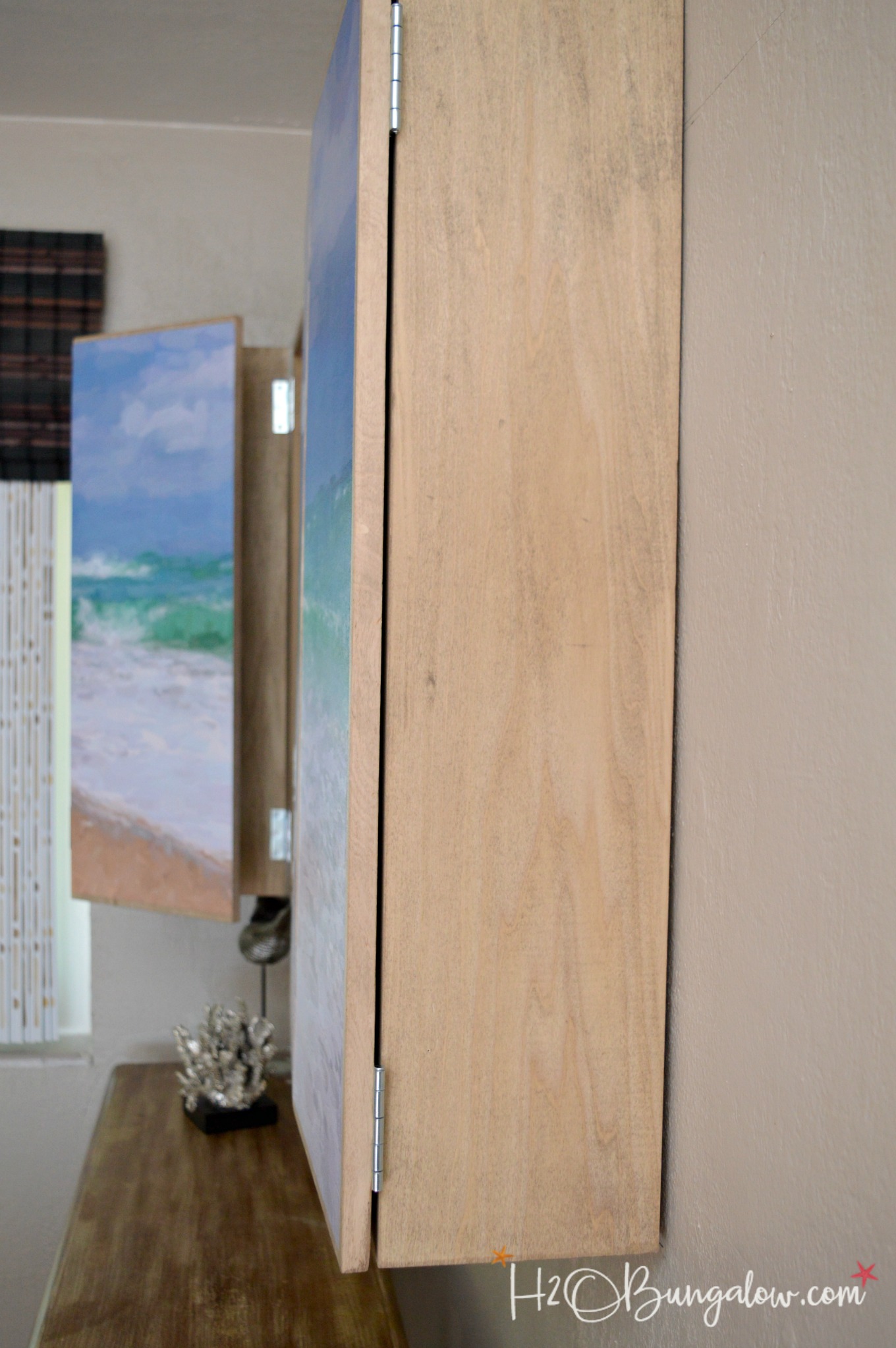 After many hours of researching DIY wall mounted TV cabinet ideas and not finding much, I settled on the idea of mounting a print across four hinged doors on the cabinet. After lots and lots of looking for the perfect coastal scene with the colors I wanted to use that fit my Contemporary Coastal Living Room Makeover plan, I found the perfect coastal print that had the colors and style I needed.
Take a peek at this post to see where I found the print and how to mount a large  engineer print.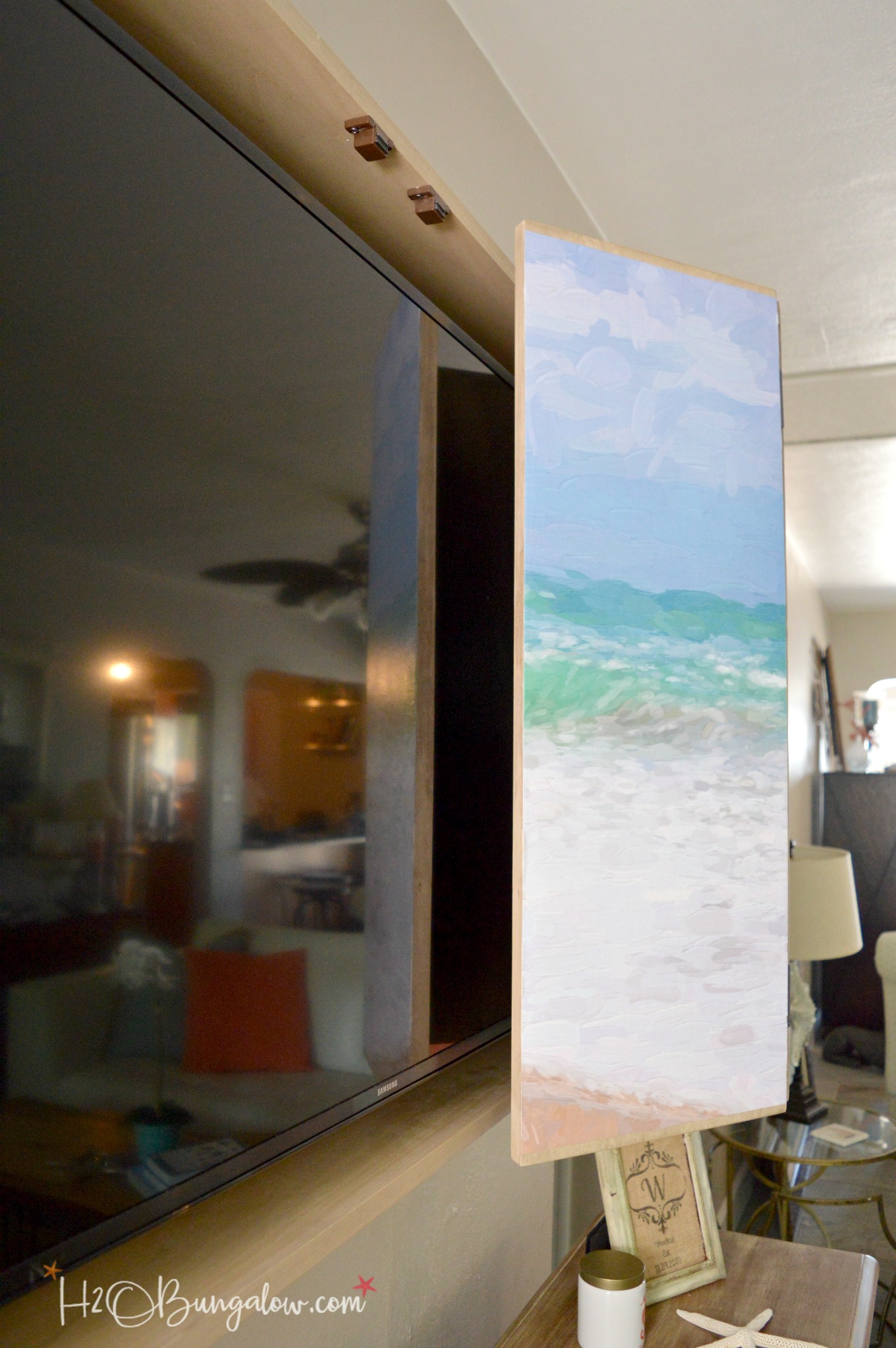 You'll find my free plans to build a DIY wall mounted TV cabinet with doors on Ryobi Nation. If you haven't checked them out yet, you should! They have hundreds of free plans, tool tutorials and so much more. It's one of my favorite resources for DIY building inspiration guys.
Save this project for later!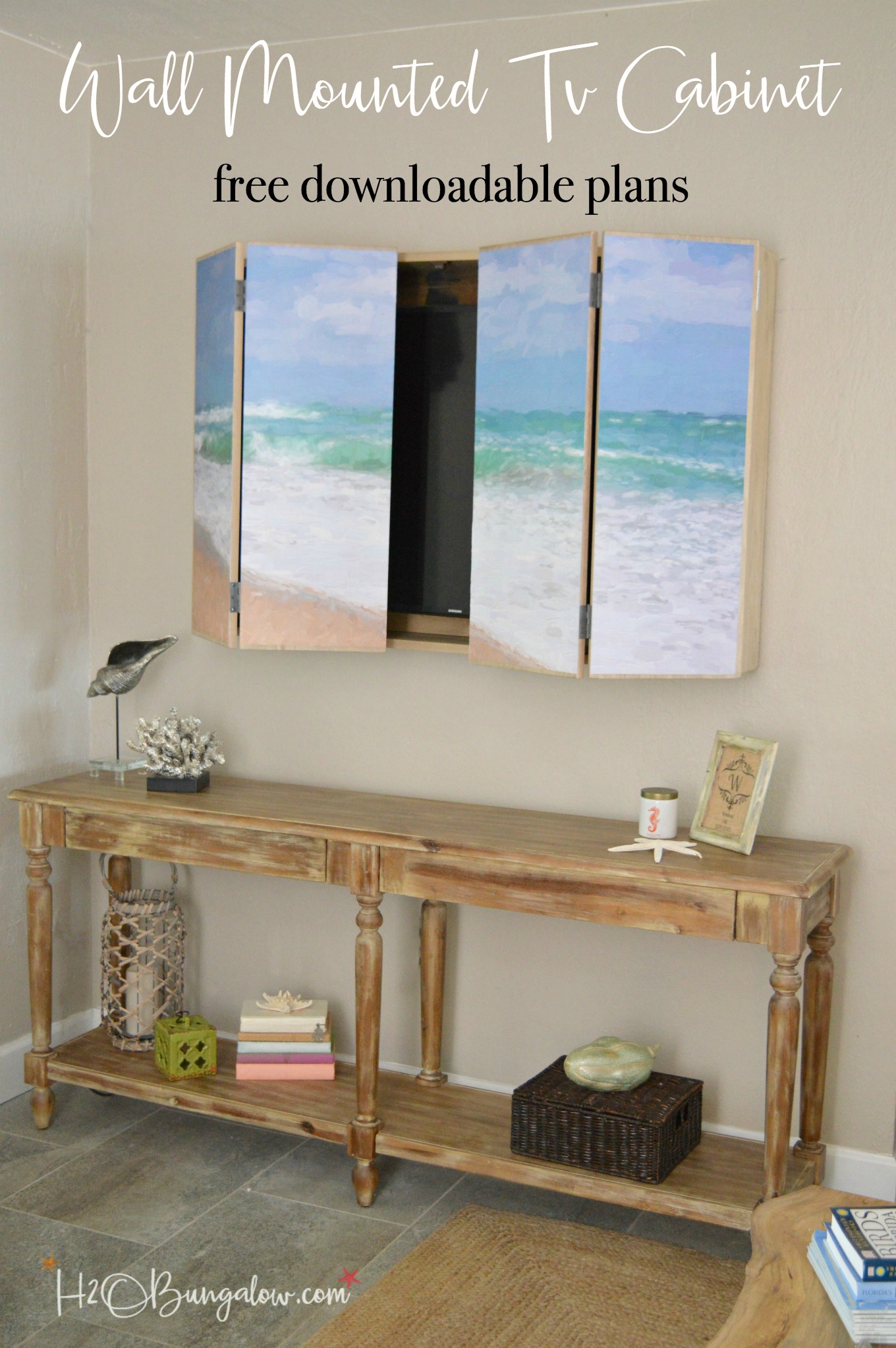 I love learning new skills and pushing my boundaries. Did you know you can set your Ryobi One+  jigsaw to cut angle cuts? This was the first time I tried it and it worked like a charm cutting the French cleats I used to mount the TV cabinet. Using a French cleat to hang the cabinet on the wall gave the appearance of a floating shelf which was exactly the look I wanted. It also made hanging the the TV cabinet and taking it down a breeze.
Speaking of new skills and power tools, are you ready to expand your boundaries with some new power tools too? My Friends over at Ryobi Power Tools and Ryobi Nation offered a fabulous giveaway with this project.
The giveaway rules are simple, you must be 18 or older to win, open to US residents only, void where prohibited. It's open until August 31st. One winner will be randomly selected and notified on Sept 1st and has 48 hours to respond.
There are lots of ways to win and you can enter every day!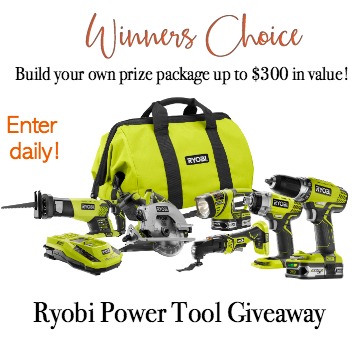 This post is sponsored. I only share products and brands I love and believe in. I'm a Ryobi Power Tool girl and love Ryobi tools because they are easy for me to use and well made. The One+ design of interchangeable batteries is smart and convenient too!