Today's project is simply cool. I'm going to show you how to turn your photo into a DIY faux canvas print. It's easy, it's cheap, quick and best of all it looks like the real deal. This DIY project makes turning a meaningful photo into budget friendly pretty home decor easy, like about $3 easy!
I found a photo of DH (Dear Husband) the other night. It was one of the hundreds of photos in my phone that I'd taken, and as usual forgot all about (Do you do that too?). He was tinkering on our sailboat and it was a candid picture. I felt like doing something different and decided to turn my photo into a watercolor faux canvas print so it would look like art.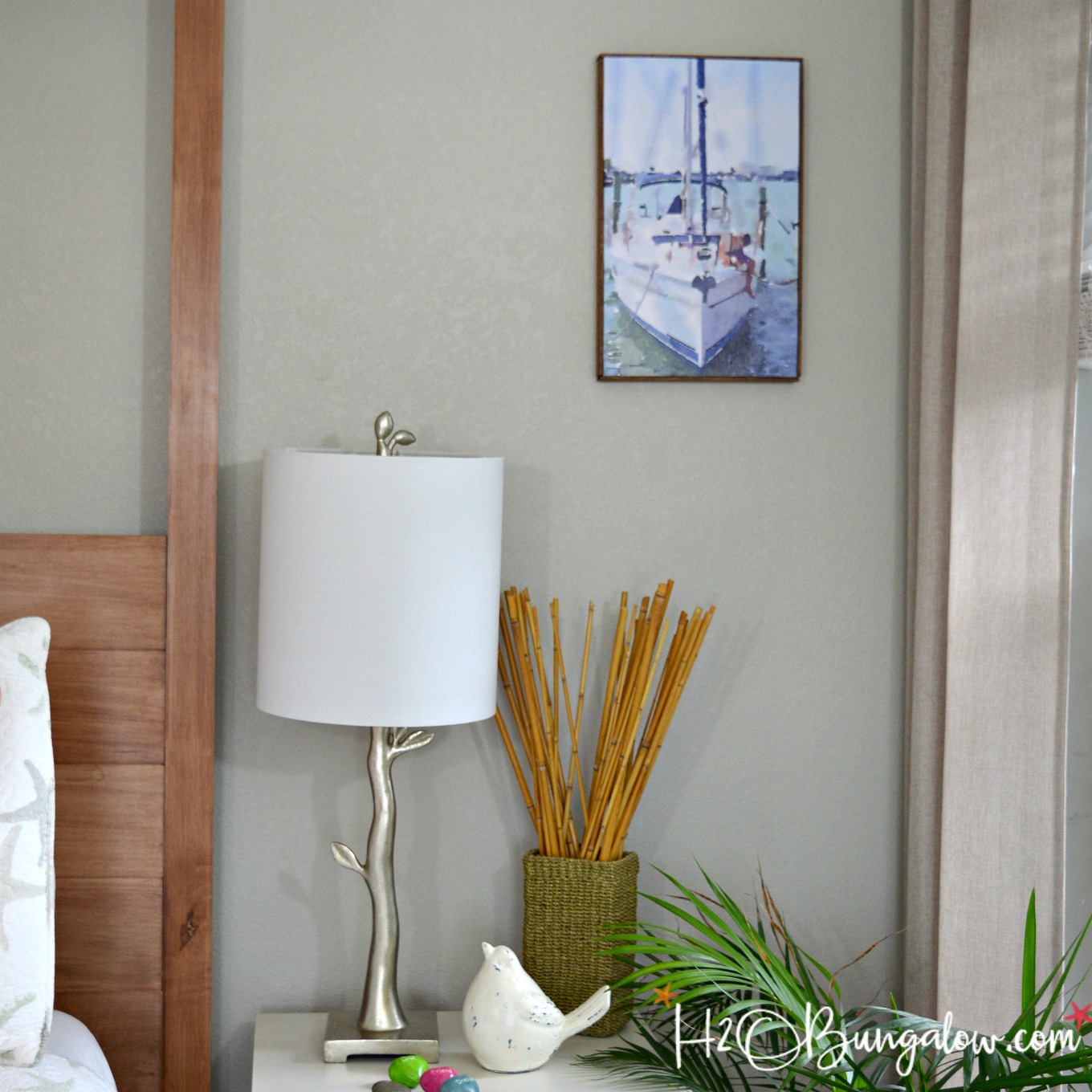 It's really easy and inexpensive to turn any one of your photos into a watercolor picture and then mount it to look like a photo canvas. I made mine for about $3 with an app and a printer.
Turn Your Photo Into A DIY Faux Canvas Print
Supplies needed for a faux canvas print from a photograph. I use affiliate links to help you find the products I used.
Step One: Change a photo to a watercolor painting
Run your favorite photo or photos through the Waterlouge app and save the watercolor version of your photo. I have the Waterlogue app on my ipad so I emailed the photo to myself to print.
Step Two: Print the correct size photo on paper
To turn your photo into a realistic watercolor canvas you only need to print it on plain white copy paper, 24lb paper worked well for me. You'll need to print your photo 2″ larger in length and width than your canvas or wood board. In other words, if I want an 8″ x 10″ canvas, I need to print a 10″ x 12″ print. I had mine printed at a local office store in a ledger size which was 17″ x 11″ and made my own wood backing from scrap wood to fit. The print was about $1 which was worth it since their printers are much better quality than mine.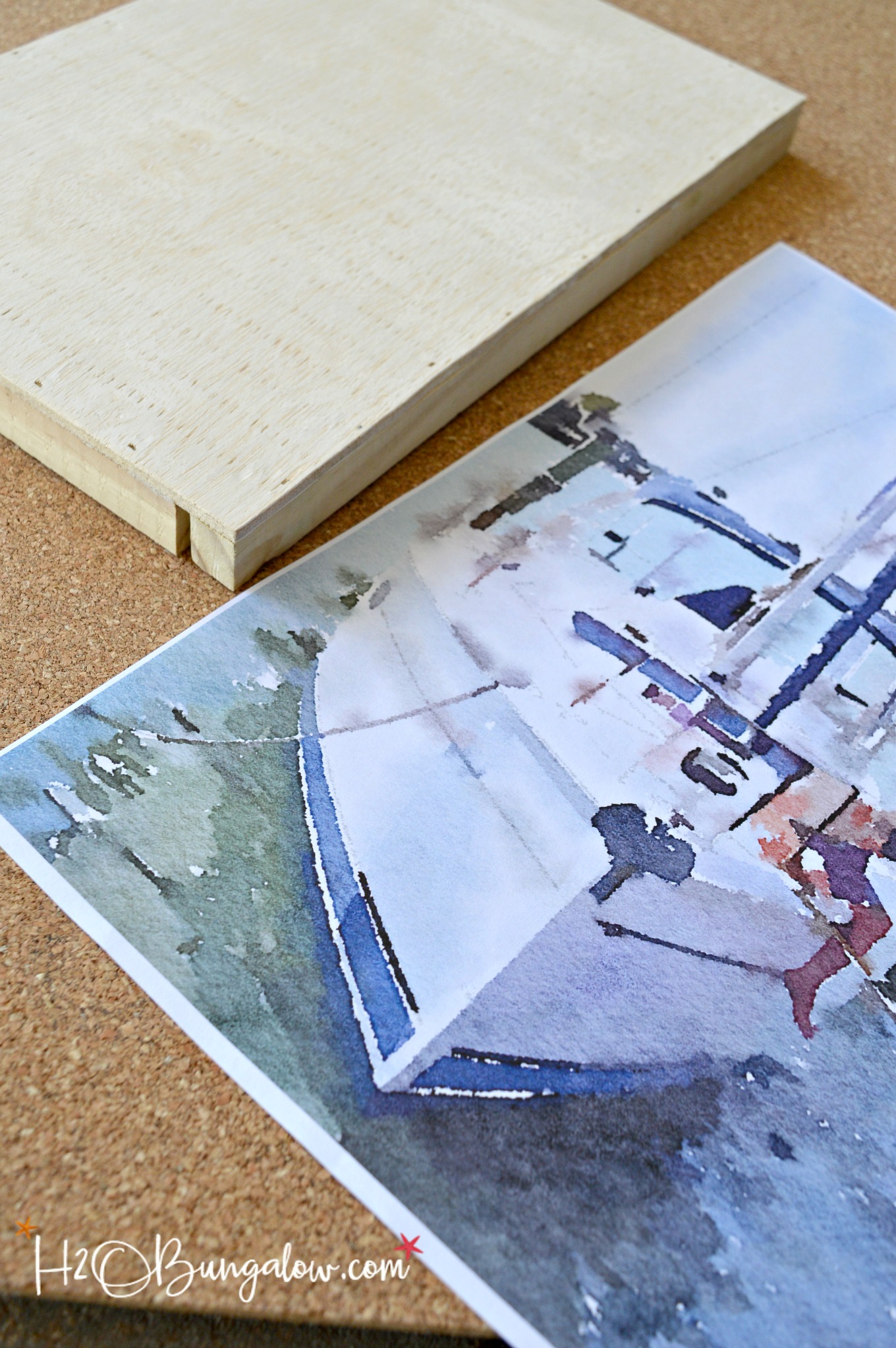 Step 3: Fit photo onto board
Position your photo onto your backing and dry fit it by folding the edges down on all sides.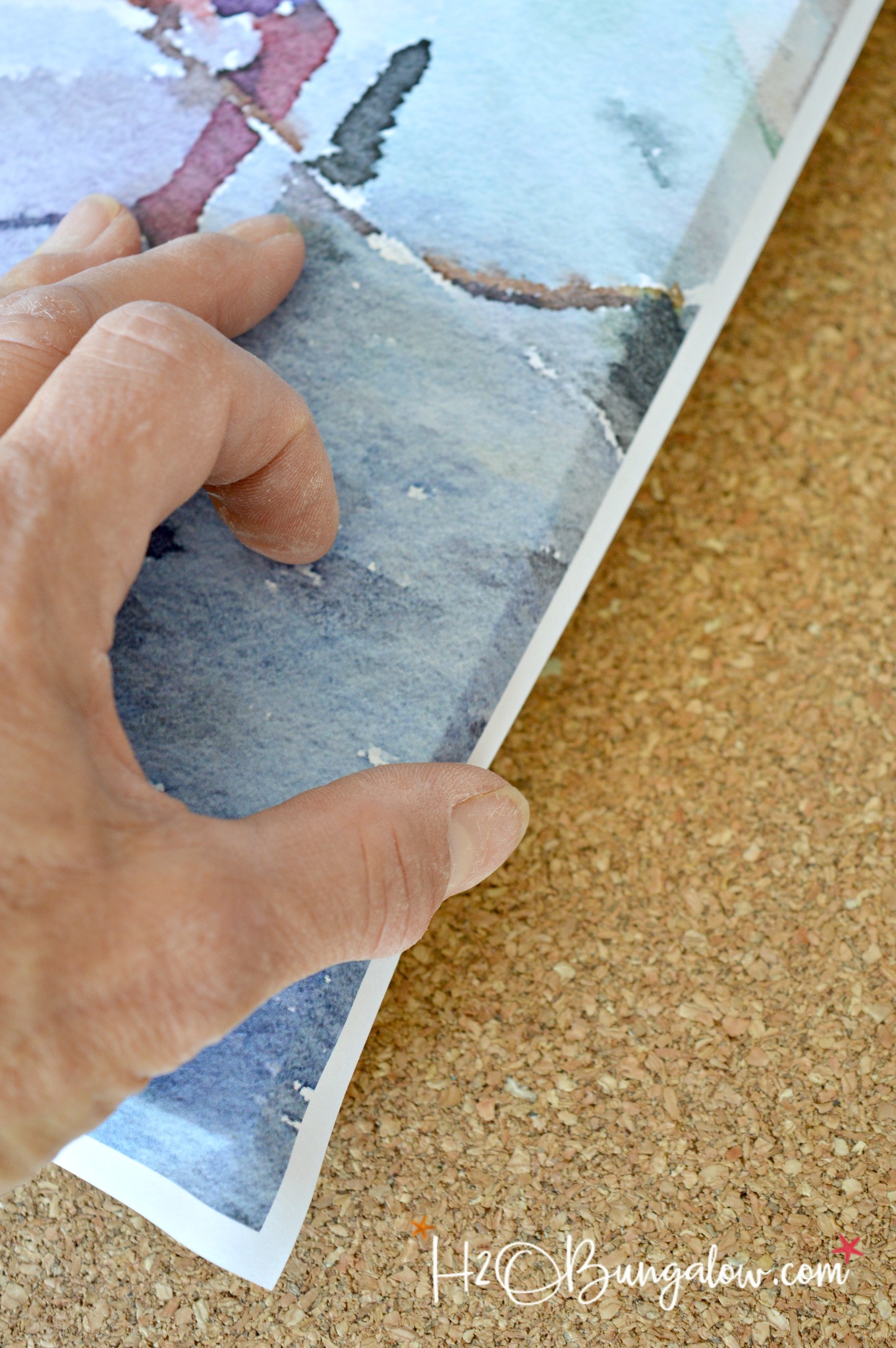 Step 4: Glue Down
Pour the Decoupage onto the board back and smooth it out in an even layer all over the top of the board with a chip brush. Position the photo on to the board and press out the air bubbles. Do this by gently pressing down and pushing towards the edges with a flat surfaced item like a credit card. I used my frame edge. Allow to dry for a few hours.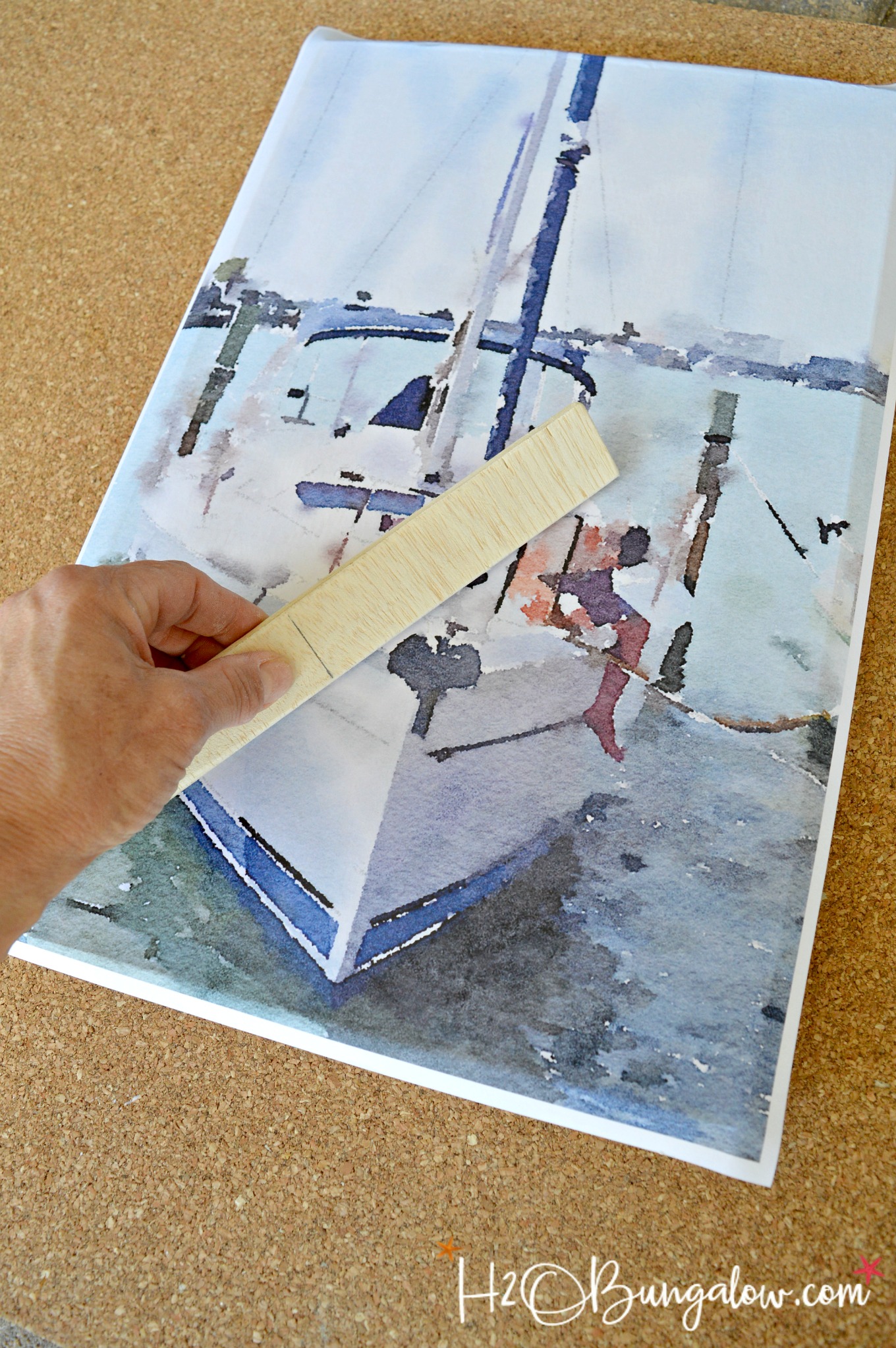 Step 5: Trim corners and secure edges of the paper
Clip all the edges like the picture below, pull off the little triangle piece. You'll glue and press the long side down (the one on the right in the picture) and then glue the short side down and the flap will fold over the edge onto the long side neatly making a perfectly smooth corner. Allow to dry for a few hours until set.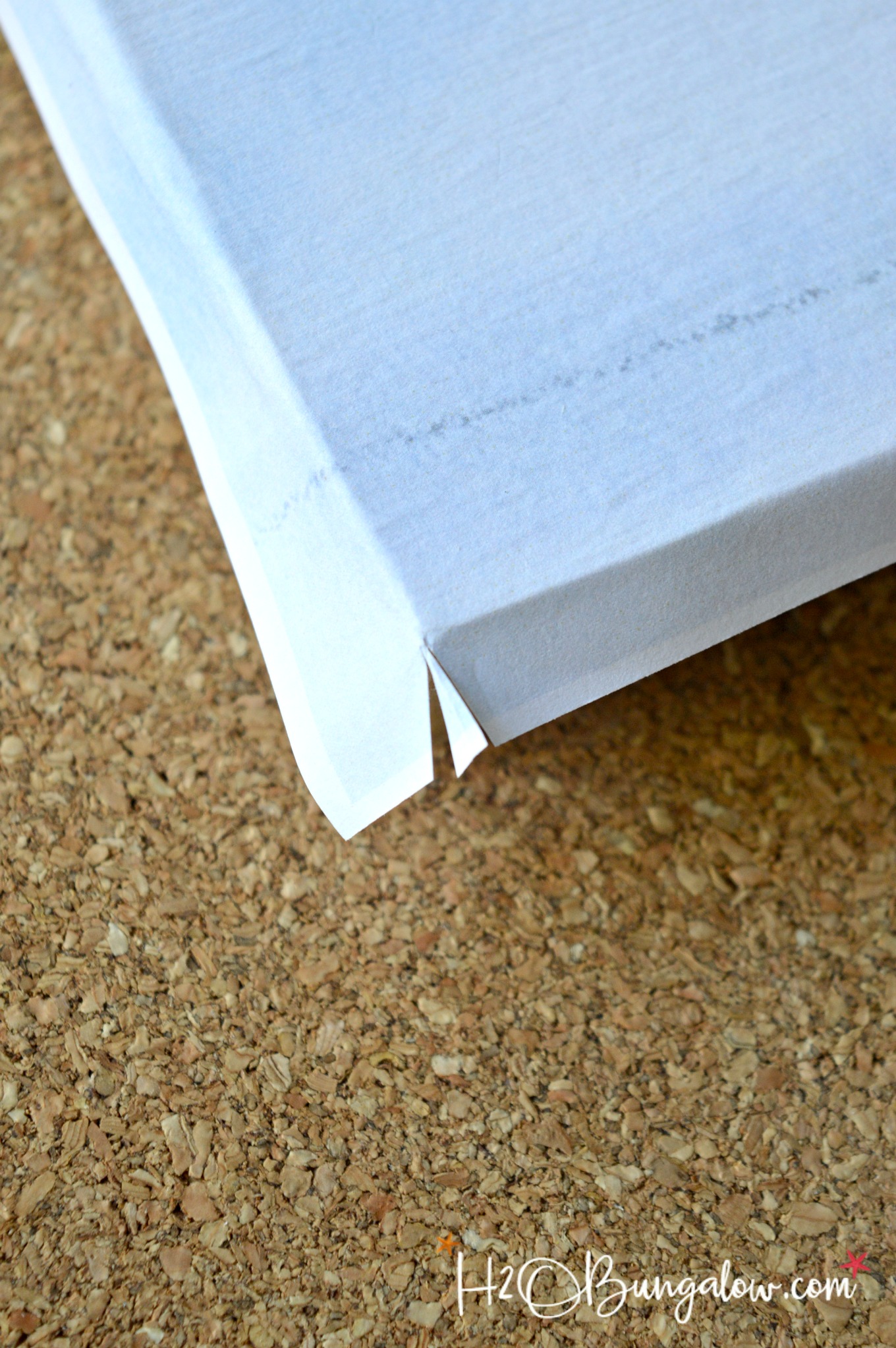 Step 6: Create the canvas texture on the photo
Seal the printed photo and create the canvas effect with a coat of Decoupage on top. Use the 4″ foam roller to apply an even coat across the top. The roller will make a rough finish like canvas. Use enough Decoupage that the roller leaves an even and rough surface, it will look milky until it dries. Allow to dry thoroughly. I forgot to take a picture of this step, so sorry!
Step 7: Make frame
While the glue is drying on your DIY faux photo canvas art, make your frame. I used 1/4″ plywood cut into strips 1/4″ wider than the depth of my board.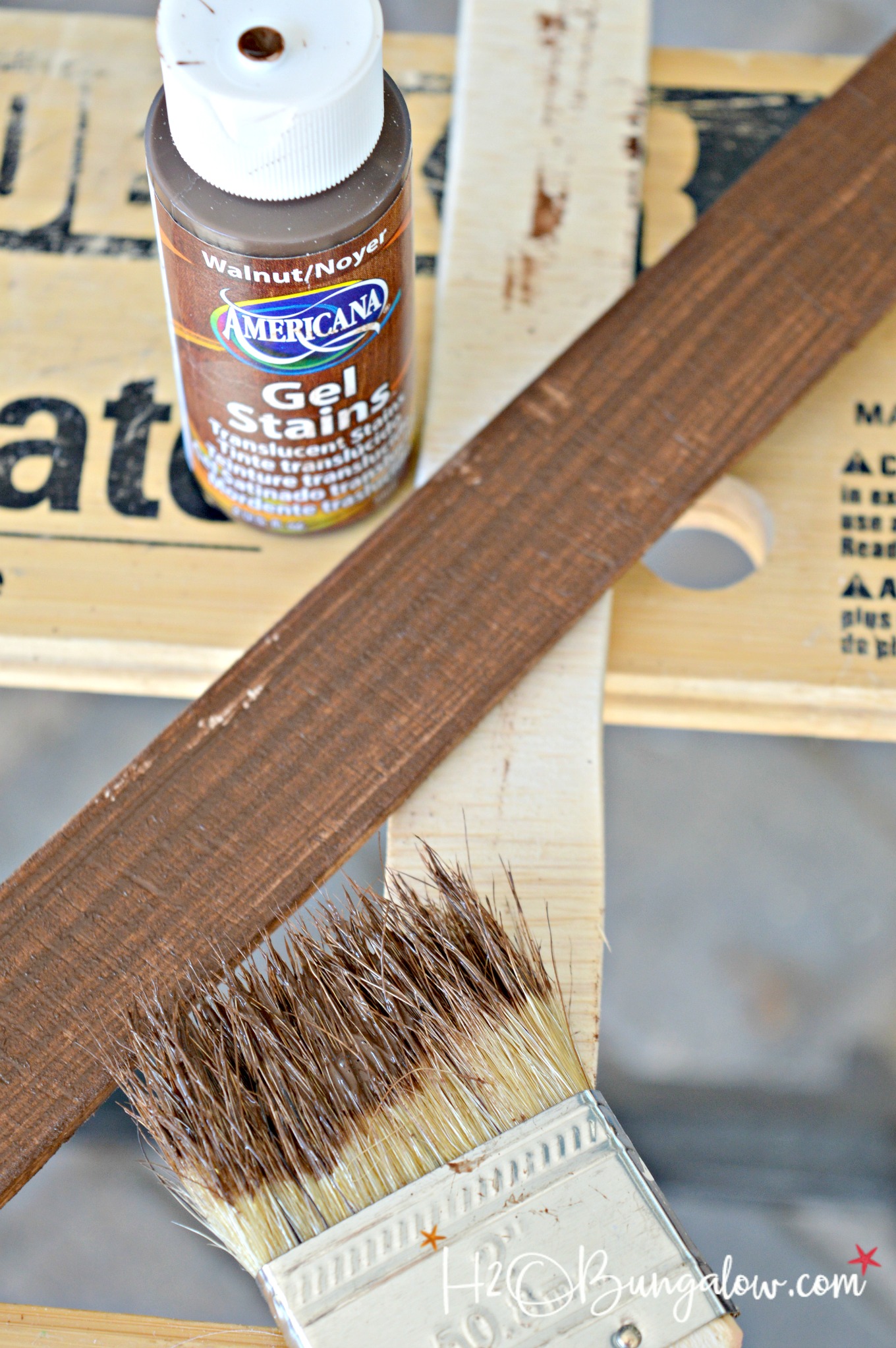 Step 8: Glue frame in place
Use a good glue like E6000 or construction adhesive to glue the side frame pieces on. I also added a few brad nails to hod the sides in pace ad make my frame extra sturdy.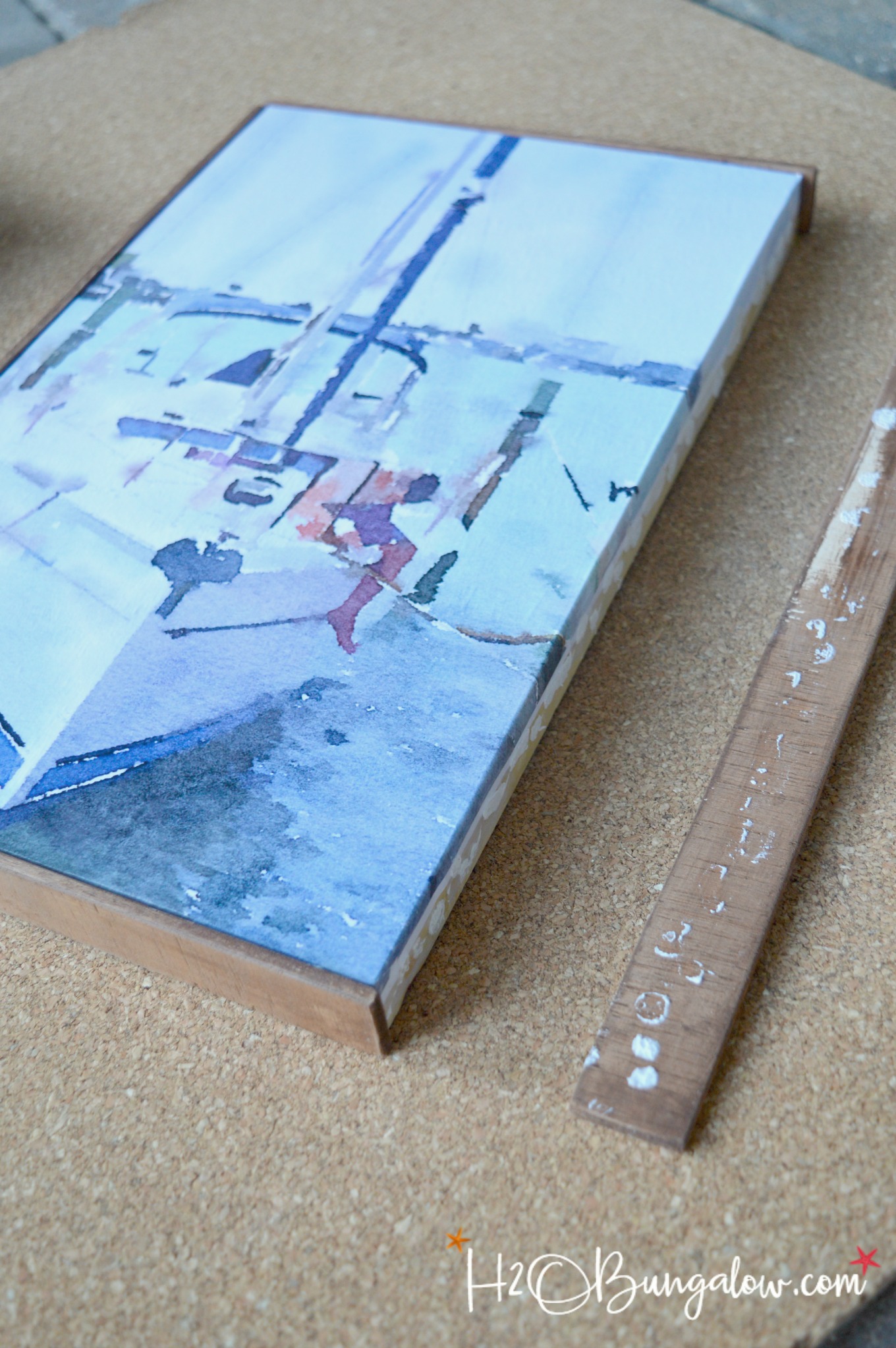 Done!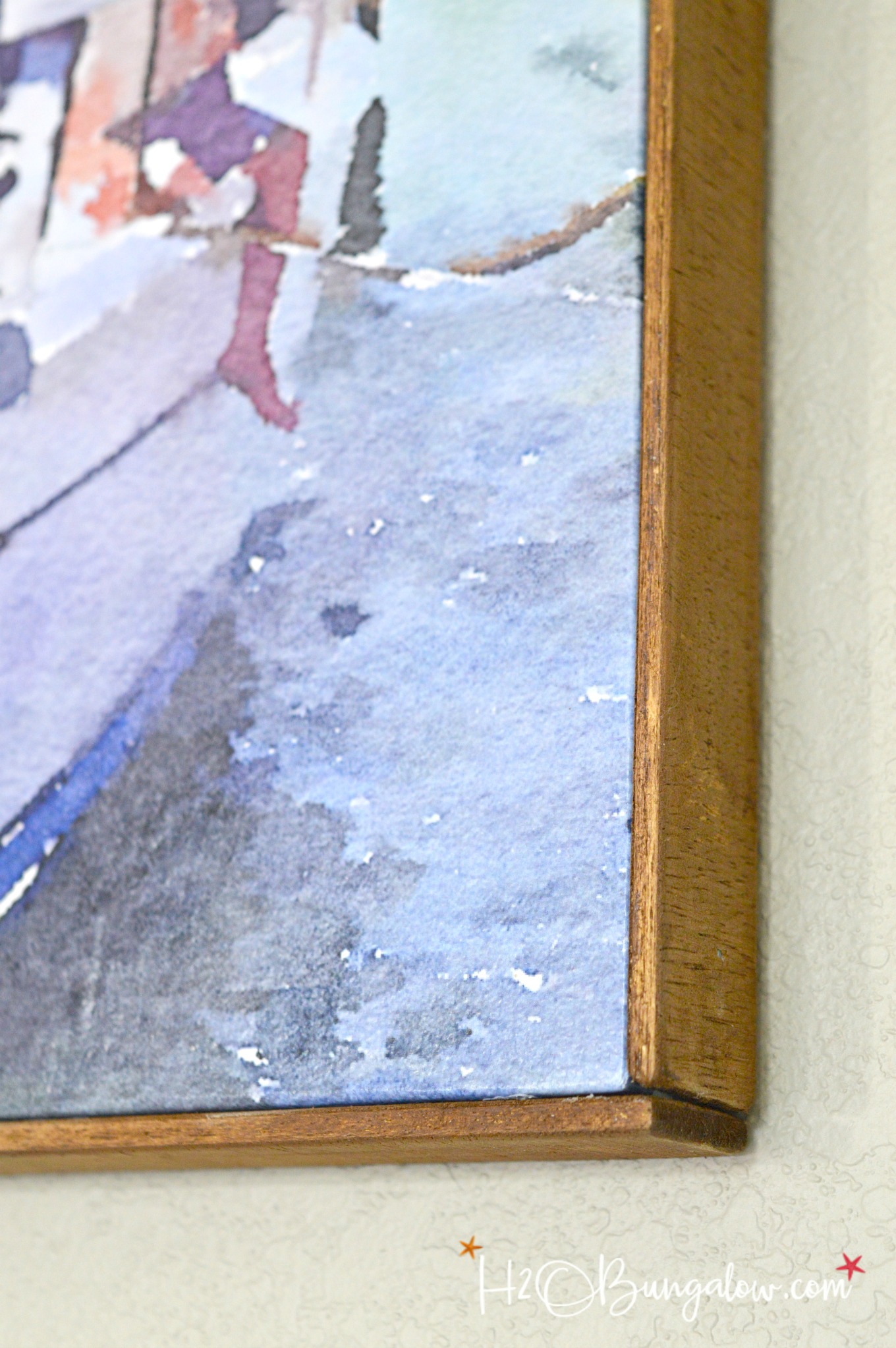 That's how easy it is t turn your photo into a DIY faux canvas print.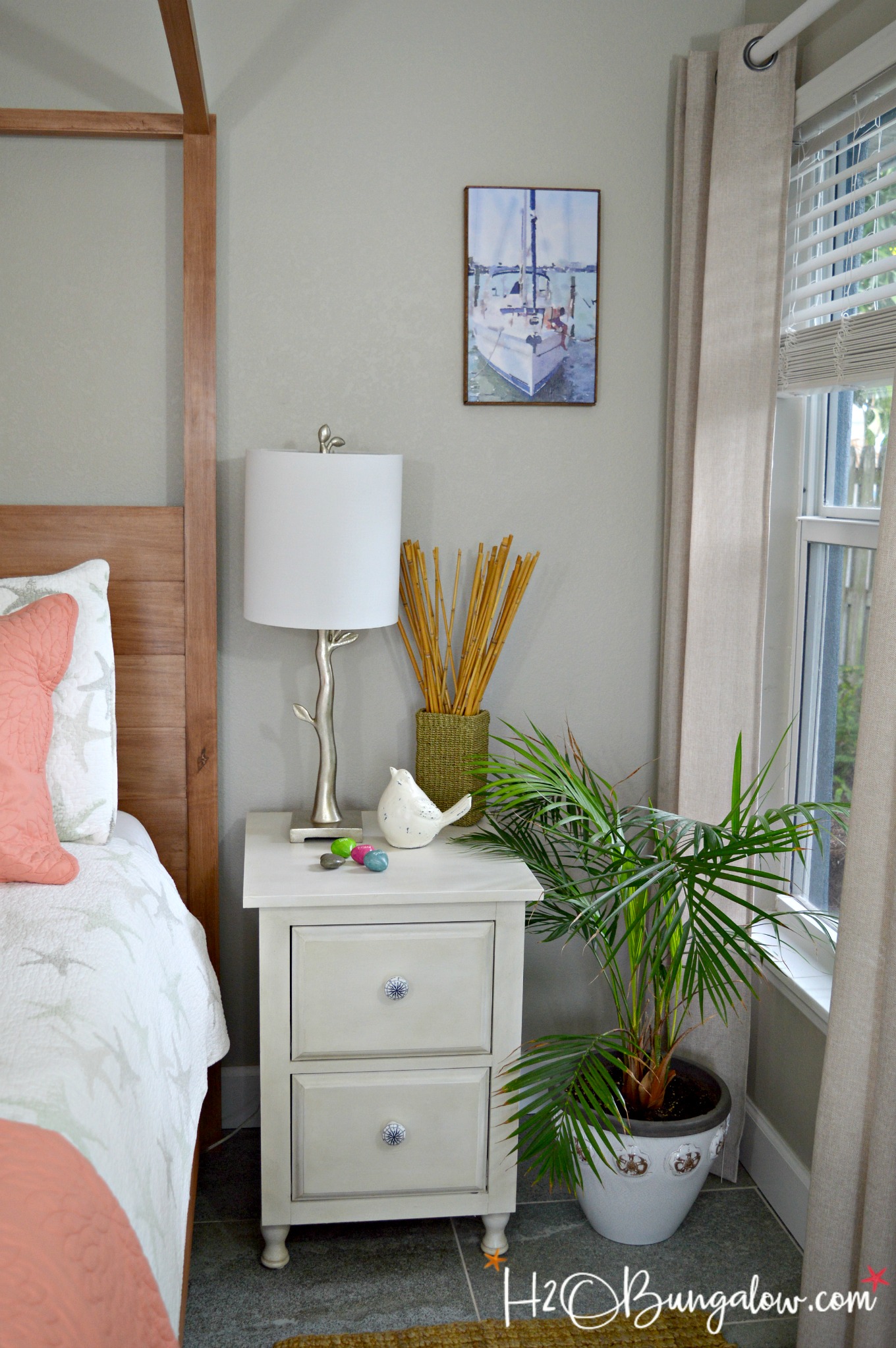 I made my frame because my faux canvas print was an odd size. Of course if you make your faux canvas photo art a standard frame size, you can skip the part about making a frame and just pop your new canvas art art into a ready-made frame too 🙂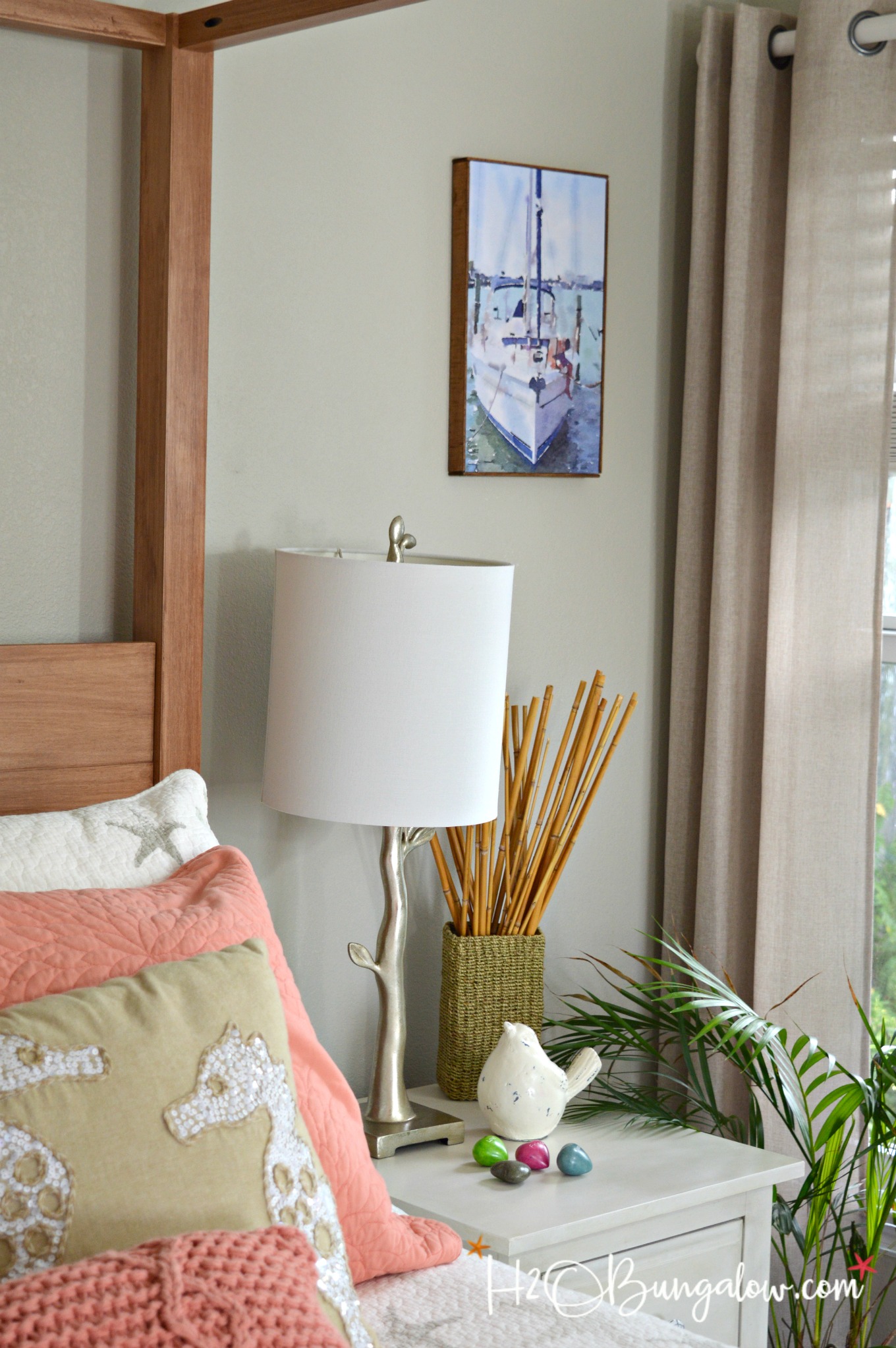 I'm sure you guys recognize this print as the one I used on my hanging hidden wall jewelry organizer project from last week. I made both projects from the same print. For those of you who might be wondering if I'm hanging both prints in my bedroom, the answer is no! As much as I love the guy I think two of the same pics in the room is one too many! …If he's in the room too, sometimes it's two too many! LOL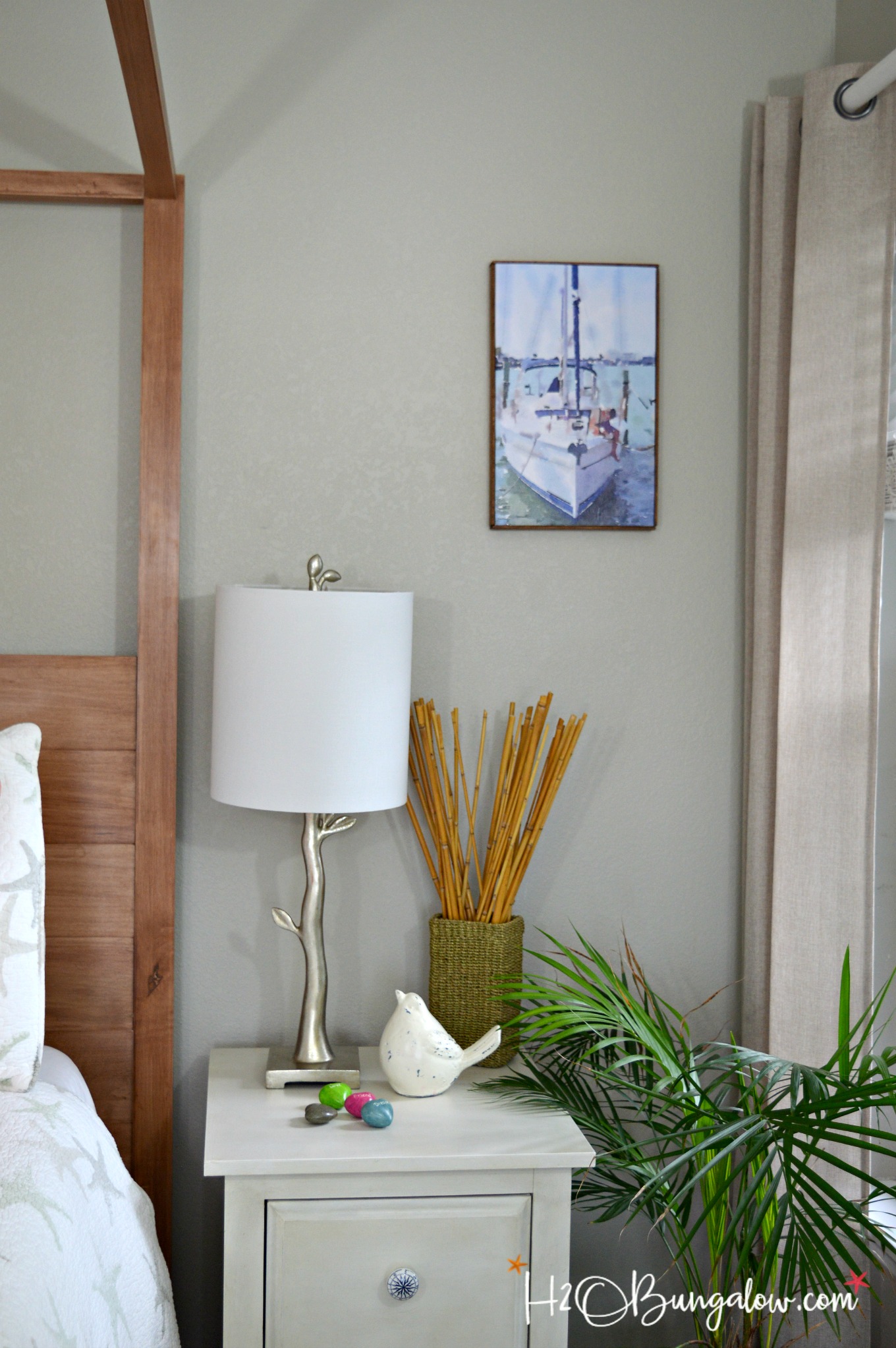 Pin this for later!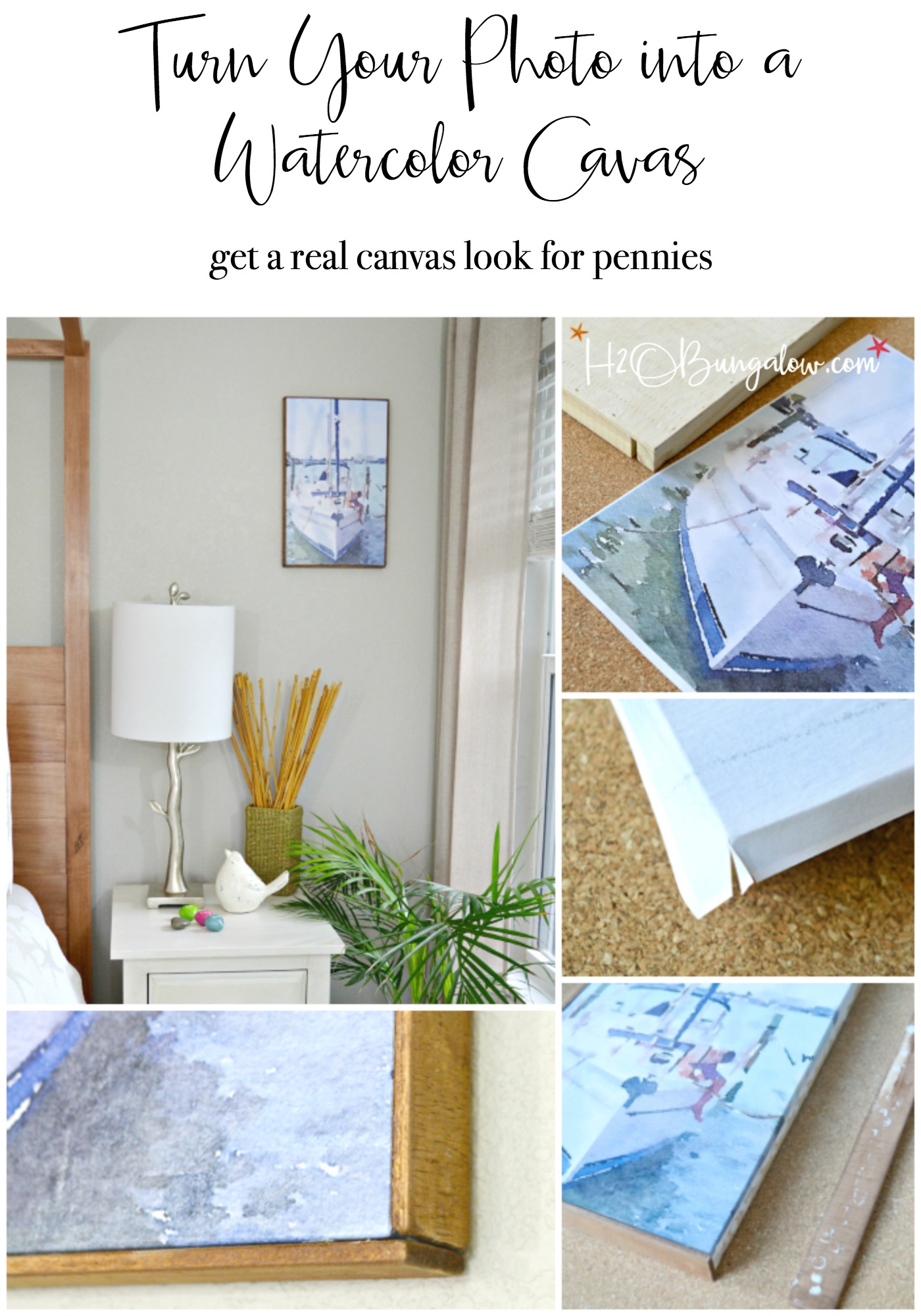 This one is headed for the North House where you'll see it soon 🙂
Do you have a favorite photo you'd love to turn into a DIY faux canvas? Share what it is in the comments below and why it's special!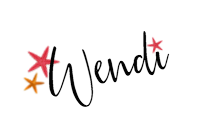 You'll find my project linked up to these fabulous parties!
Love a good dose of DIY home decor, home improvement, the challenge of woodworking and creative ways to make your home look fabulous?
I'd love to share mine with you. Click here to sign up for my post emails and I'll send a quick note when I have a new project.