Hey friends! I have a fabulous new project tutorial, a DIY live edge wood coffee table with hairpin legs to share today. It goes perfect with my Live Edge Coat Rack. It's time for the Power Tool Challenge Team's monthly event and this month is another Reader Challenge! That's right you guys get to share with us your best home decor item you've made with a power tool. The entry voted best power tool project wins an awesome prize package from HomeRight too.
My project for this month's theme is a DIY live edge wood coffee table with fabulous metal hairpin legs! It was finally time to retire my $20 Ikea table. It was supposed to be a short term fix until I found one I couldn't live without. Unfortunately, I never found a coffee table that measured up to my dream table.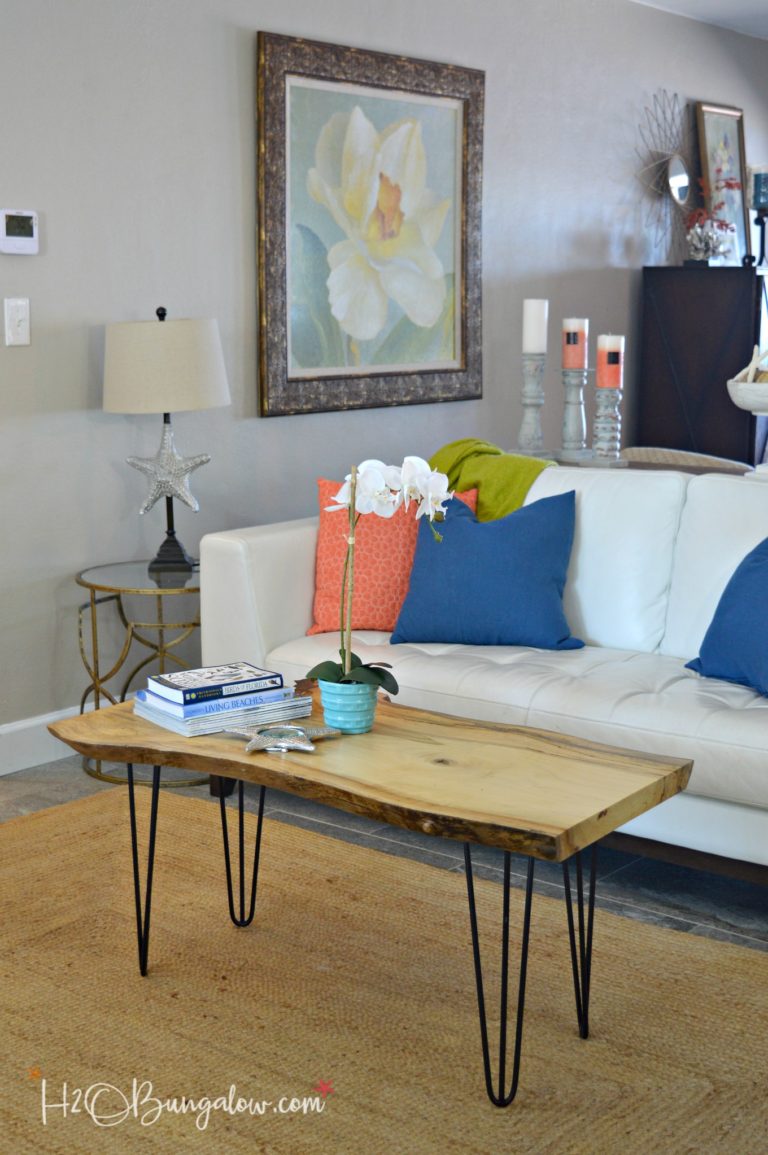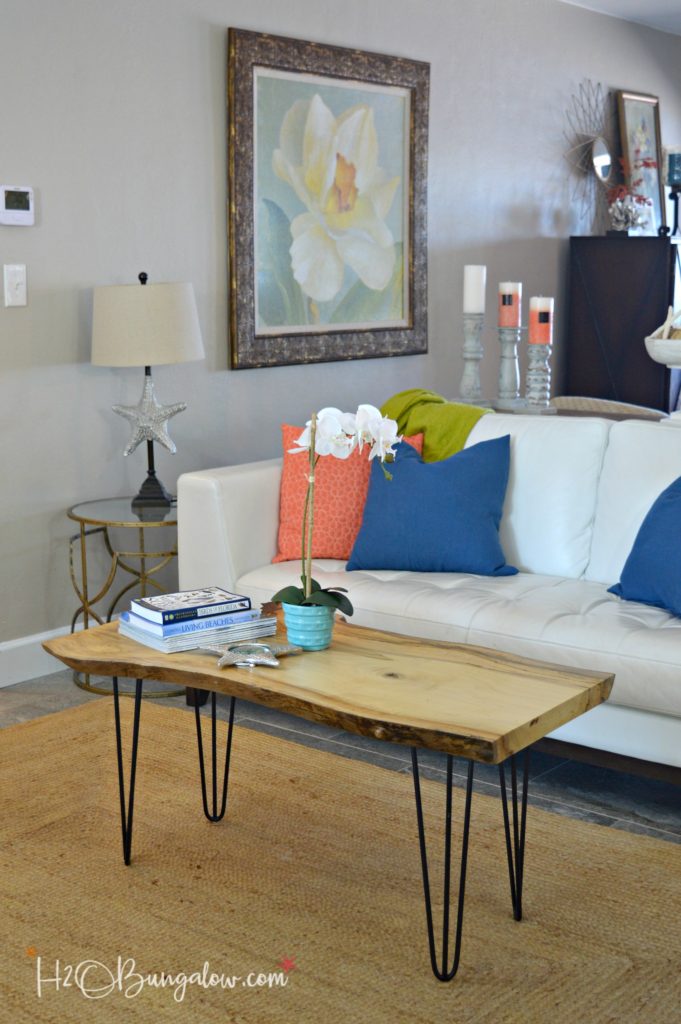 You'll find my full tutorial on how to build a modern wood slab coffee table and how to get a super smooth finish that brings out details in natural wood at the end of this post.
In the meantime, let's take a look at what the rest of the team made for their home decor themed projects.
The Kim Six Fix – Pottery Barn Inspired Concrete Top Coffee Table
Domestically Speaking – Large DIY Wall Sign
H2OBungalow – DIY Live Edge Coffee Table With Hairpin Legs
My Repurposed Life – Sofa Side Table
My Love 2 Create – Fabric and Wood Wall Hanging
Virginia Sweet Pea – Card Display Holder
The DIY Bungalow – Repurposed Fire Screen
Designed Decor – Upcycled Wall Shelf
Create and Babble – DIY Wood Plank Walls
Thrift Diving – DIY Bath Vanity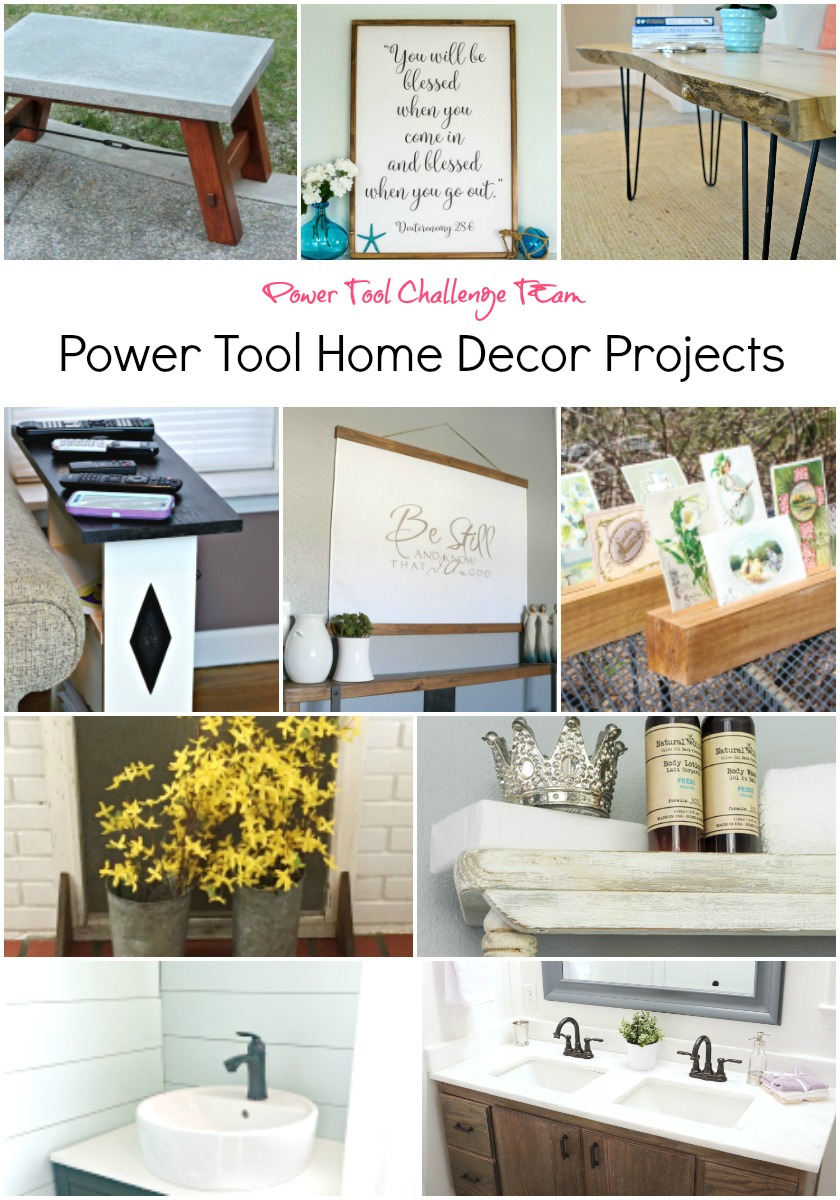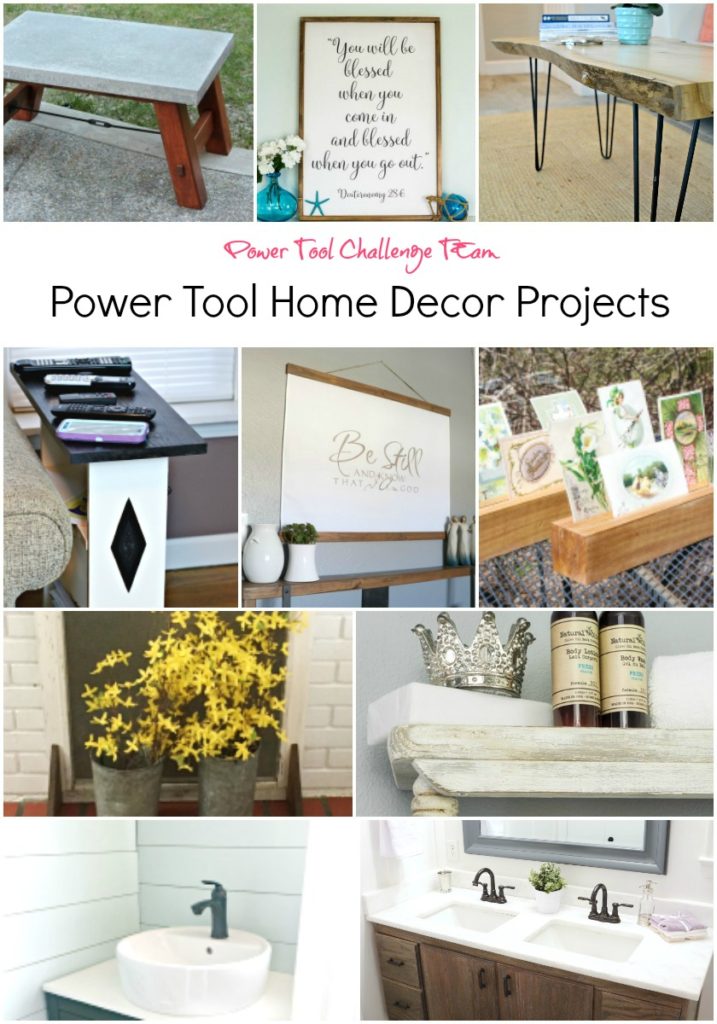 Now it's your turn dear friends and readers!
Show us what you've got! Like I mentioned earlier, there's an awesome prize package at stake for the project voted best by the team and our sponsor HomeRight. The reader challenge is open for two weeks so you've got plenty of time to make your dream DIY build project. You can also use a project you've already made.

So now let's talk about your project. You ready for the details?
The Home Decor project can be

made from anything as at least 1 power tool was used to build it.

The Home Decor Power Tool Project Challenge is open for entries from 3/16 through 3/30 via a link up.

Submit an old or new project as long as it's a home decor item you made.

Anyone can enter, the more the merrier, winner must be 18 or older

Each participant can enter up to 3 projects.

Winners must live in the US.

The Power Tool Challenge Team and HomeRight will vote on the best project and one winner will be selected. The winner will receive a HomeRight DIY Paint Package which includes a Finish Max Pro Paint Sprayer, Large Spray Shelter and Small Spray Shelter and a Rapid Clean cleaning tool for the Finish Max Pro Paint Sprayer.

Void where prohibited.
You can learn more about the HomeRight products and how they are a DIY'ers go to for saving time here.
How To Enter
Add your project to the link up below. If you're a blogger, you know how it works. If not, than post your project on my H2OBungalow Facebook page and use the link as the URL to enter. If that's too complicated, just email me your project photo, along with your name and the title of your project and I'll be happy to enter it for you.

Need more ideas on what kind of home decor items you can make with power tools?
My Pedestal Bowls are still a favorite project of mine. I made two Blanket Ladders for the North House Lodge last fall. Or click over to my Woodworking Project pages to see lots of ideas, like the DIY Farmhouse Table I built and the DIY Cutting Boards I made from scrap wood!
How To Make A DIY Live Edge Wood Coffee Table
Like I mentioned earlier, It was high time I had a coffee table that did justice to my living area. Last fall Osborne Wood Products sent me a fabulous set of steel hairpin legs. As soon as I saw them I knew exactly what I wanted to do with them. You got it, build my dream coffee table 🙂
I'd seen live edge coffee tables before but wasn't sure I'd be able to find a good slab of wood locally much less replicate the perfect finish. My personal favorite is the hand rubbed look. On a fluke I thought I'd check out an awesome urban lumber place in St Pete that friends had been to. The place was fantastic and I found the perfect top for my table and they shared awesome tips toget the perfect finish 🙂
Supplies needed to make a DIY live edge wood coffee table. I use affiliate links to help you find the products I used.
live edge wood slab – I found mine at Funktion House in St Pete (they ship!)
hairpin legs – Osborne Wood Products has a good selection and three pronged for heavy projects and coffee tables and lots of awesome building products too!
table saw
random orbital sander
drill
large paint brush 2 1/2″ to 3 "
clean lint free rag
screws, 1 1/4″
eye protection
mask
level
pilot hole drill bit
sandpaper, 180 and 220
Step One: Trim the wood
Trim the wood slab to size and be sure your end cuts are smooth.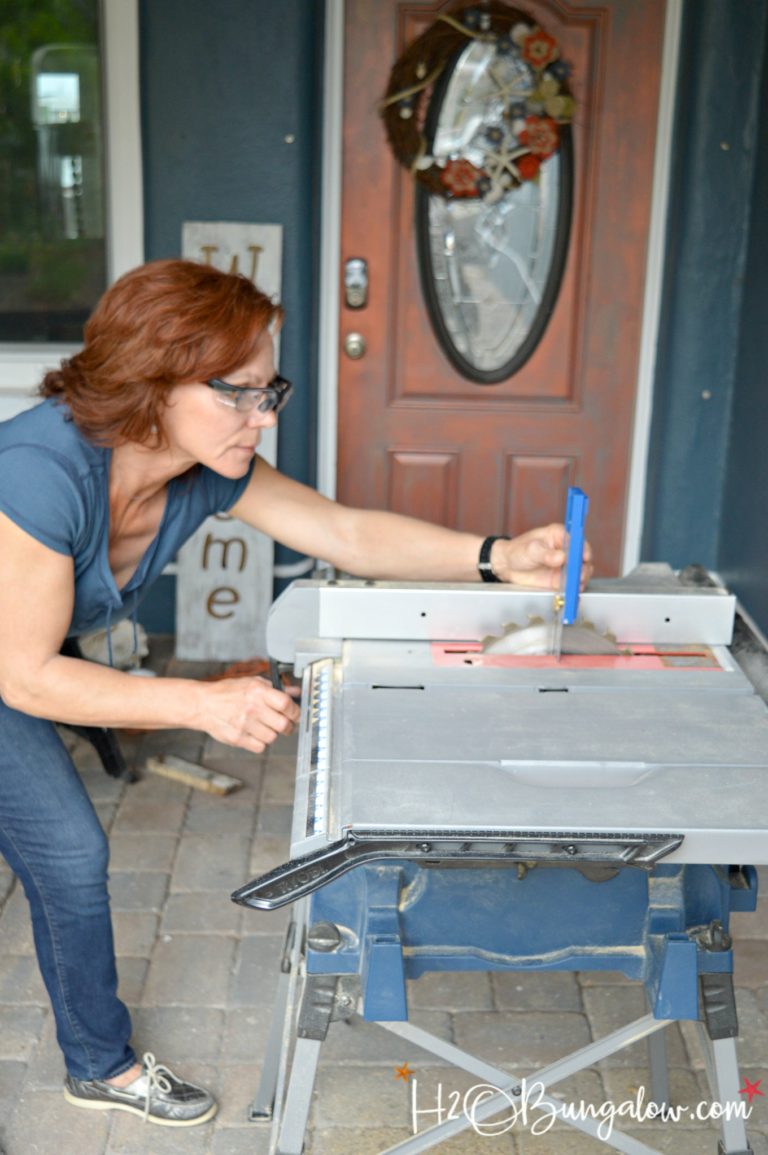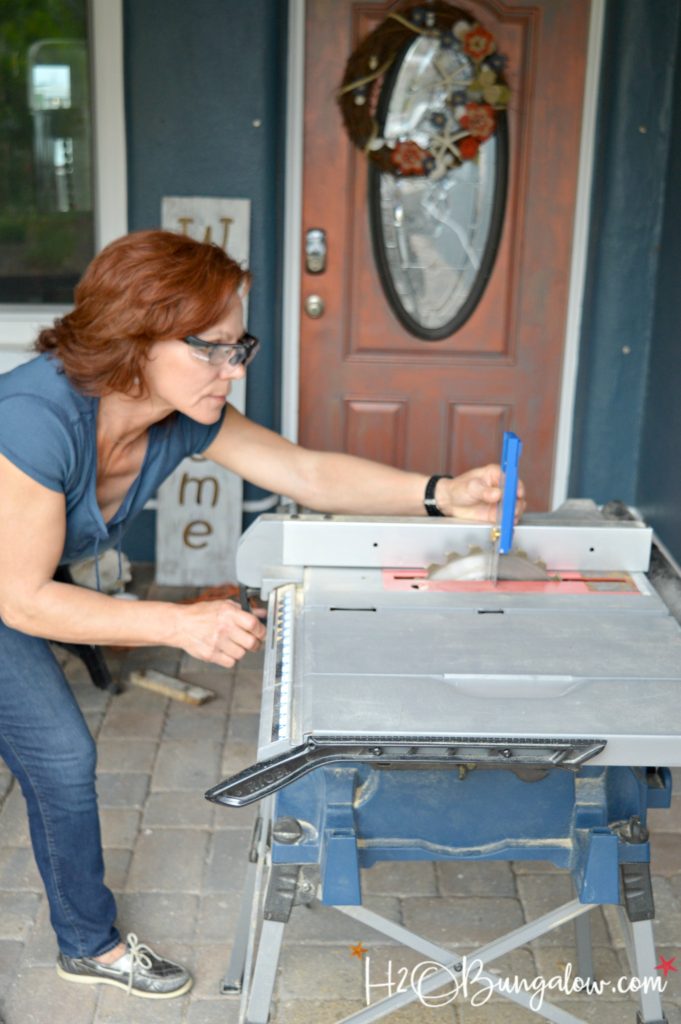 I used my Kreg Measuring Tool to measure the thickness of my wood slab and easily lined it up to adjust my table saw blade height. Sending out a big thank you to Gail from My Repurposed Life who shared this handy tool on a project of hers! This little measuring tool has become one of my favorites and I use it all the time, even for non-building projects!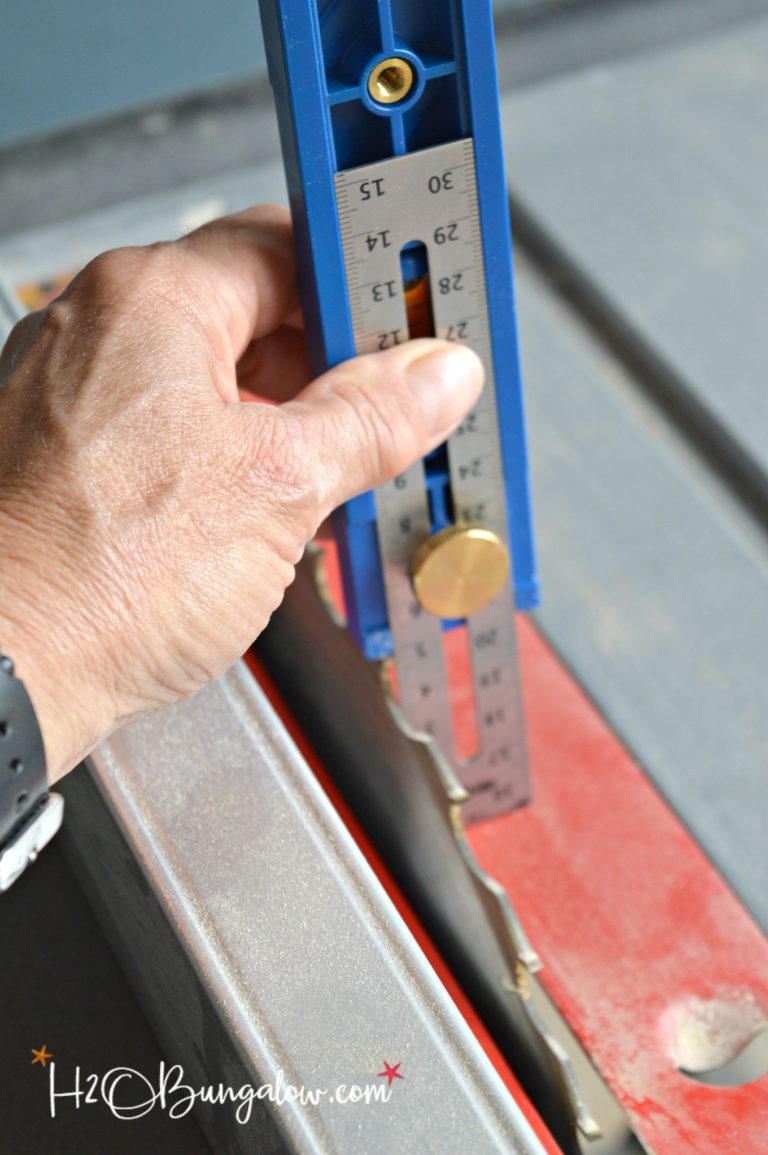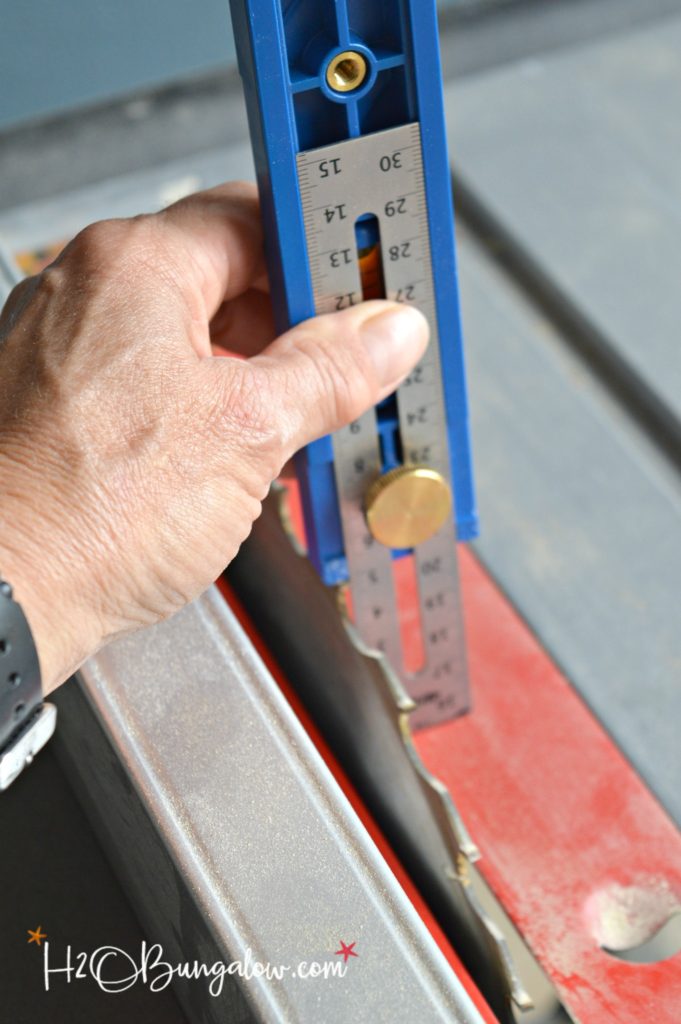 Step Two: Sand the wood slab
Sand the wood slab for your coffee table as needed. I started with a 120 grit sandpaper on my random orbital sander and worked my way up to the 22o grit. Follow the grain of the wood when you're sanding. Always protect yourself when sanding. Wear your safety goggles and use a mask when sanding.
Don't you love the grain that's peeking through?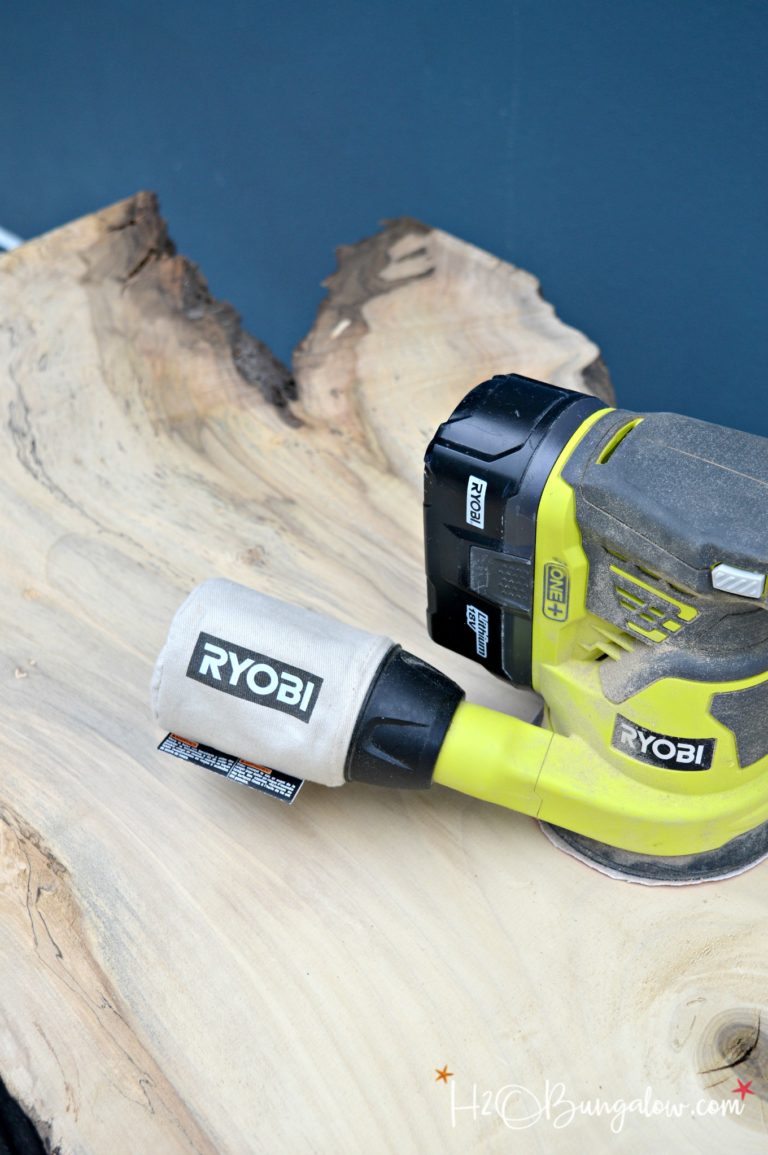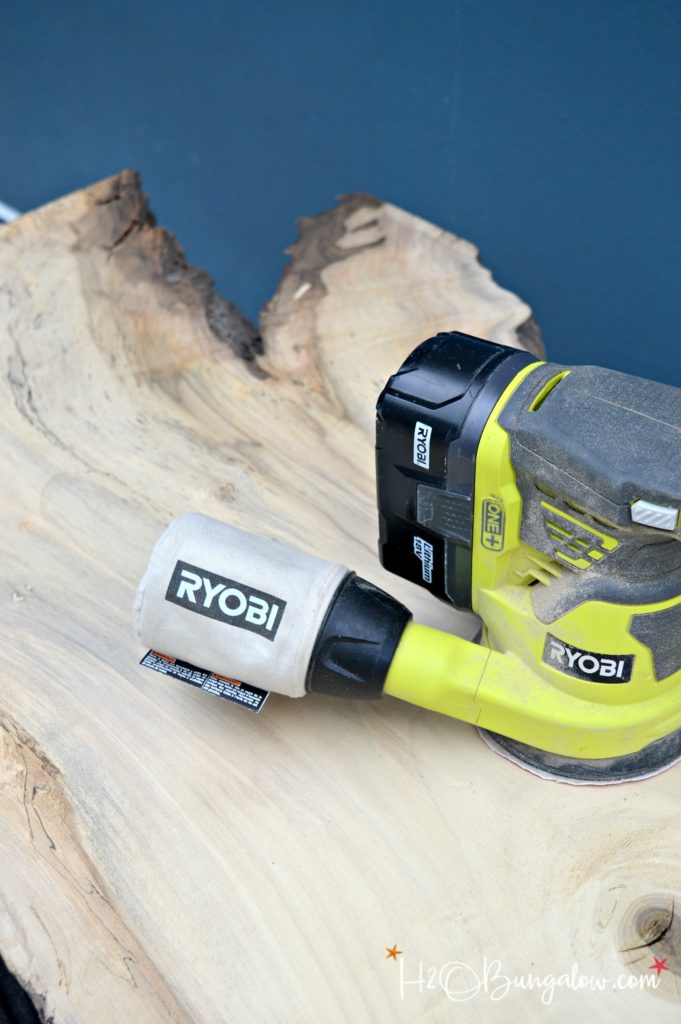 Step three: Clean off the sanding particles before finishing
I used my HomeRight Finish Max Pro Paint Sprayer with the air attachment to blow all the sanding dust out of cracks and crevices before wiping the entire wood slab down with a tack cloth.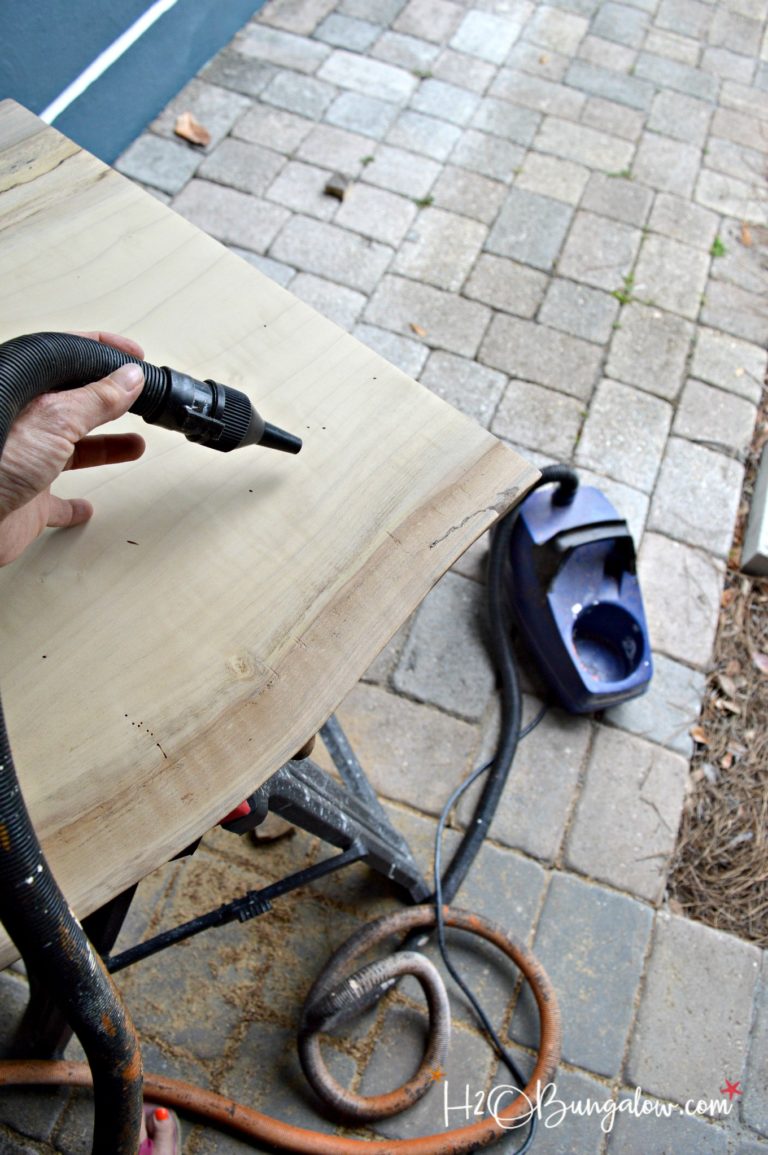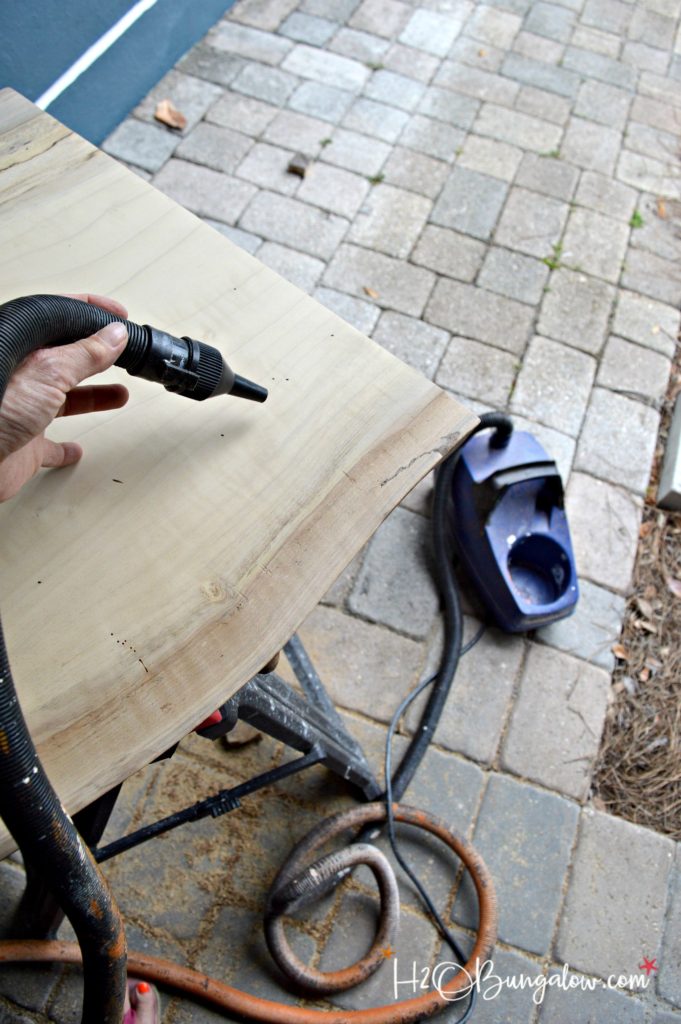 Step Four: Apply finish
I used a modified water based poly on my DIY live edge coffee table project. Dip the top 1/4 of the brush into water, wipe it off on the edge of the container. Next dip the brush in the poly, again gently wipe the edges so the brush isn't dripping. Apply a thin layer following the grain line of the wood on the top and sides. Allow it to dry for 2 – 4 hours.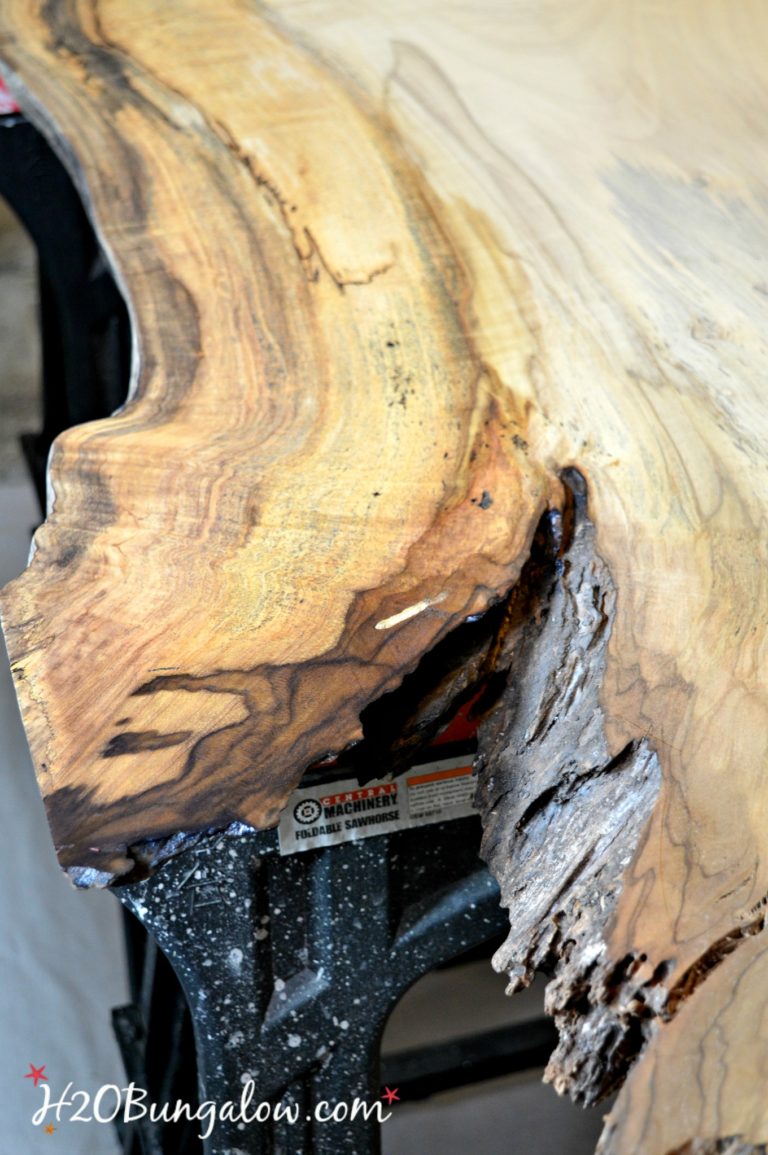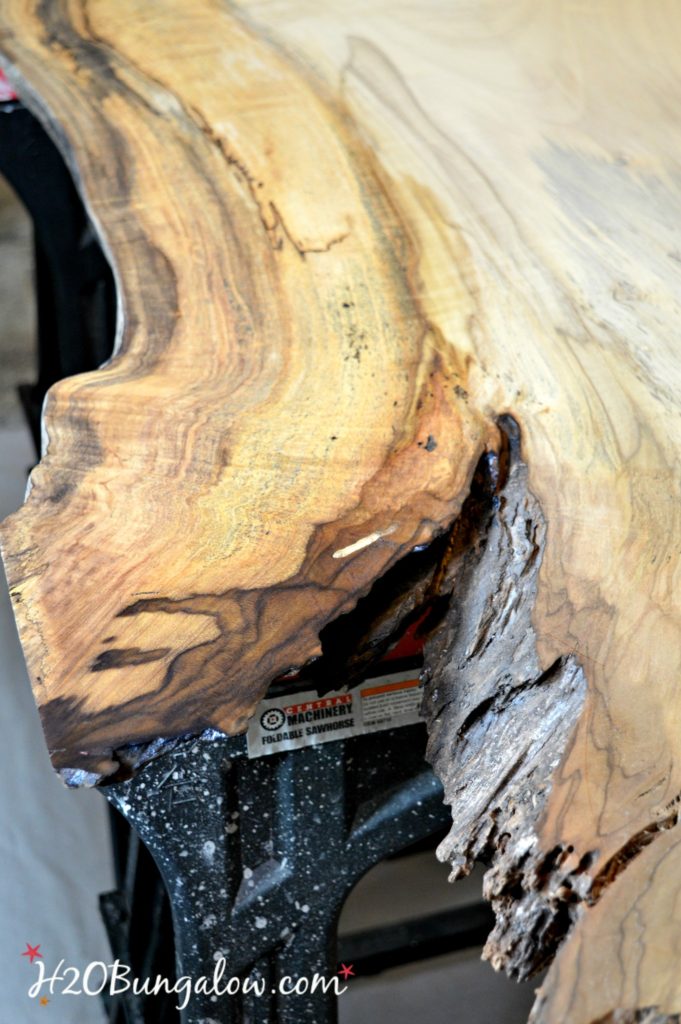 Using light pressure and a piece of 220 grit sandpaper wrapped around a sanding block, lightly sand the wood with the grain. Sand just enough to make the top feel smooth. Wipe down with a tack cloth. Repeat with another layer of Polycrylic, drying and lightly sanding. Repeat again until you've applied 4 thin layers.
Step Five: Lightly wax and buff the live edge coffee table top
Using a soft lint free cloth, apply the Howard's Feed-N-Wax to the table top. Wait 20 minutes and wipe off the excess and buff gently with a clean soft lint free rag. You'll be loving the finish at this point! If you're like me you'll keep walking by just to touch the newly finished wood top of your coffee table. I did 😉
Step Six: Add legs
Lay the wood slab upside down on a soft blanket and install the legs. I used my Kreg Tool to easily mark the position of the hairpin legs.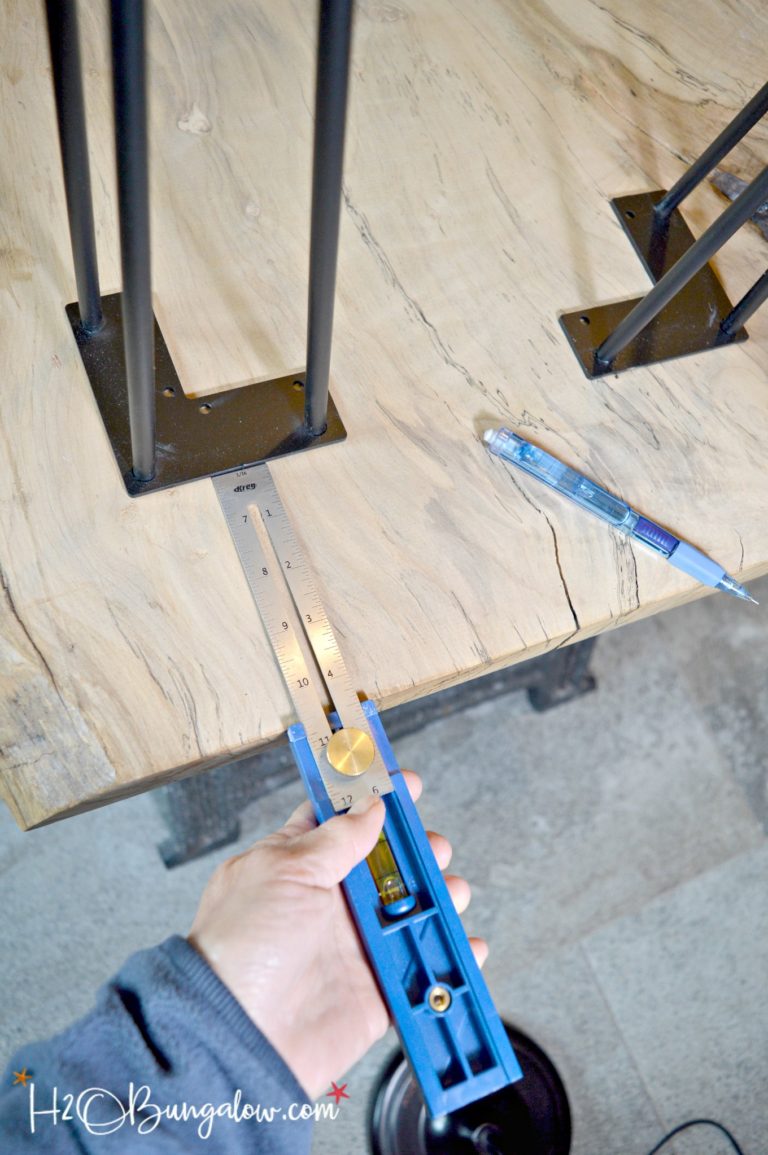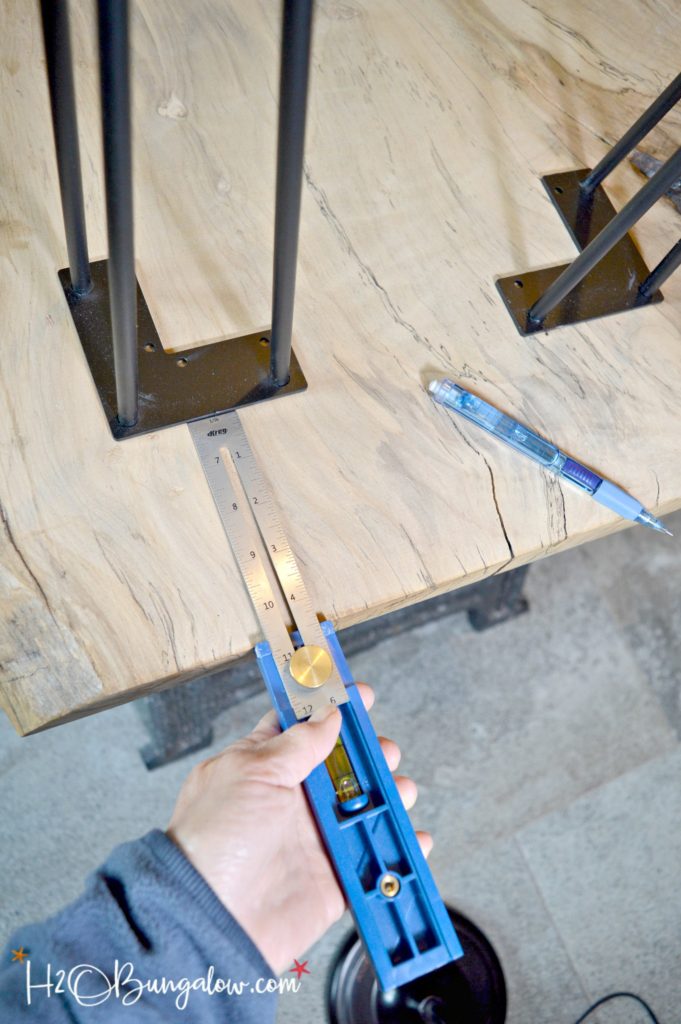 Drill pilot holes for the screws. I marked my pilot hole drill bit with tape to be sure I didn't drill to deep.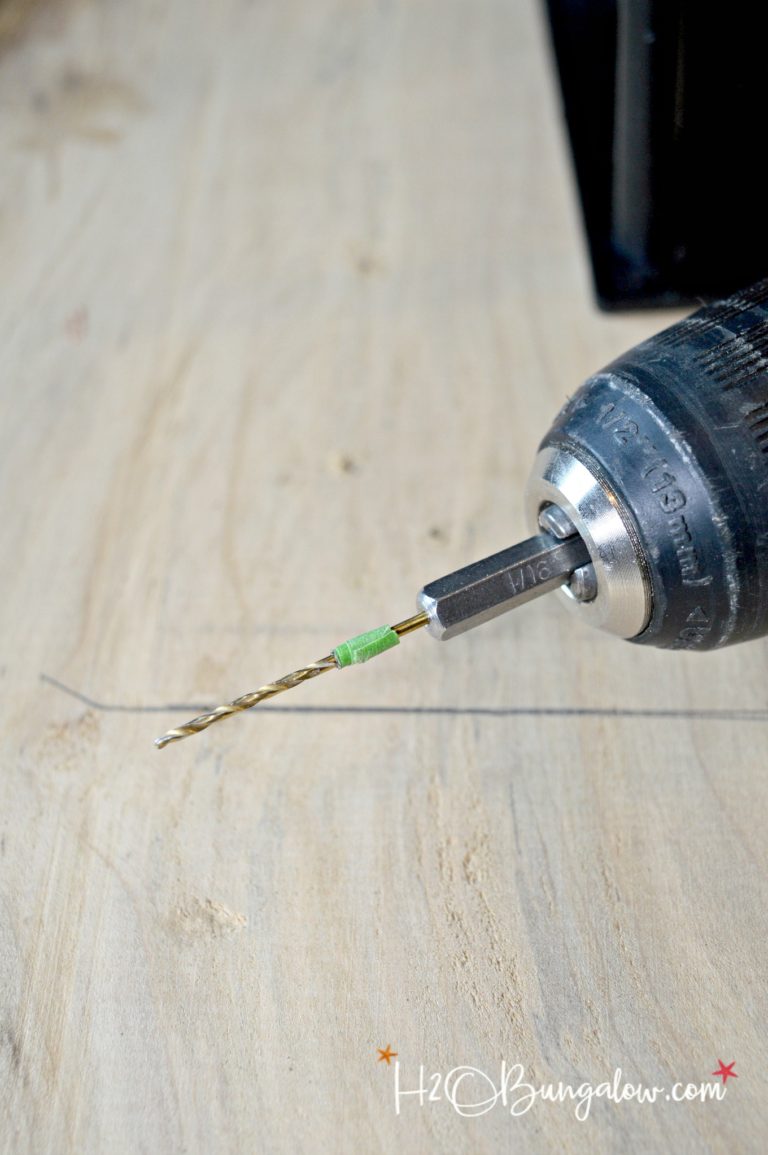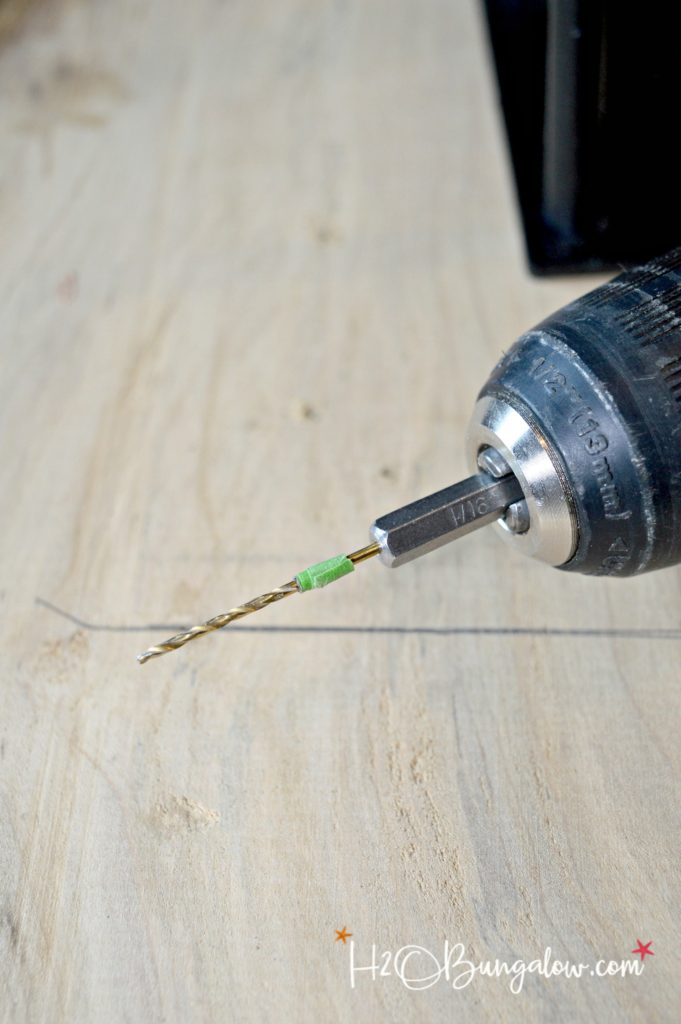 Keep in mind not all wood slabs are perfectly even. Place the hairpin legs in position and use a level to check for levelness before attaching them with screws. If needed shim a low side. If you look closely you can see the bottom right leg has shims sticking out from under the leg bracket. I had extra paint stirrers and cut a few pieces for shims.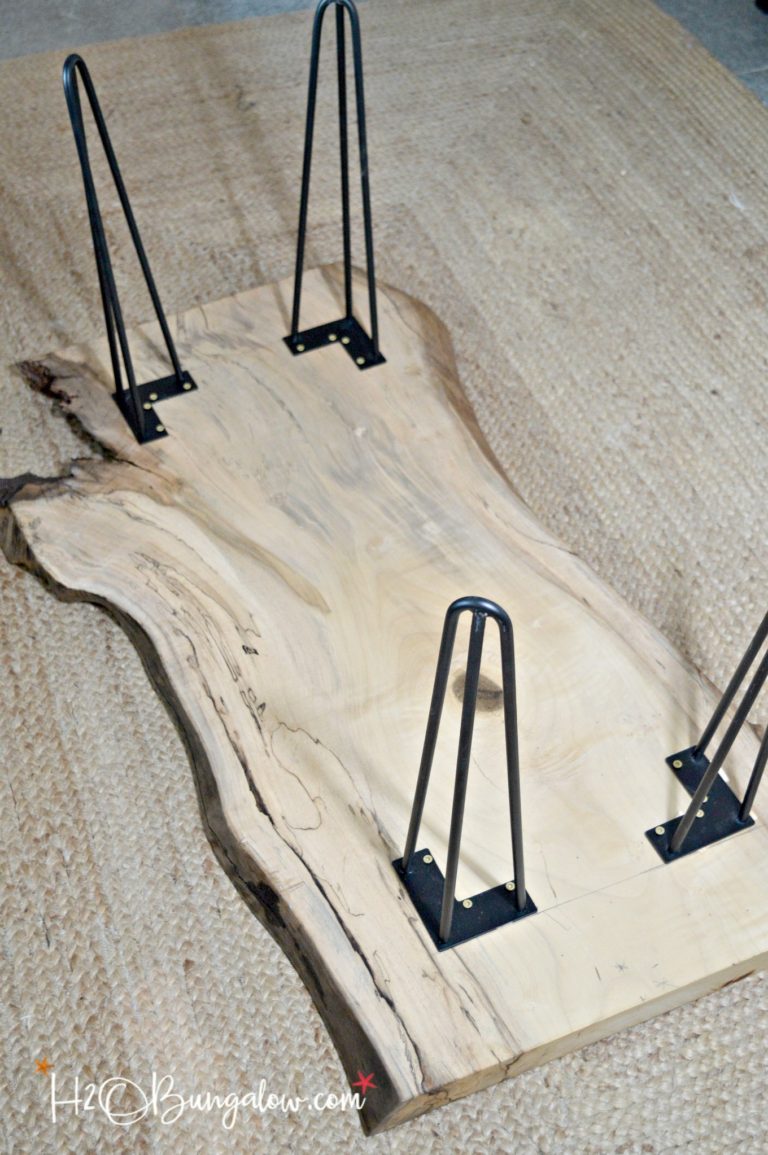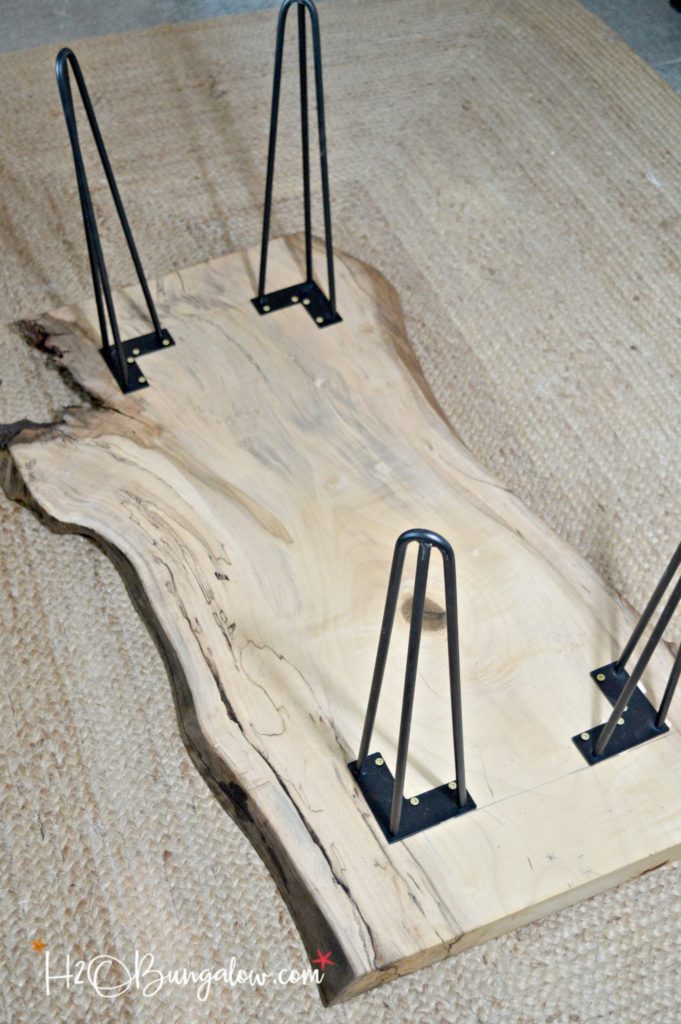 It's OK. You can't see or tell the leg was shimmed a extra 1/4″ when the table sits upright. Isn't she a beauty?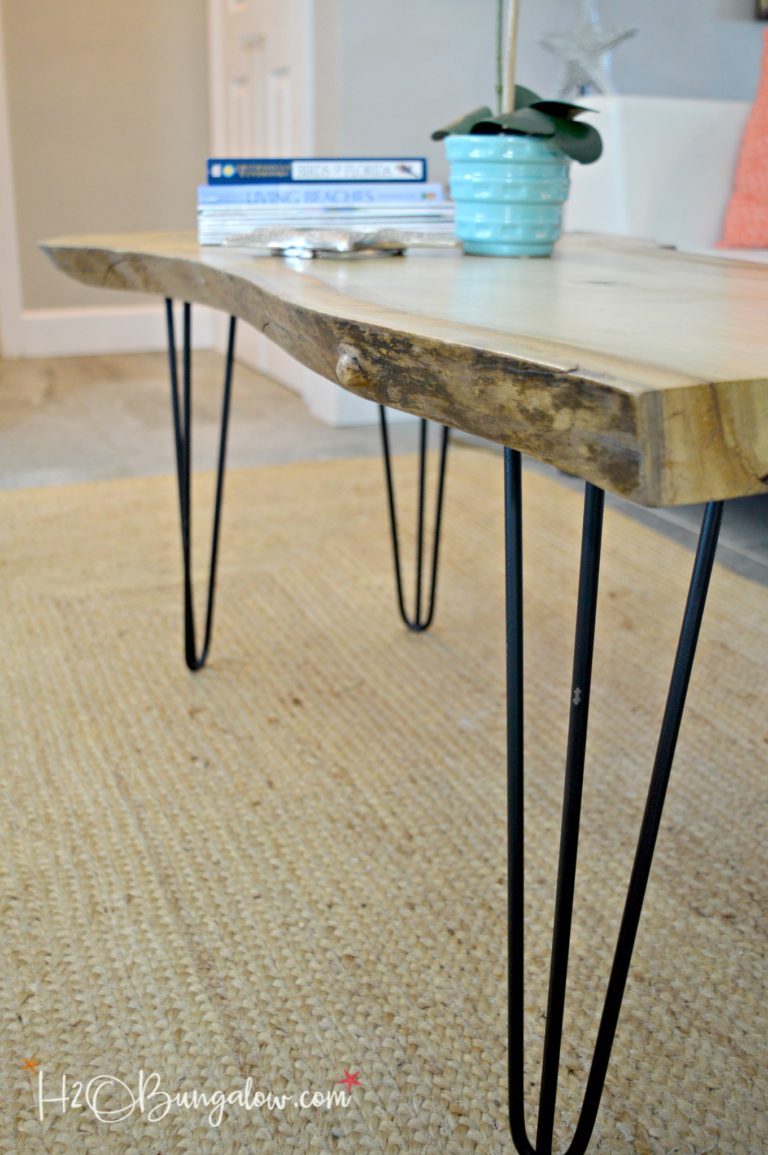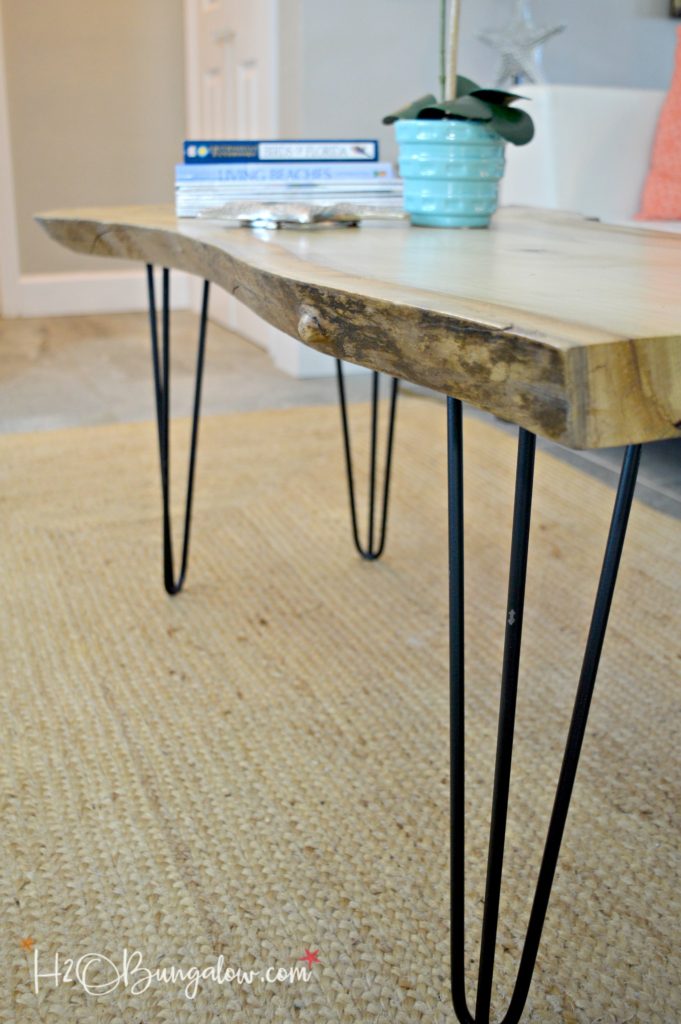 All you'll notice is how gorgeous the wood looks. This is a slab of Southern Magnolia, it's a hardwood which means it's perfect for a table top. I love the natural movement, organic edges and spalting this piece has.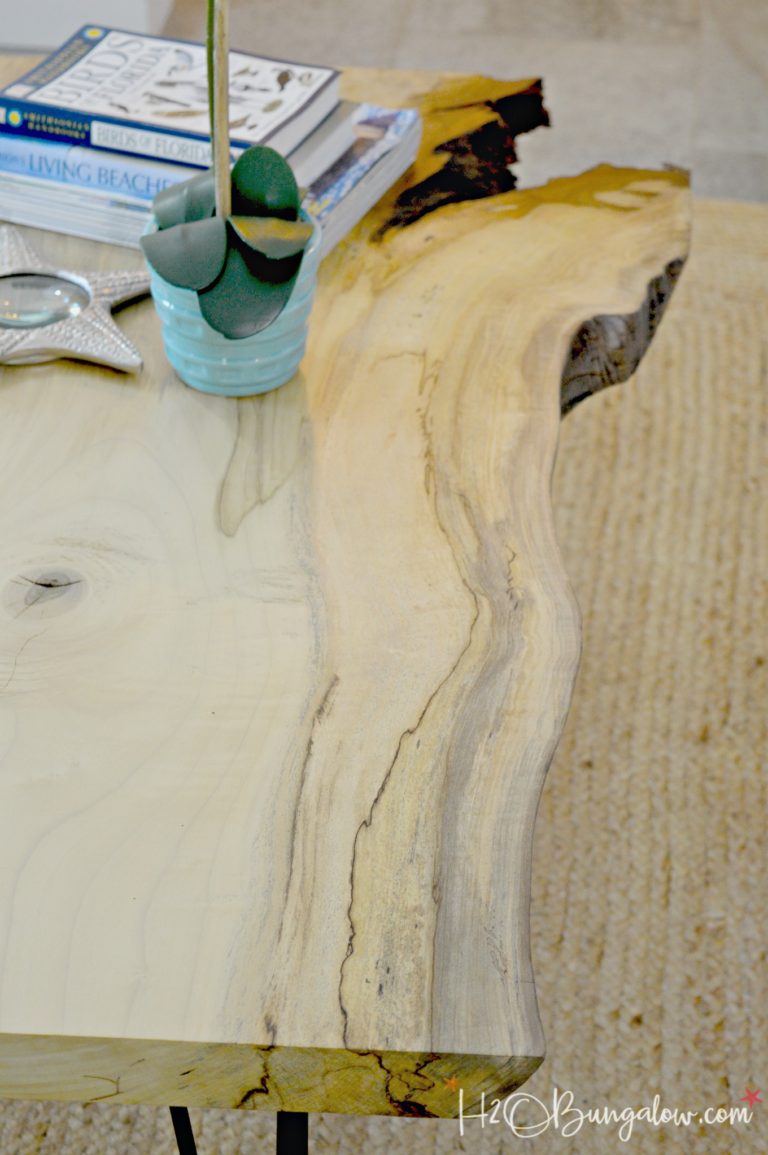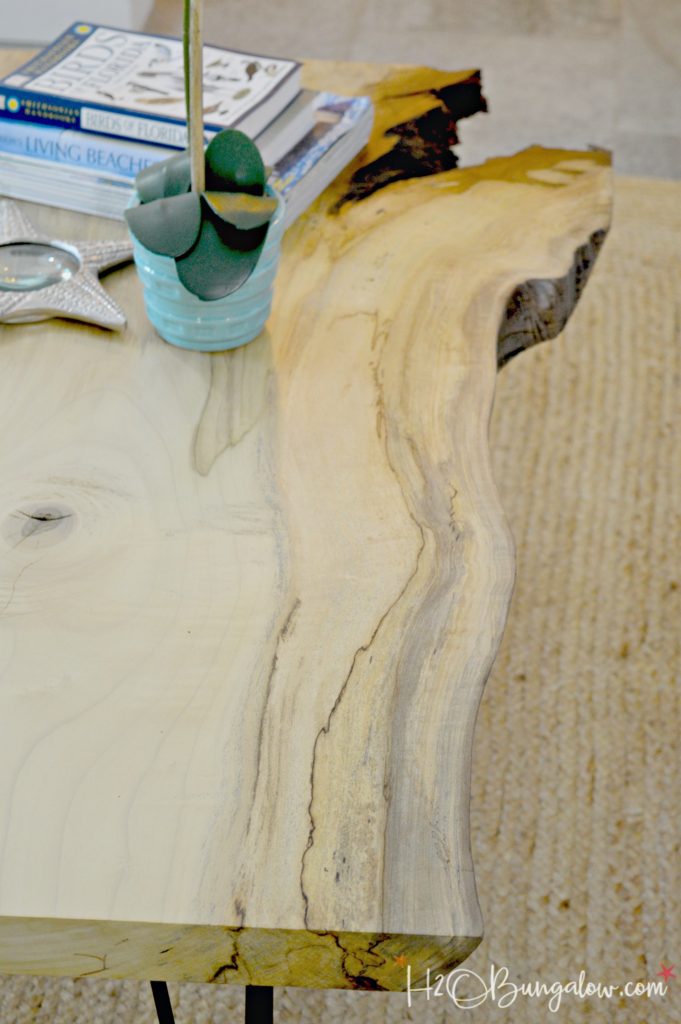 The light color wood is the perfect for this room. I think it goes great with the sofa and other casual pieces, don't you?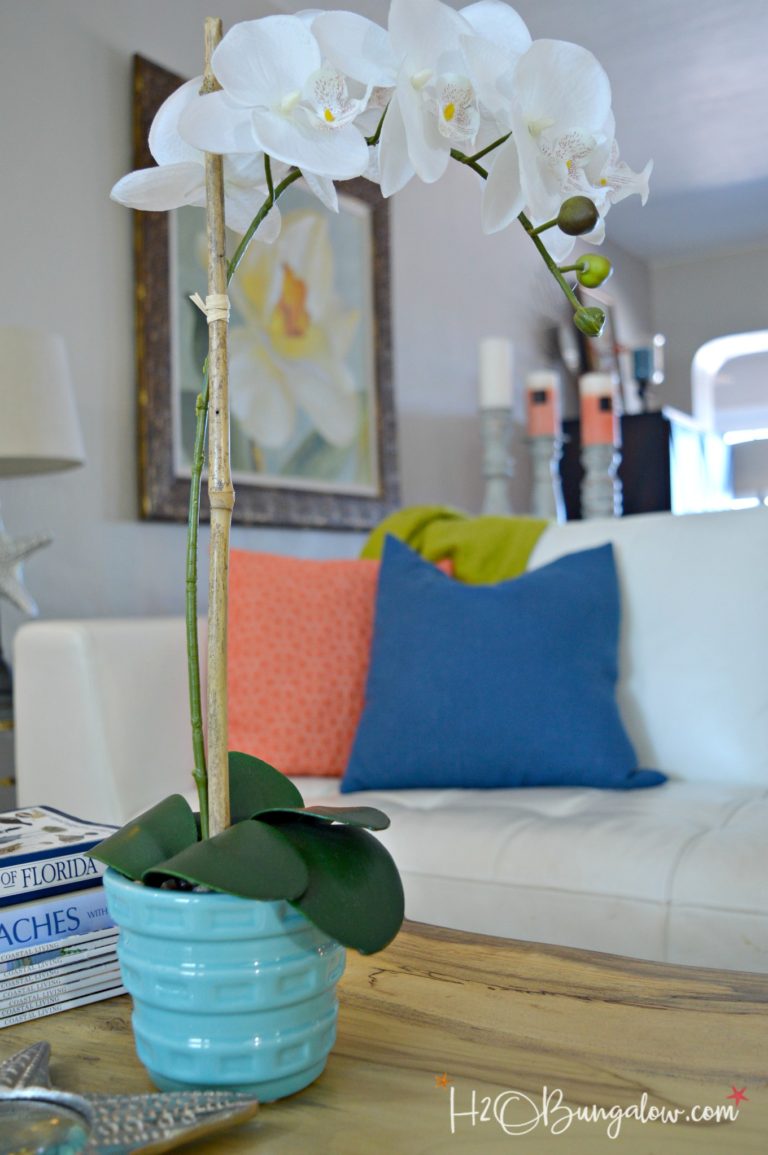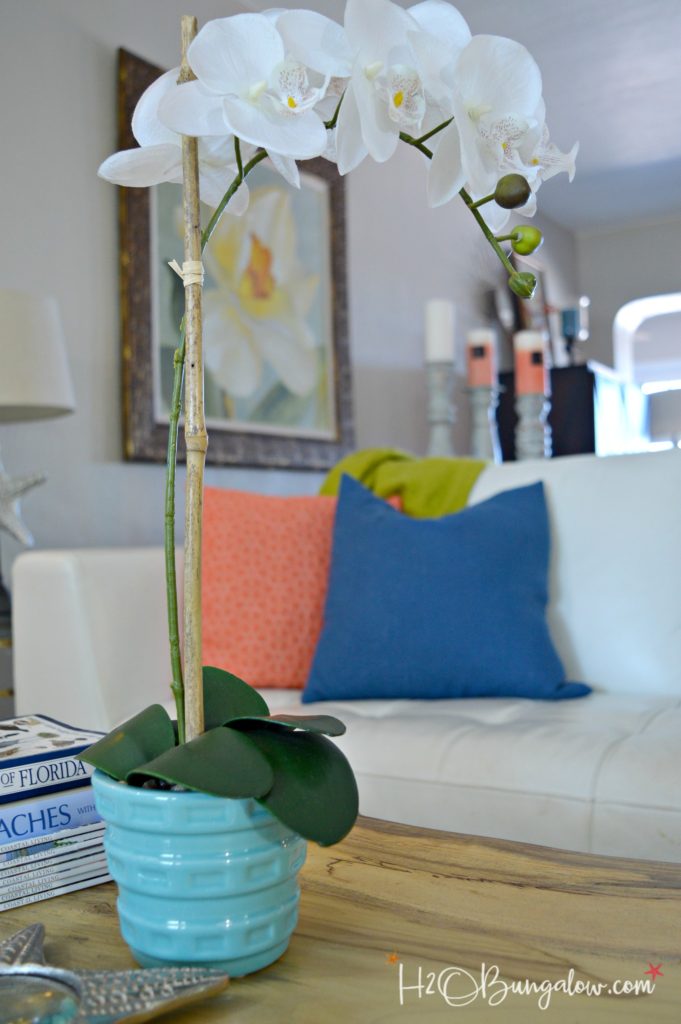 Now that I've shared my resources and a tutorial to make DIY live edge wood slab coffee table don't you want one too?
Pin this project for later!