Whew! I feel like I've been sharing some pretty hefty projects lately and today I'm balancing that out with an easy DIY seashell home decor project friends. I whipped up this simple coastal decor piece for my living area. With warmer months ahead it seems fitting to add more beach decor around the house.
Funny that we live at the beach but I feel that playing up our coastal home decor style and coastal themed rooms are best suited for this time of the year.
Don't you agree?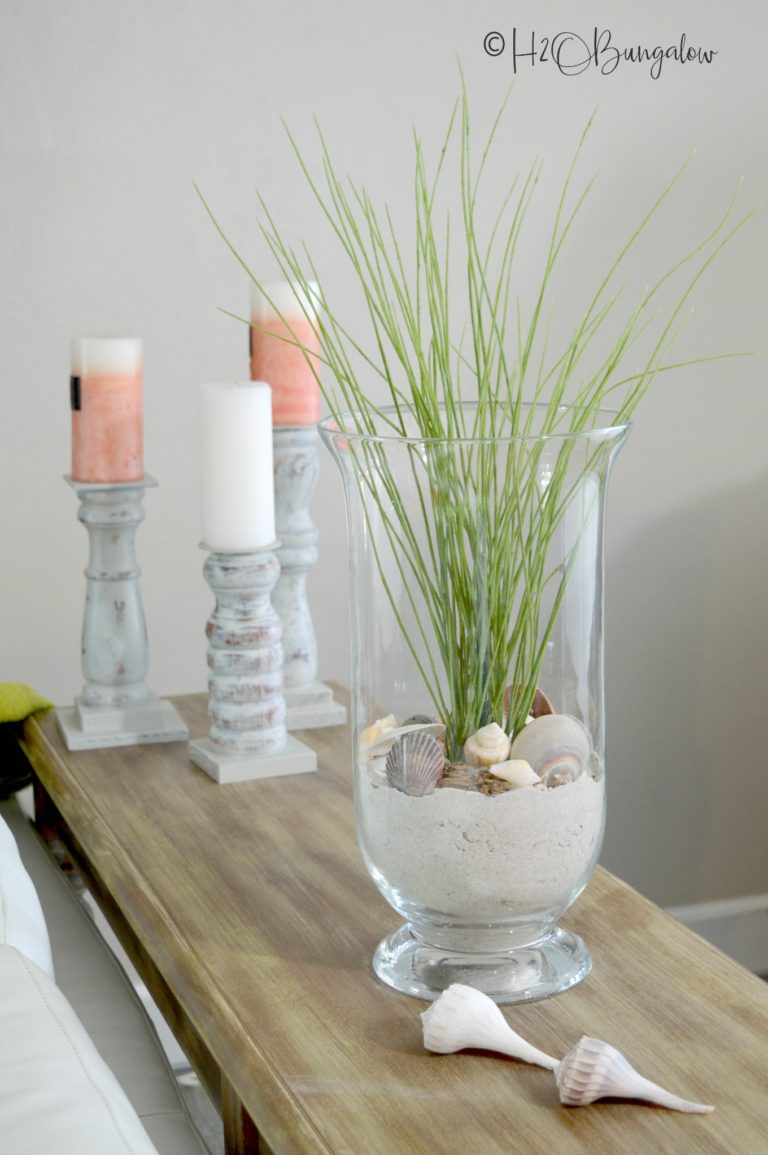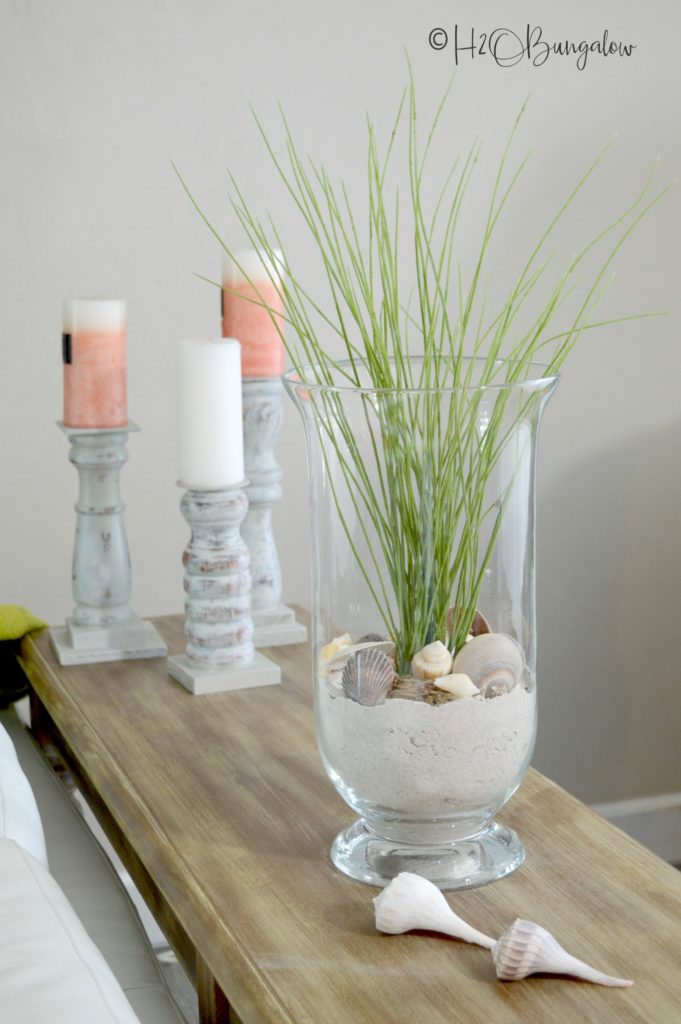 Here's the best part. No tutorial required and no fancy tools were used to make my seashell vase. I saw a picture of a similar seashell vase last week on Pinterest. It was for sale and pricey. I love being inspired by what I see online, like these fresh and trendy beach house decor ideas, or like these 18 Creative Seashell Craft Ideas. My updated Coastal Home Tour is full of great ideas.
If you love coastal decor projects you will love my whale bench and how to paint graphics on furniture with a free fish graphic , my School of Fish, and my coastal rope serving tray project too.
I've been working on my coastal living room for about a year now. I have to admit, I'm really pleased with how well it's coming together. A few of my other favorite projects in this room are my Wall Mounted TV Cabinet (get the free plans) that hides our huge TV. I also built the Media Console underneath (free plans too) and love how it hides the not-so-pretty electronics.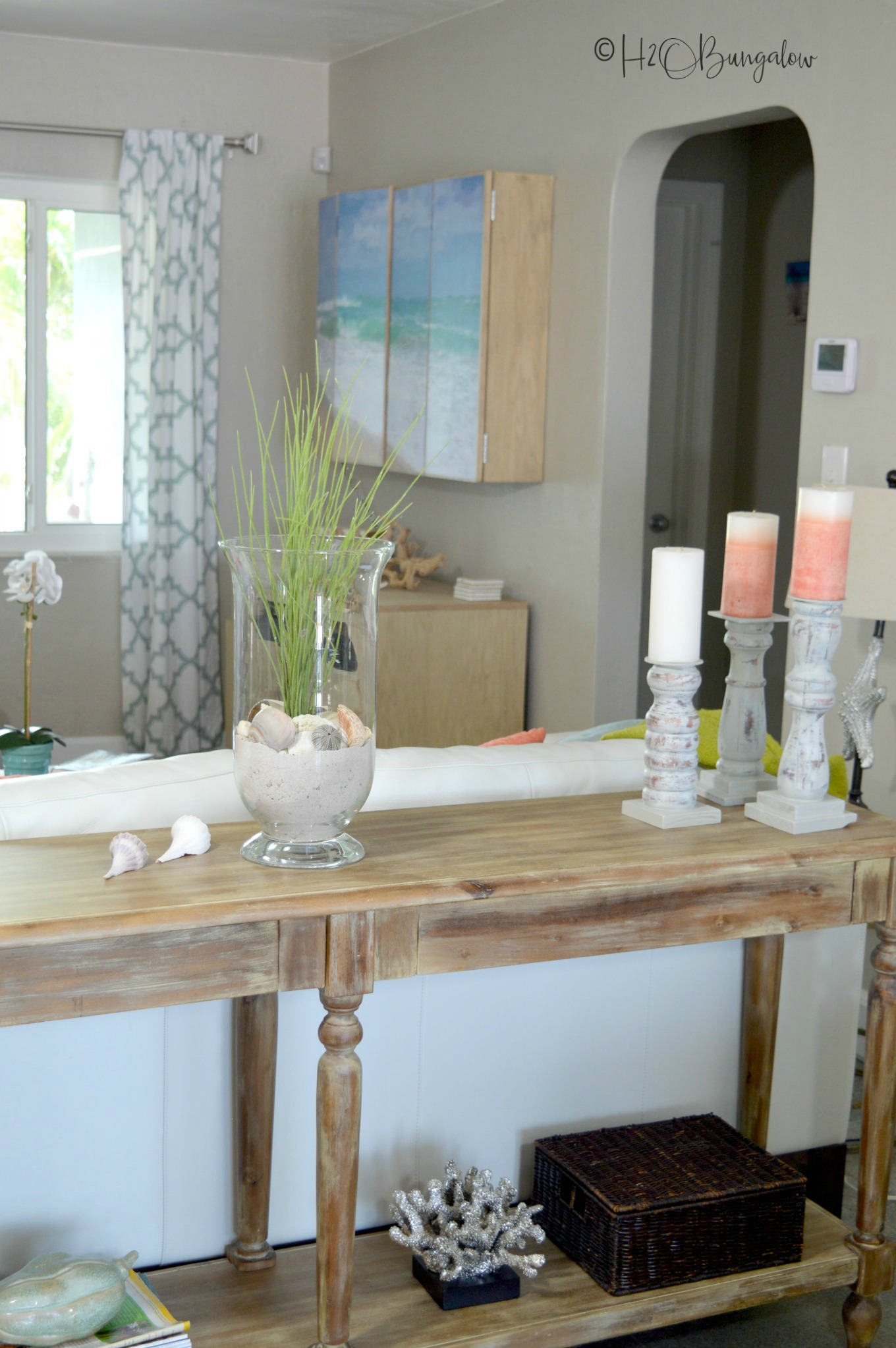 I use affiliate links to help you find the supplies I used. You can read my full disclosure policy here.
Here's what I used to make my coastal decor centerpiece.
large glass vase
tall faux grass – this isn't what I used but I would have if I'd found it first.
Putting it together is kind of self explanatory, although I can share a few tips to make it come out better.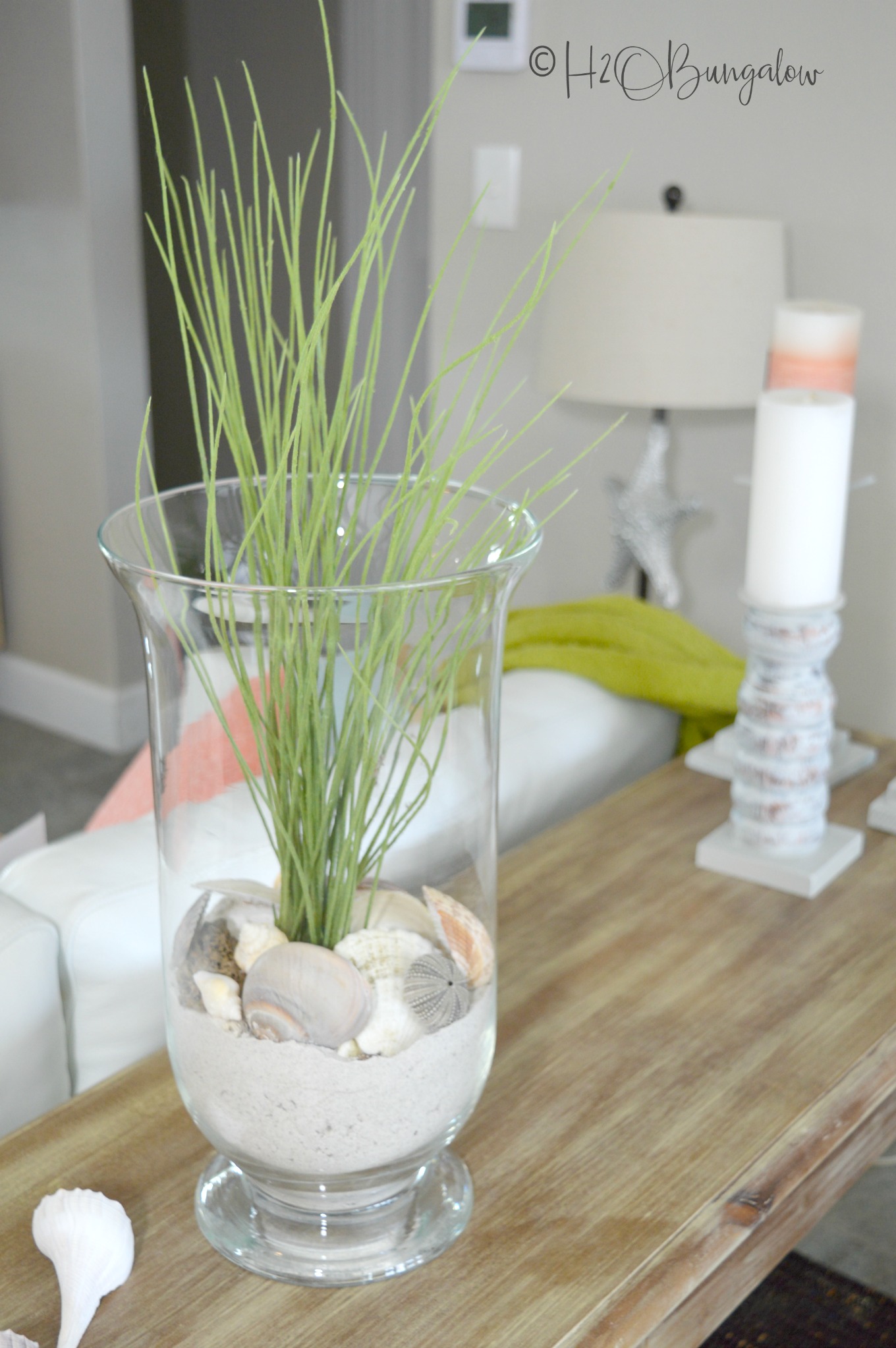 Start with a clean vase, inside and out. Add the sand directly to the bottom, in other words try not to let it touch the sides. Sometimes the silica in the sand is hard to dust off.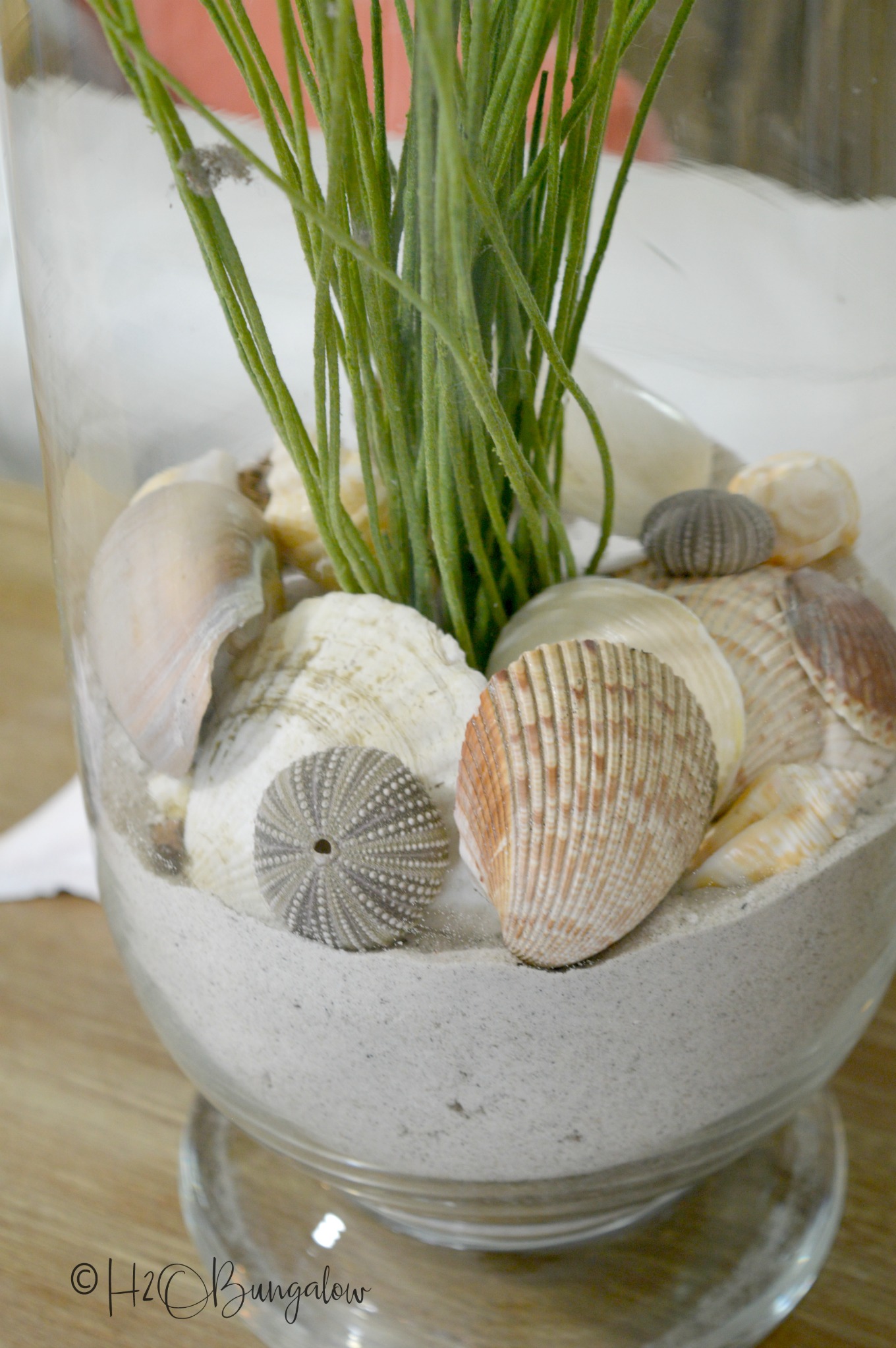 Add the grass in the center first and then place the seashells around the edges. I loved the realistic look of the tall grass that I found. It really does look like the grass we have on the sand dunes. I used wire cutters to trim it down to fit the vase.
Pin this for later!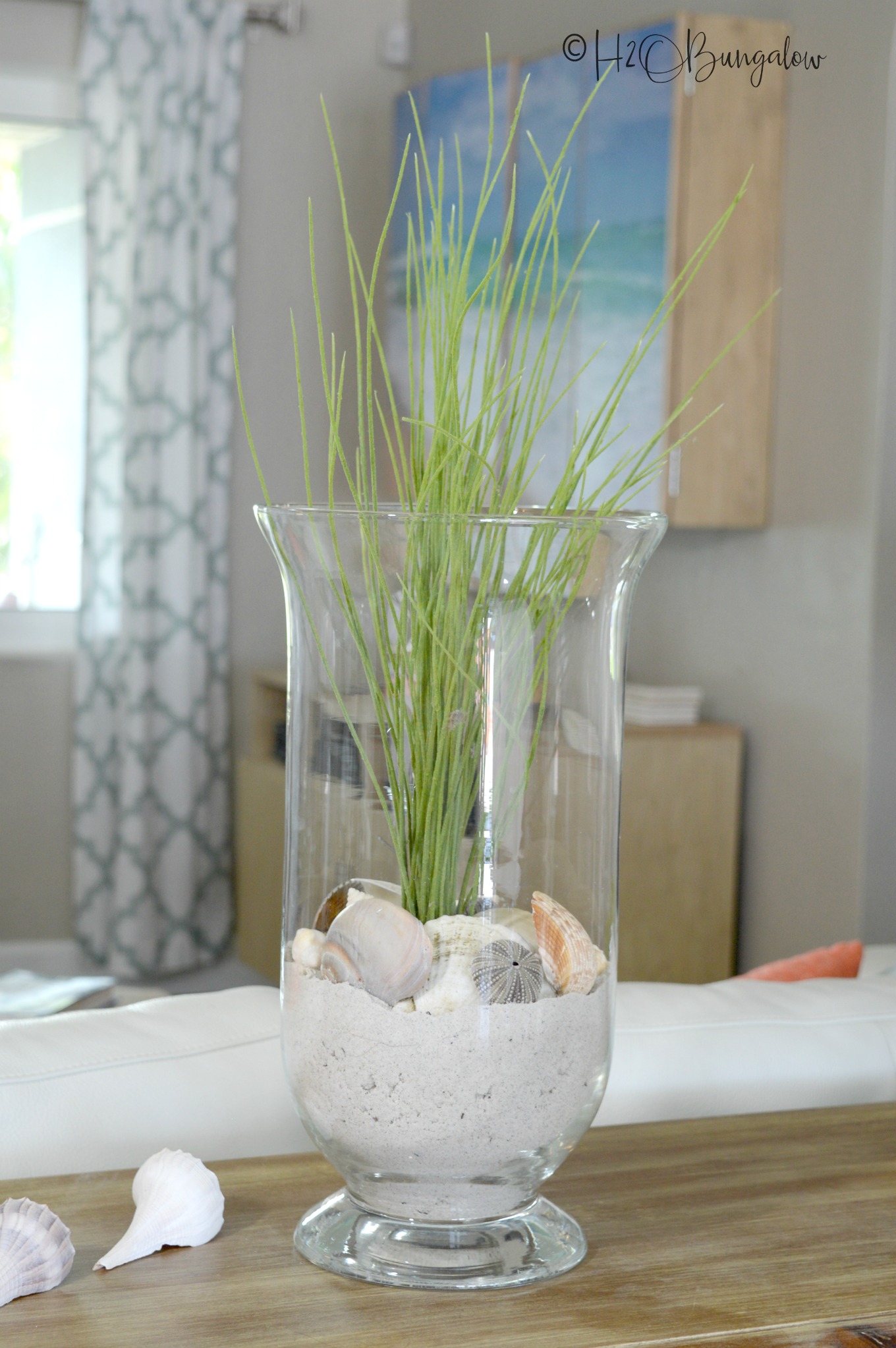 Done! I told you making this seashell coastal decor for the living room was easy.
If you're like me and have a huge stash of seashells saved up, here's a few more awesome home coastal decor DIY projects I've shared in the past.
16 Super Creative Boat Cleat Decorating Ideas
Do you have a favorite way to display your shells with a coastal home decor theme? Share below! I love when you guys share your ideas and I learn from you too!