Do I need to prepare furniture before painting it is a question I get asked often. My answer is usually a question back, do you want your furniture makeover to last? In this post, How To Prepare Furniture For Painting, I'll share the steps I take to prepare furniture for painting and why I do them. I promise I'm not trying to make your DIY furniture painting projects more work, and not all prep before painting steps are hard or time-consuming:)
It's just that in the colorful world of furniture painting, the simple answer is not black and white.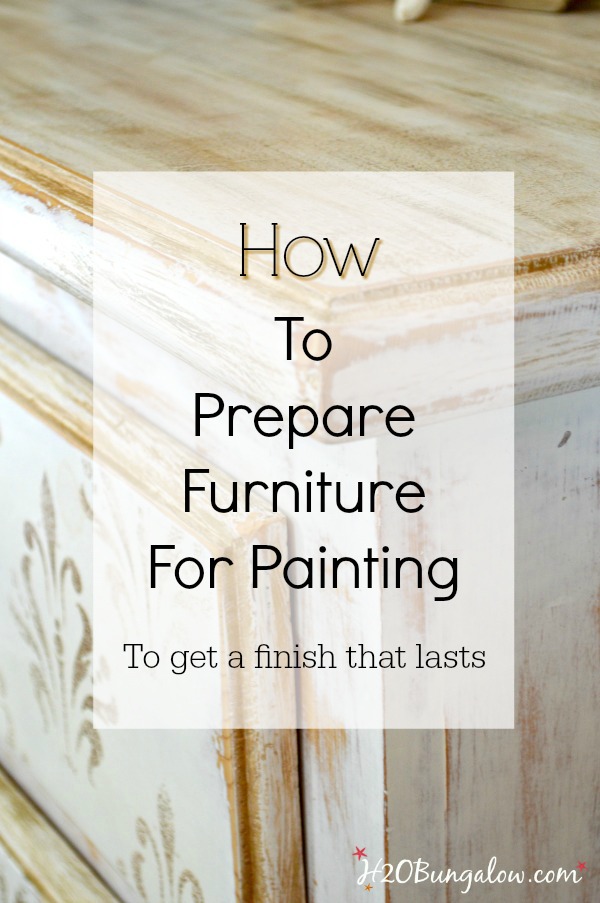 We live in a world of quick and easy. Many paint companies market their paints as needing no preparation. I think this is misleading. In some cases it's OK not to prepare furniture for painting, but we need to understand what the paint manufacturers mean when they say no preparation needed. Most of the time it means no sanding required.
Looking for more furniture makeover ideas and tutorials? Check out my Wood Wax Finish DIY, How to Paint Over Dark Stained Wood and How to Paint Wicker Furniture.
It doesn't mean don't start with a clean or smooth surface:)
The problem with not preparing your furniture before painting is that the paint job may not last, or it may not look as good as you want it to look.
How To Prepare Furniture For Painting To Get A Finish That Lasts
If you follow these simple steps to prepare your furniture for painting you'll get a finish that lasts, and a better looking one to boot:) I'm sharing how to prepare furniture for painting and the other little chores that I use to make my furniture painting projects look great and last a long time.
Everyone loves a good before and after picture of a DIY project. I'm using several before picture from my furniture makeover project gallery in this post. Click on the links above each picture to see how that one turned out. I think you'll like them:)
Repair furniture before painting
Give your furniture item a thorough look over to see what needs repairing or minor sanding before painting. Are there missing feet, mis-aligned drawer tracks or anything else that needs attention? This is the time to tackle those tasks.
See what this dresser looked like after the makeover here.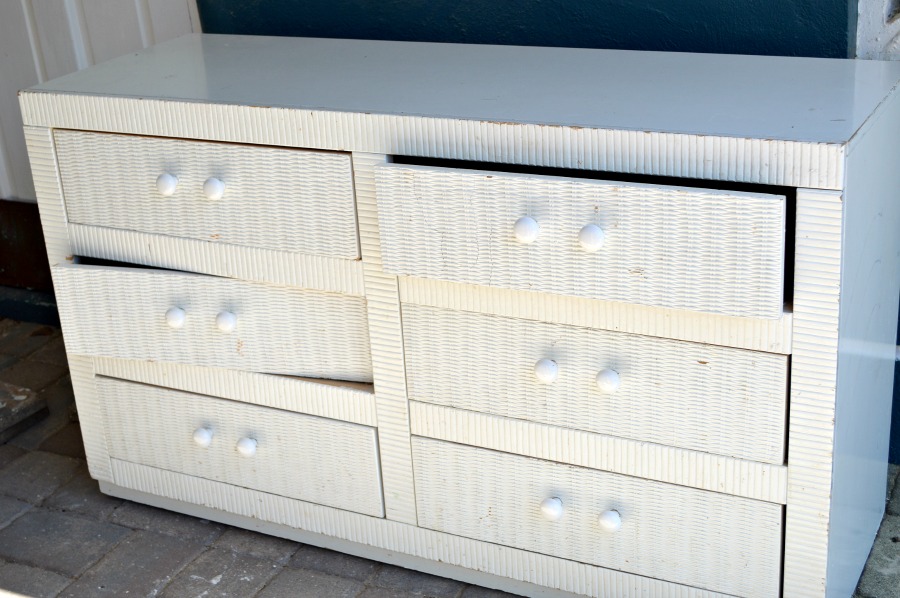 Fill gaps, dents and scratches with a stainable/paintable wood filler. Wood glue works well for loose parts. Fine grade sand paper such as 220 grit works great to smooth very rough spots, finish with a 320 grit to get a perfectly smooth surface for painting. If you are painting a slick surface such as faux wood, plastic or melamine, always sand any surface thoroughly that you plan to paint.
This is a good time to remove any hardware and put aside in a container if you're going to reuse original parts.
See what this cute little chest looked like with some paint and imagination here.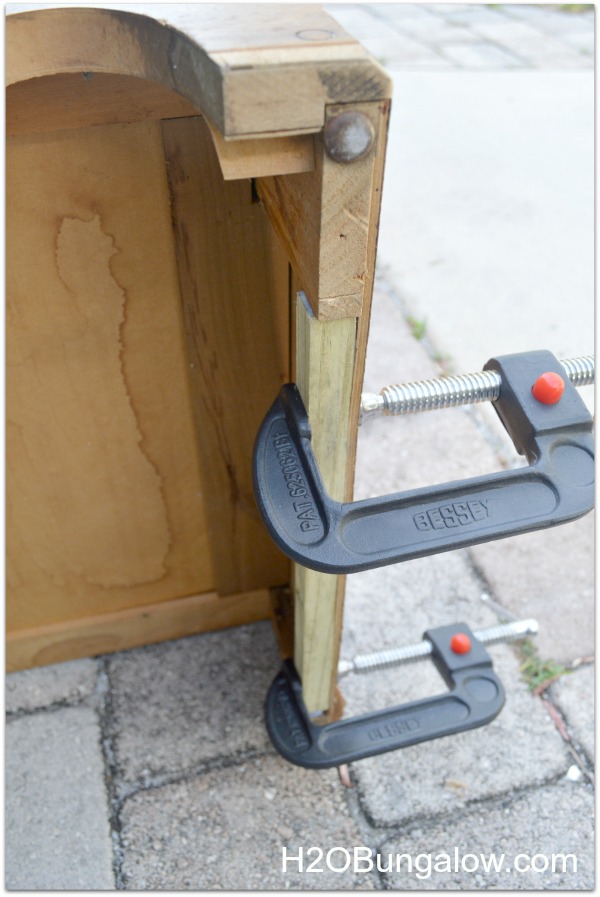 Clean furniture before painting
Always degrease and degloss your furniture and furniture hardware before painting. Old wax, dust and grime need to be removed to prepare furniture surfaces for painting. This step is really important if you want your finish to last and not chip away over time. I wipe every piece and part of furniture down with TSP before painting it.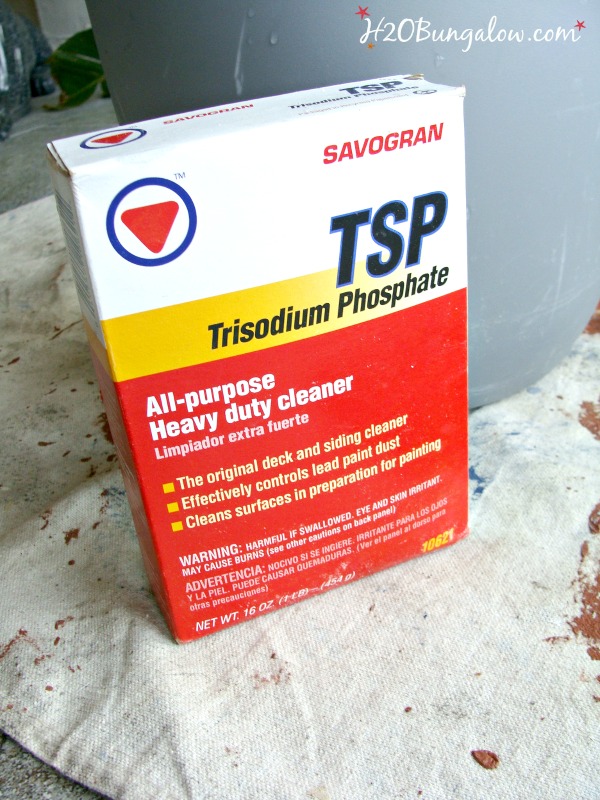 I use a few teaspoons of TSP in a spray bottle mixed with water, and a clean lint free t-shirt rag (that I throw away after), to thoroughly wipe down all the surfaces, inside and out.
You'd be surprised how much dust accumulates inside a dresser. Yuck! I take all drawers out of dressers, and clean the inside of the base behind where the drawers slide in.
This was seriously ugly when I brought it home! See the after here.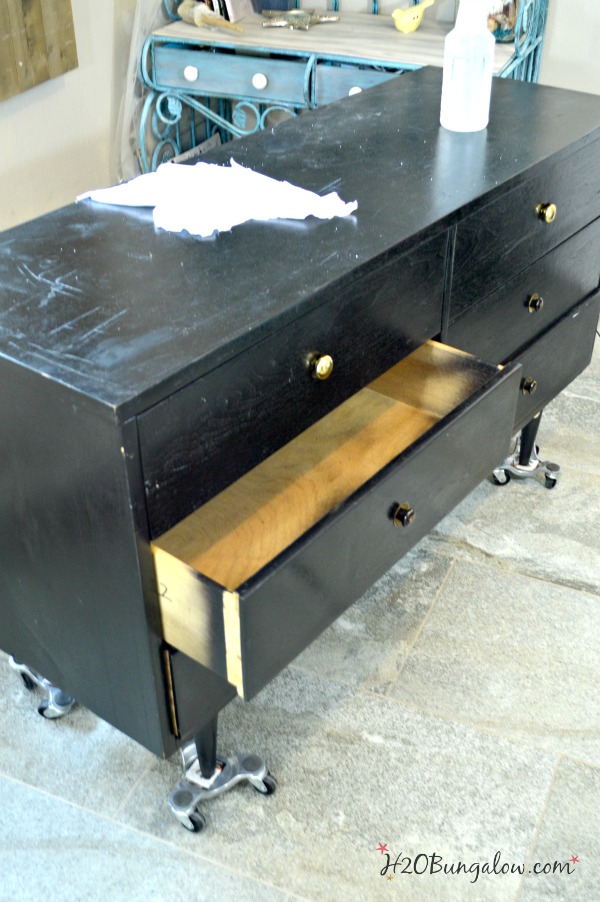 Protect surfaces from paint
Tape off hardware and areas that you don't want to paint Quality tape is a good investment, low-end tape wont give sharp edges and it often pulls the paint off painted surfaces. My favorite painting tape is Frog Tape for sensitive or painted areas. You can save a little money on regular painters tape, if the area you're taping isn't a painted surface or delicate.
See the after on this side table here.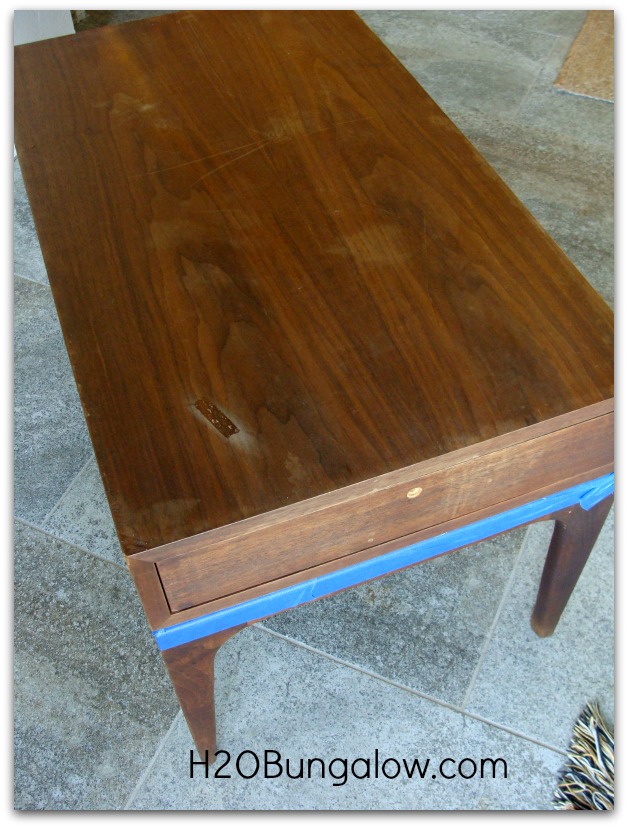 Prime your furniture before painting
There will be times when priming a piece of furniture is necessary. As much as I want to be lazy with this step, it never pays off and I end up priming it anyway. How do you know when to prime a piece of furniture before painting it? Look for knots in wood, they will usually bleed through your paint leaving dark spots. If you plan to paint over especially dark paint, or have wood with a lot of oil in it you'll need a coat of primer.
You'll need to be especially careful in preparing your furniture for painting when painting over oil based paint. If the piece of furniture you are painting already has paint on it, wipe a spot with a cotton ball dipped in rubbing alcohol. If the paint comes off onto the cotton ball, it's a latex paint. If not, you have a piece of furniture painted with oil based paint.
No worries!
It will be OK. Take extra care in cleaning and sand all the painted surfaces thoroughly with at least a 220 grit sandpaper before using your primer. Yes, with proper prepping and a quality primer I use a latex primer over oil based paint. They key is being thorough in the cleaning, deglossing and a good sanding to prep the surface for paint.
My favorite primer is Gripper or Stix. I always have them tinted a light grey which helps all paints colors, especially white go on better. A quart will last for several projects.
See what this cabinet looked like after I finished it here.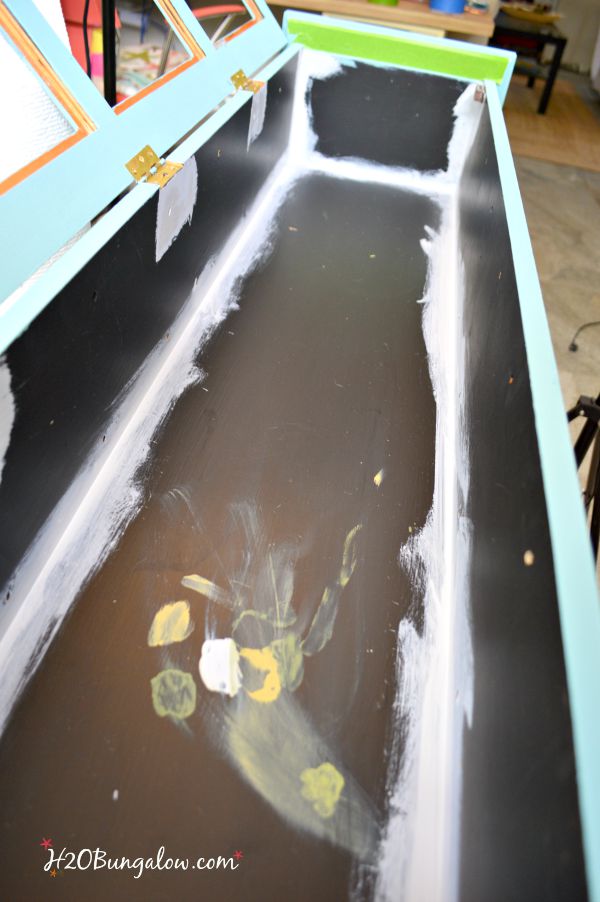 I'm so glad I shared how to prepare furniture for painting today. I've shared bits and pieces of how to professionally prepare furniture for painting over the past few years, but haven't sat down to pull all the information together in one organized post. Whew! I meant for this to be a simple short post, but there was a lot to share.
Pin this article and refer back to it next time you are getting ready to tackle a furniture makeover with paint!
Do you have a favorite furniture preparation tip or product to share? Help out your fellow DIY'ers and share in a comment below!