Budget bedroom decorating is easy once you have a game plan in mind. The goal here is to get the biggest bang for the buck.. which means I'm going to spend my dollars on items I can't DIY. A few days ago I shared my romance wall art that I made from wood I had already. Today I'm moving on and sharing one of the most fun parts about budget decorating.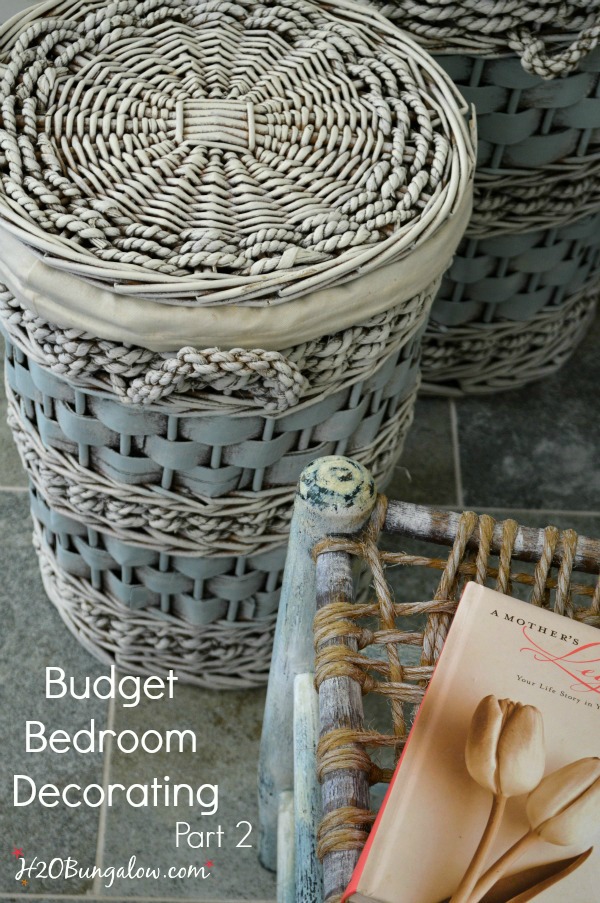 Shopping my house for my budget bedroom decorating project.
I know I can always find something that has potential if I look hard enough. I rummaged through closets, boxes, the garage and did a walk-by of all my rooms. These baskets are like my vertical blind dilemma, functional but not pretty, and were begging for an update!
What's a DIY girl to do when she needs to redecorate on a budget?
Why grab a paintbrush of course!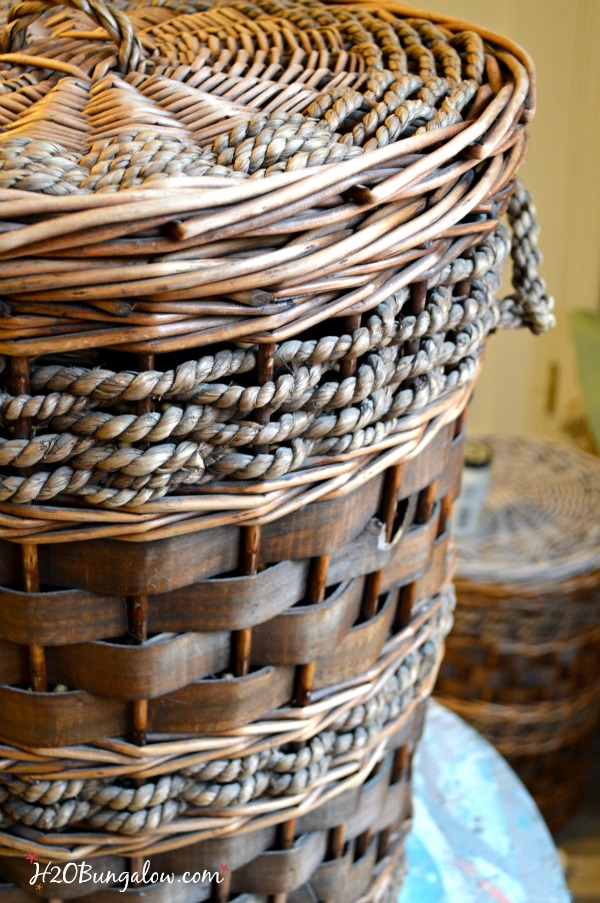 I dry-brushed the color on starting with DecoArt Chalky Finish paint in Everlasting and added Vintage for the pretty soft blue contrast. You can find a dry brush tutorial here. ~ A word of advice, use an old brush you don't care about, this technique will ruin a good brush.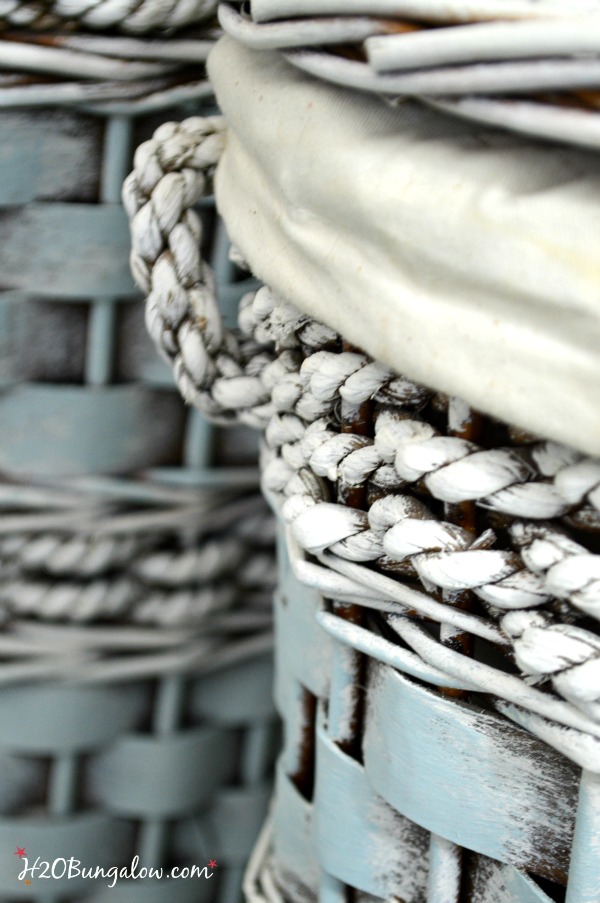 This chair is another item I shopped from my house. You can see it's makeover here.
The baskets look great beside it.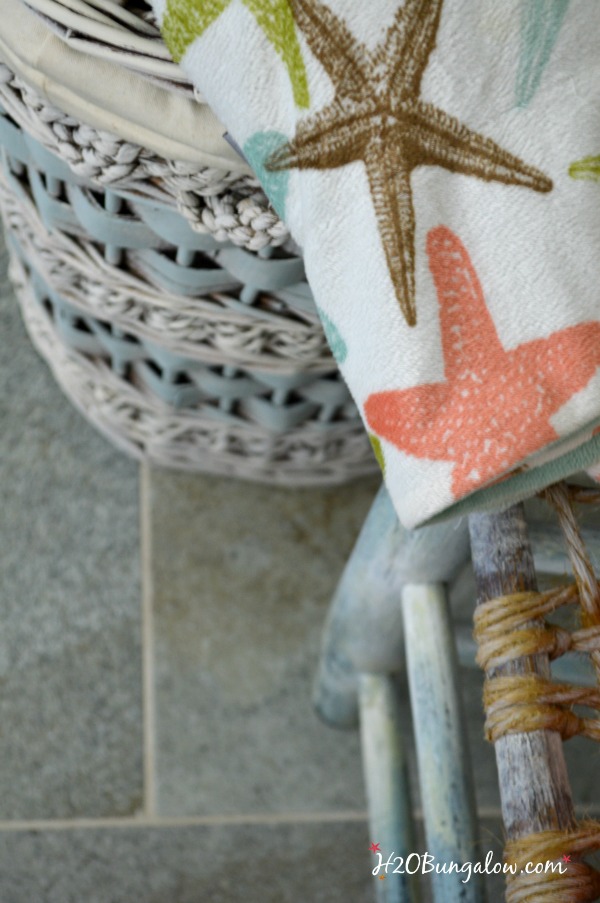 They brighten up a dark corner, which is a huge benefit for my budget bedroom makeover. You'd naturally think that a coastal home would have lots of bright natural light from windows. Nope… in magazines they do. That's not how they built them in the 50's, and not here;)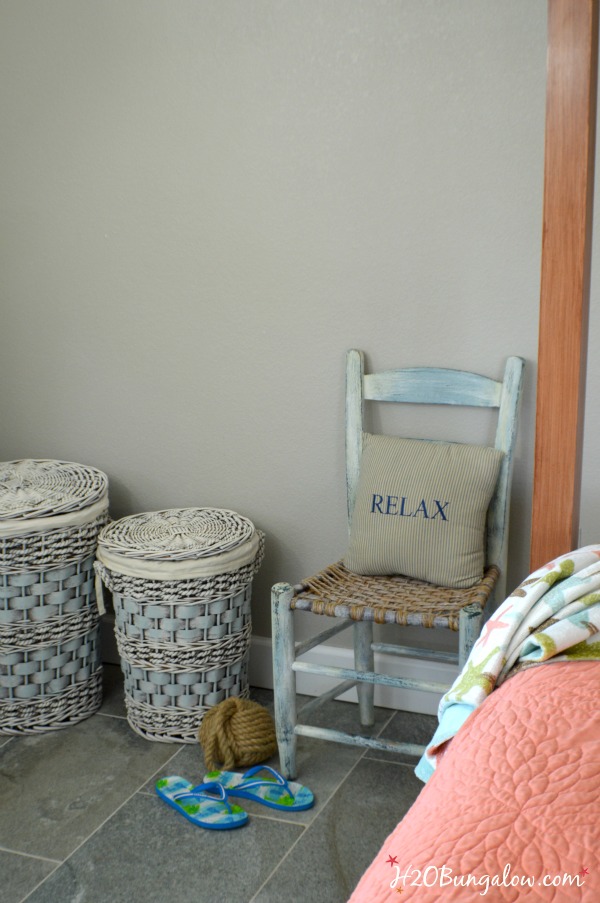 I still have a few more items to update and re-love for our bedroom refresh. Paint does wonders. What else works well for budget bedroom decorating that makes a big impact? Paint picture frames, figurines, take an old chair and give it new look like the one above, or this one. You can also make your own bed frame, like I did here.
I'm moving on to tackling the window and a window treatment next. Can't wait to share what I've done there!
Do you have a room in your house that needs a refresh? Share below. You guys know I love to hear from you:)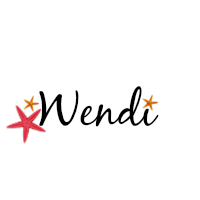 I use affiliate links in my posts. If you should make a purchase I will receive an itty bitty commission at no cost to you. Thank you in advance for supporting my blog and two fur-ball cats who believe they are privileged.