I have an awesome project to share with you guys today. I just made DIY stamped no sew linen napkins and love them! With the holidays around the corner I'm on the lookout for something simple and elegant for our table, thoughtful hostess gifts as well as gifts for family and friends. I embellished it with Prima Marketing's IOD Roller Stamp and Decor Ink.
How To Make DIY Stamped No Sew Linen Napkins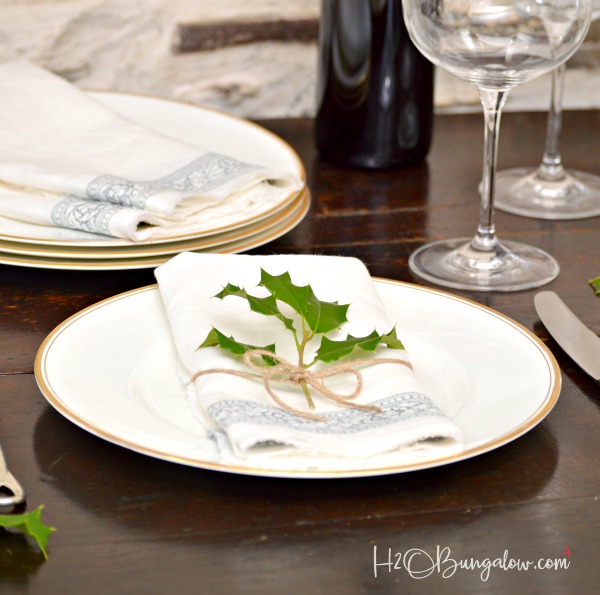 Here's what you'll need to make DIY stamped no sew linen napkins. I use affiliate links to help you find the products I used.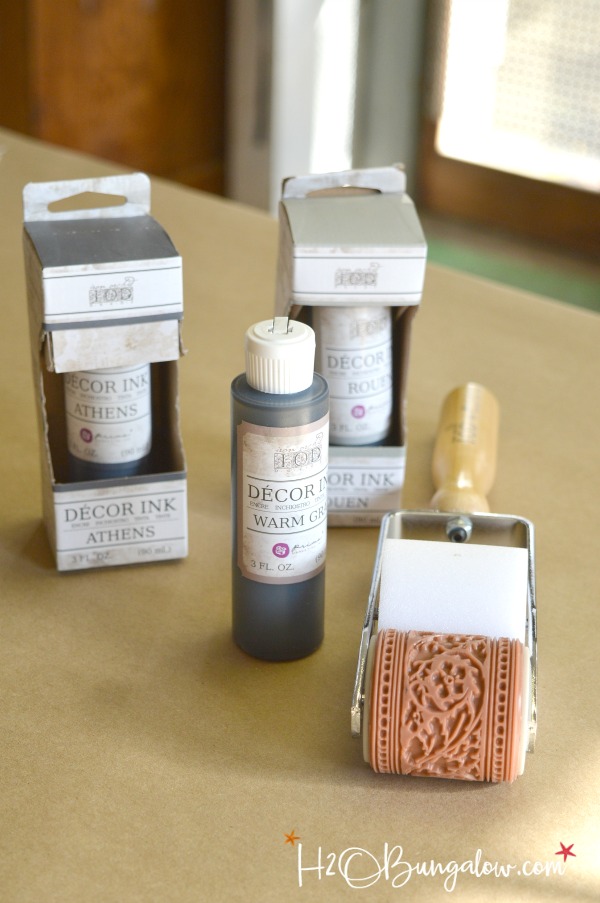 How to make no sew linen napkins
1. Don't wash the linen fabric until after the napkins are cut. Cut linen fabric into 18 inch squares. Pull a few threads off each end to give them a natural fringe of about 1/4″.
2. Wash the linen fabric napkins and dry in dryer. Clip any extra threads that are poking out.
3. Iron on cotton setting using steam to iron out any heavy wrinkles. Don't worry about ironing them perfectly wrinkle free.
How to add a pattern to linen napkins with a roller stamp
1. Place the linen napkin flat on a piece of heavy craft paper or a drop cloth.
2. Pour the IOD ink onto a paint tray or waxed paper plate. Roll the sponge part of the roller stamp across the ink to absorb it.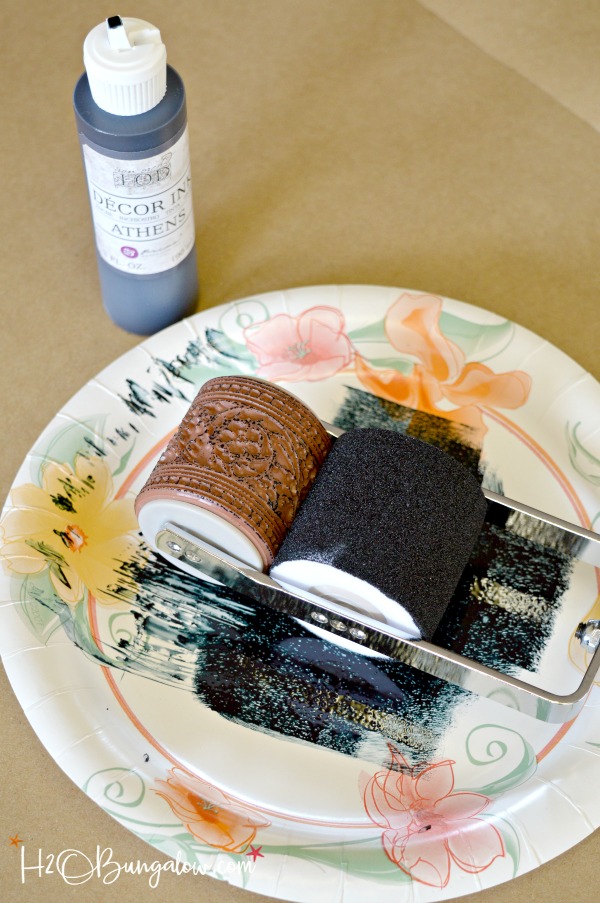 3. Using light pressure, and with the roller angle downward, make a few test passes on a scrap piece of paper or fabric to be sure the pattern rolls evenly across the surface.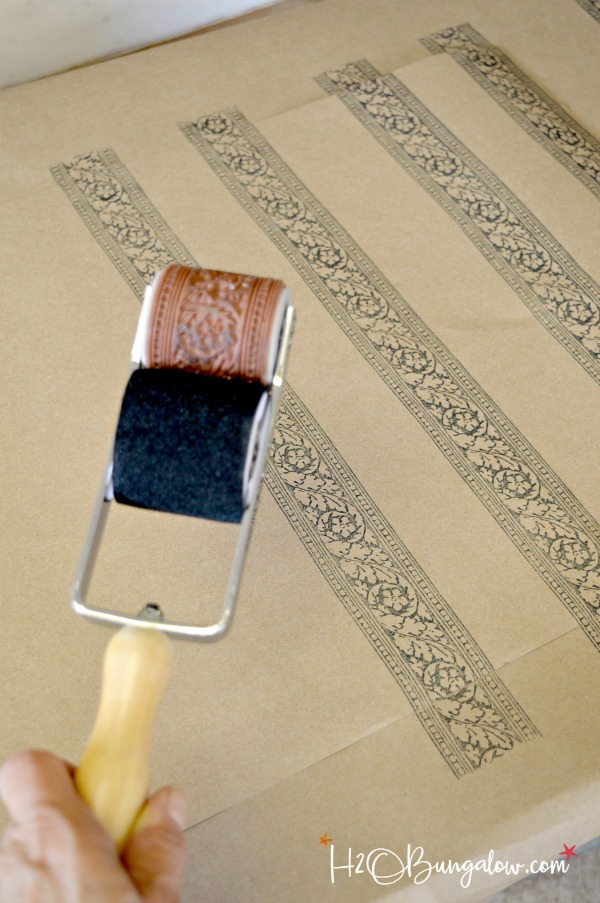 4. Leave about a 1″ margin on each end of the linen napkin. Place the roller on the surface and begin rolling before the edge of the linen napkin. With one continuous pass, roll across and off the linen napkin. Do the same on the other end of the napkin.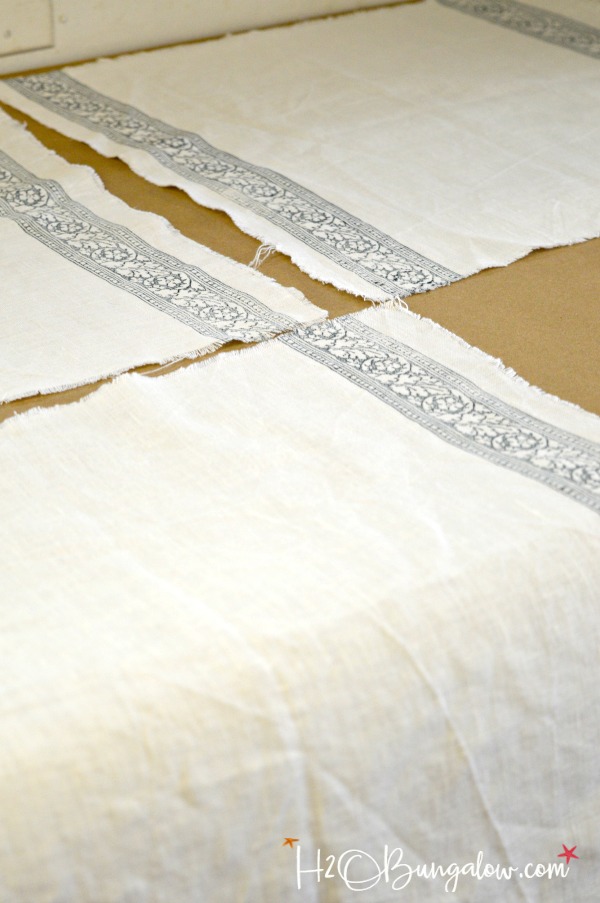 5. Heat set with an iron to set the design or wash and run through a cycle in the dryer for an aged faded design.
Extra tips for using IOD's Roller Stamps
Don't overfill the roller. About a teaspoon or two of ink should be plenty enough to fill with roller on a 2″ roller stamp.
One ink fill should give you about 10 feet of rolled surface.
Use a phillips head screwdriver to remove the foam roller to clean. Wash in warm water and a little liquid soap. Rinse until water flushes clear from the roller.
These DIY stamped no sew linen napkins will be beautiful on my table this year!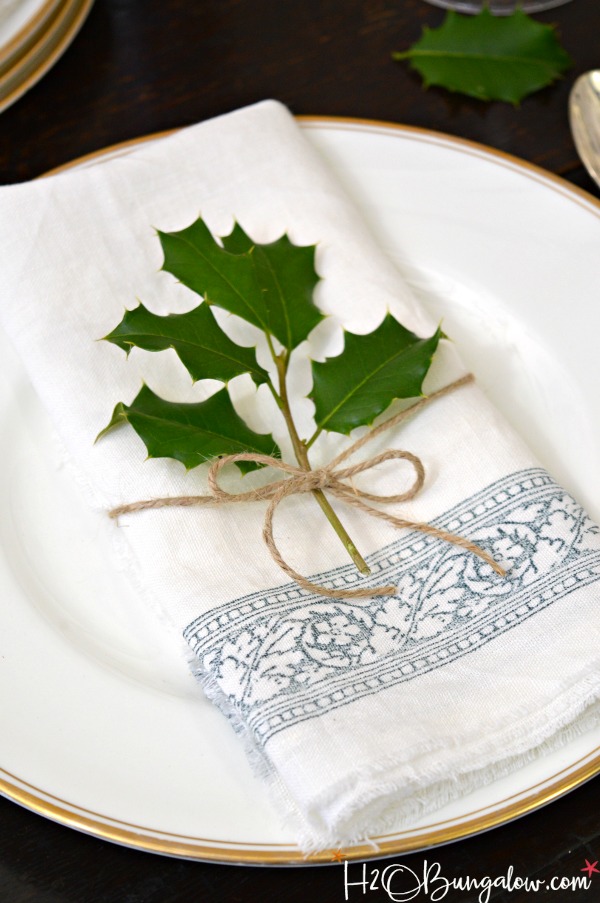 They make wonderful gifts too.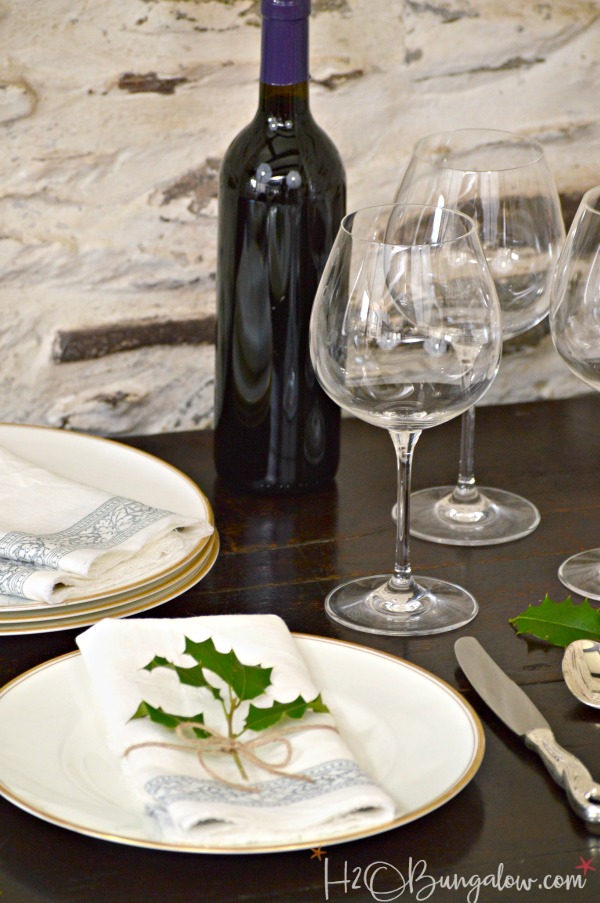 I was having so much fun I kept on using the roller stamps. I grabbed a plain wood tote that was sitting around in the garage and added a roller stamp row along the top.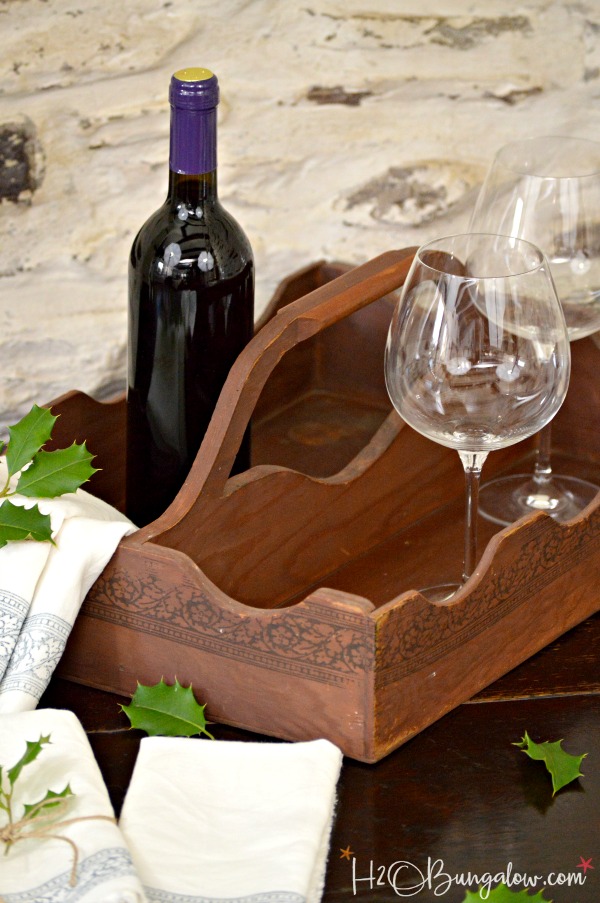 All the IOD products are made to work on a variety of surfaces and versatile. Since I had heavy craft paper nearby, I made some wrapping paper. Can you see these done in red? IOD has a red Decor Ink called Rouge that would be perfect for this type of project. I'm loving the simplicity and elegance of the craft wrapping paper for the holidays.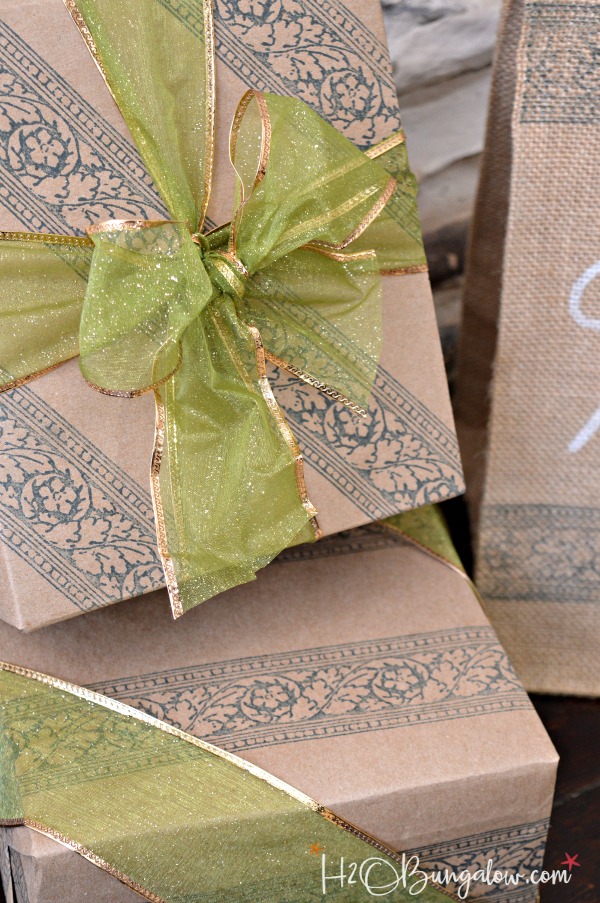 I'd love to make drawer liners like this too.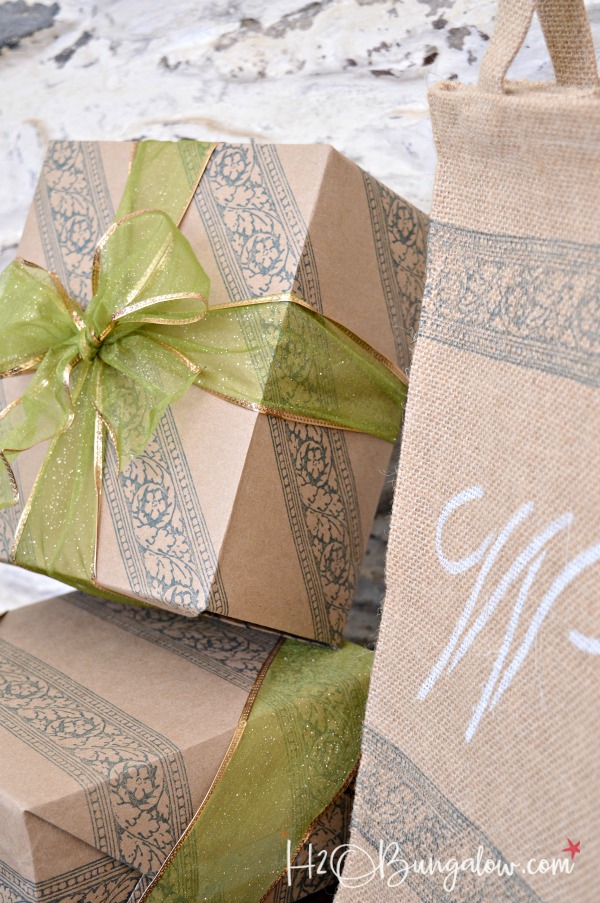 Then I grabbed a plain burlap gift bag and had some fun with my IOD Roller Stamp and a lettered stencil to make a monogrammed gift bag.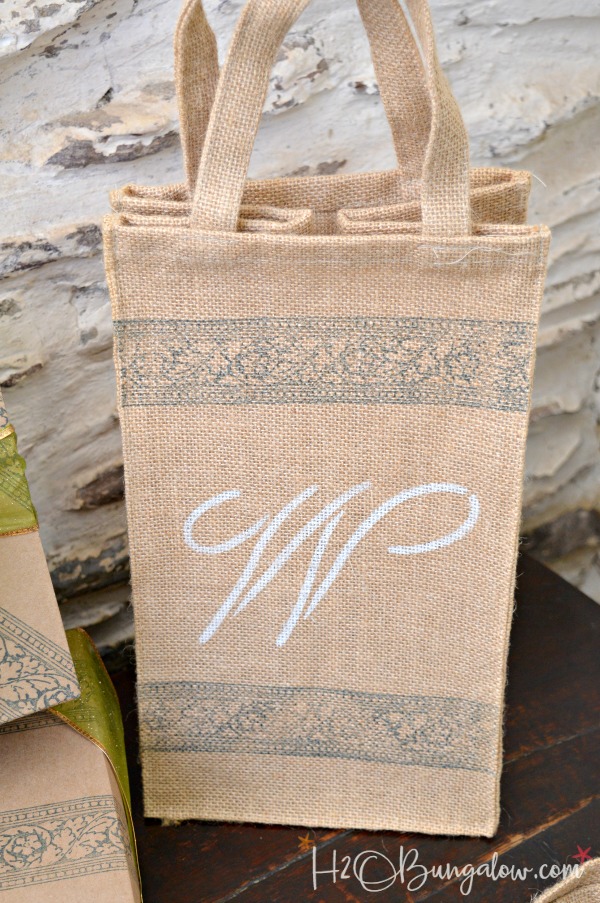 IOD has several versatile vintage style products that work on furniture, home decor and more. A few of my friends have used some of the other products on other types of DIY projects.
You'll find a gallery of drool worthy projects and ideas on the IOD blog.
Debbie from Refresh Restyle used the IOD Decor Moulds for decor and cupcake toppers!
Jeannie from Create and Babble used a French Inspired Rub on Transfer
My Repurposed life also used an IOD Rub On Transfer for a gorgeous upcycled project
Be sure to follow IOD on Facebook and IOD on Instagram for a continuous supply of stunning creative ideas!