Today I'm sharing how to make a DIY vintage ladder for under ten dollars and give it an easy rustic finish for the perfect home decor item.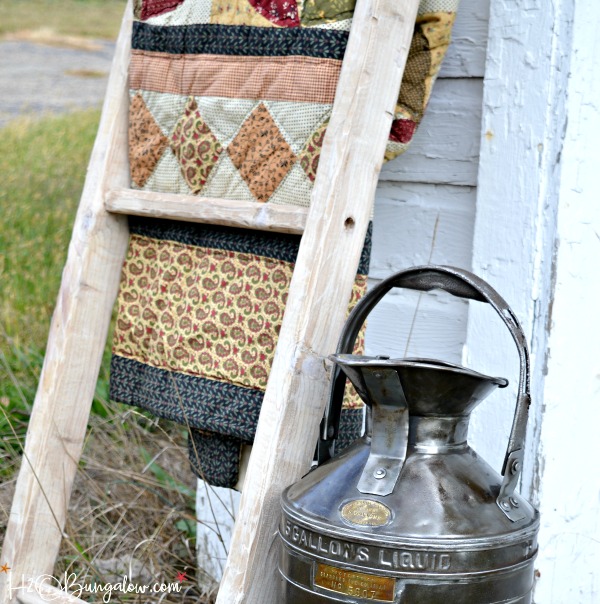 Most people don't think ten dollars goes very far nowadays. Usually it doesn't, unless you're a creative or a Power Tool Challenge Team Member! Not only is the team sharing some rockin' projects this month, that all cost $10 or less to make, we are opening up the challenge to our readers!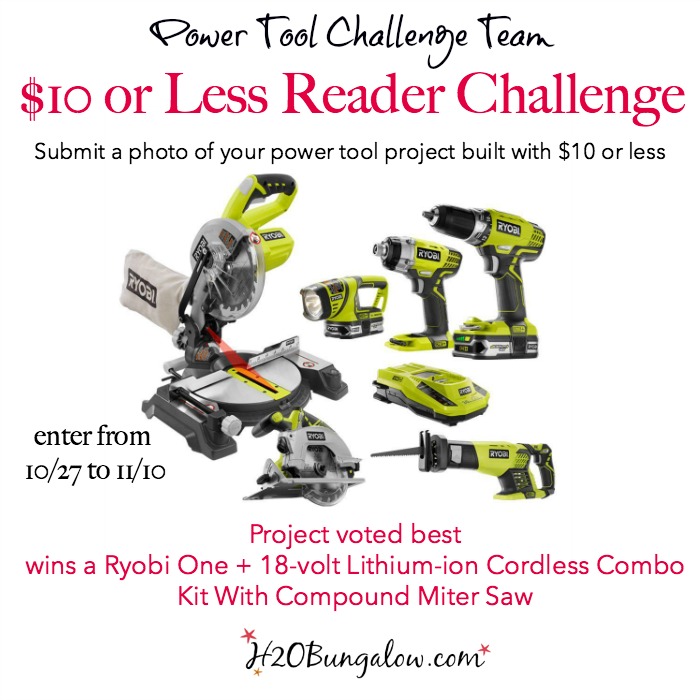 Check out my rustic DIY vintage ladder and the team's projects below.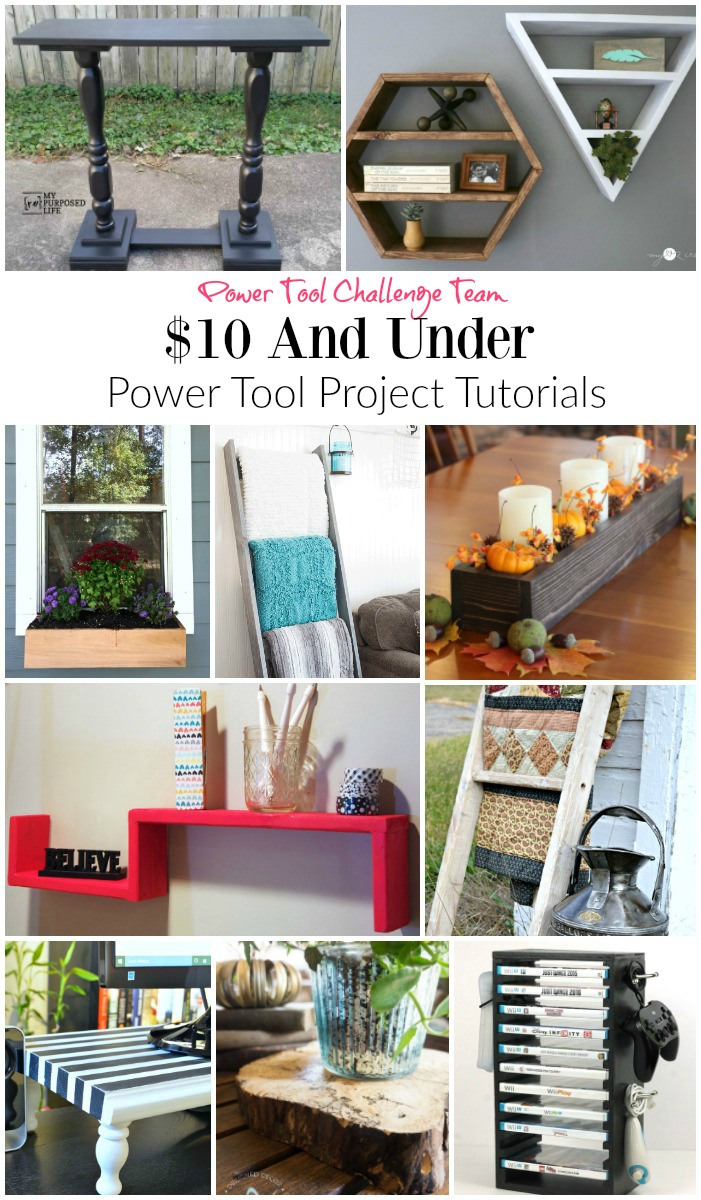 Double Pedestal Scrap Wood Table by My Repurposed Life
Hexagon and Triangle Shelves by My Love 2 Create
Window Box by Dogs Don't Eat Pizza
Blanket Ladder by Domestically Speaking
DIY Wood Centerpiece Box by Virginia Sweet Pea
Easy DIY Shelves by Create and Babble
Vintage Peg Blanket Ladder by H2OBungalow (that's me!)
Computer Monitor Stand by Interior Frugalista
Wood Slice Plant Stand by Designed Decor
DIY Video Game Organization Station Holder by Kim Six Fix
So now let's talk about your project. You ready for the details?
The project can be made from a free item, reclaimed wood, anything as long as less than $10 was spent on it including hardware.

At least 1 power tool has to be used to build it.

The $10 Power Tool Project Challenge is open for entries from 10/27 through 11/10 with a linky. Upload a picture of your project. If you need help uploading your project photo, send me an email at [email protected] and I will upload it for you 🙂
Submit an old or new project as long as it was under $10 to build.

Anyone can enter, the more the merrier 🙂

Each participant can enter up to 3 projects.
Winners must be 18 or older and live in the US.
The Power Tool Challenge Team will vote on the best project and one winner will be selected. The winner will receive the Ryobi ONE+ 18-Volt Lithium-Ion Cordless Combo Kit with Miter Saw 6 tool package shown above.
Void where prohibited.
We have a winner! The team voted on the best entry and Shawna S DIY headboard was the winner!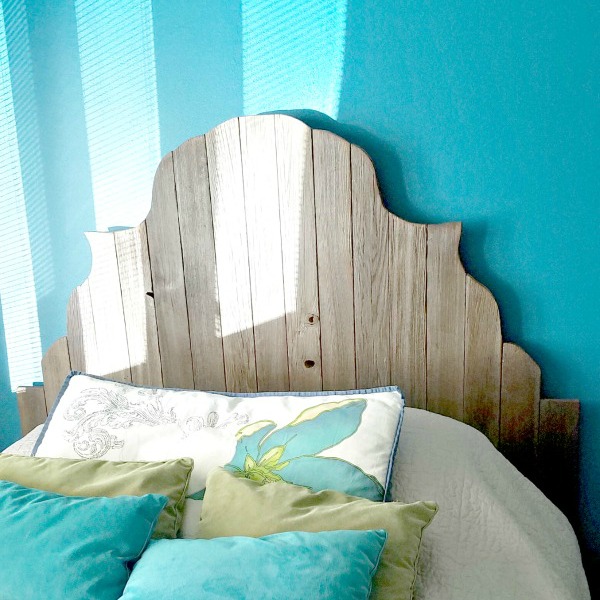 See all the project entries in the link below.
Ready for my tutorial to make a budget DIY blanket ladder?
Here's my tutorial to build a decorative rustic vintage ladder. Some of you may know by now that I'm obsessed with old things. Old furniture, time worn patina and cool vintage pieces all make my heart go pitter patter 🙂 You may also have noticed in my supply list above there isn't any hardware listed. Nope, none. It's not a mistake. My DIY vintage ladder replicates how furniture was made Pre-Civil War and in old barn construction before nails were available. I used pegs to assemble my ladder. It's sturdy and added the character of a time-worn piece. Best of all this project cost under $10 to make.
How to make a DIY vintage ladder for under ten dollars.
Supplies to make a vintage peg style ladder with no hardware.
2 – 2″ x 3″ pine boards at 6 feet (ladder sides)
1 – 2″ x 3″ pine board ripped down the center and cut into 15″ pieces (ladder rungs)
1 – 5/8″ dowel cut at 3 1/2″ (2 pegs for each ladder rung)
wood glue
2 clamps
drill
drill press (optional)
5/8″ bit
pilot hole bit
table saw
compound miter saw
orbital sander or grinder
mallet
Supplies for the rustic antiqued finish
1. Using a grinder or orbital sander, start by clamping the two ladder sides together and rounding both ends. Make a mark on your sides and tops so you'll be able to line up these two parts again later. I made 2 ladders which is why there are 2 side sets below.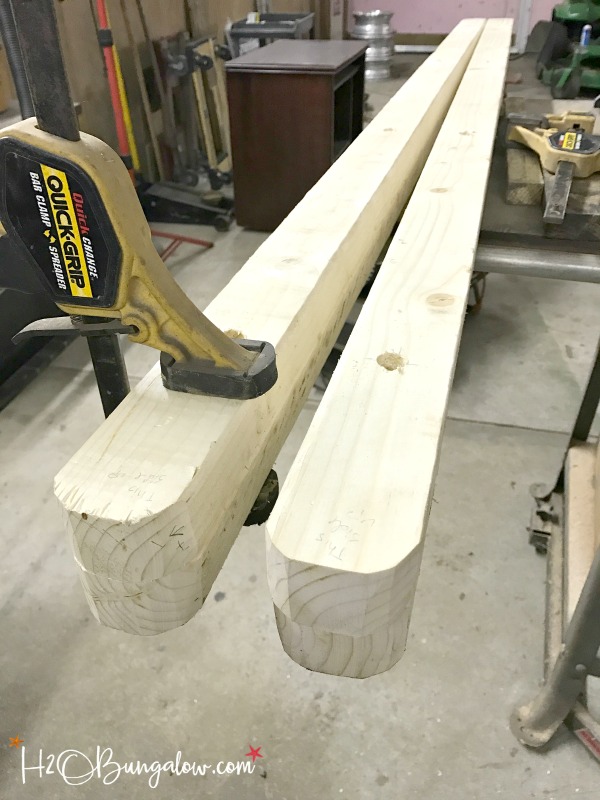 2. Mark 6″ from the top and bottom. Next mark where you'll place your rungs by dividing up the remaining length. I used 4 rungs, I think the ladder would look better with 5, (I went back and forth for a while on this and should have listened to my self talk). Make your mark on the center where the peg hole will connect the rung to the ladder side.
3. With the two ladder sides clamped together, drill the 5/8″ peg holes.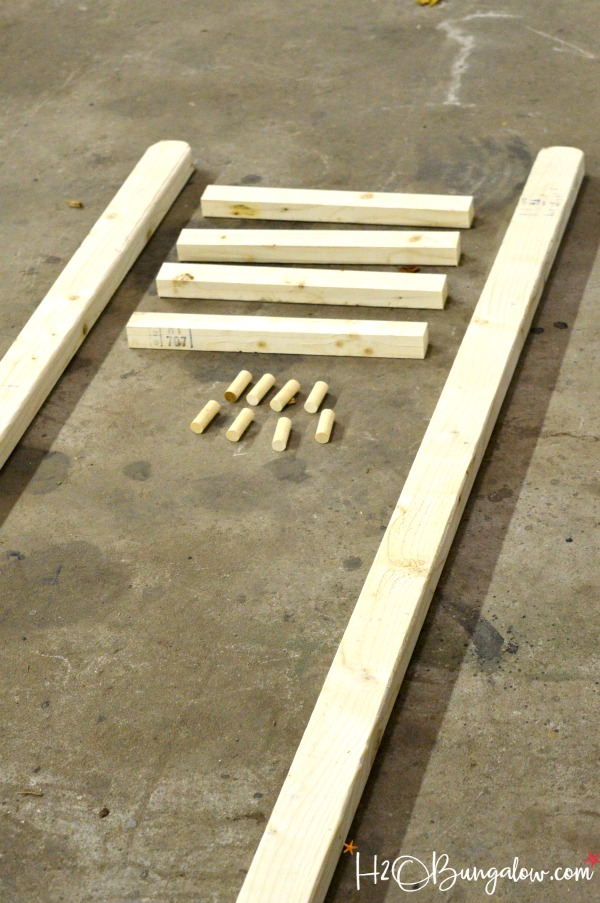 4. Distress the wood with a grinder or random orbital sander. Round off the rungs and add some wear to the sides of the ladder. Don't be afraid to nick and mar the wood, the more worn the wood the better on this step!
5. Drill a pilot hole and then a 2″ hole into the end of each ladder rung. It helps to hold the ladder rung in a clamp to drill the hole straight.
6. Check your marks to be sure your sides are lined up like they were when you drilled them. Assemble the DIY vintage ladder by putting a generous amount of wood glue into the rung end and inserting a peg. Do this for all the rungs. Assemble the rungs along one side and then the other. Tap with a rubber mallet as needed. Wipe away any dripping glue with a damp rag. Let sit 24 hours for the glue to dry and cure.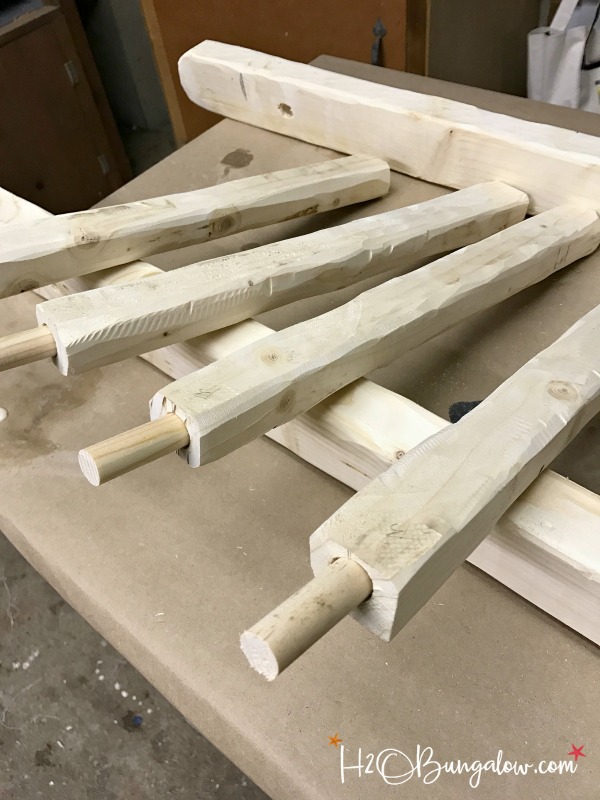 We aren't done yet! Building a vintage style ladder isn't enough to make it look vintage and time-worn 🙂
Add a simple two-step rustic aged finish on the DIY ladder
1. To age the wood so it looks like it's sat outside for years you'll need to give it patina. Start by applying a layer of my Homemade Tea Stain and allow it to dry overnight.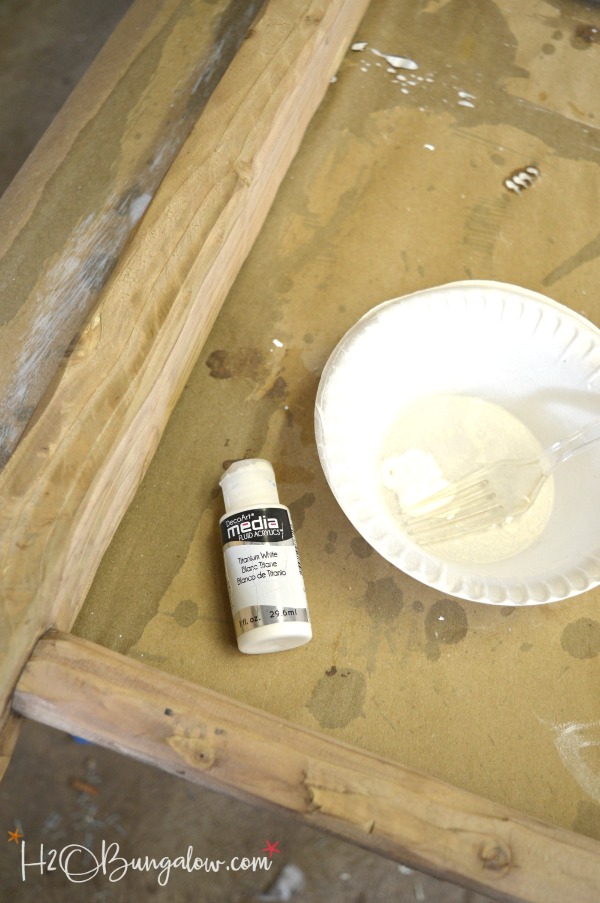 2. Dilute the white paint with water and make a watery opaque wash. Using the chip brush randomly apply the wash to the wood. You don't want to "paint" a solid layer on, just heavier in spots and none in others. Allow to dry.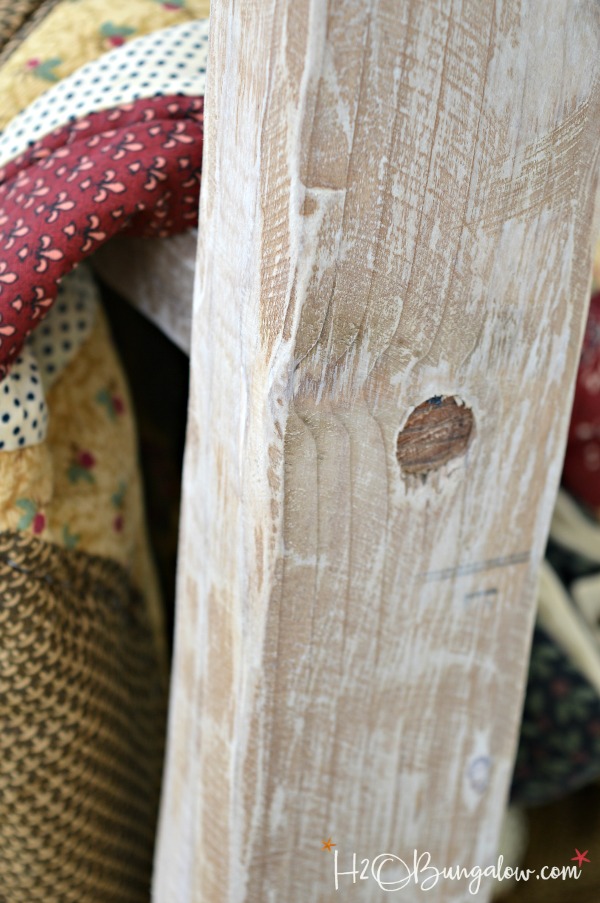 Keep in mind this is a decorative piece only. I'm planning on using my rustic DIY vintage ladder to hold blankets and throws.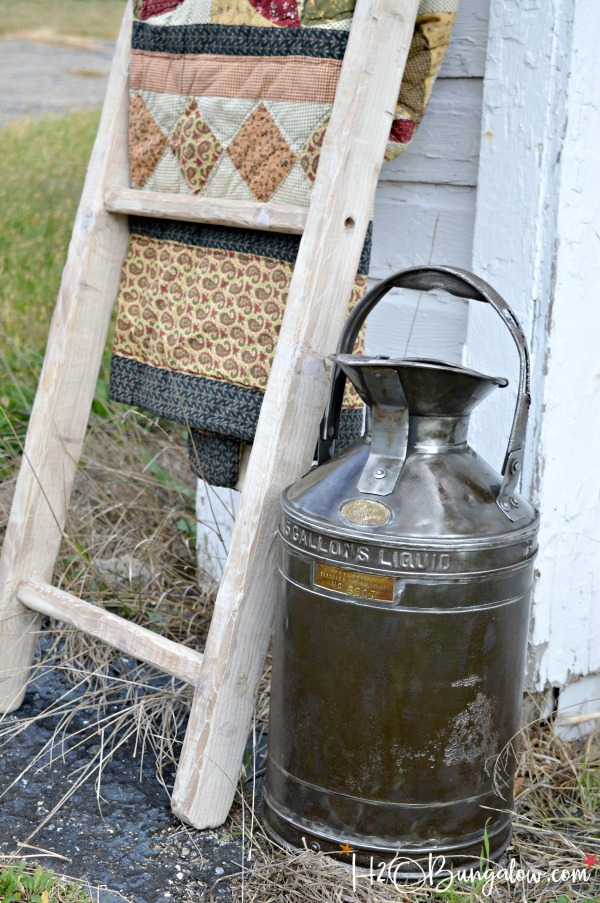 The peg holes give the rustic ladder character, and I love the old world style of not using any hardware in the construction. It's sturdy too.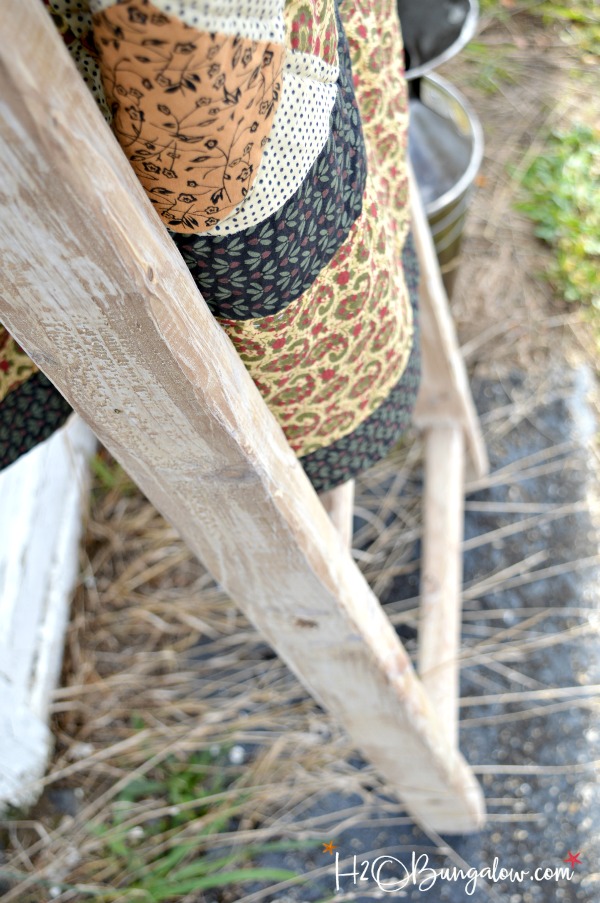 All I need now is a good wall to place it on and a few warm blankets to sit by the fire with this winter 🙂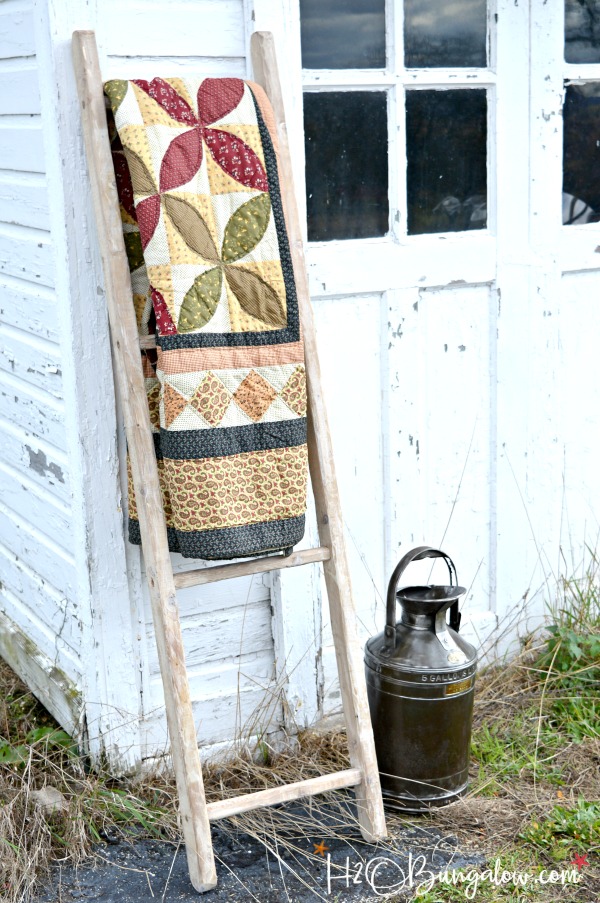 Where would you put a rustic DIY vintage ladder in your home?
Don't forget we want to see your best $10 power tool project too! The Reader Challenge is open until 11/10!