Adding liquid gilding or liquid gold leaf is a beautiful and authentic looking way to add rich detail to furniture makeovers. Gilding elevates the look of both modern and vintage furniture makeovers. I have a quick and simple tutorial to to share with you today on how to apply liquid gilding on your own DIY projects.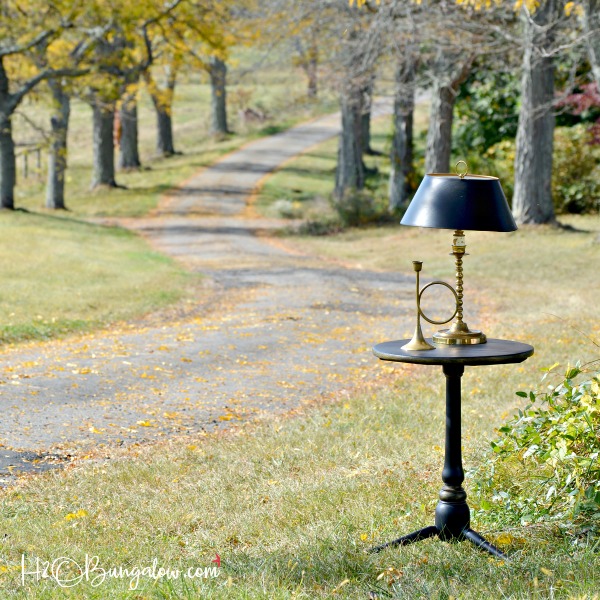 I used vintage products to finish today's makeover and tutorial to share how to apply liquid gilding on furniture details. No joke! Liquid gilding is easy to find though, I linked a list of available products later in this post. One of the biggest challenges of working away from home has been making do with what I had at the time. Sure, I packed a bunch of tools, paint brushes, waxes and common sense stuff. But there's a huge list of things I use all the time and didn't have room to pack.
Looking for more furniture makeover ideas? Check my Wood Wax Finish DIY, How to Paint Over Dark Stained Wood and How to Paint Wicker Furniture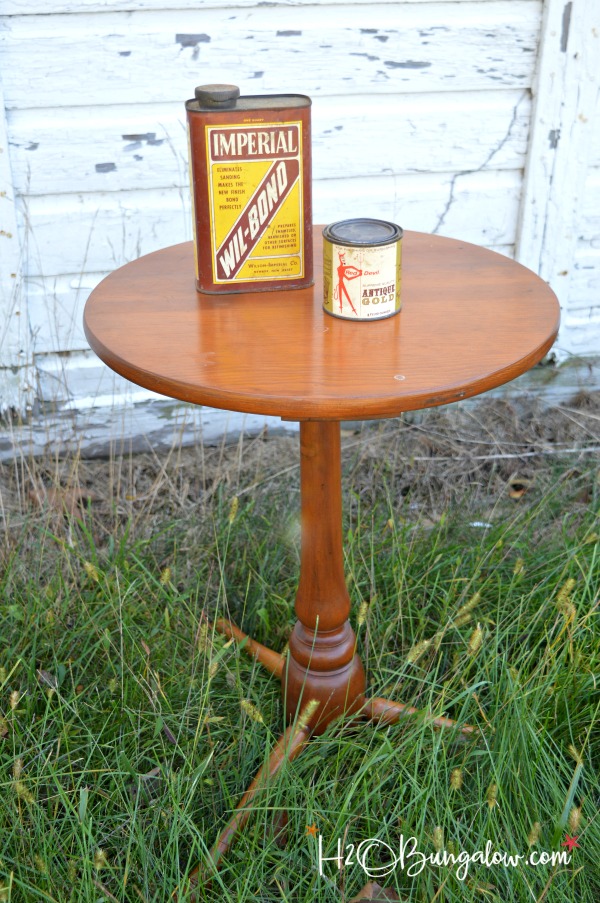 My sister dug up this old spider leg table for me to work on and I set up shop in a vintage DIY'ers dream of a shop with tables, lighting, lots of windows and even a screen door! What made this place even more special is that is was previously a female furniture builders shop. A special woman who had lived on this property for years and years.
Everything had been emptied out…except the paint cabinet! Hello goodness 🙂 I'd packed my own guiding wax for this project but that was quickly cast aside as soon as I saw what Betty had. Red Devil Liquid Gold paint! I researched to find this brand, and it looks like it was roughly from the 60's. This can was in pristine condition and what was more incredible was the liquid gilding paint was in perfect condition! Then I found the other can of paint thinner which I needed to clean my brush. How lucky was that find!
How to apply liquid gilding on furniture details
Supplies needed to apply liquid gilding. You won't use the vintage product I did, so I listed the products and used affiliate links to the furniture gilding supplies you'd need below.
Step 1. Begin with a freshly painted and fully dry piece of furniture. See my post on How To Prep Furniture For Painting for these steps.
Step 2. Decide where you'll use gilded accents. Spindles, turned legs, tables are all good places to add gilded details.
Step 3. Shake the gilding paint well before applying and stir it often while applying. The metallic flakes will settle quickly otherwise.
Step 4. Use a fine tipped or round tipped detail brush and apply the gilding paint. Use as many coats as you'd like but allow them to dry to the touch in between. Get a straight line on table edges by holding the brush in your fingers as normal, and using your pinky as a guide running along the top of the table as you move around the table top edge.
Step 5. Allow the liquid gilding to dry several hours or overnight.
Step 6. Burnish or slightly distress with fine steel wool to give an aged and worn appearance. I used 500 grit sandpaper that I roughed up a bit so it was even softer to burnish the gold gilded details I added to the table. I also used the sand paper to lightly soften the gilded edges on the table top to give the gold gilding a naturally worn appearance and take away the freshly painted edge look.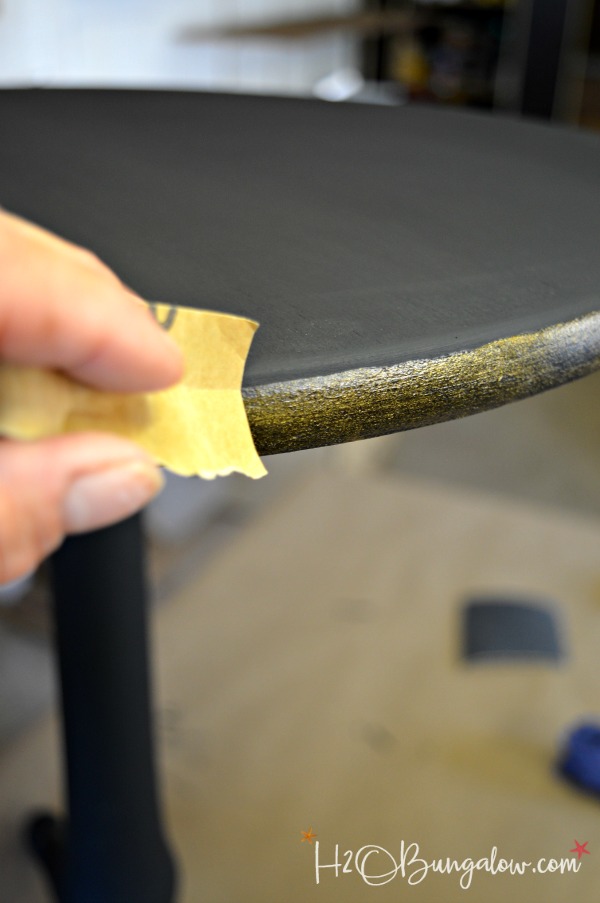 I like to replicate the look of well loved pieces that have aged over time. Burnishing the gold gilded high spots mimics natural wear and tear.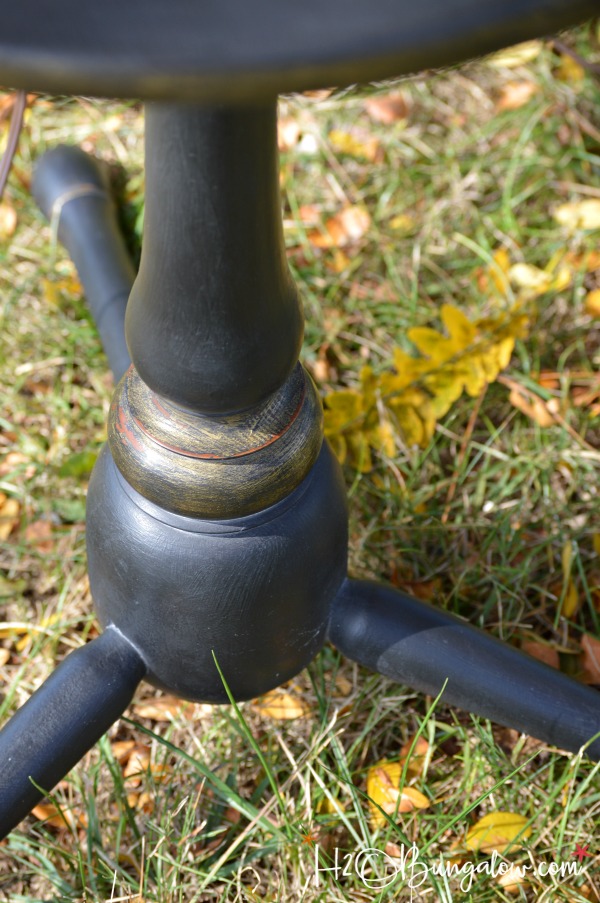 The gold gilding gave my table subtle hints of a former grander life.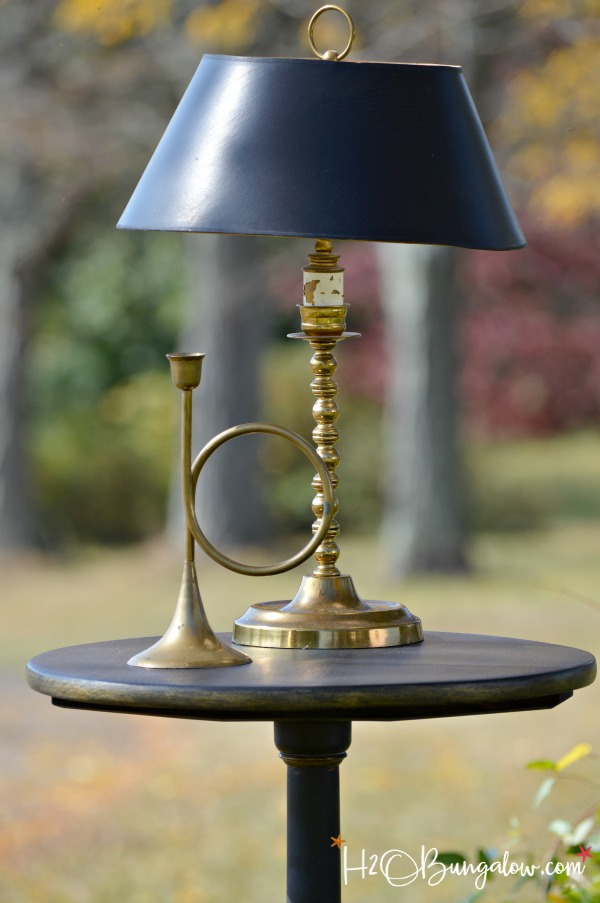 To add another layer of character I added a layer of Amy Howard's Dust of the Ages over a coat of Light Antique Wax for the last step. My Aged Desk Makeover has a good tutorial on how to use Dust of the Ages for effect.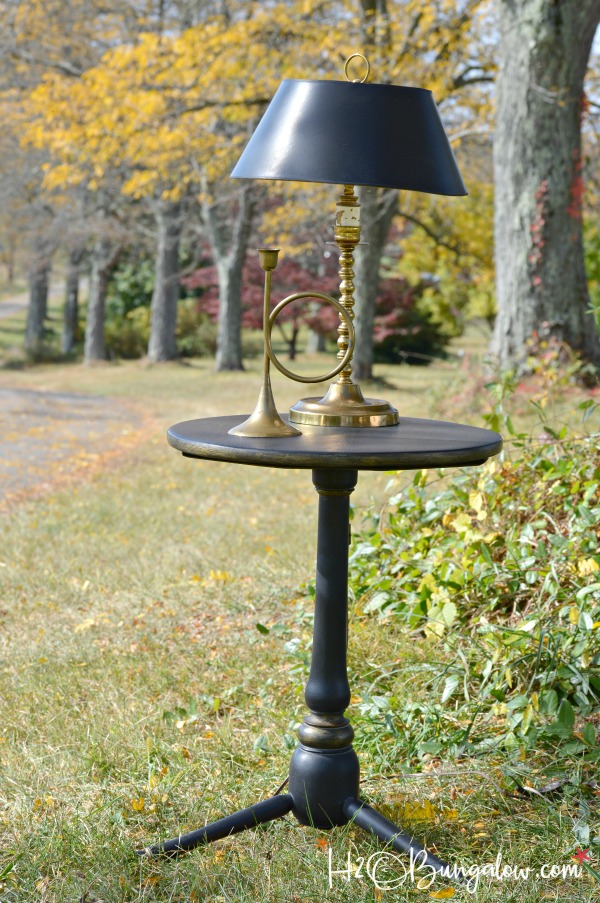 It's a fitting makeover for an old country place. Don't you think so?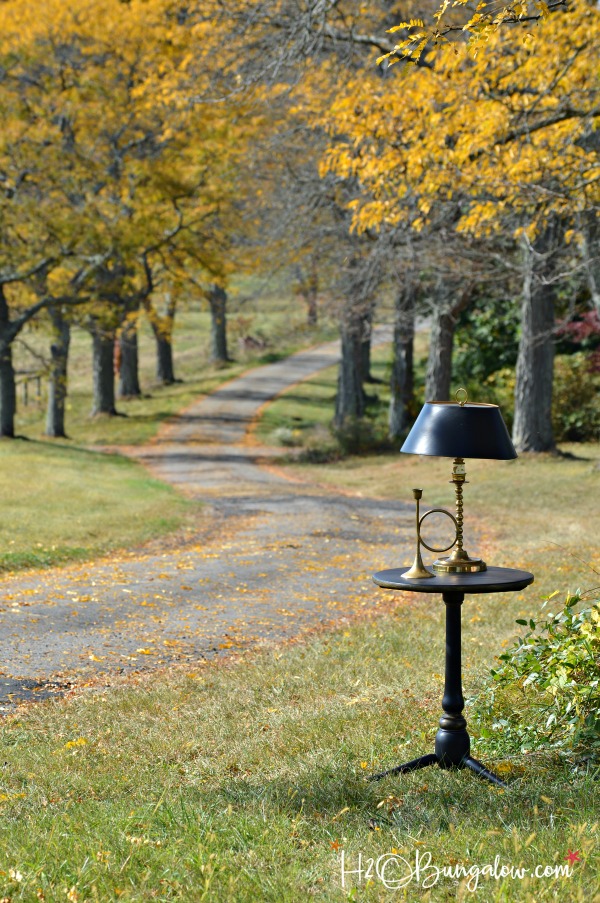 Now that I've shown you how to apply liquid gilding are you ready to try it on a project of your own?
Don't forget to pin it for later!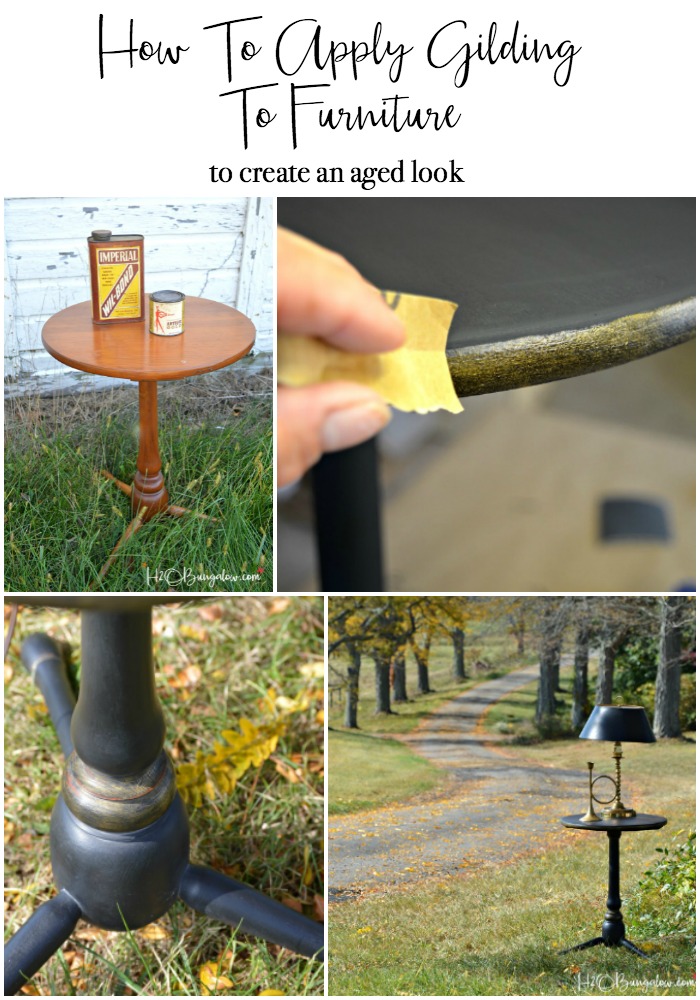 Now it's time to see what the rest of the members created for this months Glitz and Glam theme.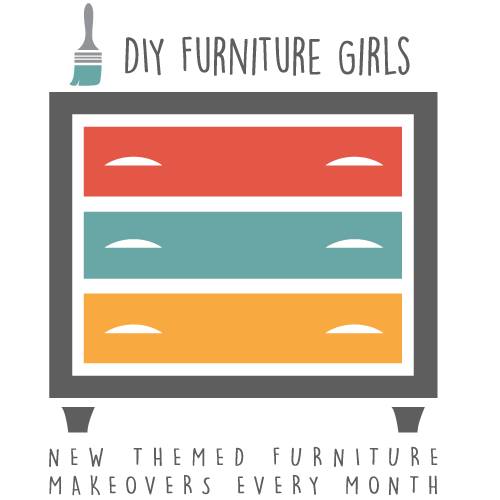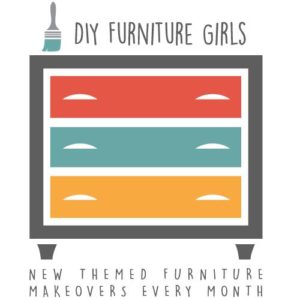 Click on any one of the photos below to go to that post.