I just finished painting my fabric chairs and couldn't wait to share this painted upholstered chair makeover tutorial with you guys. I'm going to be the first one to admit I was skeptical doing about this project. Maybe that's why the chairs sat in the garage for so long, I think I was avoiding starting this DIY painting fabric chair project I'd committed to doing.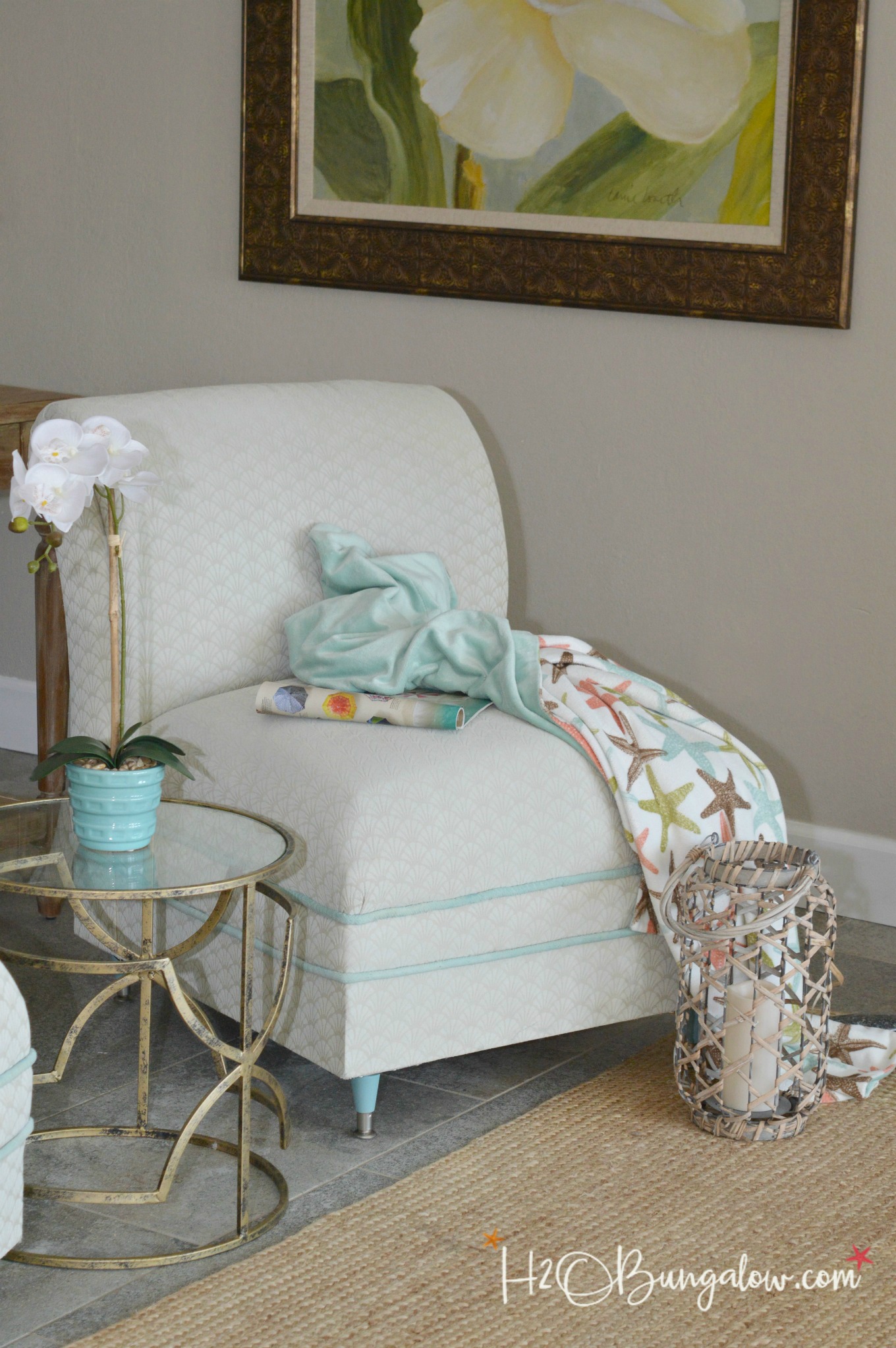 I made it harder on myself too since I left them in the garage gathering even more dust and dirt than when I hid them out there to begin with.
I did a lot of research on for the painted upholstered chair makeover. Ultimately, I used the recipe from The Kim Six Fix How To Paint Upholstery With Latex Paint tutorial. She painted a fabric chair. I liked her instructions on sanding the fabric to soften it but you can't do that with heavy upholstery fabric so I was on my own with that part.
DIY Painted Upholstered Chair Makeover Tutorial
I use affiliate links to help you find the supplies I used. You can read my full disclosure policy here.
Supplies needed to paint an upholstered chair with latex paint.
fabric chair
flat latex paint – my color is Top Sail from Sherwin Williams
water
fine mist spray bottle
upholstery welt cording or other chair trim
drill
Step one: Clean the upholstered chair before painting it.
These chairs have been with me for years. They've survived kids, pets and have been stored in the garage collecting dust for the last few years. In retrospect, I should have kept them covered in the garage 🙁 I couldn't handle the idea of painting over the dirt, even if it was our dirt, so I decided to steam cleaning the chairs first.
I diluted Oxiclean with water in a spray bottle, sprayed it on and let my HomeRight Steam Machine do it's magic. Basically I moved the steamer over each area and let the steam loosen the dirt and then then wiped it off with a towel. The chairs even smelled clean after that.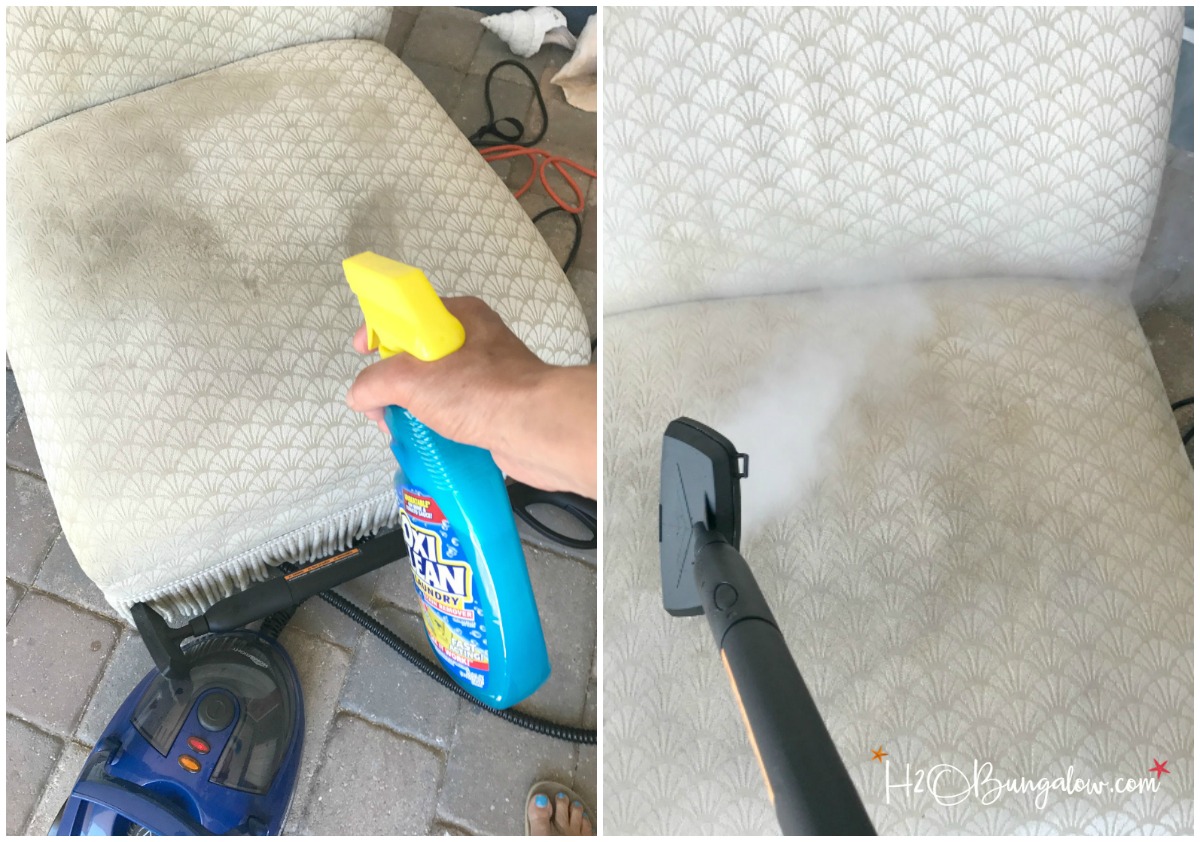 I could have stopped at the cleaning if the upholstery wasn't a little discolored and still showed some stains. They were also dated, sat really low to the ground and bullion fringe doesn't fit my style anymore. OK, I'll admit it, I've had them since 2000! In my defense, they are really good quality, very sturdy and the shell pattern in the fabric fits in our beach house decor.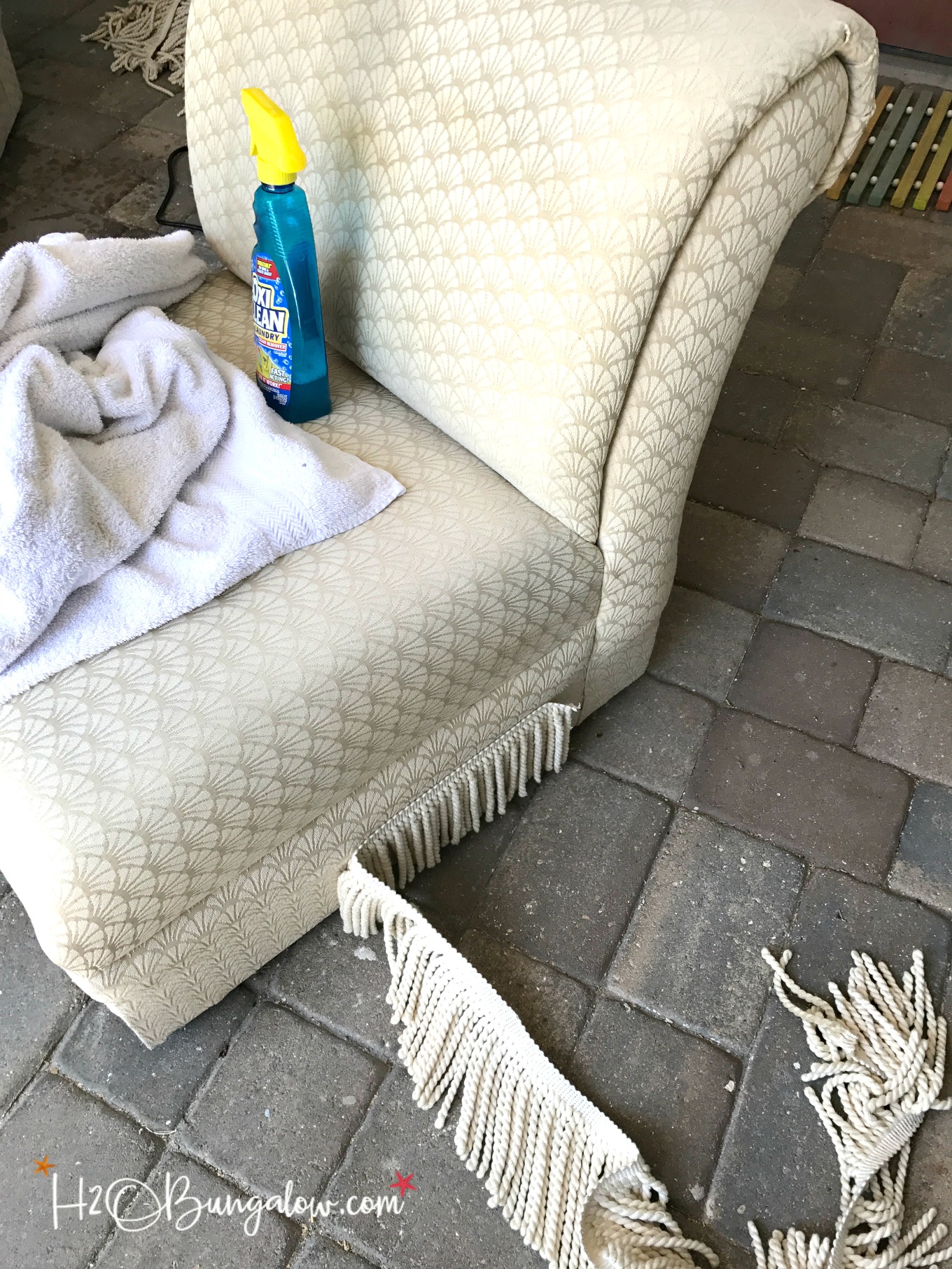 Step two: Paint the fabric chair with the paint mixture
Painting the upholstery was a lot easier than I expected it would be. Mix one part fabric medium with one part latex paint and one part water. I used the recipe from Kim Six Fix, She painted a smooth fabric chair instead of
Stir well. I used one 8oz bottle of fabric medium per for one coat of paint on each chair. Begin by misting an area of the fabric lightly and evenly with water and apply the paint by rubbing it into the upholstered fabric.
After trying a few different paint brushes, the one that applied the paint the best was a large round paint brush. The brush isn't not one you'd find easily or in a craft store. I put a link to it in the supplies list above.
I made a 2 minute video on how to paint an upholstered chair to show you what painting a fabric chair looks like, how I applied the paint and how easy it was.
The paint color I used was lighter than the original chair color. The chair on the right has one coat of paint on it. I only needed one coat of paint on my fabric chairs.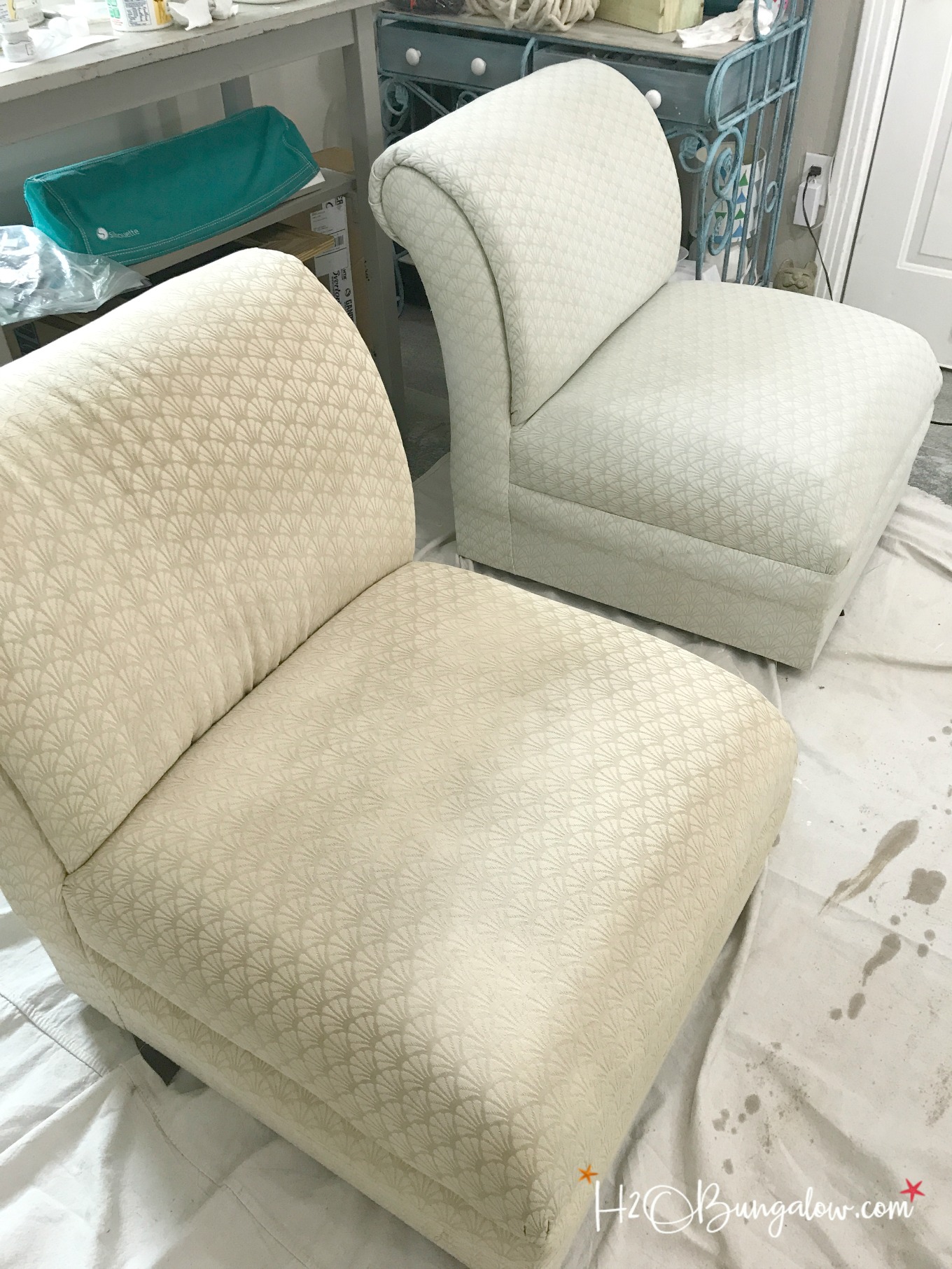 Step Three: Add new trim to the painted chair.
Instead of rope or other trim I used upholstery welt cording and dyed it. To get the light blue green color I used a complimentary shade of craft paint and added fabric medium and water like the recipe for painting upholstery fabric I shared above. I had it drying outside on a flat plastic dropcloth…until it started raining! Ugh. do let your trim dry out laying flat so the color dries consistently. Don't leave it outside when it will rain! I let the paint on the fabric trim dry completely before attaching it to the painted upholstery chairs. The new trim covered the old glue line from the previous trim. Yes, the upholstery trim on your furniture is put on with hot glue! I also added a little more trim above the first just because I thought it needed more.
Since my trim would unravel when cut, I taped the end and then cut it. I tucked the end into a seam in my upholstered chairs using a screwdriver to help wedge the end in. This spot is where two parts of the chair come together so there is a gap. I used regular high temperature glue sticks and my glue gun to attach the trim. Adding glue dots about the size of small peas along the glue line worked best and helped me attach the trim on in a straight line.

Step Four: Add new furniture legs.
I removed the old flat feet and addd new 3 inch contemporary feet. The new brackets screwed directly onto the bottom of the wood frame of the chair, and the feet screwed onto the bracket. A chair seat should be 18″ from the floor. Be sure to select new furniture legs that are the right height.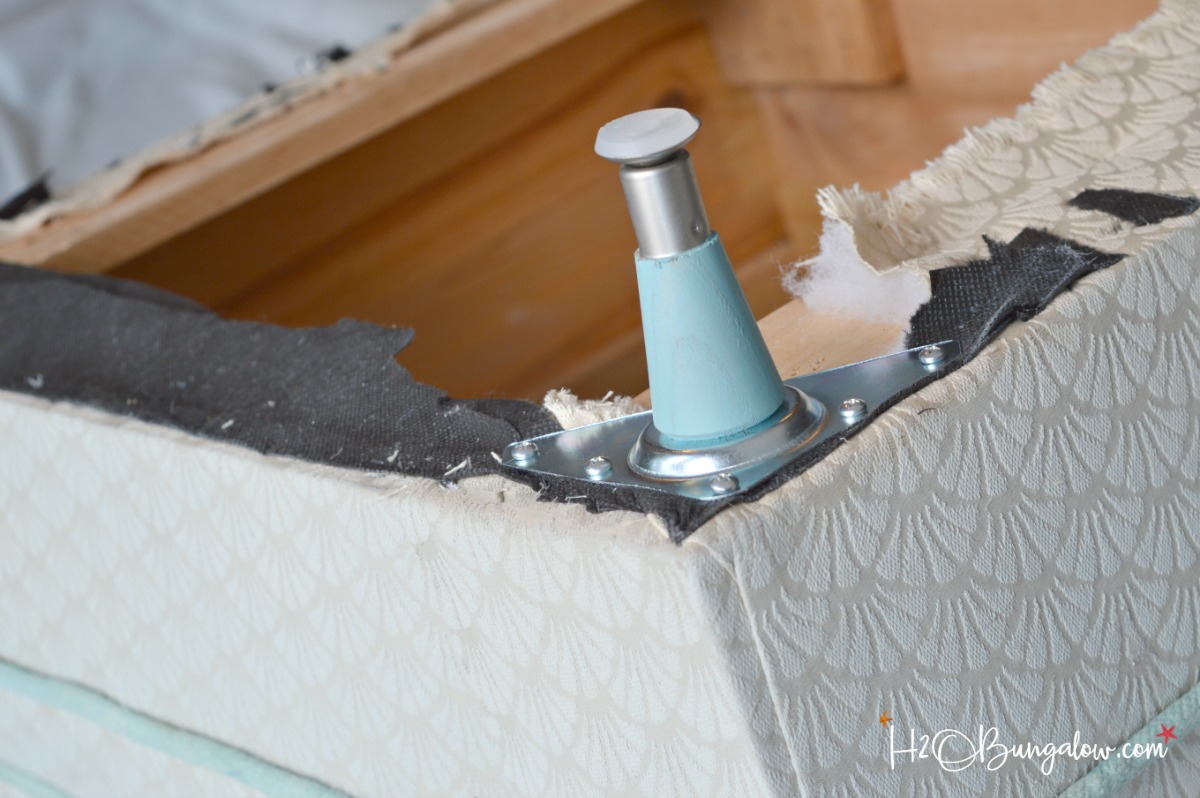 That's how to paint an upholstered chair and update it's look.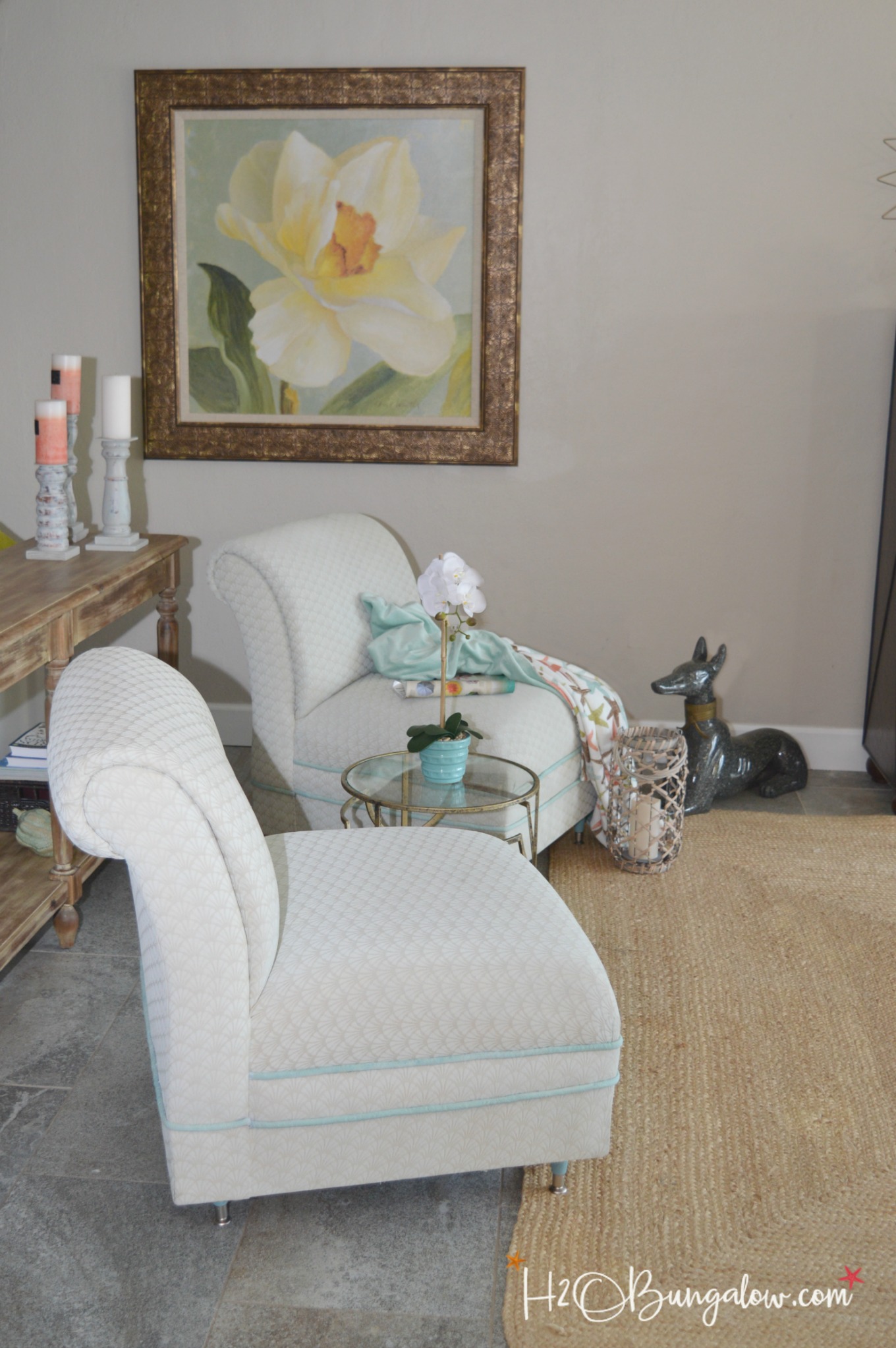 My old 90's fabric chairs look great painted and fresh in my living area. They turned out better than I expected they would.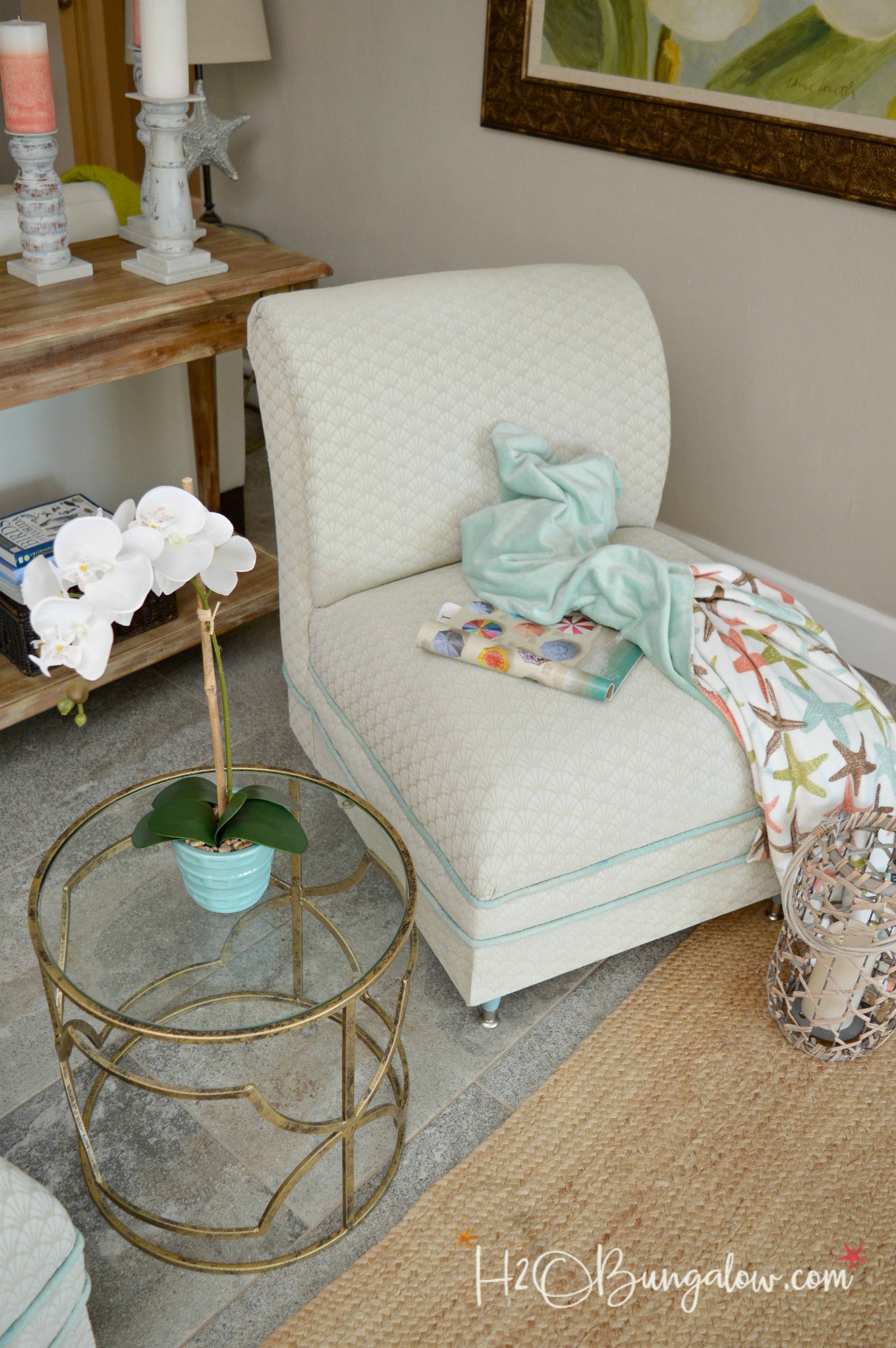 I was on the fence about painting the legs a coastal blue. But I kind of like the peek a boo look of the color. The other option is painting them with the same finish as the console table that's behind them.
What do you think?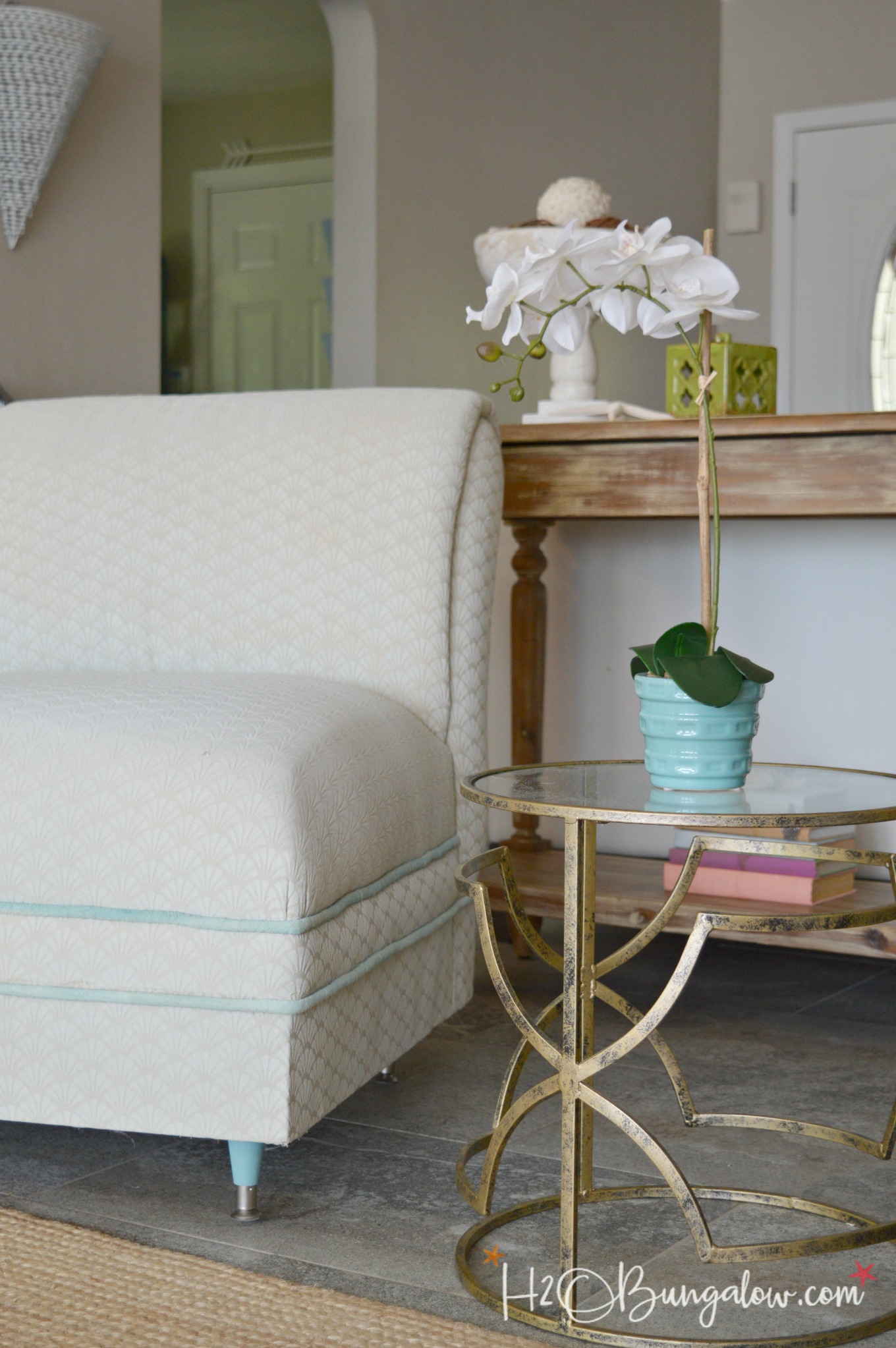 I do like the double row of painted fabric trim I added.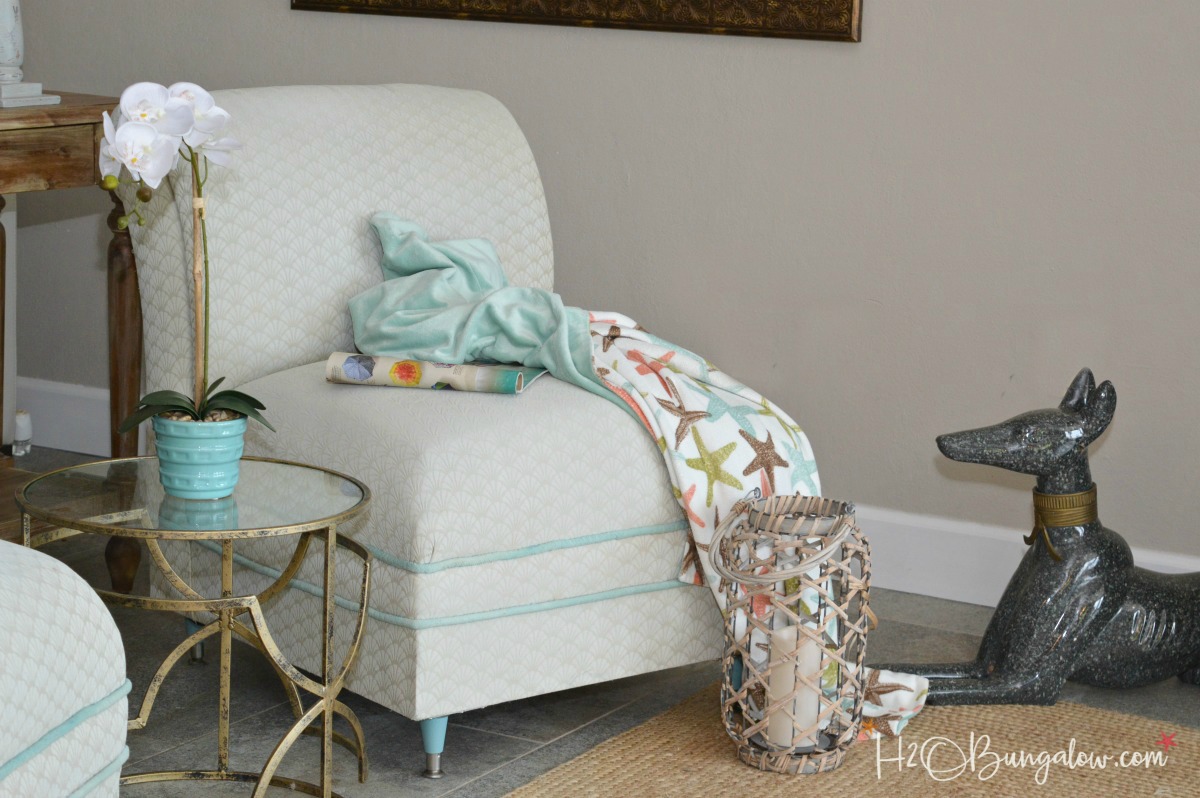 It took some courage to paint my fabric chairs. I wasn't sure how I'd like them or if I'd like the feel of them afterwards. I'd read painted upholstery felt stiff. Does it? Well, it's definitely stiffer. I'd say if this was a favorite cozy chair you sat in every day it wouldn't be the most comfortable choice. But if it's an accent chair that's used some of the time it's fine.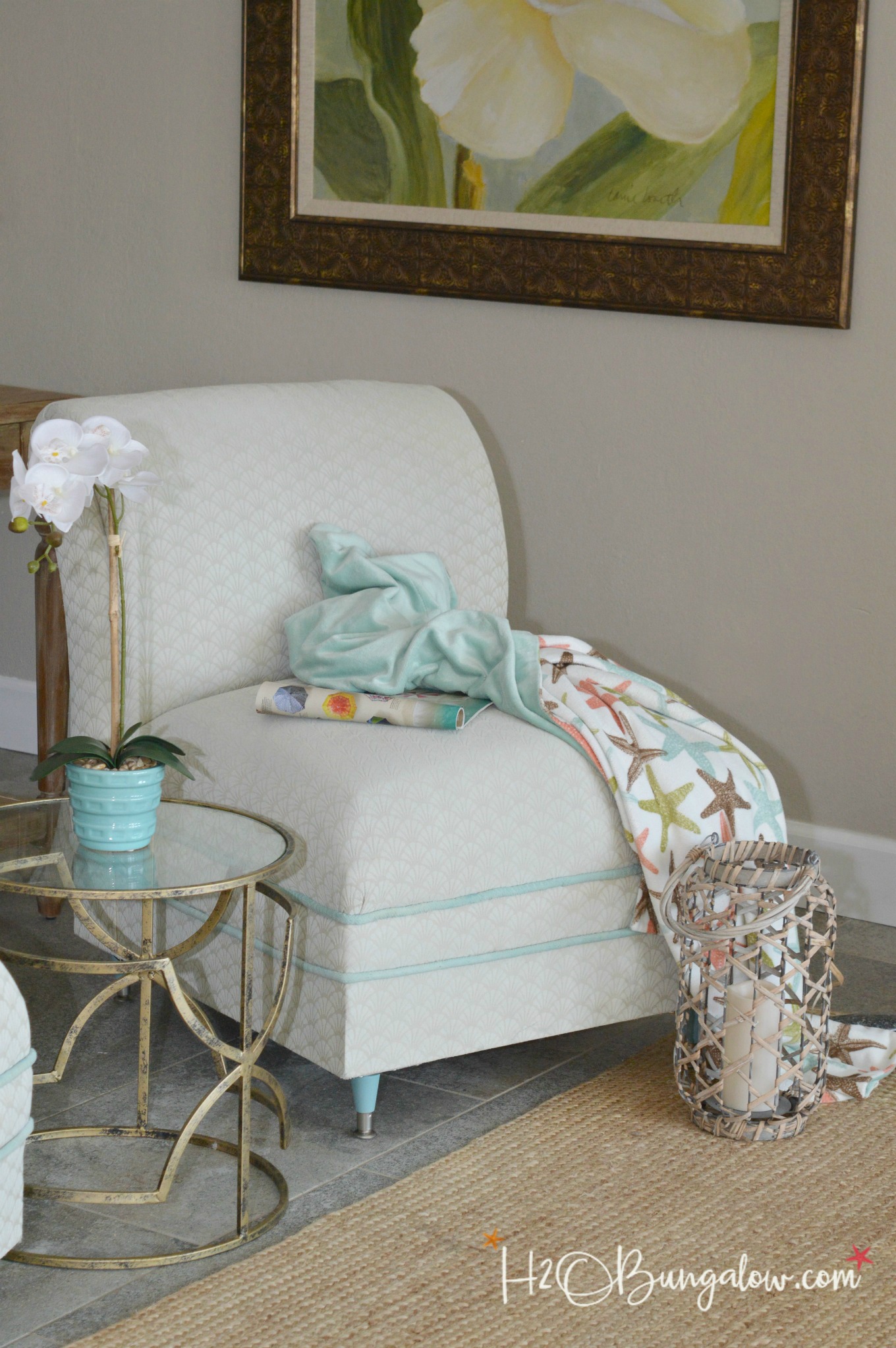 My sisters were in town last week. I didn't say anything to see if they'd comment the chairs didn't feel soft or comfortable when they sat in them. They didn't say a word. Finally I asked them if they'd noticed it and both said not really. They got a kick out of being my test subjects for my painted upholstered chair makeover 🙂
Pin this project for later! It's OK to share it on Facebook too!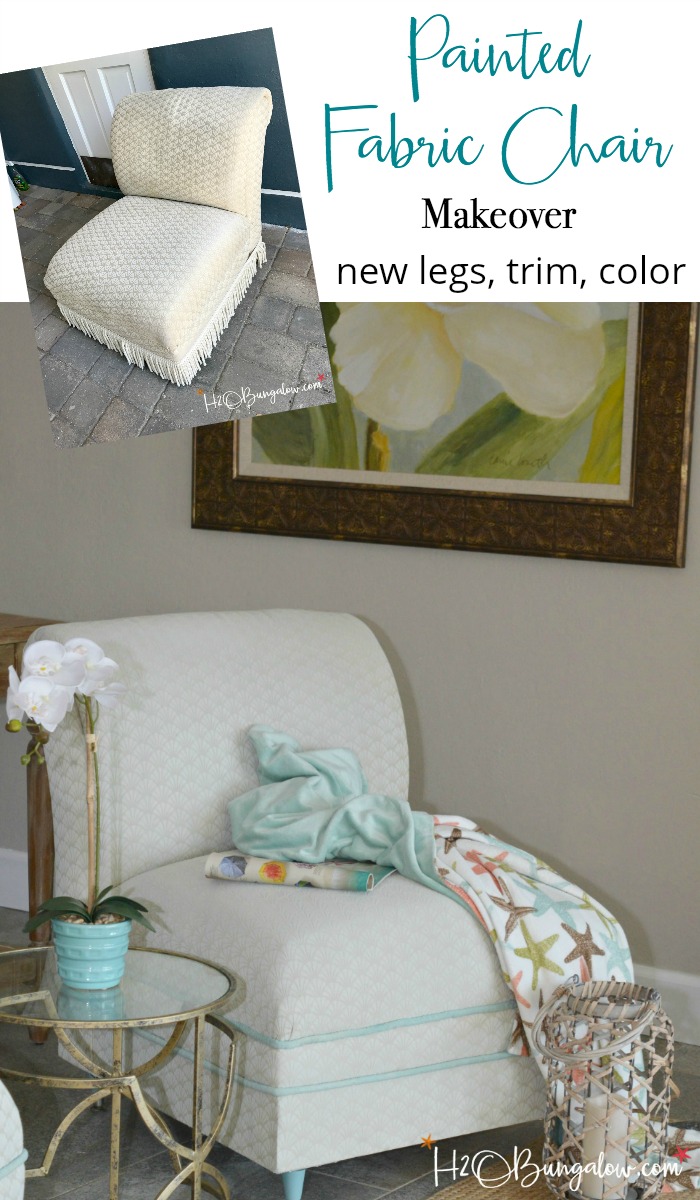 I think painting a fabric chair is a good choice to get a little more life out of a favorite piece of furniture.
So here's the big question, would you consider doing a painted upholstered chair makeover too? Share your thoughts in the comments section below!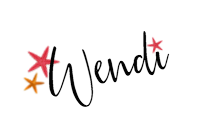 You might like these other posts too!
How to Recover Wood Chair Seats