Today's post is a skill builder post. I'm going to show you how to transfer graphics to paint on a flat surface. It's an easy transfer method that works with any image with clear lines that can be traced.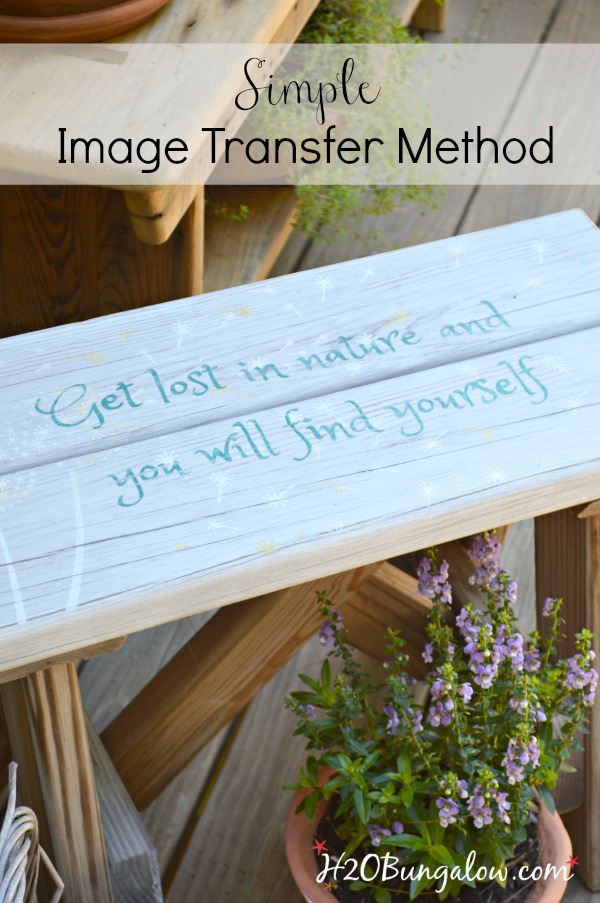 There's a back story on this little bench project. I had plans to visit a good friend in VT, she saw my DIY Starfish Stenciled Bench project a few weeks ago and wanted to make something similar from a bench she had on her porch. You guys know I love a good traveling DIY project! I scoured Pinterest until I had the perfect saying that would fit for her amazing place in the woods. Here's a link to my collection of inspirational phrases on Pinterest if you need a special phrase too. If you're looking for images you can see how to paint graphics on furniture like I did with this whale graphic on a bench I gave new life to.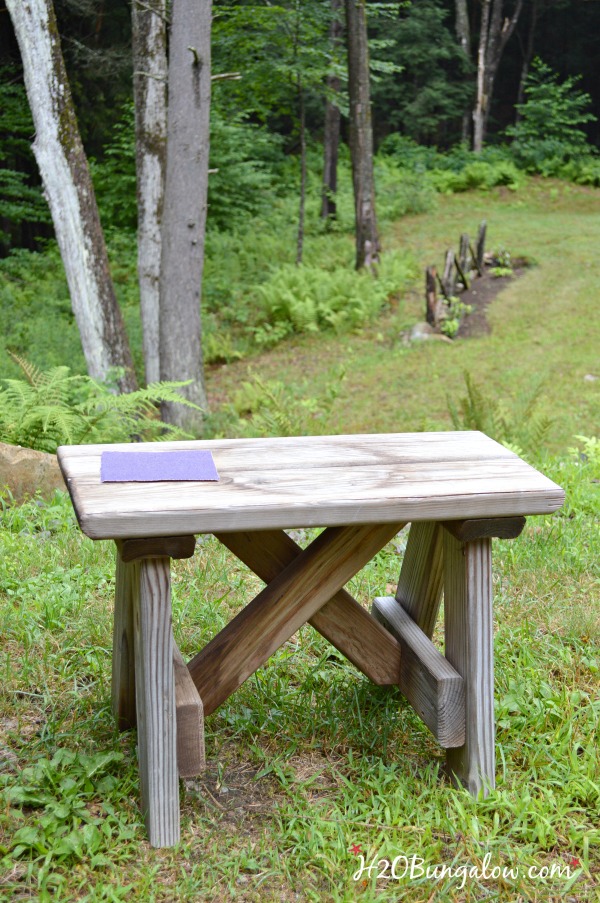 A suitcase can only hold so many supplies, especially since I had to pack for myself as well;) Sometimes you just have to use what you've got and it's OK. Before we could transfer our graphics to paint, we had to prep the bench. We found some paint in the garage to use as the base. I tinted it with a little of my acrylic craft paint.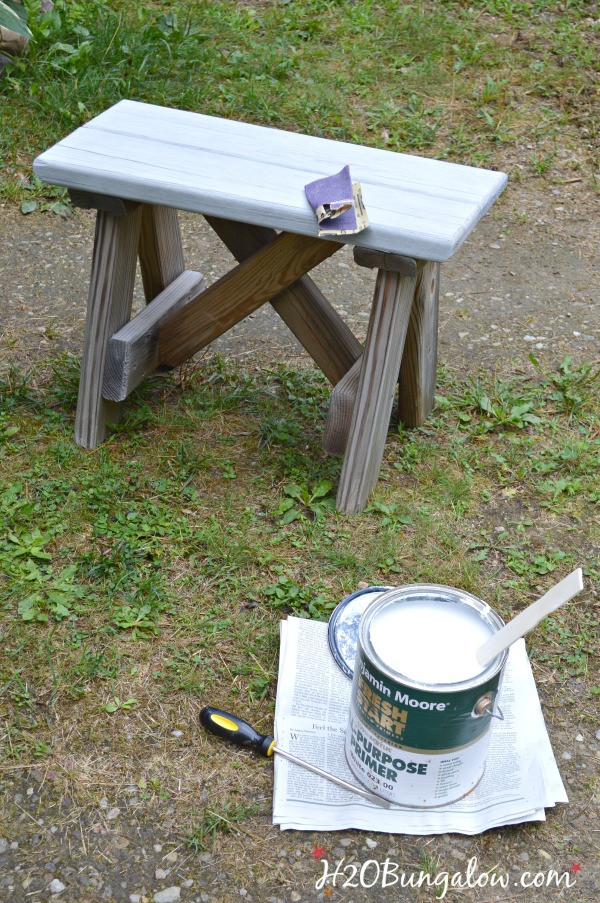 You can see where I gave the bench top a light sanding around the edges before I added the stencil. The white paint is the same gallon of white I used for the base coat. I blended in a few areas of yellow here and there for interest. I love this dandelion stencil, don't you?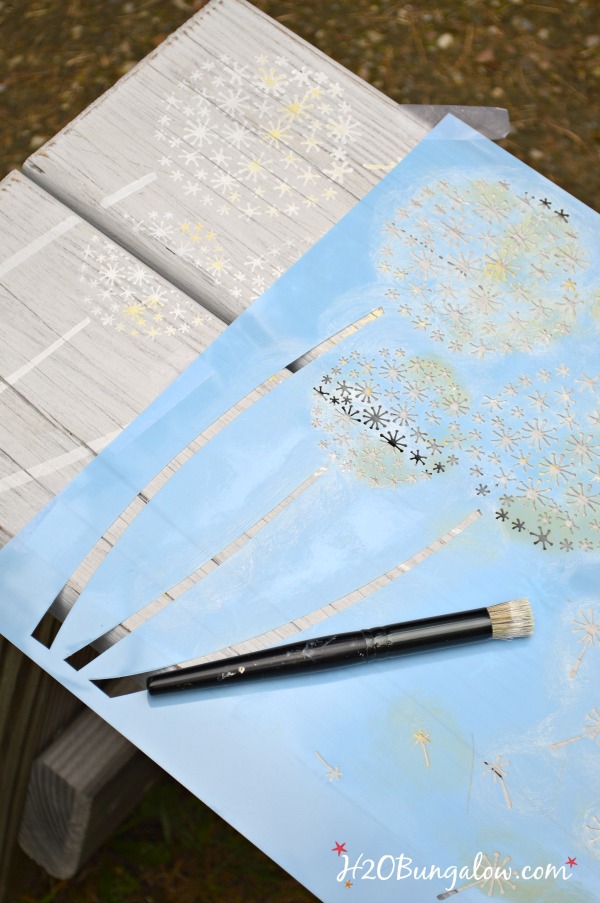 Once the bench top was painted we were ready to transfer the phrase I printed onto the wood for painting.
How to transfer graphics to paint
Supplies needed to transfer graphics to paint onto a flat surface. I use affiliate links to help you find the products I used.
image
fine brush – I used # 0 round tip
colored pen
tape
Choose graphics to transfer
I used Pic Monkey to design my words. All I did was pick the font I loved and use the design feature for an 8×10 sheet of paper. If you're not familiar with it already, Pic Monkey is an awesome online tool that allows you to design graphics, even simple sayings like this one as well as edit photos. They have a basic free edition which is all you'd need for this image transfer project. I used BlockPosters.com to size and print out my words to fit on the bench.
Transfer graphic or image to paint on a flat surface
The steps to copy or transfer graphics to paint is pretty simple. Begin by trimming the excess paper off the words or graphics you want to transfer. Place it in position and tape the top. Next, slide the graphite paper underneath and carefully trace the words with a colored pen. I always use a colored pen so I can easily see where I've already copied. To get the exact shape of your letters, stay on or just inside the lines of your graphics or image.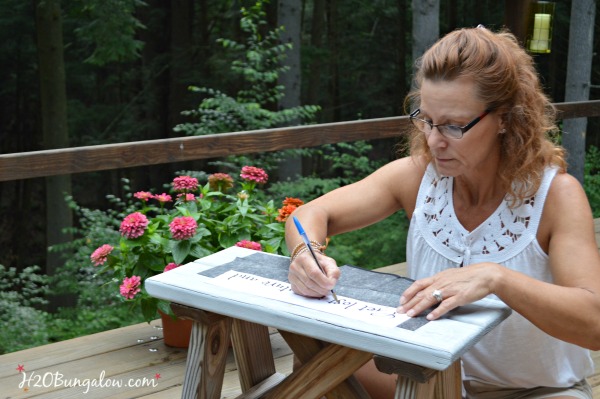 You can see in this close up below how nicely the graphics transferred to the wood. For best results when painting, use a fine tipped paint brush and only dip the top 1/3 into the paint. Dab off the excess on to a paper towel. This was an easy project to paint. Actually it was really easy and relaxing since we had a big cozy fire in the fireplace with a glass of wine and painted the bench top together.
Is there anything better than girl time? I think not:)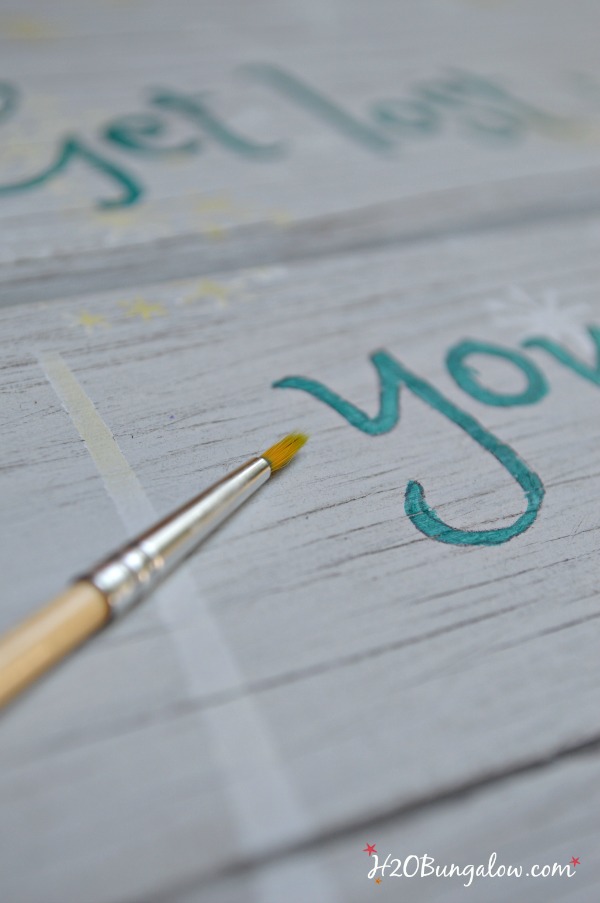 Using the stencil under the words added a little dimension to the simple bench top. I distressed the words just a tad. I wanted the bench top to fit with the weather worn and natural bench base. The bench top was sealed with two coats of Americana Decor Soft-Touch Varnish. It's an interior-exterior sealer.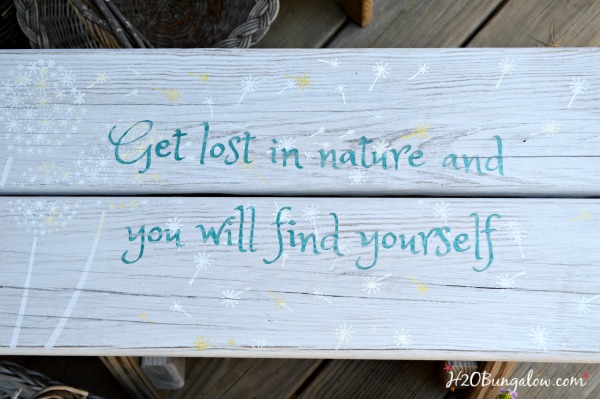 Graphite paper allows you to trace or your image onto a flat surface or wall quickly and easily. For those of us who remember carbon paper, it's kind of like that only less messy:) The link I shared has different color graphite paper and plenty of sizes including rolls, which I think is brilliant. Plus it lasts a long time, you can reuse the sheets over and over again.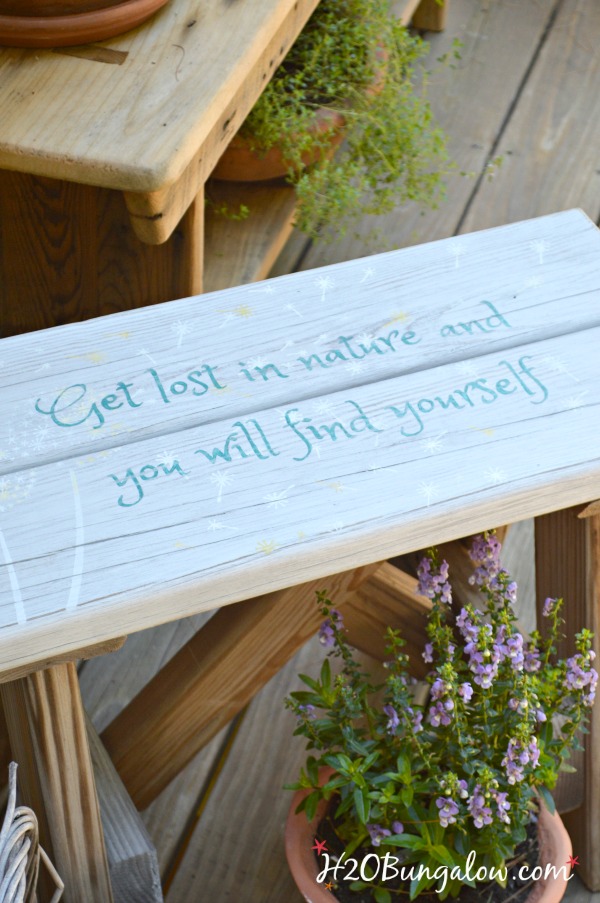 Our bench project turned out perfect for an outdoor deck.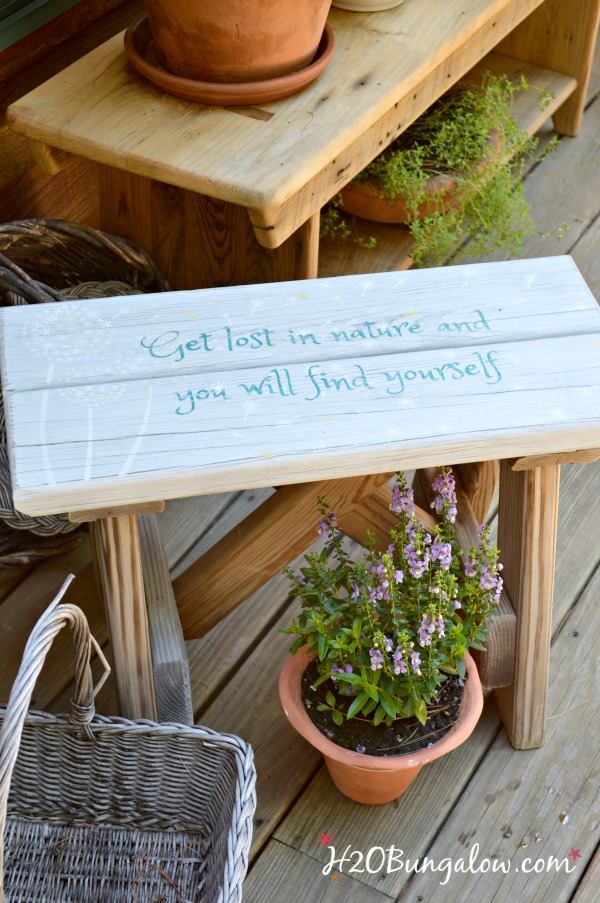 What a perfect saying and so true. I miss our morning walks already…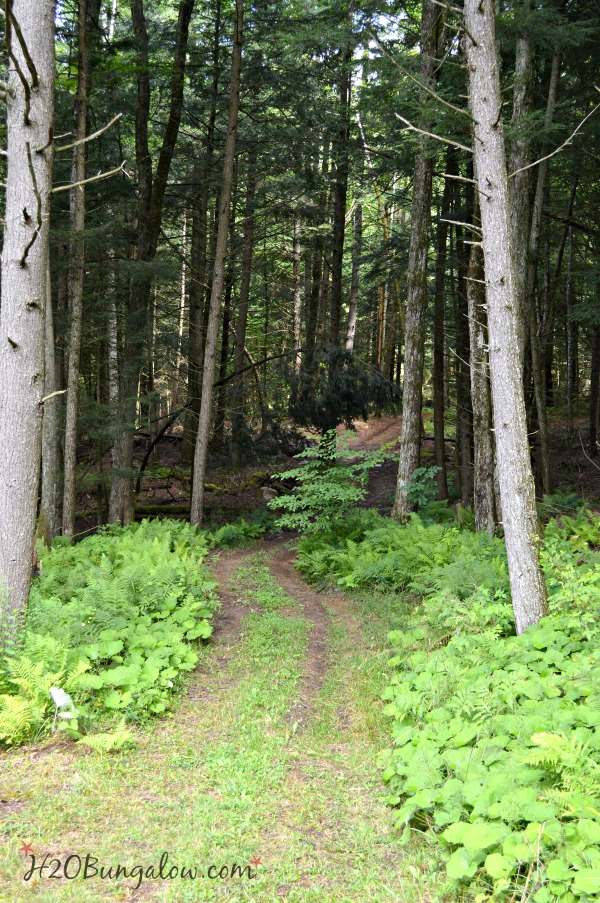 Each day was different.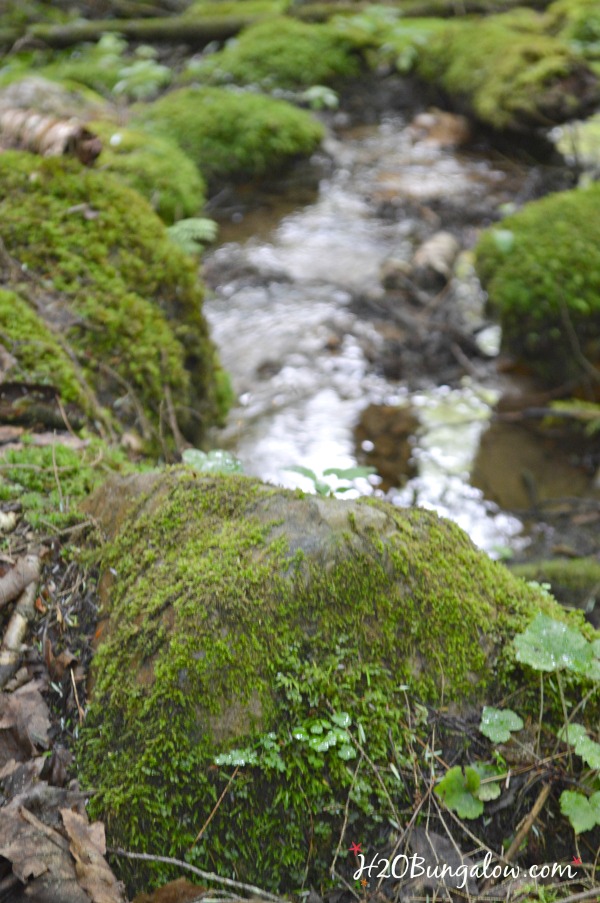 With a new surprise around the corner, like this coneflower growing on the trail…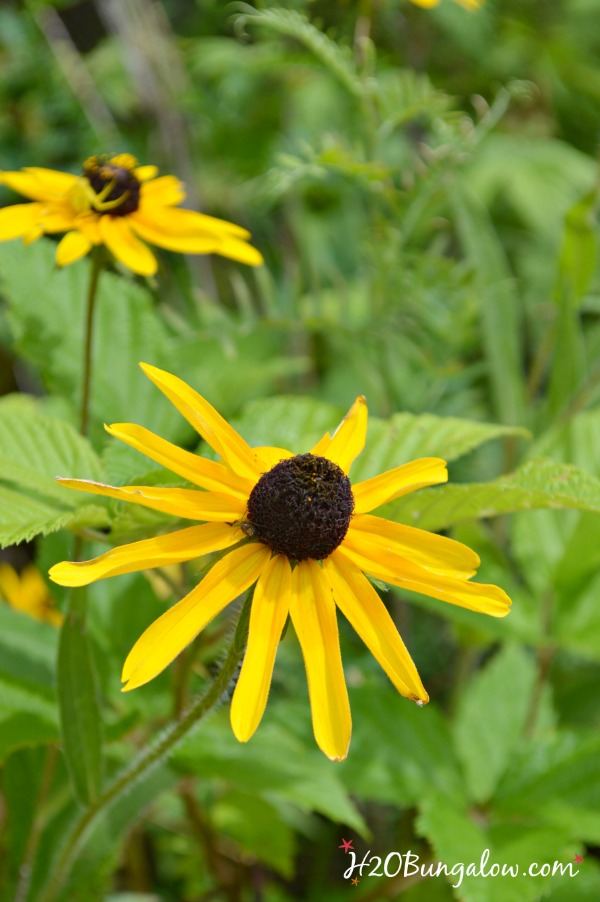 …or a secluded spring fed pond.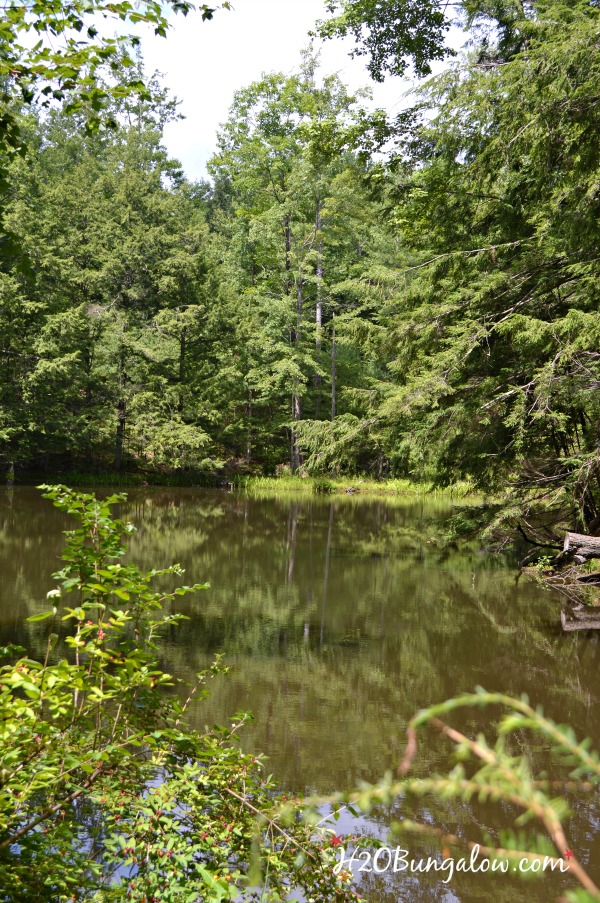 Picking wild blackberries and raspberries reminded me of when I was little. I grew up in the Northeast and this felt like home.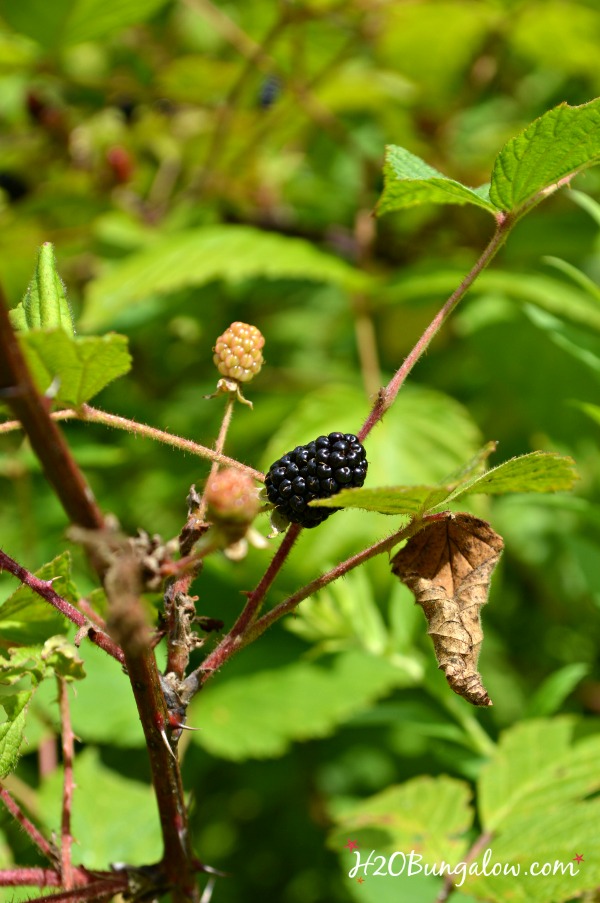 All in all I think I picked the perfect phrase for my friends bench. I hope my friend uses it when she has her morning coffee outside.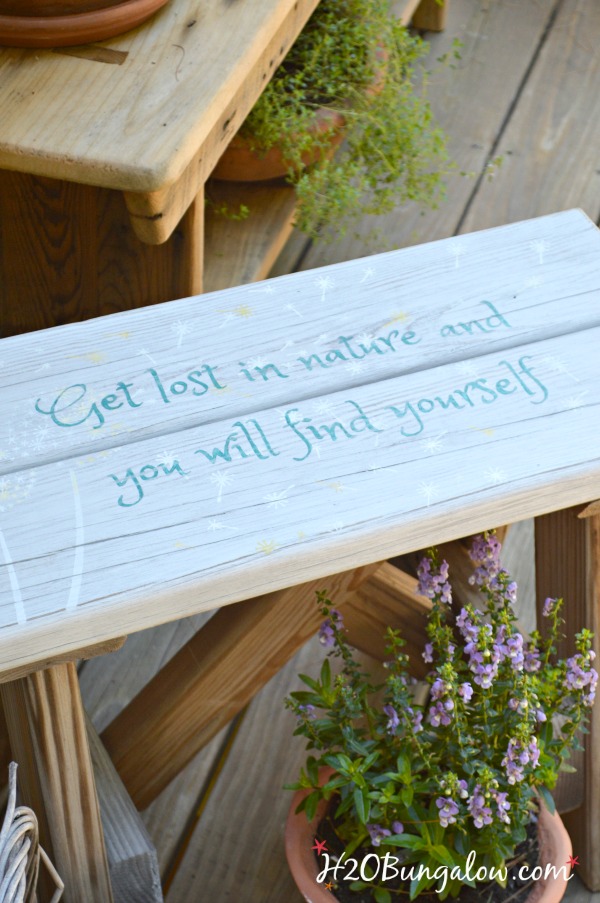 And remembers our awesome few days of girl time, hikes in the woods, shopping ~ of course;) and painting her bench together.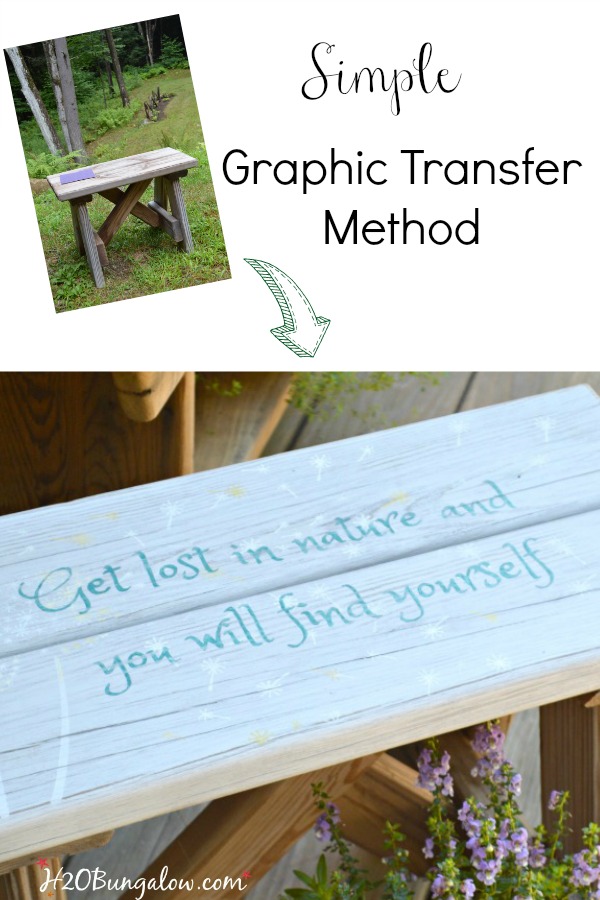 I love that I can share a few of my favorite moments from my girls get away and share how to transfer graphics to paint with you all at the same time. Using creative skills to create a memorable piece is so much more rewarding than buying a souvenir, don't you agree?
Do you have a favorite phrase you'd love to paint on something?