Today I have a video and tutorial with tips on how to paint graphics on furniture, a sign or any other flat surface. I just finished my bench makeover and added a hand painted coastal design. Today, you'll learn how to paint letters perfectly so they are same shape and size as what you are copying as well as how to enlarge a graphic and transfer it to a surface to paint. The video I made is loaded with good furniture painting tips and graphic painting tips throughout the steps of my whale bench makeover.
If you love furniture makeovers, you'll love the Rolling Work Bench I made from a table. If you aren't into furniture makeovers you'll love this easy DIY mudroom bench.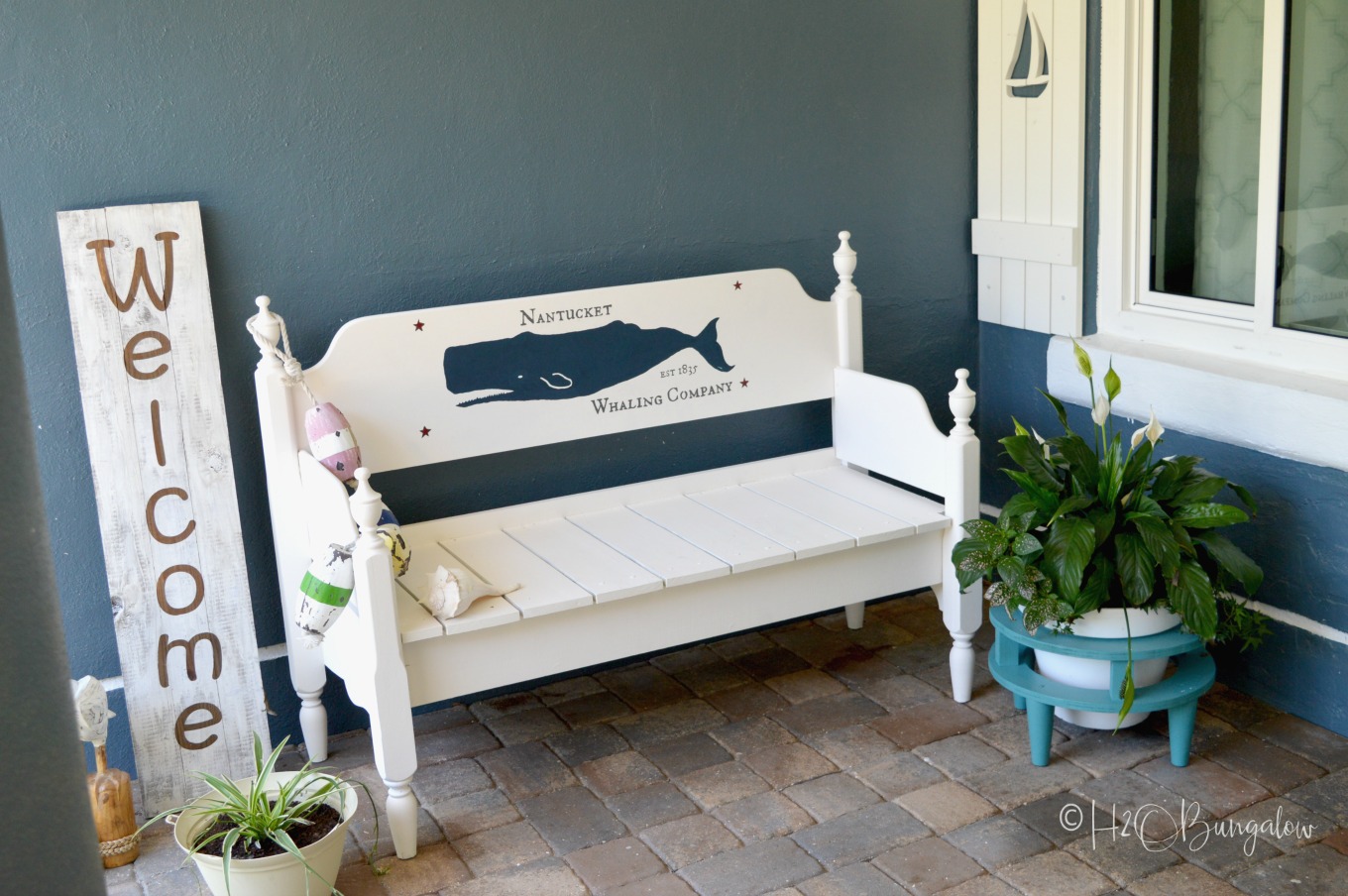 You guys probably recognize this old headboard bench. It's one of the first things I built way back when I was newbie. As you'll see in the video, it was worn, not so inviting and ready for a fresh new look. Adding a personalized hand painted graphic to the backrest was a great way to add personality on my coastal themed front porch.
It looks so much better now! Don't you think so?
Sending out a big thank you to HomeRight for sponsoring this post! This post also contains affiliate links and I will be compensated if you make a purchase after clicking on my links. You can read my full disclosure policy here. Thank you for supporting the brands that keep H2oBungalow going.
You'll find instructions with the supply list I used to paint my bench including my go-to tips for creating a perfect finish with a paint sprayer in my post on How to Create a Perfect Finish with a Paint Sprayer: Whale Bench Makeover Part 1 on HomeRights site. I shared my best painting tips that I always use on furniture painting projects. They are especially important if you are adding a hand painted design to your piece. You'll want to pin them to save for later too!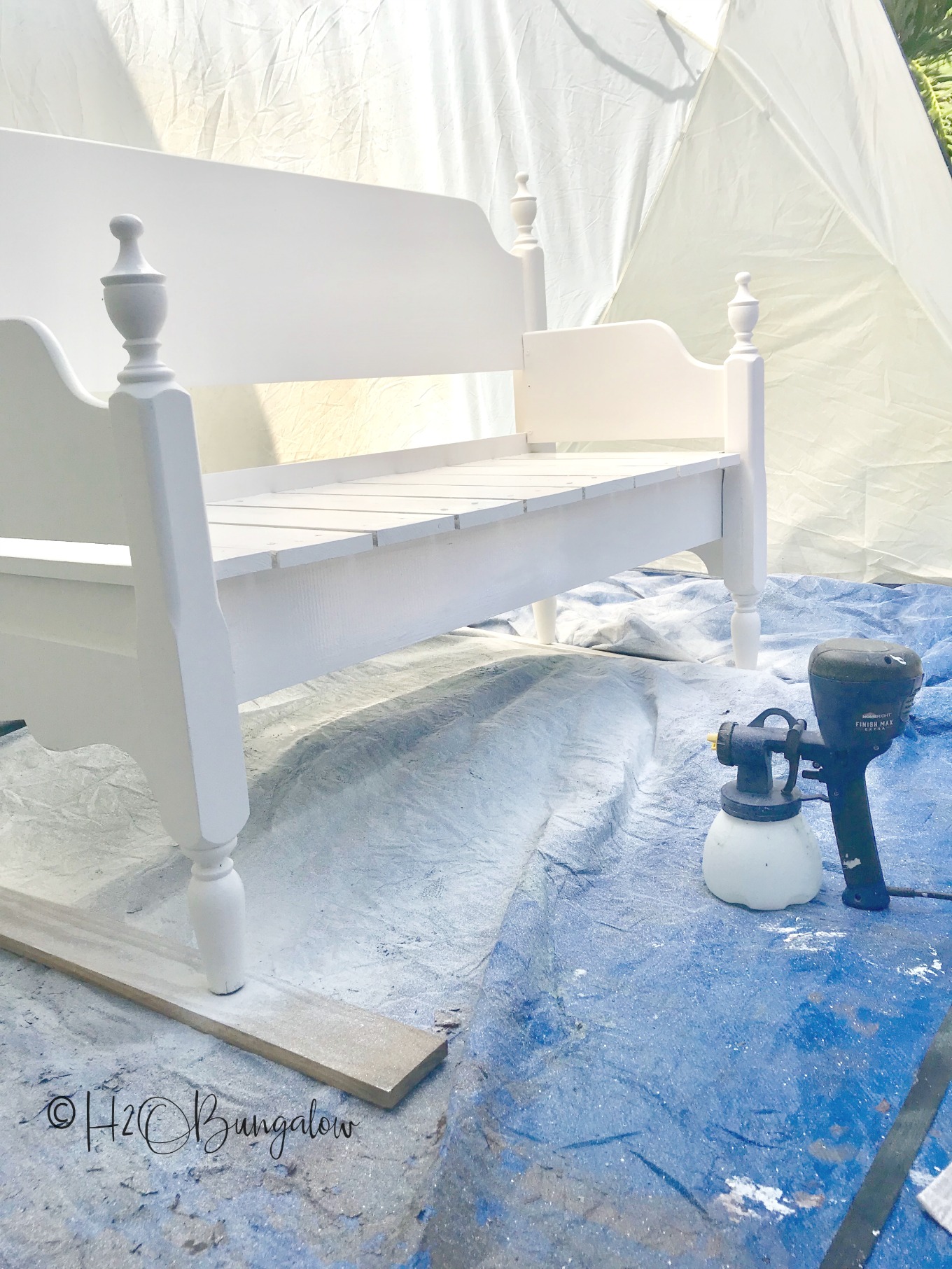 How to Paint Graphics on Furniture: Whale Bench Makeover
My video will show you all of the steps and details of my whale bench makeover. It's not hard friends, you just need to know a few insider tips and your project will look every bit as good as mine! You'll learn how to transfer a design and paint graphics on furniture that look exactly like your transfer including getting the little details and letters perfect.
Supplies needed to transfer and paint a graphic onto a bench, sign or any flat surface
Paint
Red pen
Eraser
Graphic, you can download mine below
More Questions on How to Paint Graphics on Furniture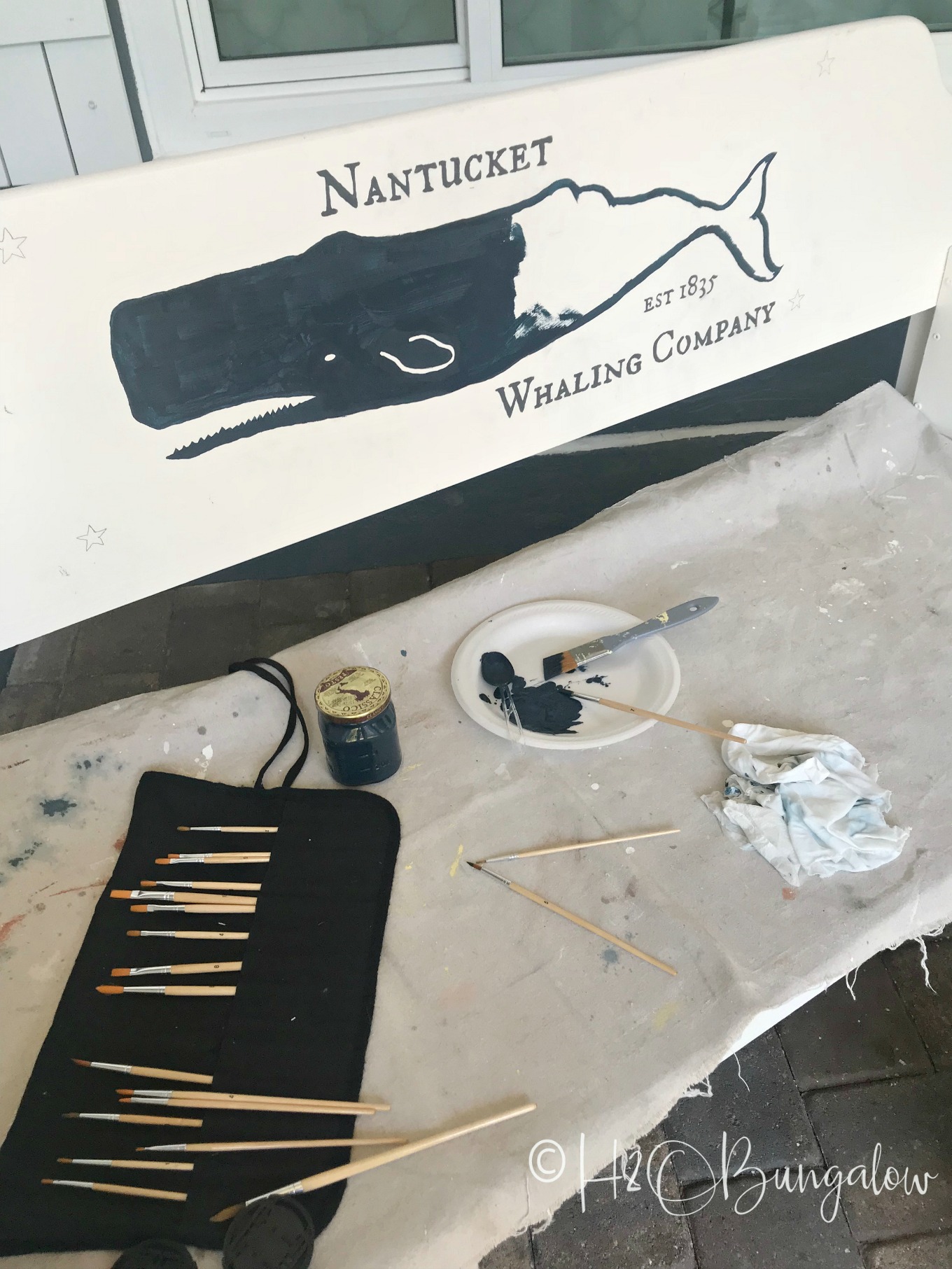 How do I prepare a surface before painting a graphic or hand lettering?
When you're hand painting graphics of any kind or hand lettering a sign you'll want to start with the smoothest surface you can start with. That's why I used my Super Finish Max Extra Paint Sprayer to paint my bench. Again, always follow the steps I outlined in Part 1 of this series, How to Get a Flawless Finish with a Paint Sprayer.
If you're starting with an already painted surface, you'll want to follow all of the preparation steps I outlined in my post on the HomeRight site, skip the painting step and move onto hand painting your graphic onto your furniture piece.
If you love coastal decor projects you will love my School of Fish, this DIY Seashell Decor, and my coastal rope serving tray project too.
Where can I find graphics to use on my artwork?
You can use my graphic and size it to fit your painted surface and project. My subscribers always get my graphics and printables for free. Enter your email address and you'll be redirected to a page to download the whale graphic I made. Don't worry, if you're already a subscriber, you won't get two emails!
I downloaded my whale from The Graphics Fairy and then made my own paintable design by adding the letters and stars. There are plenty of sites for free downloads on the Internet. Be sure you are using a copyright free graphic if you do this!
How do I enlarge a graphic to transfer and paint onto a surface?
Make or use a ready-made graphic. I edit and make my graphics in Pic Monkey, but you can use any program you're comfortable with. Save your image as a jpeg.
I use BlockPosters to enlarge my graphic. Print out your graphic, line up the edges and tape the pages together. You may need to play with a portrait or landscape version and how many pages it should print on to get the right size graphic for your project.
Now that I've shared my tips and steps on how to paint graphics on furniture, I'll share a few of my favorite after photos! I've been on a whale kick lately, which you'll see if you follow my H2OBungalow Instagram Page. This whale project fits right in 🙂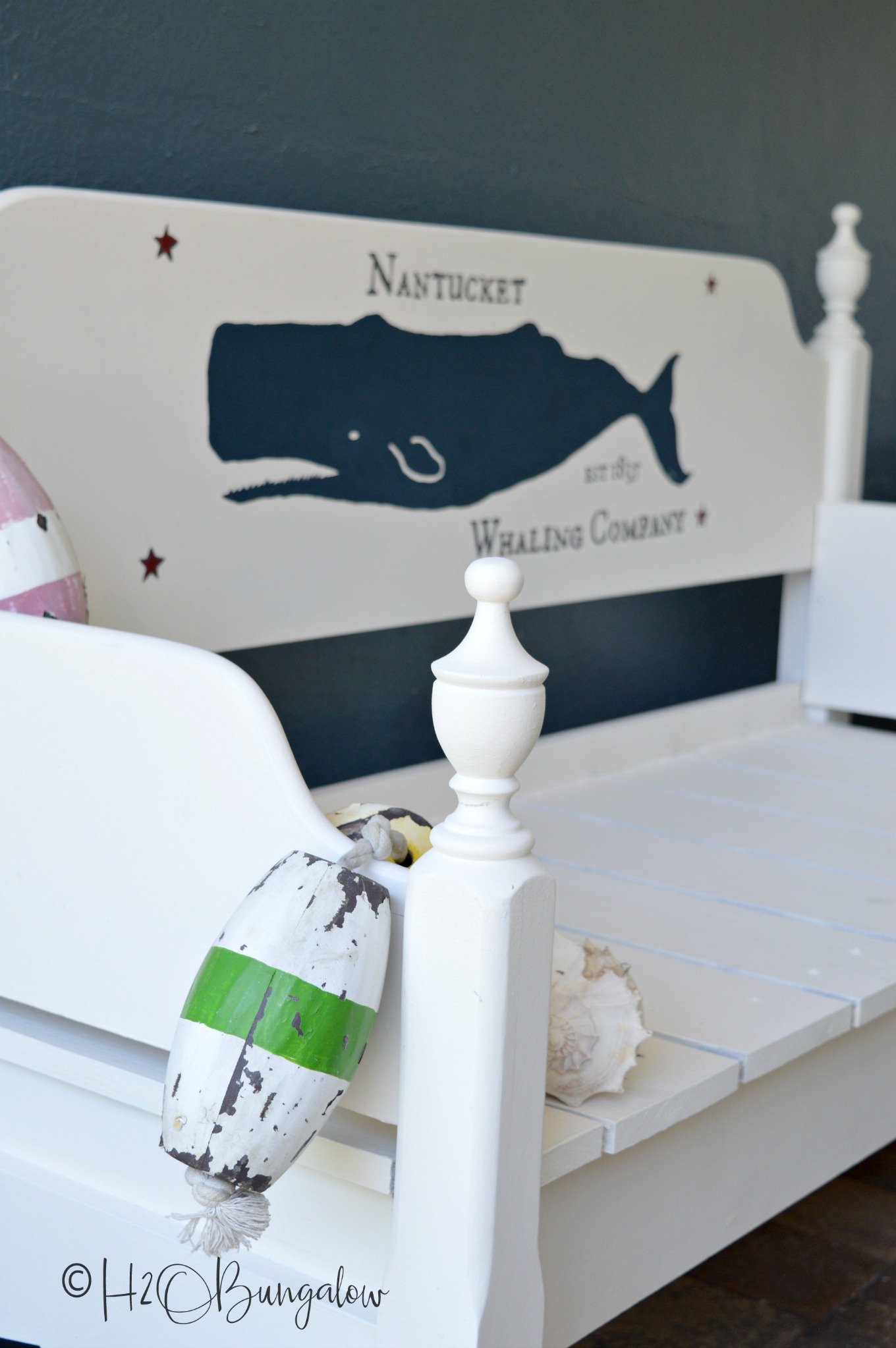 It fits perfectly on my coastal front porch with Pete the Pelican and the large welcome sign I made, don't you think so?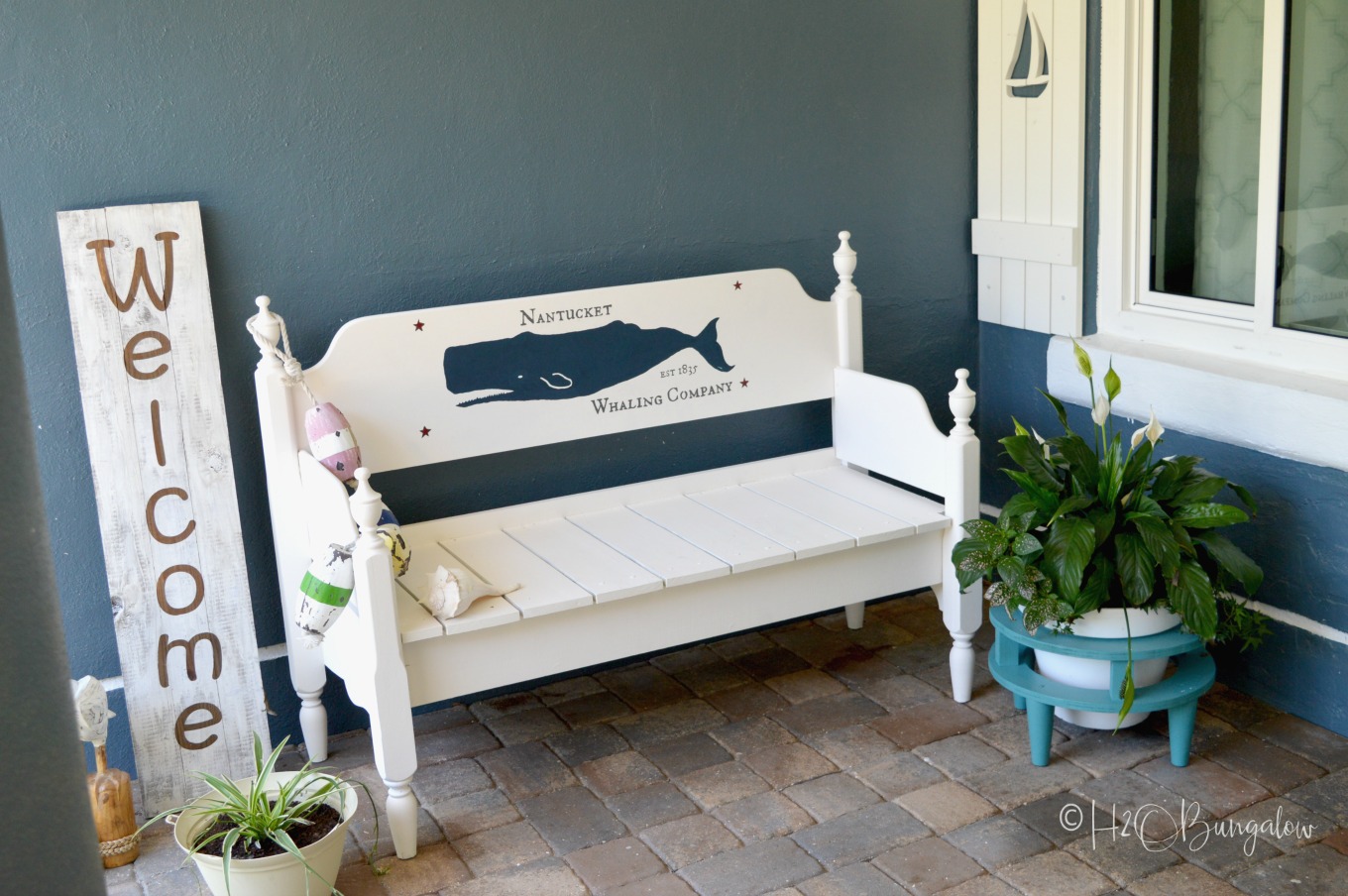 Between the sailboat shutters that I just added and the other decor, I think my front porch finally has the warm welcoming appeal I want friends and family to feel as they walk up to our front door. If you love this whale, you might really like the DIY coastal whale coat rack I made awhile back. It would be perfect outside for beach towels or inside for coats.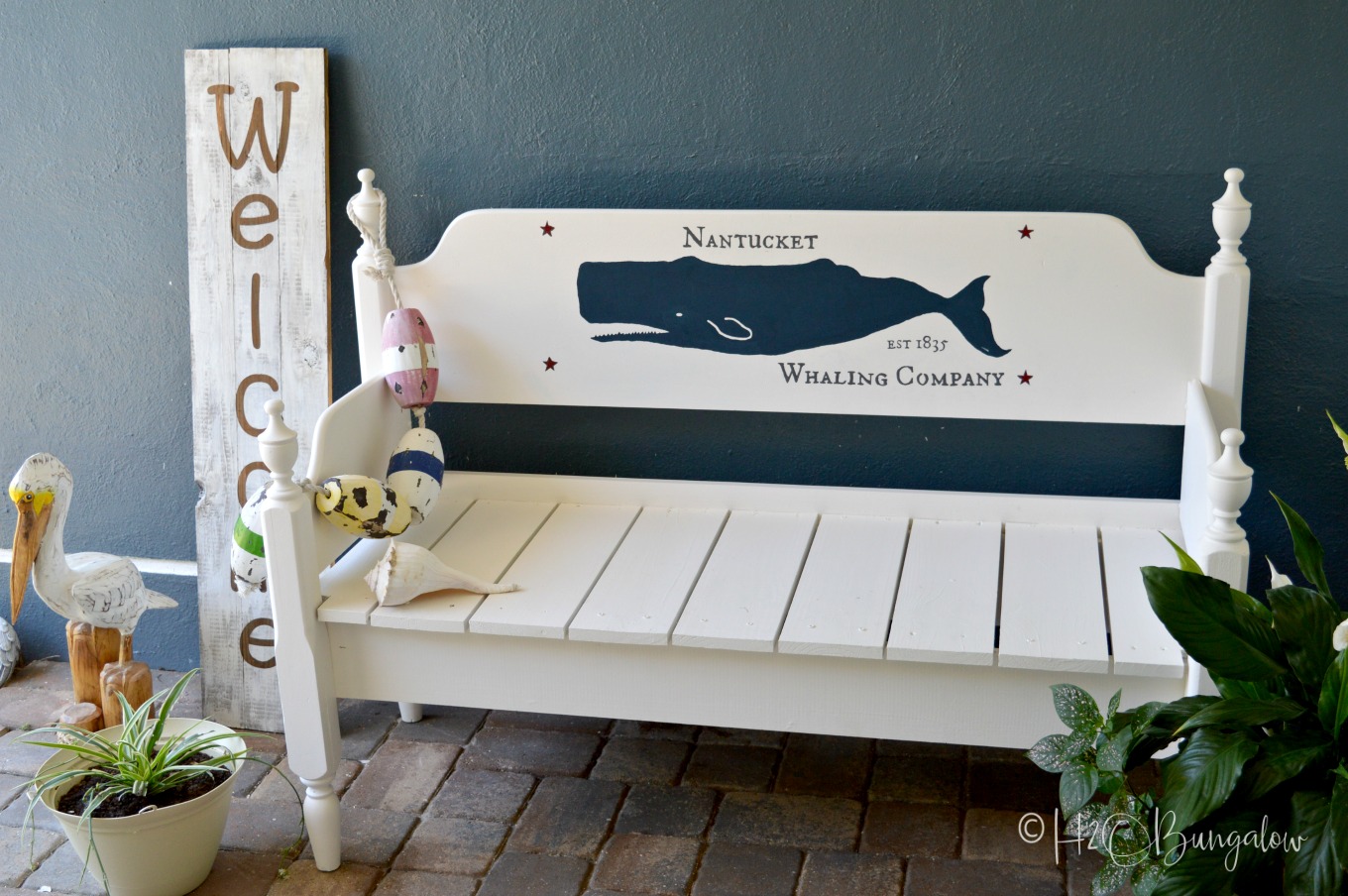 Pin my tips and video on how to hand paint graphics on furniture for later!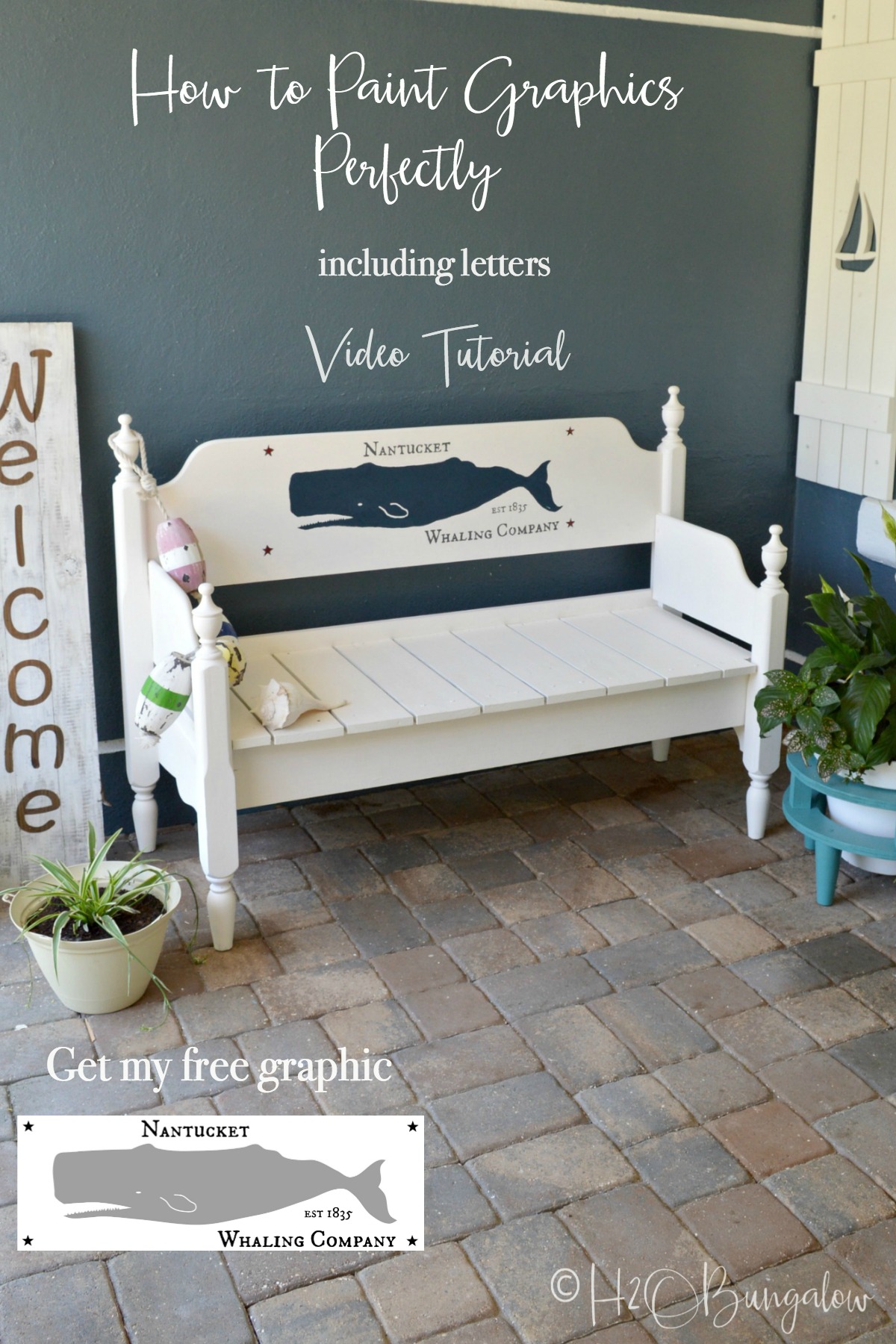 Again, sending out a big thank you to HomeRight for sponsoring this post!
I hope you learned something new from my tips on how to paint graphics on furniture today. Do you have any favorite hand painting tips you'd like to add? We love the interaction from the community, please share in the comments below!