Today I'm sharing 7 tips to create a reading nook. Even though our home isn't large, having a special place to sit, read and relax has always been important in our family. Especially during the times we are all indoors and together more than we are used to.
No matter the season, there are always days when the weather outside isn't inviting. Today it's been raining cats and dogs for hours, and last week it was close to 100 degrees with hot sticky humidity. Why not make the best of it when you can't go outside and curl up with a good book? Making the best of it means having a special place to get away from everyone and get comfy.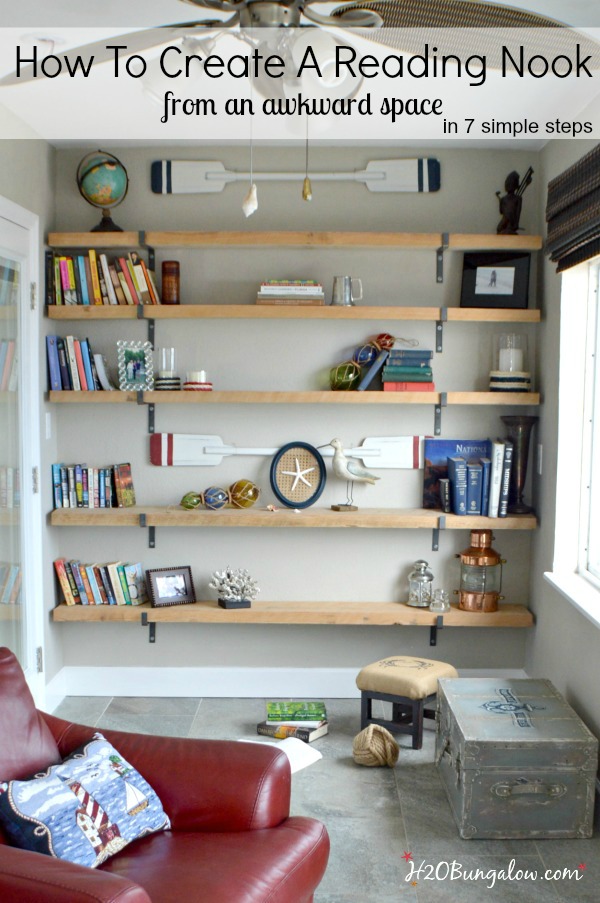 Open a decorating book or magazine and pay attention to the reading nooks. You'll see they all use the same items to create a reading nook. The best thing about creating a reading nook is that it doesn't have to cost a lot or be a big space.
I'm sharing my space and the steps I used to create a reading nook in our home.
#1 Pick a quiet, out of the way place for your reading nook.
You don't need a lot of space to create a cozy reading nook. Find an unused corner or an out of the way spot that doesn't get a lot of traffic. I made this awkward walkway that lead to our bedroom our reading nook. At seven feet wide it was too small or too big for a lot of things but it was the perfect quiet place to create a cozy reading nook.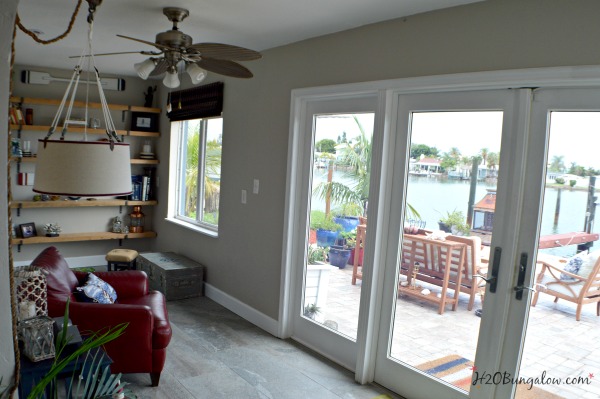 It can't be seen from the front door or living area and has an amazing view of the water, and now our newly made-over backyard too 🙂
#2 Add a place to store books
I added DIY Industrial Style Shelves, floor to ceiling on the back wall with rough cut cypress from a local saw mill. Recreating this look is easy, if you don't have access to a saw mill for rough cut wood, Home Depot carries rough cut cedar boards that look exactly like this.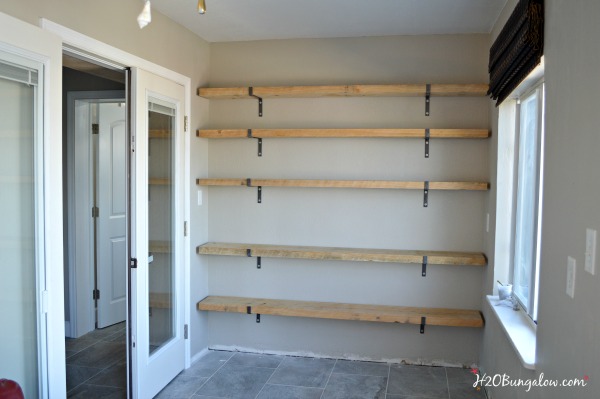 #3 Add comfy seating to your reading nook
A cushy leather reading chair fit this space perfectly.
#4 Reading nooks feel extra cozy with a small table to place a warm cup of tea or coffee on.
These nesting tables came from Goodwill forever ago. A little paint and coat of wax worked wonders and they were just the right petite size for this spot.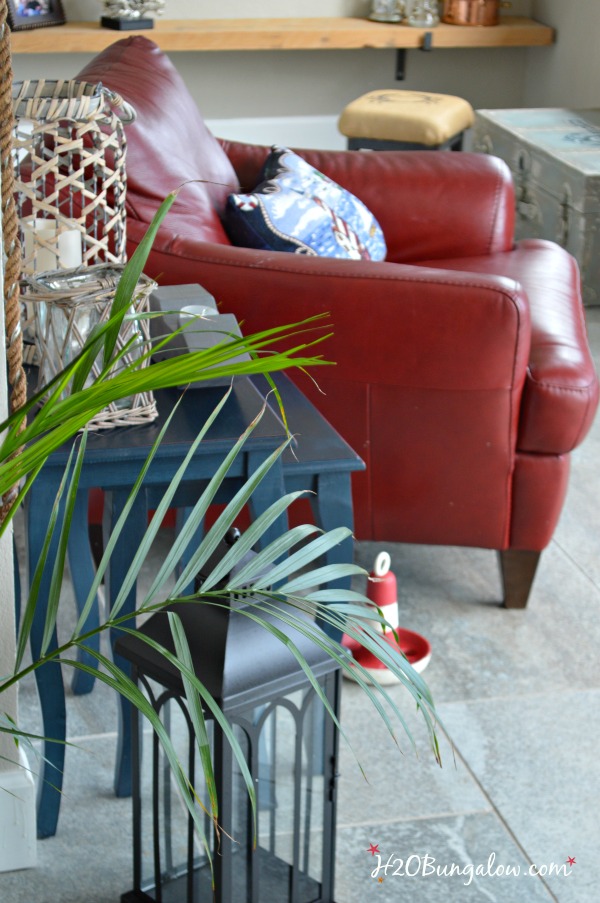 #5 Good lighting is a must in a cozy reading nook.
This house came with awful lighting. I used a hanging pendant lamp for my reading nook since we don't have room for a table top lamp. This Ralph Lauren Knock Off Nautical Pendant Light is a favorite of mine. Here's another favorite hanging pendant light of mine that would also look great in a reading nook.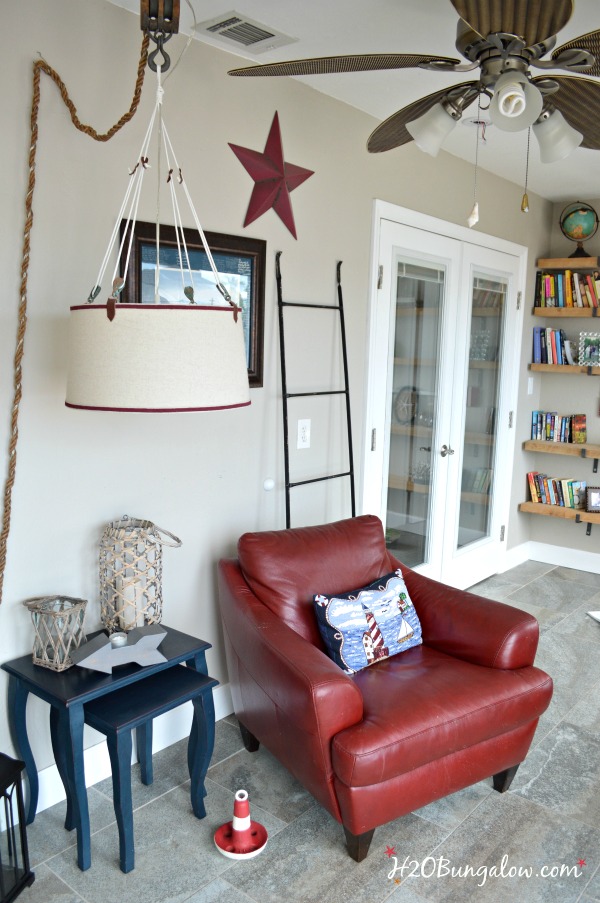 #6 Add a footstool to a reading nook.
There's nothing cozier than being able to prop your feet up when settling in with a good book. A footstool also makes a convenient place to sit when browsing the bookshelf for a favorite book or the newest good read. This little DIY Coastal Burlap Footstool fits perfectly in my reading nook and tucks away nicely when not in use.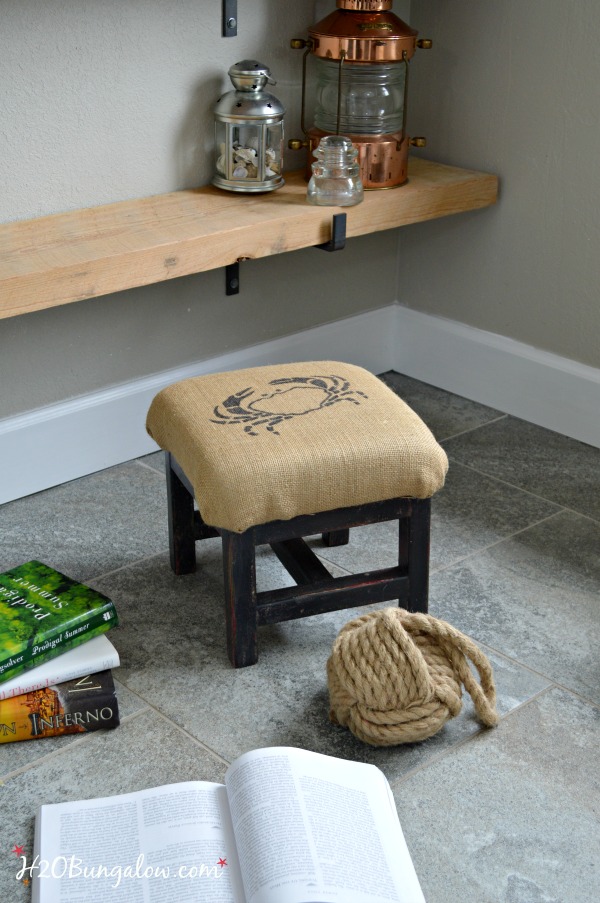 #7 Decorate your reading nook with a theme.
Our reading nook took on a personality of its own once I started putting it together. With its rough cut wood shelves and big cushy masculine chair I was able to find a home for all our nautical decor, some of my husbands travel memorabilia from his days in the Navy and a few other cherished family pieces.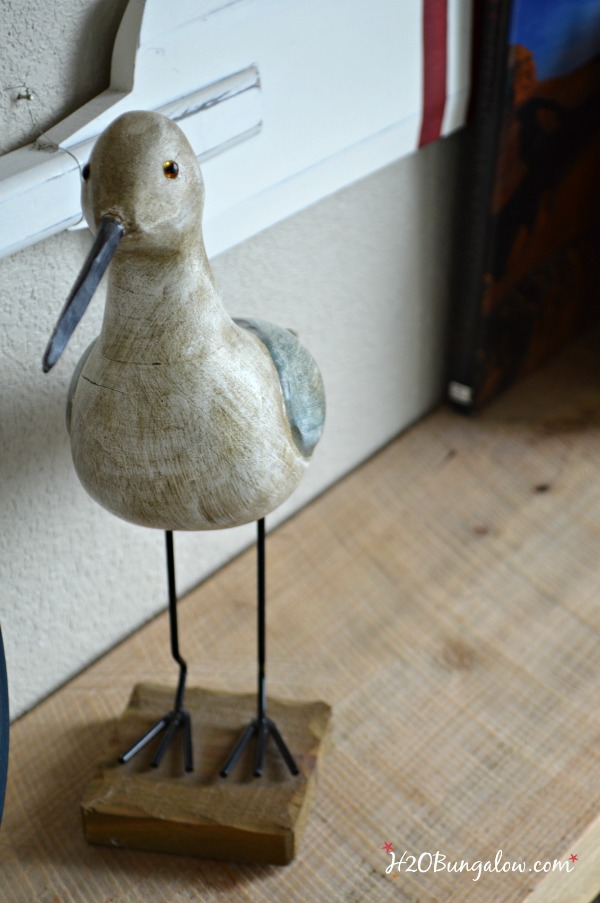 The oversized shelves also work great for family photos!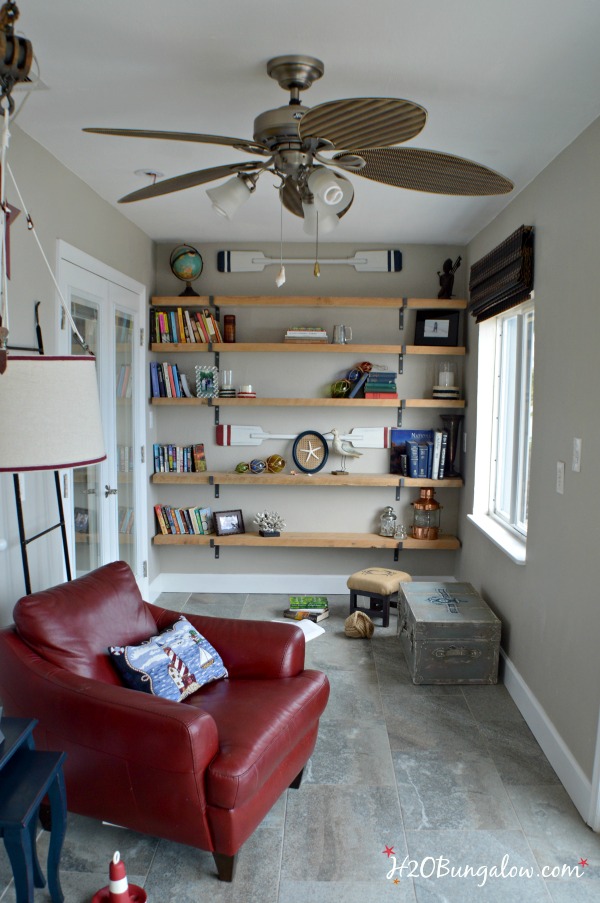 These are the elements I used to pull my reading nook together to create a relaxing and comfortable spot to curl up with a favorite book or the Sunday morning paper.
Where's your favorite spot to relax and curl up with a good book? Do you have a special place like a reading nook or do you plop yourself down where ever you feel like it at the time?
Let's talk about it in the comments below!
You'll find my project linked up to these fabulous parties!
Love a good dose of DIY home decor, home improvement, the challenge of woodworking and creative ways to make your home look fabulous?
Me too!
I'd love to share mine with you. Click here to sign up for my post emails and I'll send a quick note when I have a new project to share.
Disclosure: I may have been compensated, given product or tools that I used in this DIY post. All opinions that I share are always 100% my own. I use affiliate links in my posts. If you should make a purchase I will receive an itty bitty commission at no cost to you. Thank you in advance for supporting my blog and two fur-ball cats who believe they are privileged.