Today I'm going to share how to switch to a tankless water heater. Why it was a good choice to replace our old propane water heaters and the steps we took to convert our old gas propane water heaters to electric tankless water heaters.
I understand how easy it is to be overwhelmed at making a change as big as a switch to a tankless water heater. I've run into lots of people who've had questions, have thought about changing to tankless water heating but were intimidated or just didn't know where to start and what to look for to see if they were a good candidate to make the change.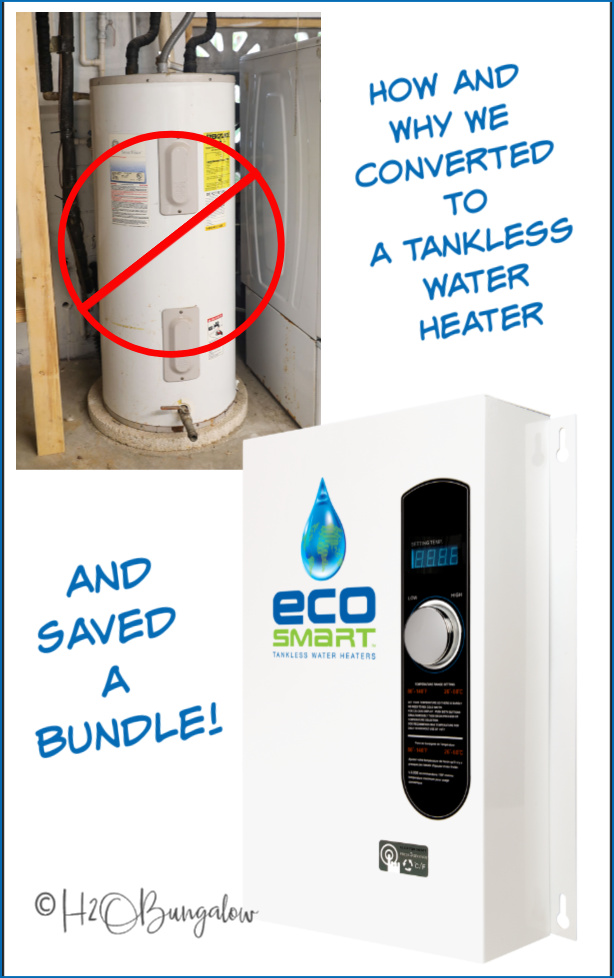 This post was sponsored by EcoSmart. It may also contain affiliate links. See my disclosure policy here. Thank you for supporting the brands that help maintain H2oBungalow!
You guys may remember last year when we changed out our big clunky electric tank water heater for an EcoSmart electric tankless water heater in our home in Florida. I shared How To Install a Tankless Water Heater which is a great guide for DIY'ers. It helps answer the question can I install my own tankless water heater? Or at least how much of the install can I comfortably DIY. Everyone's answer will be different!
Tankless water heaters have come such a long way since they first hit the market years ago.
My leap of faith to change our water heater at home in Florida came after speaking directly with EcoSmart, asking plenty of questions about how to switch to a tankless water heater and then checking with several people I trust who have had tankless water heaters in place and love them.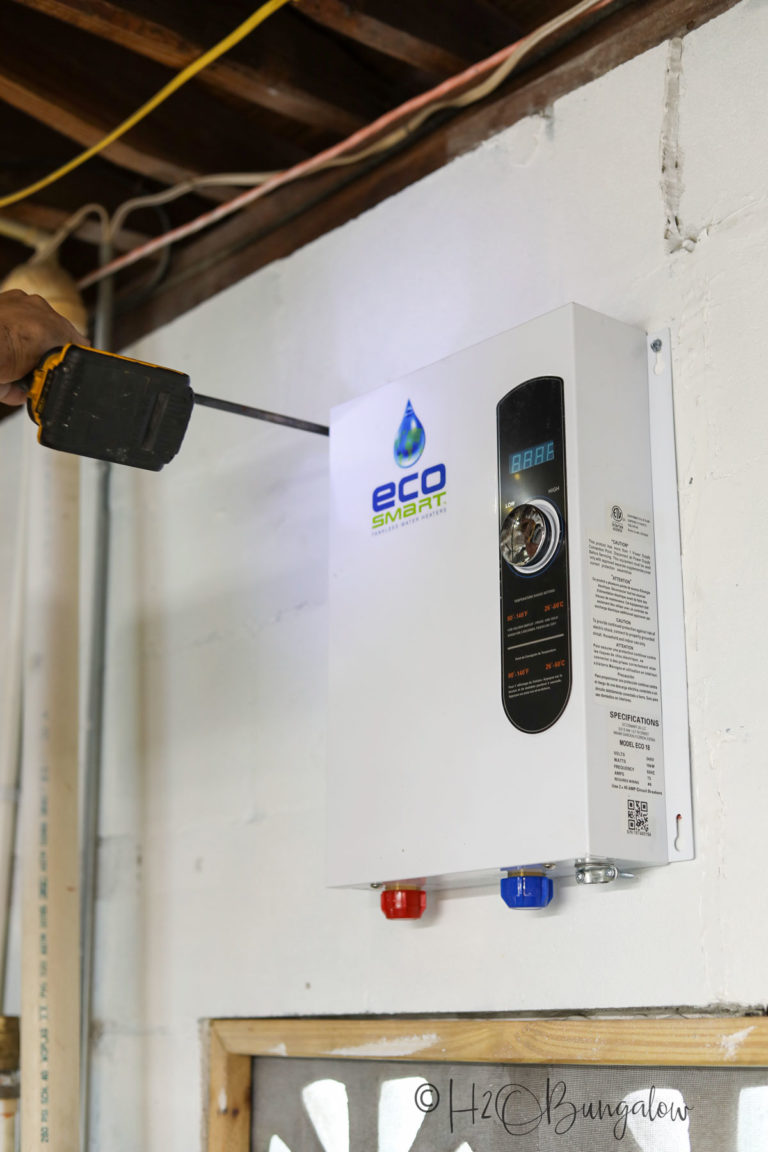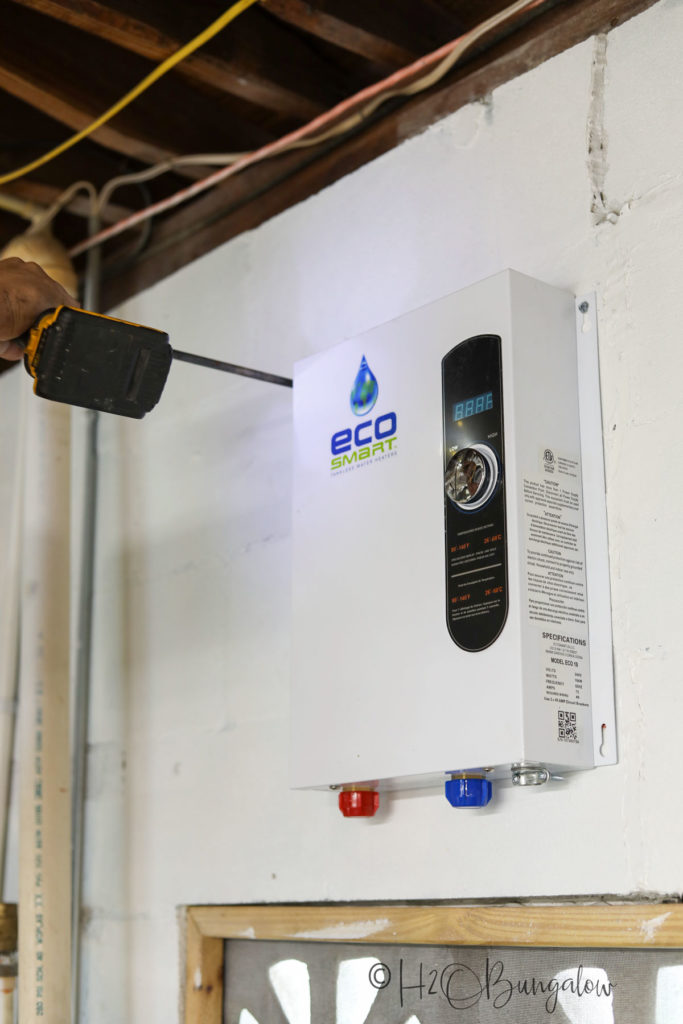 Since we've been very happy with the EcoSmart tankless electric water heater we installed last year. It was an easy decision to use EcoSmart tankless water heaters again for our boutique vacation rental, the North House Lodge in Ludlow, Vermont.
These are the benefits of having a tankless water heater we've experienced in the last year:
Never run out of hot water.
Not wasting of energy and budget money to pay for the water to be heated 24 x 7 even when no one was home or using water. We only pay to heat water when we need it.
Much cleaner system without gross sediment building up in a tank.
Less maintenance costs.
Tankless water heaters require very little maintenance.
It's easy to adjust the water temperature with the dial on the front of the panel.
No pilot lights to blow out.
Tankless units are small and free up valuable floor space.
The cons? Since tankless water heaters are on demand, you don't have hot water if you don't have electricity. Since we don't usually loose electricity, need to take showers in the dark, and couldn't run the washing machine without electricity anyway that hasn't been an issue!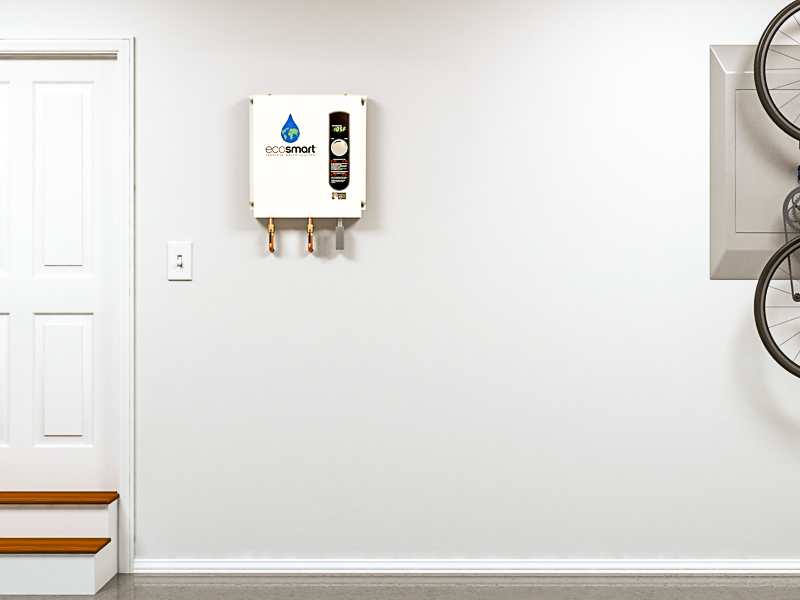 How To Switch To A Tankless Water Heater
So, how do you change over from a gas or propane water heater to an electric tankless water heater? It seems like a big change but it's actually pretty simple!
Let's start with the steps you'd need to take to switch to an electric tankless water heater from a gas tank water heater.
Consult with EcoSmart on the proper size tankless water heating unit for your home and needs.
Have a site inspection with a plumber and electrician.
Order the size EcoSmart unit for your home.
Schedule the install.
Why Switch Now?
What's the hurry and why now? Let me share our story.
We discovered a potential huge problem in our home. Some of you may have the same issue and not even know it!
Like many old homes, our heating and water heaters were installed a long time ago. Both our heat and hot water heaters were propane powered. Building and safety codes have changed over the years. Often when it's time to replace an aging system like central heat or even a hot water tank, updated safety codes apply.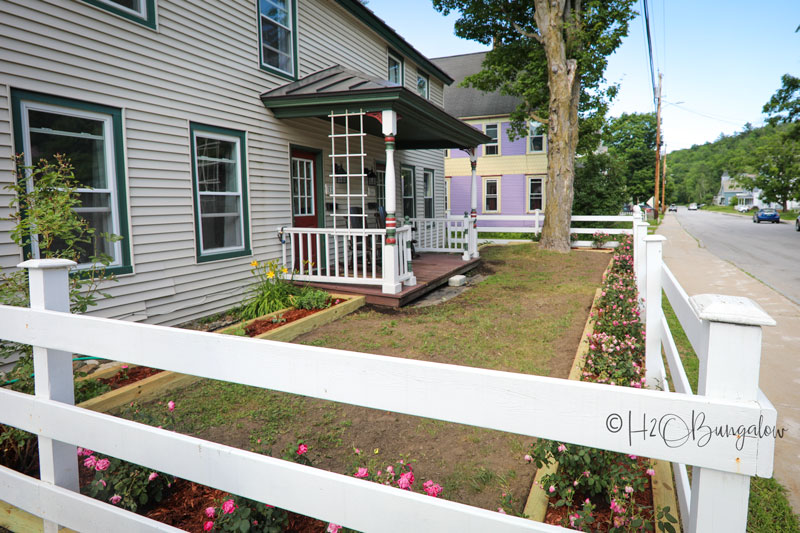 The heating units still work fine even though they are older. The water tanks however, were somewhere between 8-10+ years old and were beginning to give us issues.
8-10 years is just about the time that many tank water heaters fail!
During one of the service calls on the water heaters our plumber mentioned we'd have a code compliance issue when it came time to replace the two heating units or the two water heaters. Everything was vented together with one vent going up through the center of the house and out a chimney in the roof.
Uh oh!
This is a common set-up for older homes. This meant if one of our old heaters failed, we'd have to immediately replace both heaters and the two water heaters at the same time! That's an expensive issue!
It seems newer propane heaters come with a built in fan which would cause issues by blowing air back into the the water heater vents through the shared pipe.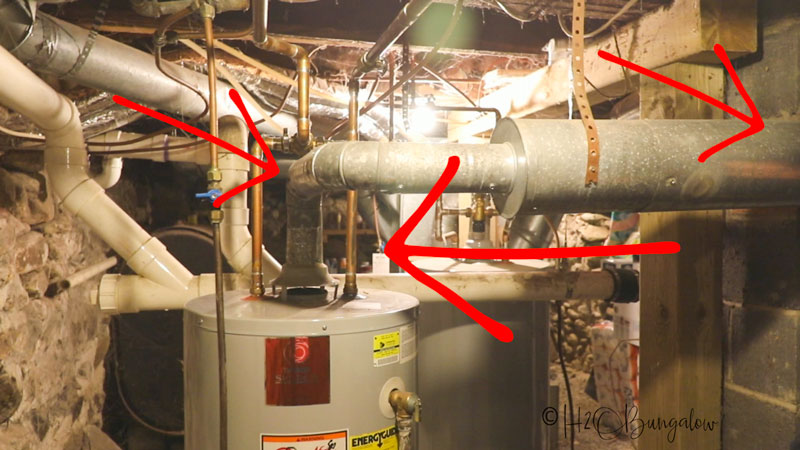 Not good!
According to the American Council for an Energy-Efficient Economy, "90 percent of hot water heater installations take place during an emergency". You may be able to think back on a time you've replaced a water heater and it was most likely because the old one stopped working. Making a big financial decision is never good when you're pressed to make it on the spot!
Am I right?
Why not just build more vents into the house you ask? Well, we looked at that option too.
Adding two new vents that ran to the outside of the house from the basement wasn't practical because of the way the house was built and the snow build up we get around the house. The only option was build a vent from the basement up through the center of the house and through the metal roof.
Uh…nope, not a good choice! Imagine how much construction and repair work would need to take place to build two vents from a basement up through three stories and through a metal roof!
Bottom line?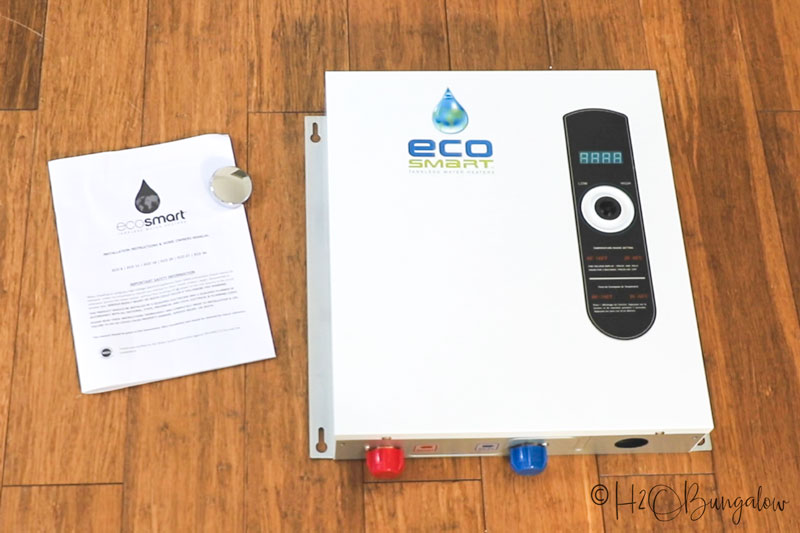 We choose to switch to tankless water heaters and ditch the old propane tank water heaters proactively during the months where inclement weather, heavy snow or freezing temperatures wouldn't be an issue. By choosing to schedule our tankless water conversion in advance, we guaranteed that our first choice of plumber and electrician were available too. It just made sense to tackle this head on!
How to switch from propane tank water heater to electric tankless water heaters: steps to take.
Switching to tankless water heaters isn't that hard!
Here are the steps we took to convert from a propane powered water heater to an electric tankless water heater. I also made a video so you could see our install first hand. Our house was originally built in 1835 so our basement has low ceilings and stone walls.
It's not the best place to video but I did my best so I could share the process.
Step 1. Choose the right size water heater for your needs and home.
I spoke to a representative with EcoSmart to help me determined the size of the tankless water heater we needed and what the requirements for that size unit would be. EcoSmart customer service is very helpful and knowledgeable when help is needed. They are also located right here in the good ol' USA and a phone call away!
The recommended size of unit was based on the hot water needs of our home, how many people we have in the house, showers and faucets running at the same time as well as allocating water for clothes washers. Dishwashers don't count because they heat their own water.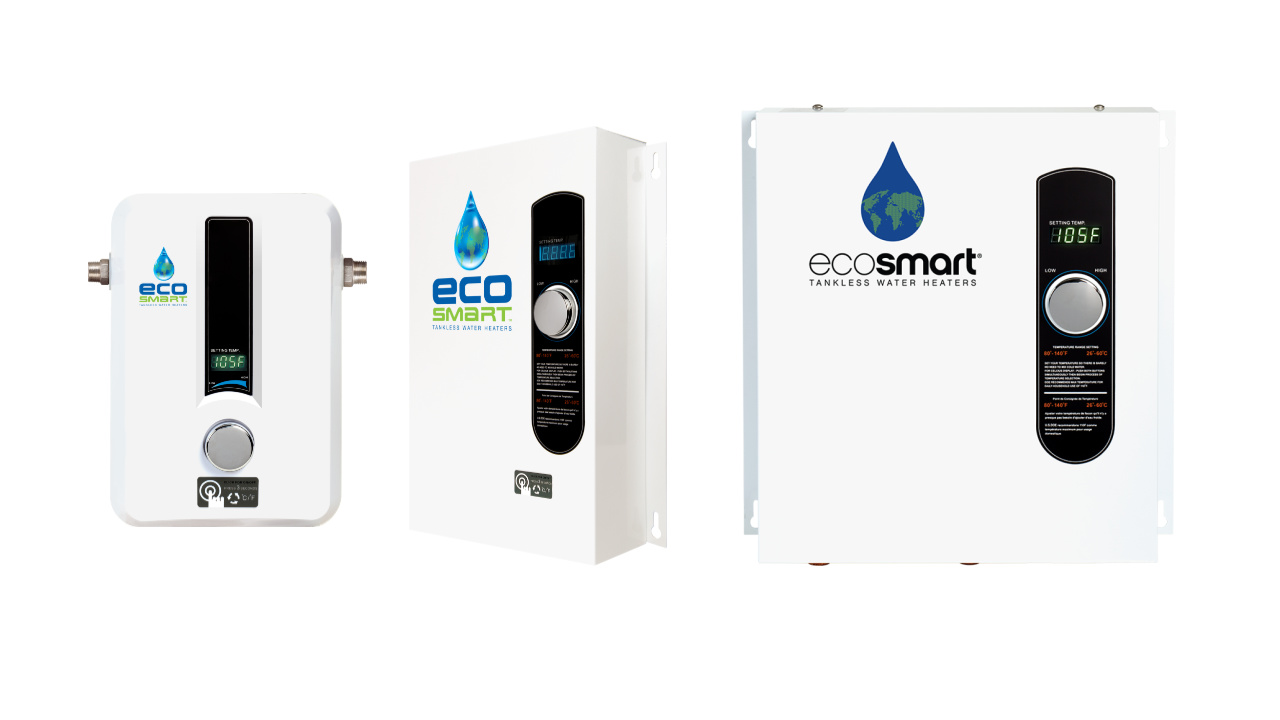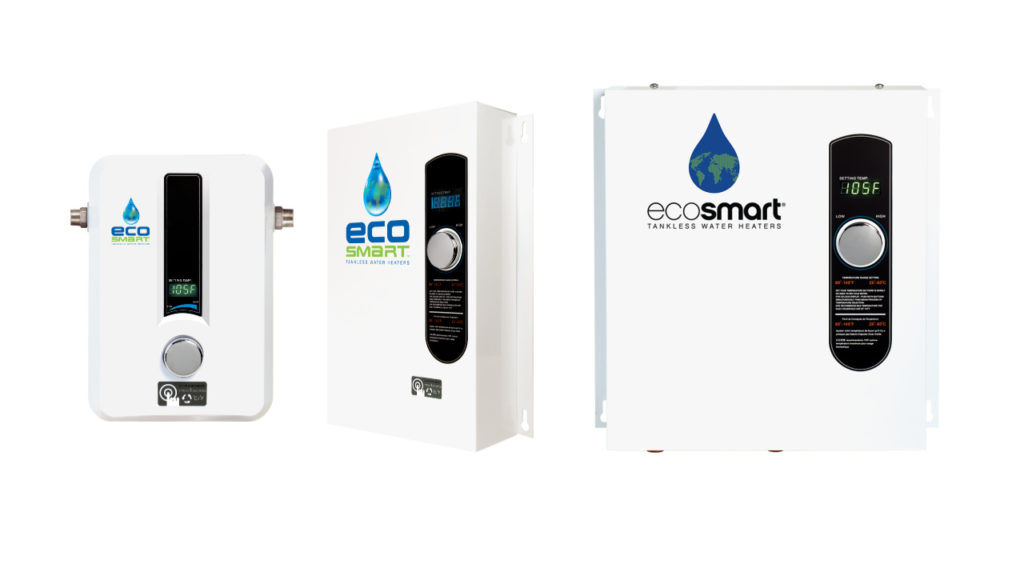 Step 2. Have an electrician and plumber do a site survey and a quote to install the unit.
The plumbing portion was pretty straightforward and so was the estimate for the work.
I shared the electrical requirements of the size unit we wanted to put in with the electrician. We did have to upgrade our electrical service to the house to accommodate the two new tankless water heaters. That was still less expensive by far than adding new vents into the house.
In our Florida home, we only needed to piggy back one electrical breaker which was minimal work.
Step 3. Order an EcoSmart unit and schedule installation.
EcoSmart Tankless Water Heaters are available through Ace Hardware, Home Depot and Amazon. I found hundreds of solid customer ratings on these sites for the units which made me feel even better about making this switch.
Step 4. Schedule install day.
The install of our new electric tankless water heaters was complete in just a few hours. Again, watch the video where I share the steps.
Pin this guide, How To Switch To An Electric Tankless Water Heater for later and share with your friends on Facebook!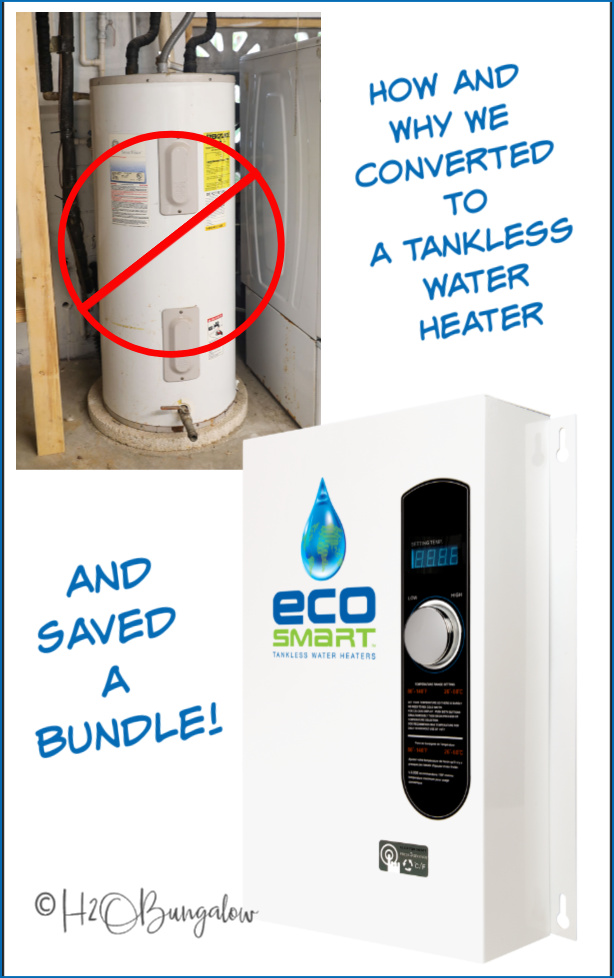 That's it. The install is complete. I am so thrilled I won't have any more repair bills and relighting the pilots that were always going out!
Have you been thinking about switching to a tankless water heater?