Today's project covers how to install a tankless water heater, the pros and cons of switching to a tankless water system, installation requirements and other questions about owning a tankless water heater in your own home.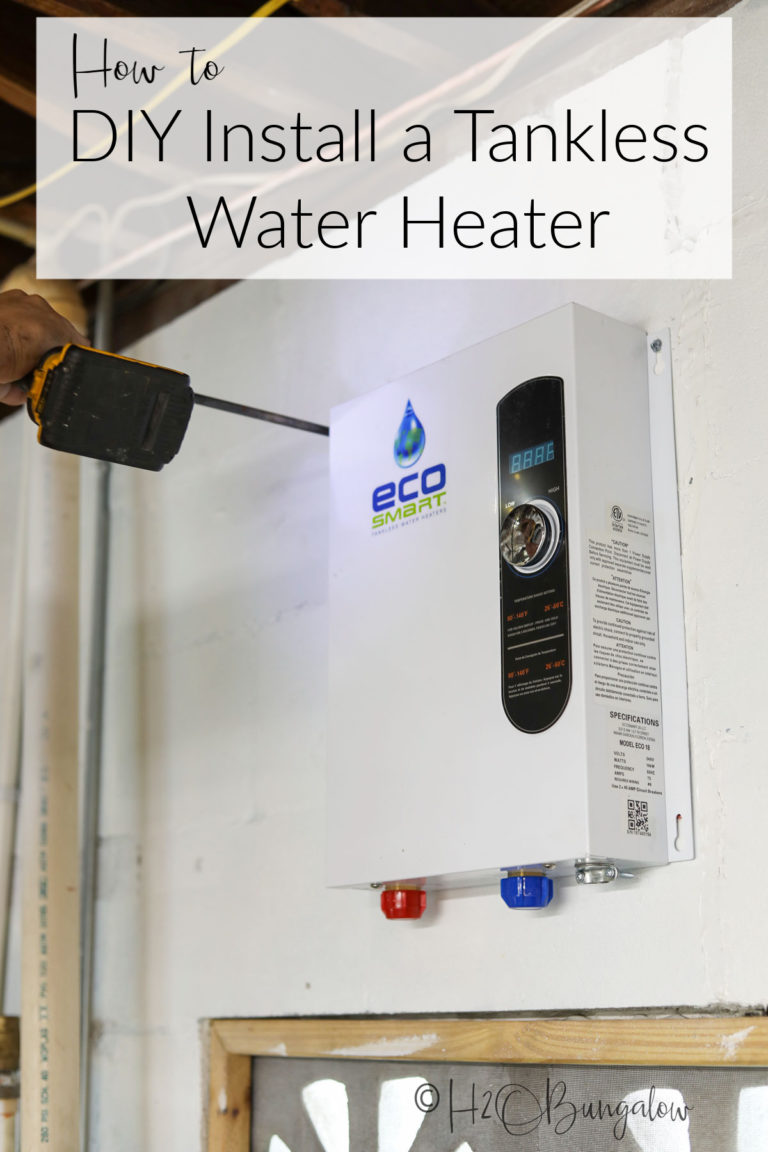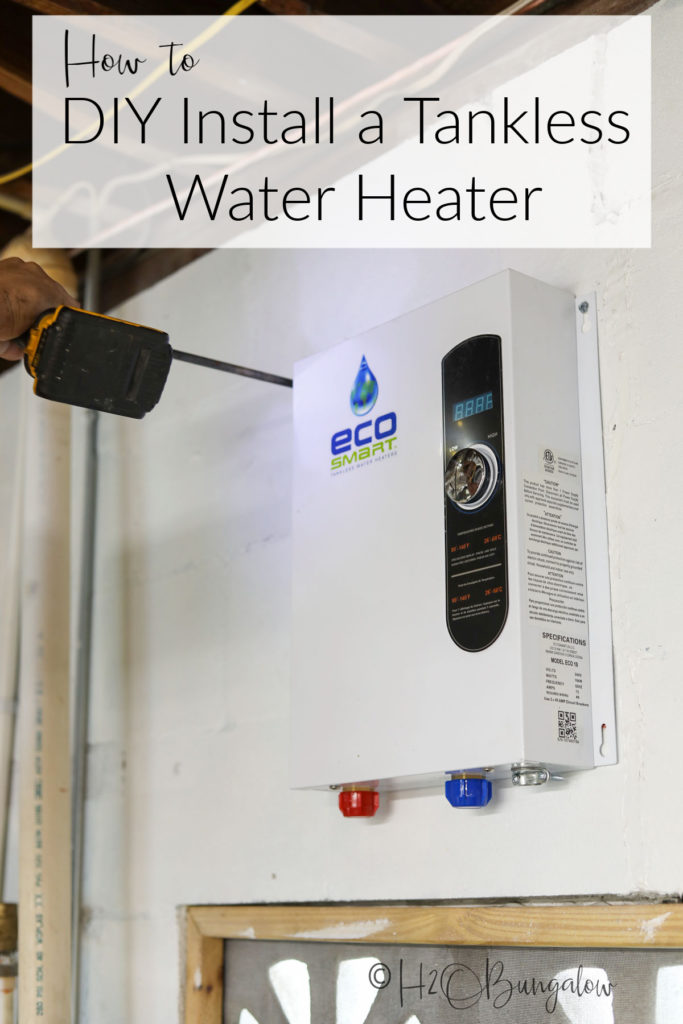 This post was sponsored by EcoSmart. It may also contain affiliate links. See my disclosure policy here. Thank you for supporting the brands that help maintain H2oBungalow!
For more posts on home maintenance check out What you need to know before buying a new heating system, How to Weatherize Windows With Plastic Film , High-Tech Choices For HVAC, and 6 Tips To Extend The Life Of Your Heating and Cooling Systems
Going tankless was a big deal in our home!
Before tackling this project I did a lot of research. I'm glad I did because I felt very comfortable working with EcoSmart and my decision to get rid of our old tank water heater. EcoSmart Tankless Water Heaters are available through Ace Hardware, Home Depot and Amazon. I found hundreds of solid customer ratings on these sites. Last, EcoSmart has an informative website with good resources, all of their product manuals are available online and they have a very helpful customer service department to call for install and trouble shooting help.
Our water heater was well over 10 years old which is just about the life span of a traditional tank water heater. You can see when yours was manufactured on the big model information sticker usually located in plain sight on the tank side.
This opportunity was perfect for us since I'd heard good things about tankless water heaters but didn't really know anything about how a tankless water heater works, how much it cost to install a tankless water heater and whether it was the right choice for our family.
You may have the same questions too!
What You Need to Know About Tankless Water Heaters
What is a tankless water heater and how does it work?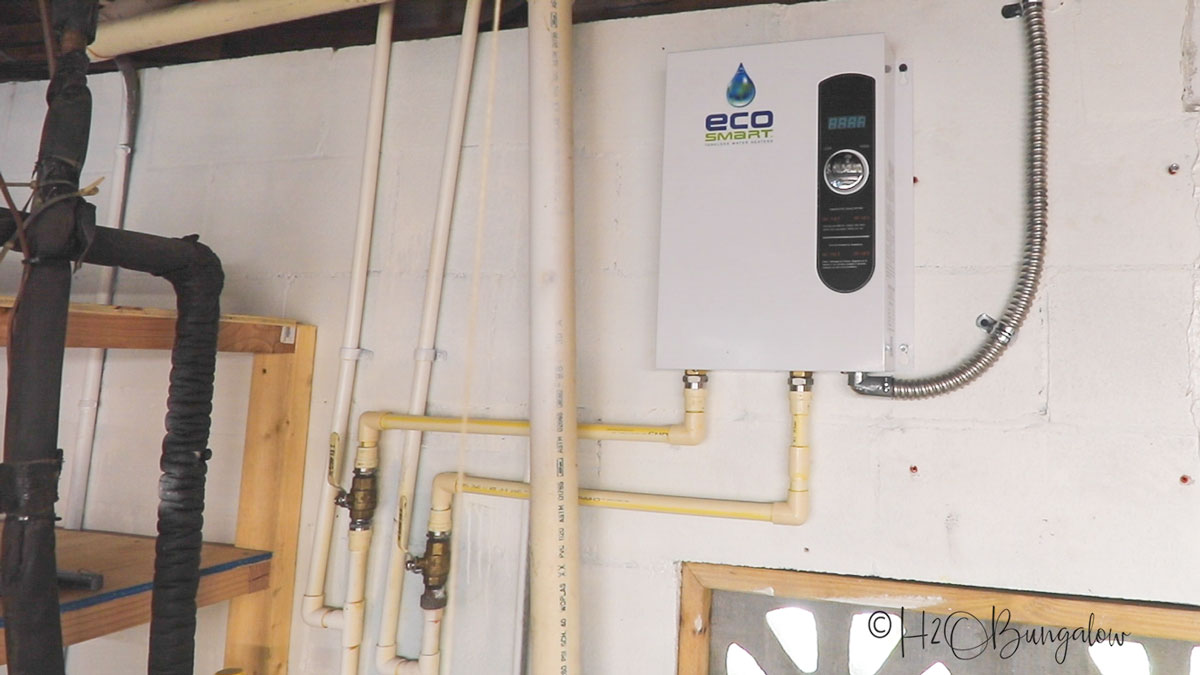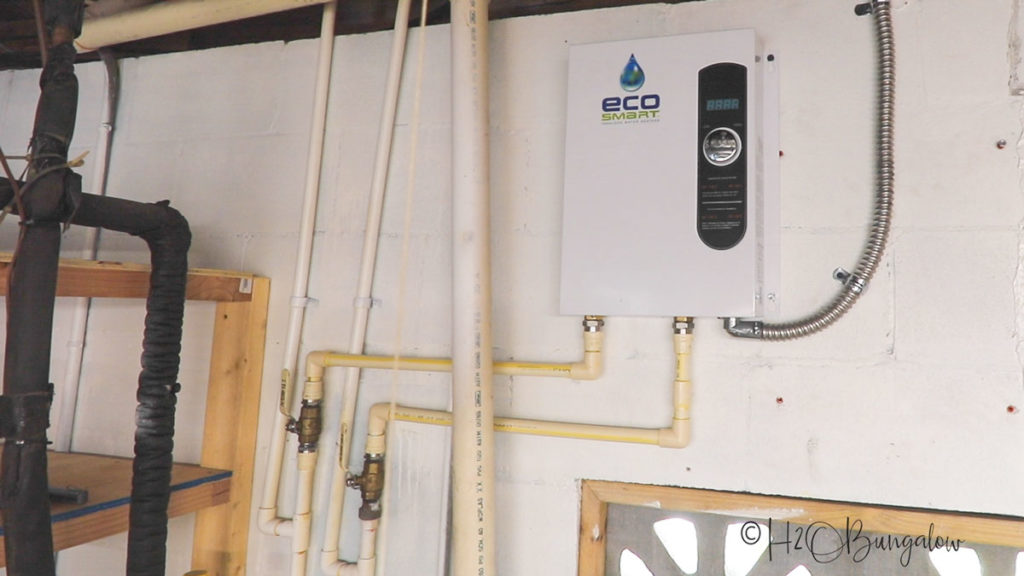 A tankless water heater replaces a traditional water heater tank. Tankless water heaters don't store hot water, they produce it on demand. In short, turn the hot water tap on at a faucet in your home and it heats the water instantly as it runs through the water heater. Turn off the hot water tap and the water heater switches itself off.
The pros and cons of tankless water heaters.
The benefits of a tankless water heater:
Tankless water heaters use less energy. You can save up to 50% on water heating costs.
They are cleaner and your water is cleaner (There's no sediment build up in the water tank, see my short video!).
You don't run out of hot water. Yes you can take a 2 hour shower! (but you really shouldn't).
Take up less floor space.
Last longer than traditional water tank heaters on average, 20+ years.
They are less likely to have large fail like tanks that leak and flood a room.
The drawbacks of owning a tankless water heater:
Tankless water heaters need to be sized correctly for the home use. The water heater has a maximum output of GPM (gallons per minute). So if your unit can service 2 simultaneous showers running, and you turn on another one it can't keep up with the demand and there won't be enough hot water.
Can be more expensive than traditional tank water heaters (but not always! See how I could have installed my own below and spent about the same or less than installing a traditional hot water heater tank).
If you loose power you don't have hot water.
Can a homeowner install a tankless water heater themselves?
Yes! EcoSmart initially asked if I'd like to DIY install of my tankless water heater. I opted not to, because quite frankly I thought it would be above my skill set. After watching the plumber install mine, I was so wrong! Doing a DIY install on a tankless water heater is not only very doable for the average skilled DIYer it's easy! All you need is a basic understanding of PVC pipe fitting. If you've fixed a garden sprinkler with PVC pipe, you can do this.
I'll show you how to install your own electric tankless water heater below.
What does it cost to install a tankless water heater?
The costs you'll most likely have when installing an electric tankless water heater are listed below.
Cost of purchasing a tankless water heater.
Plumbing supplies, CPVC, glue, connectors
Electrician (recommended) to run the electric to your water heater and connect the breakers to the new electric runs.
A gas powered tankless water heater will also include the above and working with a gas company or gas certified heating company to connect the gas.
The variables that can affect the cost of installing a tankless water heater are how far a water heater is located from the electric panel and if an electric panel has room for the required number of circuit breakers. Another variable but not terribly expensive is the amount of CPVC pipe and connectors needed to connect the inflow and hot water outflow to the water heater.
I researched all of the costs I'd incur to install an EcoSmart 18 electric tankless water heater in our home, including having an electrician come and inspect my electrical panel before I made the decision to move to a tankless water heater.
---
How to Install a Tankless Hot Water Heater DIY
I made a very short video of what our electric tankless water heater install looked like. When I mentioned the water is cleaner with a tankless water heater I meant it. Take a look at this video and you'll see what I mean! I can't believe that was the water that we were showering, washing clothes and dishes with!
What supplies do I need to install a tankless water heater?
These are the supplies I used to install our EcoSmart 18 Electric Tankless Water Heater.
Tankless water heater. I used the EcoSmart 18 (Amazon) Find EcoSmart on Home Depot Find EcoSmart on Ace Hardware
PVC pipe cutter
Plumbers tape
yellow CPVC glue – indoor rated
CPVC pipe 3/4 rated
3/4″ cpvc 90 elbows -4
3/4″ CPVC straight coupling – 2
3/4″ CPVC female adapter (metal pc twisted onto heater) -2
Shut off valve 3/4″ brass threaded ball valves (only if you need new ones)
3/4″ male adapters (metal) – 2
Channel lock wrench
Garden hose – long enough to reach outside
Transfer pump may be needed if there is a lot of sediment on the bottom of the water heater. They can be rented by the day for a few dollars.
All of the install steps are listed in the owners installation manual that comes with each of the EcoSmart Tankless Water Heaters. You can also find an owners manual on the EcoSmart website for all of the EcoSmart products.
Step 1. Remove the old hot water tank.
Turn off the water heater breaker on your electrical panel and disconnect the electrical connections at the water heater. Shut the water off by closing both the incoming and outgoing water line valves. Hook a hose up to the water tank at the bottom and drain as much of the old water out as you can.
If there is a lot of sediment at the bottom of the tank, you may not be able to drain all of the water out with a hose alone. You can still remove the tank with some water in it (it will be heavier) or use a transfer pump to pump the remaining water out before removing the old hot water heater tank. Transfer pumps can be rented by the day from a tool rental business.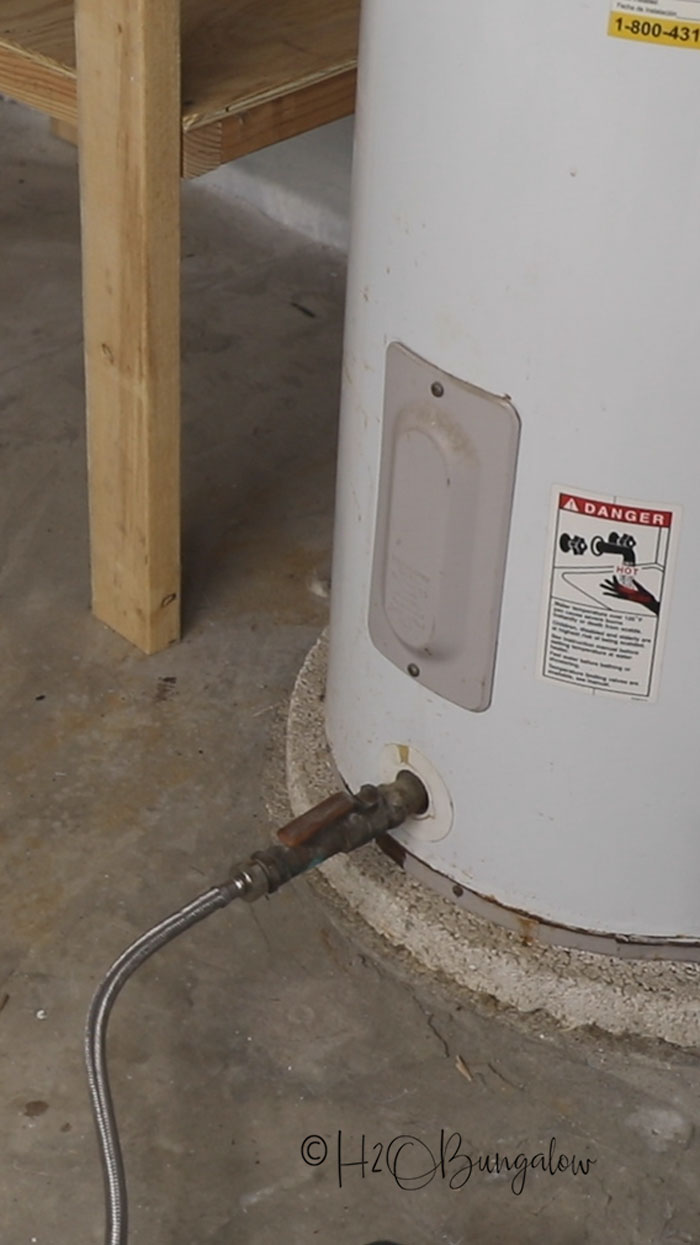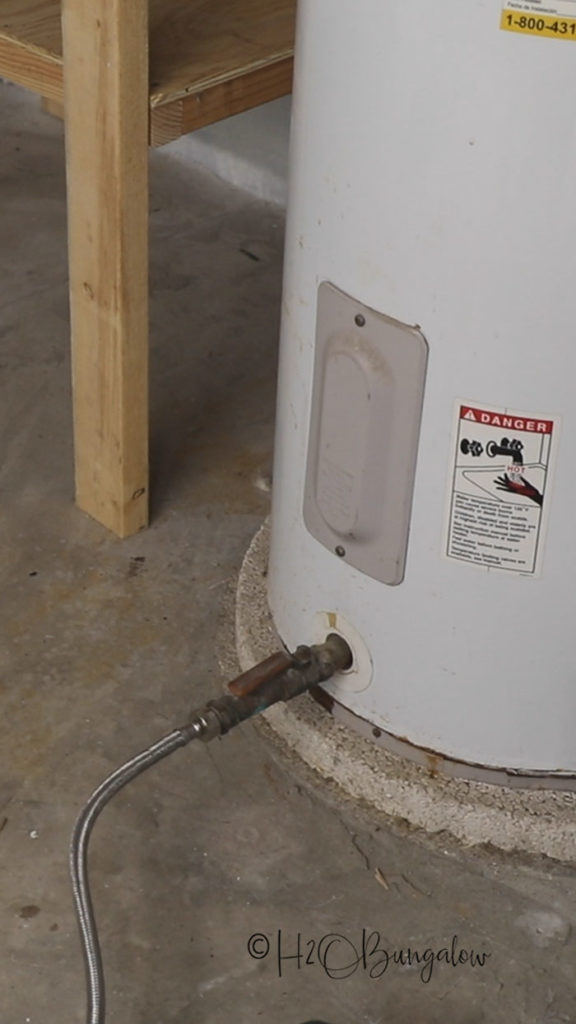 Step 2. Mount the EcoSmart 18 tankless water heater to the wall.
There are four mounting holes, one at each corner to mount the water heater to a wall. We used anchors and bolts to attach mine to our cinder block garage wall. It doesn't weigh much.
Be sure your unit has at least 12 inches of clearance above and below and 6 inches of clearance in front and to the sides of the water heater.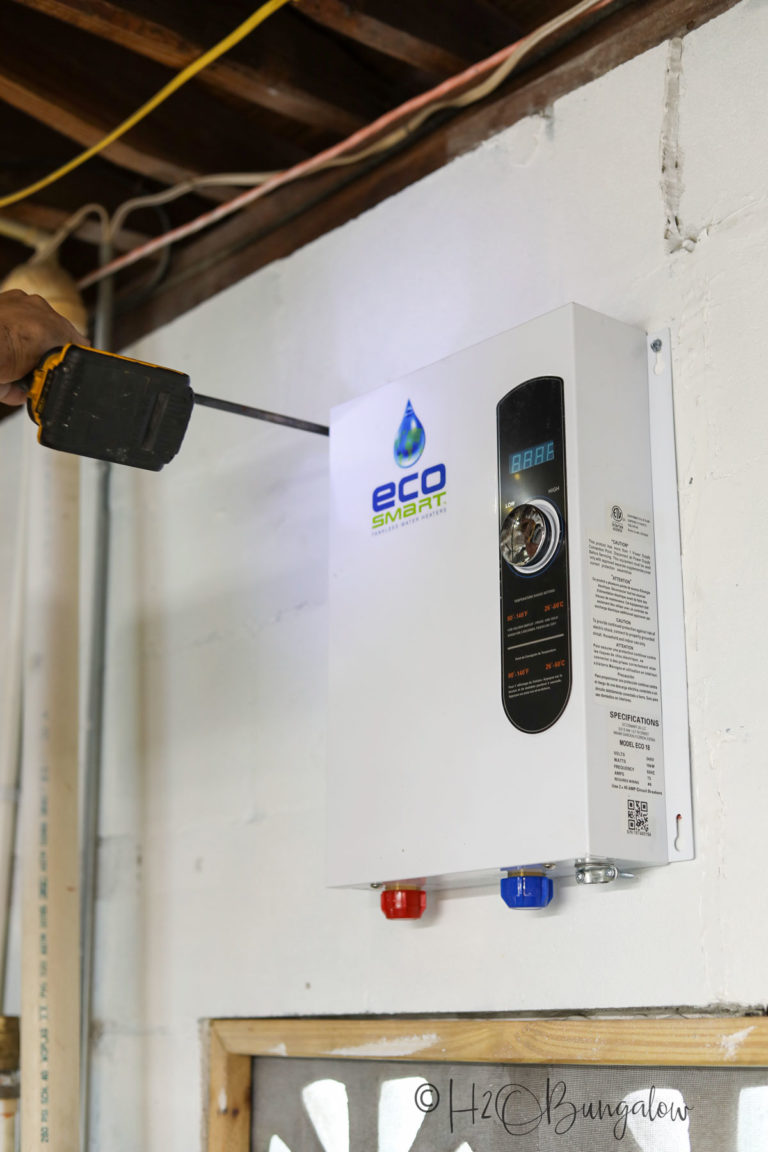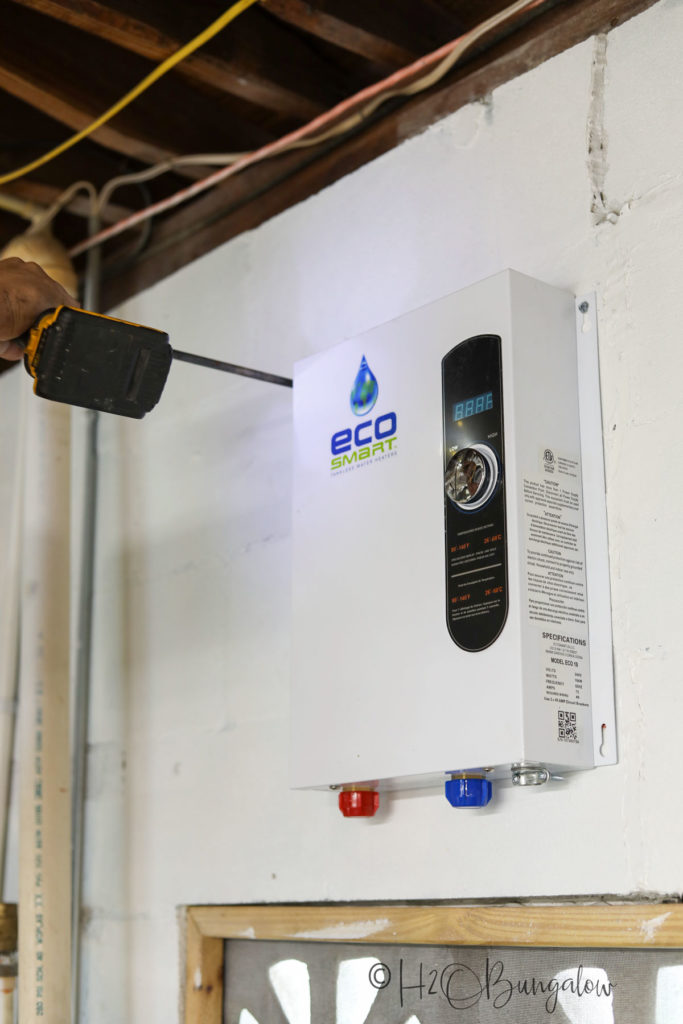 Step 3. Connect the tankless water heater to the water pipes.
Take the cover off the front of the water heater by removing four screws. There are two at the top outside corners and two at the bottom corners. The red cap on the bottom left of the unit connects to the hot water line. It is where the hot water will flow out of. The blue cap on the bottom right connects to the pipe that brings in the cold water.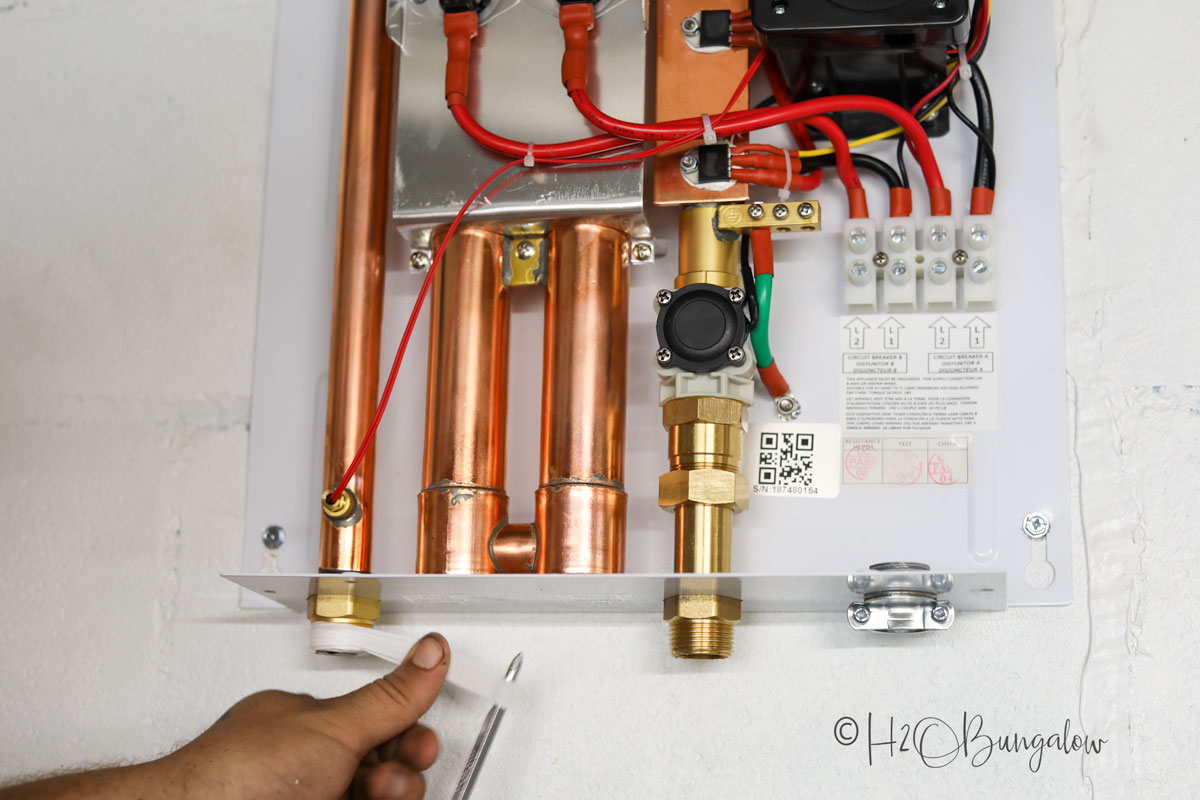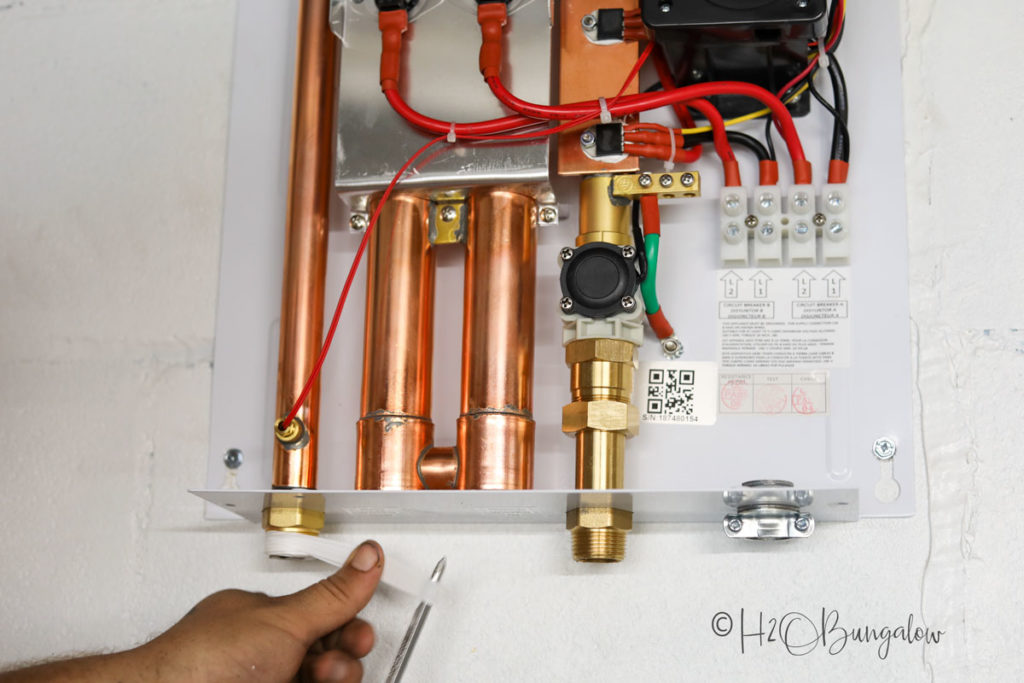 Use plumbers tape and cpvc glue to attach a cpvc 3/4″ female metal adapter to both the cold and hot water pipes on the unit. Next, you'll attach CPVC pipe, using 90 degree elbows when needed and connect to the old water pipes, both hot and cold.
I've noted the parts we used below in the photo to give you an idea of the parts we used and what our tankless water heater looks like connected. It's harder to describe than it really is.
Do you see why I said anyone with a basic DIY knowledge could do this?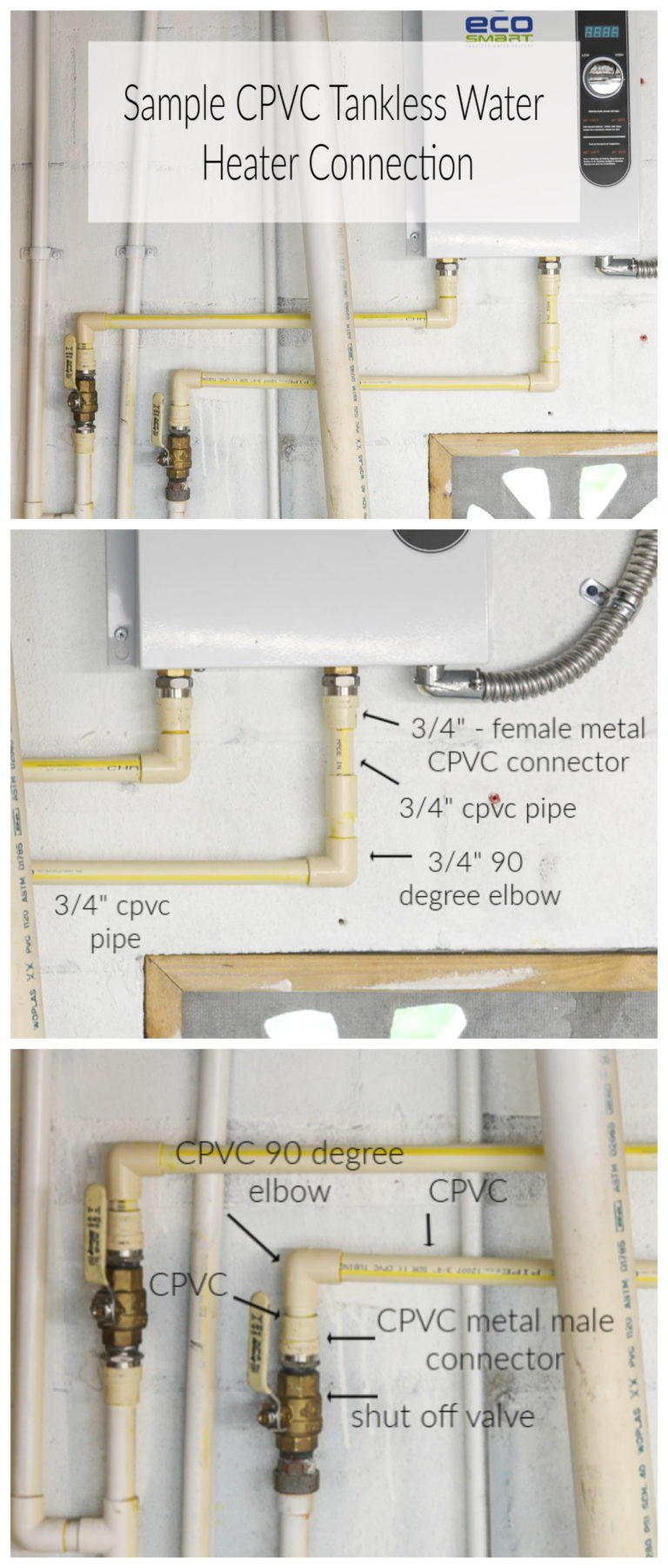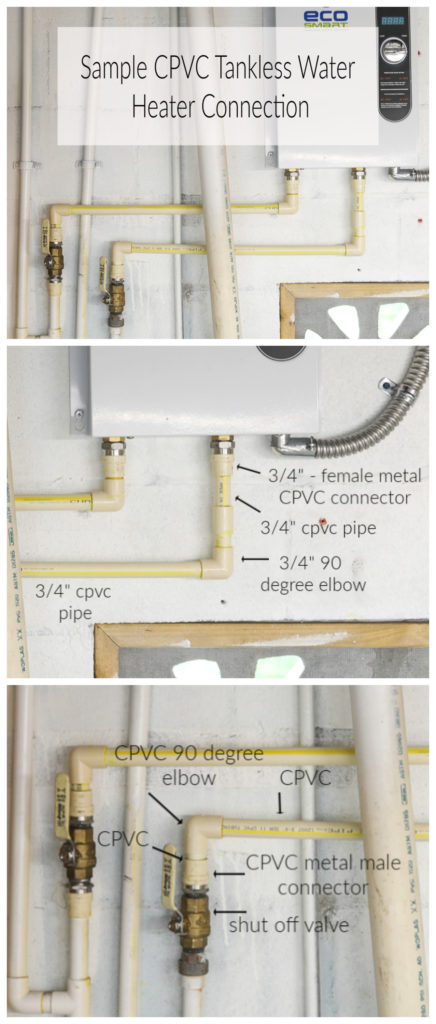 Step 4. Connect the electrical lines to the water heater.
Use a licensed electrician to run the needed electric lines to the unit and connect them. My EcoSmart 18 unit needed 2- 40 volt breakers. Replace the cover panel of the tankless water heater after this step.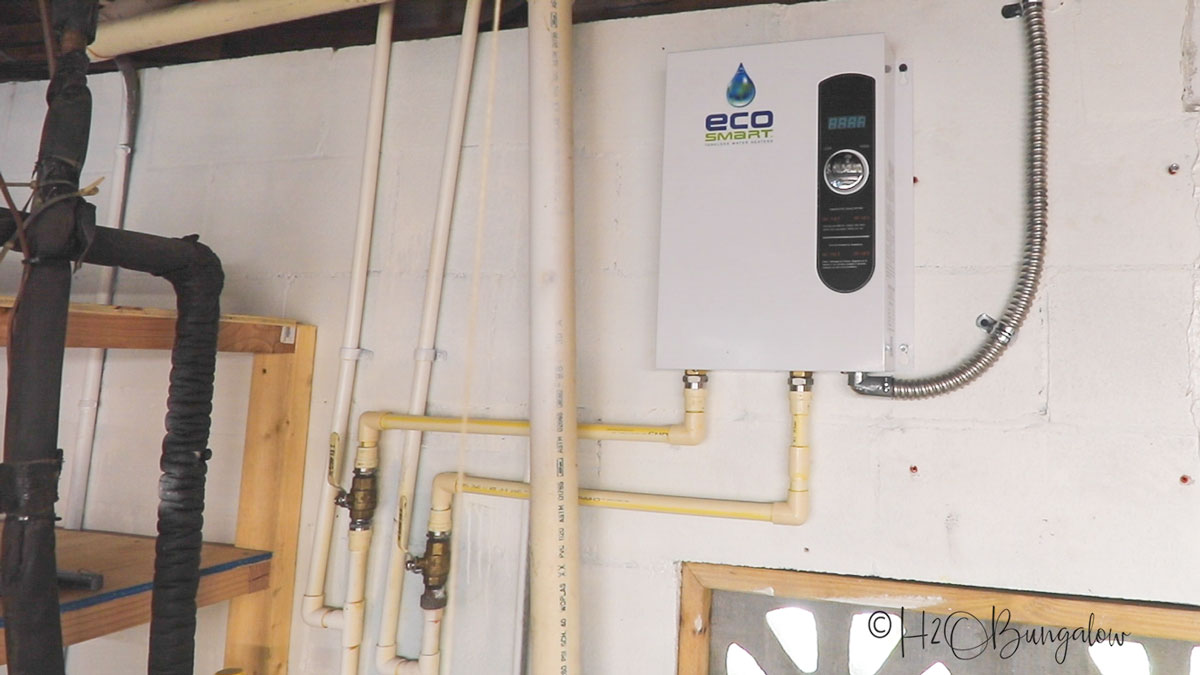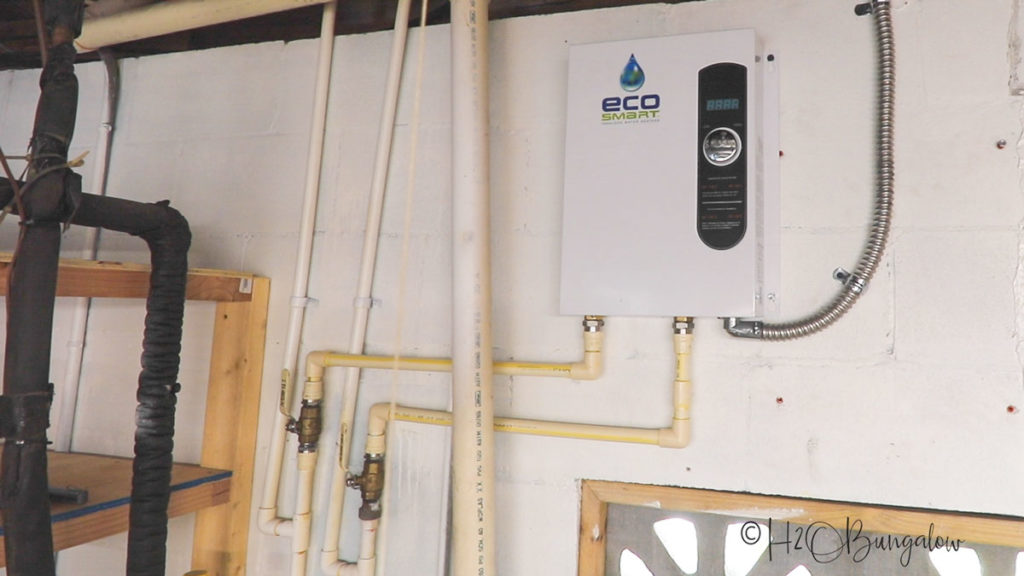 Step 5. Flush the system
This is really important to do before you turn on your water heater for the first time, so don't skip this next step!
Open both of the water valves to allow water to flow through the tankless water heater and turn on several faucets around the house to flush the system and take out the air bubbles before turning on your water heater.
Next, while water is flowing through the pipes, use a flashlight and inspect all of the new lines and connections for water leaks.
Step 6. Turn on the unit and set the temperature.
This is how simple it was to turn on and set the temperature on my new EcoSmart electric tankless water heater. Replace the silver temperature knob on the front of the unit and push it to turn the water heater on. Set the temperature between 80° – 140° by turning the knob. I set mine at 120°.
Tada, done!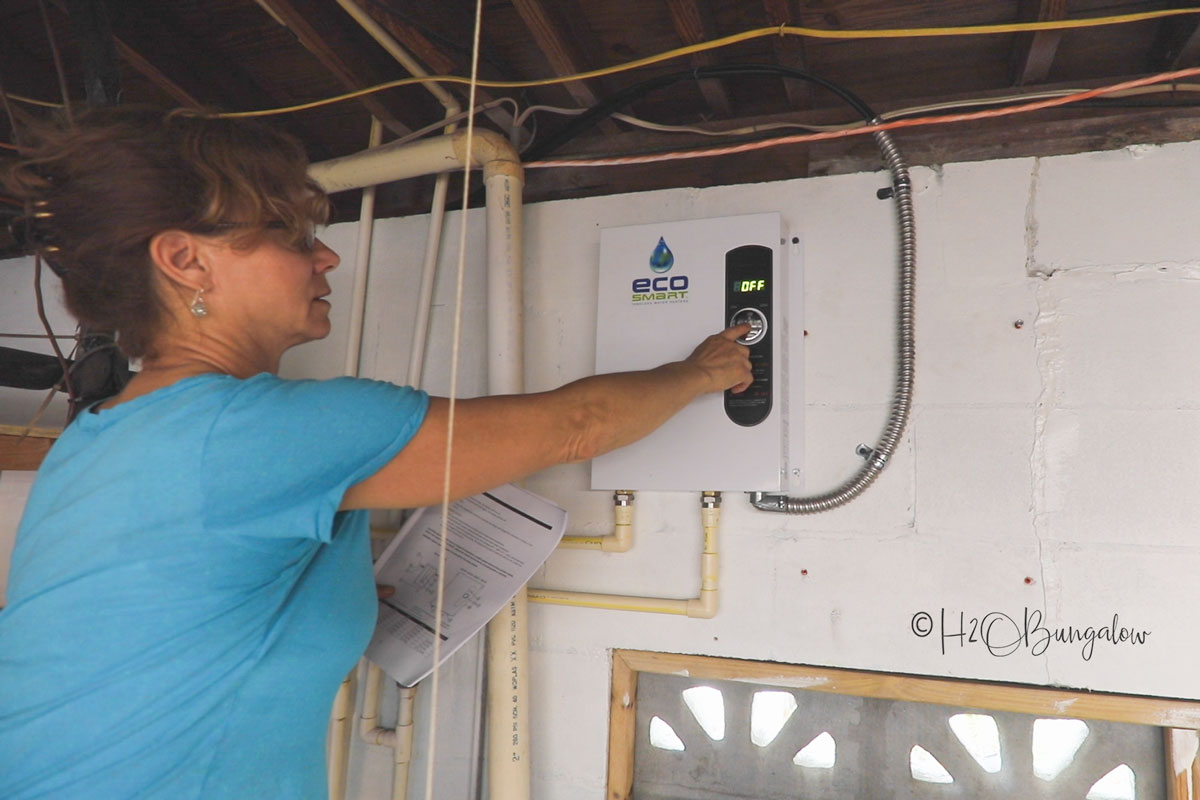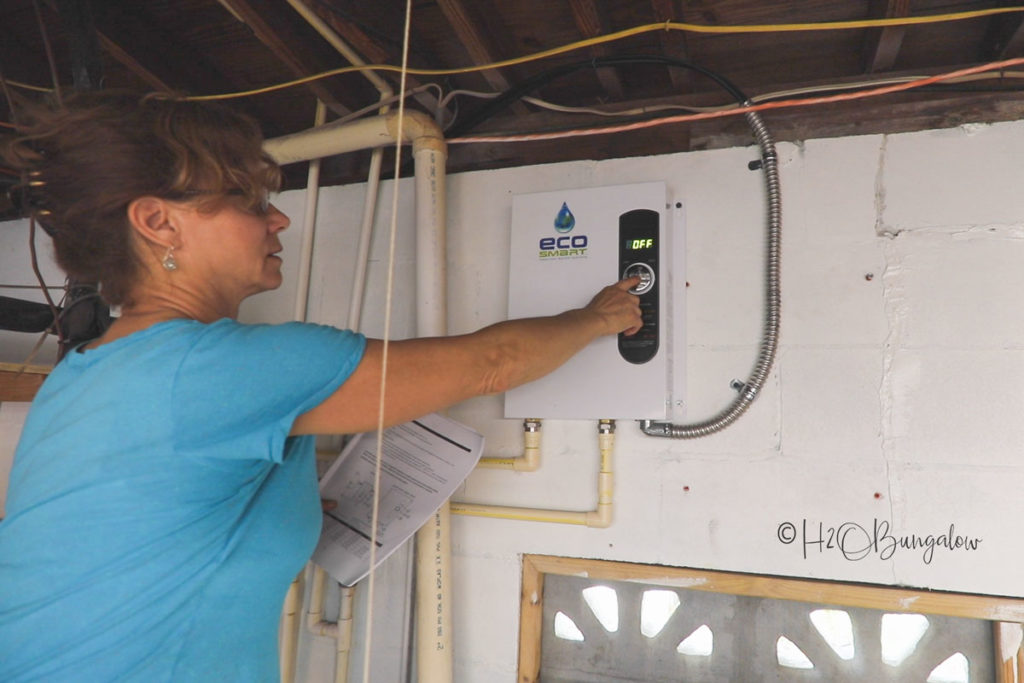 ---
More FAQ on Tankless Water Heaters
How do I choose the right size tankless water heater for my home?
Tankless water heaters need to be sized for usage. It's based on a few factors, like how many simultaneous users of hot water there will be and what the incoming temperature of the water is. I'd recommend calling customer service at EcoSmart for assistance in sizing the right unit for your home and needs.
Do they make gas powered tankless water heaters? Yes they do! EcoSmart also manufactures gas powered tankless water heaters.
Can I switch to an electric tankless water heater if I have a gas water heater now? Yes you can! Consult both an electrician and a plumber to see if this would be an easy or cost effective solution for your home.
Update* We've just switched out to tankless water heat in Vermont at the North House Lodge. Moving from propane to electric tankless water heat.
Do tankless water heaters require maintenance? Just like you should flush your traditional tank water heater once a year, you should clean the heating elements at least once a year.
Pin this and save it for later and share this on Facebook!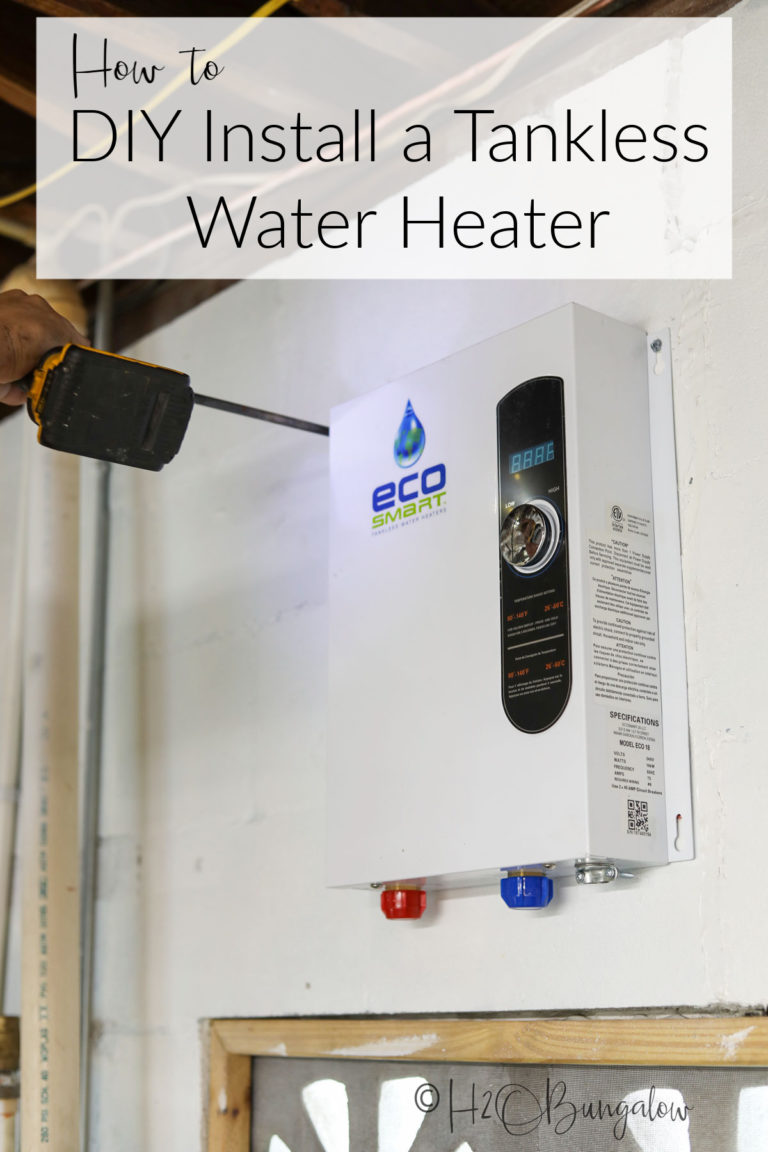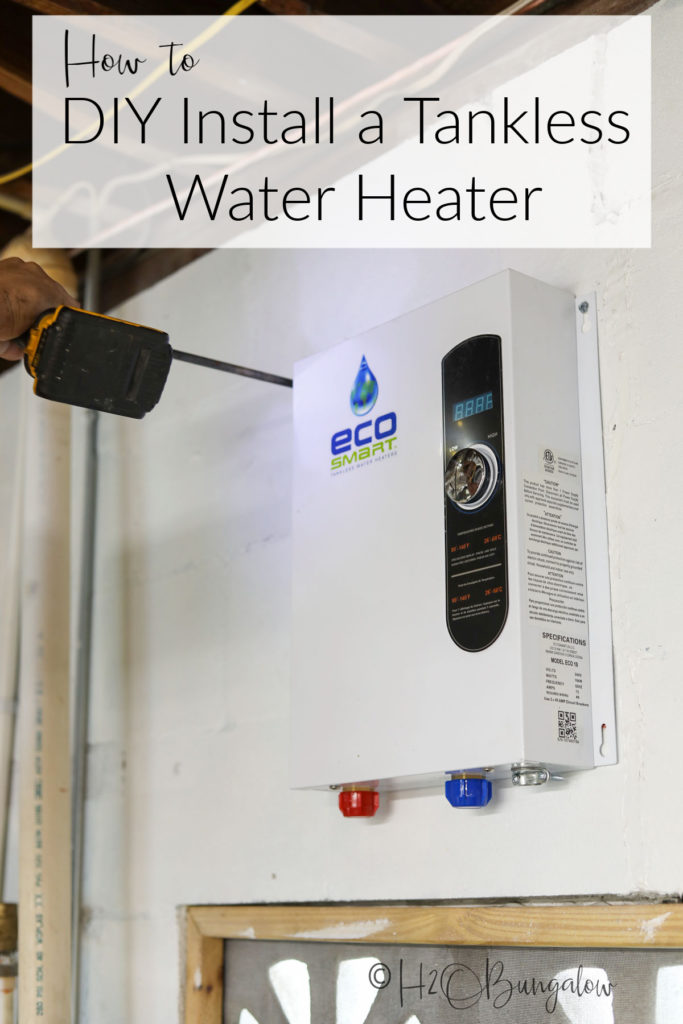 It's been a few weeks since we've installed our tankless water heater. Are you wondering whether I like it or see a big difference in my water?
I'm loving it!
It's great that I can regulate the water temperature and see the exact temperature I've set. I love that there is more room in my garage now and I don't need to worry about my old water heater failing and flooding everything. We expect the monthly electric bill to be less too!
Have you thought about installing a tankless water heater in your home? Check out the EcoSmart website to see the many models they carry for all sizes of homes and offices!