This is a sponsored post written by me on behalf of Duck Brand Easy Liner. All opinions are 100% mine.
Today, I'm sharing how to cut perfect drawer and shelf liners for closets, kitchens, dressers and more. You'd be surprised at how quickly, easily and accurately you can line shelves and drawers using these easy tips to line drawers and shelves.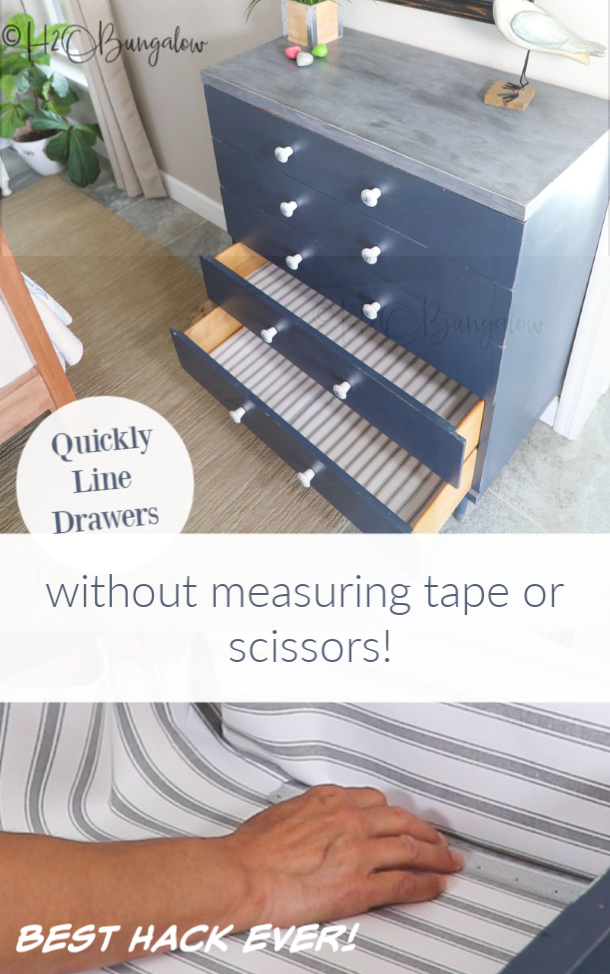 I've been on an organizing binge lately tackling drawers and closets. It's also been the perfect time to give these spaces a refresh. Duck Brand® sent a box of the new non-adhesive Fabric Top Easy Liner® for me to try out.
I loved how easy it was to work with!
Why? Because it was easy to cut, the shelf liner grips the surface well and doesn't move around. It's a huge bonus that its machine washable too!
Plus, I'm loving the soft fabric top with pretty patterns and colors! It's perfect to protect clothes in a dresser and also a great choice for wire shelves in closets since the solid surface keeps things from falling through.
There's a lot to be said for the good feeling of a clean and tidy drawer or closet. Am I right?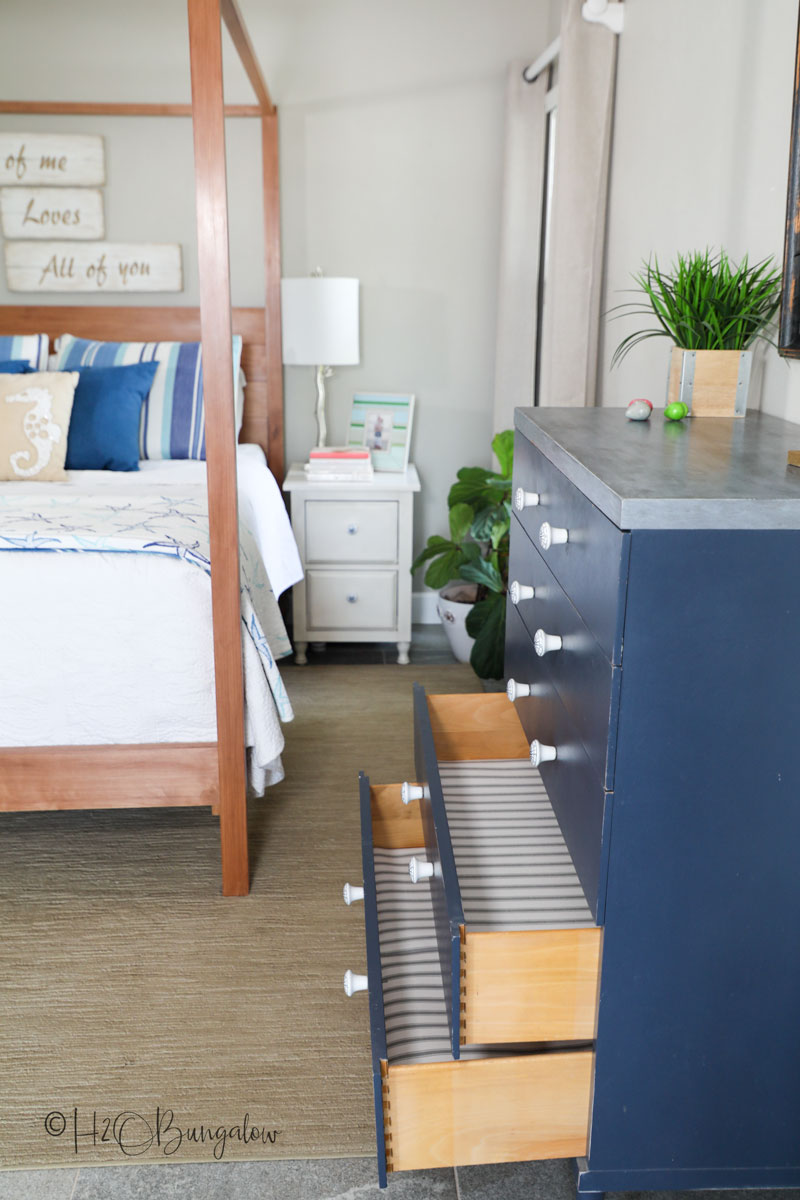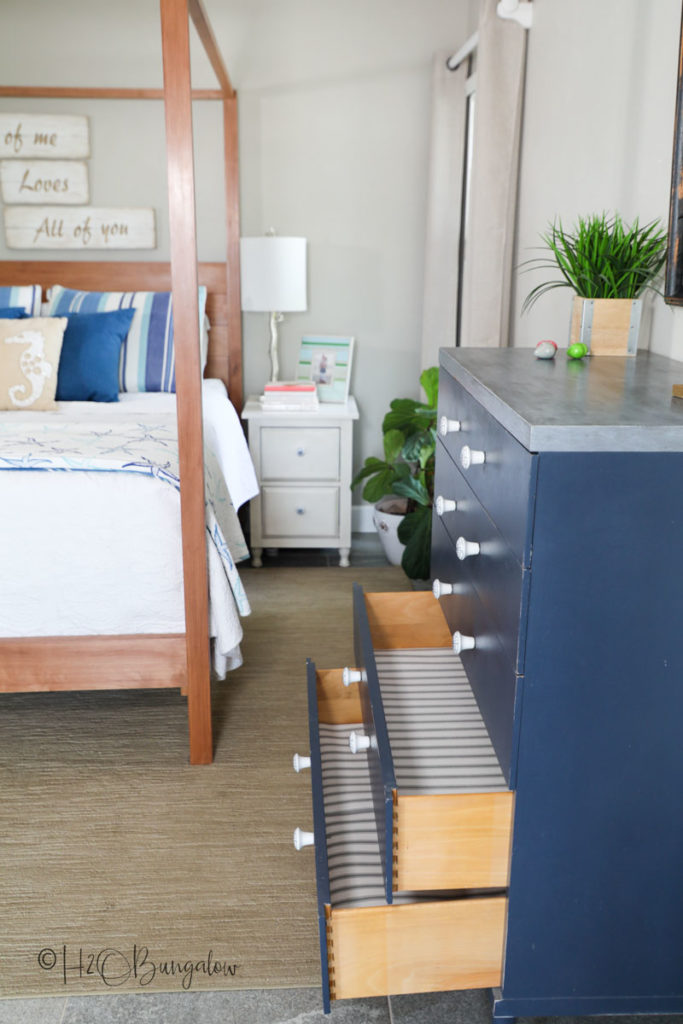 How To Cut Perfect Drawer and Shelf Liners Fast!
If you've followed me for a while you know I'm all about sharing ways to make DIY easier. Follow these simple tips on how to cut drawer and shelf liners and you'll be admiring tidy and pretty shelves in no time at all too!
Best tips to install shelf and drawer liners.
Start with a clean surface
Always wipe a shelf or drawer out before adding new liner.
How to line drawers really fast
I made a quick video to share my favorite way to line a drawer without measuring!
My drawer lining method from the video:
Start by placing the drawer on a table or workbench.
Square the edge of the drawer liner like I show in the video. It will give a perfect fit and keep the pattern aligned.
Next, place the flat long edge of the drawer liner along the front of a drawer or cabinet while aligning the end of the liner along a drawer side. Tuck the drawer liner into the corner where the side meets the bottom of the drawer, along the shorter edge. Crease the liner into the corner of that side of the drawer with the ruler. Holding a ruler against the crease, run a box cutter or similar blade down the ruler at the crease.
You'll get a perfectly straight cut that fits the edge of the drawer. Move to the other side and cut it in the same fashion.
Easily cut liners for odd shape shelves and cabinets.
Lining odd shaped shelves can be tricky. Here's a simple trick to cutting shelf liner for large shelves.
Begin by squaring the edge of the shelf liner. Use a speed square and mark the top and bottom of the shelf or drawer liner.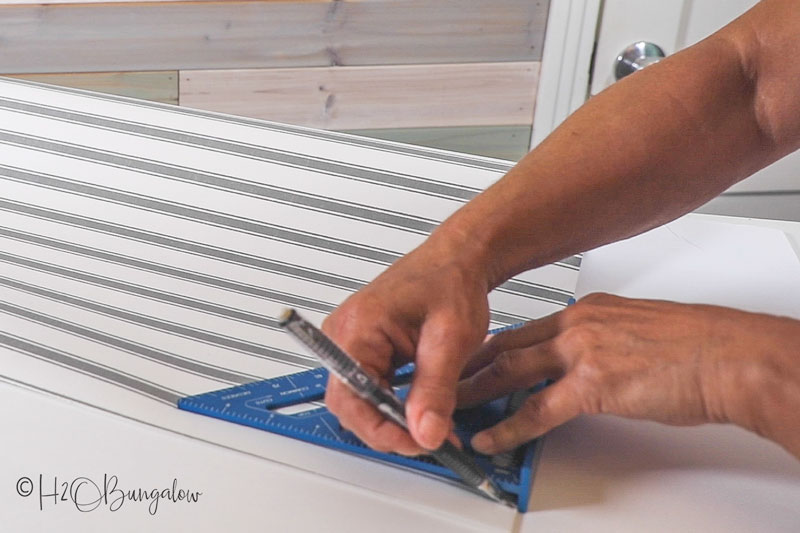 Trim with box cutter by holding a straight edge ruler and running a box cutter along the edge from the top and bottom mark you made. This will give a straight edge that will fit a drawer perfectly.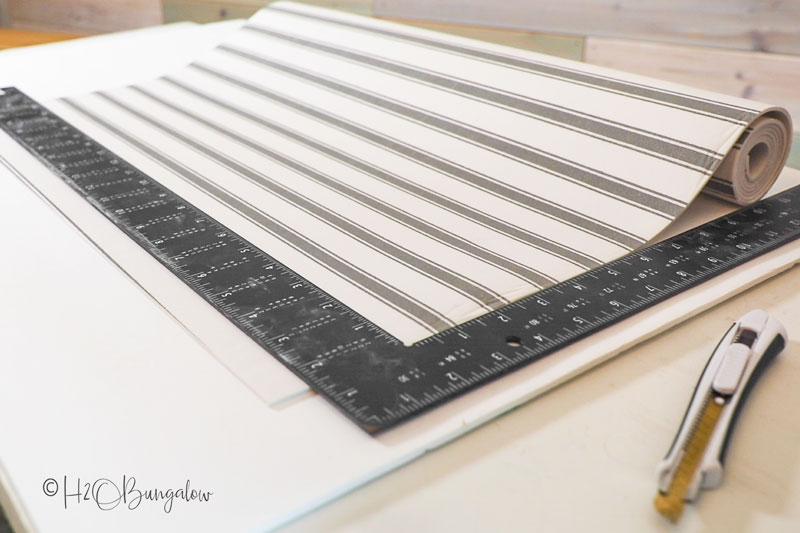 Now, you're ready to cut the liner to the size needed. Measure the shelf and cut the liner to size with a straight edge and box cutter instead of scissors to get a perfectly straight edge.
TIP: To protect your surface, be sure to place a piece of cardboard underneath the liner before cutting
Connect multiple shelf liner pieces
Who doesn't want to stretch their budget? The best way to keep drawer liner in place when using multiple pieces of drawer or shelf liner is to attach them. Square the edges that will be placed together like I mentioned below, turn over and attach with tape from the back. Place in drawer or on shelf.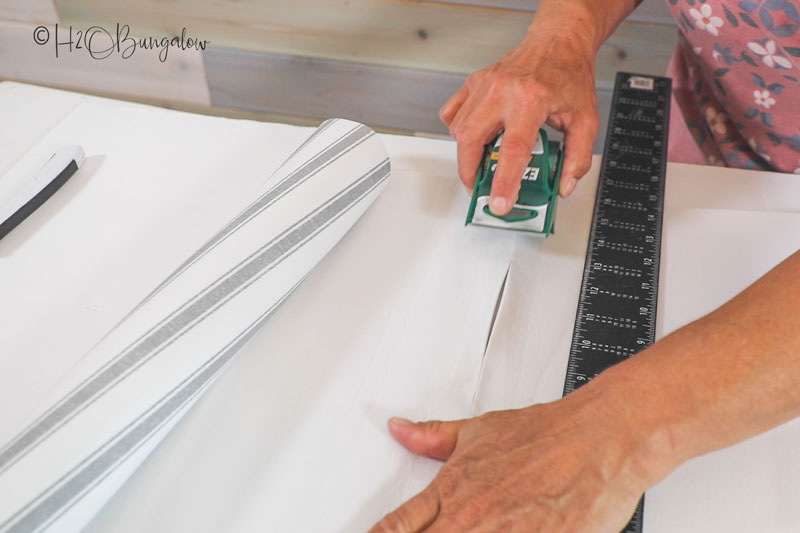 How do you get shelf liner to stay in place?
Use Duck Brand Fabric Top Easy Liner® with the rubber backing and your drawer or shelf liner will stay in place.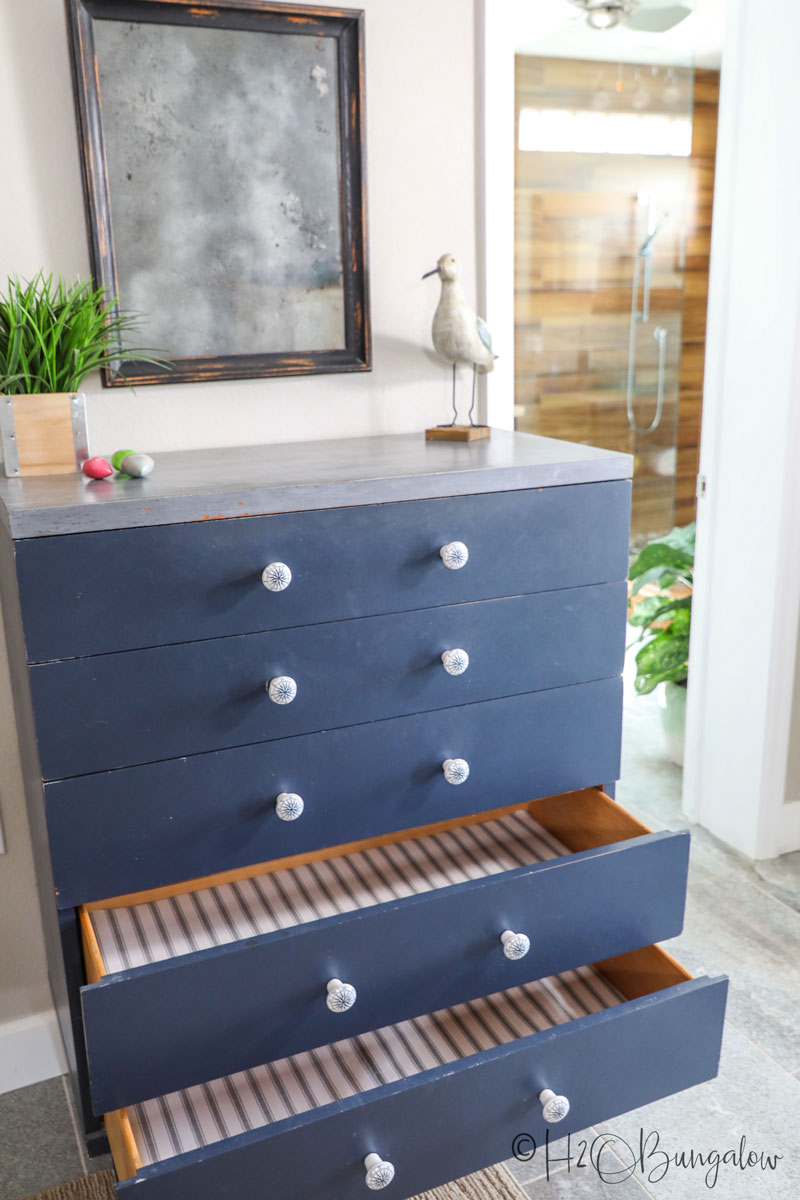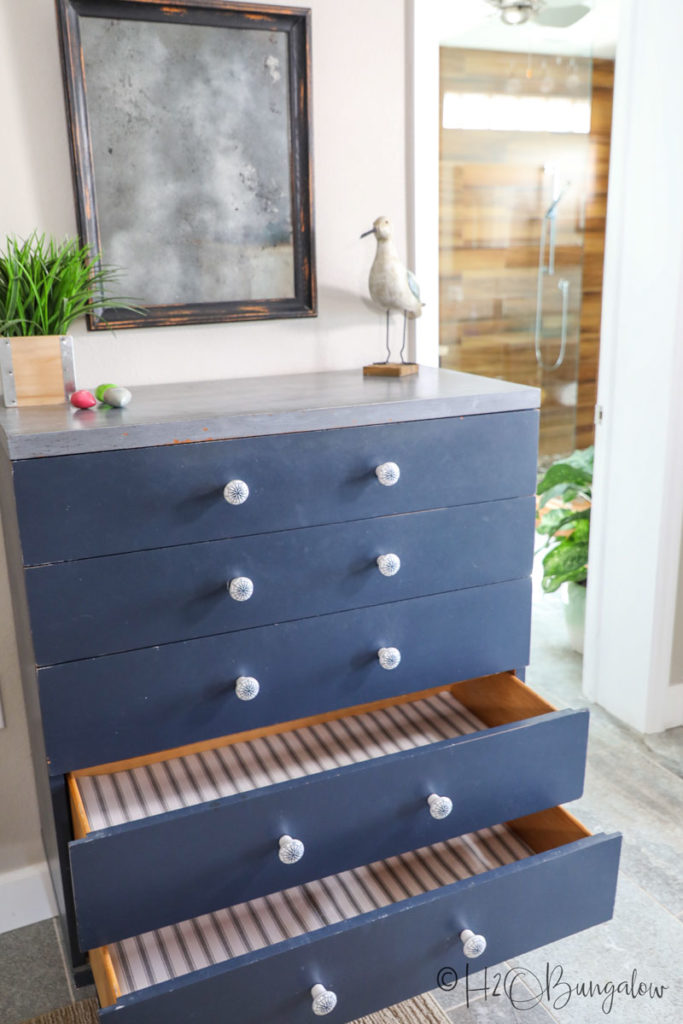 The easiest way to clean shelf liner
Save time and toss it in the washer on a delicate cycle and air dry it. The Duck Brand Fabric Top Easy Liner® is machine washable!
More ways to use Fabric Top Easy Liner® or Duck Brand's Clear Classic® Easy Liner® shelf liners:
I've got a few rolls of drawer and shelf liner left over. Here are few ideas I've come up with to use them.
On the shelves of this DIY open shelf vanity I built and to line it's baskets
Line office desk drawers
Add shelf liner to a medicine cabinet
Protect dishes and delicate objects by placing a piece of Duck Brand Fabric Liner between them
Place shelf liners in the bottom of baskets to protect them and stop small items from falling through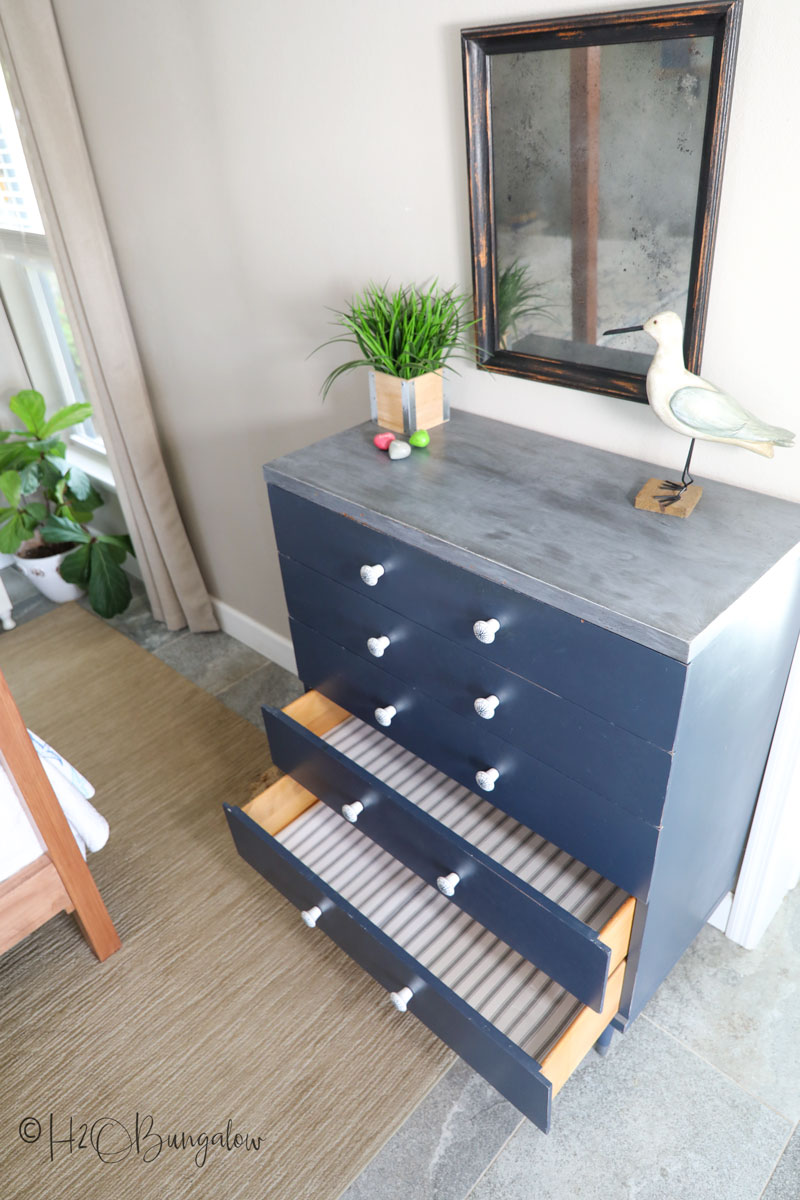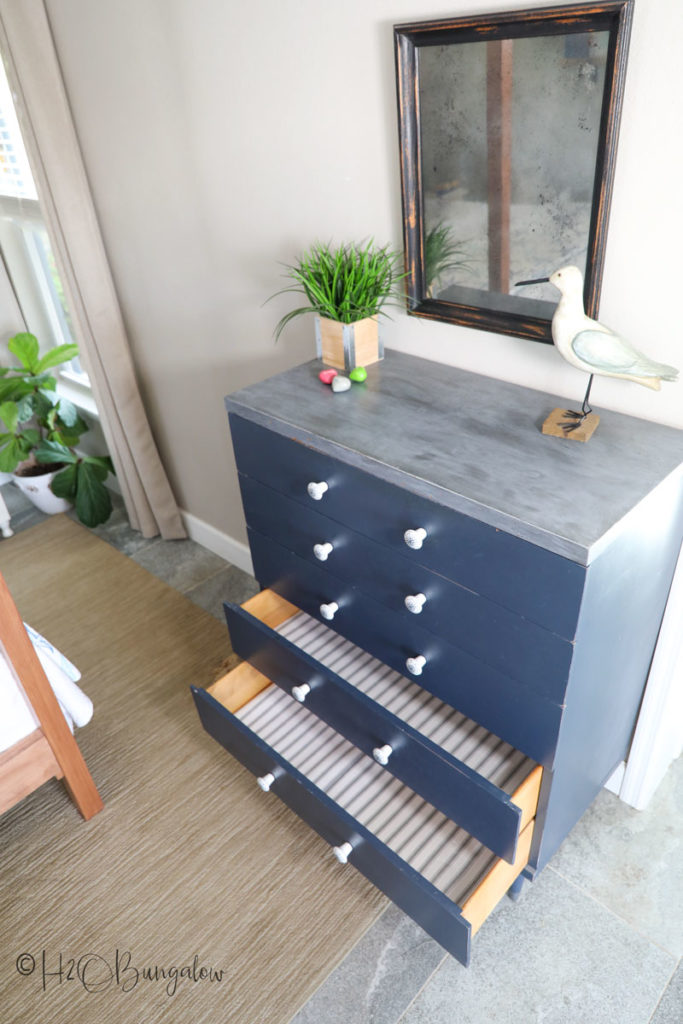 Pin my tips on how to cut perfect drawer and shelf liners and share with your friends on FaceBook!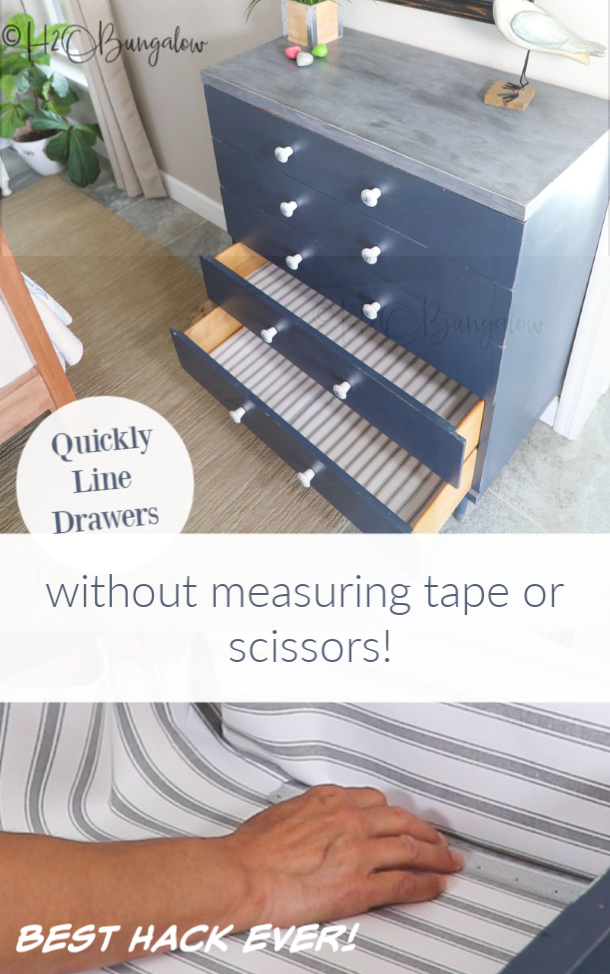 How long has it been since you've changed out the shelf and drawer liners in your home?