I'm excited to share my 3 steps to create an inviting entryway when you don't have one. It would be great if home builders and designers recognized that people need a place to drop coats, hats, bags and other stuff as they enter a door. Unfortunately, they often don't allocate space for that purpose. So, I thought I'd share a few simple steps on how to create an inviting entryway out of unused space in your home that looks as good as it is functional.
We desperately needed a place to serve as an entryway or pseudo mudroom even though we didn't technically have either on the #54 side of the North House Lodge. Challenged as I was, I still found a solution. A simple three step solution, no less.
This is a sponsored post by Carpet One Floor & Home®. Thank you for supporting the brands that keep H2oBungalow going.
Choose a space that can function as an entryway.
Improvise and create an inviting entryway from a space that's near the most used doorway. Our most used doorway is the side door in the kitchen. Everybody uses this door to enter the house, it's by the driveway and the most convenient way to enter the house. But there was no place in the kitchen to create an entryway or drop zone of any sort. My answer was to use the wall just outside of the kitchen.
It made good sense since people pass this wall naturally as they walk into the rest of the house. Plus, it's only a few feet from the doorway so it's convenient. My improvised entry started with this coat rack. But the space needed more.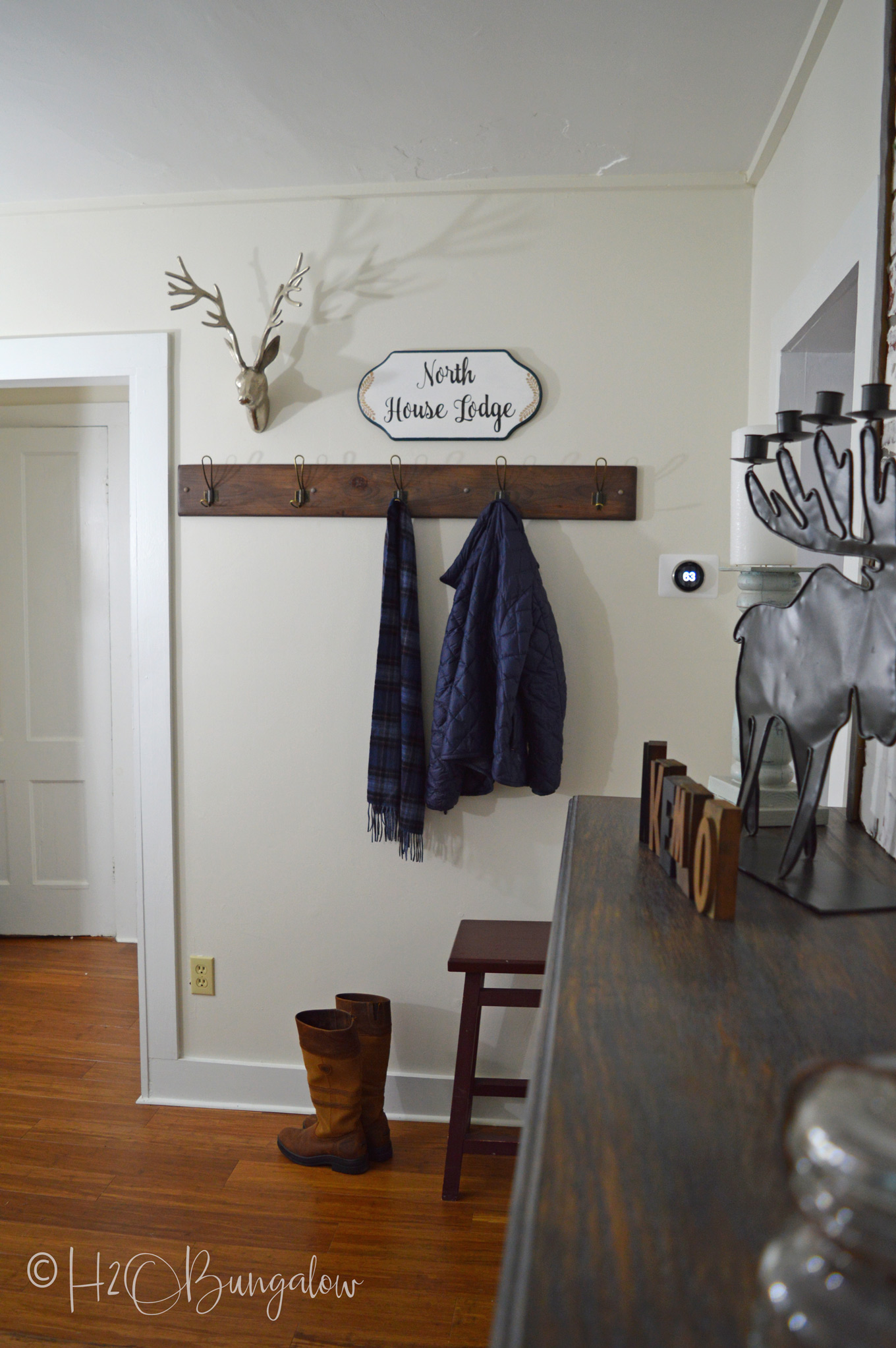 Create an Inviting Entryway with Furnishings.
Use seating, area rugs and wall decor to create a space that looks warm and inviting. At the same time, use these items to define your DIY entryway as the place for people to comfortably take off boots, hang coats and drop purses.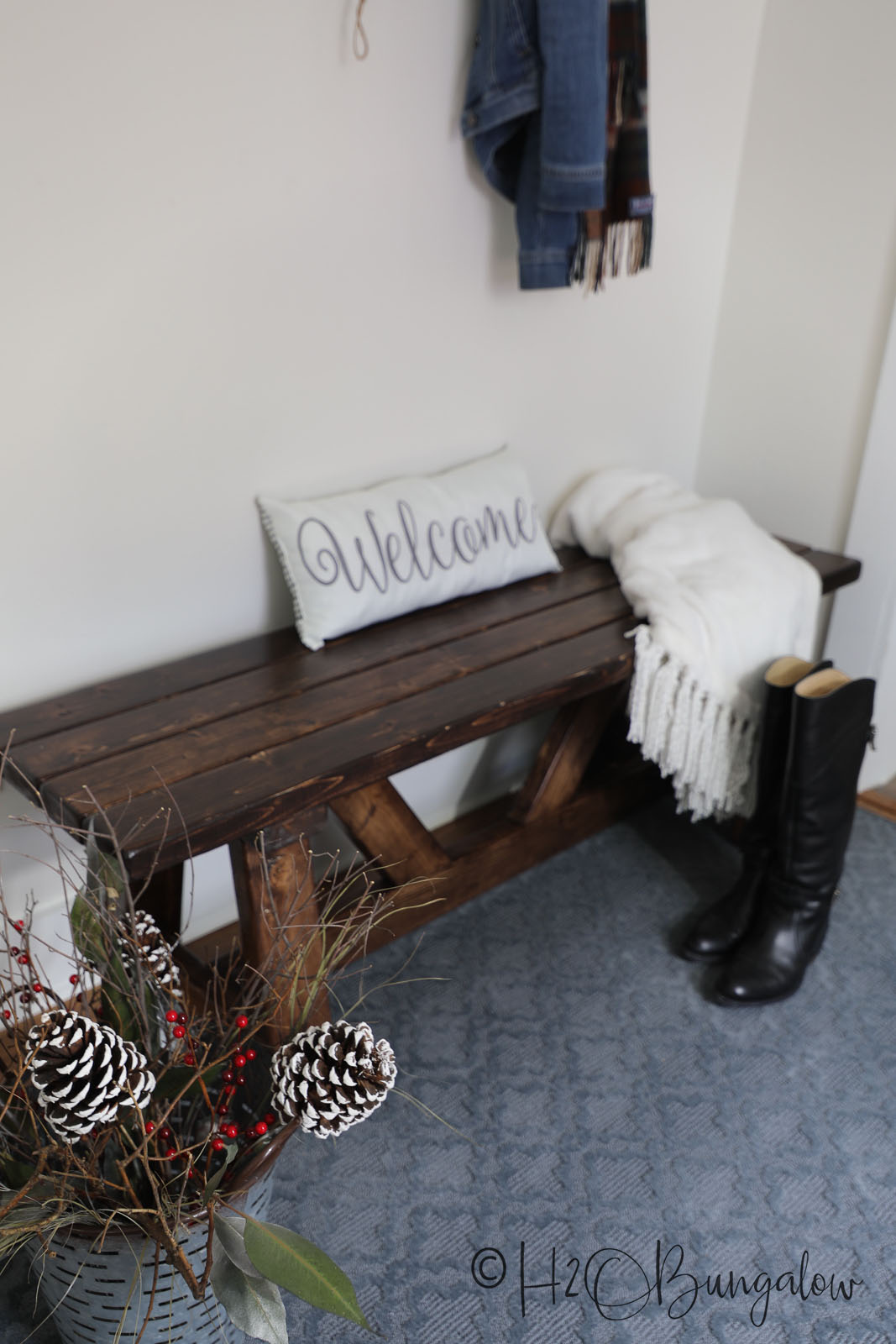 Keep in mind, functional doesn't need to be boring or expensive. I made this Vintage Hook Coat Rack from a simple 1″ x 6″ pine board.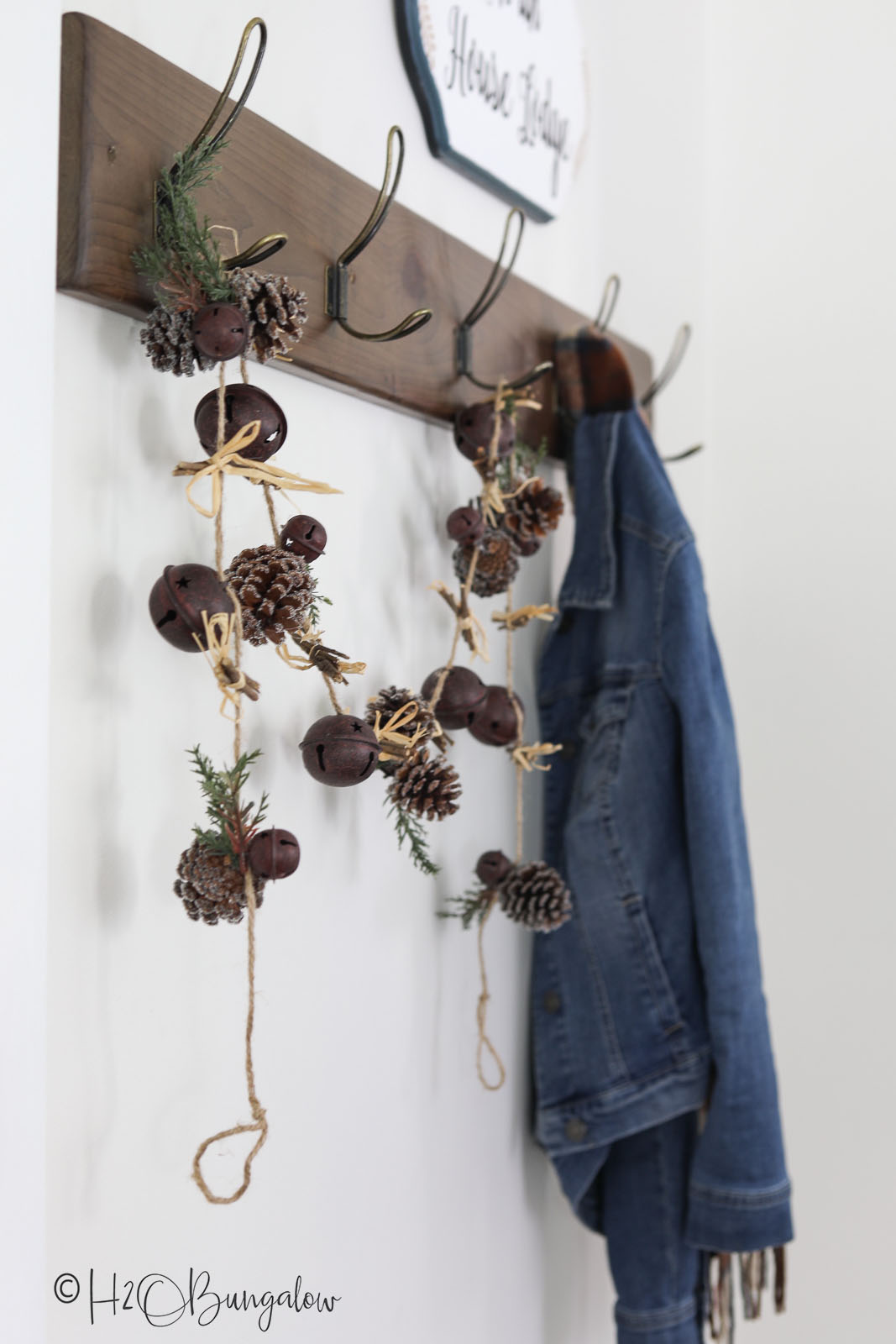 An area rug is the perfect choice to define the space and protect our wood floors. I choose the Relax,…It's Lees carpet line from Carpet One Floor & Home® several reasons, but the 25 year NO exclusion warranty was the clincher.
Make an Inviting Entryway Functional as Well as Pretty
Keep functionality in mind when creating a entryway. Items like a comfortable bench to sit on when taking off and putting on boots and a large enough coatrack to handle bulky winter layers are much appreciated when needed.
Last week I shared how I made this gorgeous DIY Rustic Modern Bench out of plain 2 x 4's for this spot. It works great here, don't you think so? Plus, at about $15 to make, it was a bargain!
This is the perfect spot to welcome friends and guests as they enter our home. We keep the fireplace lit on chilly days. I forgot to light the fireplace since it was August and about 80 degrees in the house when I was photographing this project 🙂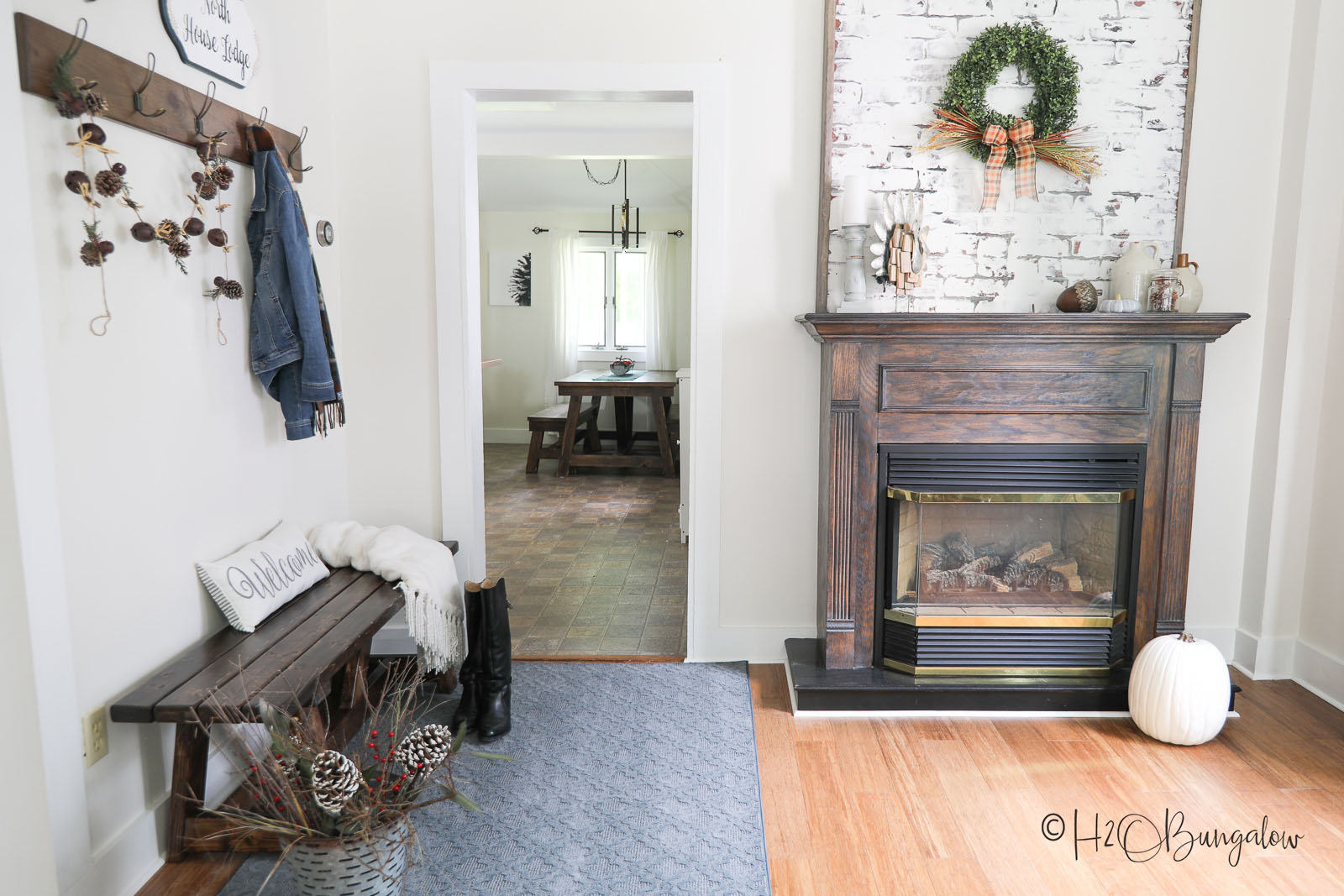 That's all there is to creating an inviting entryway when you don't technically have one. It breaks down into three simple steps.
Choose your space.
Define it with furniture, rugs and wall art.
Make it functional.
Just like my Modern Coastal Bedroom Makeover from last spring where I shared how to decorate a room in three simple steps, I kept this makeover simple.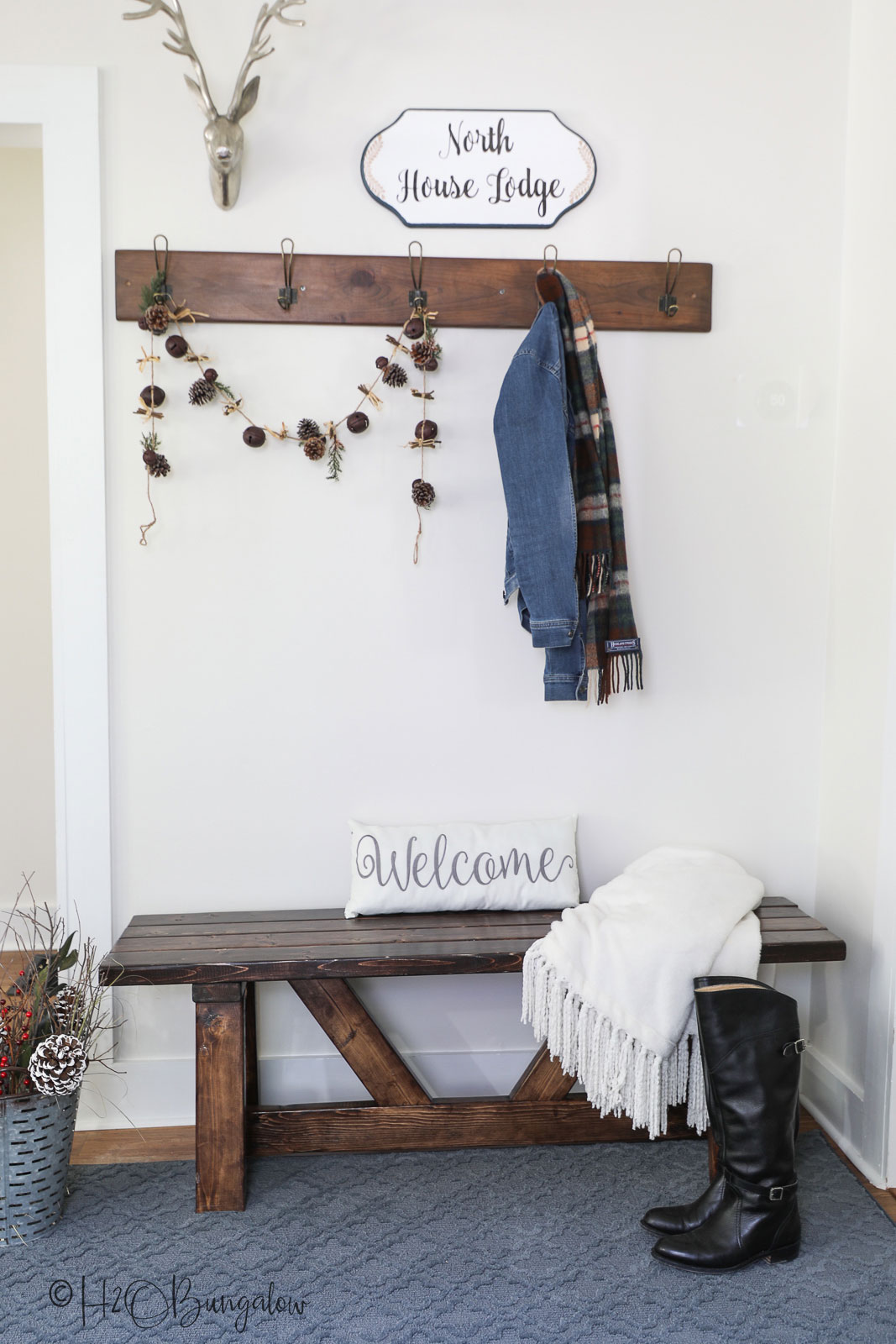 But it's gorgeous, right? I'm in love with how well our entry works for all seasons. It's inviting and looks great plus, it's functional for all kinds of uses.
Pin this for later and share with your friends on Facebook!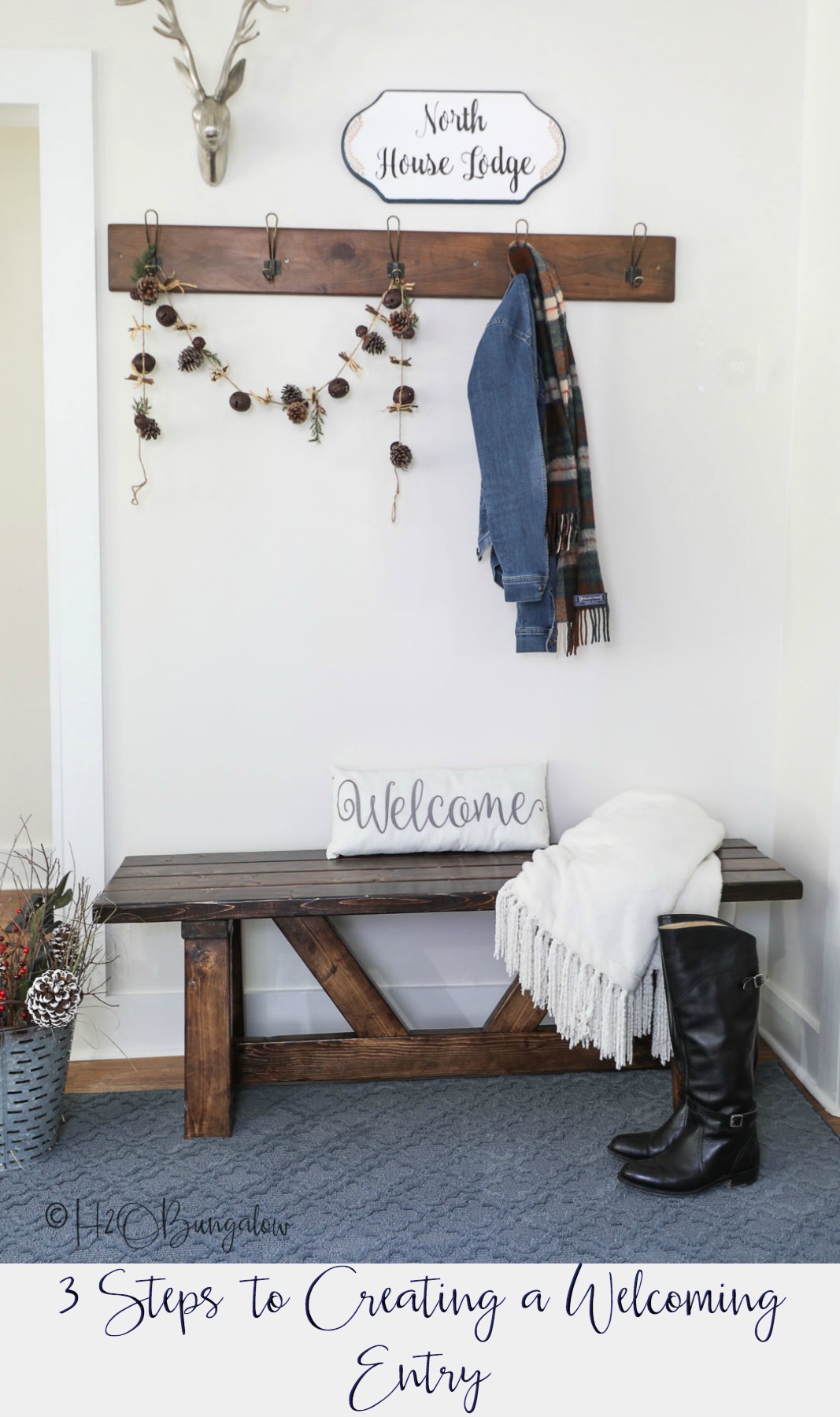 My favorite part? While I love the bench and my cool coatrack, I'd say my Relax,…it's Lees carpet! The color and texture are what makes my simple DIY entryway stand out.
I choose the Astonishing pattern and Nobility color for my area rug. Carpet One Floor and Home® cut it to size and bound it. The color is amazing and I'm crazy in love with the pattern. Can you imagine how pretty it would be in a full room or as a staircase runner?
Because I needed my area rug to last, I choose the Relax,…It's Lees carpet line.
Lees exclusive 25-Year "No Exclusions" Ultra25® Stain Warranty covers stains other carpet warranties don't, including pet stains, stairs, grease, mustard, coffee, cola, and even bleach.
Lees patented ExtraLoc® has double the density of standard carpet construction, offering unheard-of stability and dimensional strength when you need it the most.
Best of all Carpet One Floor and Home has The Beautiful Guarantee®. If you don't love your carpet, they replace it for free! You can't go wrong with that!
Picking out my carpet was easy too, with locally owned Carpet One locations all over the US, I found one near us in Vermont too.
Sending out a big thank you to Carpet One Floor & Home® for sponsoring this post. Of course, all creativeness and opinions are my own. You guys know I only share products I use myself and believe in.
Do you need to add a functional entryway in your home? Is there a space to add one like mine? Share your thoughts below!