I'm so excited to share my modern coastal bedroom makeover with you guys today! It's actually more of a redecorating bedroom refresh than a full blown makeover. But, by changing the color palette, adding a large scrumptiously textured area rug and and few creative decor pieces it has the look of a whole new room. This modern coastal bedroom makeover is fresh and contemporary while being warm and inviting. Which is everything I'd want in a bedroom retreat. Bottom line is, I'm super happy with it! Take a peek below.
This is a sponsored post by Carpet One Floor & Home®. Thank you for supporting the brands that keep H2oBungalow going.
Last week I shared a before photo in my post How to Makeover a Bedroom in 3 Easy Steps and linked to a waaaay before post and photos from what the room looked like when we first moved in. When we bought this house, this room wasn't pretty, in fact it had two doorways and was missing a door. Calling it a project house was no exaggeration. It was one of my readers favorite posts for 2018. I also shared it in my Coastal Home Tour.
As you can see, that's not the case anymore! Today, I'm excited to share my newest update, a modern coastal bedroom makeover.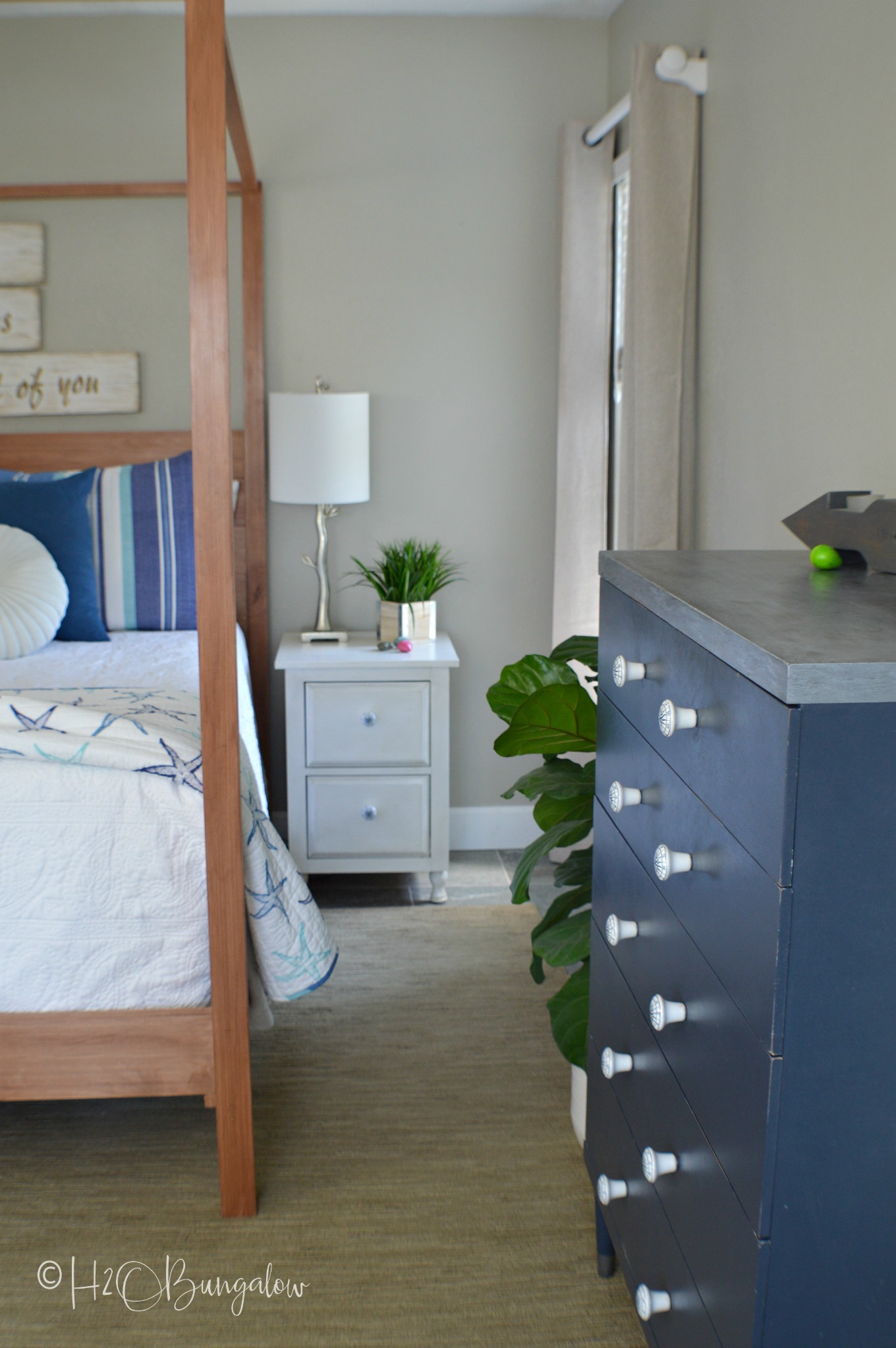 Just like I mentioned in my last post, 3 Tips for Making Over a Bedroom, The first thing I did was define my room style. I browsed coastal bedroom pictures on the Internet and in magazines for color combinations and ideas to create a room style that fit me. I knew I wanted to create a coastal bedroom with lots of white and blue. I also knew I wanted my bedroom makeover to have a clean modern style with just a tad of eclectic furnishings added in. After looking for what seemed like forever, I choose a white coverlet and this reversible blue striped and starfish coverlet for layering. I loved the contemporary colors, I think the starfish on one side and blue stripes on the other are coastal without being over the top beachy.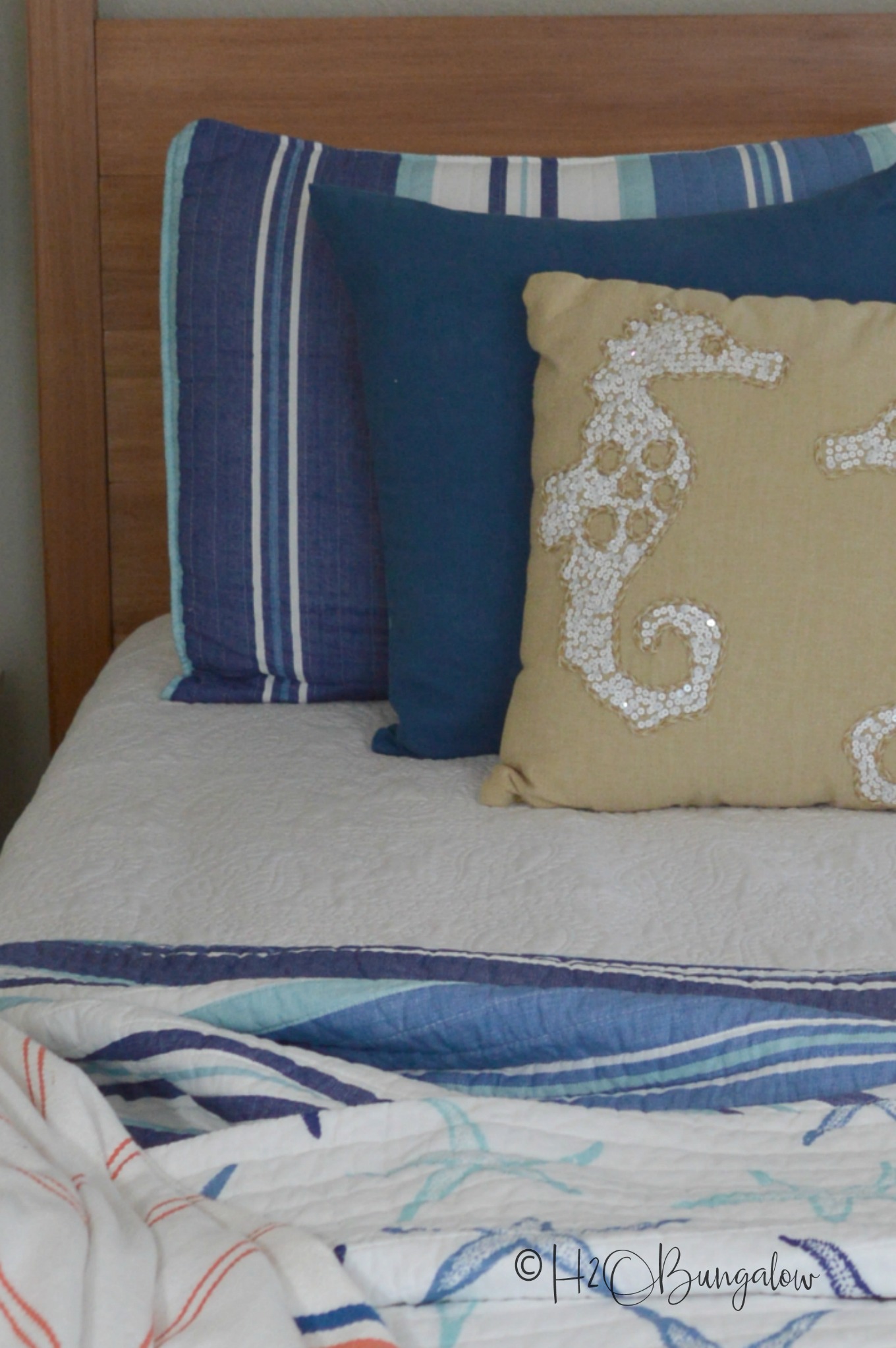 I mentioned before I thought my space lacked warmth and coziness. I added an amazingly soft and textured Tigressá Cherish area rug from Carpet One Floor and Home. I'm not kidding guys, when I say it's soft. I take my sandals off when I walk up to it just because it feels so good to walk on.
I choose this color because I wanted to mimic natural seagrass and keep a neutral background so it would be easy to change out colors later when it's time for whatever my next version of a coastal bedroom makeover looks like. It's always kind of scary picking out such a big piece of room decor like new carpeting or a huge area rug. As I mentioned in my last post, I didn't need to worry since it came with The Beautiful Guarantee® and Carpet One would have replaced it free of charge if I wasn't thrilled with it when it arrived.
Which was not needed since I fell in love with everything about this rug the moment I unwrapped it!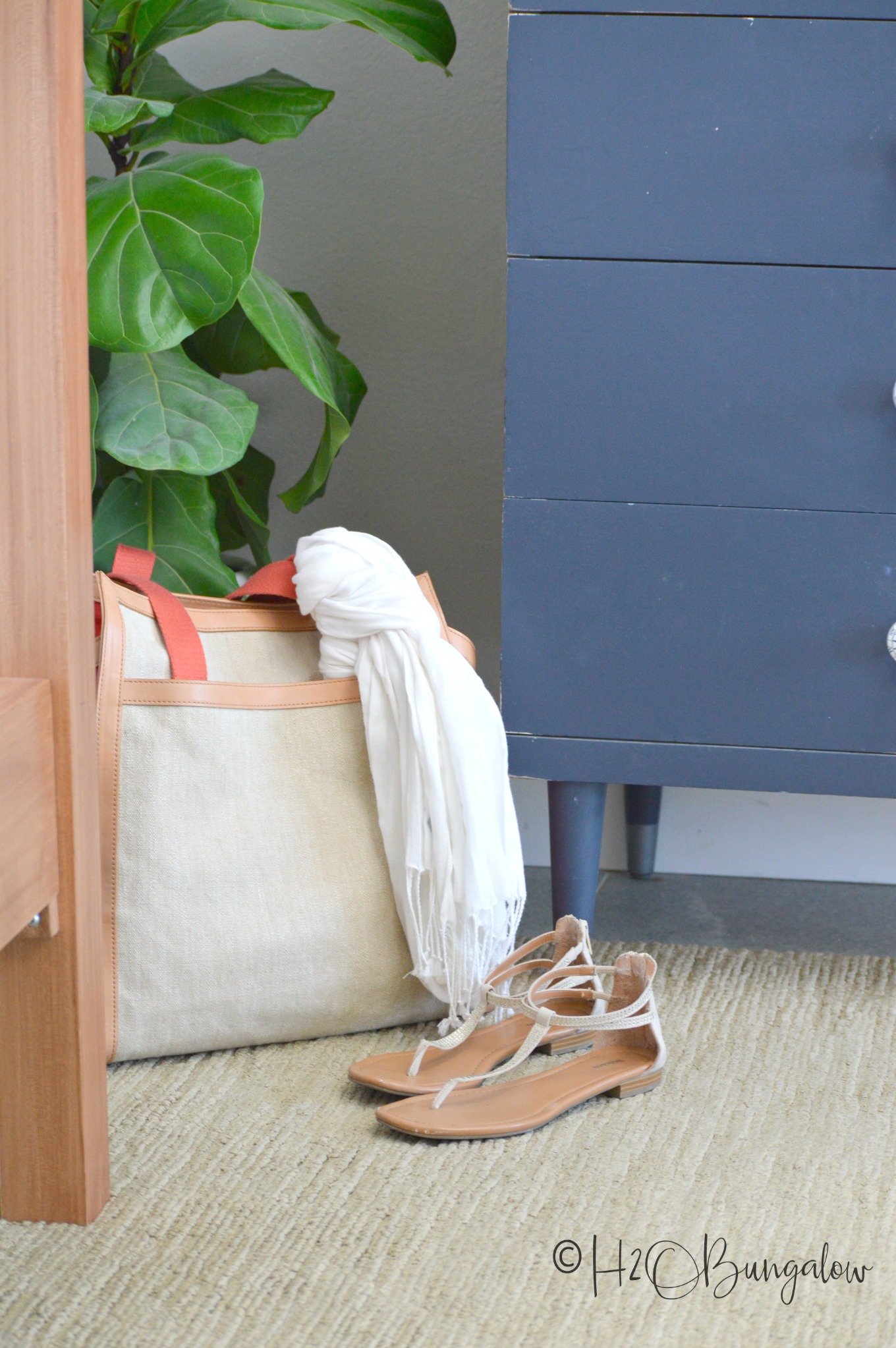 My Tigressá Cherish area rug area rug did exactly what I was hoping it would. It anchored the area. It compliments my style and draws the eyes to the back of the room as I walk in. The color, texture and quality are everything I wanted.
All I had left to do at this point was accessorize the room.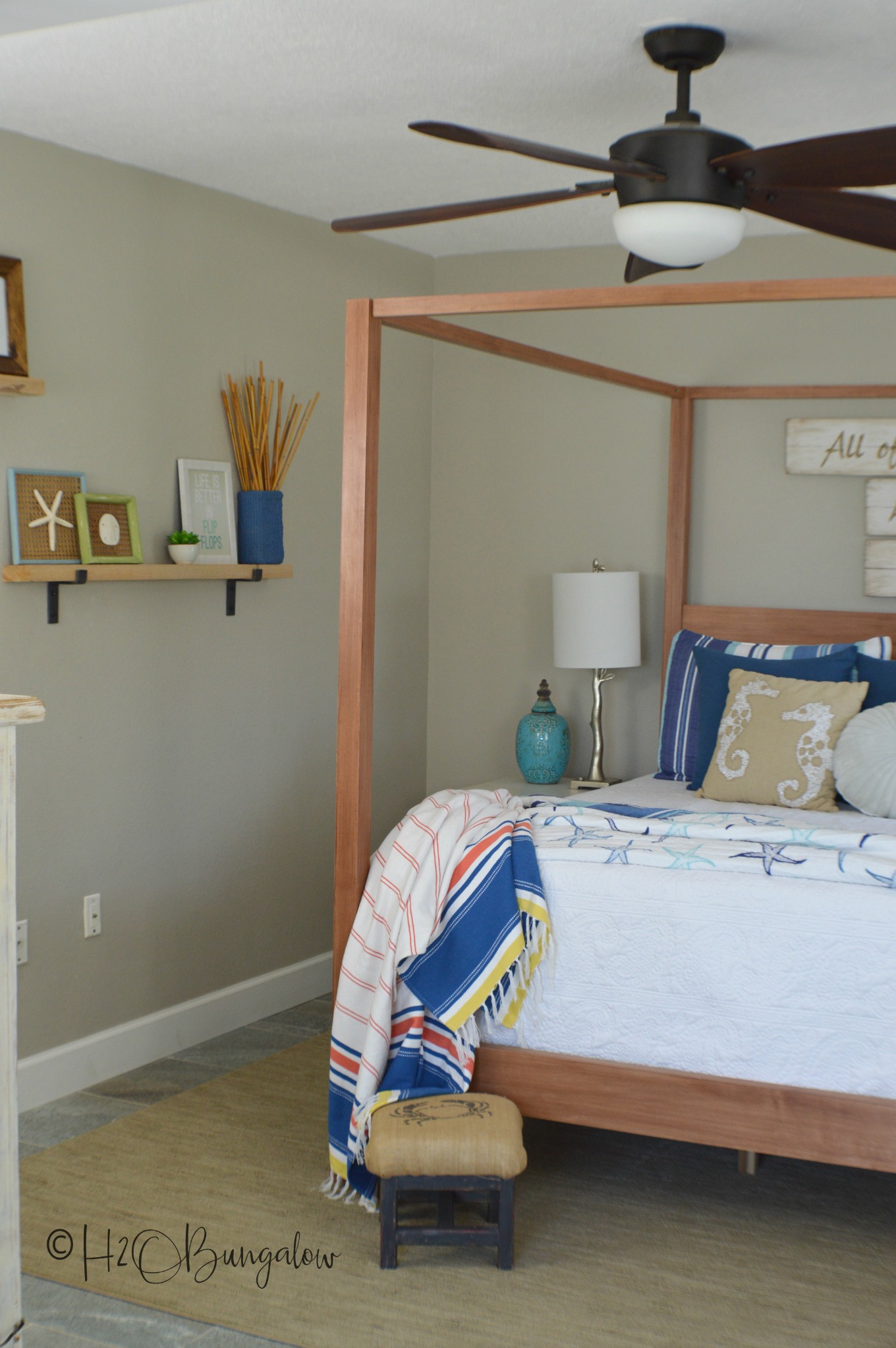 I'm loving wood and wood tones in my decor lately. The plans for my 4 poster bed are available on the blog if you want to make your own. I whipped up a set of these gorgeous picture frame ledges for the side wall.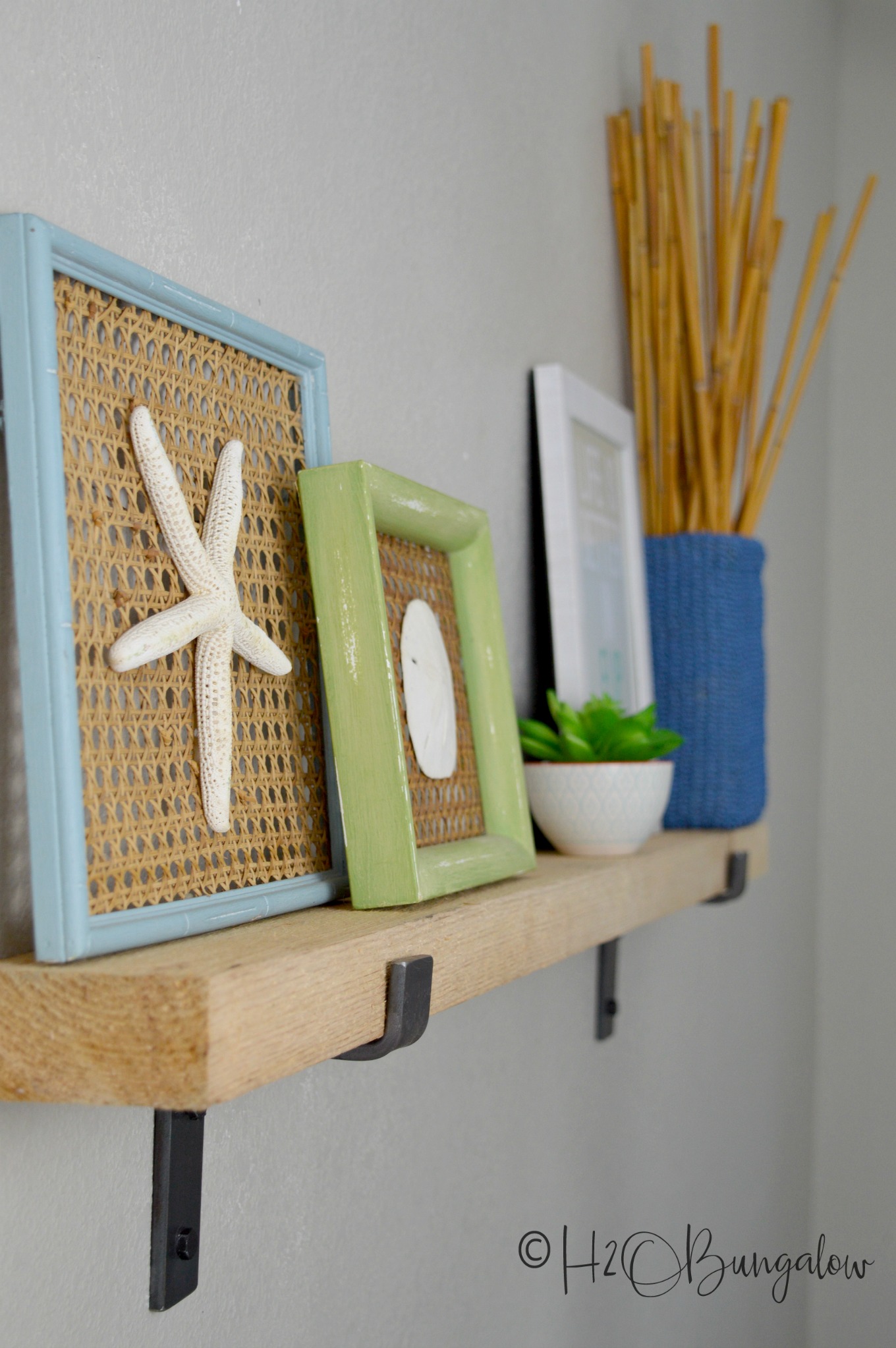 And filled them with complimentary colors and textures. They play off my textured rug beautifully!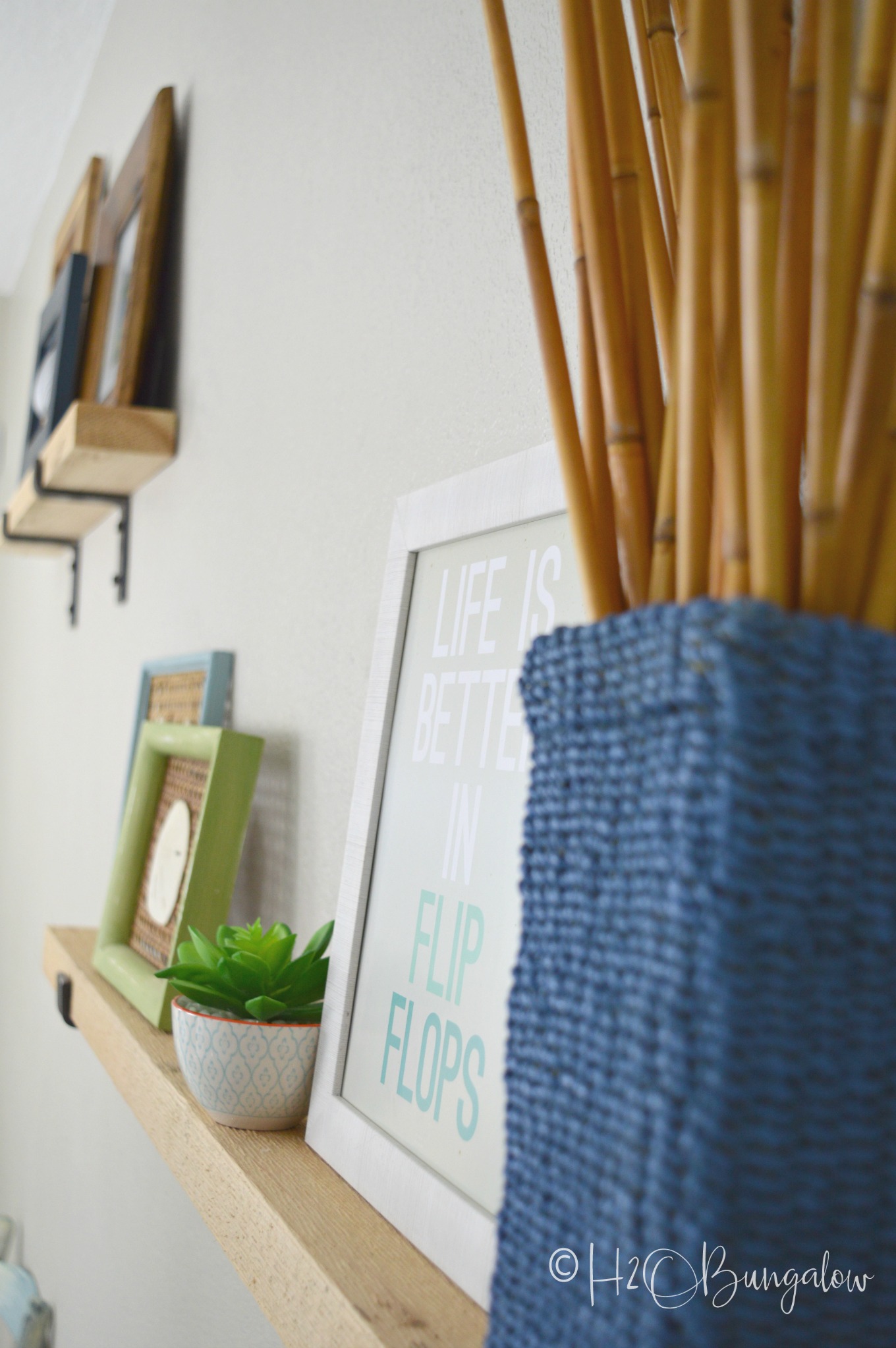 I changed accessories by shopping my house and moving a few things around. I made the All of Me Loves All of You romantic wall plaque a while ago. It used to hang on the left wall where my picture ledges are. I like them better hanging by the headboard. Don't you?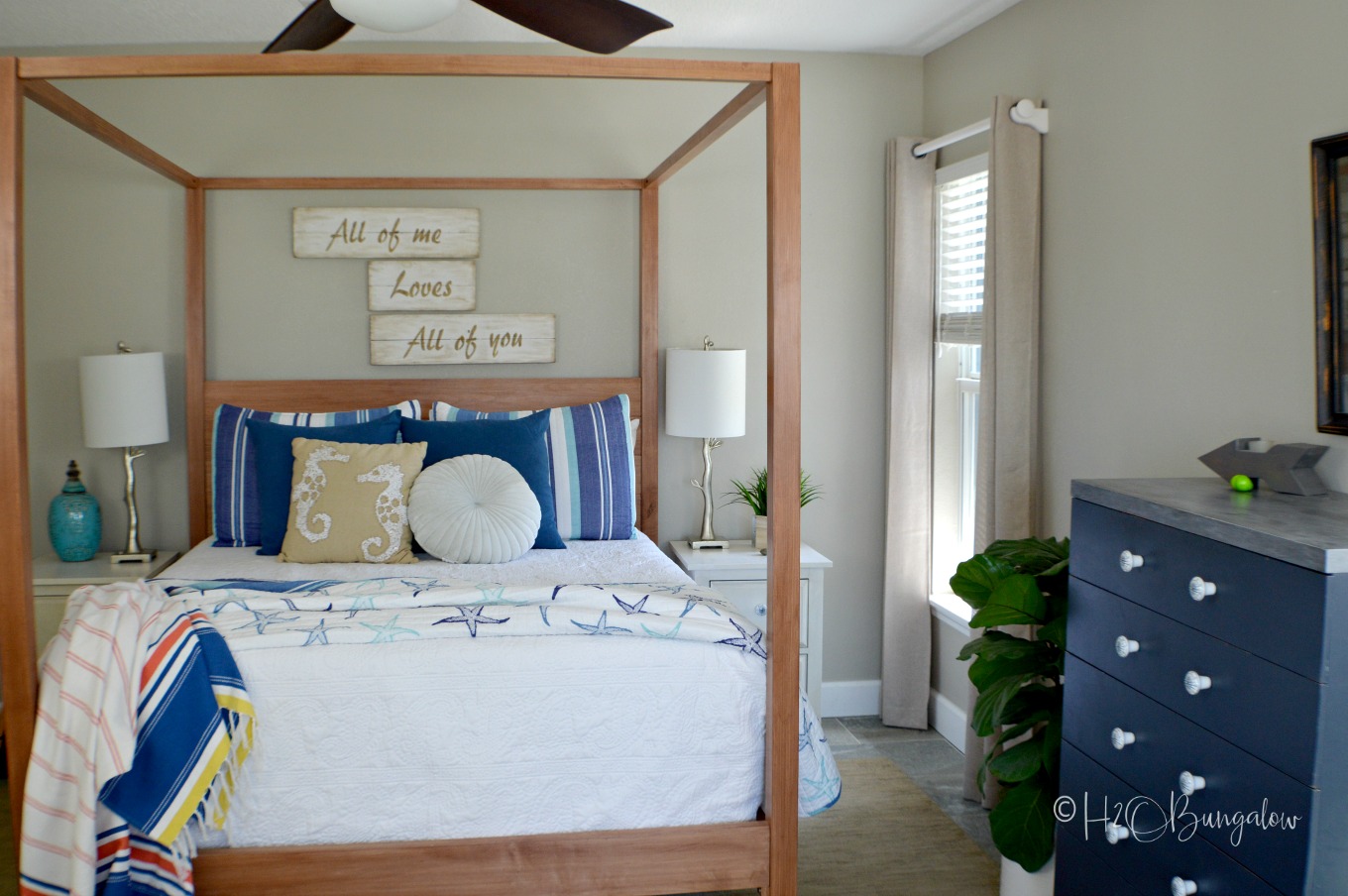 I painted this faux painted zinc top dresser for Mr Bungalow eons ago. The antique mirror is a pre-blog DIY.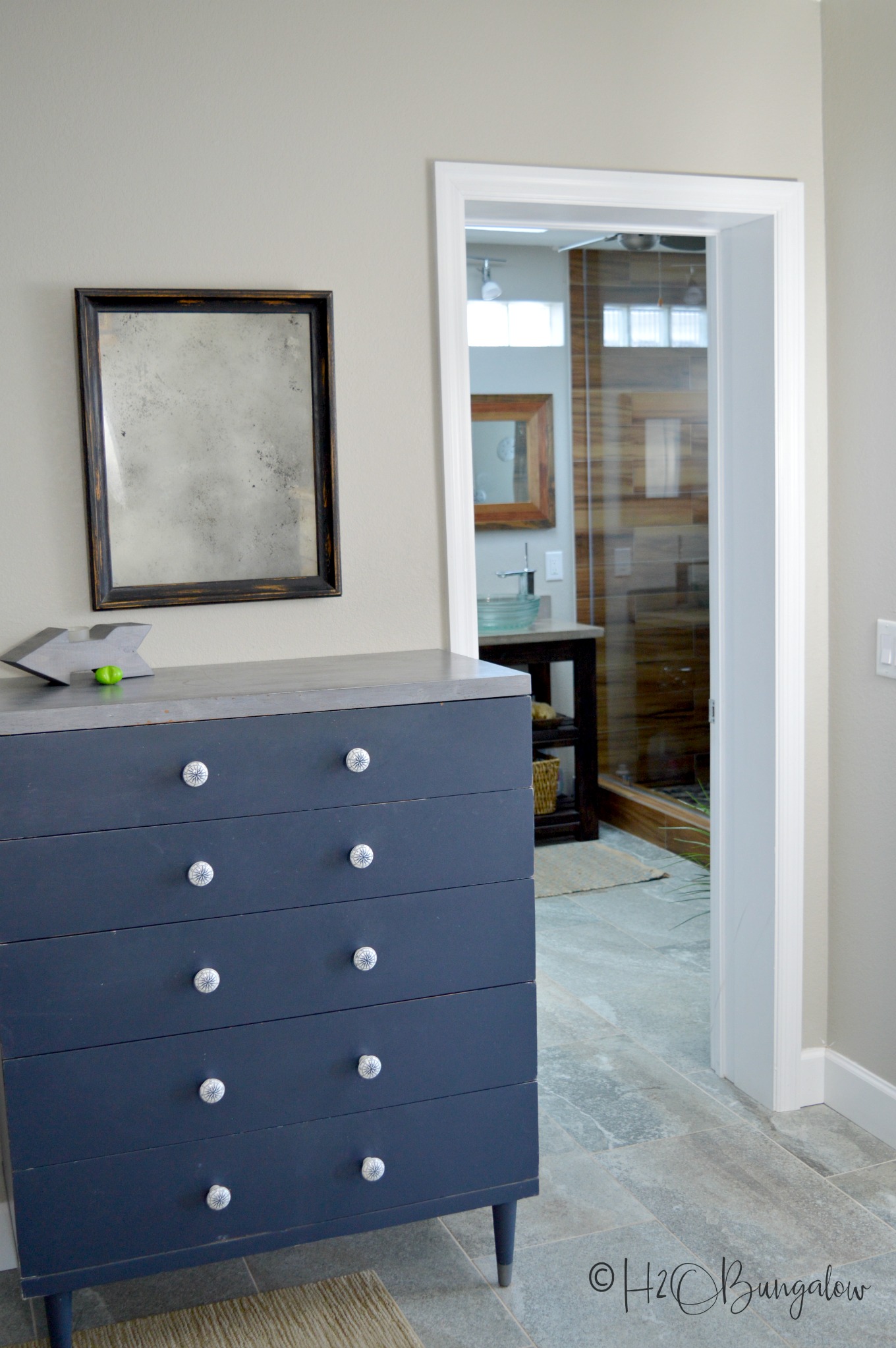 I'm beginning to feel the itch to repaint my dresser. For now it will stay as is, with a white and gold distressed damask finish.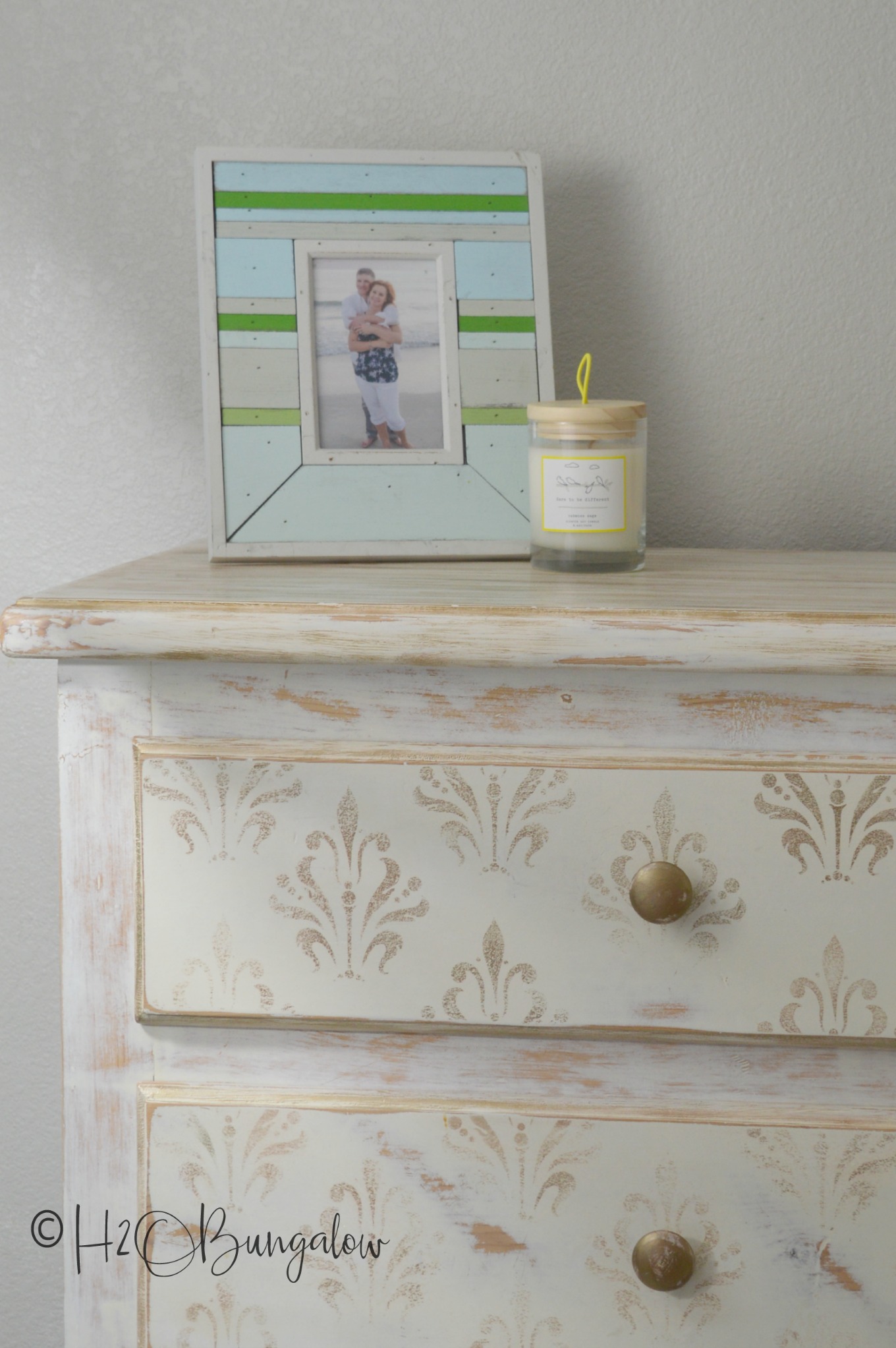 I'm thrilled with how well my coastal master bedroom turned out. looking at the room as a whole, I think the one item that tied it all together and gave it warmth is my textured area rug. Can you imagine how this would have looked with just the two small side jute rugs I used to have? Not nearly as inviting.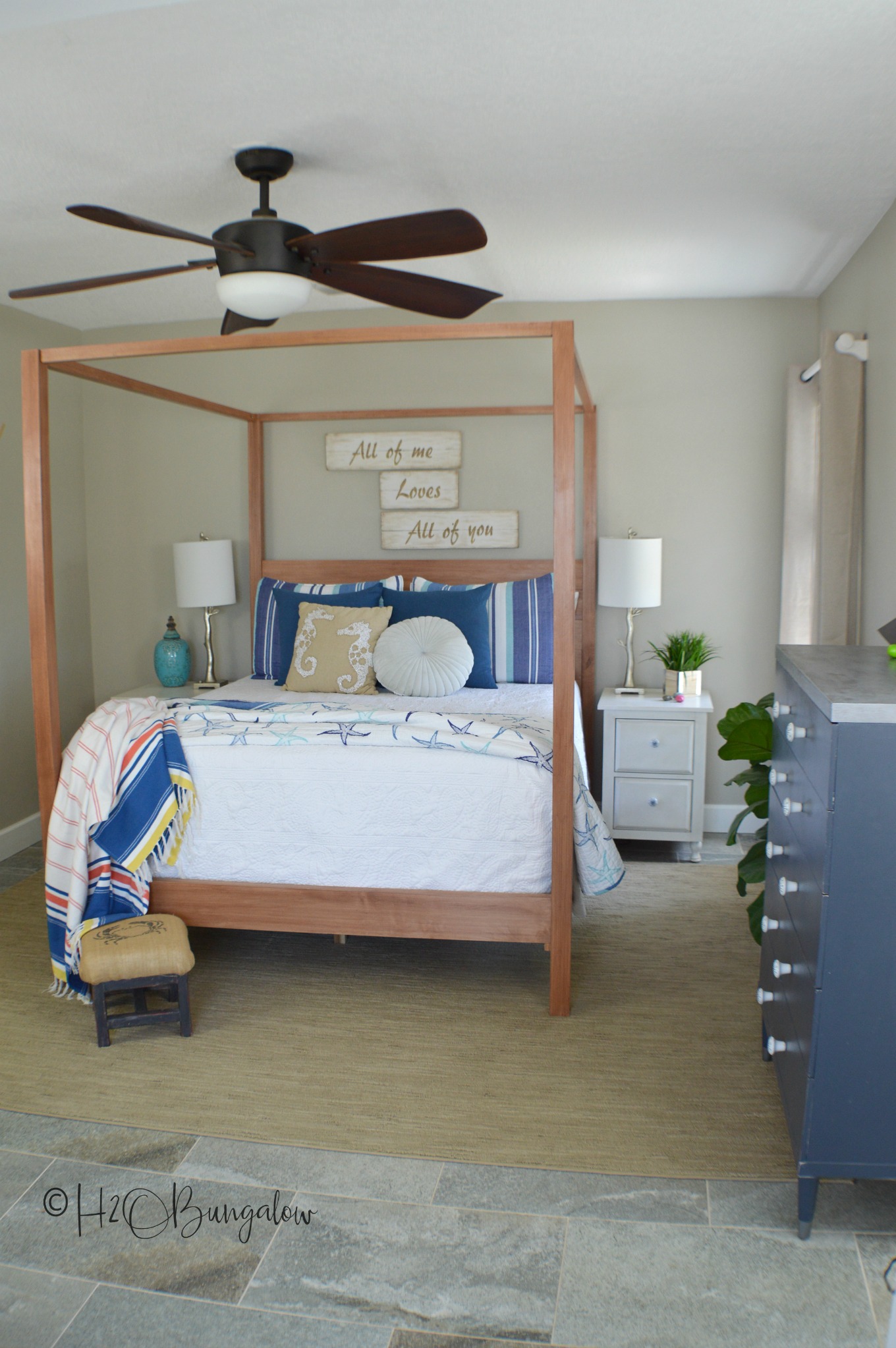 Now That I see how easy it is to have an area rug made to order, or even hallway runners with high quality in style carpet, I don't think I'd do anything else again. In fact, you'll be seeing a pretty awesome project in the North House Lodge this fall with another home decor project I'm tackling. Oh and did I mention this carpet is permanently stain resistant? It's not dyed, the color is in the fibers. It's pet friendly too by preventing accidents from absorbing into the fibers.
The cool thing about Carpet One Floor & Home® is that they are locally owned with the buying power of a huge international organization. They are everywhere, here in St Pete Florida and yes, even in Springfeild VT, just a few miles away from our place in Ludlow. You can find a Carpet One Floor and Home location near you here.
Did you see home decor ideas you liked in this reveal? Don't forget to pin my modern coastal bedroom makeover for later and share it with your friends on Facebook.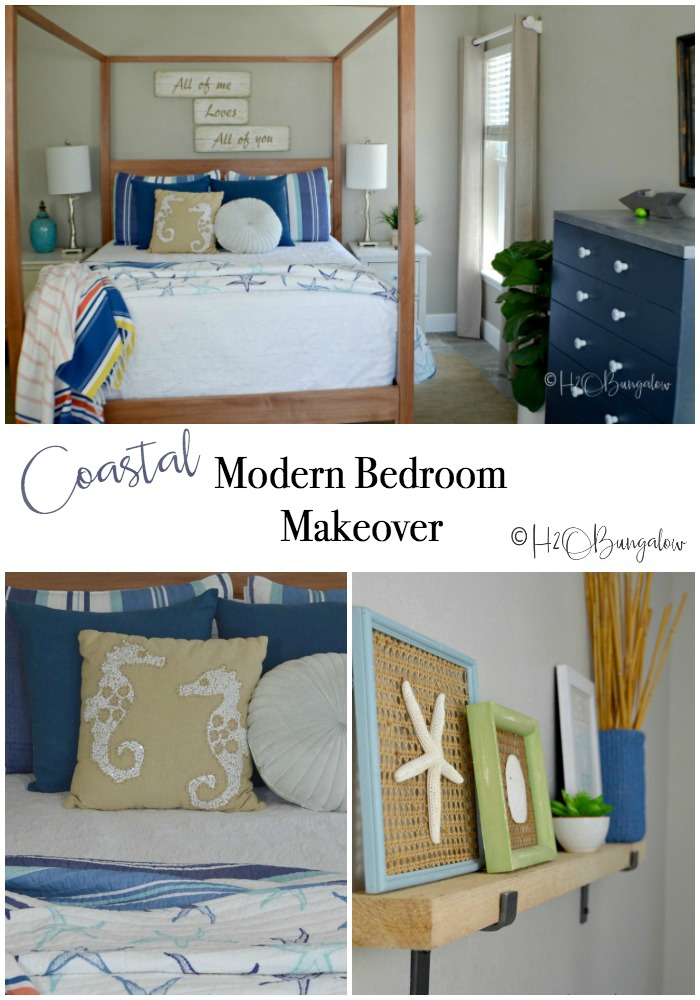 Sending out a big thank you to Carpet One Floor & Home® for sponsoring this post. Of course, all creativeness and opinions are my own. You guys know I only share products I use myself and believe in.
Now for the big question, do you love my new look? Do you think I pulled off a modern coastal bedroom makeover as well as I think I did?