Today's post, How To Drill Drain Holes in Ceramic Planters is all about solving a dilemma I recently had. A few months ago I brought home a gorgeous Fiddle Leaf Fern. I had my heart set on a pretty white ceramic planter which I thought would be easy to find. Easy as in no big deal, a dime-a-dozen white planter. I was wrong.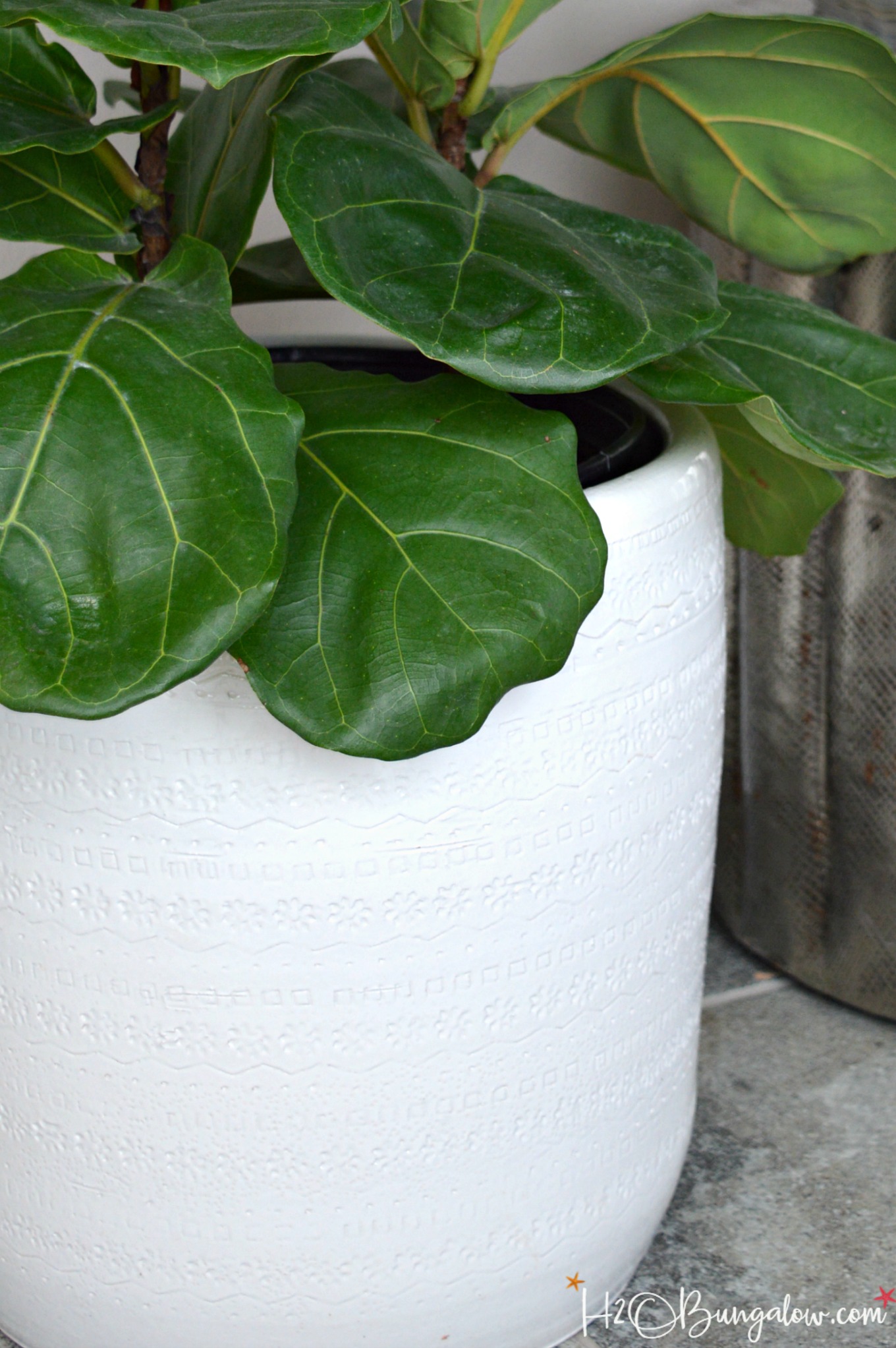 I searched all over town. I found a few gorgeous white ceramic ones that were reasonably priced and the size I wanted but they didn't have drain holes 🙁 Then I found more at our local big box store that had drain holes but they were about twice the cost. Yikes!
Then I remembered in January testing out a drill bit that cut through tile at the International Builders Show. Hmm…. could it be that simple I wondered.
How To Drill Drain Holes In Ceramic Planters
I use affiliate links to help you find the products I used. If you make a purchase I get a small commission at no cost to you. Thank you for supporting the overhead costs of H2OBungalow.
Supplies needed to drill drain holes in ceramic planters.
Step one: Place the ceramic planter on a piece of wood wider than the bottom of the planter.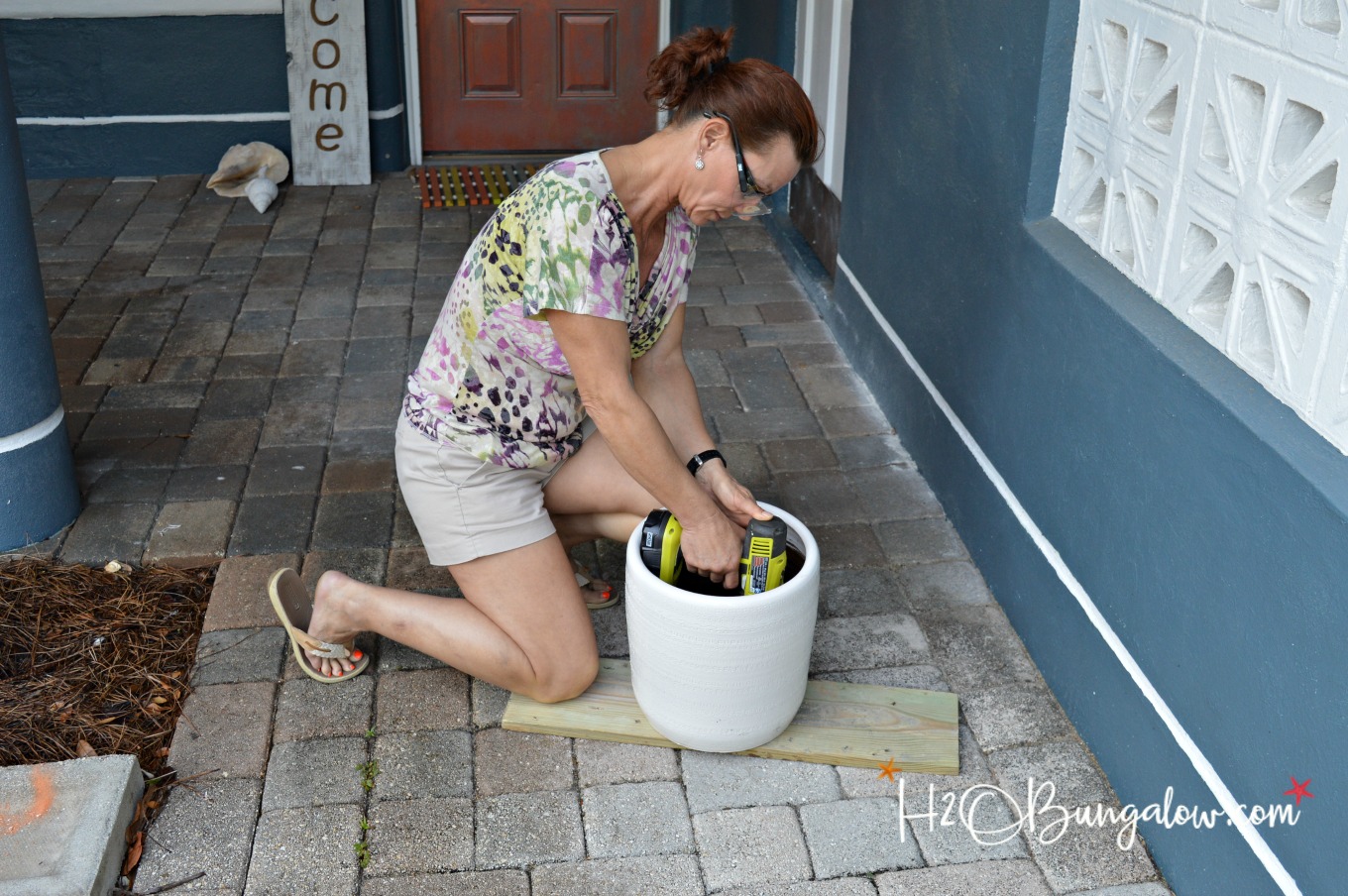 Step two: Set the drill torque to low, about 4. Position drill and use a speed of about 1/3 of the full throttle, in other words, slow speed and begin to drill. Use enough of a firm pressure to start drilling. It won't take long to drill a hole, just don't push down too hard, and be patient. If you're drilling glazed ceramic place a piece of painters tape to help the drill bit from moving.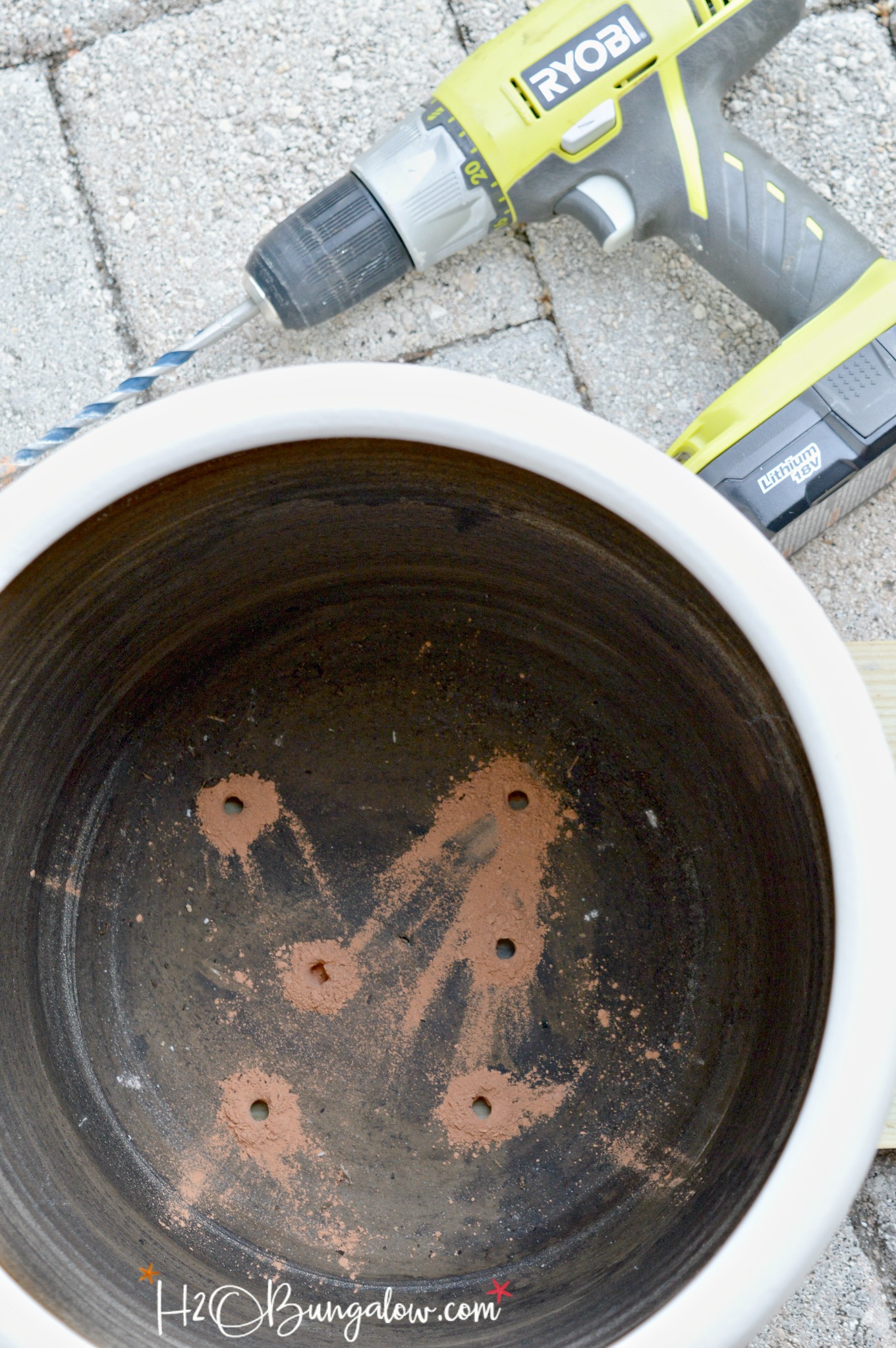 Only drill drain holes on the flat bottom section of a ceramic planter. Rinse away any dust when you're done before planting.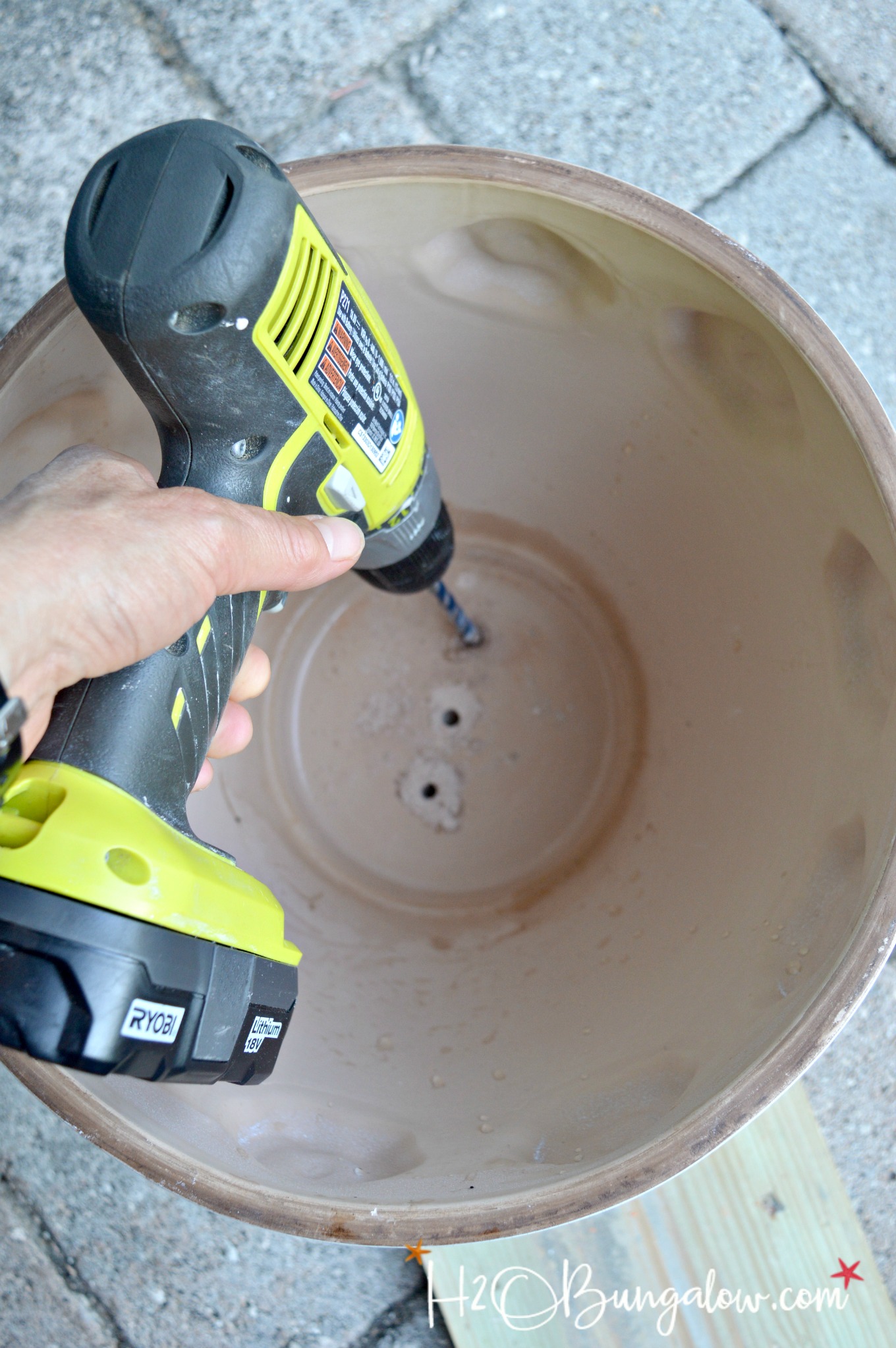 Of course now that I've drilled drain holes in my ceramic planter it's back inside and repotting my Fiddle Leaf Fig is still on the "to do" list 😉 At least when I'm ready to tackle repotting, it will be a quick project.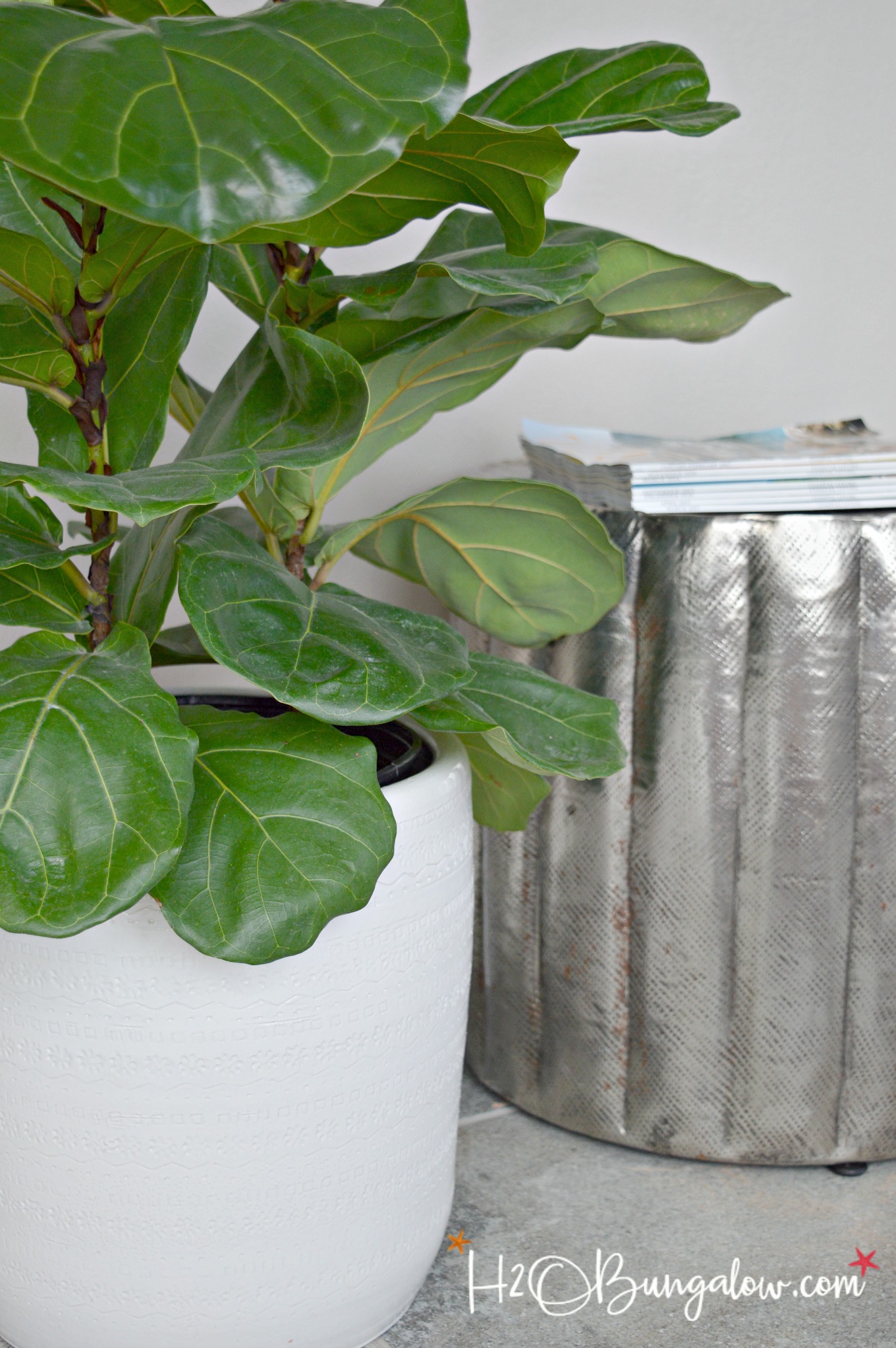 Can you see all the new growth on top? It's been growing like crazy since I brought it home. If you've never heard of Superthrive before, I swear by it and use it to water all my plants. I'm thinking that any one of these 13 tough, low light indoor plants would great in ceramic planters.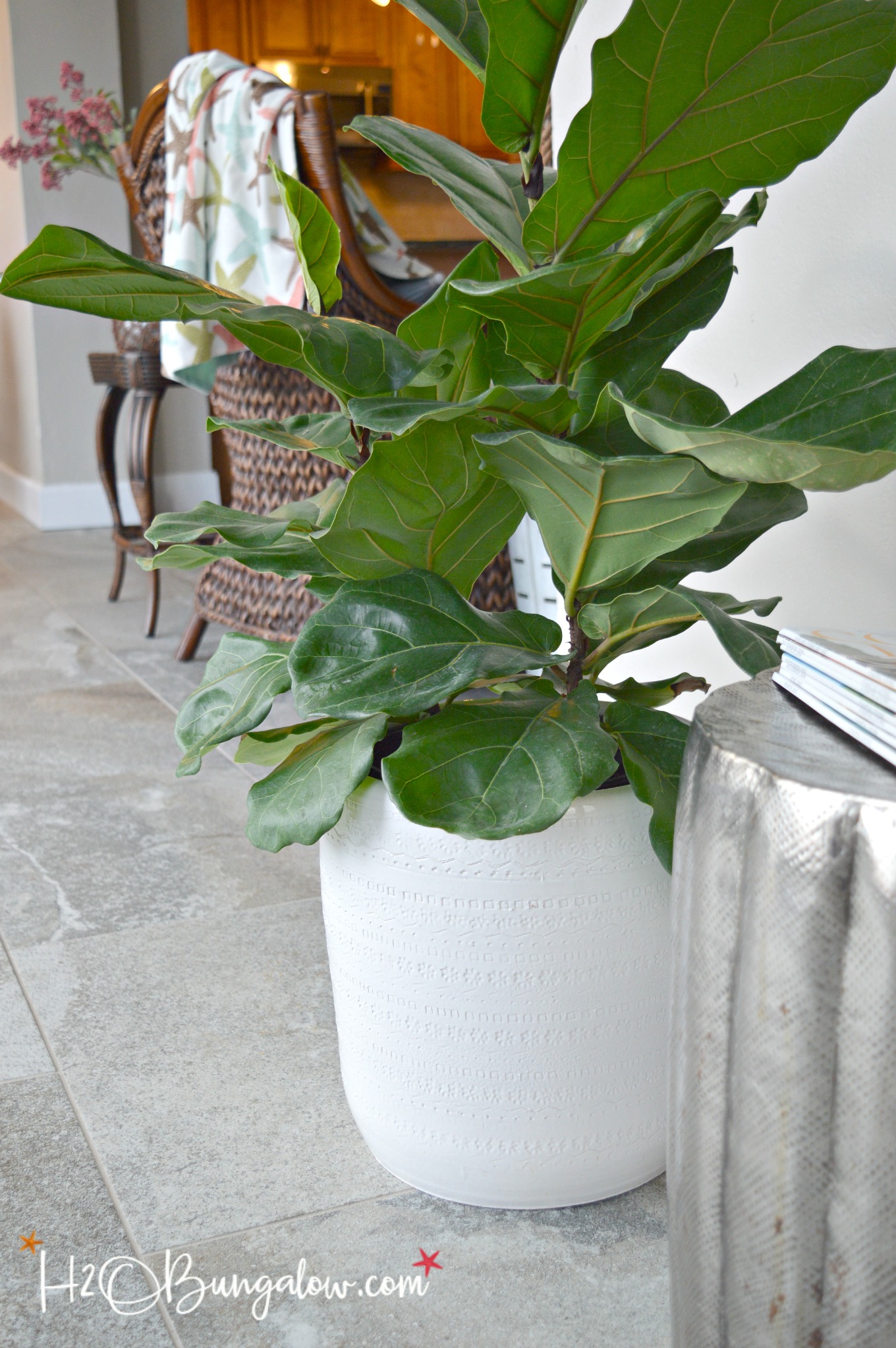 Think of all the cool items you could find and tun into planters now! Thrift stores and garage sales have ceramic jugs and vessels all the time. Use a smaller drill bit and turn a tea cup and saucer into a pretty planter. Your imagination is the only limit on what you can turn into a planter.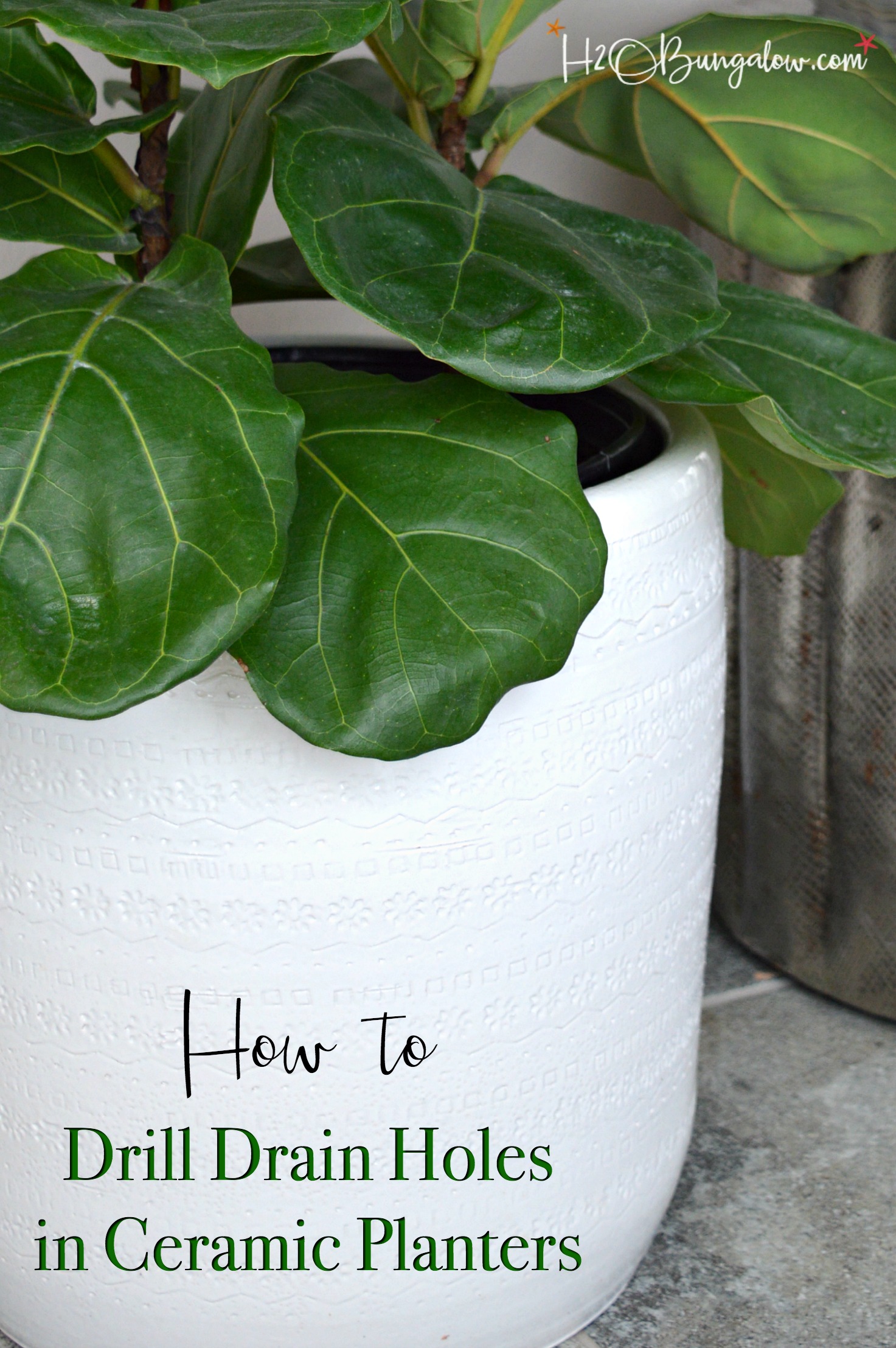 I like pretty things. I also like practical skills. It's even better when my practical skills allow me to buy more pretty things with a lot less mulah! Now that I've shared how easy it is to drill drain holes in ceramic planters are you ready to try a few around your place?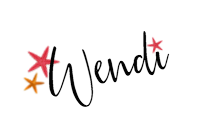 You may enjoy these other planter and gardening posts on H2OBungalow