Today's project for the 30 Days To Fabulous Backyard Makeover is an extra strong DIY planter umbrella stand tutorial.
Why extra strong?
 Imagine sitting and relaxing in the cool shade of an large patio umbrella. Enjoying the day, your friends have stopped by, conversation is good. Maybe you even have a nice glass of wine in your hand. All of the sudden, out of no where, whoosh, a big gusty wind blows in and next thing you know your huge and heavy umbrella has toppled over, barely missing your guests. Someone jumps up to run after it, dodging around so the pole doesn't slam into them or knock them into the bay as the wind rolls your over-sized umbrella all over the place.
Sounds funny, right? It is as long as no one gets hurt;)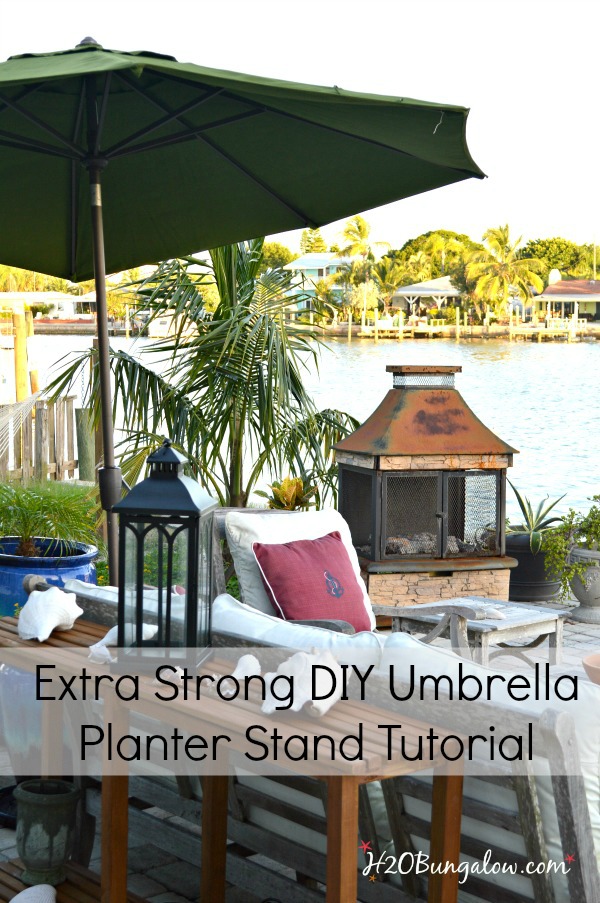 This project has been on my radar for a loooong time. I know I say that a lot. That's how it goes when you live in a project house;)
Here's why.
This has been our resourceful solution to the flyaway umbrella for the last few years. My DIY planter umbrella stand project fixes that.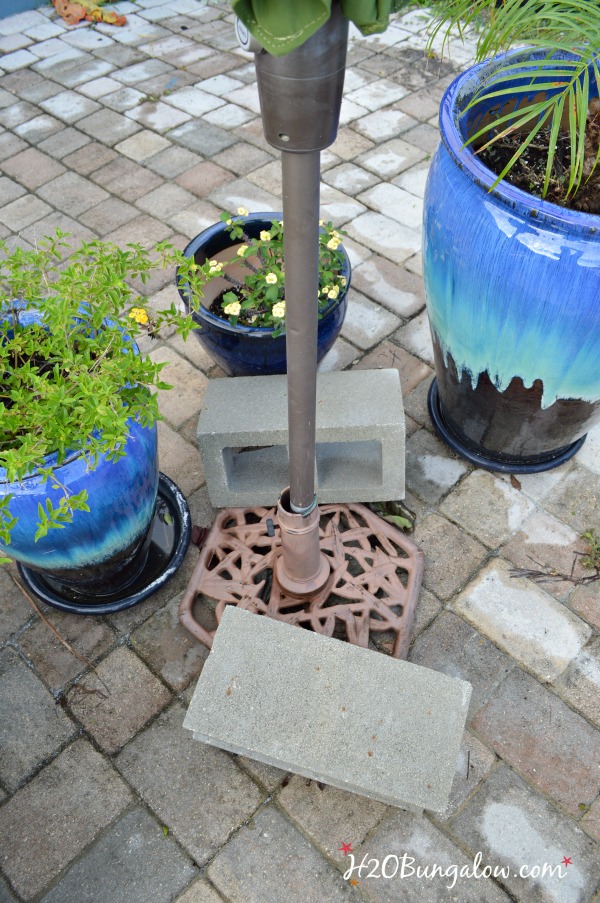 How to make an extra strong DIY planter umbrella stand
Supplies to make an outdoor umbrella holder
1 – large planter big enough to fit a 5 gallon bucket inside
1 – 5 gallon bucket
1 – 2 foot section of 1 1/2″ pvc pipe
1 – 50 lb bag of Quickcrete
large planter
extra container for pouring water
water
Home Depot sells two foot sections of precut pvc which was perfect for this project. I traced the diameter of my umbrella pole onto a piece of paper and brought it with me to pick out the right size of pvc. You'll want a good fit, not so snug that it's hard to put in and not so loose that the umbrella flops around.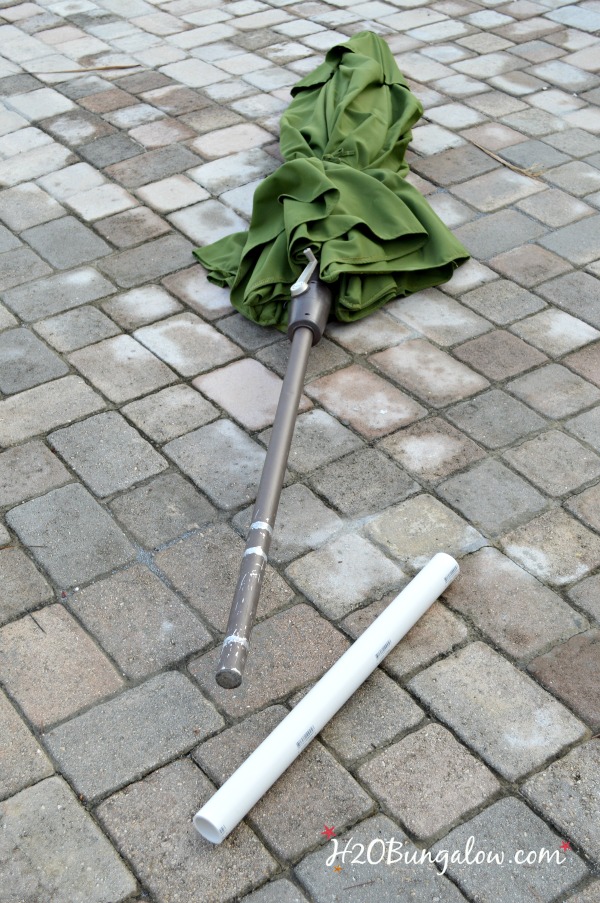 My first version was easy. I popped the pvc pipe in a planter with some shells at the bottom.
By the next morning, it had fallen over and dirt was everywhere.
What was I thinking? Duh!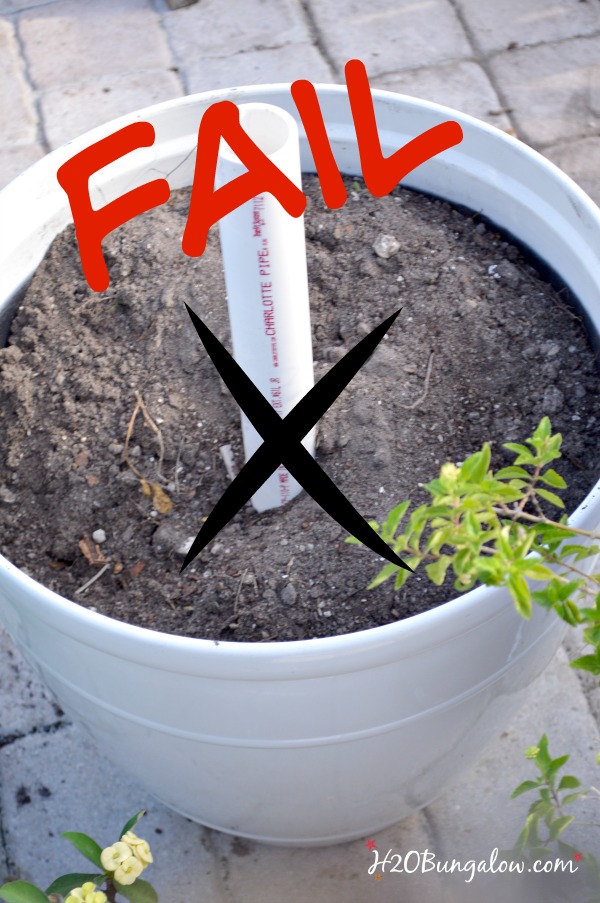 So back to the drawing board I went.
This time with better planning:)
This version of my DIY umbrella stand planter is perfect and super strong. Start by taping the bottom of the pvc pipe with Duck Tape.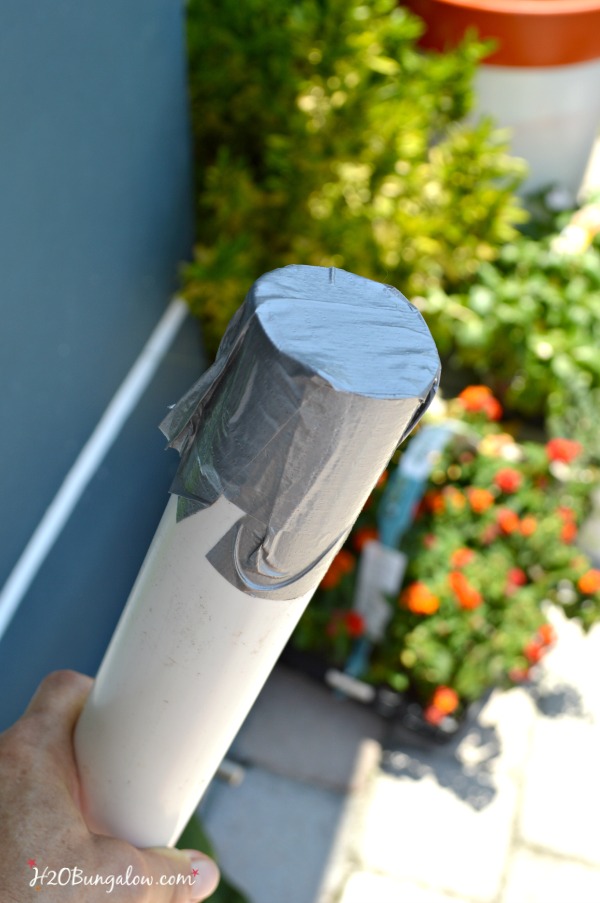 Hold it in the center of the 5 gallon bucket and pour in the Quickcrete. Dust billows up when you pour, so wear your eye protection and breathing mask for this step. One bag will use one gallon of water, it mixes right in the bucket.
It sets in a few minutes. Let it cure overnight.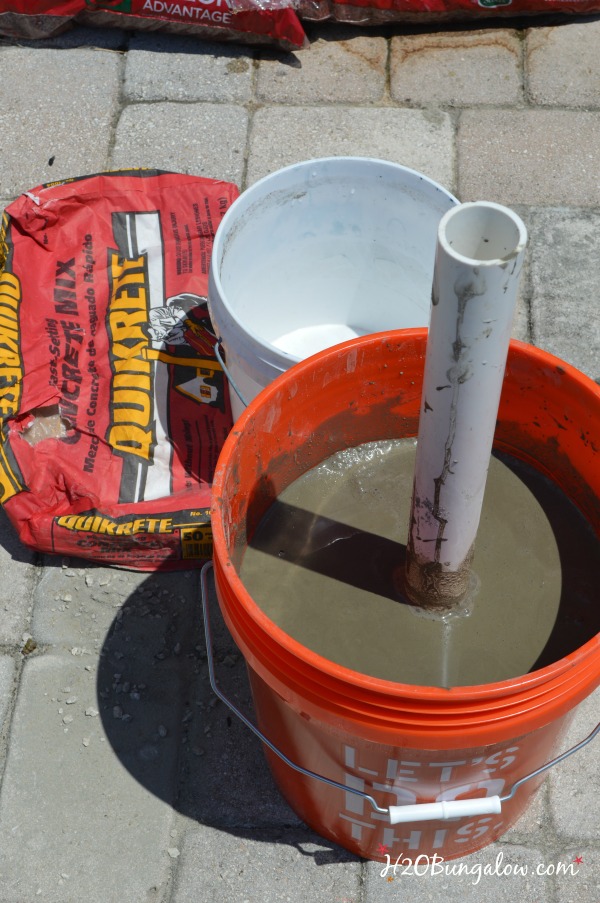 Place the concrete bucket inside the big planter. Add something as filler and to help drain excess water. I used a few buckets of crushed shells. The umbrella stand was heavy at this point. I put it together in the spot I was planning to use it.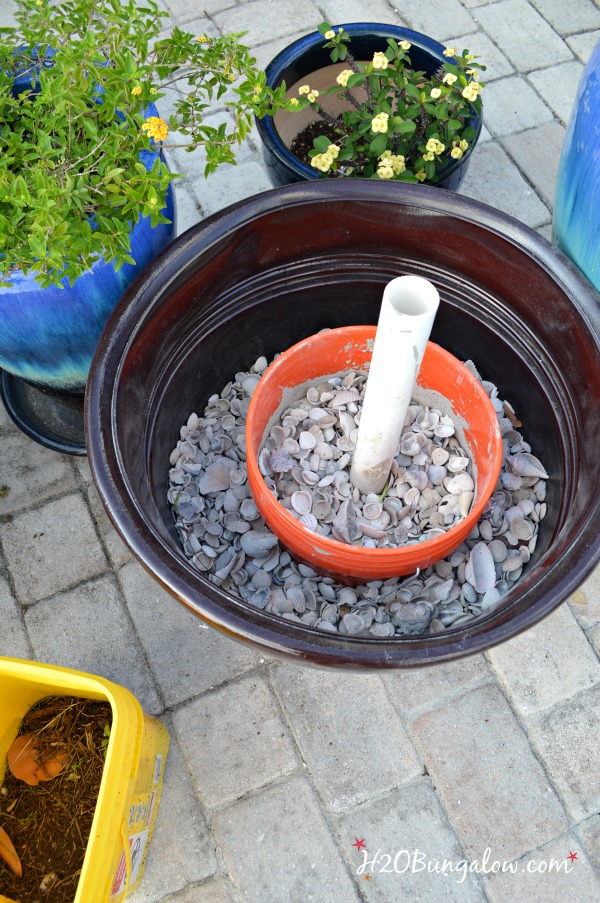 Fill with dirt and plants.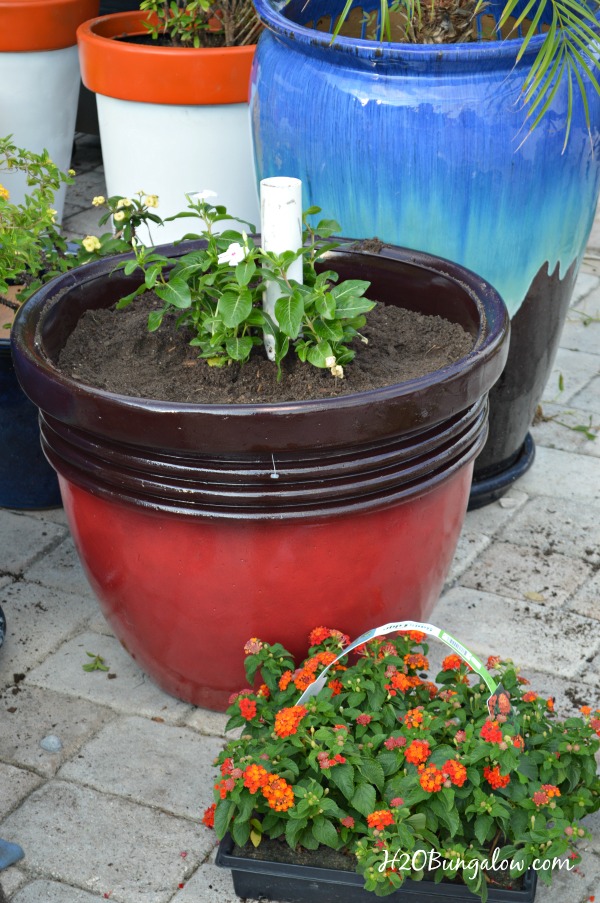 Once the plants grow a bit, the pvc pipe won't show at all.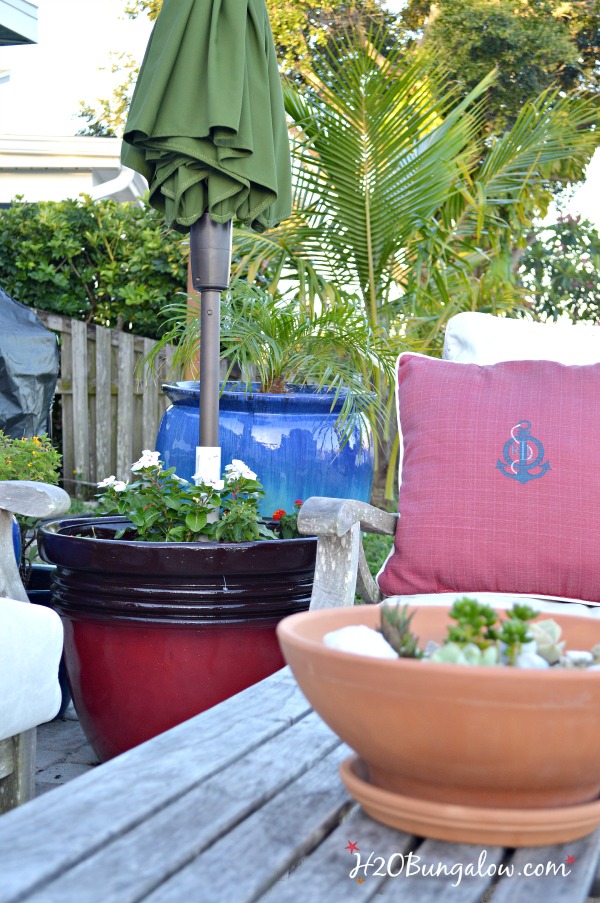 I love the orange and whites.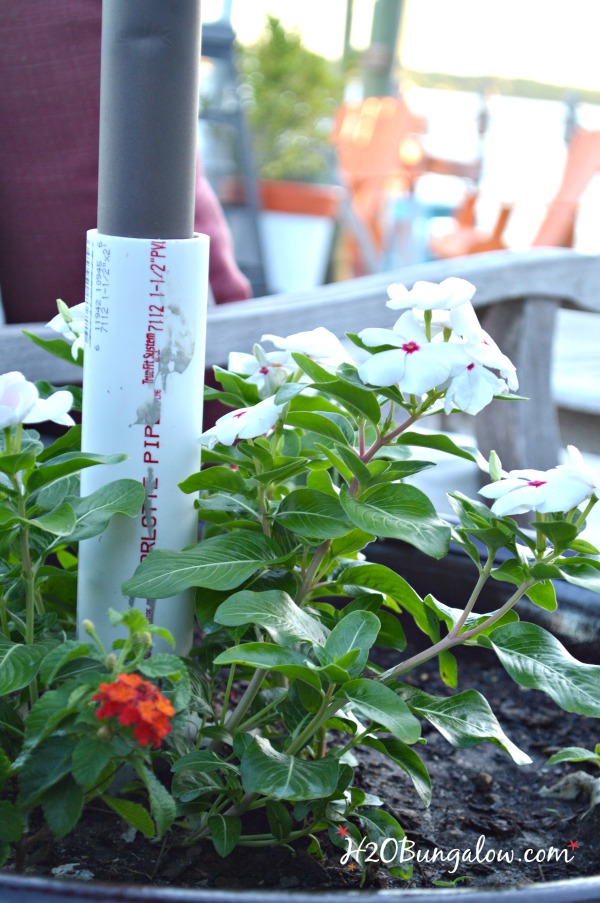 This version of my DIY planter umbrella stand is sturdy. We can get gusts of wind up to 45mph with a summer storm here. We needed an extra sturdy and strong umbrella stand.
~ I had to add this note~ A reader wrote in and shared her own DIY Planter Umbrella Stand she made after reading my post. She and her husband put a pvc end cap on the end of the pipe to keep out the rain. Smart! Thanks so much for the tip Kathy C!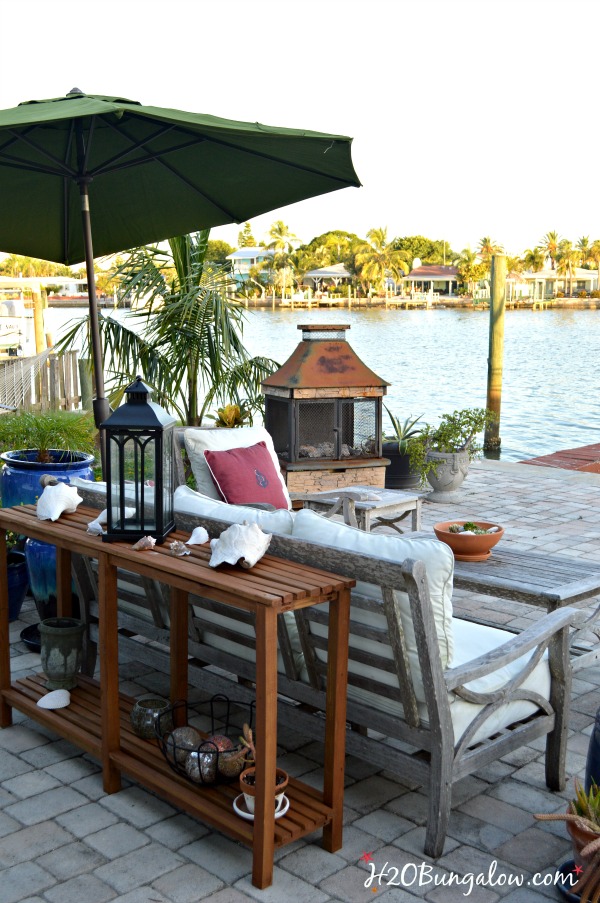 Now we can truly relax when sitting outside in the shade or when friends stop by.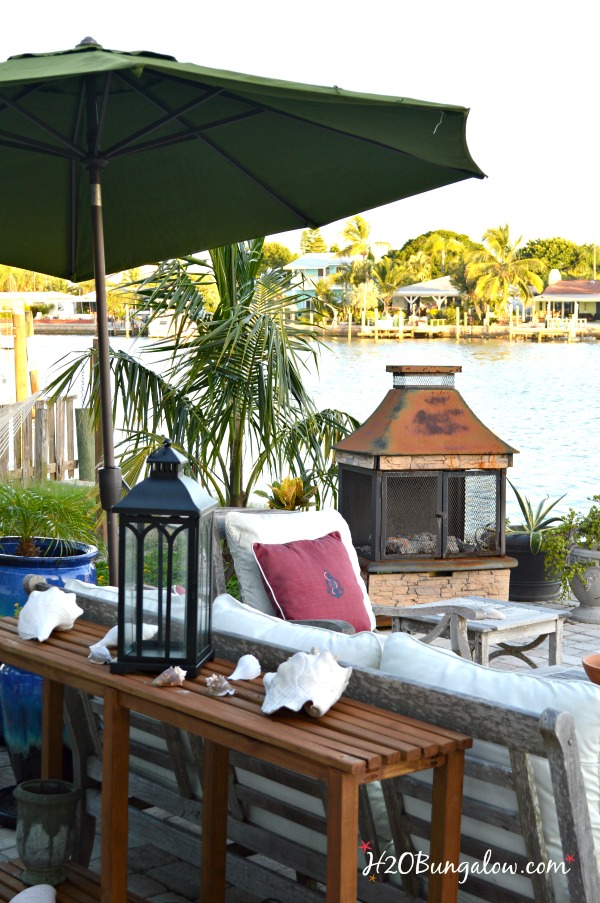 One more project done and several more to go! The backyard is finally beginning to shape up!
I've noticed that when I look out the window, I'm starting to think about how much I like the way it's looking instead of running through the humongous list of things I want to do!
Oh, I still have a list
…it's just finally starting to get smaller 😉
I can check my DIY planter umbrella stand off the list!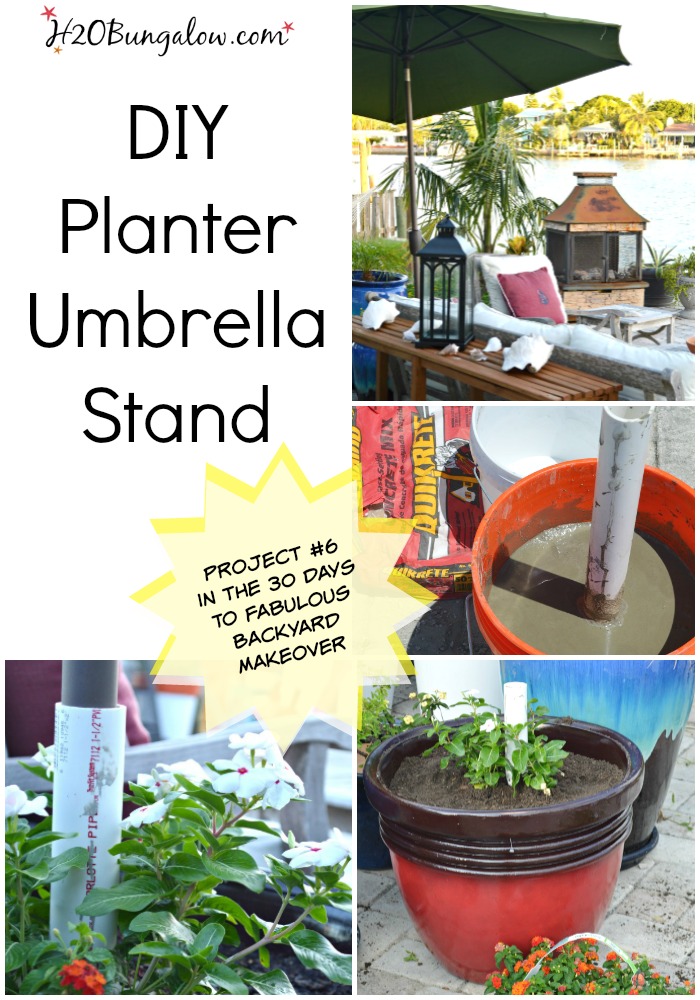 This DIY planter umbrella stand project took less than an hour. You can make it as big or small as needed. Our umbrella is huge, so we needed a huge planter. You can adjust the planter and bucket down for a smaller umbrella on a patio.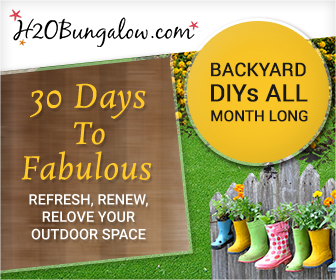 This is project #6, see my other 30 days To Fabulous Backyard Makeover Projects below!
See my other 30 Days To Fabulous Backyard Makeover Projects below!
You'll find my project linked up to these fabulous parties!
Love a good dose of DIY home decor, home improvement, the challenge of woodworking and creative ways to make your home look fabulous?
Me too!
I'd love to share mine with you. Click here to sign up for my post emails and I'll send a quick note when I have a new project to share.
Disclosure: I may have been compensated, given product or tools that I used in this DIY post. All opinions that I share are always 100% my own. I use affiliate links in my posts. If you should make a purchase I will receive an itty bitty commission at no cost to you. Thank you in advance for supporting my blog and two fur-ball cats who believe they are privileged.