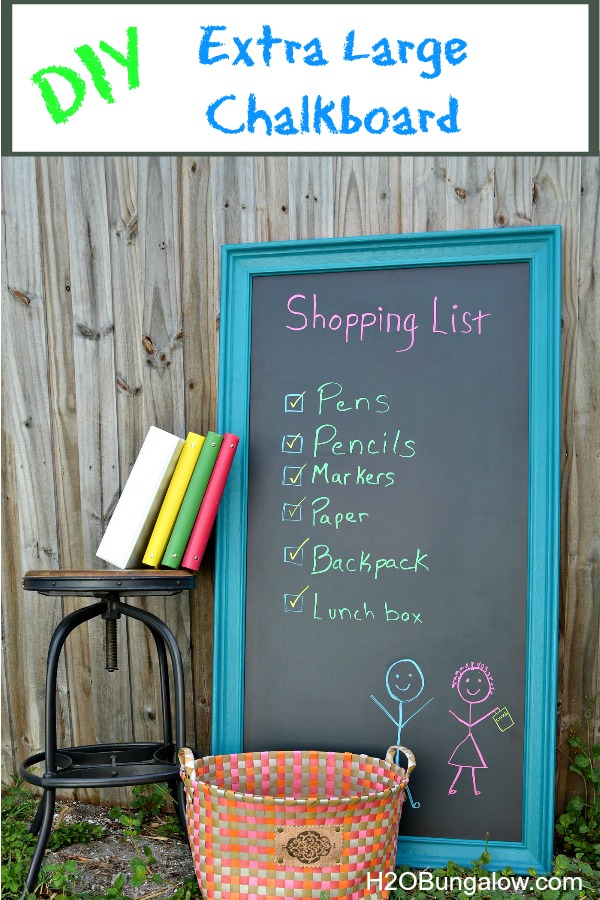 Today, we're talking about how to make a large chalkboard. I've always thought the really big chalkboards were just plain cool. I wanted one but the DIY'er in me is way too thrifty to pay retail. Well…the thrift store stars aligned just right and all the parts came together easily for this easy to make giant chalkboard project.
It's a whopping 4 feet tall!
I stopped by one of my go to thrift stores last week and caught a crazy good sale of 50% off pictures. I happily walked away with my new stash of "good ideas" as my husband calls them. As soon as I saw this big u-g-l-y 2′ x 4′ picture, I knew what I was going to create.
Silly as it sounds I was just about hopping from one foot to another with excitement at the checkout counter. I rolled up my sleeves and got busy as soon as I came in the front door.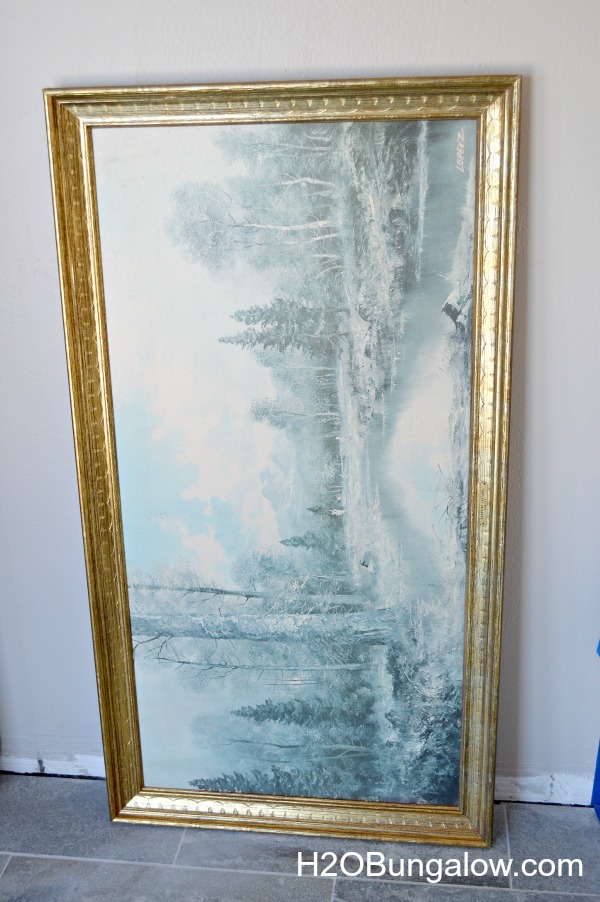 Here's my simple instructions on how to make a large chalkboard that looks better than the store bought ones and cost a whole lot less!
I started with a 2 foot by 4 foot old picture frame. Removed the paper backing and the clips holding the picture in the frame. Needle nosed pliers work great for this step and the clips come out easy. Take out the picture and set it aside or throw it away in my case 🙂
If you need a little help in getting all the paper off of the frame try some sand paper. Mine was stubborn and I used a little palm sander. Wipe the frame down with a deglosser or Simple Green to remove any old dirt and grime. Paint your frame and let dry.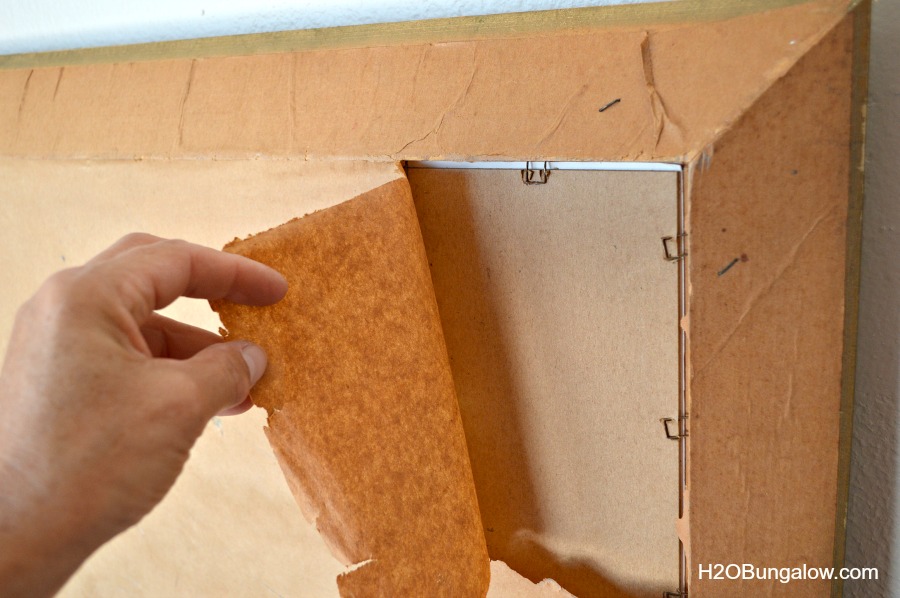 Guess what? You can buy sheets of chalkboard at Home Depot! Yes, they have precut sheets that are 2′ x 4′! Which was a perfect fit for my frame. Already made. No fancy paint and no cutting required for this project.
Just grab and go!
If your frame is a different size you'll have to cut it or have the nice folks at Home Depot cut it for you. Place your chalkboard in the back of the frame and secure it with these handy little glazing points below. They run about $2 for the pack. You'll find them in the window department at Home Depot or a hardware store.
I placed them at the corners and about every 4 inches all the way around the frame. They work just like the picture holders you see on professionally made frames. The instructions said to use a putty knife. I tried that, a butter knife and finally tried a flat head screw driver. The flat head screwdriver worked the best for sliding them into the wood. They slide in easily with very little pressure.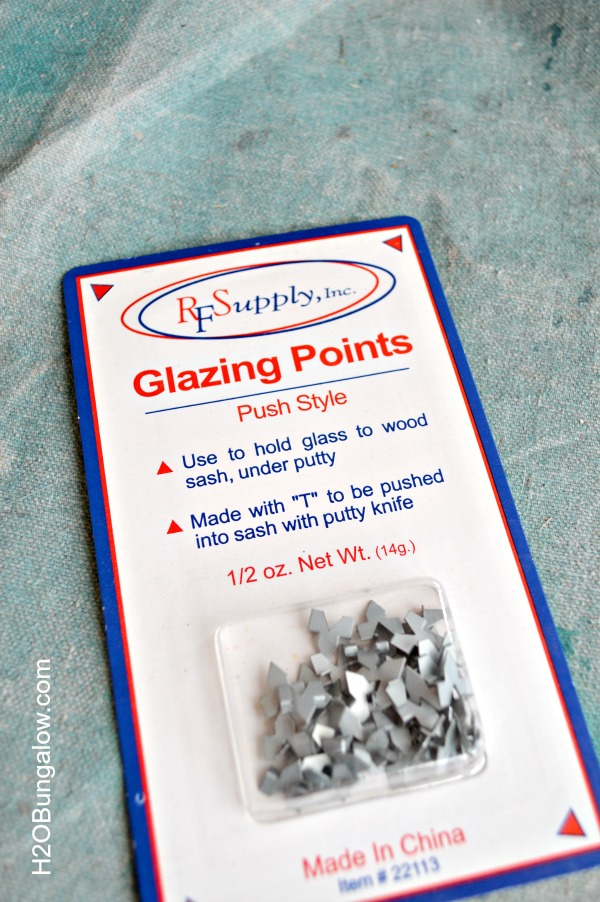 That's it. Project completed.
You now know how to make a large chalkboard.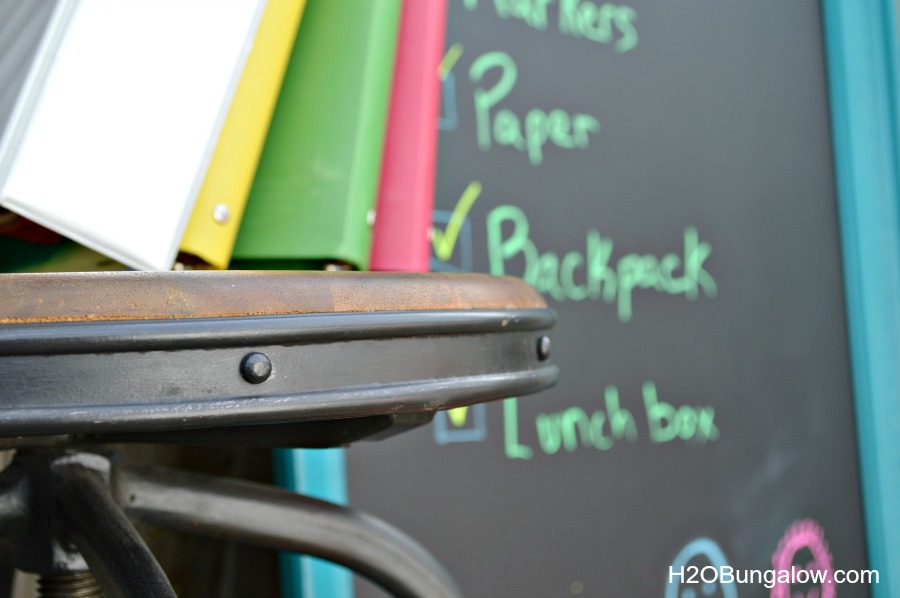 I can use it to leave notes for my family, a holiday themed message or even a dinner menu.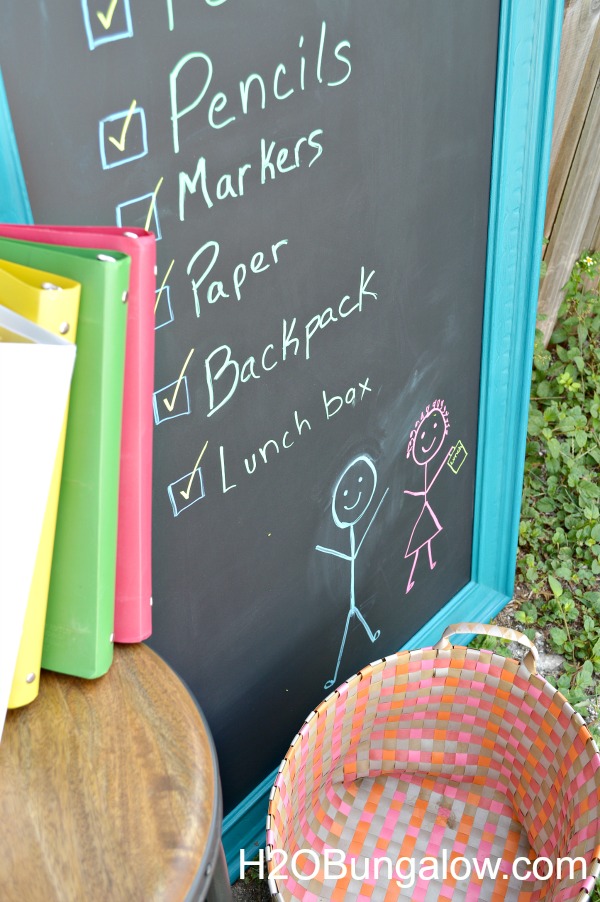 After several attempts at drawing something on my large chalk board, I settled for a back to school shopping list. As you can see, drawing is not one of my talents! I've also discovered chalk markers which make writing a lot easier. The board wipes away with water.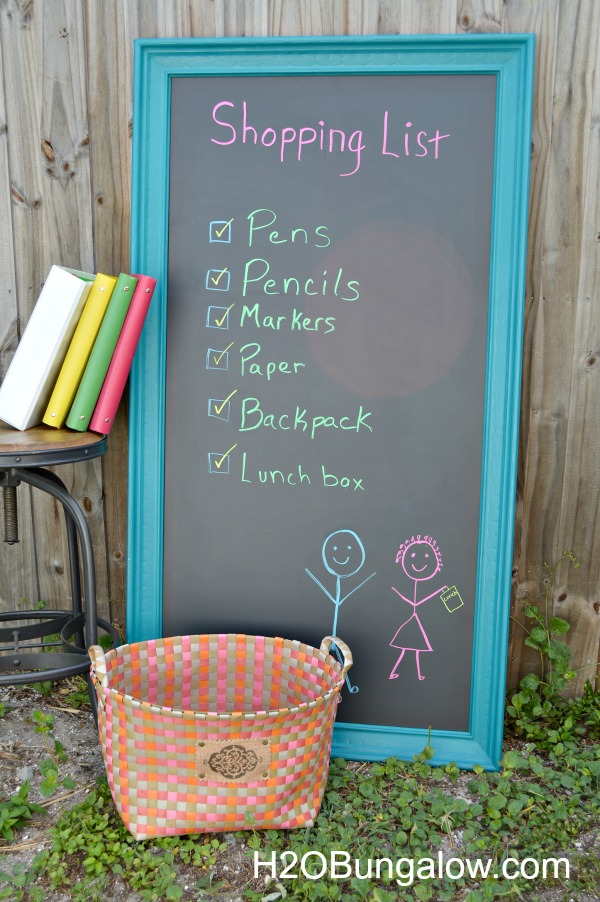 The paint color is Peacock by American Paint Co. Bold blues and I seem to be having a thing lately. If you haven't seen my gorgeous blue cafe table I posted last week take a peek HERE.
I've made a few more feeble attempts at drawing on my new big chalkboard. No change on the ability. But, I have lots of room to practice since the chalkboard is almost as tall as I am!
Now that I've shared how to make a large chalkboard are you ready to make one too?

Are you following me? Like, you know…my blog? What? Not following me yet?
Sign up for my posts via email HERE or Bloglovin HERE. Both are free!