Today, I'm sharing how to make faux garage door windows that look like real windows. You guessed it, I added DIY fake windows onto my garage door and you cannot tell that they aren't real! They are basically garage door window overlays, windows I made and attached to my plain garage door. Best of all, I made these faux garage door windows for about $60!
A new garage door with windows was not in our budget. Buying premade faux garage door windows are either crazy expensive or really fake looking. So, I figured out a cheap way to make faux garage door windows that look real.
I smile every time I walk by the front of our house now. Our garage doors look so much better with windows and the new carriage door hardware, except for a few door dings, I'd swear they were new.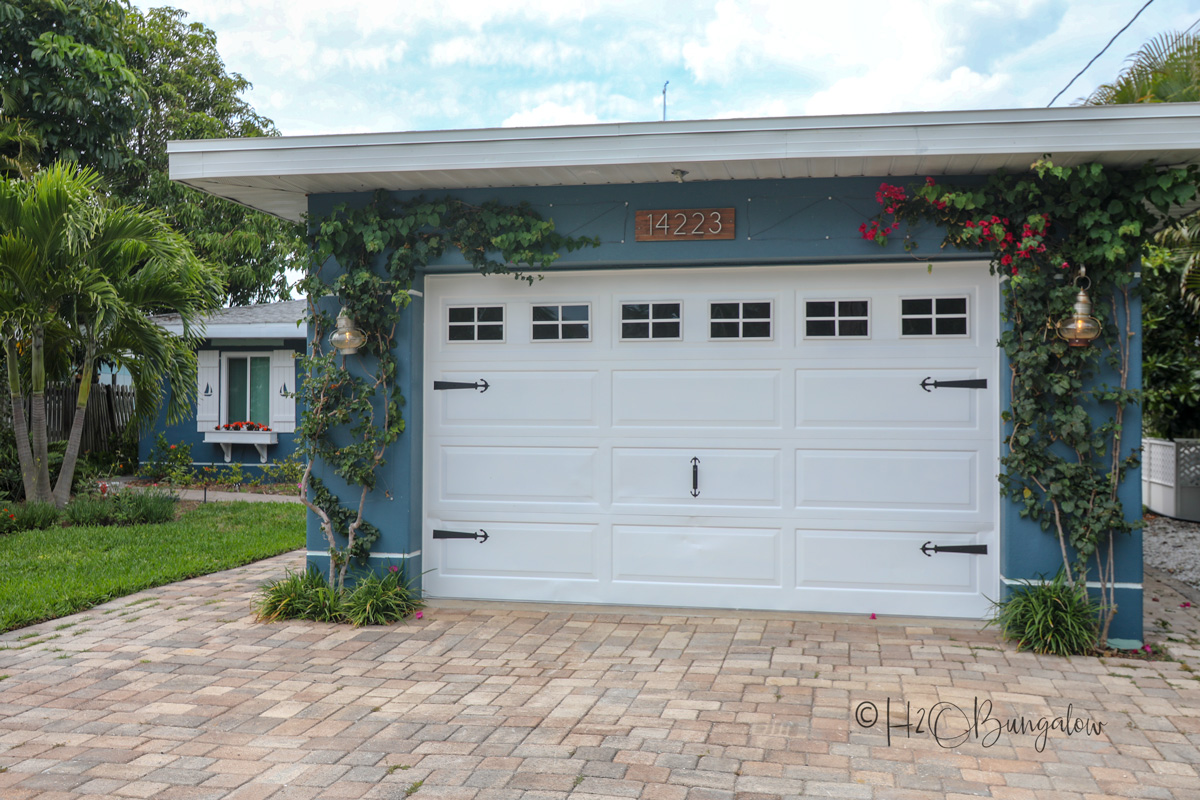 Sending out a big thank you to HomeRight for sponsoring this post! Support H2OBungalow by using the links in my articles to shop. We receive (at no cost to you) a small commission so we can continue to create free content. Thank you!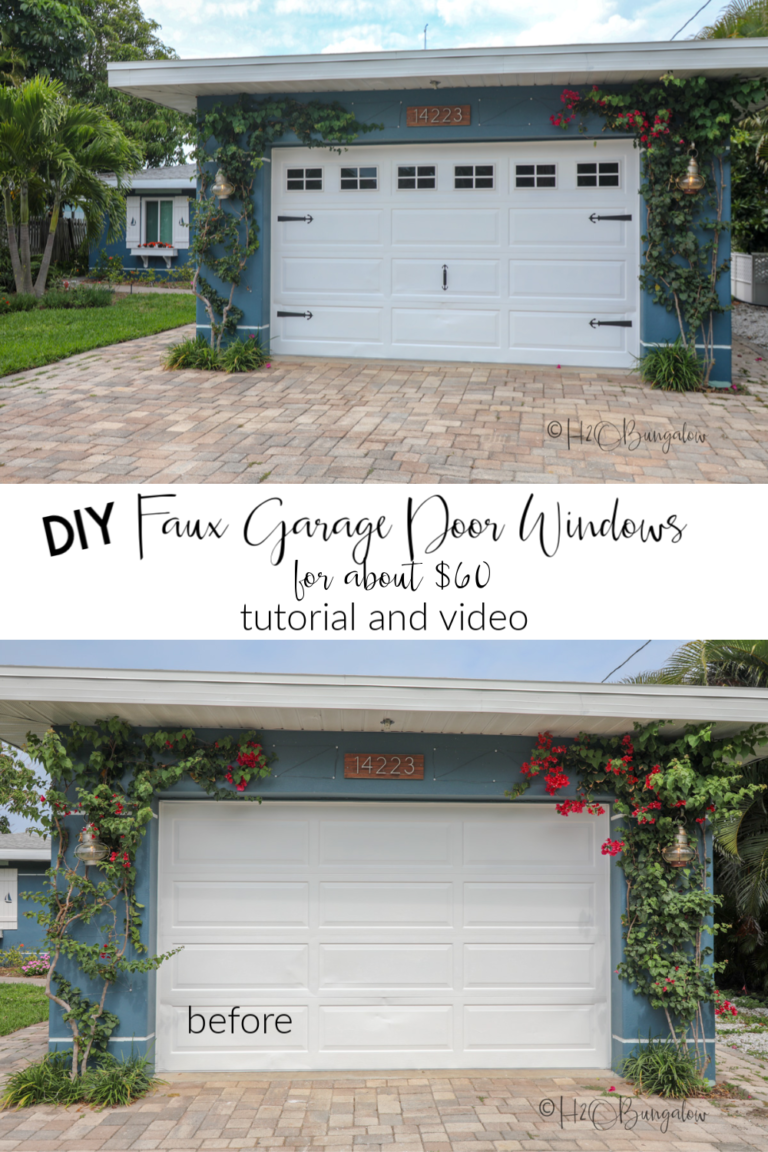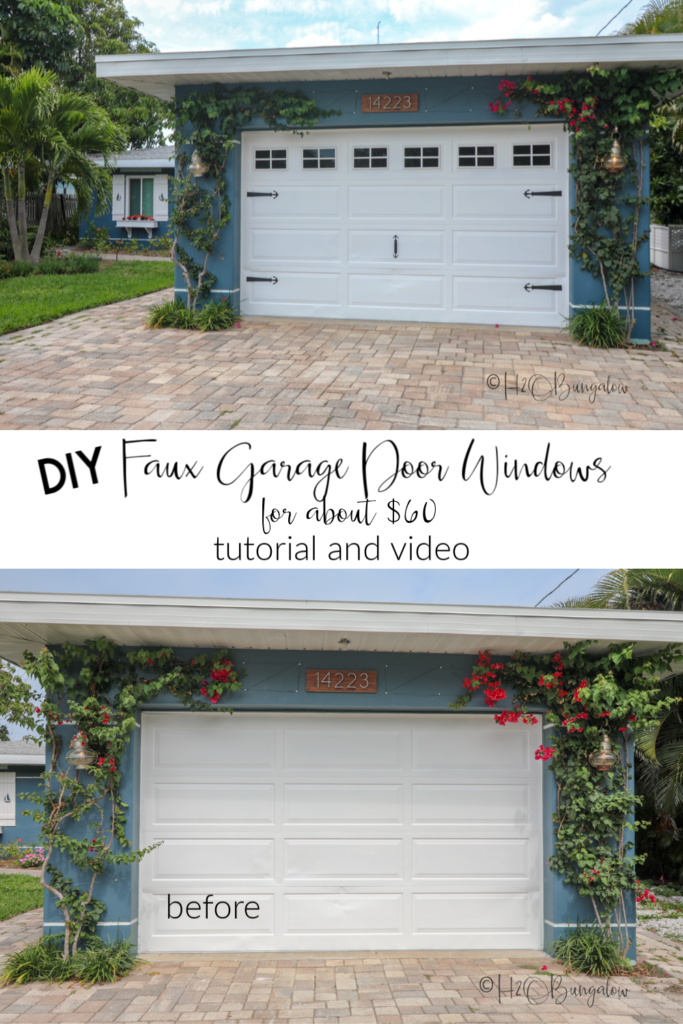 Check out my video on how I made my realistic faux garage door windows so you can see all the steps. Of course I'm sharing the things I learned and what I should have done differently so your own garage door window project is perfect and easy to make.
Are you ready to transform your garage doors? Good! Let's get started!!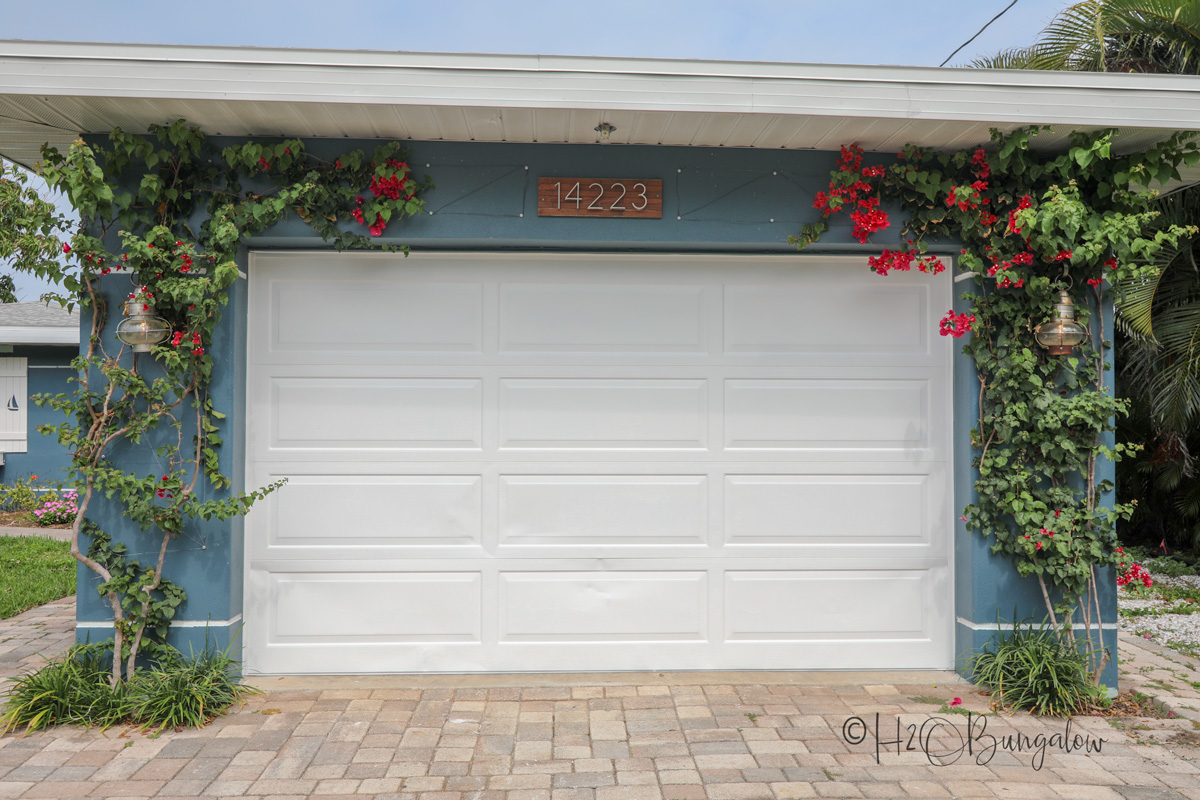 I've planned for this project a long time. I added the DIY Horizontal Wood Slat Address Plaque and the side Self Watering Planters on the side of the garage a few years ago knowing that someday I'd update my garage doors!
How to Make Faux Garage Door Windows
Supplies to make faux garage door windows like mine.
Supplies to prepare your garage door for faux window overlays.
Exterior paint
Painters tape
Painter's rags
Cleaner or degreaser
DIY Faux garage window supplies.
Plexiglass 20″ x 32″ x .093″ thick (big box store)
pvc frame material, 1/4″ pvc trim (found in trim dept. at big box store)
1/8″ drill bit for metal, use for pilot holes in garage door
exacto knife or plexiglass cutter
Click to subscribe to me on Youtube!
Step 1. Measure garage doors and choose faux window design and style.
My garage door is a car and a half wide with 3 large 11″ x 39″ raised panel centers. I decided to make 6 – 10″x 16″ faux garage windows, placing 2 in each panel with a 7″ gap between each one. You can use my faux garage window design exactly as is, if you also have wide panel garage doors like mine. If not, use my tutorial for the steps and materials, then change the window dimensions to fit your own garage door.
Steps to design faux garage door windows
Measure the area where you want to place your faux garage door window overlays.
Decide on number of windows and the spacing between them.
Check the back of the garage door (inside) to be sure there are no moving parts or metal supports that would interfere with the screws you'll use to attach the fake window overlays to the garage door panel.
Consider the size of plexiglass available and the cost. I got four windows from each piece of 32″ x 20″ plexiglass making it a budget friendly project.
If you're using my window overlay design, check the inside of your garage door to be sure attaching overlays to the outside front will not interfere with any thick metal or door operation before starting your project.
Step 2. Prep and paint garage doors.
You want your garage door to look like a brand new carriage door so clean your garage doors and prepare them for a fresh coat of paint.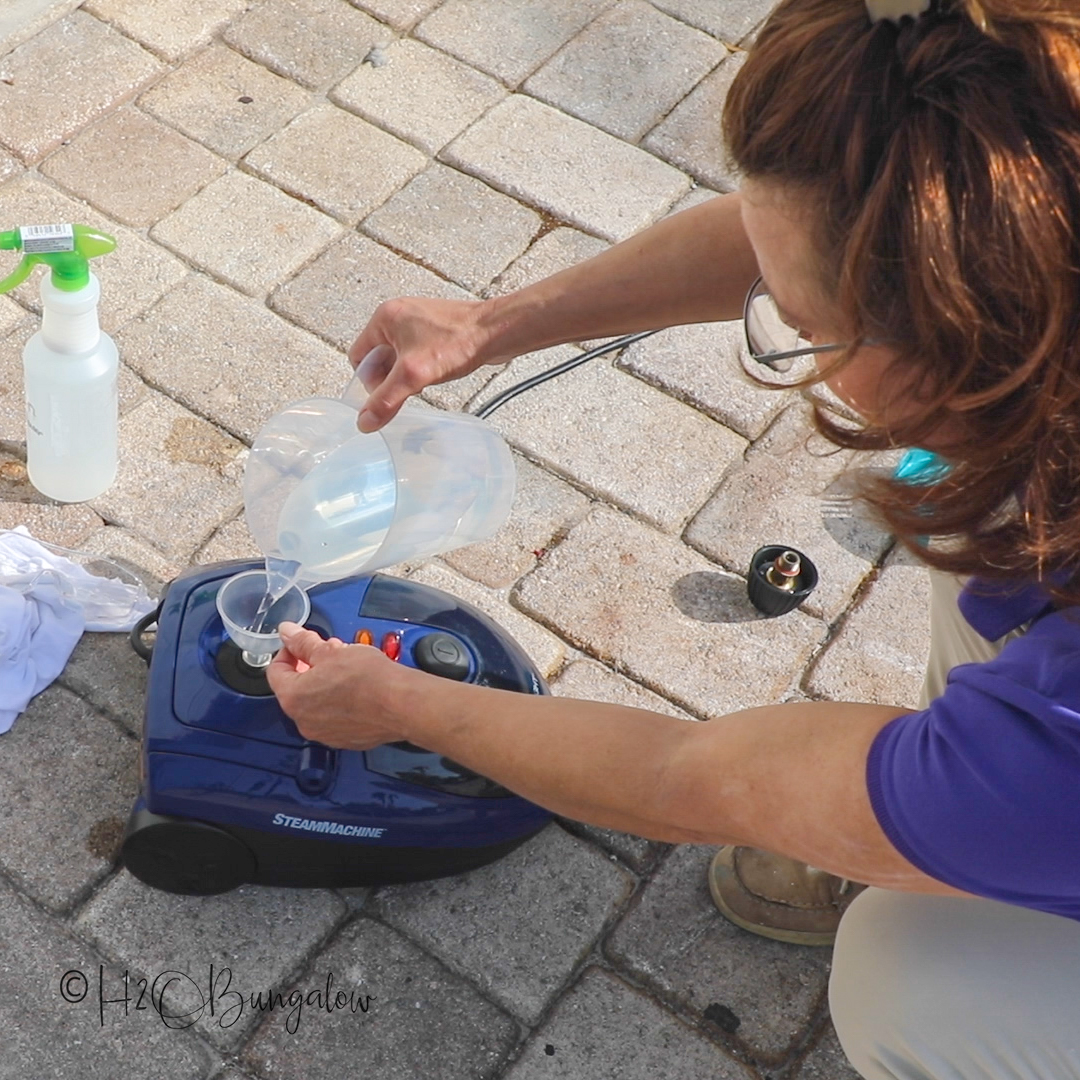 I used my HomeRight SteamMachine to get old grease, mildew and dirt off my garage door for painting. If you've got mildew along the rubber edging like I did, spray a mixture of Oxiclean and water onto the stains. Follow with the scrubber attachment for the SteamMachine and you'll have bright white edging again.
.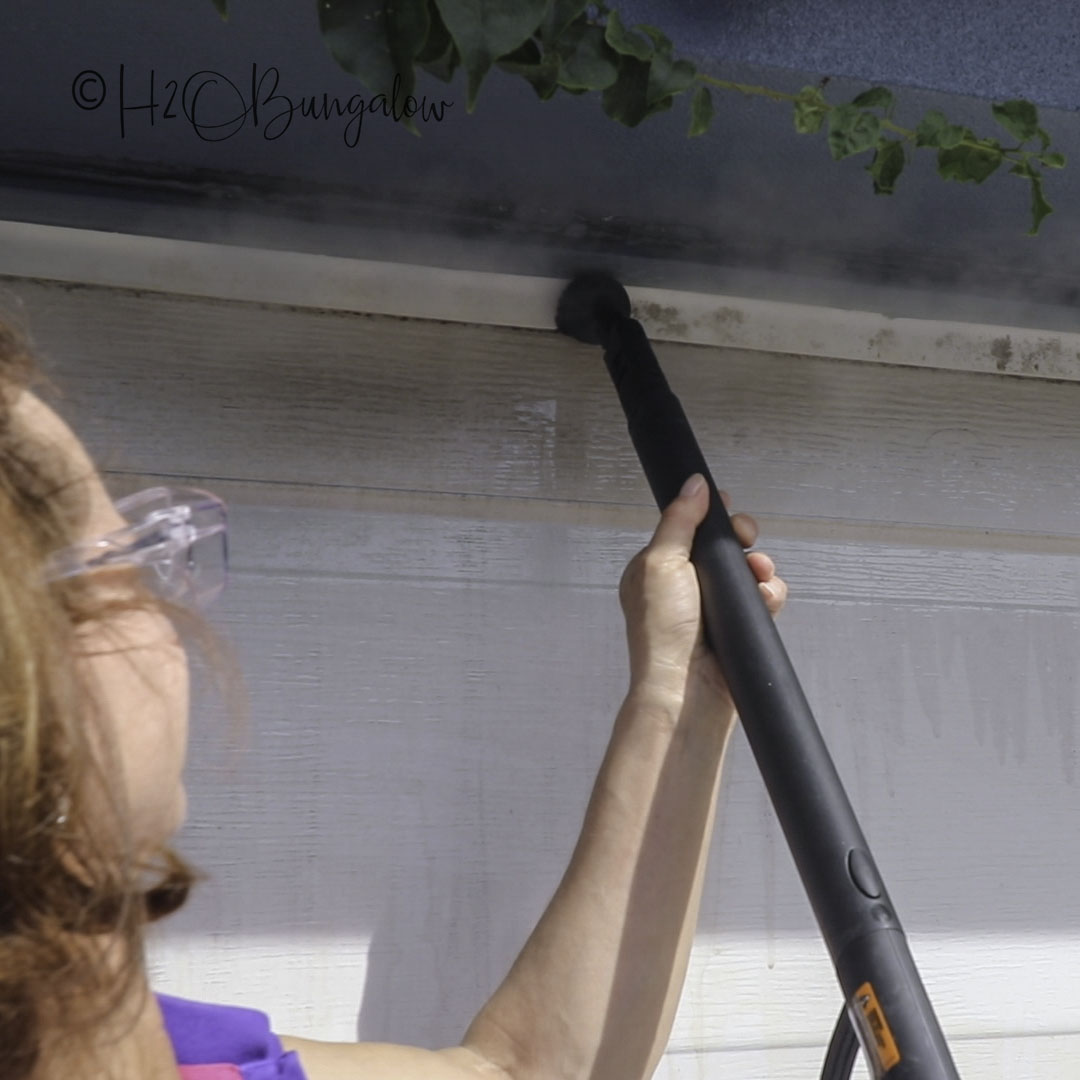 Apply a fresh coat of paint next. I used ultra Bright White exterior paint from Behr. It's my easy to go paint color for all my outside trim. My big timesaver on the step was using my favorite paint sprayer, my Super Finish Max paint sprayer from HomeRight.

Step 3. Make faux window garage door windows.
1. Cut plexiglass
Let me share first, you'll feel like you're scoring forever! It's OK, you want a clean line and it's less work than fixing a jagged edge.
To score the plexiglass on a straight line. Keep the protective coating on the plexiglass, use a metal L shape framing square as a guide. Clamp the metal framing along your cut line, hold in place with clamps. I love my Irwin bar clamps for this type of project. Score until you're about halfway through the plexiglass. Snap the plexiglass by resting the scored line on the edge of a hard surface and give it an even pressure swift snap.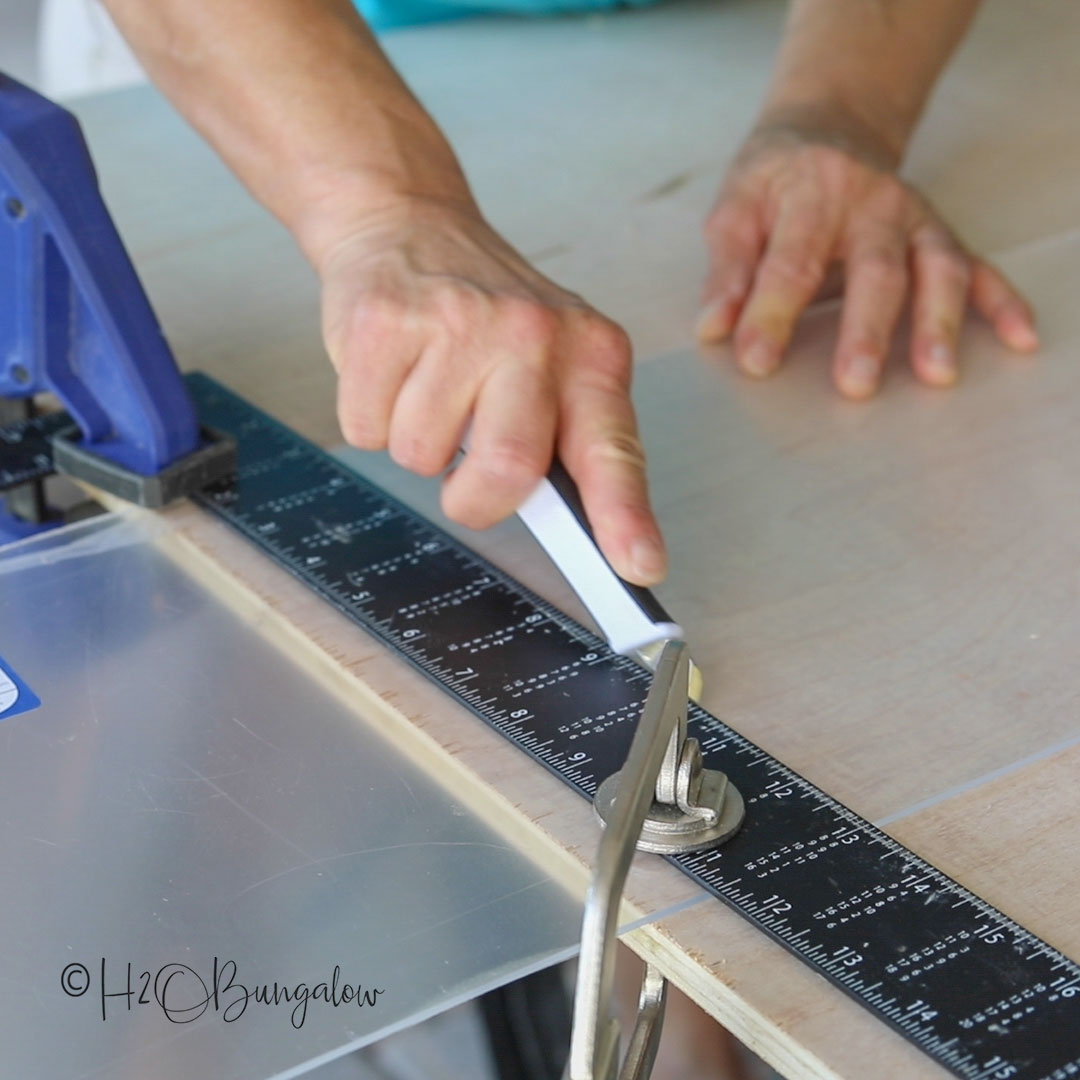 Two things about cutting plexiglass I want to share. I ended up using an Exacto knife and returning the plexiglass cutter I bought. The Exacto knife worked so much better. I think a box cutter would work well too.
I share in the video where I didn't get my scoring deep enough in the center on one of the long cuts. When I snapped the window I got a ragged edge. If this happens to you, clamp the L square back up to your line and score the sections until they chip off.
2. Paint one side of the plexiglass window
Remove the protective plastic coating from one side of each window pane and spray with a flat black spray paint. Set aside to dry. I use my HomeRight Small Spray Shelter for these type of projects. It saves the area around where I paint and a breeze to take out and roll back up.
I popped the stainless steel screws into a cardboard box (you'll see in the video) to spray the screw heads black also.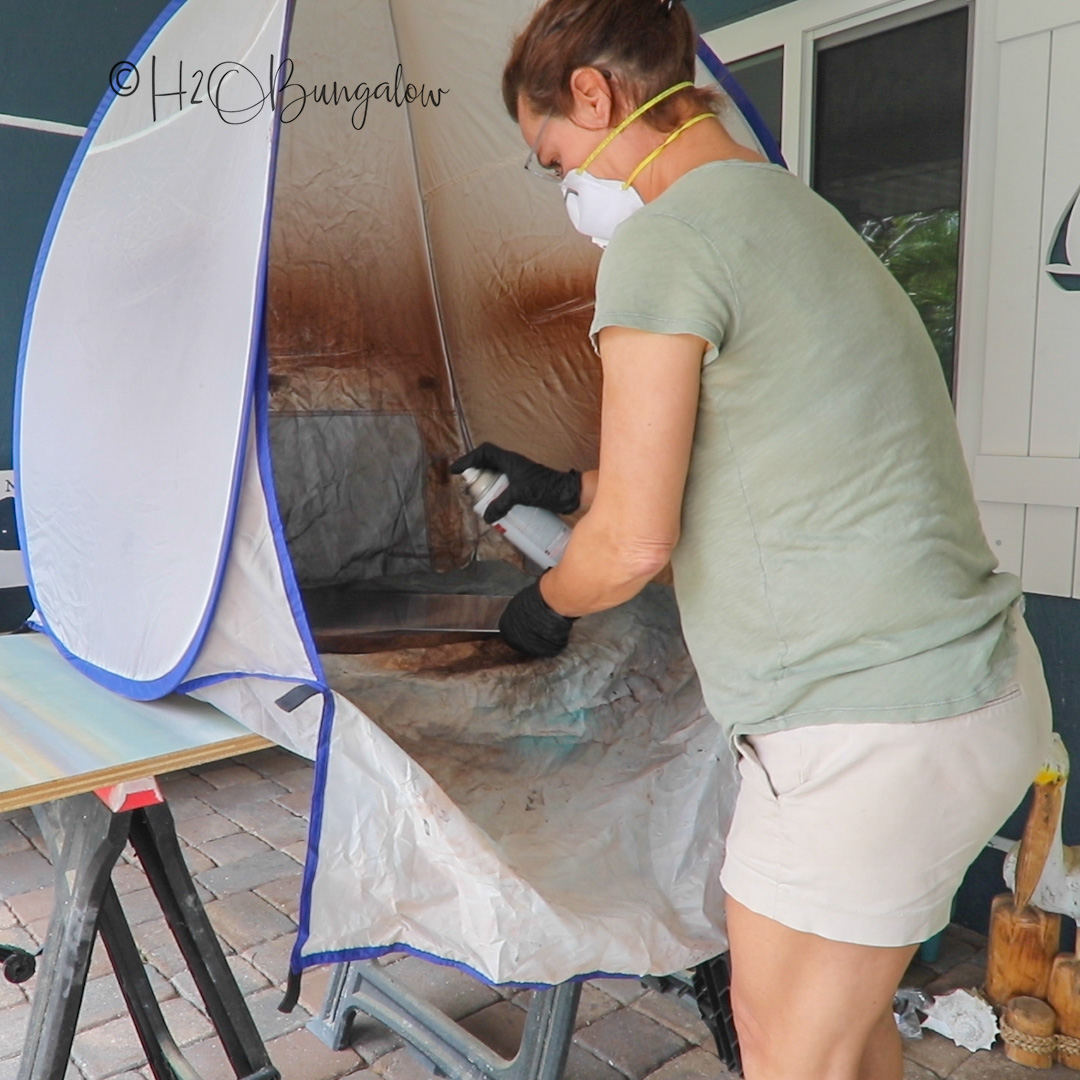 3. Make PVC frame and window panes
Make the faux garage door window frames by setting a miter saw to 45° and cutting the pvc window frames to 16″ on the outside. Measure and cut the center panes at a straight 0° setting at 10″ on the outside for the inside pieces. You want the window frame to lay flat on top of the plexiglass and just up to the outside edge.
I sized each set of PVC garage window frames to it's own window and numbered the parts. Then, moved on to a new window for the next one.
Here's a huge time saving tip ~ Cut one 45 ° angle on the front of the pvc, flip the pvc over to the back, measure, mark and cut the end. You won't have to readjust your miter saw angle for any of the outside frame cuts. I use a combination square to mark my angle cuts to help line them up.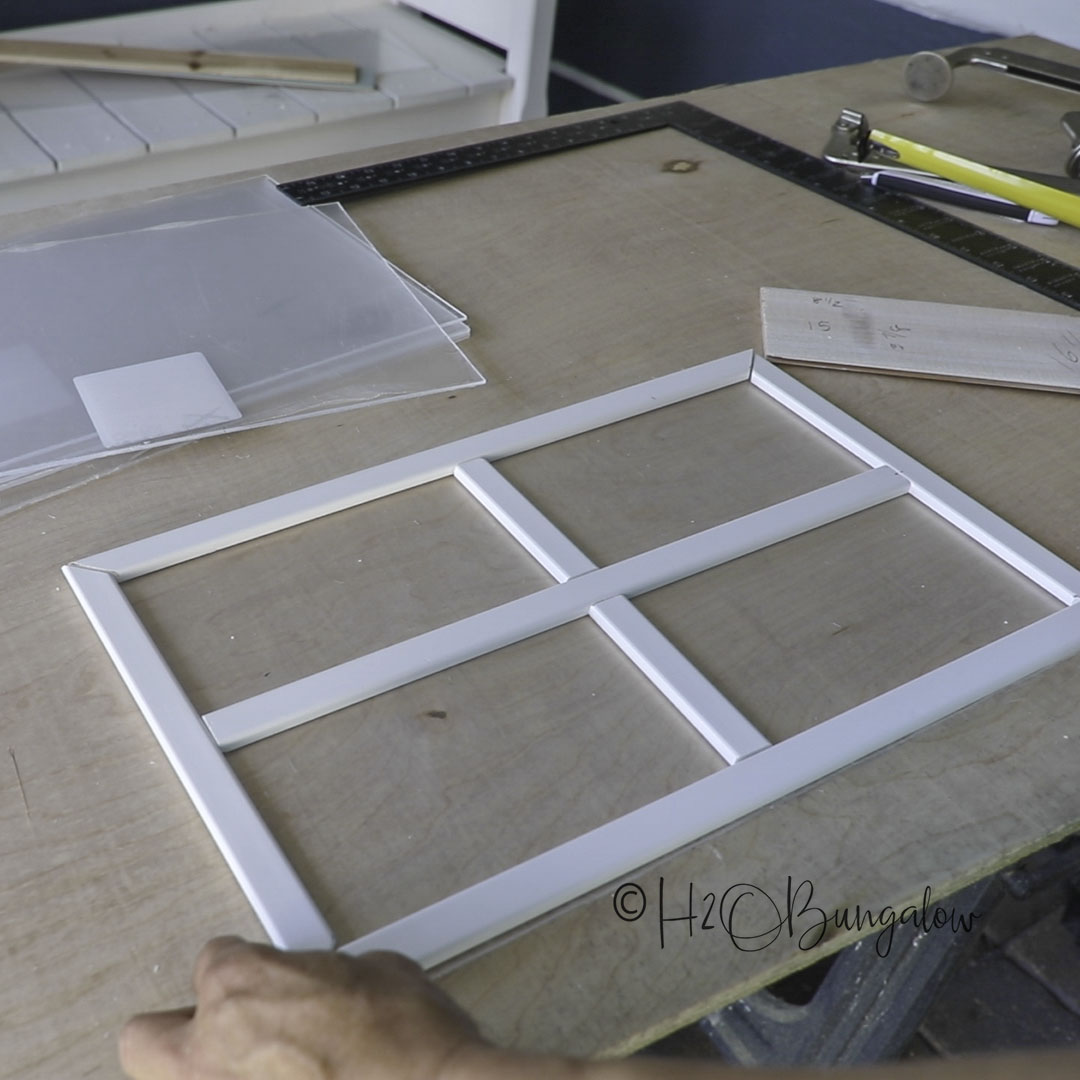 4. Assemble faux garage door windows
Remove the protective plastic from the unpainted side of the plexiglass windows pieces. place the painted side down on a soft surface like a towel so it doesn't get scratched. Use an outdoor rated glue and glue the PVC frames to the unpainted side of the plexiglass.
5. Make Pilot Holes
Use a 1/8″ glass bitt and gently make pilot holes in all 4 corners of each window. Do not press hard or you'll crack your PVC.
6. Install faux window overlays on garage doors
Attaching the faux windows to the garage door panels is pretty straight forward. I used a level and drew a straight line across the garage door as a guide. Next, you'll mark the pilot hole spots. Do this for each individual faux garage door window.
Window overlay install tip ~As you work across the door, keep each window in place below the pilot holes you've marked. Place on the ground with the top side up so the pilot holes match where you marked them. Lining up and attaching the faux windows will be much easier this way!
You can see my door dings in this picture with the light. It's the price of using my old door…thankfully you don't see it from further away.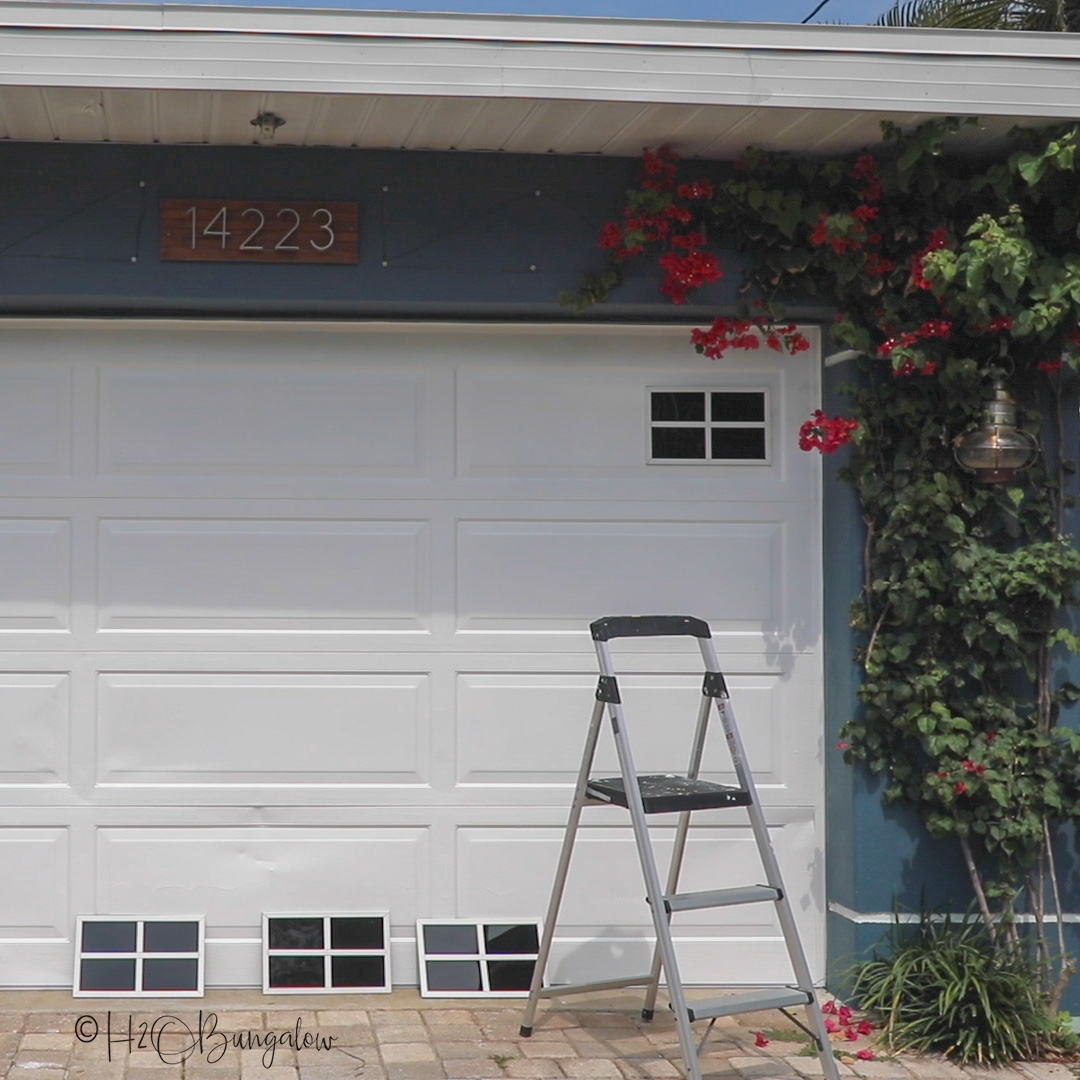 6. Caulk
The finishing touch is to caulk all the way around the faux garage door windows with a white painters caulk. It seals the windows better and this is what makes them look like they were part of the original door.
Last, I added unique nautical carriage door hardware to finish off the upscale garage door look I wanted.
Do you love the new look? I do! They go well with my DIY Sailboat Cutout Shutters I made last year, also out of PVC by the way!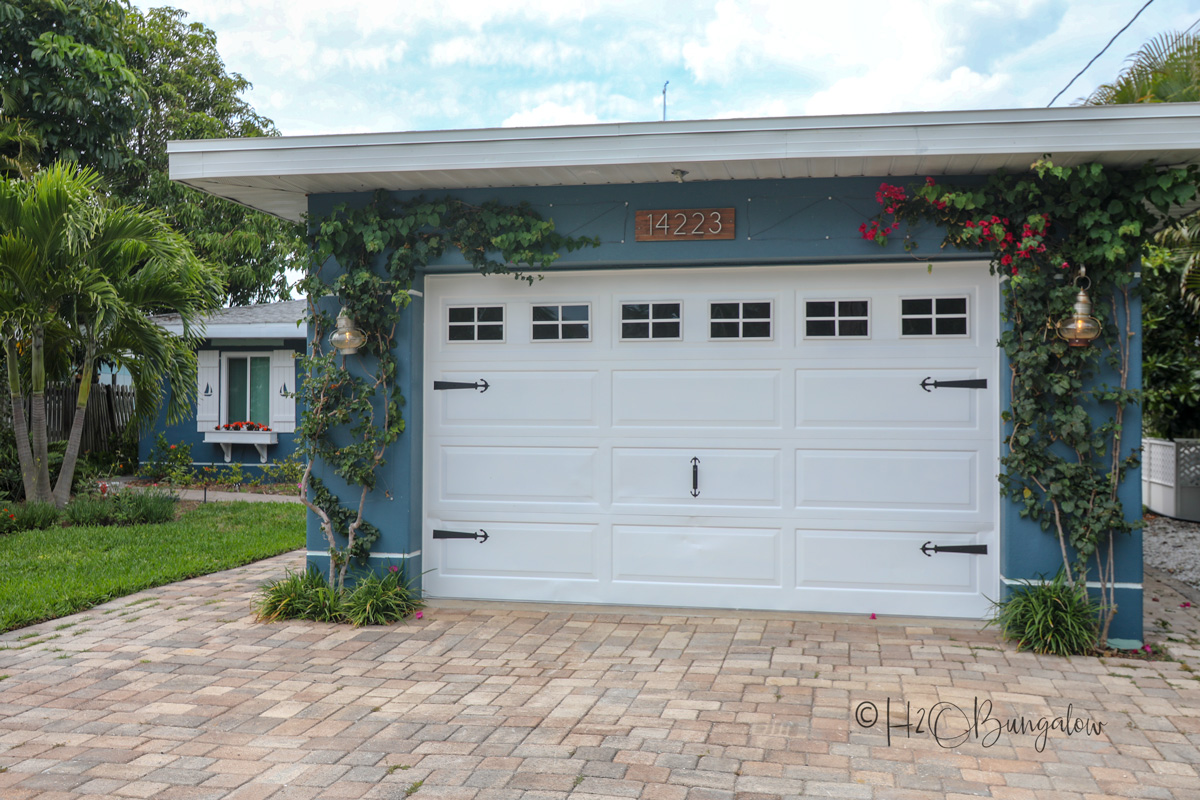 The outdoor lights I have fit just right with our nautical cottage theme. I use LED 30 year bulbs and haven't replaced one in a few years now.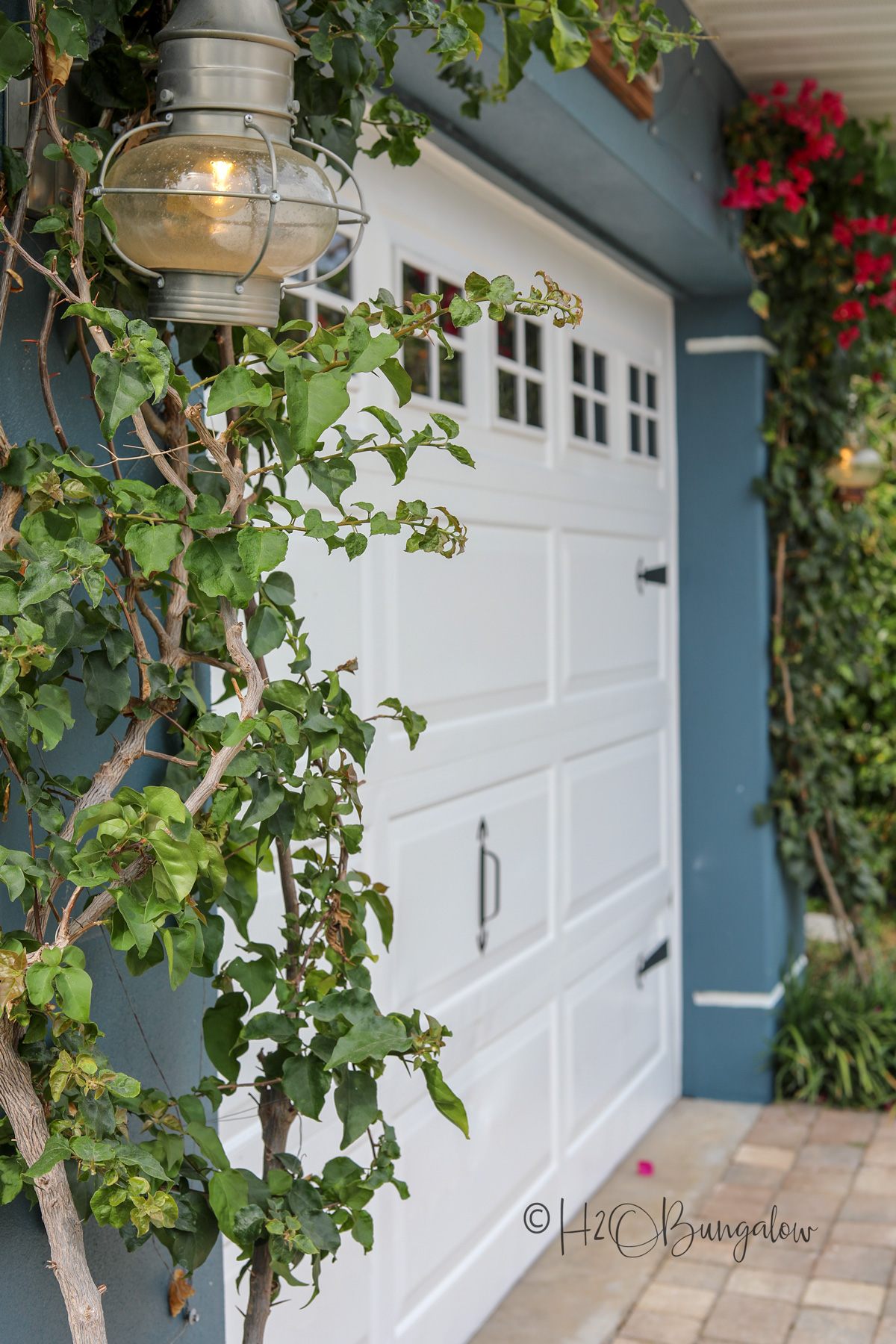 Pin my tutorial on how to make faux garage door windows and share with your friends on Facebook!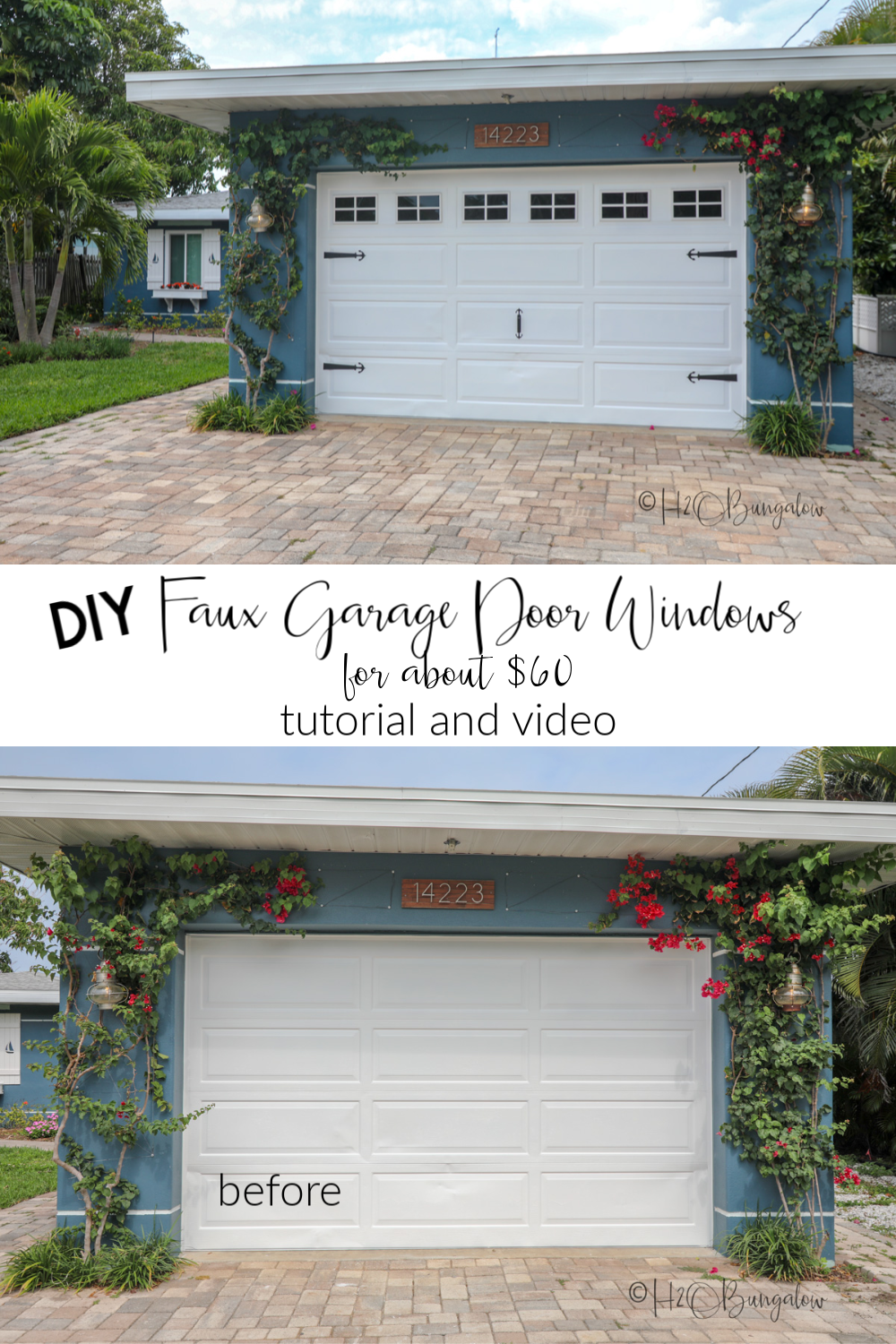 I want thank HomeRight again for sponsoring this post. As a brand ambassador, I've worked with HomeRight Paint Sprayers, their SteamMachine and more products for the past 5 years or so. Take a peak at my other DIY projects I've made for HomeRight here!
What do you think? Don't these faux garage door windows real? Even when you're standing in front of them, you can't tell that they didn't come with the door! Take my Coastal Home Tour to see even more of the projects I've worked on here at the bungalow.