My new DIY horizontal wood slat address plaque solves a lot of headaches. I've just made the postman happy, and UPS as well as FedEx and various friends who haven't been here yet. I think Amazon will be thrilled when I send less inquiries on why I never received my orders, although I'm afraid a neighbor somewhere will miss getting all the free blogging stuff they've collected over the past 4 years.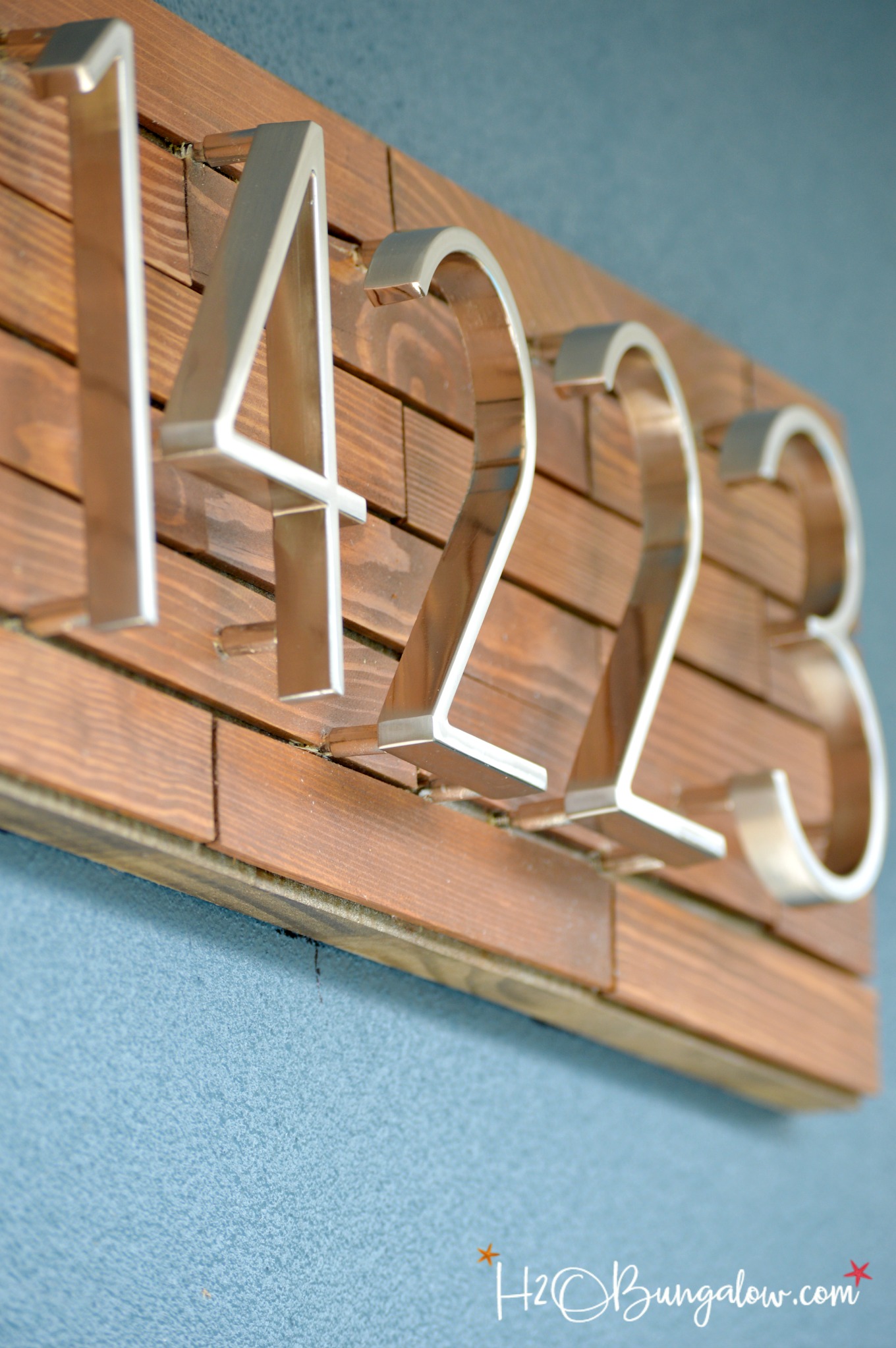 It's time for the Power Tool Challenge Team's monthly gig and this months theme is Favorite Power tool. That's a toughie.. they are all my favorites! My solution was to make something with the first power tool I mustered up the bravery to try. A jigsaw.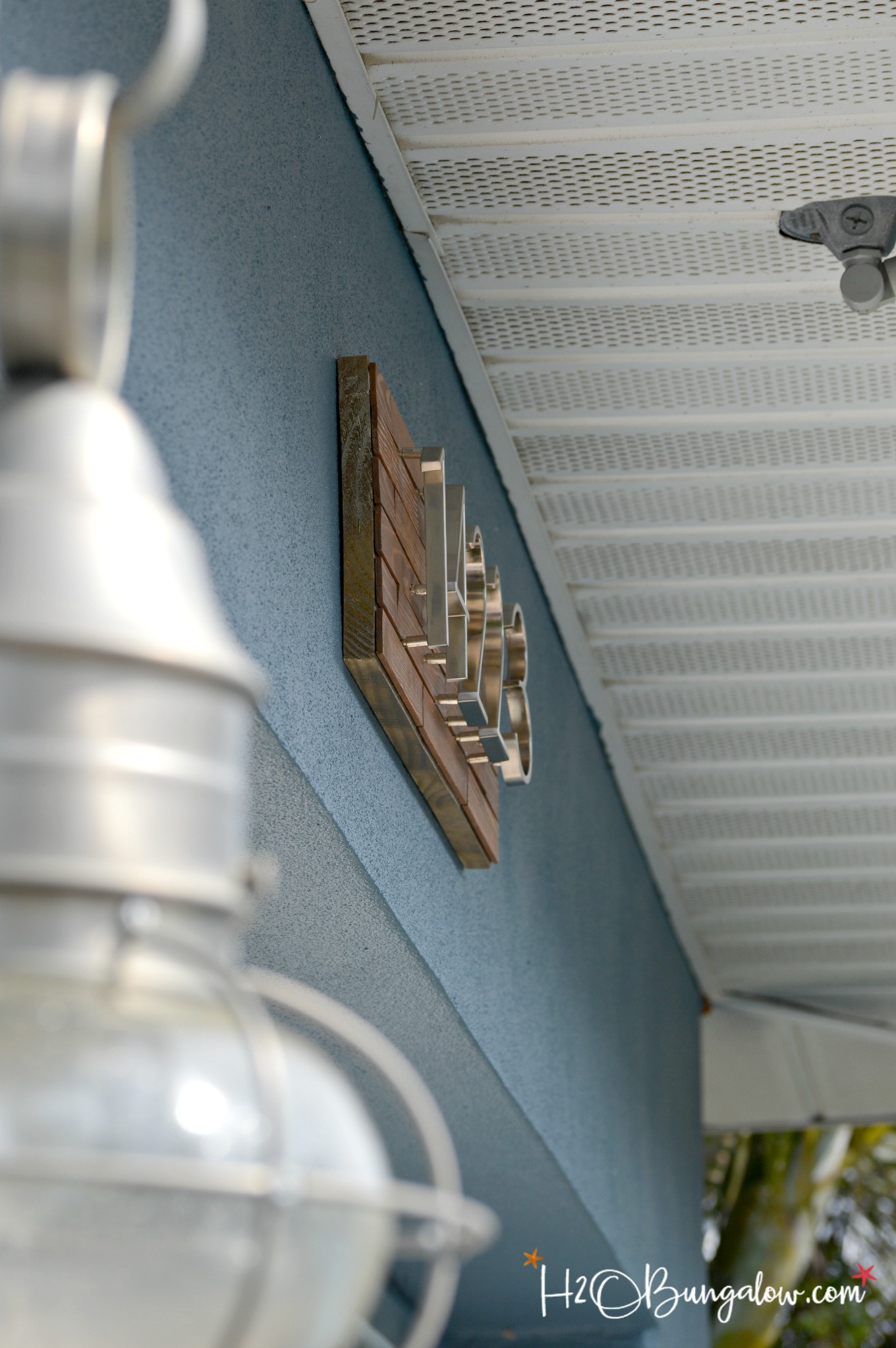 Yes, this DIY Horizontal Wood Slat Address Plaque project can be made with a jigsaw or a jigsaw and a drill. Any level of DIYer can do this, and you'll find the whole shebang of a tutorial at the end of this post. Just scroll down to the bottom:) I also used my jigsaw to make DIY shutters with sailboat cutouts.
In the meantime I want to share the projects my fellow team mates came up with. Keep in mind, it's not just the projects you want to see friends. Everyone is sharing favorite useful tips that make working with the various tools easier and with better results. Sometimes it really is what you know and a little knowledge goes a long way!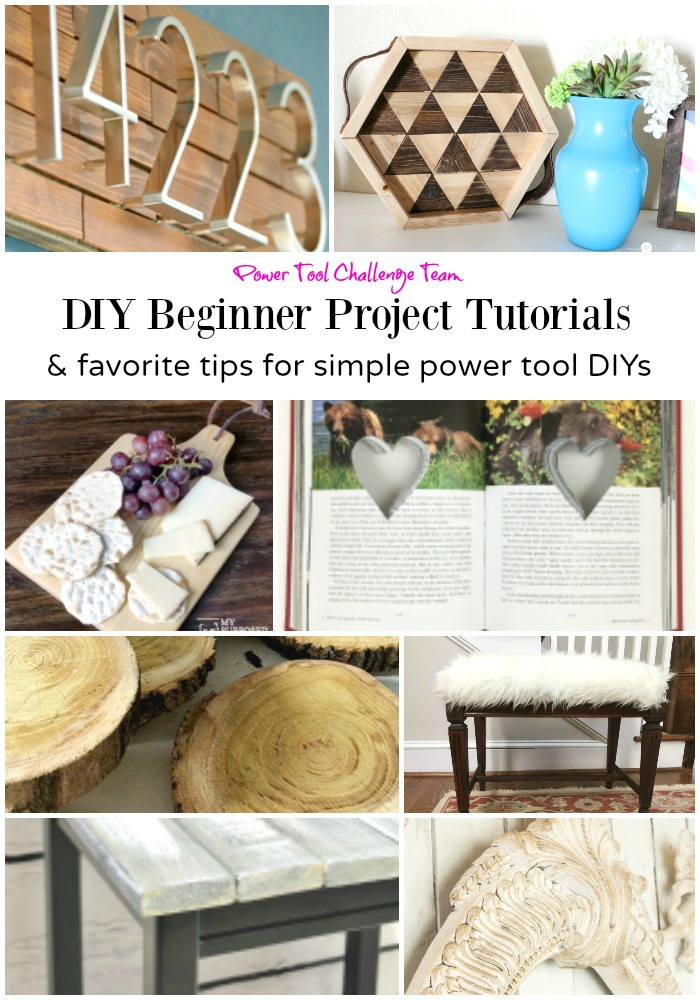 H2OBungalow DIY Horizontal Wood Slat Address Plaque – That's me!
My Love 2 Create – Triangle Hexagon Tray
My Repurposed Life – DIY Cutting Board
The Kim Six Fix – Scroll Saw Book Letters
Create and Babble – Cut Wood Slices
The DIY Bungalow – DIY Faux Fur Foot Stool
The Interior Frugalista – Small Portable Rolling Multi Purpose Table
Designer Decor – Ornate Oval Wood Frame Update
Are you ready to learn how to make a DIY Horizontal Wood Slat Address Plaque?
Supplies needed to make a DIY horizontal wood slat address plaque. I use affiliate links to help you find the supplies I used.
two packages of paint sticks About $2 at Home Depot
24″ x 8″x 1″ treated board for outdoor use (Home Depot will cut an 6'x 8″ board to size)
paint and stain of your choice
Step One: Cut wood to size
Cut the paint sticks down to 9″ which is basically cutting the handle off and position them on the board.
Handy Tip – Place painters tape on a surface before cutting to get a smooth edge.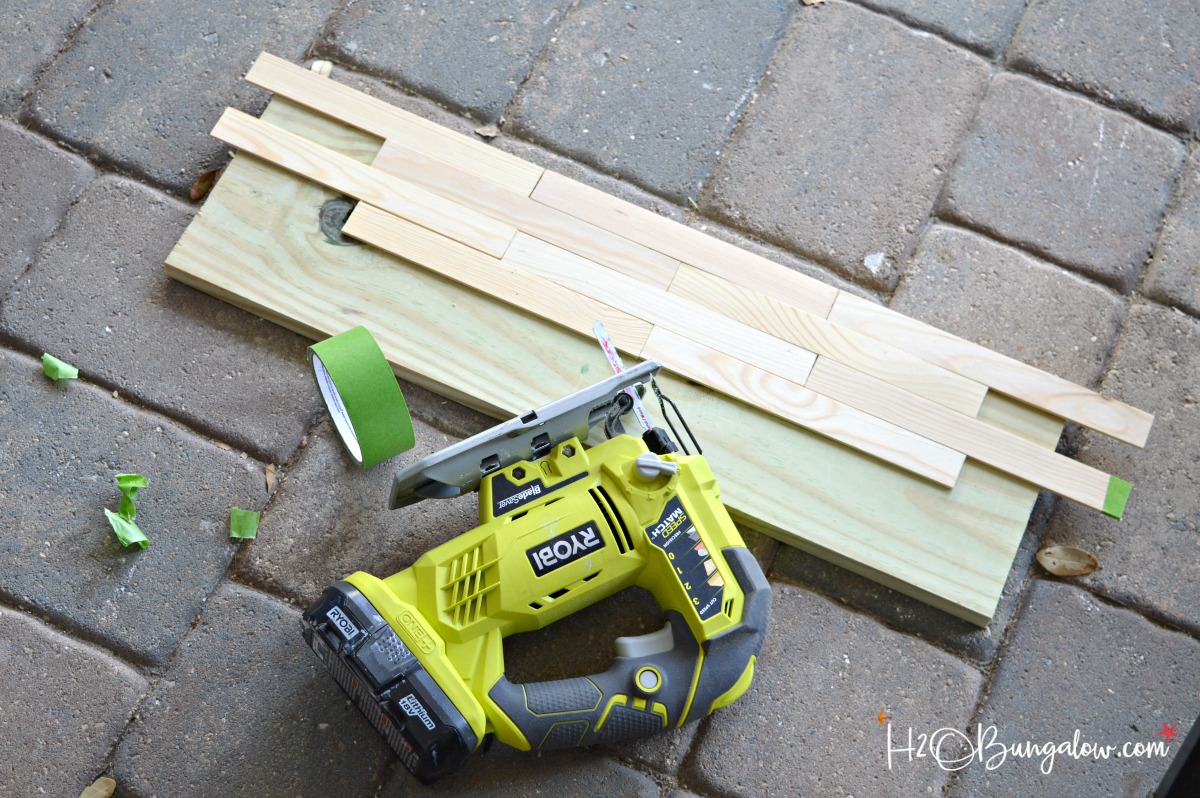 Step Two: Paint and stain wood
I used a metallic spray paint I had on hand for the base and stained the wood slats. Allow to dry and seal the wood with an outdoor UV protectant sealer.
Step Three: Attach wood slats onto base
Use construction adhesive, position and glue wood slats to the base. Spacing the wood slats is easier if you position them from the outside in. Allow the glue to dry.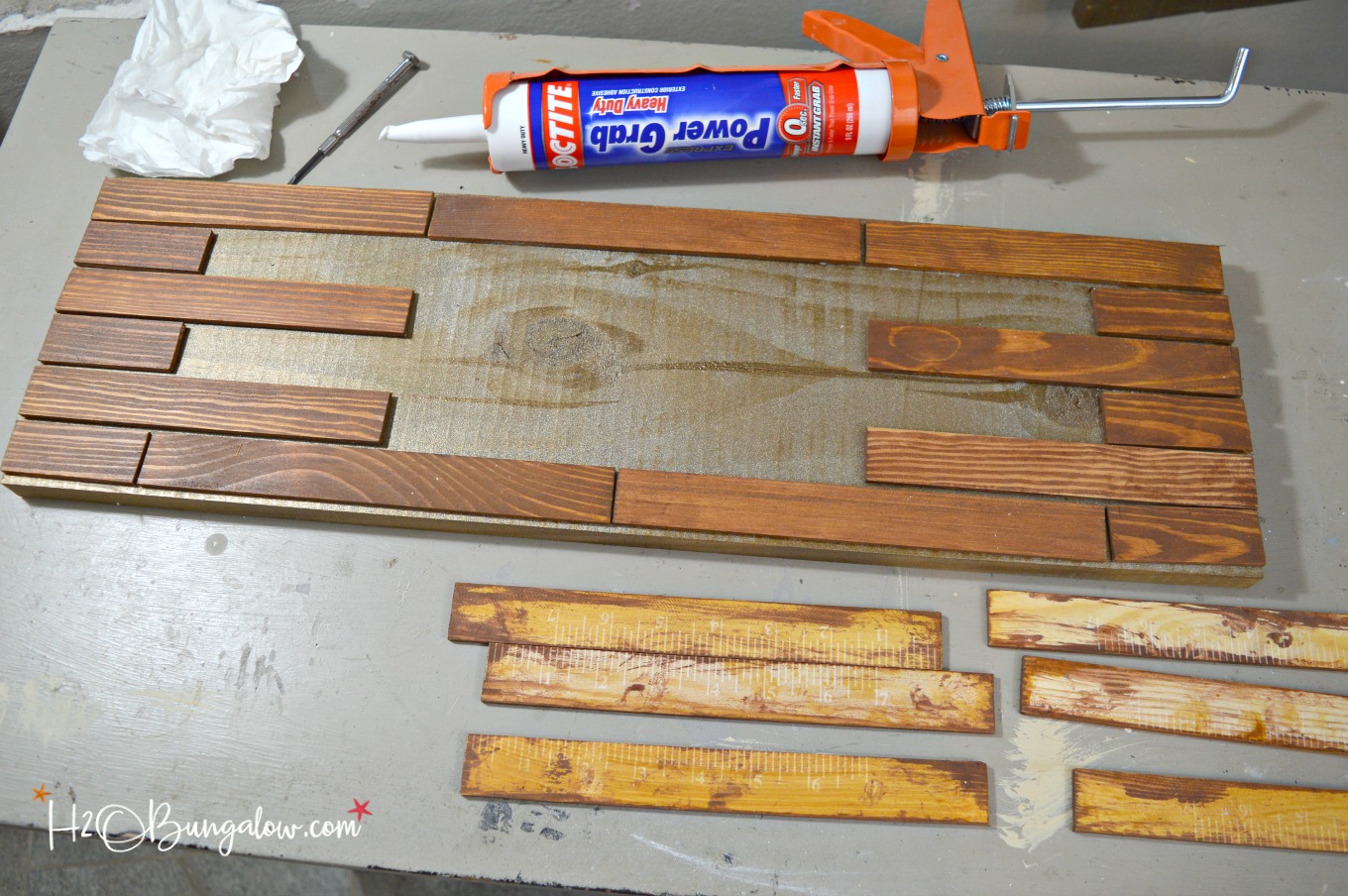 Step Four: Position and attach numbers
Address numbers can be attached directly onto the plaque with the adhesive or mounting tape. My numbers are floating with mounting pegs and came with templates for drilling. If your numbers come with templates check every one and correct the errors by marking where to drill with a colored pen. Don't assume duplicate numbers will position the same on the templates either. Most of my templates were way off which would have ruined my project! See the #2 below?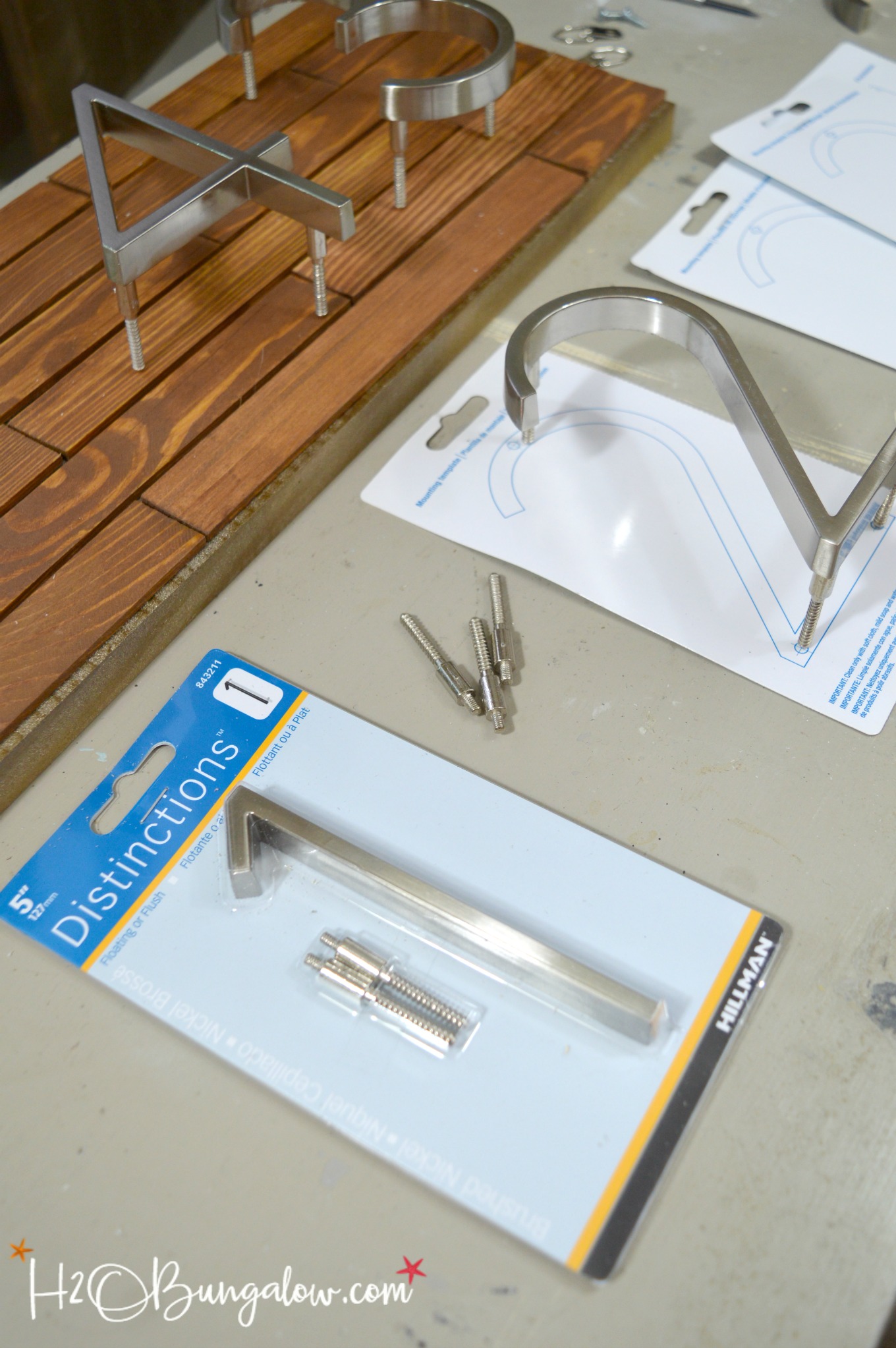 Good thing I checked before I drilled!
Handy Tip – Put a board under your base when drilling so you don't drill into your table.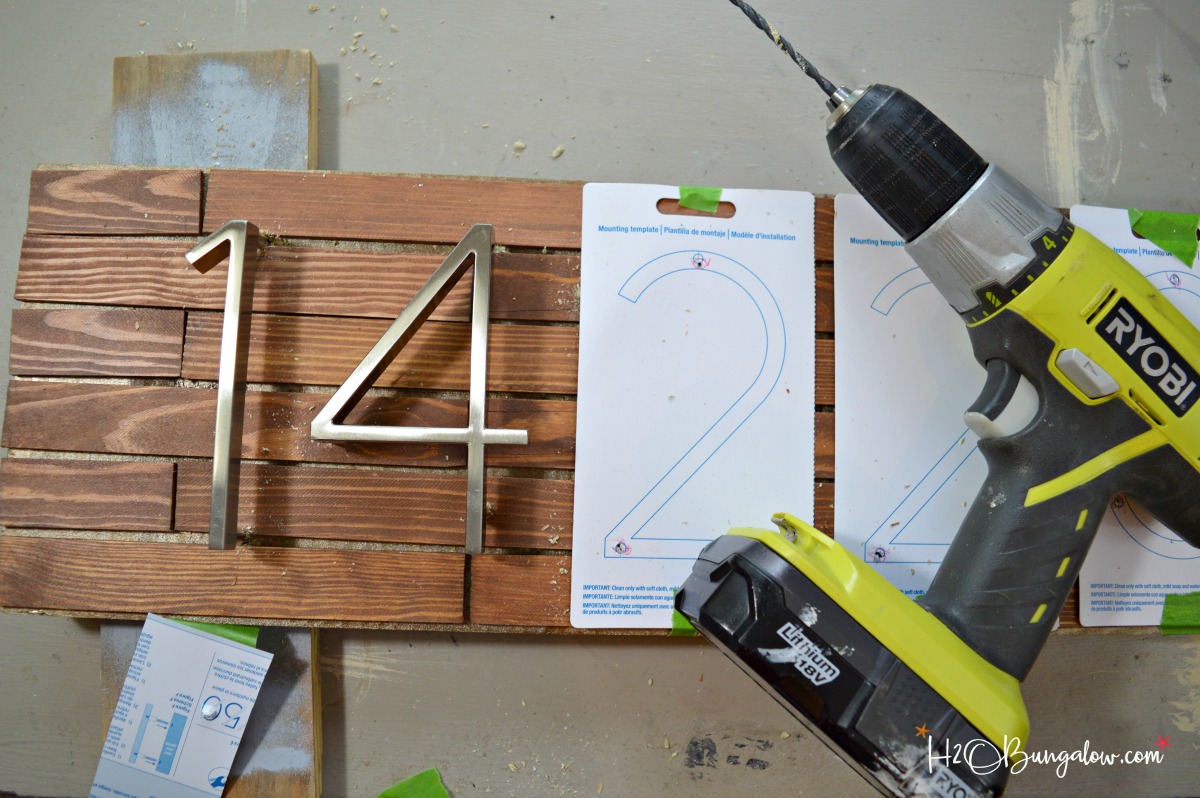 Step Five: Attach mounting tape
Attach the double sided mounting tape around the outside and center of the back of your DIY address plaque. Press firmly and allow to sit for about 30 minutes or so to allow the glue to adhere.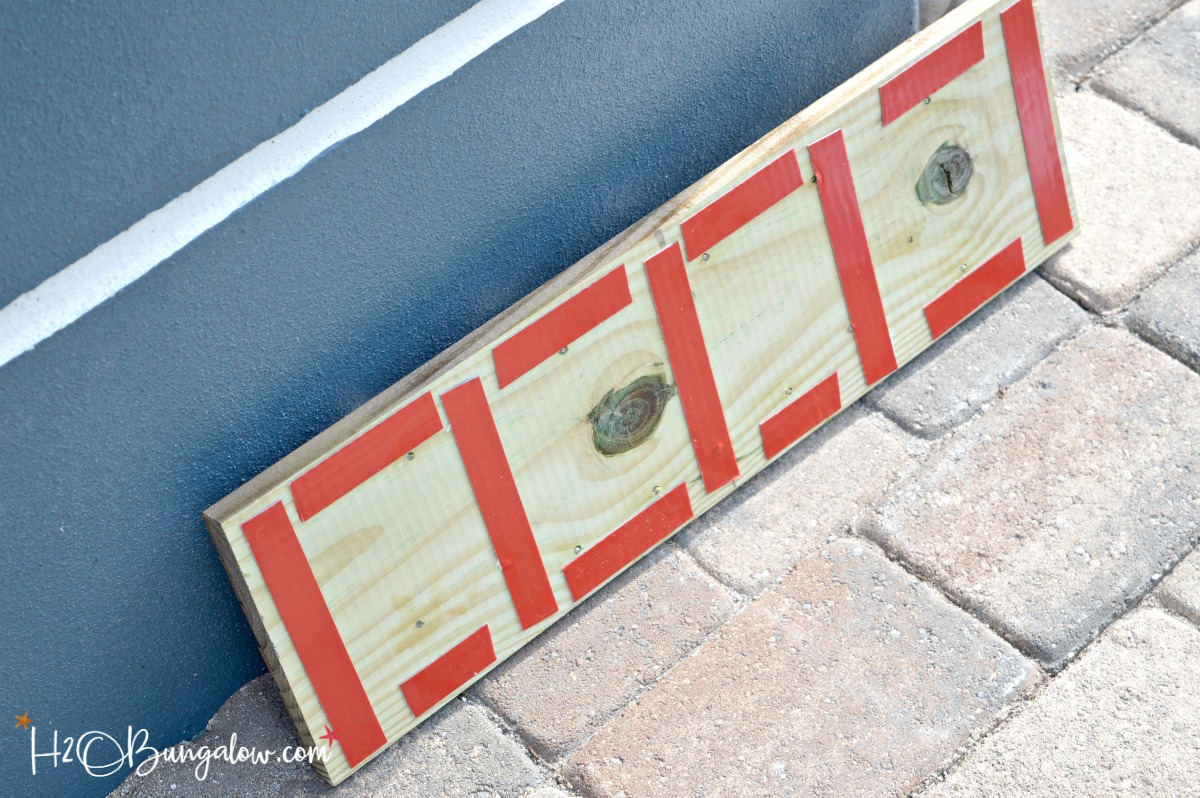 Step Six – Press in place
Clean the install area with a degreaser like TSP or Simple Green. Mark the install spot using a level if necessary. Pull off the tape backing and press firmly in place.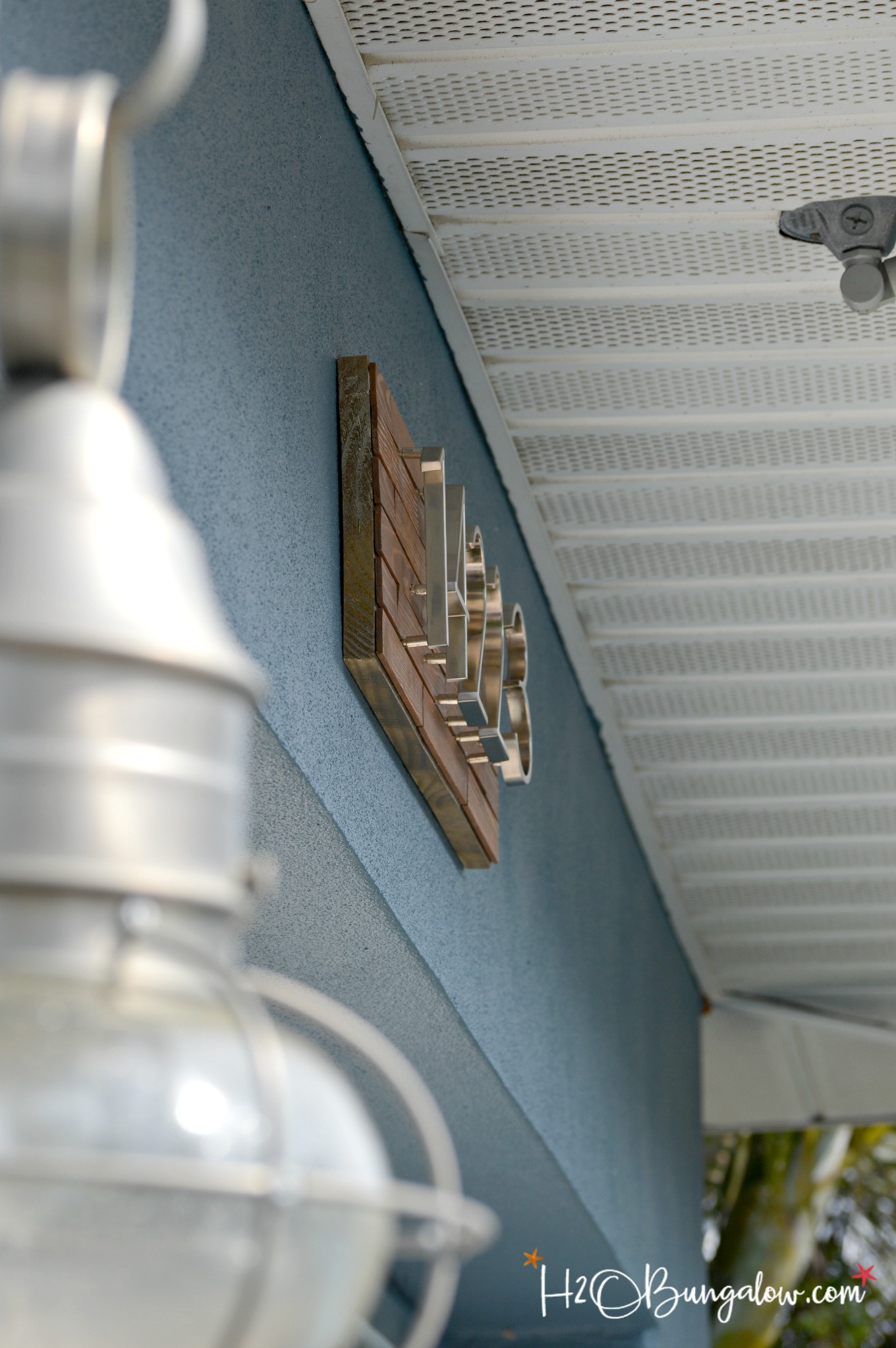 If you look close you can see where one of the slats moved a little since I of course tackled drilling my numbers before the glue was dry on the slats 🙁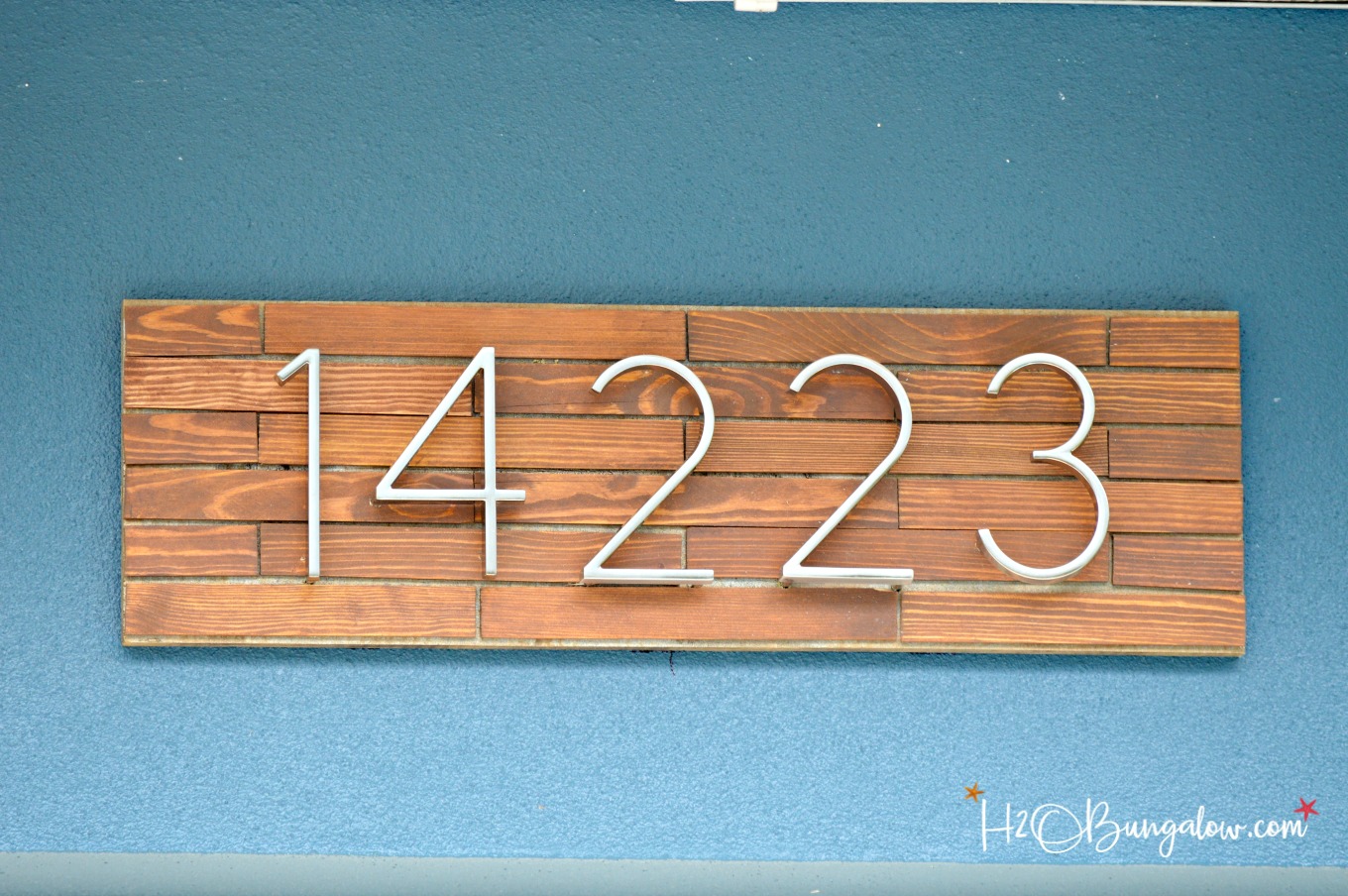 I painted over the original address when I painted the outside of the house. They were Spanish style and totally didn't fit with a 1950s beach block house.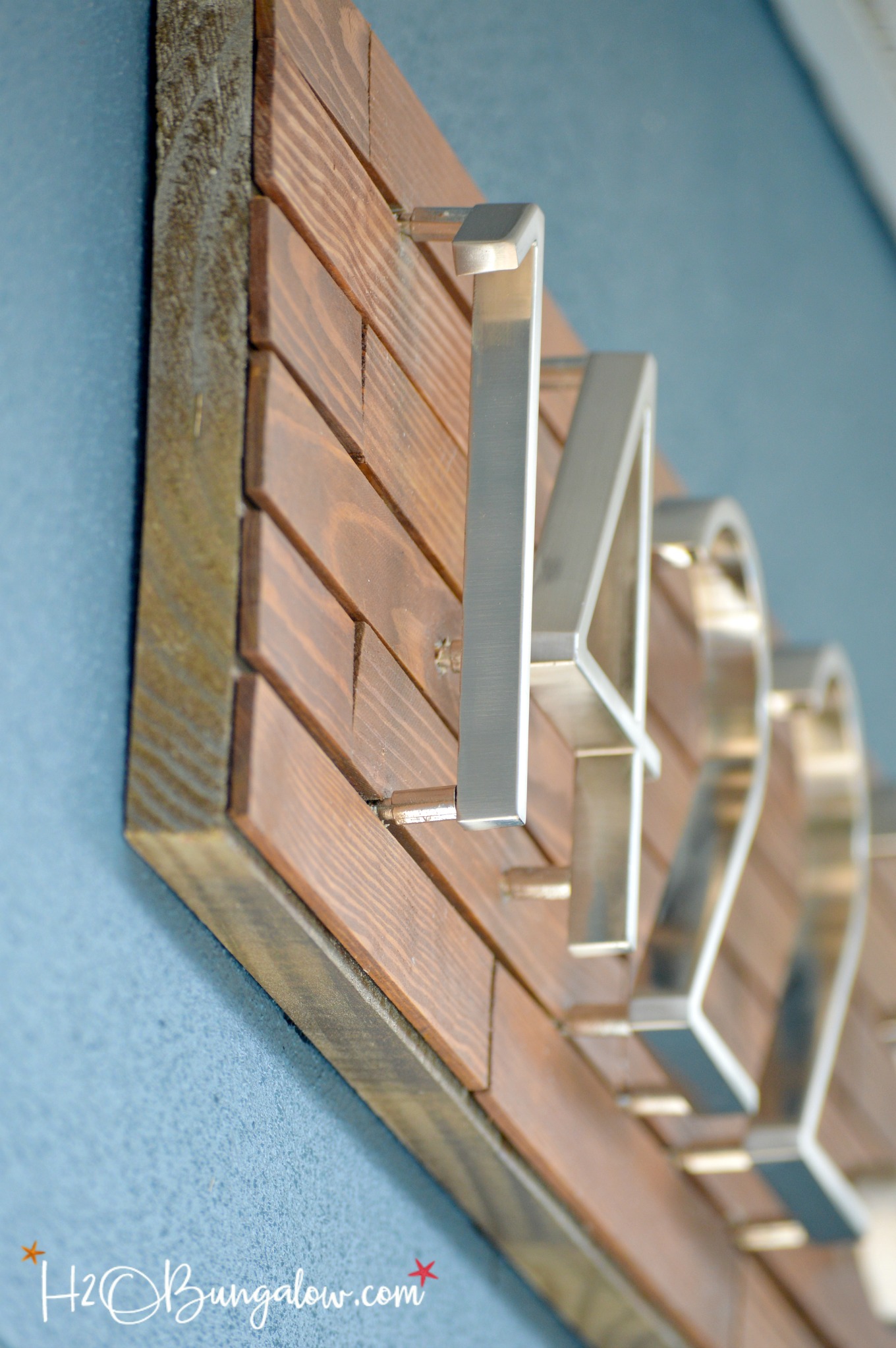 Pin this project for later!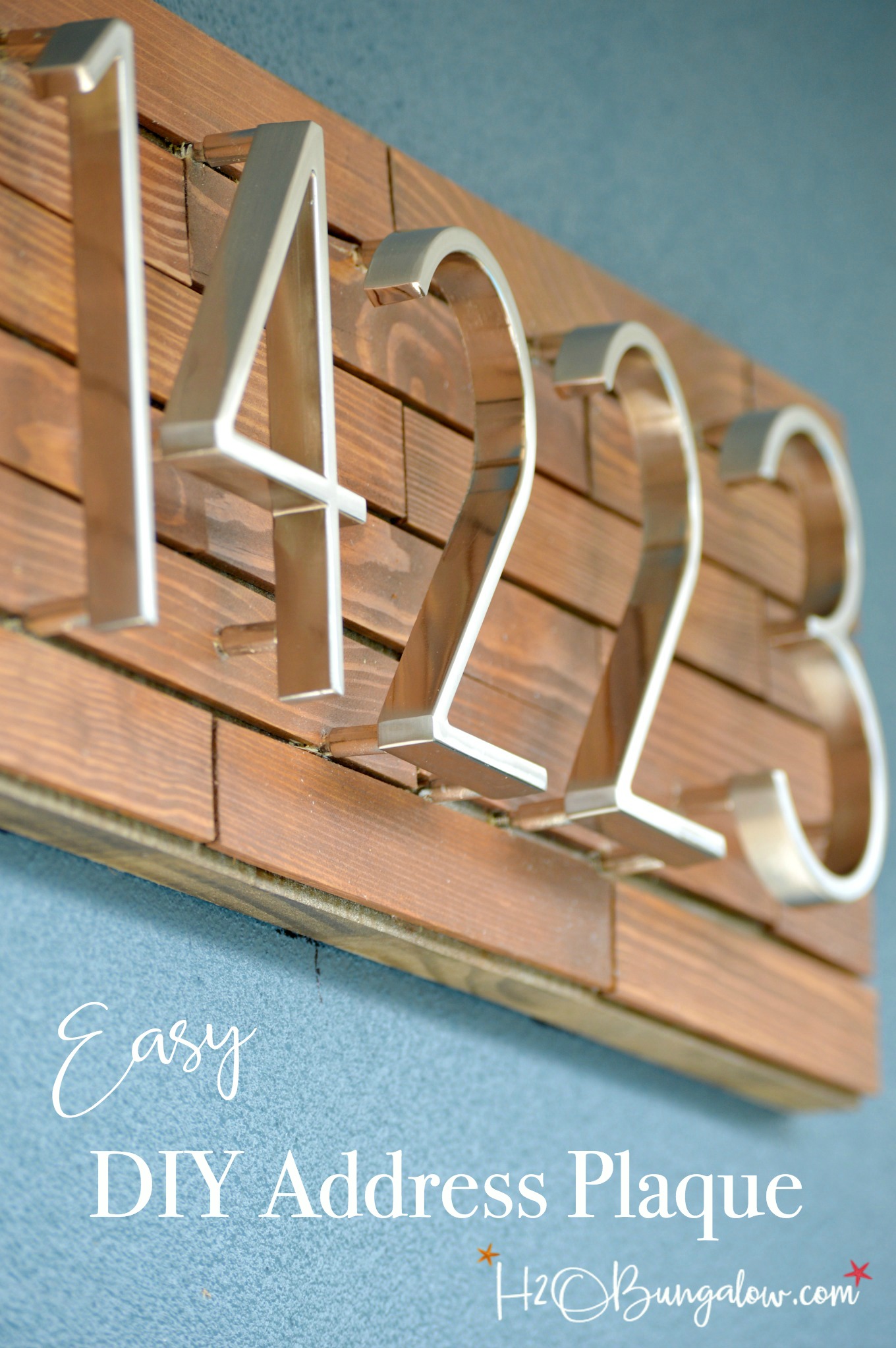 Do you love your address numbers or do they not fit for your style they like mine used to be?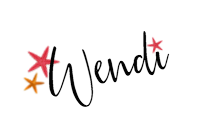 You may enjoy these other outdoor projects too.
Easy DIY $10 Patio Table Plans
How To Paint Outdoor Furniture
Disclosure: I may have been compensated, given product or tools that I used in this DIY post. All opinions that I share are always 100% my own. I use affiliate links in my posts. If you should make a purchase I will receive an itty bitty commission at no cost to you. Thank you in advance for supporting my blog and two fur-ball cats who believe they are privileged.