I'm sharing how to makeover a bedroom you'll love in three steps today. I just finished a makeover of our master bedroom. This one was a challenge and you guys know I do lots of makeovers. There was a big disconnect between my vision and how it was turning out. After buying and returning several bedspreads and other items, I realized I was doing it wrong. In order to get a bedroom makeover I loved, I needed to have a plan to carry out the vision in my head.
I had to get back to the basic steps of redecorating. That's what I'm sharing with you guys today, how to break down a makeover or room refresh into three simple steps to create a room you love.
This is a sponsored post by Carpet One Floor & Home®. Thank you for supporting the brands that keep H2oBungalow going.
If you've been following me for a while, you know this room has seen lots of changes. My master bedroom has come a long way over the past five years. I smile when I look at pictures of the early days and see the evolution of this space. You can see the biggest changes in my Coastal Bedroom Makeover Reveal from a few years ago. But, the room in my opinion, was still missing something and has never felt warm.
The truth is, I've always liked this room, but I've never loved the way it looked. The picture below is where I started, before my bedroom makeover. The room was pretty but still ehh… I felt it lacked warmth. It definitely didn't make me go WOW, I love it, when I walked into the room.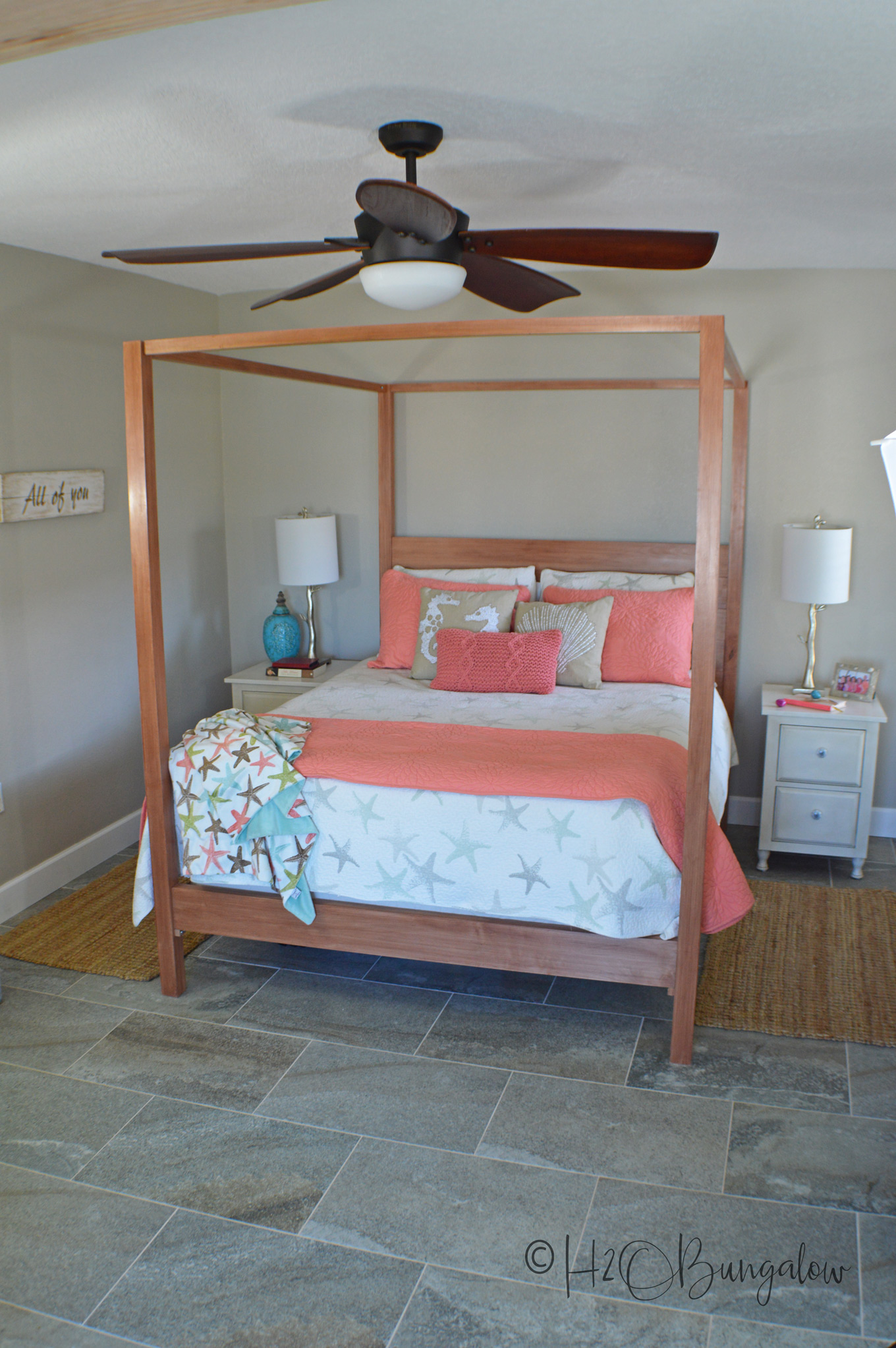 Below are the three steps I used to break down the process of making over my master bedroom. I wanted a room filled with decor and colors I loved, a bedroom that felt cozy and made me feel good from the moment I walked in. I also wanted to to keep all of my furniture and not paint or do any big DIY projects. If you love my four poster bed, you can get the plans here on the blog.
How to Makeover a Bedroom in Three Easy Steps
Step #1.
Define your style.
Take a good look around your room now. What do you like, not like about your room? Are there colors you like or a theme that's positively you that needs to stay?
What will you keep? Are you scrapping everything and starting over or are you craving a refresh?
Create a tear-sheet notebook from magazine pictures or a Pinterest board with your favorite looks. Fill it with what you like, room styles, bedroom colors. Study it for common themes and note them. Will they work in your space, can you duplicate them?
Step #2. Start your bedroom makeover with a plan.
Plan your bedroom makeover and break down the steps you'll take to create a room you love. Begin with the largest item and move down the list. Tackle flooring, paint, furniture, soft goods like bedding and last, the kind of accessories that will compliment the style you want.
Step #3 Execute your bedroom makeover.
Follow your plan and get busy! Here are a few of my favorite bedroom makeover tips for finding the items that fit your vision. Carry fabric, paint or floor samples with you when shopping. Keep receipts until you are completely done with everything. I usually bring home way more than I will use and return what doesn't work visually. If your shopping on the Internet, always read the reviews and look at the pictures others have submitted of the item you're looking at. Recreate a look you love by finding similar items in color and texture to a photo you love.
Share these tips on Facebook and pin them for later!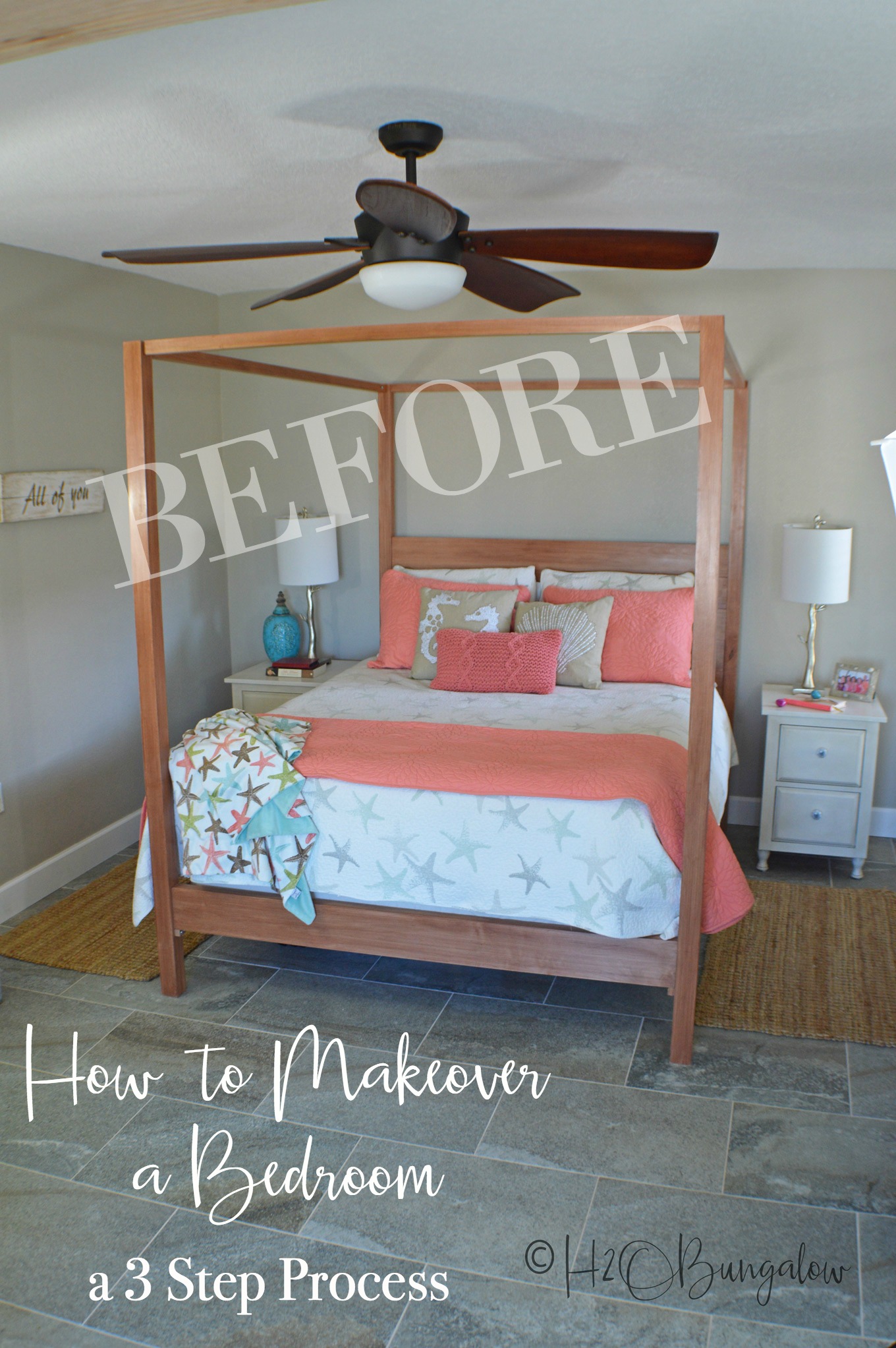 So how'd I do with my own bedroom makeover? I started with the biggest item I was changing.
I mentioned I wanted to add warmth to our bedroom, tile alone wasn't doing it for me…and neither did the small throw rugs I had on the side of the bed. I wanted a big change without actually making big changes. So I worked with Carpet One Floor & Home® to add a large area rug to the room. I fell head over heels for their Tigressa Cherish line of high style, performance carpet.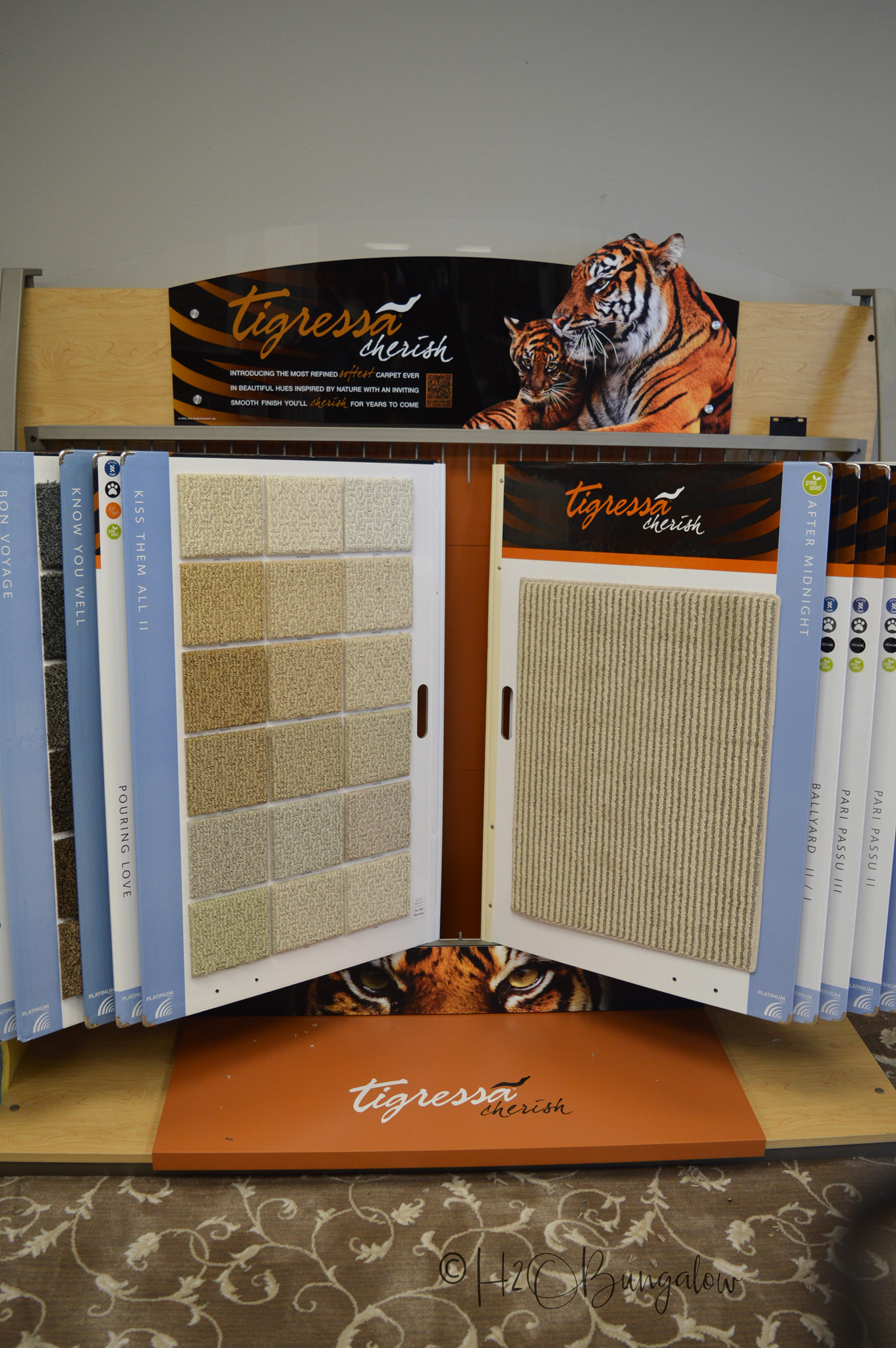 Wow! This carpet wasn't what I was expecting. It was incredibly soft to the touch. I mean soft like as if I was touching fabric! There were several textured choices and lovely colors to choose from too.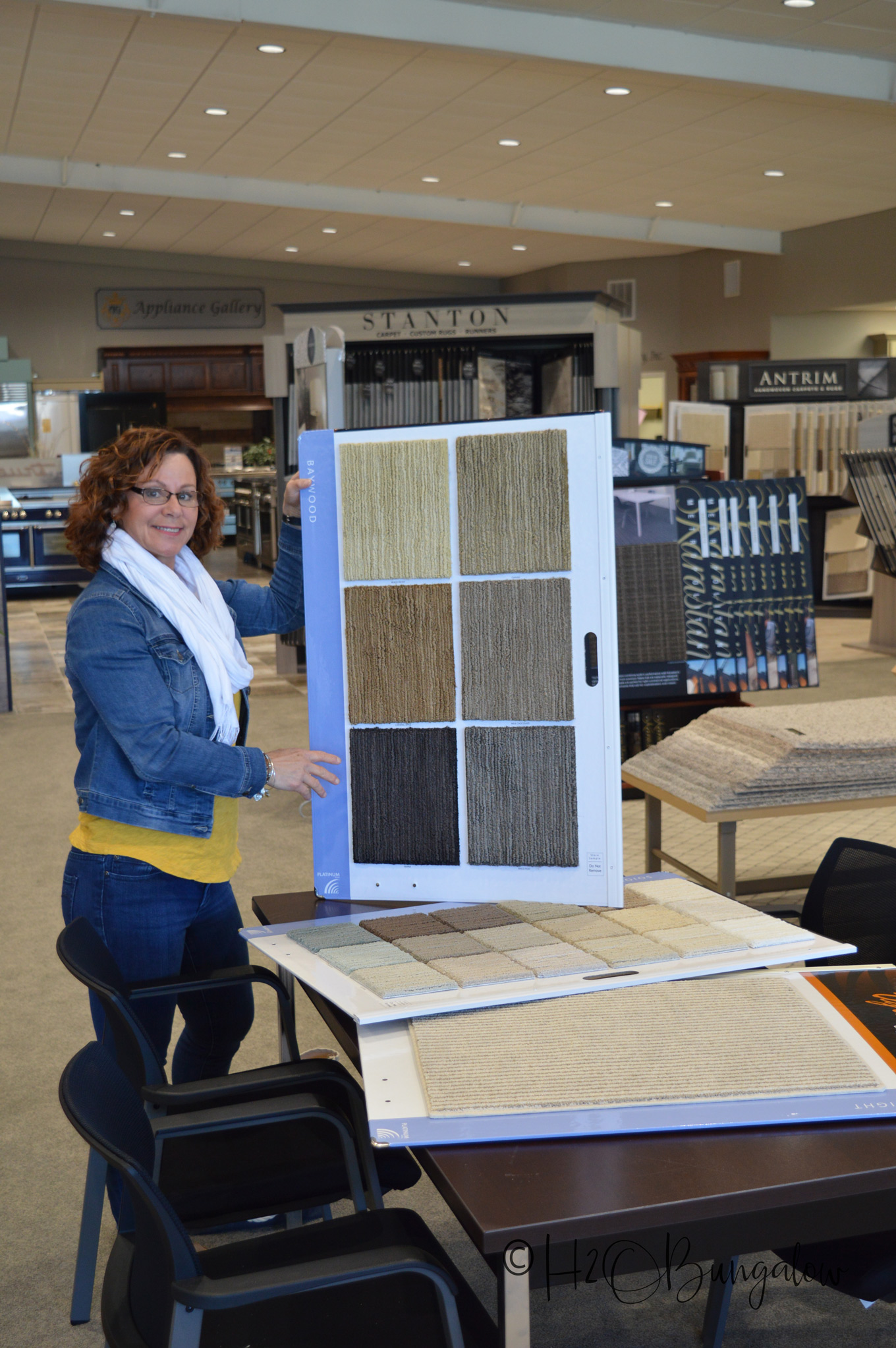 So much so, that I couldn't make up my mind. The nice fellow at Carpet One Floor & Home® suggested I check out my favorite samples, and bring them home so I could see them in my home before making my selection.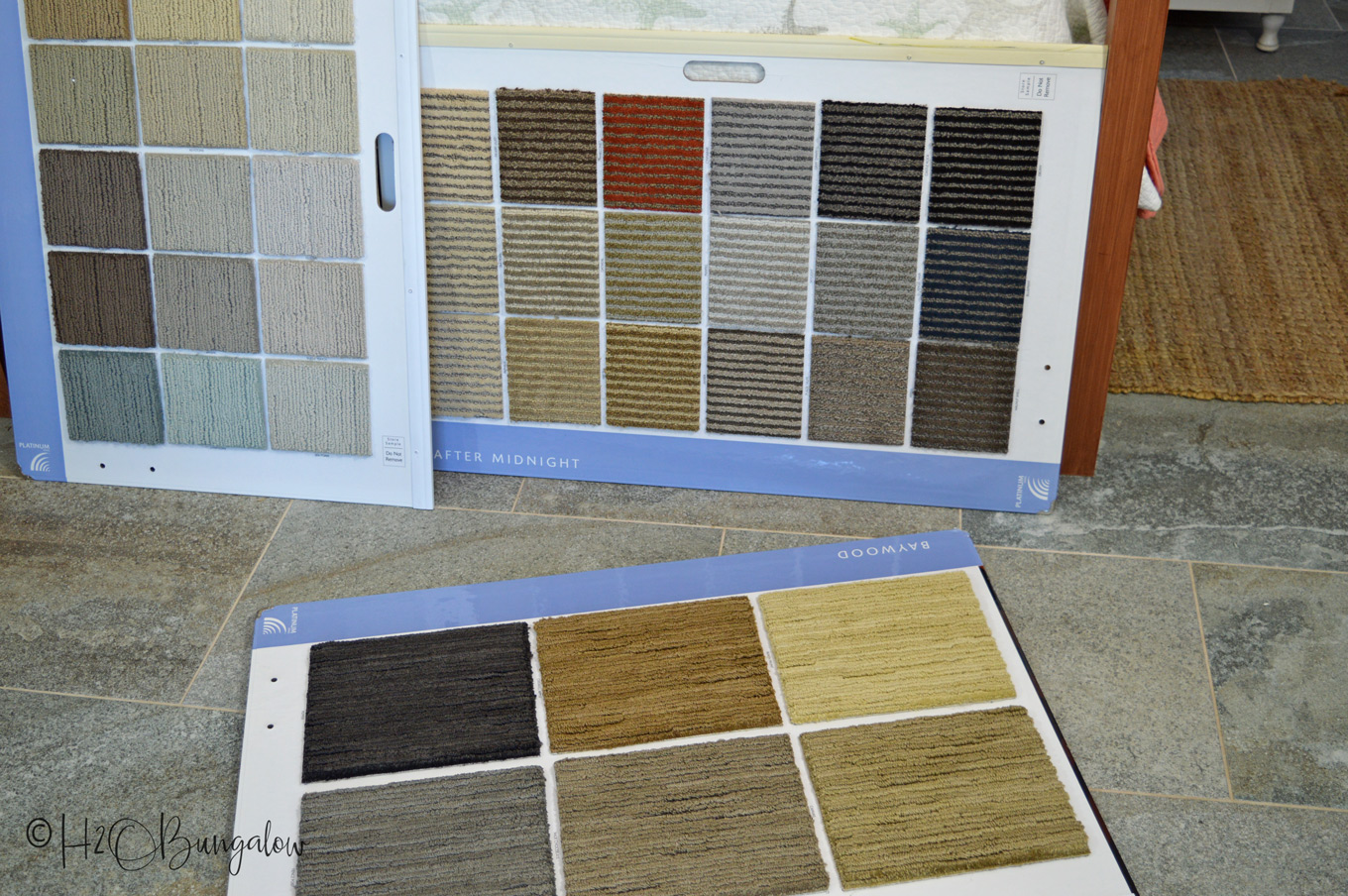 I knew I'd be fine even after picking out my carpet choice because Carpet One offers The Beautiful Guarantee®. They'll replace a customers choice for free if they don't love it. When I heard that I thought seriously? Yes, they will!
So which one did I choose? Take a peek at my Modern Coastal Bedroom Makeover and tell me what you think!
In the meantime, Check out a Carpet One Floor & Home® location near you. They are locally owned but as a co-op, they offer a huge selection at competitive prices. Oh my gosh…touch the carpet!
If you've been struggling with making over a bedroom or another room in your own home, try breaking it down into three steps like I've outlined here in my how to makeover a bedroom in three steps post. It really helped to break down the steps into manageable chunks.
Let's have some fun, share your answer below in the comment section! Which carpet do you think I choose for my area rug?
Sending out a big thank you to Carpet One Floor & Home® for sponsoring this post. Of course, all creativeness and opinions are my own. You guys know I only share products I use myself and believe in.