I want to thank you all for giving me a swift kick in the behind to get my coastal bedroom makeover done. Last December when I did my reader survey, I asked what type of projects you wanted to see more of. Decorating was a popular topic. Which is great because I've got LOTS of decorating left to finish.
Just how budget friendly was my master bedroom makeover? I'll let you be the judge:)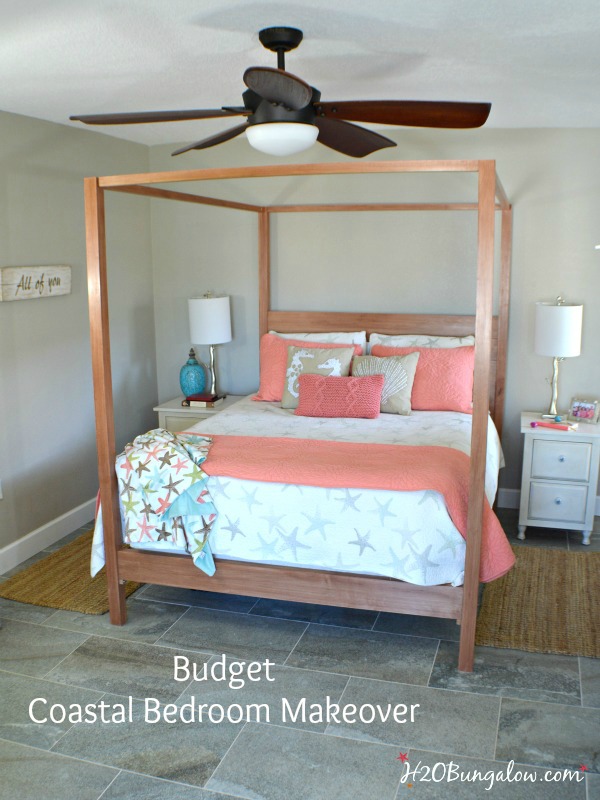 You might think that it wasn't so bad before, just bland. Of course, if you read last weeks post where I shared the real before pictures of what it looked like when we moved in you saw how far this little room has come in the 3 years we've been here.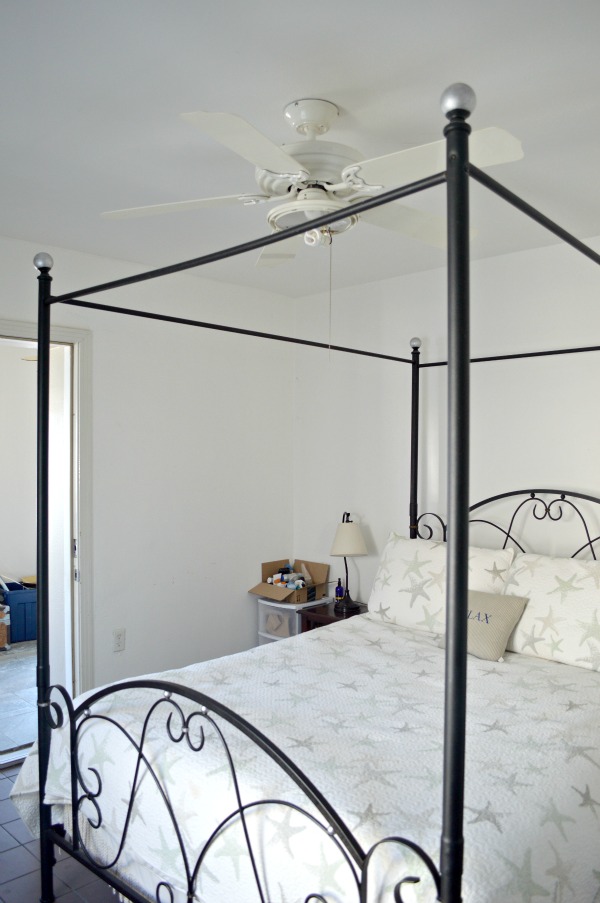 Which is why I probably let it go for a year, because compared to what it looked like the day we moved in.. The interim wasn't so bad, it was just boring.
When we added the master bathroom addition, we did some work in this room too. It's a small room so we removed the old closet with the sliding doors and moved the wall back 2 feet. That closed off the second doorway to our room too. I used the hallway on the other side to build a new linen closet.
I needed to let as much light in as possible so I expanded our doorway and added french doors. You can see the entry to our room in my Industrial Shelving post.
I got as far as new floors and paint on the wall which is Revere Pewter by Benjamin Moore Paints.
But that's where I ran out of steam.
No curtains, no color, orange wood night stands and one lonely burlap monogram project hanging on the wall.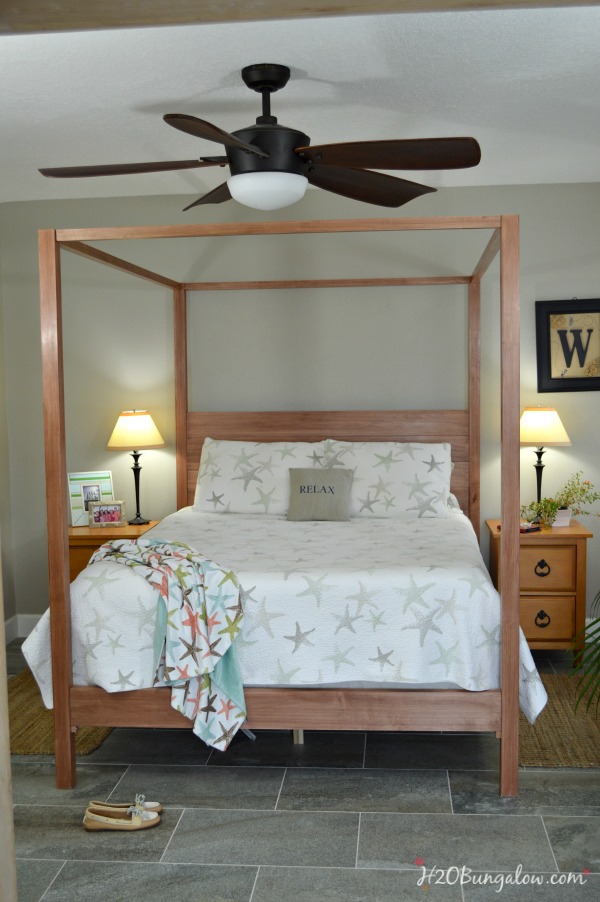 So without further rambling let me share what I accomplished in my coastal bedroom makeover these last few weeks.
To me, adding a pop of fresh coastal color made the biggest impact. I love the coral against the neutrals and blues. I was challenged to make the room not too frilly and not too masculine and maximize the light.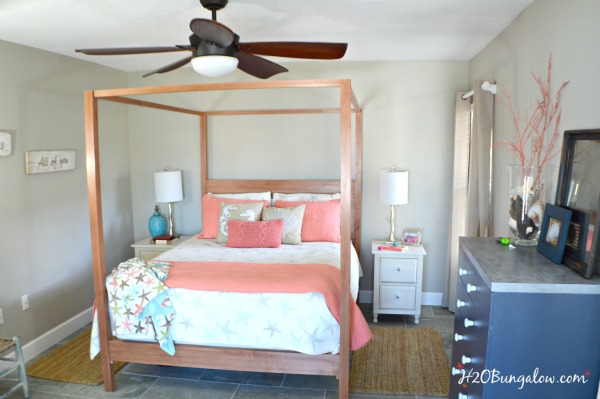 This room only has 1 window and unlike the pretty light filled coastal bedroom photos you see online, it tends to be dark. So I added neutral curtains that wouldn't block any sunlight. I shared how I made the DIY curtain rod and my secret for hanging straight curtains. They make such a huge difference.
I spotted these lamps at HomeGoods and they had my name written all over them!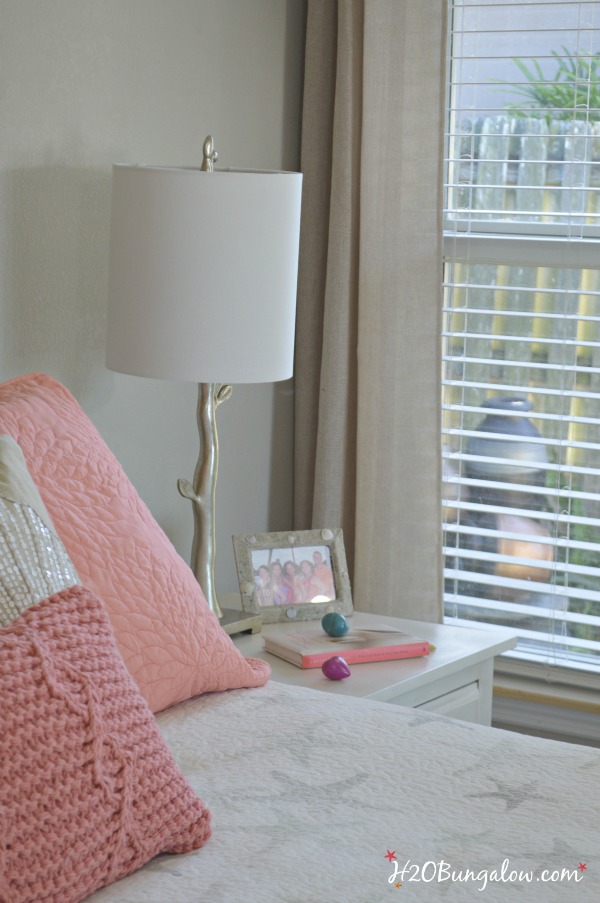 I think my DIY Love Wall Plaques fit well on this big blank wall without adding bulk or breaking up the wall. They also keep the eye traveling inward which helps the room look larger.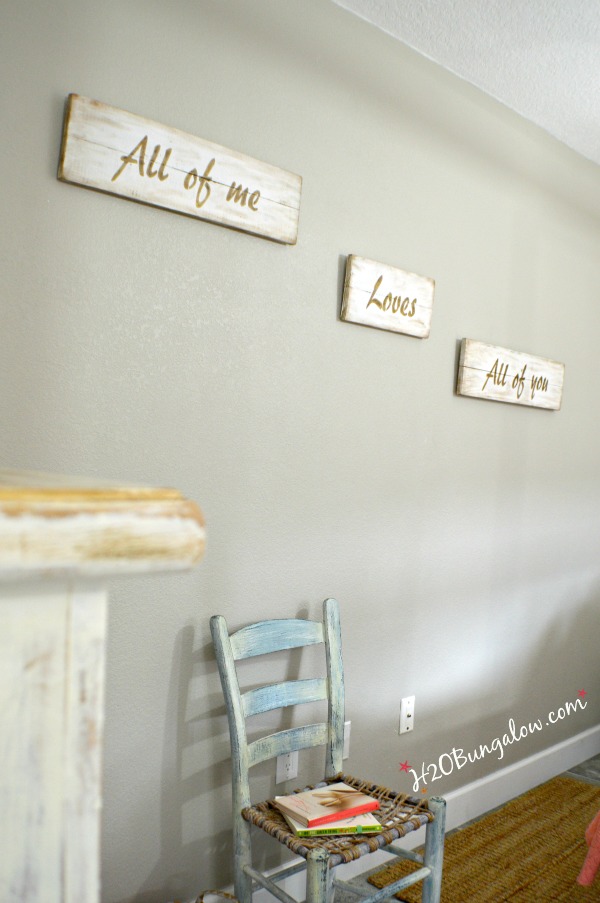 This corner is naturally dark. I used lots of light colors to brighten it up and reflect the light.
The white painted baskets next to my painted chair and dresser changed the corner from dark to bright and cheery. Remember this dresser from the original before pictures? I love the antique gold damask pattern.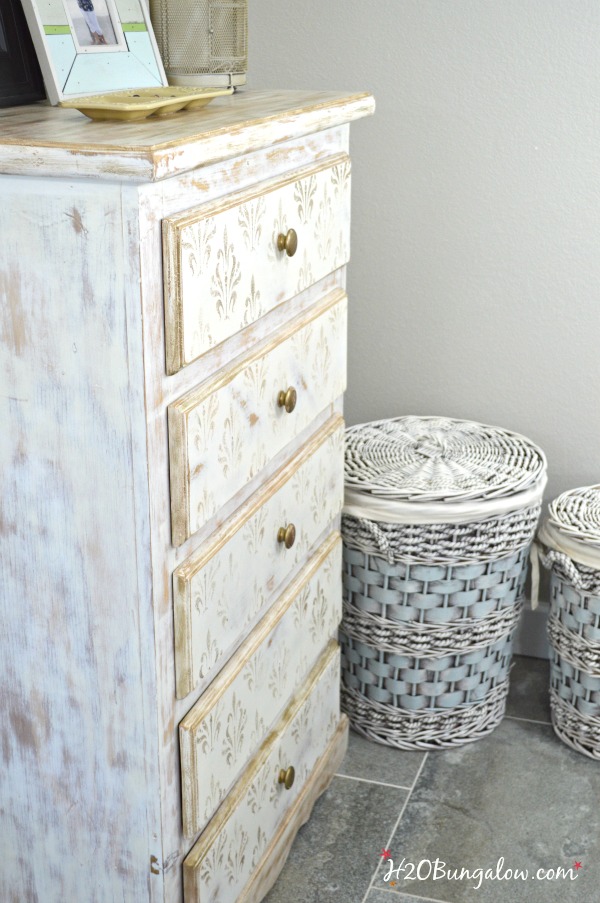 Everything in my house is a target for a paintbrush and this figurine was no different. He used to live in the garden before I gave him a coat of white & a little wax 🙂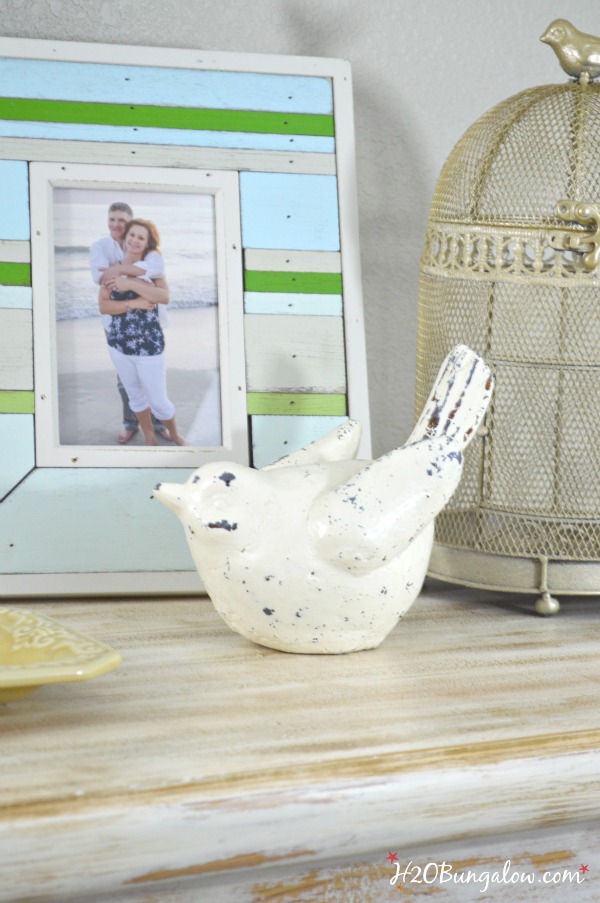 Decorating with neutrals help the room to look brighter and larger. My aged white nightstands are the perfect neutral for this room. I'm still loving the knobs I used!
Adding a color theme and accent pieces was easy beacuse the background for everything was neutral. I love neutrals for pulling togeher a fresh coastal vibe. I also love how easy it will be to change out the colors when it's time for a new look. I can easily take away the coral and blue accents and move to another color combination without much fuss or expense.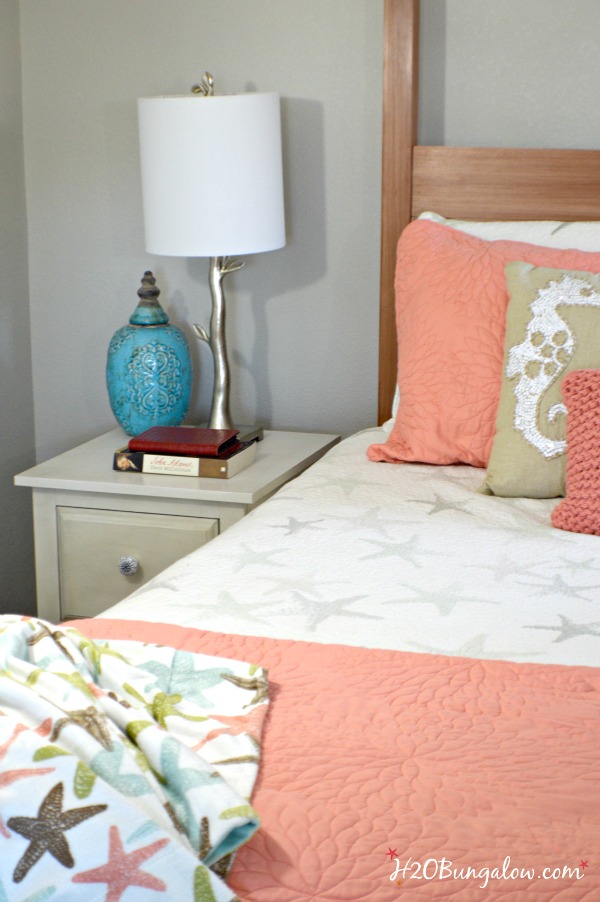 How Budget Friendly Was My Coastal Bedroom Makeover?
I've redone every piece of furniture in this room and made the majority of the artwork.
My coastal bedroom makeover was very thrifty, Yay! I spent less han $200 to makeover my master bedroom.
This entire room, with everything in it cost less than $1300, including my less than $250. To update my room for this makeover.
Even before the makeover, this room was thrifty. If I add up everything in our master, my grand total comes to just at $1300. That includes our solid maple bed ($800), which I built myself:)
Coastal Bedroom Makeover Furniture
night stands – thrift sore $29 each
blue dresser $40 Craigslist find
white dresser $0, my daughters dresser from 21 years ago 🙂
rustic seaside chair $0, a gift years ago
bed $800 – I built the bed, Find the plans here on the blog
Coastal Master Bedroom Accessories
curtains $20 HomeGoods
DIY Curtain rod – $18
coral bedding & pillows $130 HomeGoods, I had the starfish bedding already
lamps $70 HomeGoods
rugs $0, had them $25 ea originally
vintage mirror on the blue dresser $3, I made it from a thrift store find, preblog
starfish wall plaque $2, see the project here
bird figurine, $0 it was in the garden
everything else was shopped from the house:)
Bottom line, I spent less han $200 on my bedroom makeover. My biggest expense was the lamps. I think I did a pretty good job on my budget coastal bedroom makeover.
What do you think?
Like I said in the beginning, thank you all so much for the swift kick in the derriere that got me motivated to finish this room. I love it!
Do you have a room that's desparate for a makeover? Share below!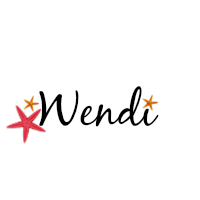 Love a good dose of DIY home decor, home improvement, the challenge of woodworking and creative ways to make your home look fabulous?
Me too!
I'd love to share mine with you. Click here to sign up for my post emails and I'll send a quick note when I have a new project to share.
Social media fan? Don't be shy say hello! I love when you guys do that! I'm interactive on Facebook and I share lots of other projects and, useful inspiration for the home and content I don't share anywhere else. Follow H2OBungalow on Facebook here
Oh heck, just follow me on all social medias. We'll have some fun…promise:) Follow H2OBungalow on Instagram , Follow H2OBungalow on Twitter , Follow H2OBungalow on Pinterest, I'm on Periscope! @H2OBungalow
I use affiliate links in my posts. If you should make a purchase I will receive an itty bitty commission at no cost to you. Thank you in advance for supporting my blog and two fur-ball cats who believe they are privileged.