If I'd have known then what I know now. Have you ever said that? I have no problem admitting that and I'm saying it right now. Want to know the easiest, fastest way to paint doors and trim and have an absolutely perfect finish? Than let's talk about how to paint doors and trim with a paint sprayer.
You can do it. It's easier and more affordable than you think.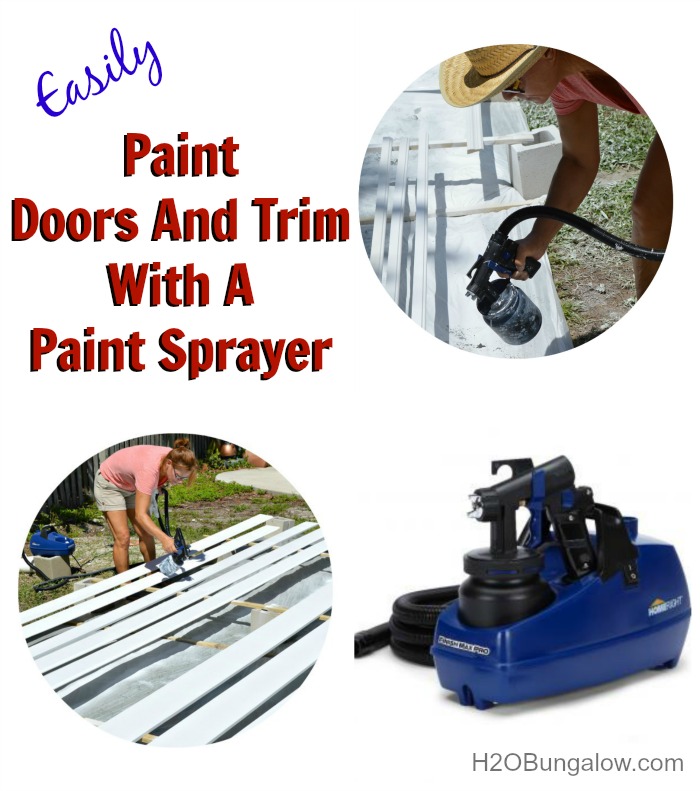 Our renovation is finally at the stage where it's starting to look like a home. It's time for our doors and trim work to be installed. They came primed, but not painted.
In my Expert Advice On Home Remodeling Series I shared that one of the best ways to shave big bucks on your home remodel bill is to do your own painting. I always do my own painting. I painted this house inside and outside myself and spent the savings on goodies I might not have had the budget for otherwise. – Like an awesome shower that I'll share soon!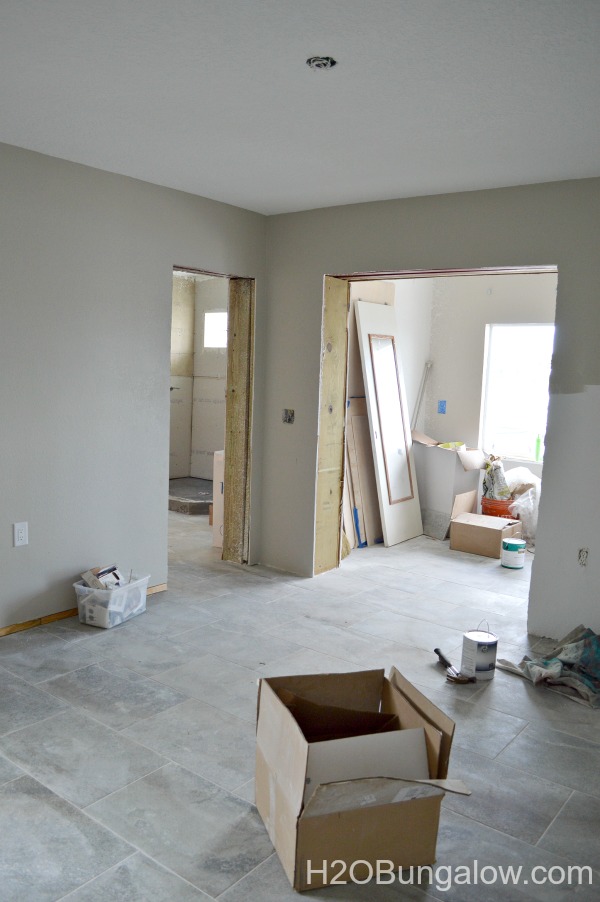 Fortunately or unfortunately I'm one of those people who is a perfectionist when it comes to painting, especially doors and trim. I want a perfect finish without brush strokes and not a single drip…anywhere.
That means I spend a lot of time on each piece, especially doors. I usually add an additive to my paint to help extend the wet time and give me a smoother finish. I paint several thin coats of paint on the doors on each side. It's time consuming since I have to wait for the paint to dry and clean my brush in between each step. I've followed this same routine for a long time. I'm the painter in our family and have painted every one of our homes.
And I was getting ready to paint a lot more.
How could one little bath, closet and bedroom remodel bring on so much woodwork? Yikes!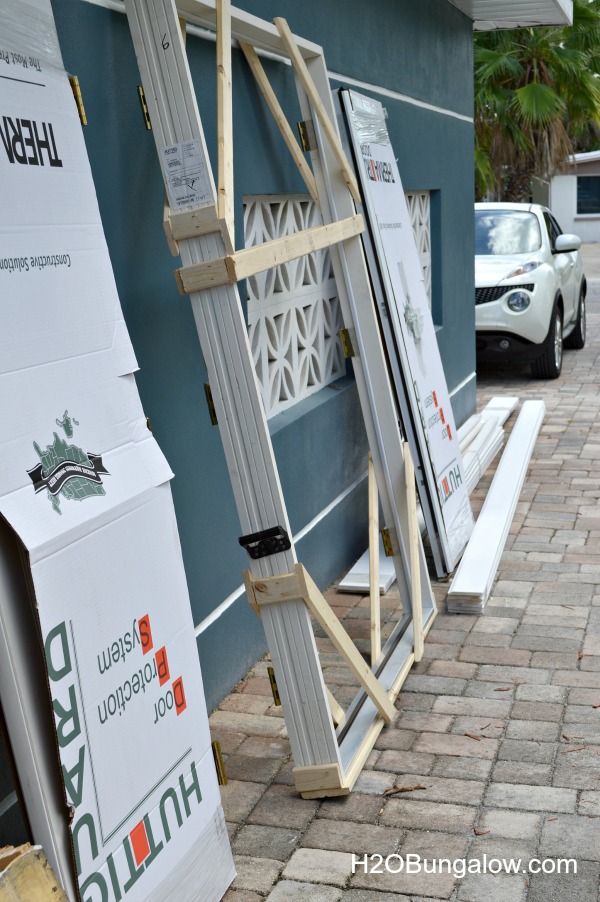 …and they kept bringing more!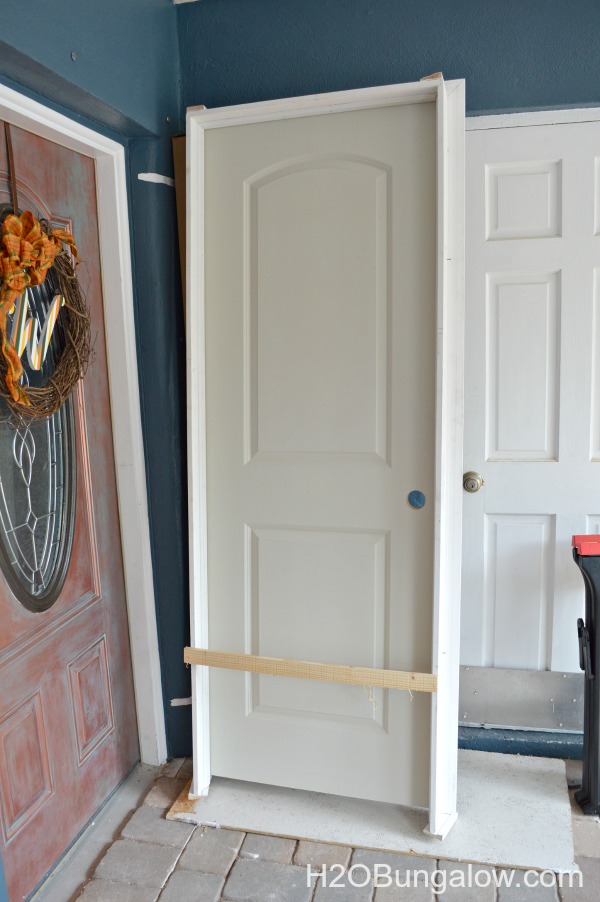 This is where my new HomeRight Finish Max Pro Paint Sprayer came into the picture.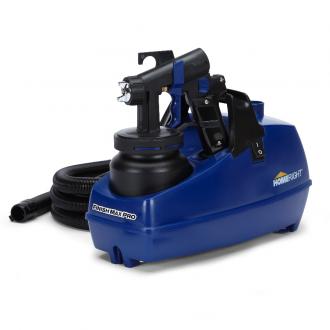 Ask me how much time I saved….
Go ahead. Ask me.
I saved a few days.
Really, days!
I'm not joking.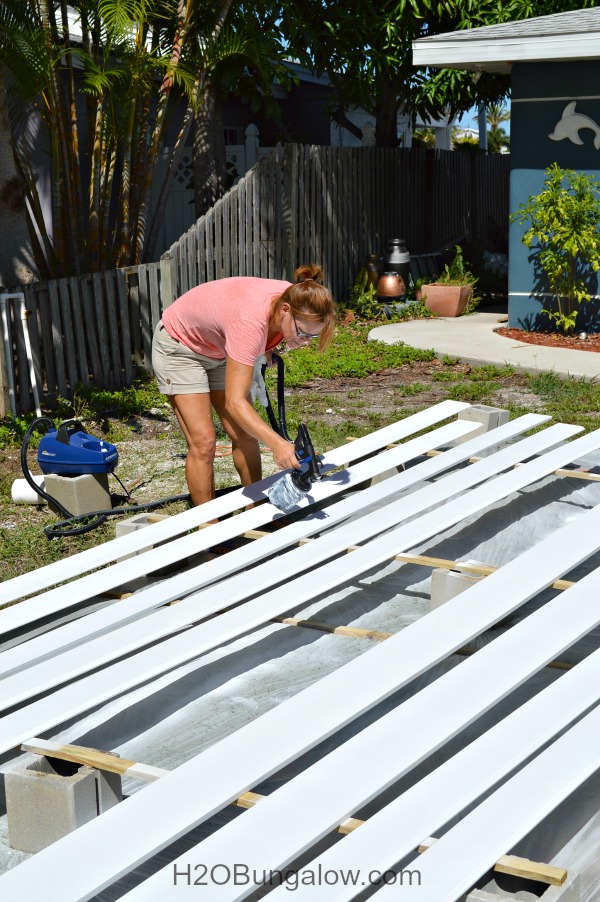 And it was easy.
After trying a variety of methods and painting what seemed like 200 feet of trim and 4 doors which was 8 sides, I felt like I had a good system in place. Here are my tips on how to paint doors and trim with a paint sprayer. It's quick, easy and there's minimal clean up and mess.
Make sure your paint is thinned to the right consistency. All the HomeRight paint sprayers come with a handy little gadget that makes this step fool-proof.
Spray outside or in a well ventilated area that is also protected from wind and debris in the air. You don't see me wearing a mask in these pictures, but you should always wear a saftey mask when using a paint sprayer.
Place your trim and door across supports off of the ground.
Set the paint to spray the least amount of paint first and adjust the nozzle to spray more until you have a good paint coverage without a quick build-up of paint. Use a test piece of scrap wood until you get the spray volume you want.
Several thin coats of paint are better, and they dry quicker.
Hold your sprayer at a slight angle about 8″ away. Don't move your wrist. Walk along your trim all the way down each piece around the end and up the other side.
Spray the edges of your doors first, and then the center. Slowly walk all the way down and up, then go side to side.
Watch your nozzle doesn't get gunked up and run clean water through your sprayer for a minute or so periodically. I did this step when I stoped to add more paint to the paint reservoir.
I painted one side of the doors on one day and the other side the next day. The paint was completely dry before I turned them over to paint the other side.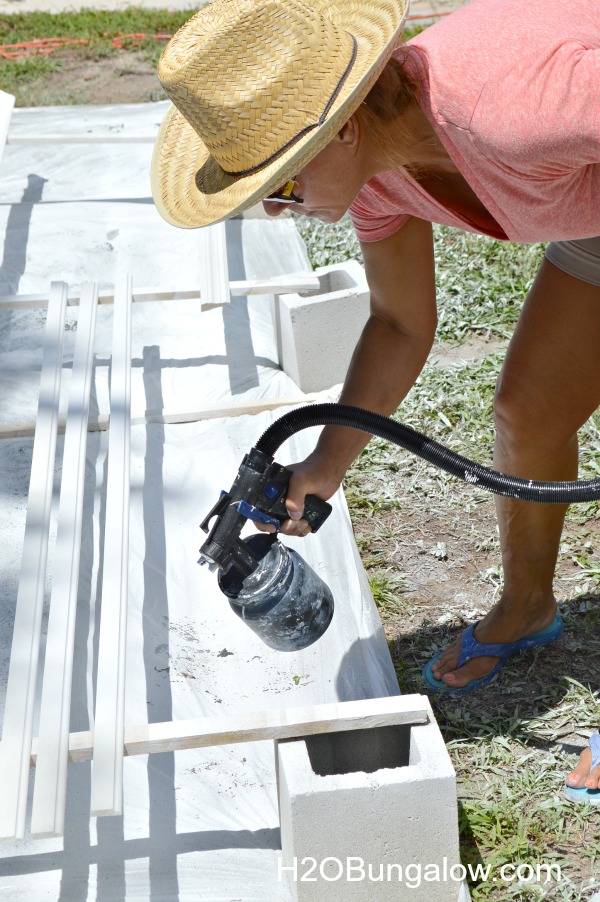 Another big benefit of using the Finish Max Pro Paint Sprayer was the dry time. Everything was dry to the touch pretty quickly.
Which was a very good thing that day.
Our summer storms move in really, really fast around here.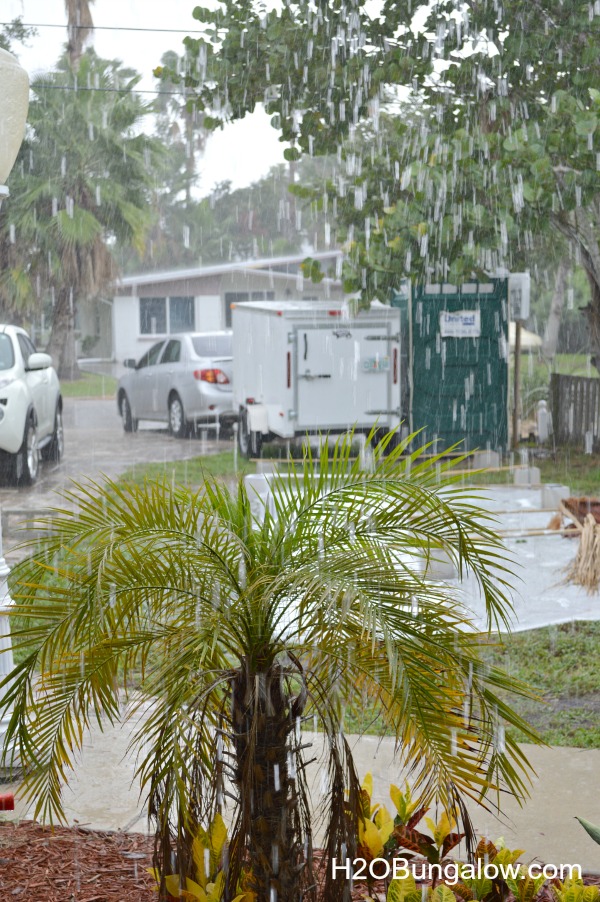 We brought everything inside to finish drying overnight.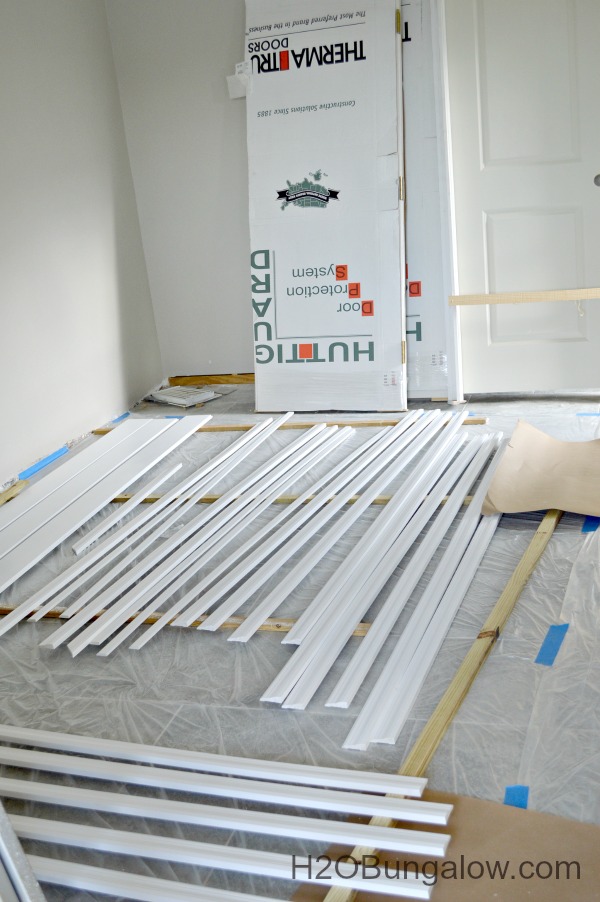 Painting my doors and trim with the Finish Max Pro Paint Sprayer was a game changer. Every single piece of trim and each door came out perfect. I've never used a paint sprayer before and cannot believe how easy it was to master! It's no exaggeration when I say I saved a few days. Yes, I'm gushing and yes I would add one of these to my tool box even if I hadn't been sent one for this project.
I love..like love my HomeRight Finish Max Pro Paint Sprayer. Want see see more Homeright paint sprayer projects and products?
I saved a ton of time painting my outdoor Aiderondack chairs and share a short video tutorial on how to use a pint sprayer. If you are challenged for space you'll love my video and tutorial on how to use a Homeright Paint Shelter. It's the best way to paint with a paint sprayer and not make a mess. Seriously, you guys could use this in your living rom and not have paint anywhere!
You can see how my master bedroom turned out now that we are done. I think my master bath addition may just be my favorite bath of all times.
Have a project in mind that you'd like to have a Finish Max Pro Paint Sprayer to do the job with?
As you may have guessed, this is a sponsored post. I received product, compensation or both for this post. All opinions and words are 100% my own and I only share items that I believe in and think will bring value to my readers.
You'll find my project linked up to these fabulous parties!
Love a good dose of DIY home decor, home improvement, the challenge of woodworking and creative ways to make your home look fabulous?
Me too!
I'd love to share mine with you. Click here to sign up for my post emails and I'll send a quick note when I have a new project to share.
Disclosure: I may have been compensated, given product or tools that I used in this DIY post. All opinions that I share are always 100% my own. I use affiliate links in my posts. If you should make a purchase I will receive an itty bitty commission at no cost to you. Thank you in advance for supporting my blog and two fur-ball cats who believe they are privileged.