These are the little nautical Easter eggs I quickly cast aside to make my Some Bunny Loves You Easter sign a few weeks ago. At the time these eggs were completely uninspiring. Of course, as soon as the pressure was off to create something fabulous for the Easter Decor & Craft Showcase, the idea hit me. This basket needed one simple addition.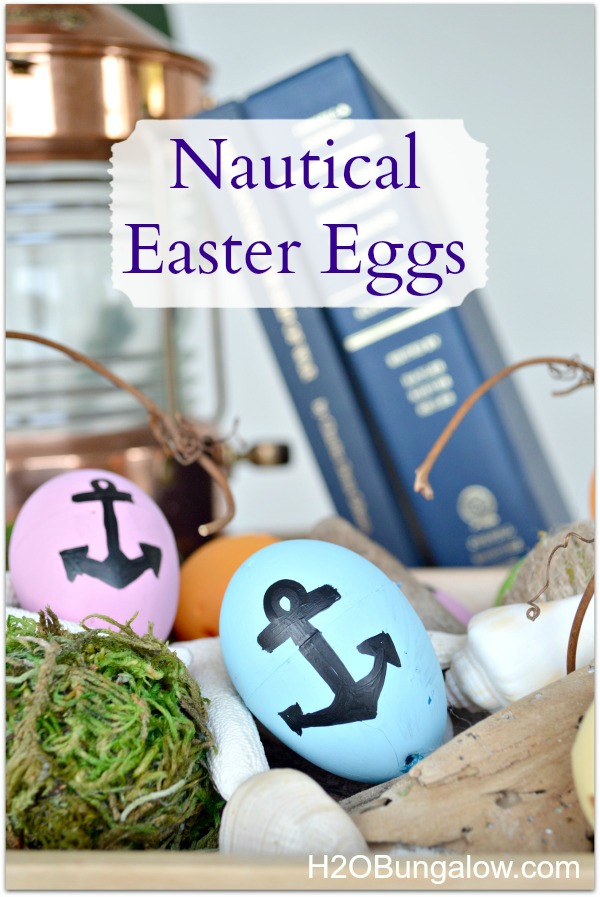 They needed the nautical egg project I left half done and cast aside:)
Easy DIY Nautical Easter Eggs
Simple and anyone can do this in a few minutes.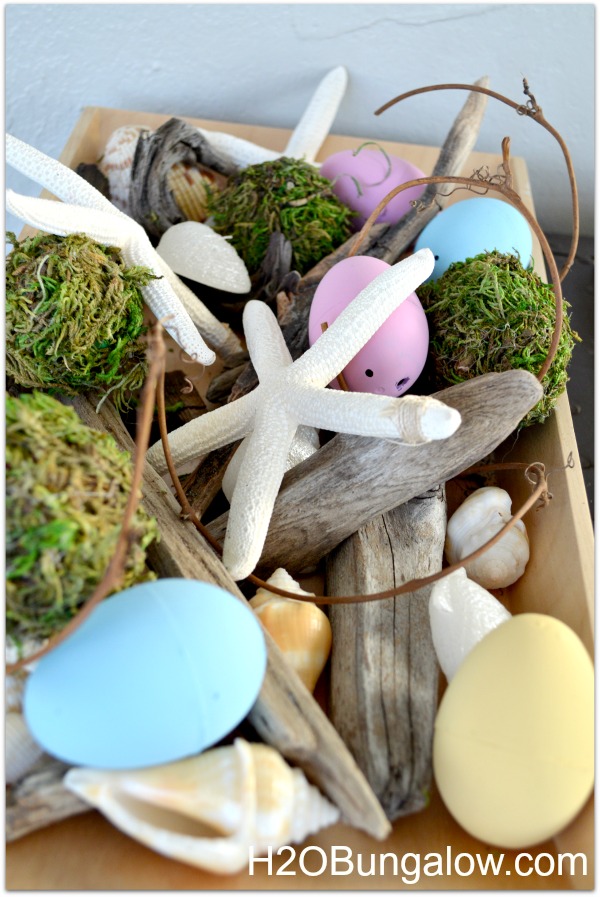 I'd already made moss covered Easter eggs and painted my plastic eggs. putting the eggs on wooden skewers to paint and dry will save a lot of frustration 🙂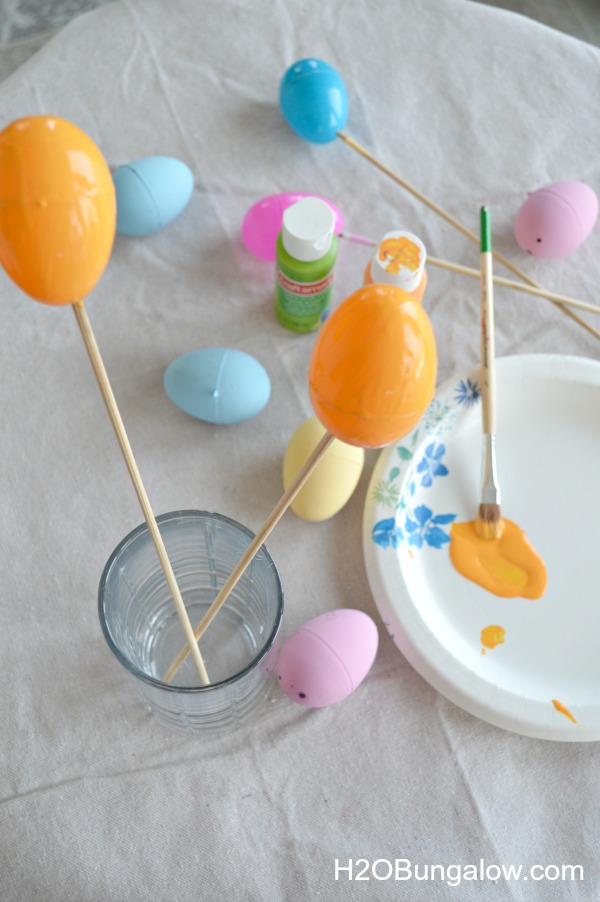 I decided to add little anchors onto the eggs. This was the little piece that was missing in the dull basket. The anchors also personalized our little Easter decoration since we are a big sailing family.
Nautical Easter eggs…so easy!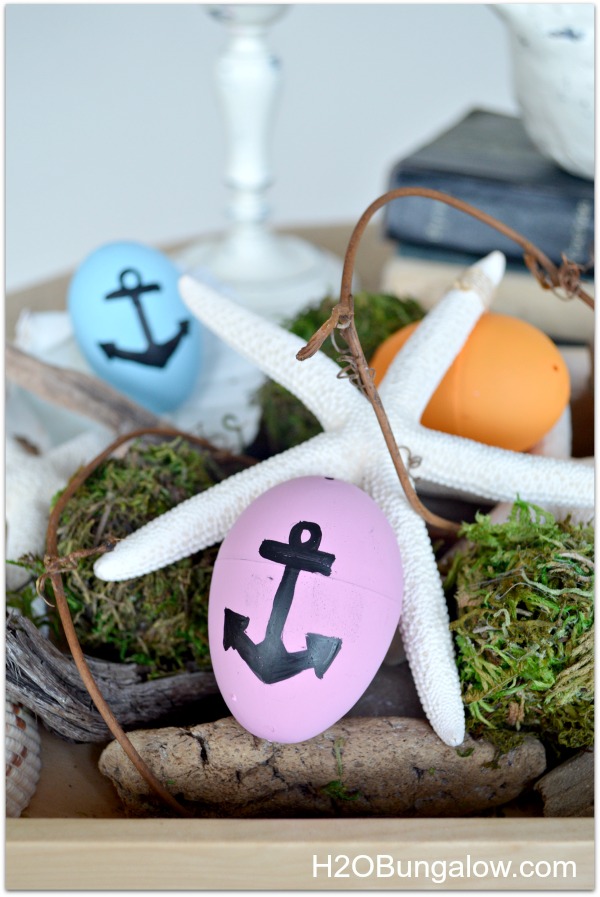 I tried using a stencil I had, but it didn't lay flat enough to get neat lines. Then I tried printing out an anchor and using my graphite paper to trace the anchor on. Nope, the shape of the egg again just made it too hard to get a clean outline.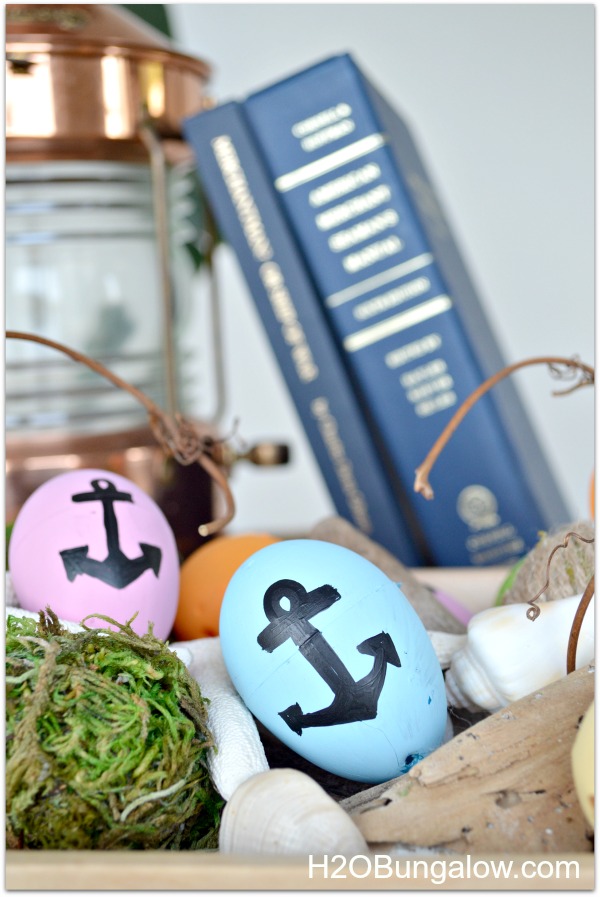 Then I tried painting the anchor on with a fine tipped paintbrush. It worked! Looking back on the project, a Sharpie is probably the easiest way to draw on an anchor. I needed to use my paintbrushes. My kids gave me a set of nice paint brushes last Christmas and I like to use them because they're special to me. I also wanted my son to see me using them 🙂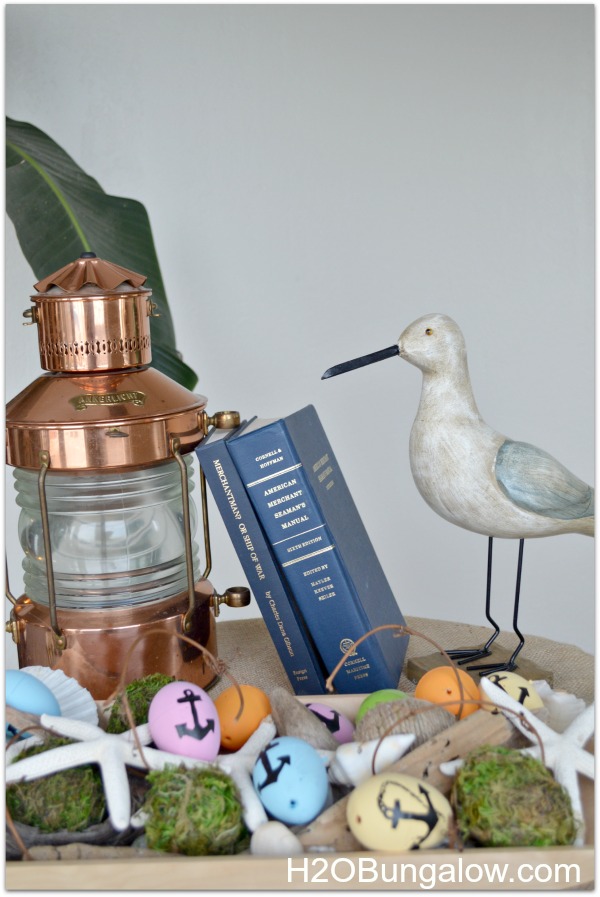 That's all there is to making nautical Easter eggs. I've added a few starfish, some shells and a little driftwood to the basket. I also made a few jute covered eggs.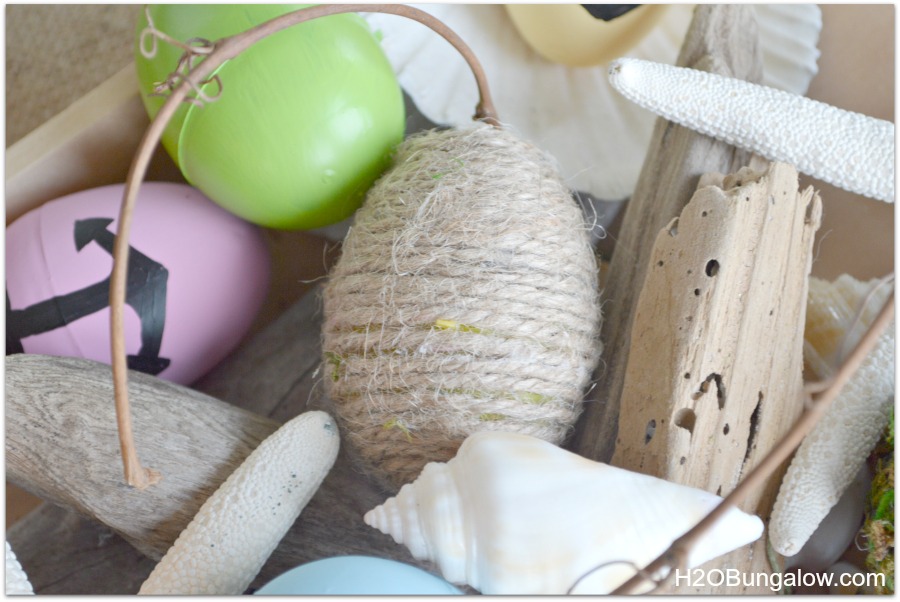 And added some grapevine twigs.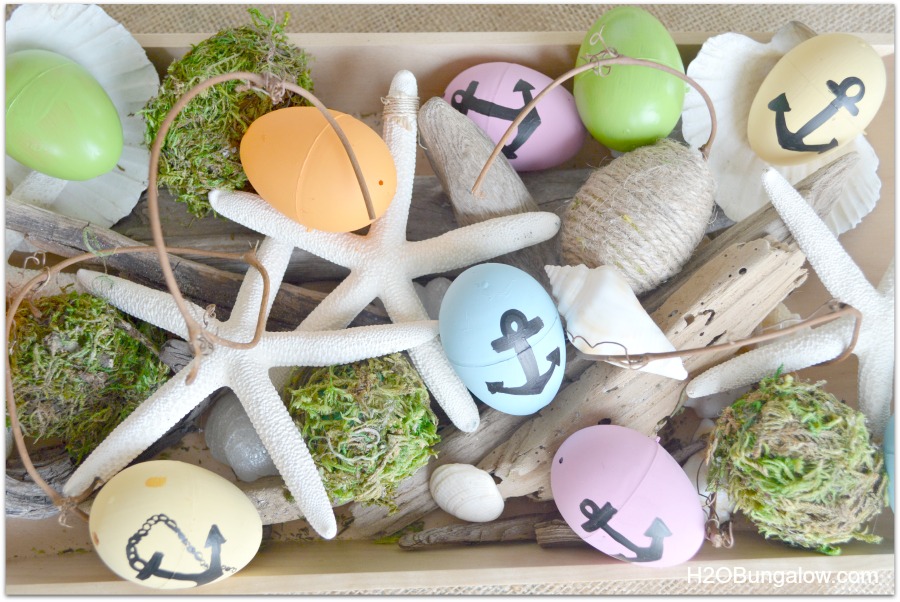 I'm happy with my nautical Easter eggs. Adding the anchors made a huge difference and added a fun personal touch that fits for our lifestyle.
So…how would you personalize your Easter Eggs?
Looking for more Easter DIY projects? You may like my Some Bunny Loves You Painted Sign with a downloadable template you can use or maybe my bed spindle Easter Carrots are more your style? If you're loving the idea of moss covered Easter eggs I can help you out with a tutorial too!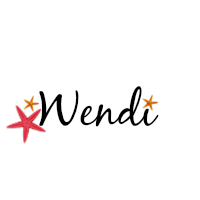 Love a good dose of DIY home decor, home improvement, the challenge of woodworking and creative ways to make your home look fabulous?
Me too!
I'd love to share mine with you. Click here to sign up for my post emails and I'll send a quick note when I have a new project to share.
Social media fan? Don't be shy say hello! I love when you guys do that! I'm interactive on Facebook and I share lots of other projects and, useful inspiration for the home and content I don't share anywhere else. Follow H2OBungalow on Facebook here
Oh heck, just follow me on all social medias. We'll have some fun…promise:) Follow H2OBungalow on Instagram , Follow H2OBungalow on Twitter , Follow H2OBungalow on Pinterest, I'm on Periscope! @H2OBungalow
I use affiliate links in my posts. If you should make a purchase I will receive an itty bitty commission at no cost to you. Thank you in advance for supporting my blog and two fur-ball cats who believe they are privileged.