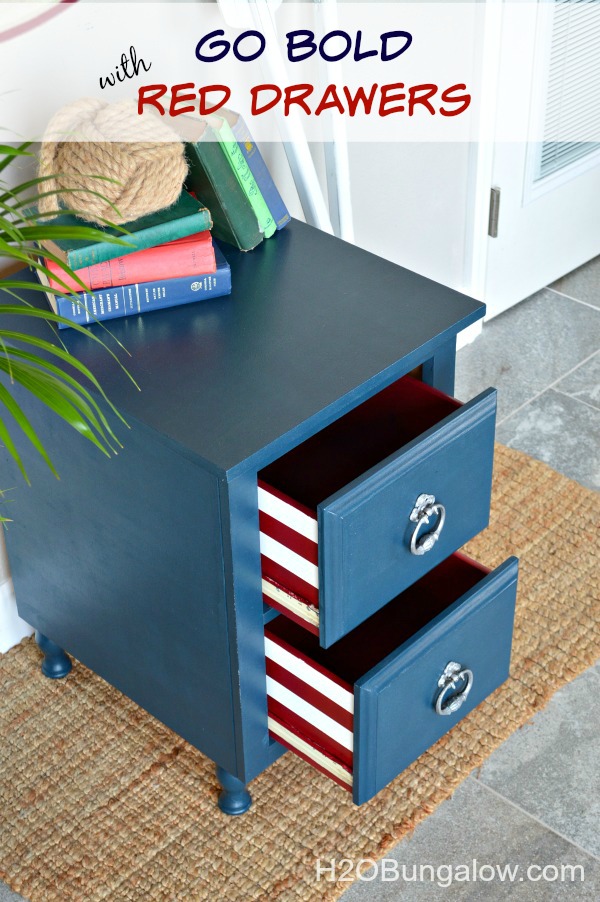 When I saw that this months furniture theme was red, I was thrilled. I love the color red. From now until New years we'll see it everywhere, which I love. My project this month? It's a painted red drawer surprise.
What's a painted red drawer surprise you ask?
Did your mom ever make a casserole? They were popular when I was a kid. In our house casseroles were made with whatever leftovers were in the fridge and the recooked. I'm assuming she made them when she had no spare time and sometimes they were pretty tasty. At least that's my recollection of them.
Gearing up for the holidays starts before Thanksgiving around here. In our family Thanksgiving is not just a time to get together with family for one occasion. It's also the week of lots of family arriving from out-of-town, our anniversary and my husbands birthday. There's a wee bit of preparation going on and I'm on overdrive.
You too?
So, try as I might, I couldn't come up with a snazzy project for our red theme…my favorite furniture color! So I'm sharing my red drawer casserole, err… painted red drawer surprise.
I had this nightstand project I had to finish for someone special. A bold red nightstand wouldn't work so well for the person or the room it's going to be in.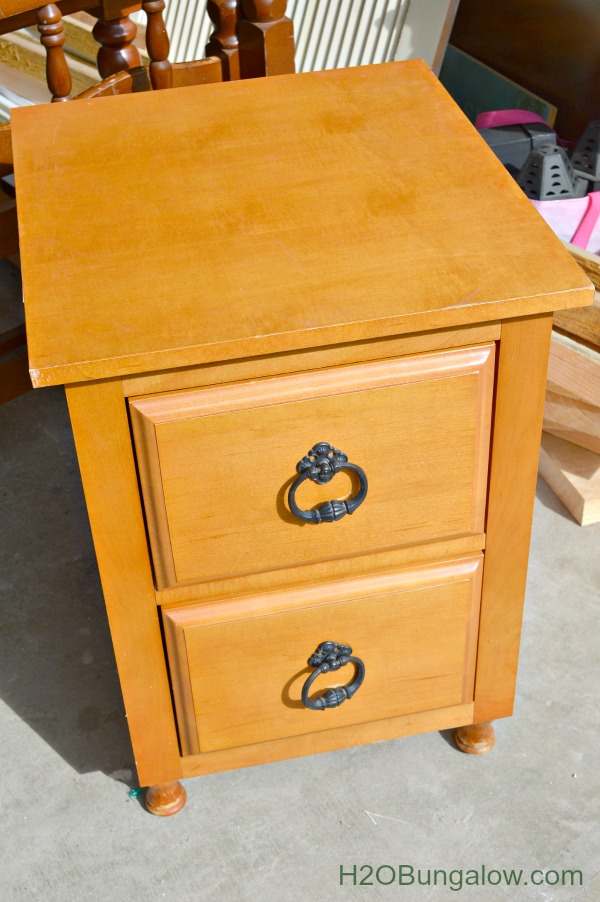 But..everyone loves a surprise, right?
especially a beautiful deep, luscious shade of red surprise..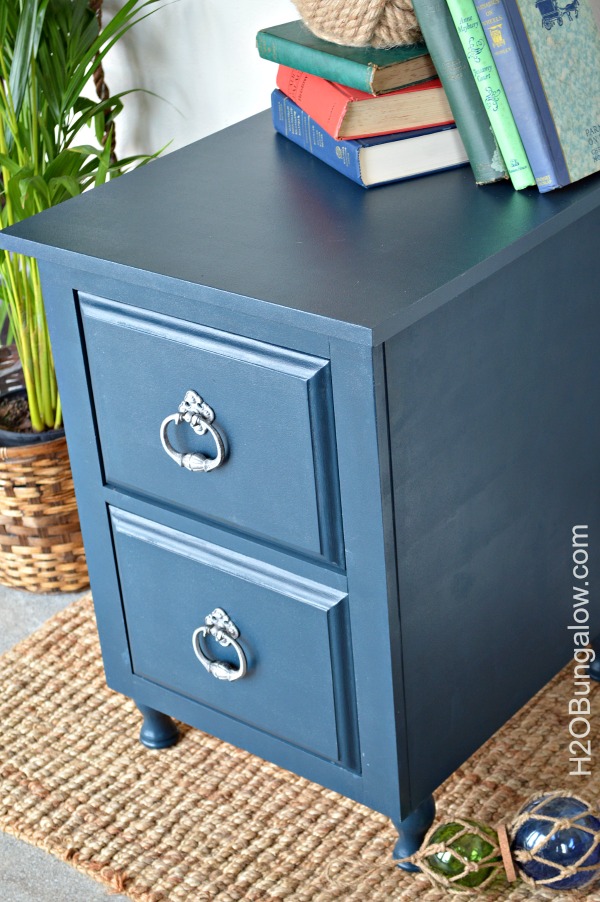 Or.. so I hope.
So, I started painting inside of the drawers with my favorite red paint.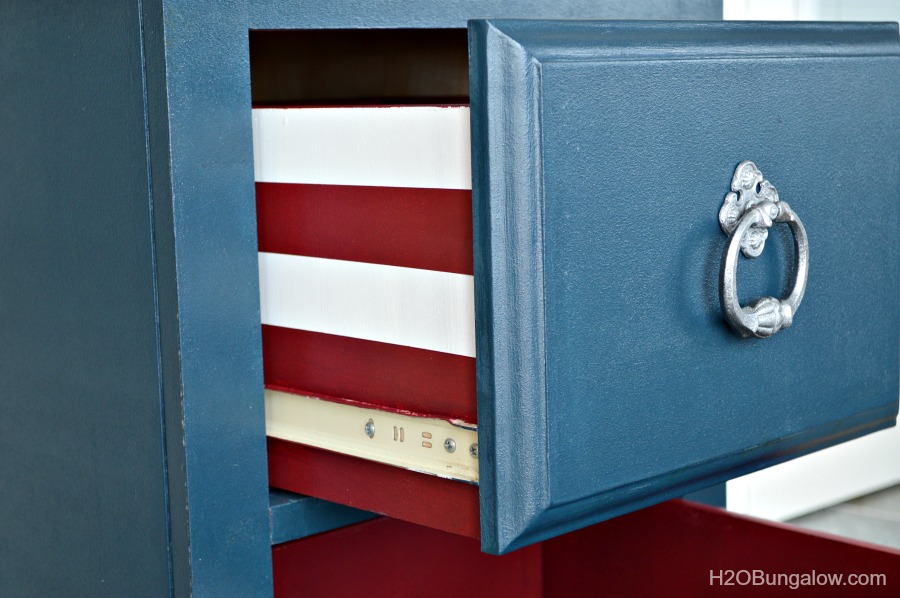 It was too late to turn back .
And…
I painted some more and then added stripes on the sides of the drawers. See my tutorial on How To Easily Paint Stripes for a super fast method and How to Paint a Dresser in 7 Steps if you're new to painting furniture, it's a great beginner's guide.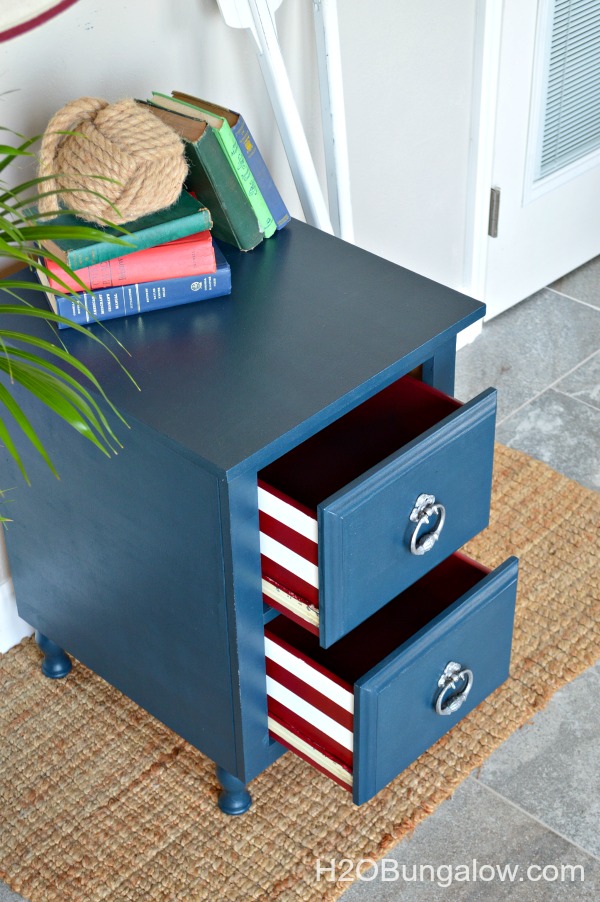 It turned out well and I know the special person who will be receiving my little painted red drawer surprise nightstand has a good sense of humor.
He'll love it when he opens the first drawer.
I might even shout out
SURPRISE!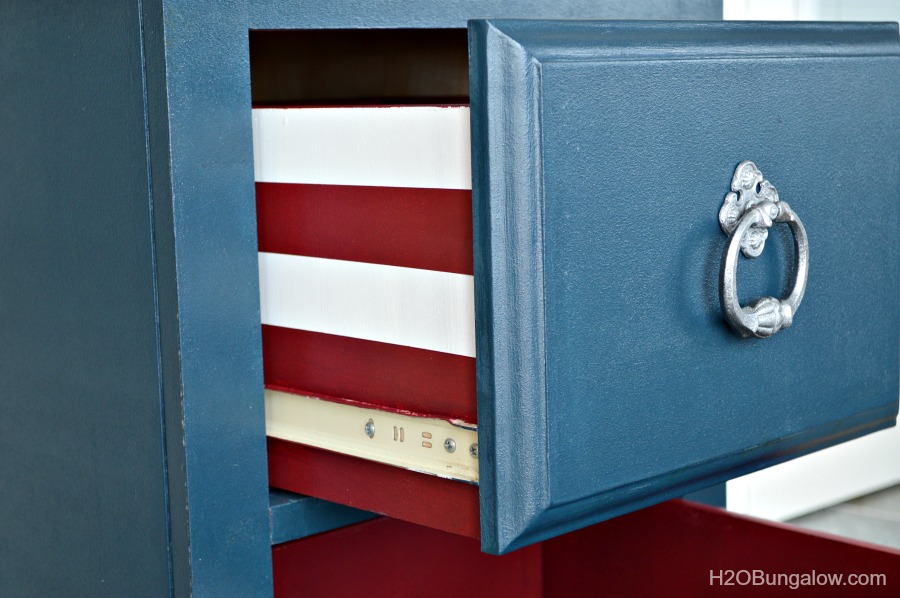 I love, love, LOVE our themed furniture days each month. My favorite past projects are my crazy popular Faux Painted Cargo Furniture and my Americana Decoupage Chairs. Or, just click HERE to go my furniture collection page to see all of my makeovers.
You'll be seeing red and in a great way after perusing the rest of the furniture pieces this month.
Below you'll find a link to each one of the super talented and creative bloggers in our themed round-up 🙂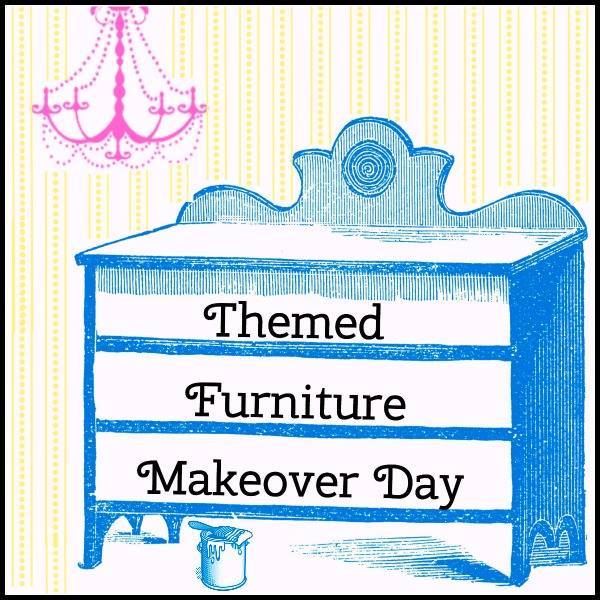 Are you inspired to create, decorate or just plain finish that project that's in the back of the shelf gathering dust? Than don't miss a single creative idea I share!
Love my posts? Click here to get my posts sent to your mailbox or follow me here on Bloglovin.
Following H2OBungalow on Facebook? It's one of my favorite places and I share lots of extra projects, inspiration for the home and content I don't share anywhere else.
Love Instagram? Me Too! Follow H2OBungalow on Instagram and see my projects in process and lots more.