I fell in love with a picture in the Ballard Designs Holiday catalog. It featured Tinsel Sticks with silver and gold mercury glass christmas decorations that were hung with simple fabric ribbon.
They staged it with a few small gold christmas tree topiaries and mercury glass candle holders.
Over the past few years my style has made a big change. It's simplified. I've come to love natural elements. Simple without fuss and this simple natural vignette was something I knew I could make myself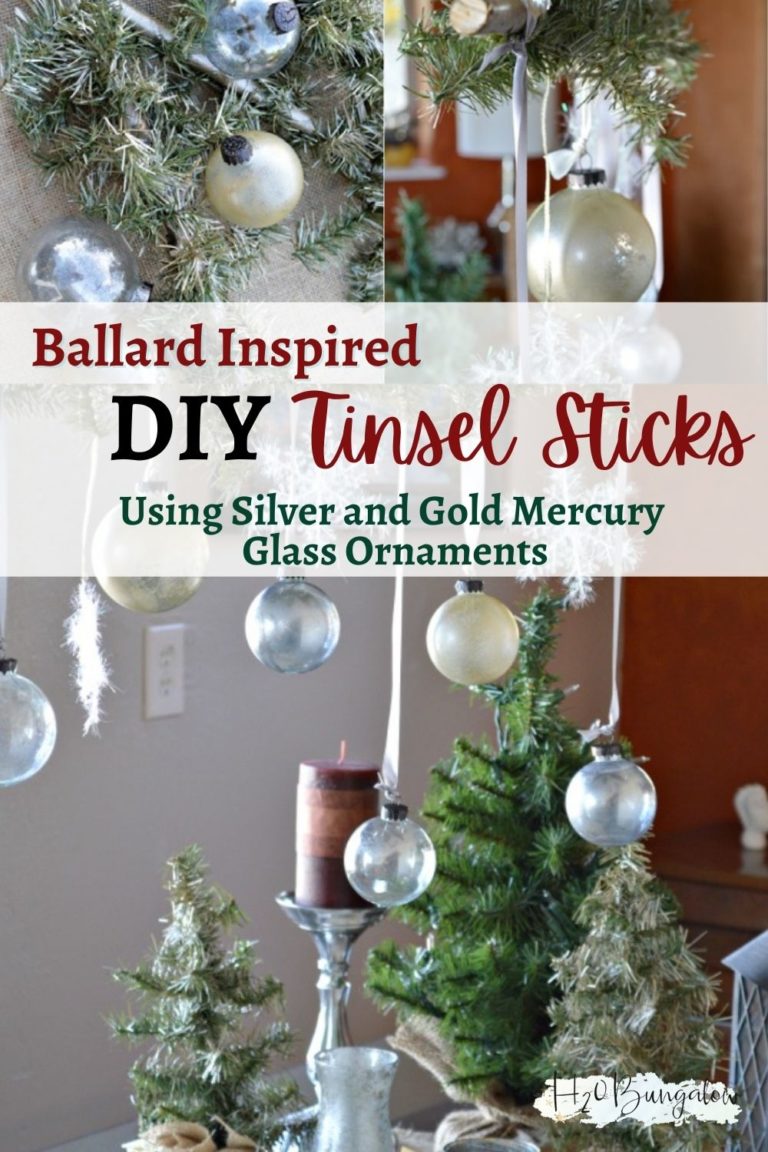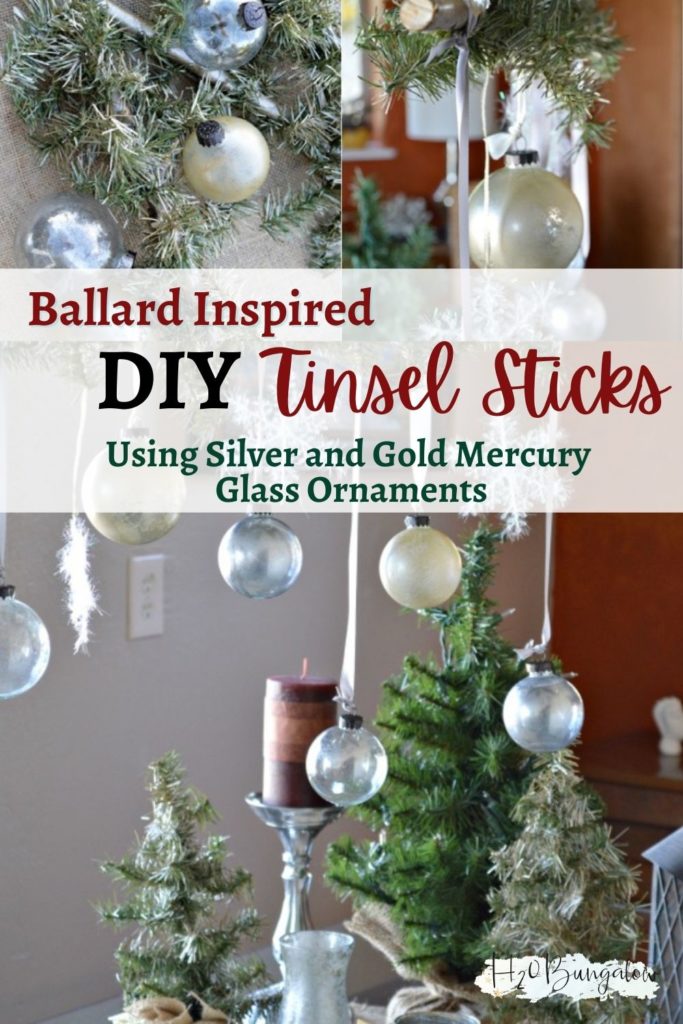 Our Rock Your Knock Off Holiday Edition motivated me to create the look in my house
…and save big bucks!
I had most of the items I needed to make this simple vignette. My gold and silver mercury glass Ballard inspired Tinsel Collection cost $12, theirs would have set me back $178. Ouch!
Don't mind my scribble, I got excited when I found the Tinsel Stick!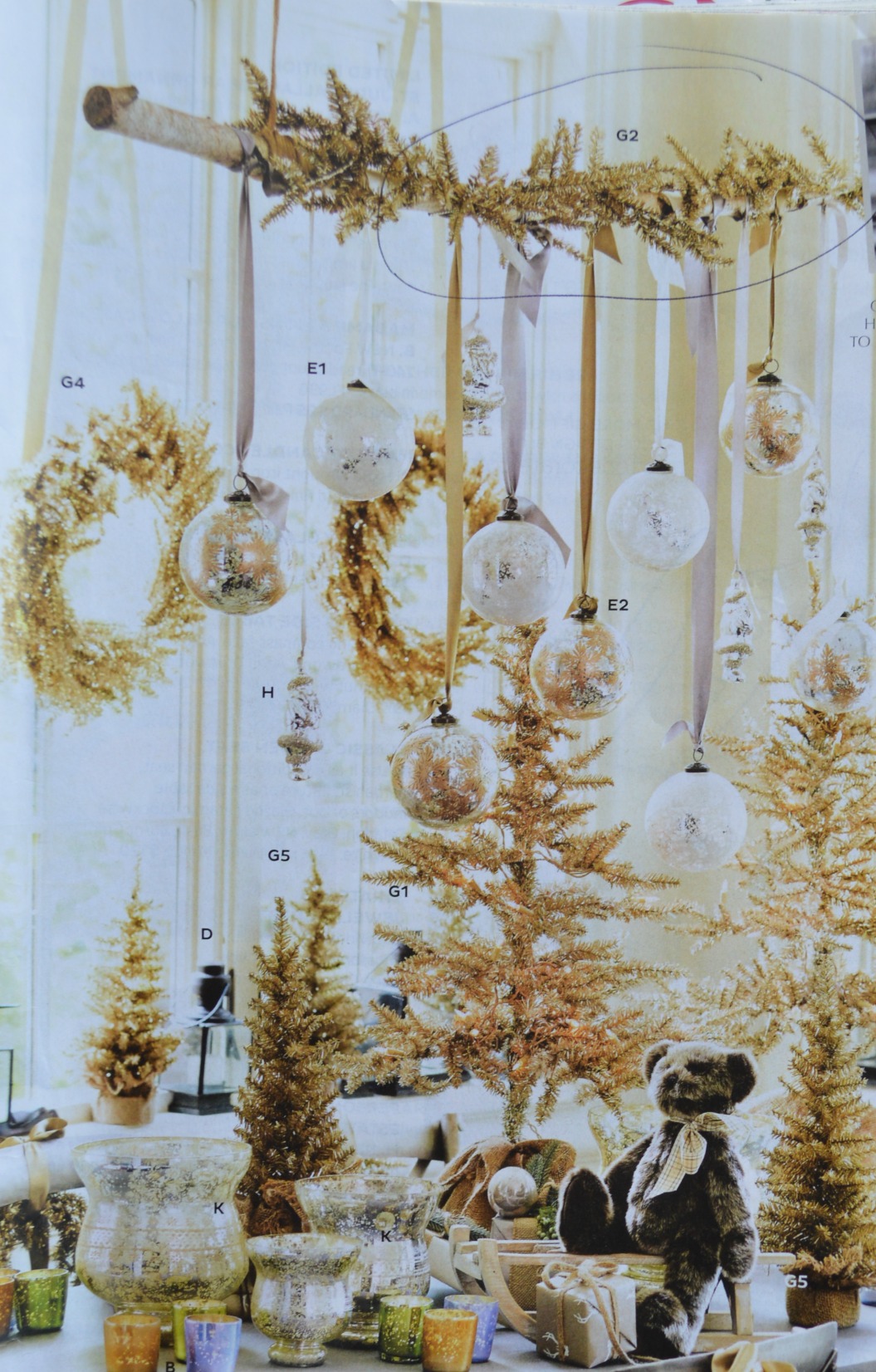 It's easy to create these silver and gold mercury glass Christmas ornaments on a Tinsel Stick.
This post contains affiliate links, as an Amazon affiliate I earn a fee from qualifying purchases at no additional cost to you. Thank you for supporting H2OBungalow!
Supplies needed for Tinsel Stick with mercury glass ornaments
Sparse garland. I picked up a $1.97 garland from Wal-Mart. The thinner the better.
21 " stick
Supplies needed for small topiary gold Christmas trees
Sparse garland
Styrofoam for the base
Ribbon for the base to tie and hold the burlap
Start by spraying the branch and the garland with your gold spray paint. Next, twist them onto the branch. Easy, right?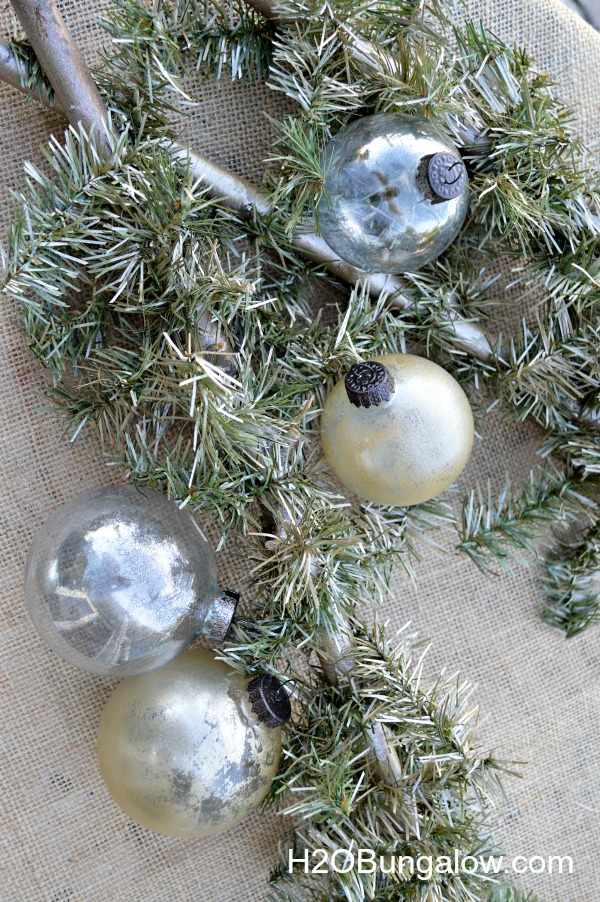 I made my silver and gold mercury glass Christmas decorations ornaments with glass and plastic ornaments. My advice on the two…plastic works great and doesn't shatter when it falls, which leaves one scrambling to make another one!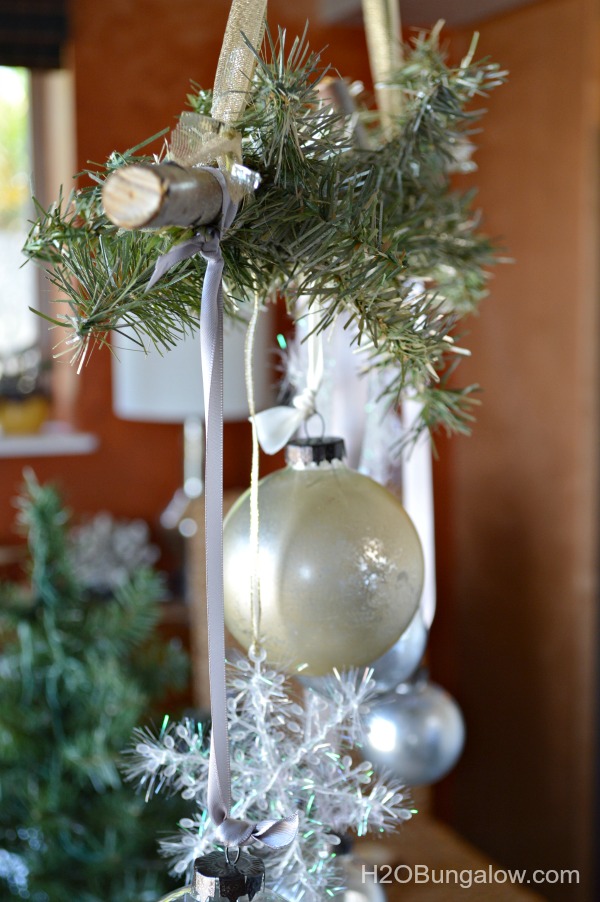 See my tutorial to make mercury glass ornaments. To make the matte gold mercury glass ornaments I sprayed a thin layer of Looking Glass spray paint onto an ornament, gave it about 1 minute to dry.
Then I sprayed the gold matte paint onto it and dabbed it with a damp paper towel. The paper towel moved around the gold and picked it up in some places. The Looking Glass underneath gave it a little dimension.
To me the little details count, so I aged the tops of the ornaments with a metallic brown spray paint I had.
Last, I tied the ornaments with gold and silver fabric ribbon and hung them on my branch. A few simple snowflakes look nice for contrast….not that it snows here at the beach.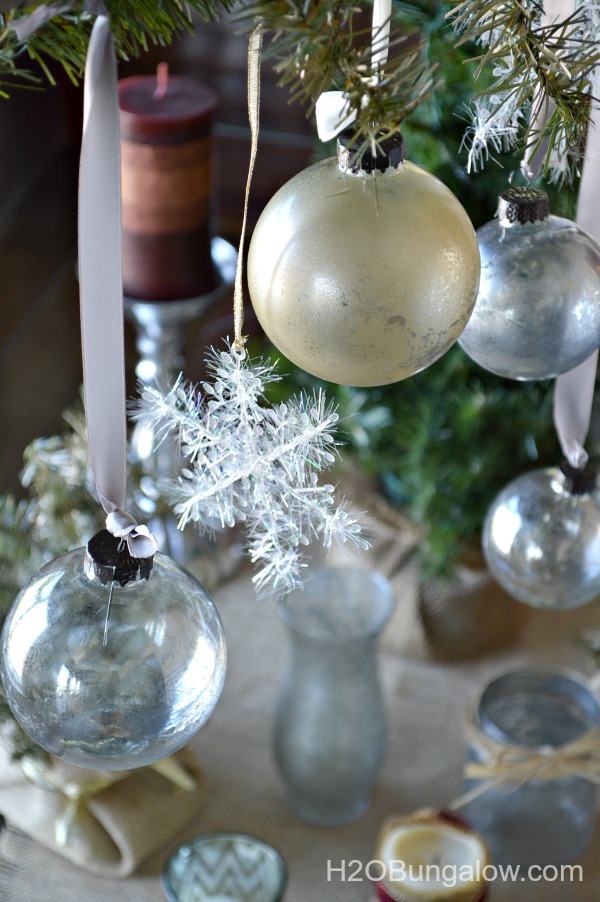 We donated so many of our holiday decorations when we downsized, I feel like I'm starting from scratch sometimes! I made two of the petite gold trees for my table top vignette to fill in space and I love them!
The super sparse garland was perfect for these little gold Christmas trees too. I cut two short lengths and lined one up about 2 inches higher than the other. Twisted the two sections of garland together and trimmed them into a tree shape.
I gave them a once over with a little gold spray paint and mounted them in styrofoam wrapped with burlap. Since I had the supplies for these already, my cost on these is about .50 cents. That was a quick $23.50 savings!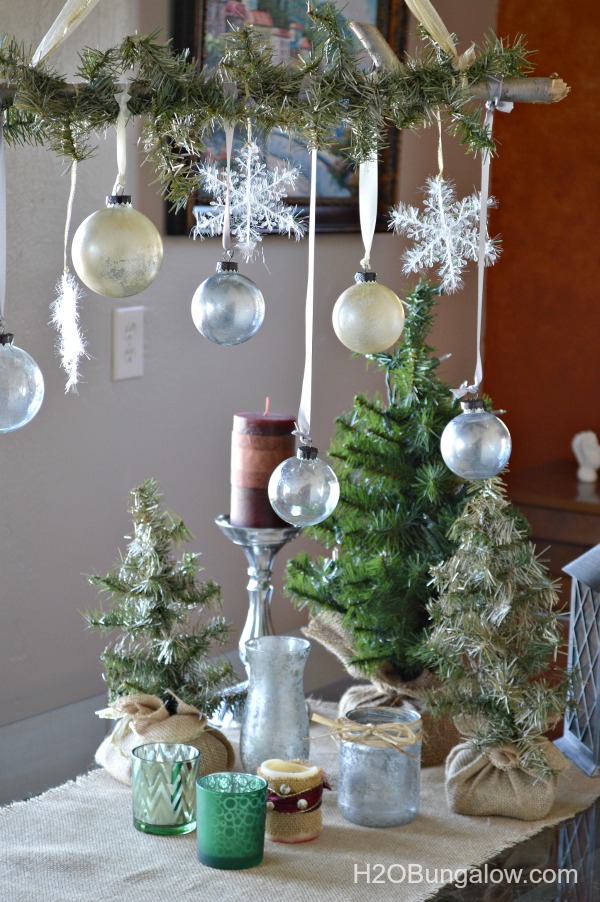 To finish off my vignette I added a few candles and my mercury glass style vases that I made last year with craft paint.
I enjoyed making the Tinsel Collection inspired silver and gold mercury glass Christmas decorations. I love the challenge of a good knock off! Best of all…
It's guilt free.
When the styles change I won't stress that I spent a lot of money on my Christmas decor!
PIN THESE DIY TINSEL STICKS TO PINTEREST!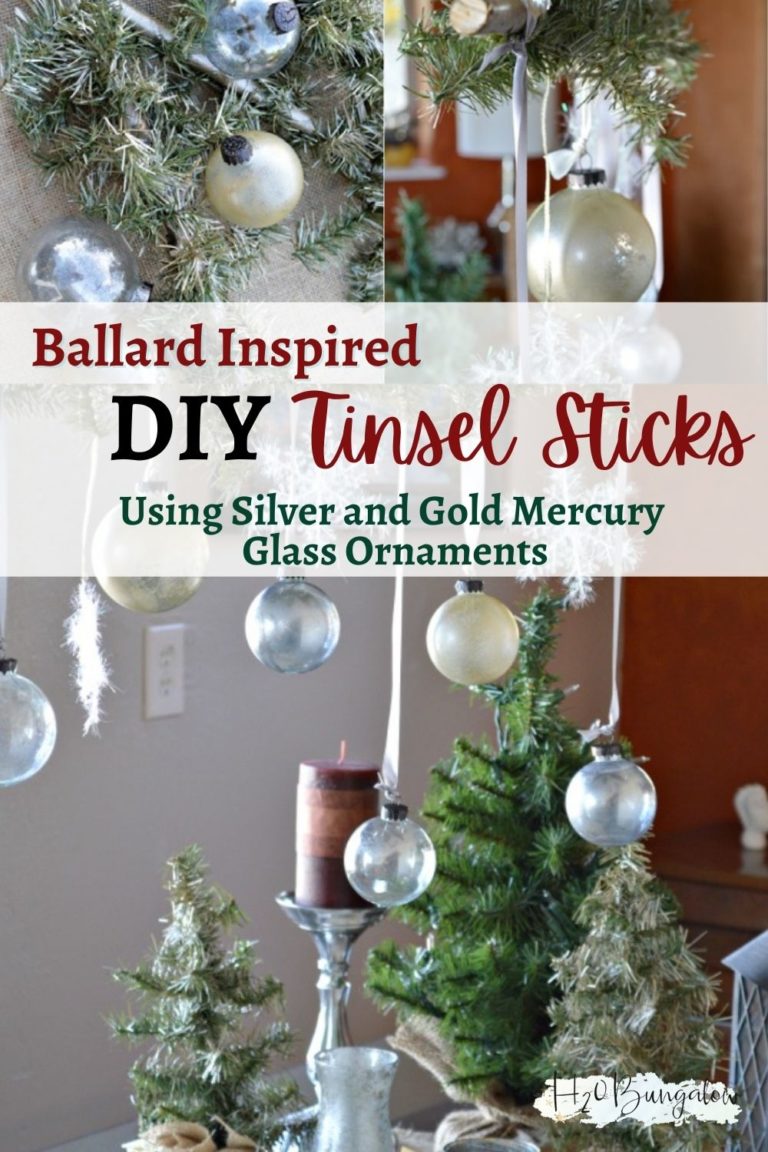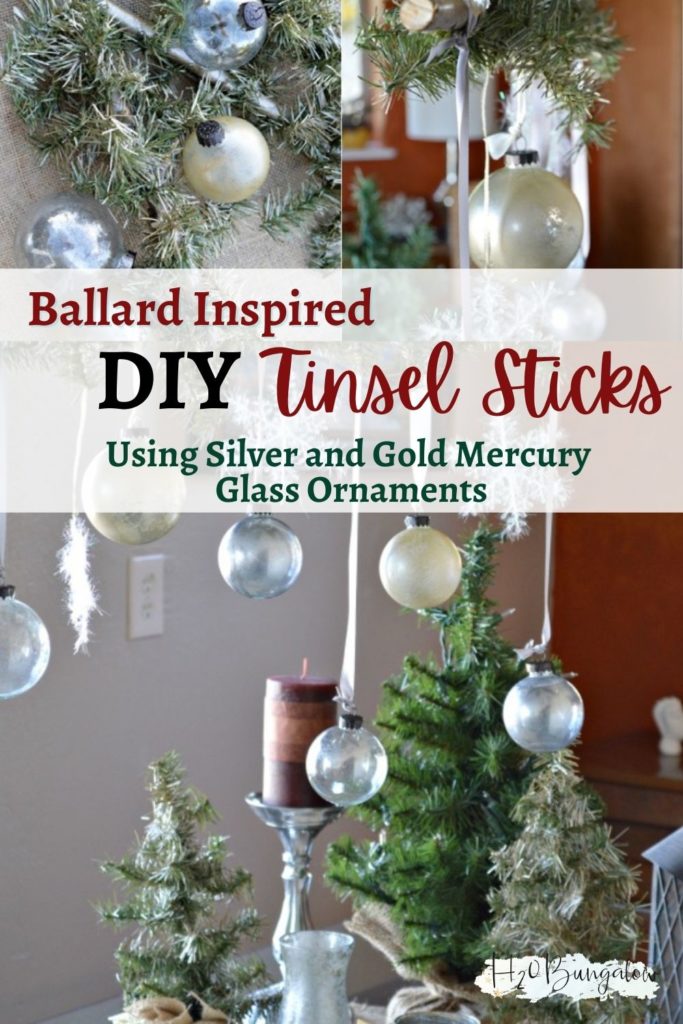 For more DIY holiday decor projects check out the 102 Handmade Ornaments, this DIY stocking holder, this wooden snowflake, and this rustic garland.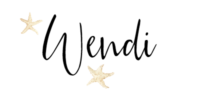 My project was featured at