love to use reuseable grocery bags. The thin ones from the market aren't sturdy enough to last. They also don't wash well and the handles break. I've wanted to make a set of matching reuseable and washable shopping bags for the longest time. When I was contacted to try the Americana Multi-Surface Paint line I had the perfect opportunity to get my green game on! I made a set of Parisian reuseable washable DIY grocery bags that are so cute, they make me want to go to market just to use them.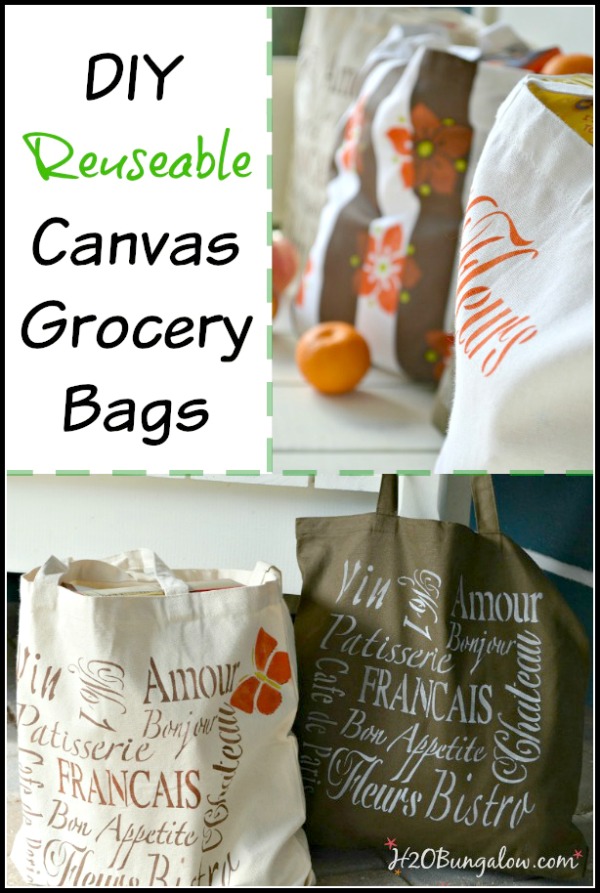 Which is huge in my world!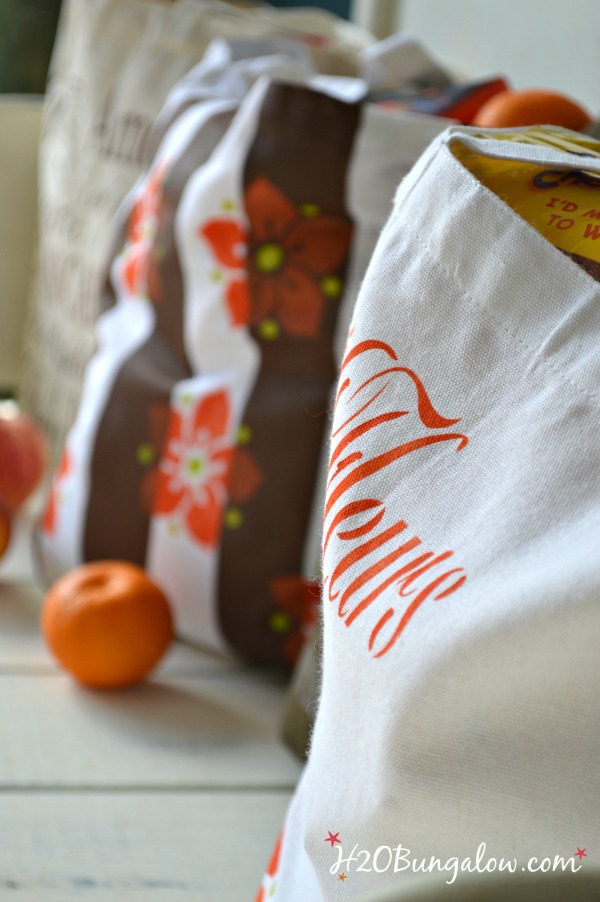 Can I tell you how fun and happy these bags are?
They are packed with practical features that make my job of carrying groceries into the house easier.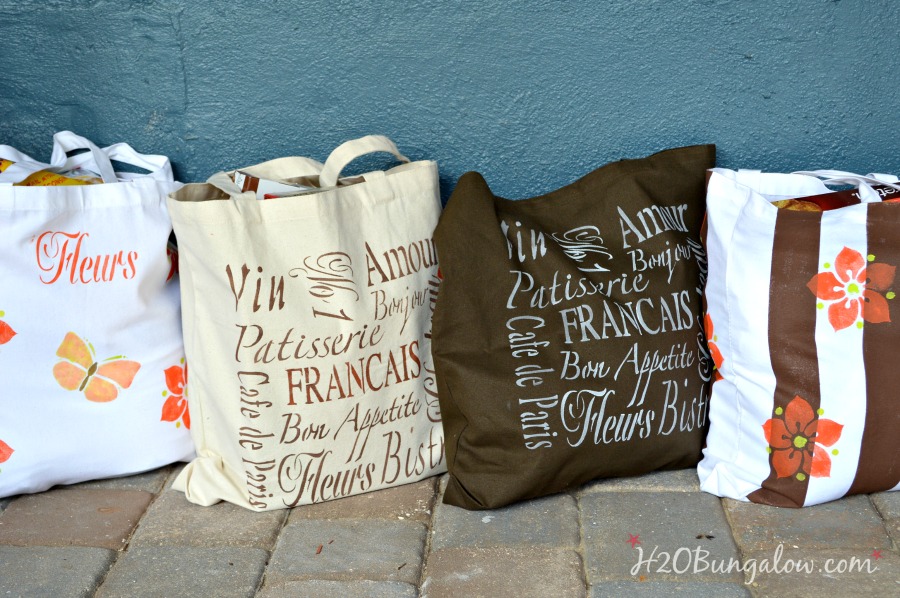 The handles are long enough to go over my shoulder, they hold much more than the thin plastic bags and they don't break. Probably my favorite feature is that I can wash them and keep them clean.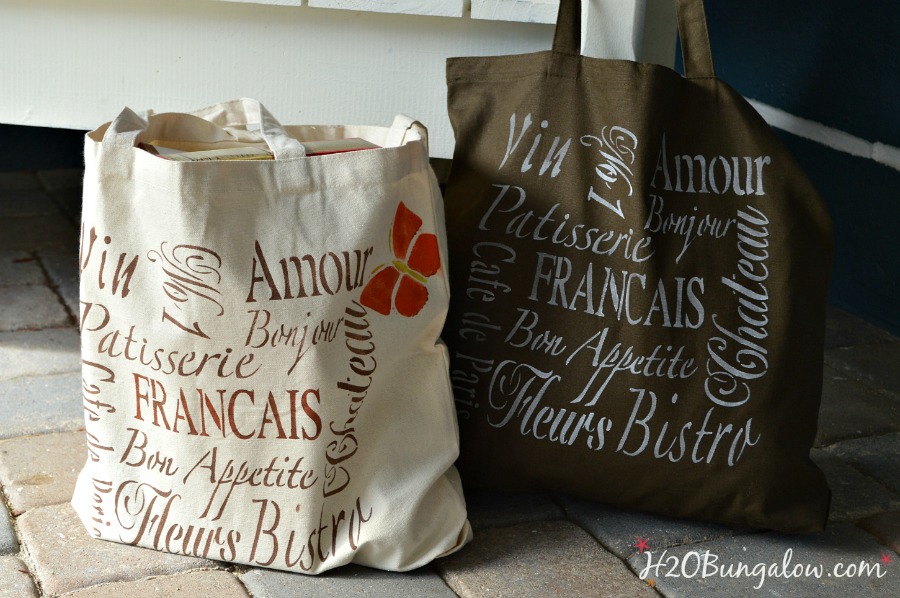 I used the new Americana Multi-Surface acrylic paint for this project. This paint was easy to work with and had good coverage. I love the idea of a paint that works on all surfaces which means I'm not stuck with a craft paint that is only good for one purpose. I'm already thinking of other surfaces I can use this paint on like, wood, metal, glass and terra cotta to name a few.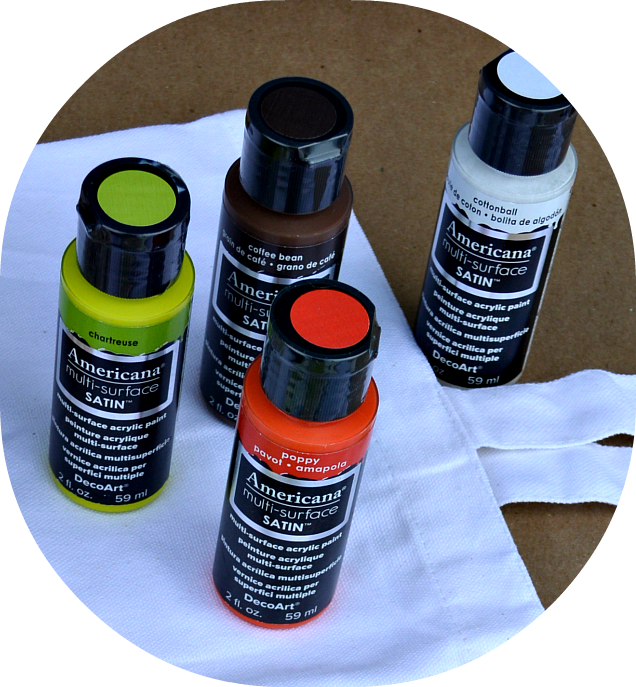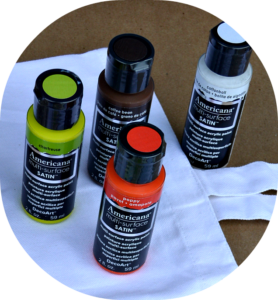 This is what I used to make my reuseable washable DIY grocery bags.
I started by placing the cardboard inside the canvas bag. It protected the other side and gave me a good flat surface to stencil on.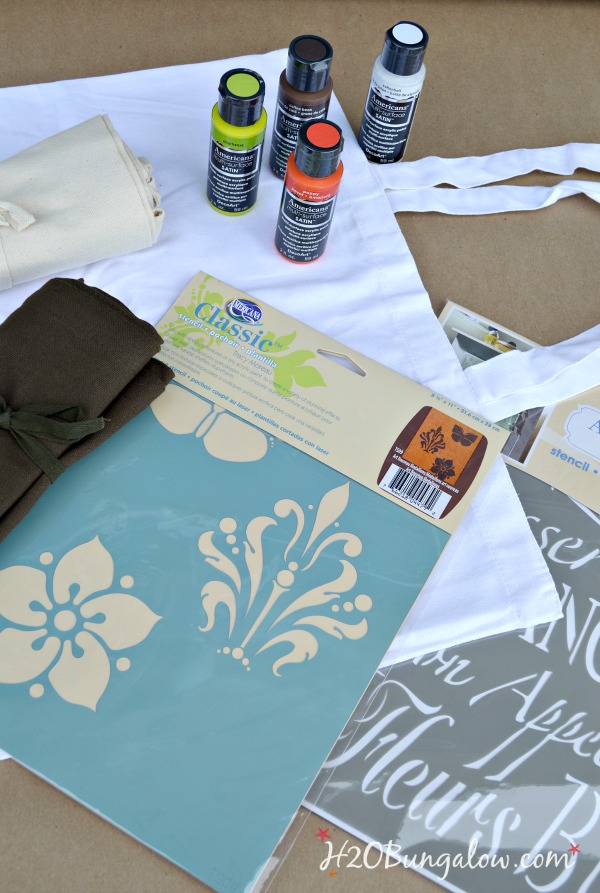 I mixed and matched some of the stencils on the bags. I wanted to make my set of Parisian reuseable washable DIY grocery bags to compliment each other, but not be matchy-matchy. For example, on one bag I used the "Fleurs" word from the French stencil set and the butterfly and flower from the other stencil. On another I painted brown stripes and then added the flowers on top of the stripes. You get the idea…just mix and match.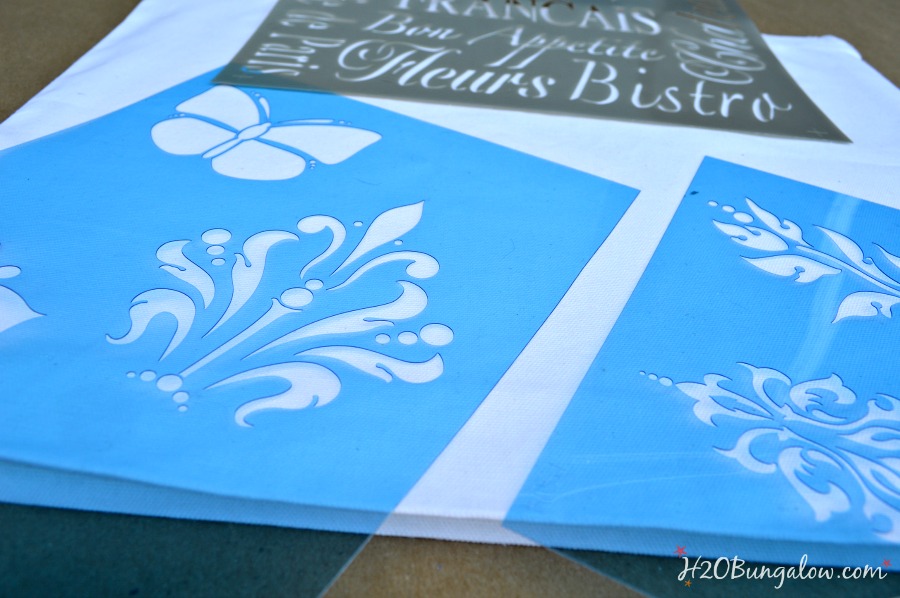 Stenciling the canvas bags was easy. I held the small flower stencil in place with my hand. The trick to stenciling is not to overload your brush. I poured a small amount of paint onto a paper plate and dabbed just the tip of the brush in the paint. Stenciling works best when the brush has less paint. It's easy to tap off excess paint onto a paper towel. I just pounced the brush down and worked the paint into the fabric.
The Multi-Surface paints were a good consistency for stenciling on the fabric. Not too thin, not too thick and had good coverage.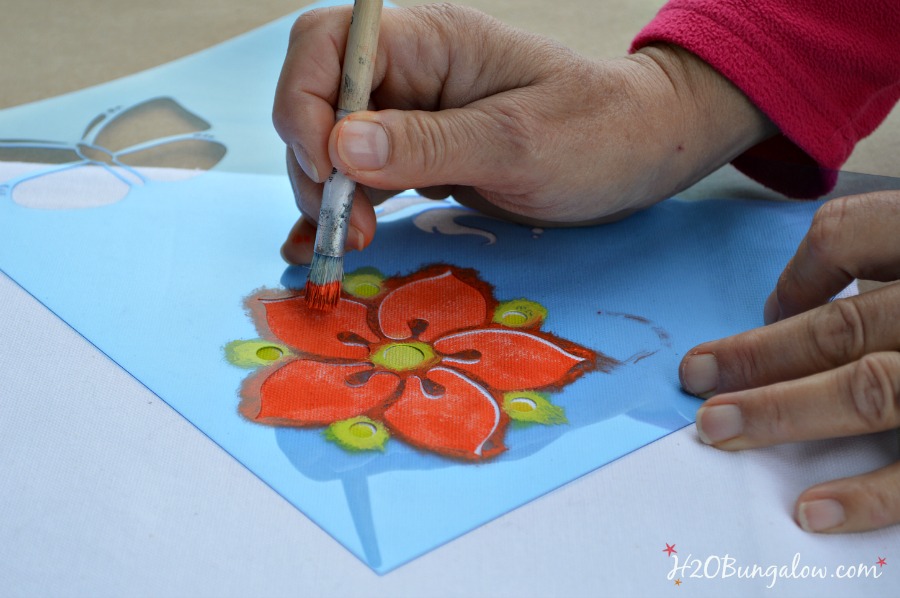 I used plain ol clear tape to hold the large stencil in place. It worked great.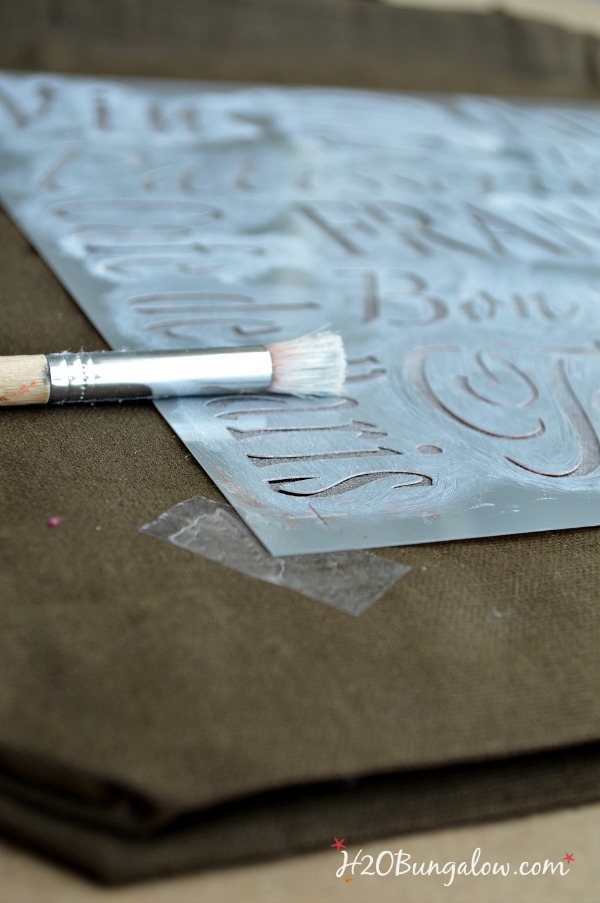 The stripes on the bag below were made with wide Frog tape. My How To Easily Paint Stripes Tutorial explains my simple stripe method. Once it was dry, I stenciled the orange and green flowers on top of the stripes. Per the instructions on the Multi-Surface paint, I let the paint air cure for seven days. After curing, I set the paint by running a dry iron over the painted surfaces. Be sure to put a thin cloth in between your iron and your canvas shopping tote.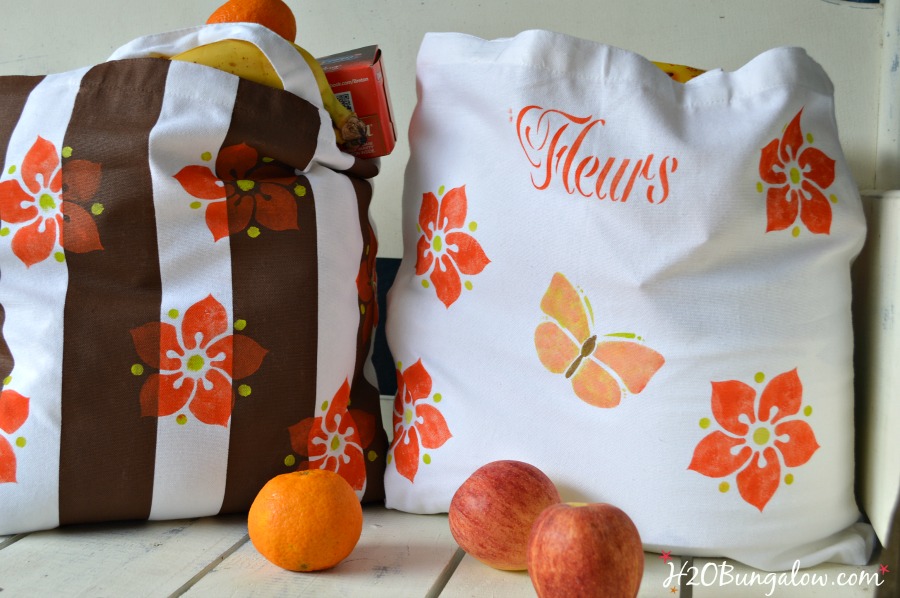 These bags are awesome and hold a lot!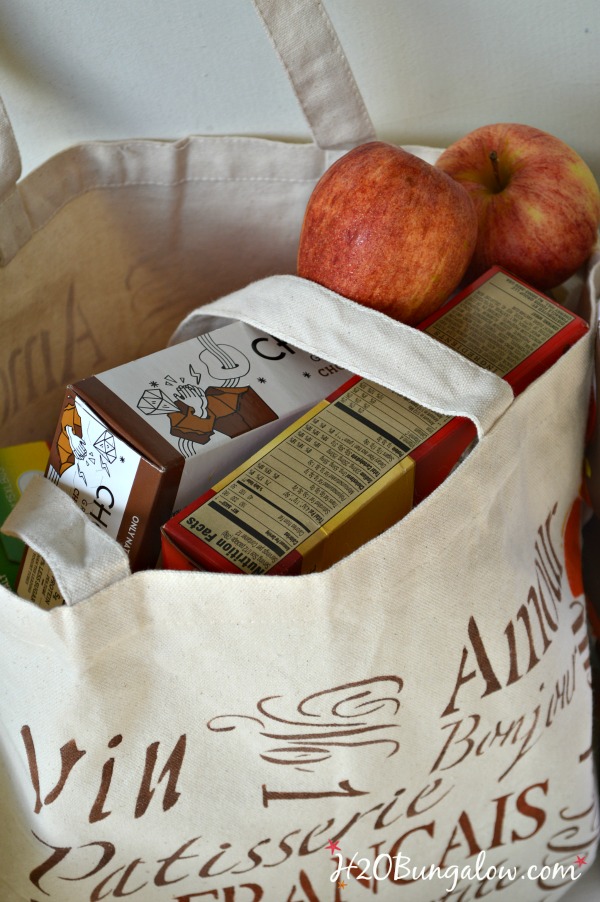 Our son just left to go back to college a week ago. The kid can eat a lot! Since he left, the amount of food we need dropped dramatically. Like in half! These 4 large bags will be all I need for a trip to the market for my husband and I for the next several months.
But, I'll probably need to make another set of 4 when he comes home this summer:)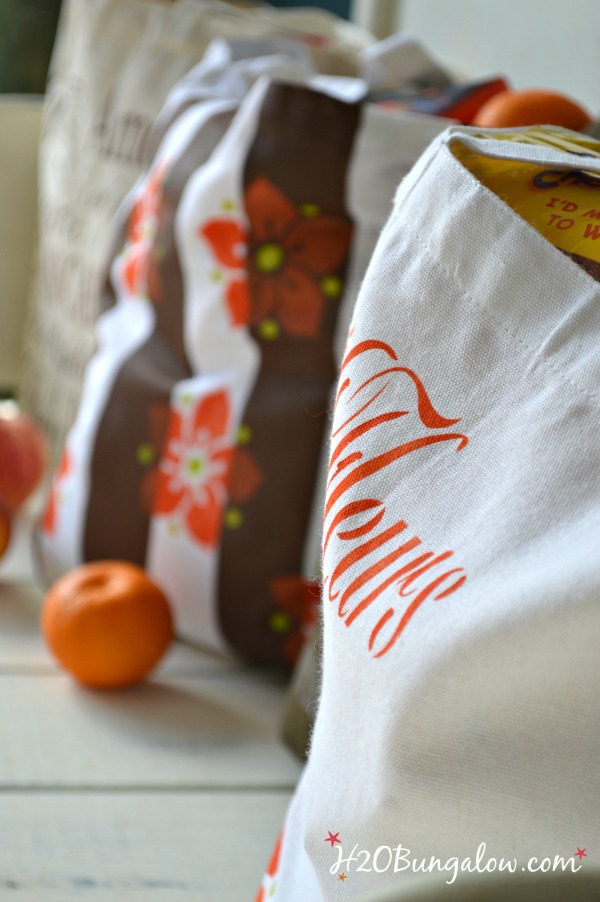 My Parisian reusable washable grocery bags are so much nicer than my old mismatched reuseable ones I was using. They are definitely much greener and better looking than the tons of plastic bags it takes to hold the items from a weekly trip to the market.
So…which bag is your favorite?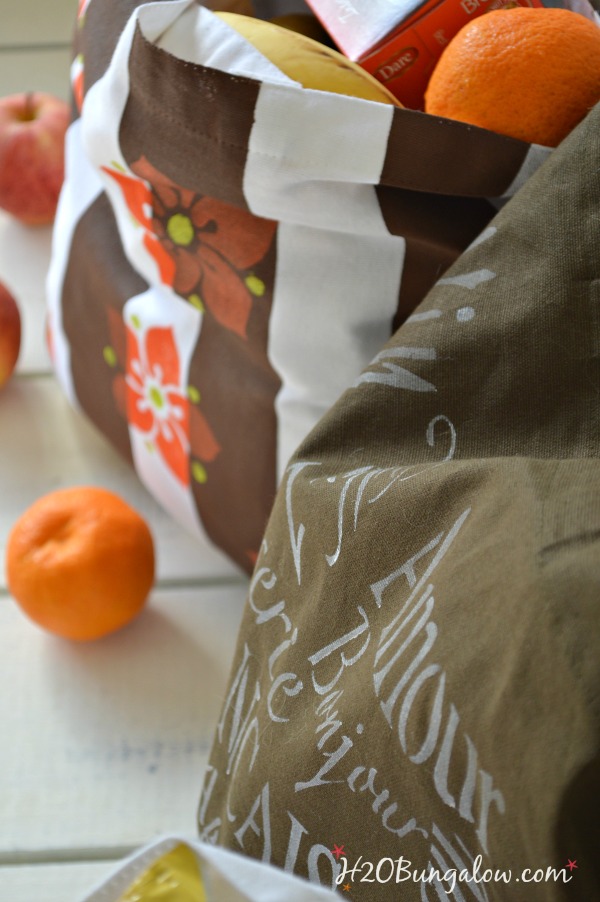 Americana Multi-Surface paint is available in Michaels. Visit the DecoArt Multi-Surface website for more crafting ideas and inspiration.
As you might have guessed this is a sponsored post, I was provided product and or compensated for sharing this information. All opinions, craftiness, and projects are 100% my own and never for sale. I'll only share items I think have value for my readers!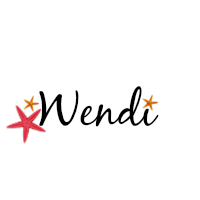 Don't miss a single creative idea I share!
Love my posts? Click here to get my posts sent to your mailbox or follow me here on Bloglovin.
Following H2OBungalow on Facebook? It's one of my favorite places and I share lots of extra projects, inspiration for the home and content I don't share anywhere else.
Love Instagram? Me Too! Follow H2OBungalow on Instagram and see my projects in process and lots more.