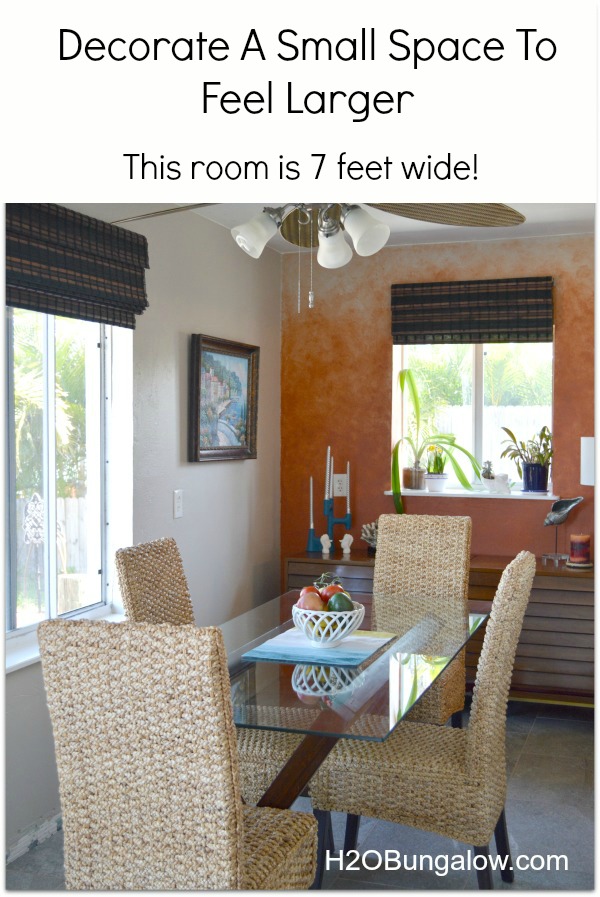 Today, I'm sharing my tips for decorating a small space to make it feel larger. I love my small home and how it's helped us simplify our lives. Downsizing as I've mentioned before came with some challenges and decorating our small home was one of them. If you're a small home dweller, you already know what I mean.
I've learned that I didn't have to give up style or charm just because space is limited. Let me share what I have to work with in my home. My dining room is only 82 inches wide, that's 6 feet 10 inches! My living room in the picture below is only 13 feet wide and is the access to everything in the house, it's also part of the kitchen island, the access to the back yard, the room that the front door opens up to as well as the entry to the hall where our bath and my sons room are on the left and my office on the right. Whew…Like I mentioned we need a lot of paths open here.
With the limitations of my small home in mind, let's talk about tips for decorating a small space. First…I believe just because space is limited… it doesn't mean it should feel like it. I know my house doesn't look large, but it doesn't look or feel cramped either. We do a lot of living in here. We have friends and family over a lot and are always "Hotel H2O" for out-of-town visitors!
So, what exactly did I do here? All I did was maximize the space visually and physically in what I used and how I placed things.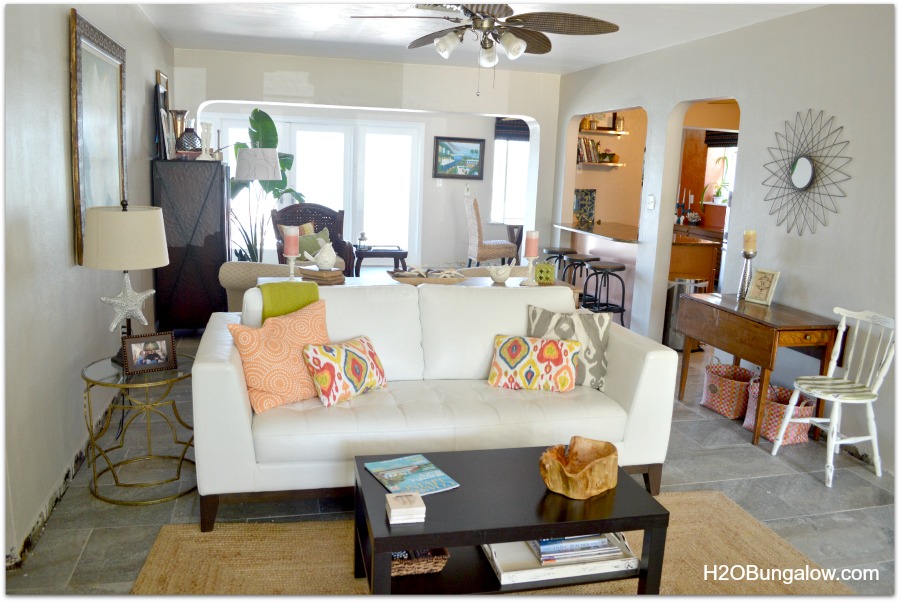 Here are a few simple tips for decorating a small space to make it feel larger that I used.
Furniture:
Scale furniture to fit – I shopped like crazy to find a sofa that fit the way I wanted it to. This one isn't so small either, it's 80 " but it's open on the bottom and didn't look bulky. We initially had an over stuffed sofa and it was like an elephant had moved

in.
Place furniture for a natural traffic flow-I worked with the walkways we needed to keep open. No one wants to zigzag around furniture to get from point A to B.
Use Non Bulky Furniture – This one is huge. Have you noticed how much glass I have for table tops? My side table is open metal and glass, my sofa has higher legs so you can see under it. These aren't necessarily small furniture pieces, they just aren't bulky or heavy to the eye.
Walls:
Use vertical space – It breaks up a room, and allows your eyes to travel up. No only does it add interest but it makes your ceilings look taller too.
Use mirrors – They are terrific for reflecting light and space.
Big is OK. This flower painting on the wall is huge. I don't want everything small in a tiny space. It's good to break it up.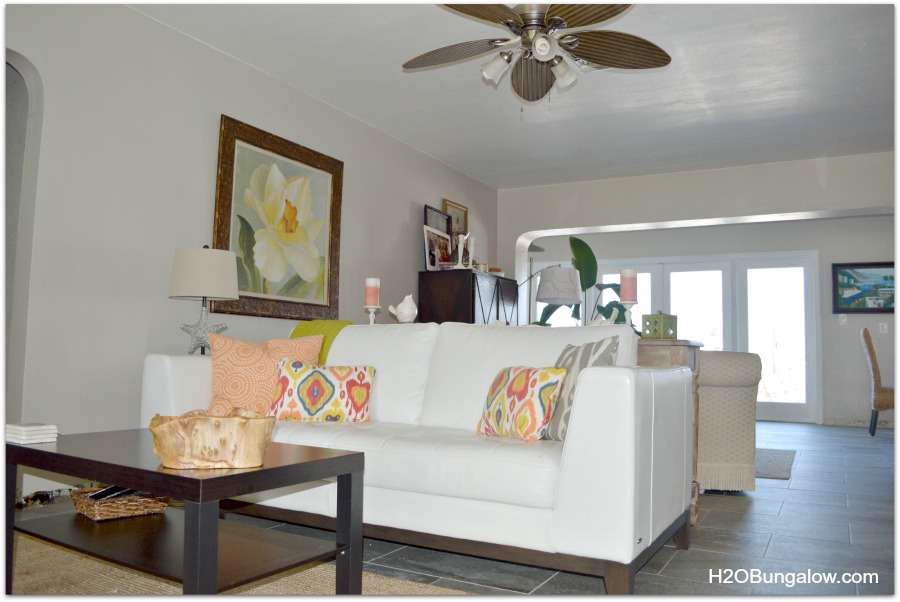 Windows:
Hang window treatments close to the ceiling – Ceilings will appear taller, windows seem larger. If you're using matchstick blinds like I did it also covers less window and lets in more light:) One bonus for me was by hanging all the blinds the same height, It looks like my windows are the same height. They are not! This is a 1950's house that has been added on to in some weird ways 🙂
Let the light in – Use as much natural light as you can, sunshine works wonders for any space. A dark room feels small.
This is my dining room. It's 6 feet 10 inches wide and 11 feet long. The windows and natural light go a long way in helping this area not feel closed in.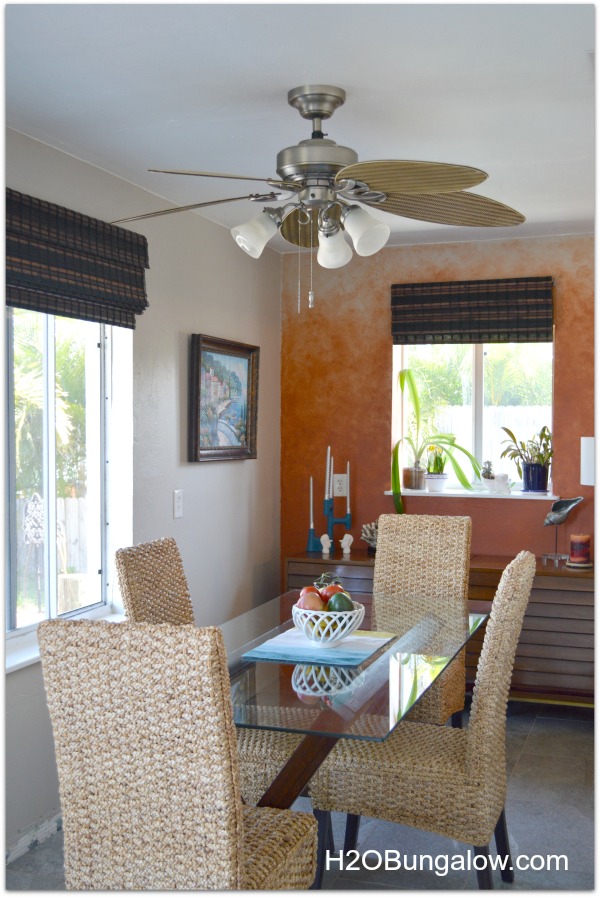 These are just a few of the ways I've been able to visually make our home feel larger and still be very family functional. It has personality and looks decorated. The best part is these tips work for everyone. It doesn't matter if your style is modern, eclectic, traditional or transitional you'll find that these tips will work.
One little caveat here.. We are living through the remodel of our home and it is not finished. If you've noticed we have no baseboards..yea, that makes me crazy in these photos! …Let's just over look that..m'kay?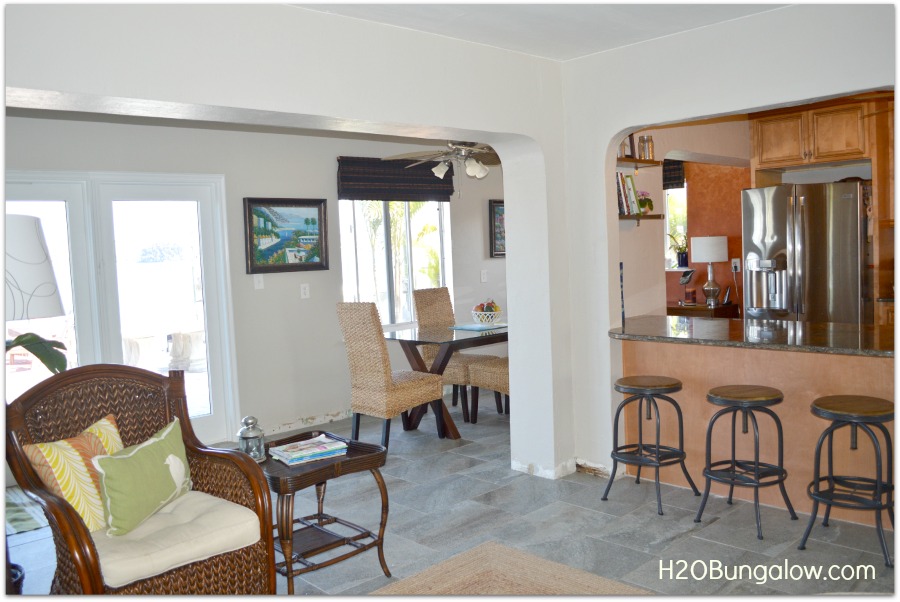 I hope you find my tips for decorating a small space useful. To me the most important part of decorating any home is that it has to reflect you and be comfortable…after all it's your home and homes are for living in 🙂
If you'd like some ideas on organizing a small kitchen to get more space read my post HERE. It's full of great ideas too!
What's your biggest decorating challenge in your home?


Don't miss a single creative idea I share! Click here to get my posts sent to your mailbox or follow here on Bloglovin. Either way, keep in touch!