Today, I'm sharing how to organize a small kitchen and get more space. Whether you're just starting out or have downsized like us, chances are there is or will be a small kitchen in your life.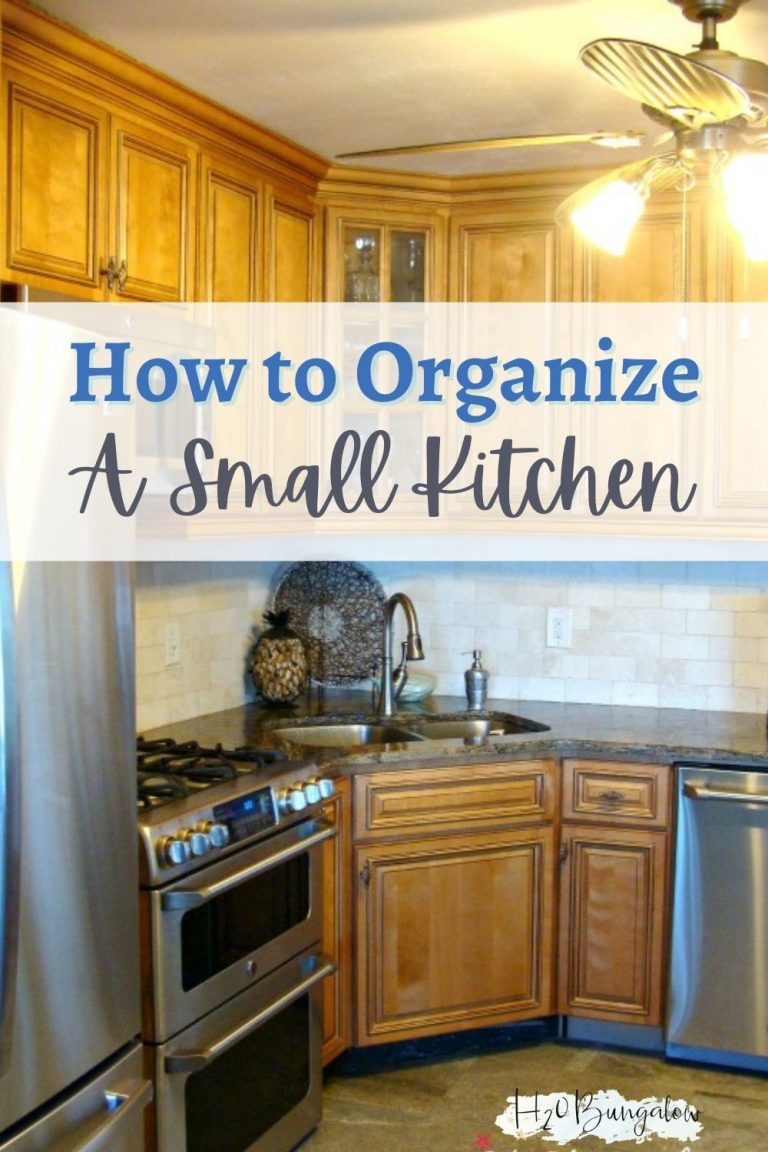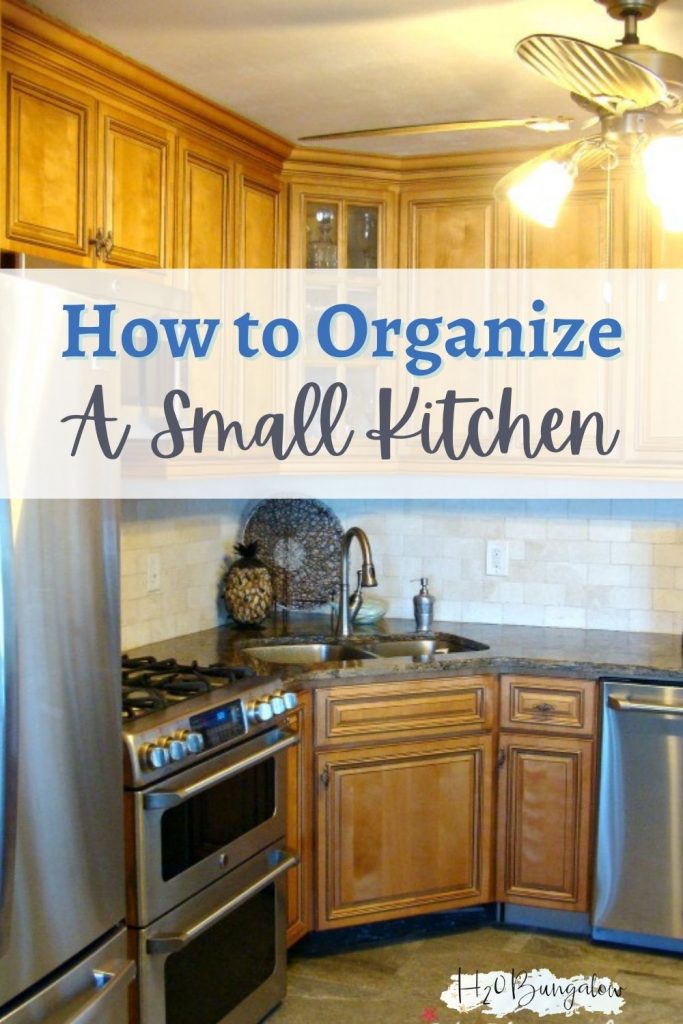 When we made the choice to downsize, thoughts of what that meant in terms of living adjustments never crossed my mind.
With a little planning and some organizing anyone can organize a small kitchen and find more space.
Looking for more organizing ideas? Check out these 28 Creative DIY Home Organizing Ideas ,these 33 Creative Ways to Hide Ugly Things and 5 Best Kitchen Organizing Ideas For Small Spaces.
My big family house in Texas had a crazy amount of space in the kitchen. You know what they say about Texas right? It's true, everything is bigger in Texas (A big shout out to my friends and family back there)! My kitchen here in Florida is small, really small.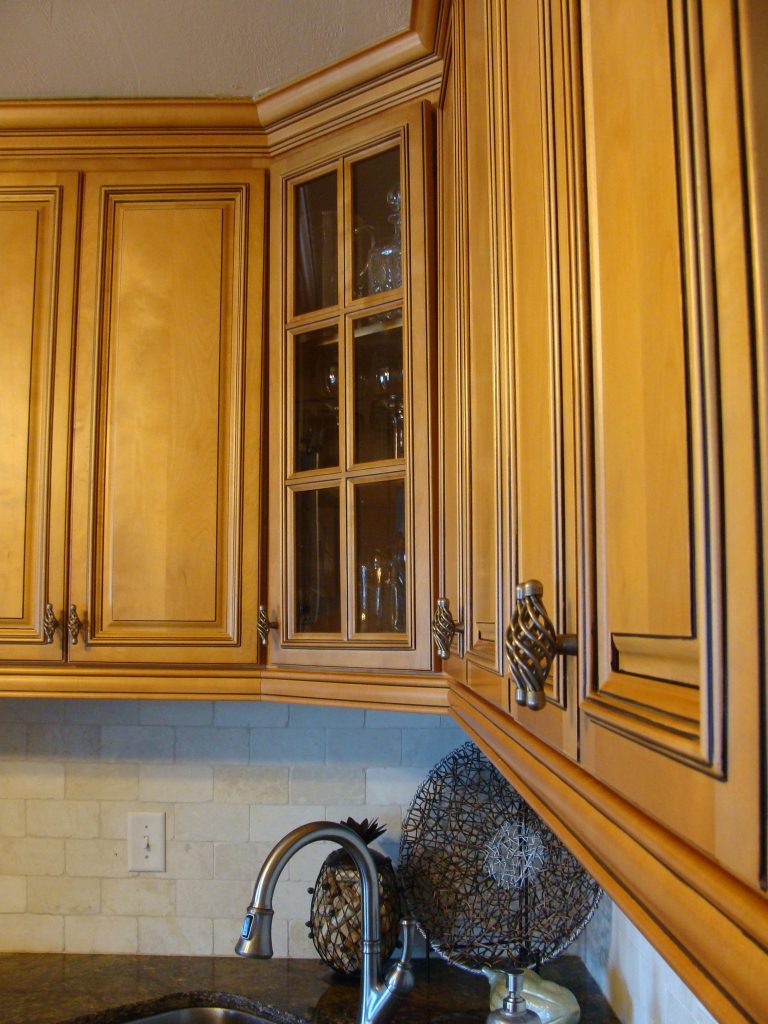 Except for having too many cooks in the kitchen at once, it doesn't cause me stress anymore. I have a few strategies on how to organize a small kitchen that have worked well for us.
This post contains affiliate links, as an Amazon affiliate I earn a fee from qualifying purchases at no additional cost to you. Thank you for supporting H2OBungalow!
How to Organize a Small Kitchen
Weed It Out– Get rid of what isn't used. Ask yourself, do I need it, do I use it AND is there something else that will also do the same job.
Utilize Your Space Well– Who says cleaners go under the sink? My sink sits in the corner and the base cabinet is the largest cabinet in my kitchen. It holds all of my small appliances like mixer, waffle iron and crock pot.
Keep Only What You Need In The Kitchen Area – Keep only the cleaners you need on a daily basis nearby. Since we've gone green, the amount of cleaners we use has cut down tremendously. The few I need are in a pretty bin on the floor of the pantry. I store the rest in the garage and refill my containers when needed.
Don't Overstock– I use what I buy and don't overstock my kitchen. When I do purchase large quantities of something, it's stored elsewhere, like on shelves in my garage where I do have more space.
Use Every Bit of Space Available – I added extra shelves in my little pantry. All the way to the ceiling, and on the side. Both of these areas were empty.
I made cute bins for the floor that sit under the bottom shelf. All of this added about 30% more storage space. You might like my post on how to add extra shelves to kitchen cabinets. This helps with space!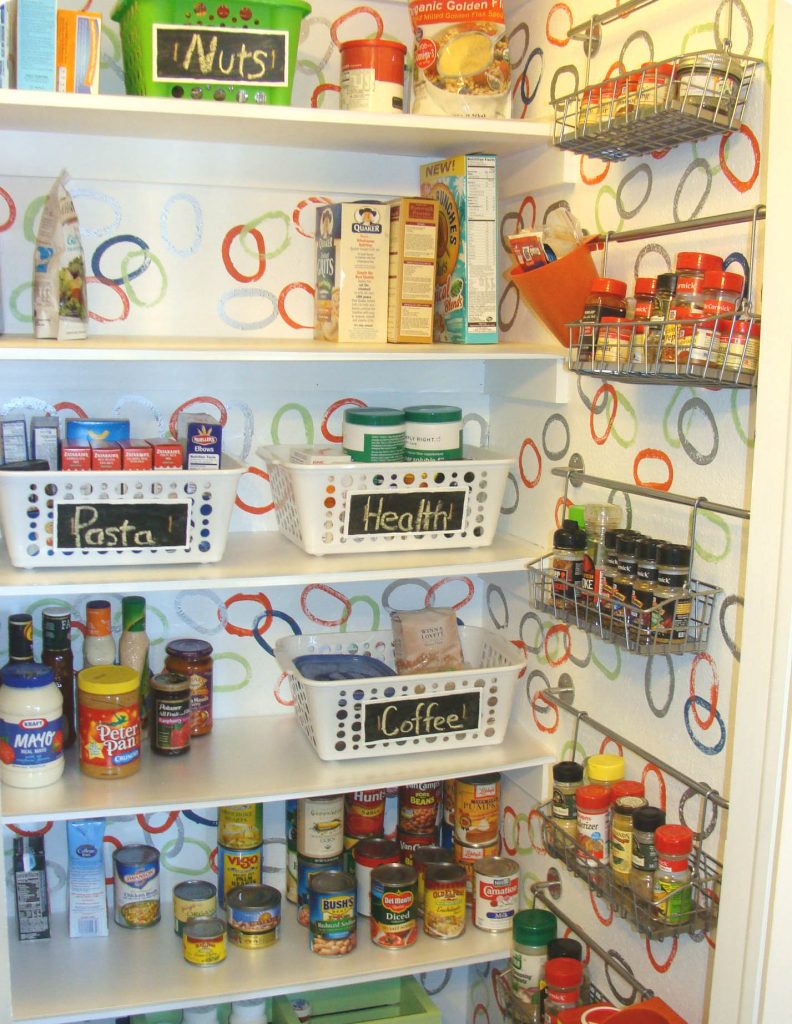 No Junk Drawer – If you have one, get rid of it. It's valuable space that can be used for other things. It also promotes stuffing random things away instead of where they belong.
Double Duty – Use items that serve more than one purpose. My utensil holder is a lovely vase for flowers and I use it to serve iced tea when we have company.
Go Up – This is a great use of space and helps your space feel larger. In my kitchen, I added wall shelves that went almost to the ceiling. It's a great place to keep my cookbooks and a few items I use often.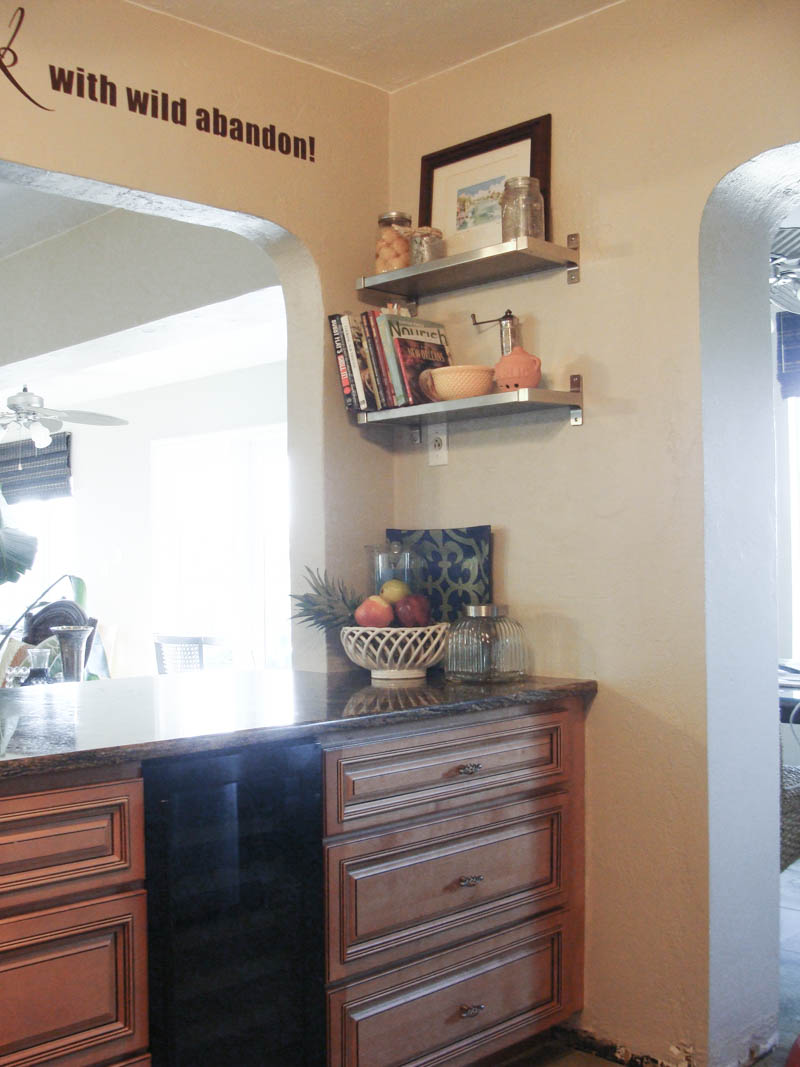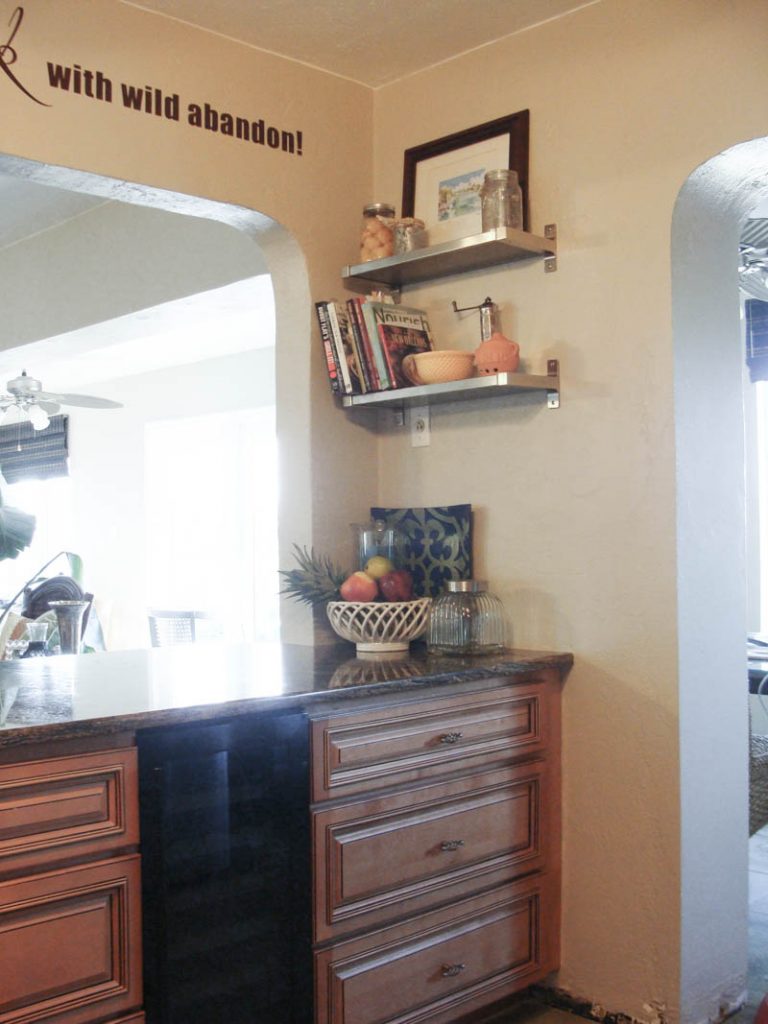 If you're planning on a kitchen remodel have your cabinets go all the way to the ceiling. You'd be surprised at how much more storage space that creates.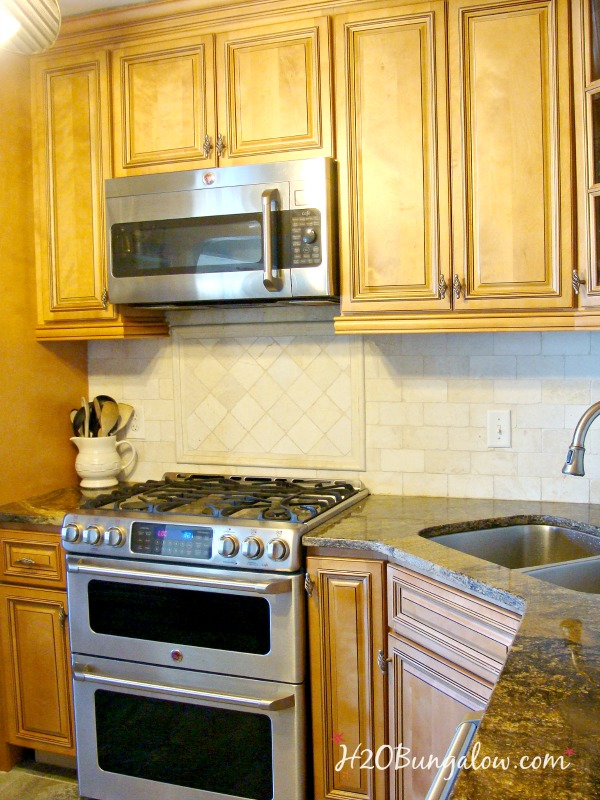 These are my favorite tips for staying organized in a small kitchen.
Downsizing and simplifying our lives was the best choice for us. We've made a few adjustments and are learning to live in a smaller space. All it takes is a bit of organization and planning.
You'll be amazed at how much more you can successfully organize and store in a small kitchen which will help your stress levels a whole lot!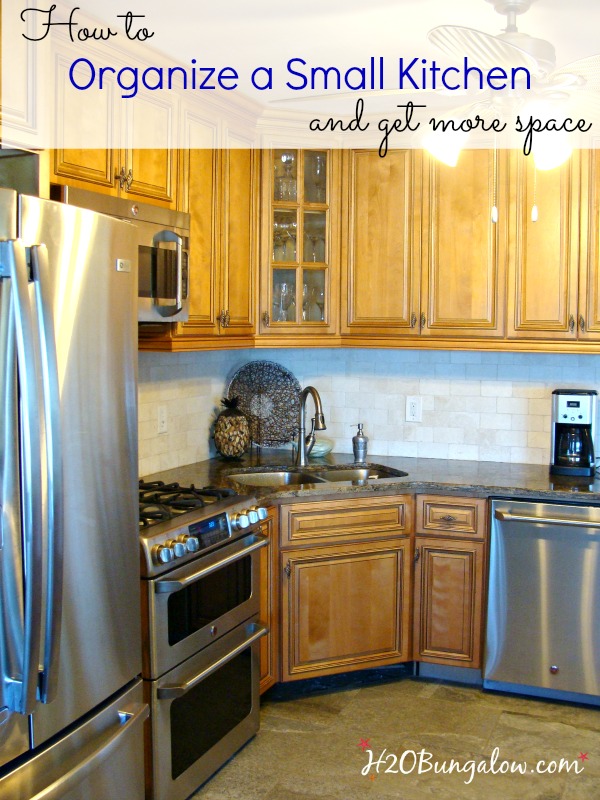 Struggling with organizing your small home? You might enjoy how I found solutions to my small home challenges
5 Creative Ways To Deal With Sentimental Clutter and Small Home Organizing Strategies or How To Organize Spices In A Small Kitchen.
Have any other useful tips on how to organize a small kitchen?
How do you stay organized in your kitchen?