Today's topic is how to stencil a plaque with stencil tips for beginners. When I first started DIYing using a stencil was a little intimidating. I had no idea what I was doing, or that a few handy tips could make a project look like a million bucks. Fast forward a few years…or more 🙂 and a few hundred projects later and I've got a pretty good grasp on how to stencil.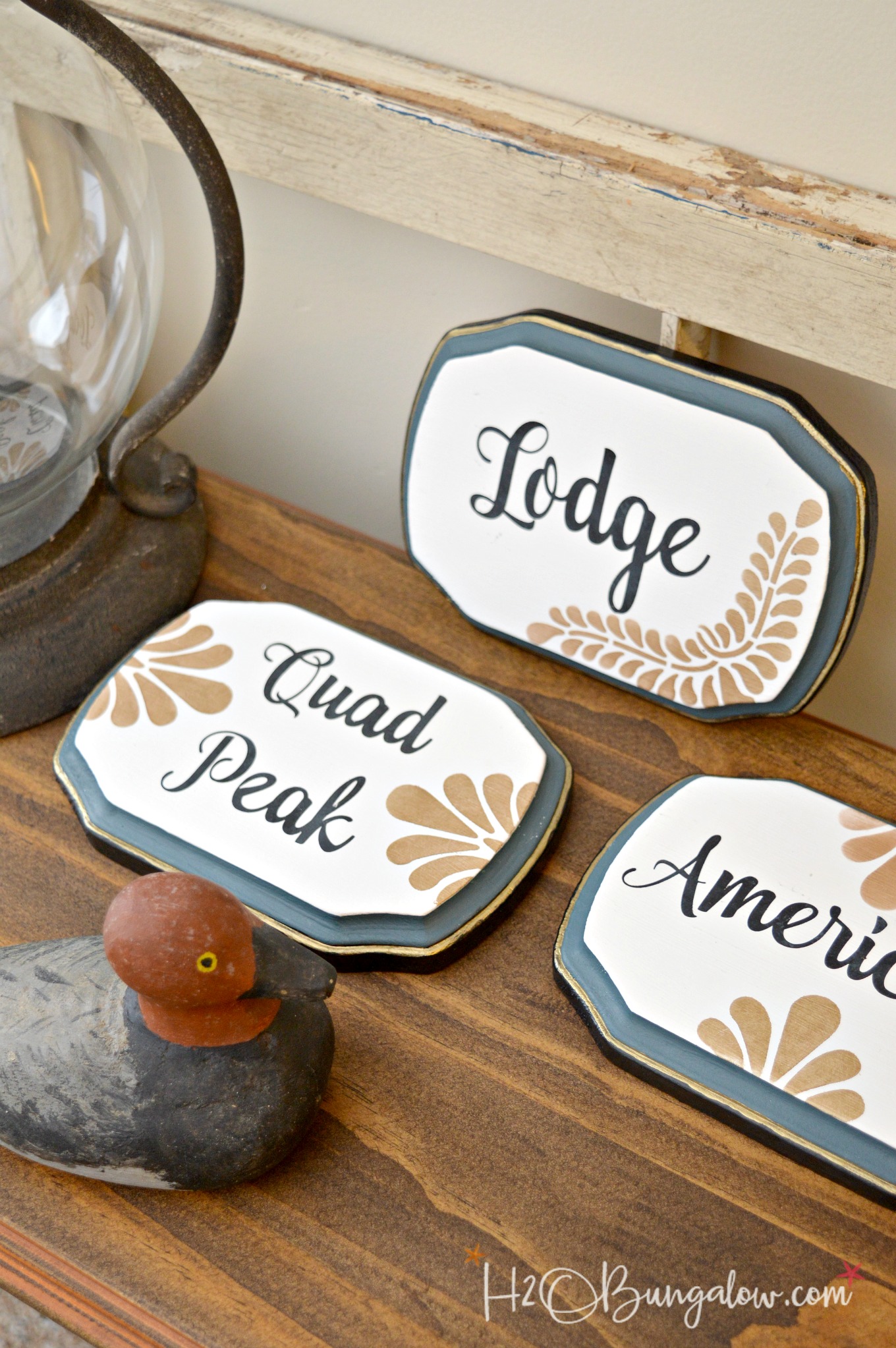 Since I've given each room a theme at the North House Lodge I thought it would be fun to have plaques by each door. I realize you guys aren't likely to want name plaques by your own doors but may love a home decor project with a favorite saying on the walls like my DIY Romantic Phrase Wall Plaque. For either type of project, the steps are the same so I thought this was the perfect opportunity to share stencil tips for beginners.
What kind of paint should I use to stencil?
All you need to stencil a project is a stencil brush, paint and something to stencil on. Depending on your stencil and project, a few other items can sometimes help make a stencil project easier. Which paints work best for a stenciling project? Stencil cremes work best and go on thinly. The gold paint below is a stencil creme, it's thin and works really well on a laser cut (regular plastic non-vinyl) stencil. I've also used chalk paint, acrylic paint and plain old craft paints to stencil. I used all of these below on my plaque project.
Stencil Brushes, what are they and do I need to use one?
You can use a stencil brush or a foam pouncer to stencil. I prefer stencil brushes by a long shot. They are not like regular paint brushes. Stencil brushes are flat at the end and the brushes are stiff. I can tell the difference between my cheap and better quality stencil brushes. Buy a good one. Pouncers are made of foam. They work, but I don't think they give the same quality appearance as stencil brushes do but that's just my opinion.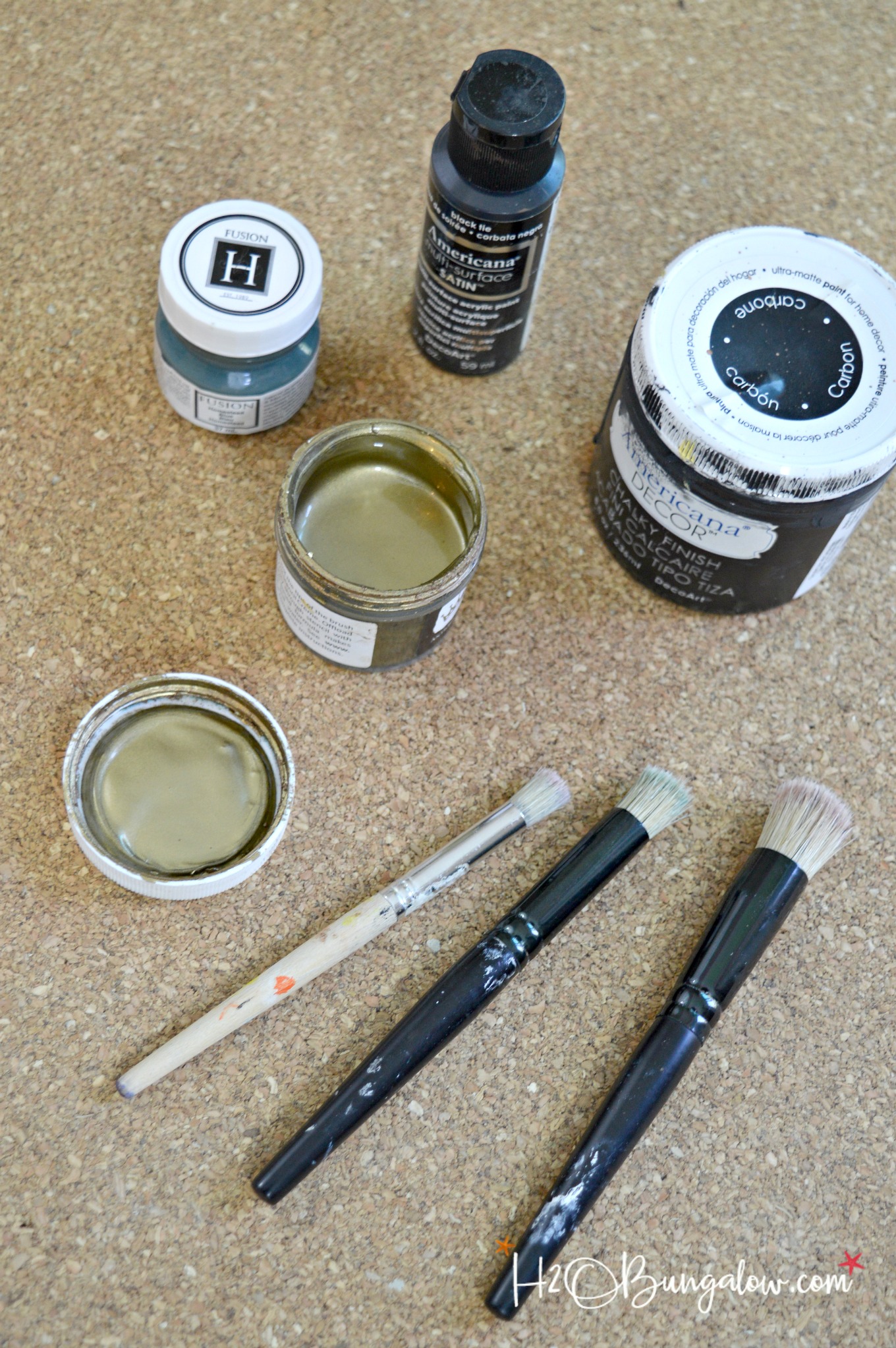 Types of stencils to choose from
Stencils come in plastic, vinyl, cardboard and can have a sticky backing or not.
Vinyl stencils are great for lots of projects. The blue stencil below is a vinyl one. Be sure your paint is very dry if you're planning on using vinyl stencils otherwise the sticky backing may lift the fresh paint when you peel it off. Often vinyl stencils can be reused. The benefit of using vinyl stencils is that you can layer paint and don't need to worry about the stencil moving. It's easier to get crisp edges and your less likely to have paint oozing under the stencil edge.
You gotta love it when you can make a phone call to a friend with an SOS for a custom stencil! I didn't have my Silhouette machine with me and Jeanie from Create and Babble was sweet enough to whip these custom ones up and mail them to me. Thanks Jeanie! She's a Silhouette guru and even has a free mini course on How To Learn The Silhouette if you're challenged to get your Silhouette out of the box 🙂
Laser cut stencils from hard plastic work well when you need to stencil on something with a delicate surface, like a freshly painted area or thin fabric. The bird stencil below is a laser cut stencil. I stenciled my own upholstery fabric in my Coastal Bench Makeover project. I also used this type of stencil for my DIY Linen Scarf They can be used over and over again as well.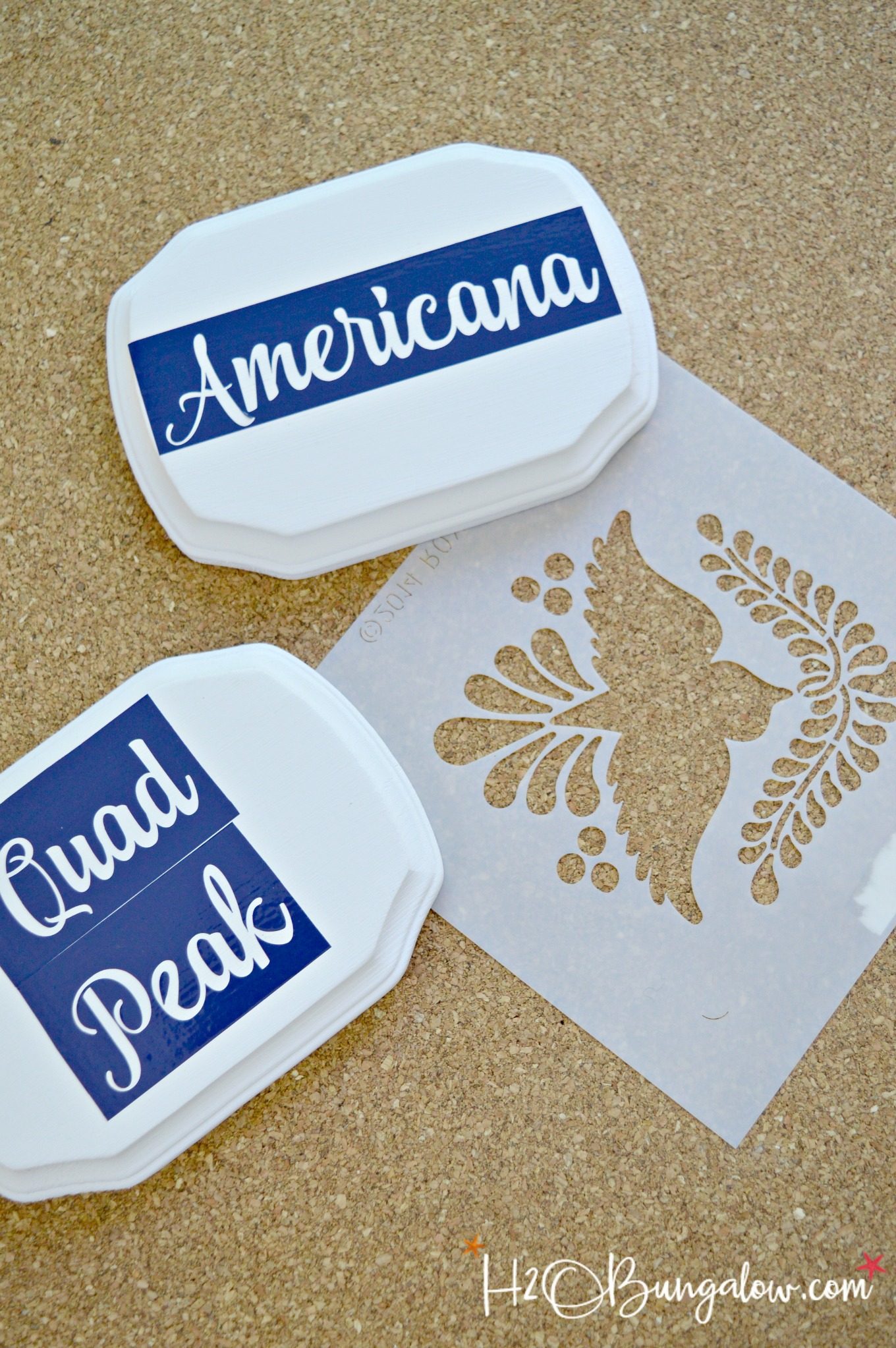 Vinyl Stencil Tips For Beginners
Stenciling is pretty easy. Most of the stenciling techniques are the same for vinyl and laser cut plastic stencils.
Step One: Place stencil on your surface.
I like to use inexpensive contact paper shelf liner to protect around my stencils so I don't accidentally get stencil paint where I don't want it. It's especially useful if your using just part of a stencil or like my blue word stencils there isn't much room between my stencil and the edge.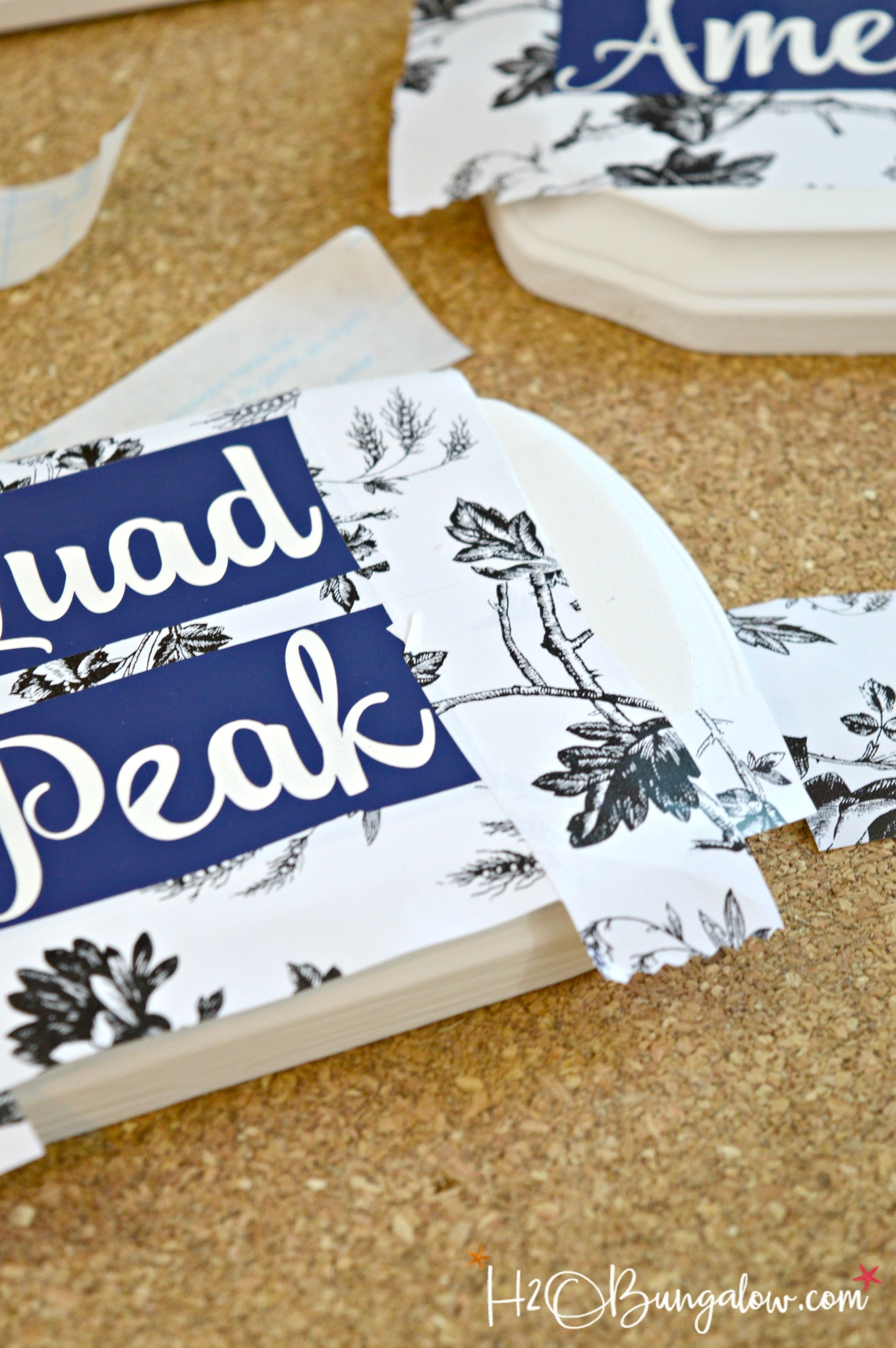 Step Two: Seal the edges
Seal the edges of the stencil by running your finger along the edges to work out any air bubbles and get good contact.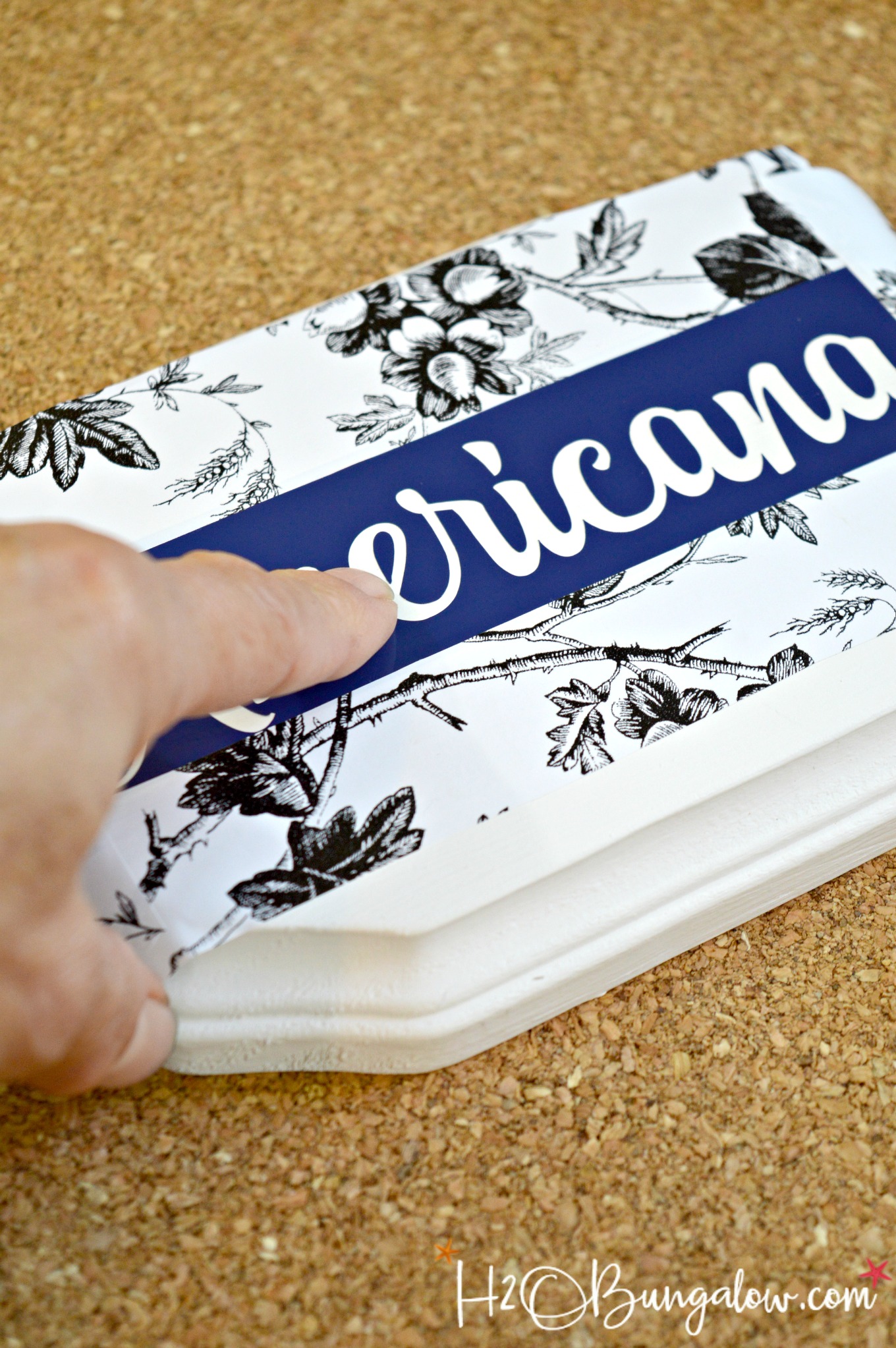 Step Three: load stencil brush with paint
Dip just the tip of the stencil brush into the paint.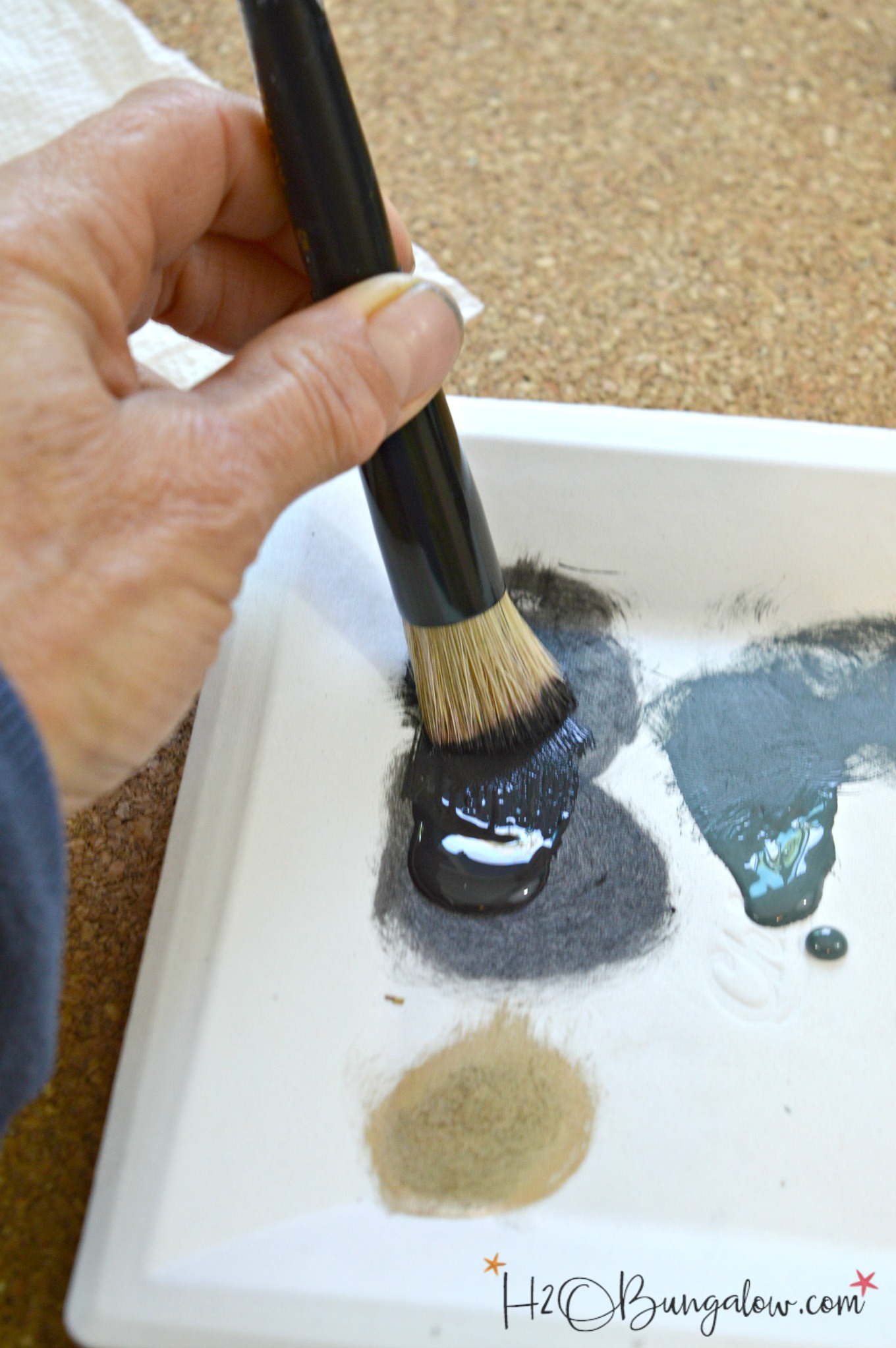 Step Four: Tamp paint off the stencil brush
Use a paper towel to offload the wet paint so there is just enough paint on the brush that it will go onto your surface looking dry.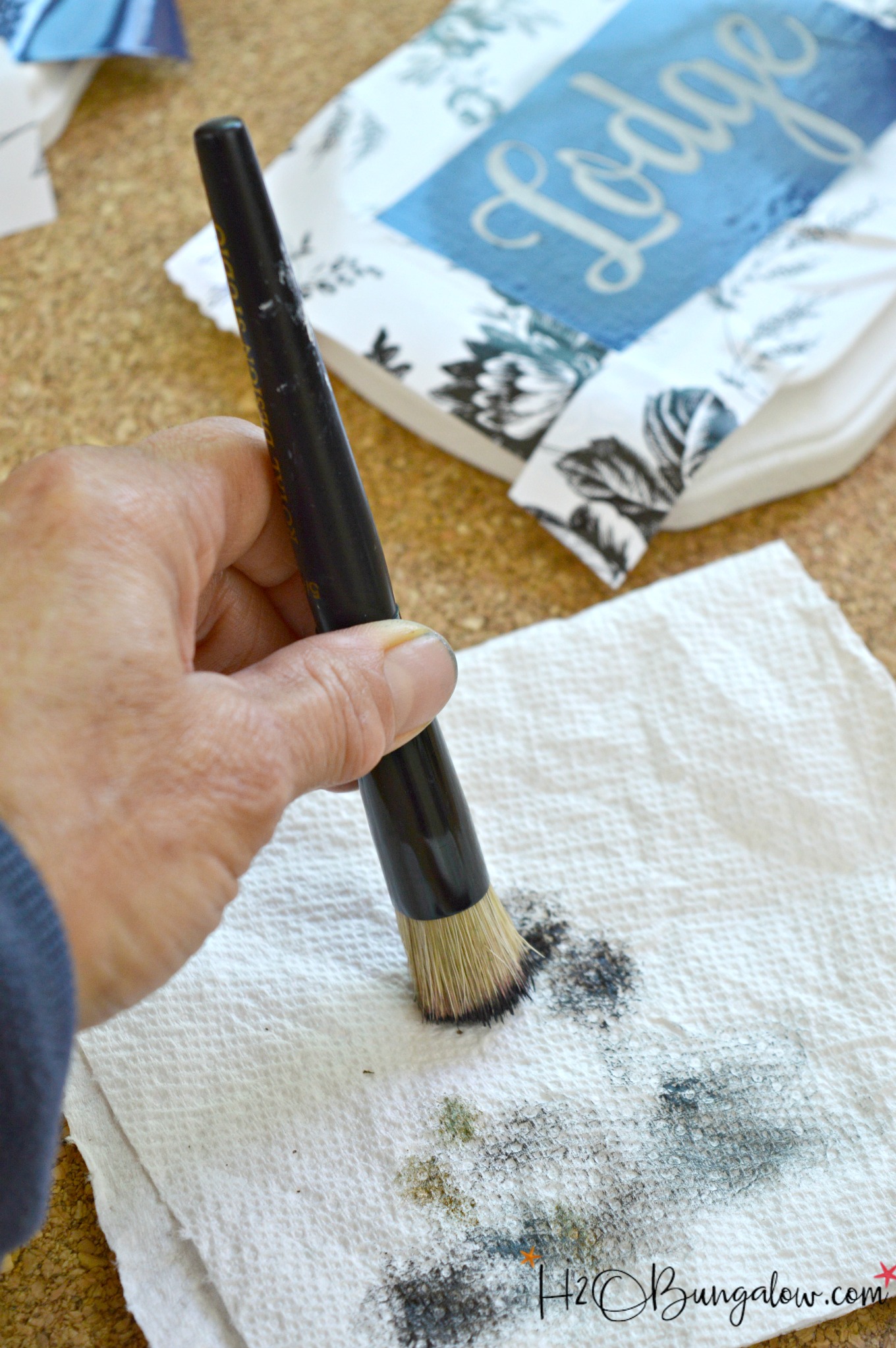 Step Five: Apply Stencil Paint
Gently and with a light touch swirl the brush around in small circles over the are you want to apply paint. If you're layering paint and using a vinyl stencil you can also gently pounce your stencil brush to apply paint for a thicker coverage.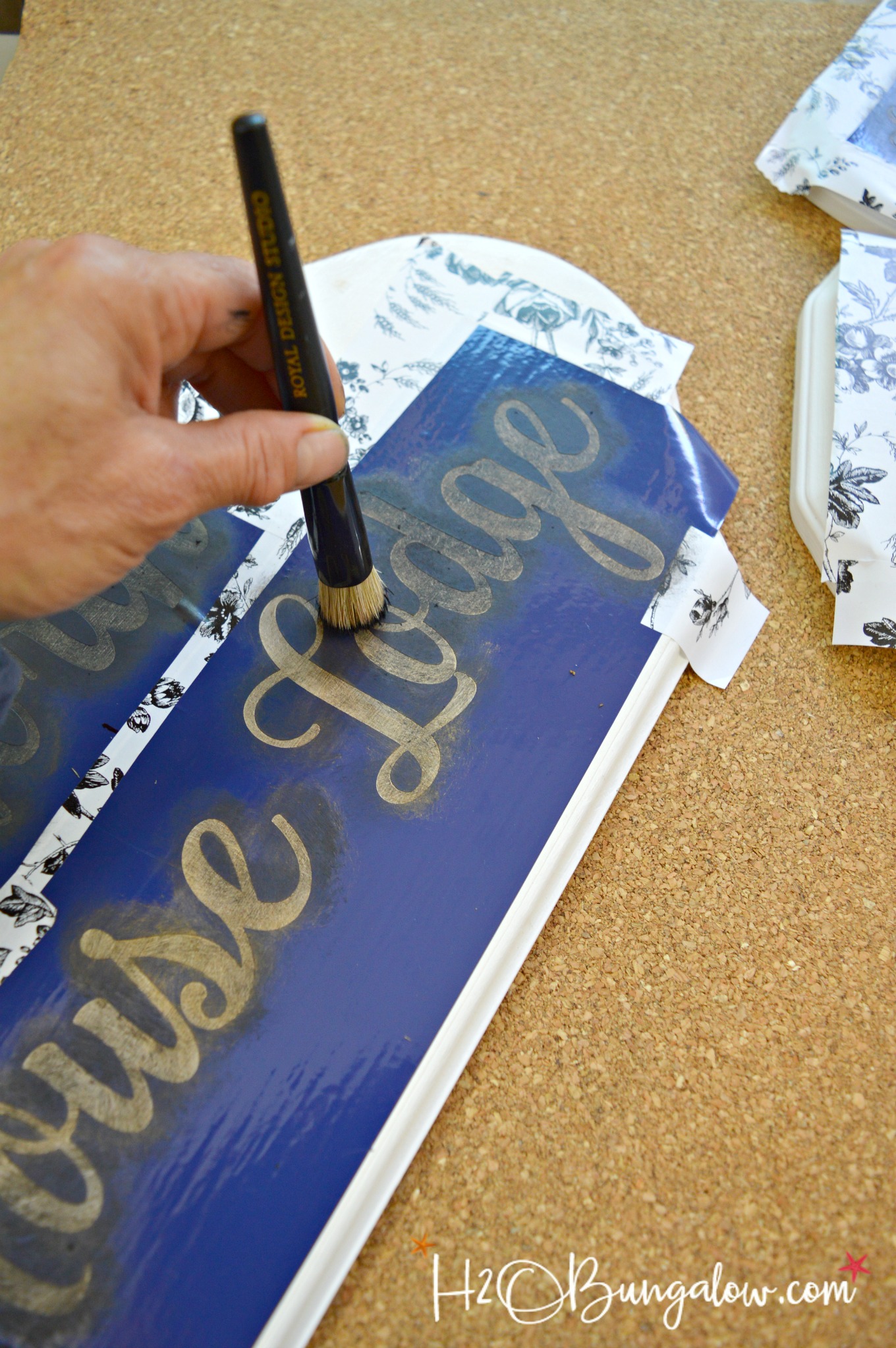 Step Six: Remove the Stencil
Carefully peel off or remove the stencil and allow your project to dry thoroughly.
I used a portion of another stencil to add some extra embellishment to my DIY stenciled plaques.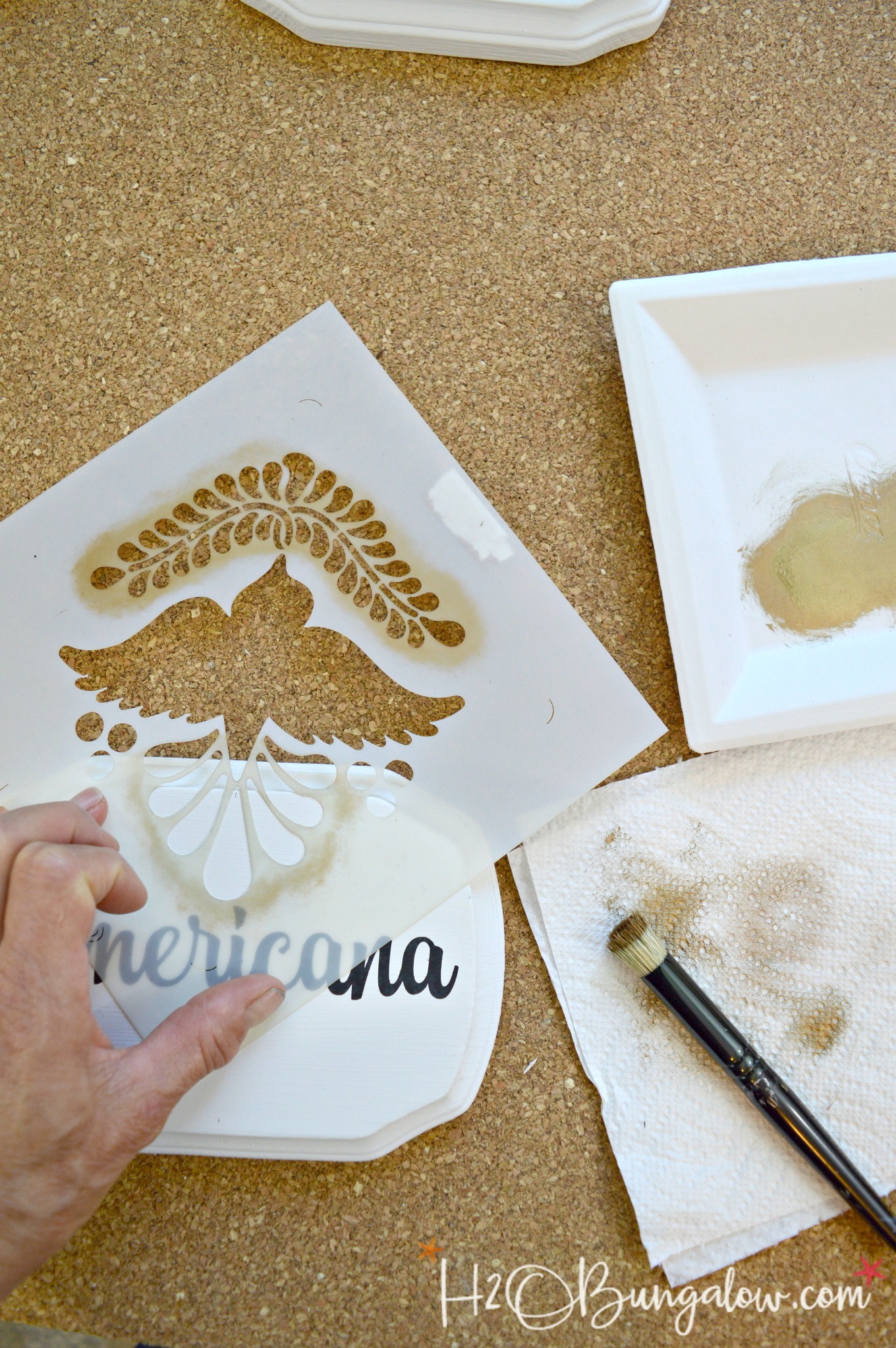 The gold stencil creme added character to my room plaques. I also used gold stencil creme when I stenciled my DIY Stenciled Hanging Pendant Lamp.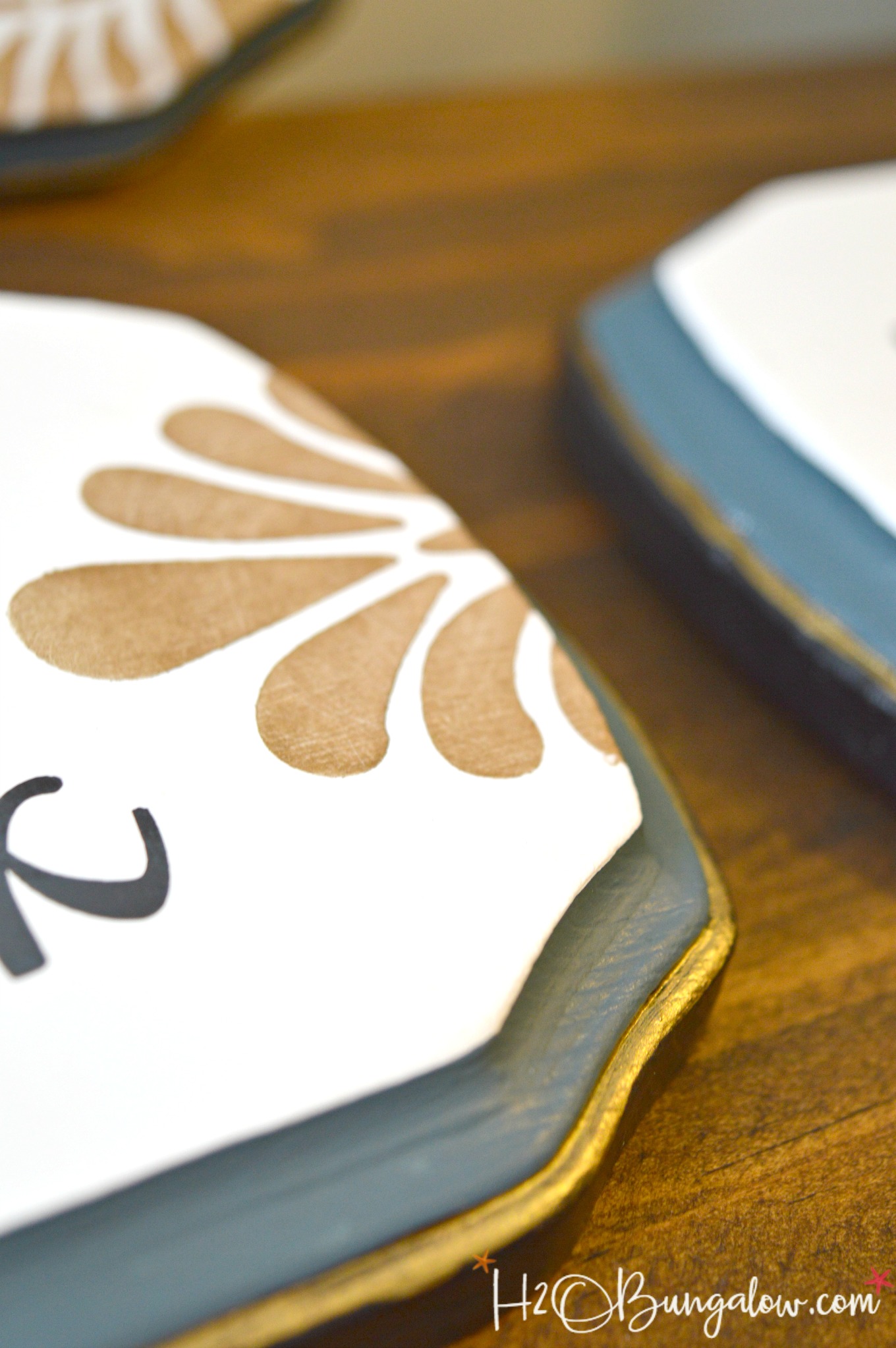 Stenciled furniture is always popular. I made over a bedroom set for my nephew with a little Faux Painted Cargo Furniture. Another pretty stenciled piece of furniture was this White and Gold Distressed Damask Dresser. You'll find several more stenciled furniture projects here.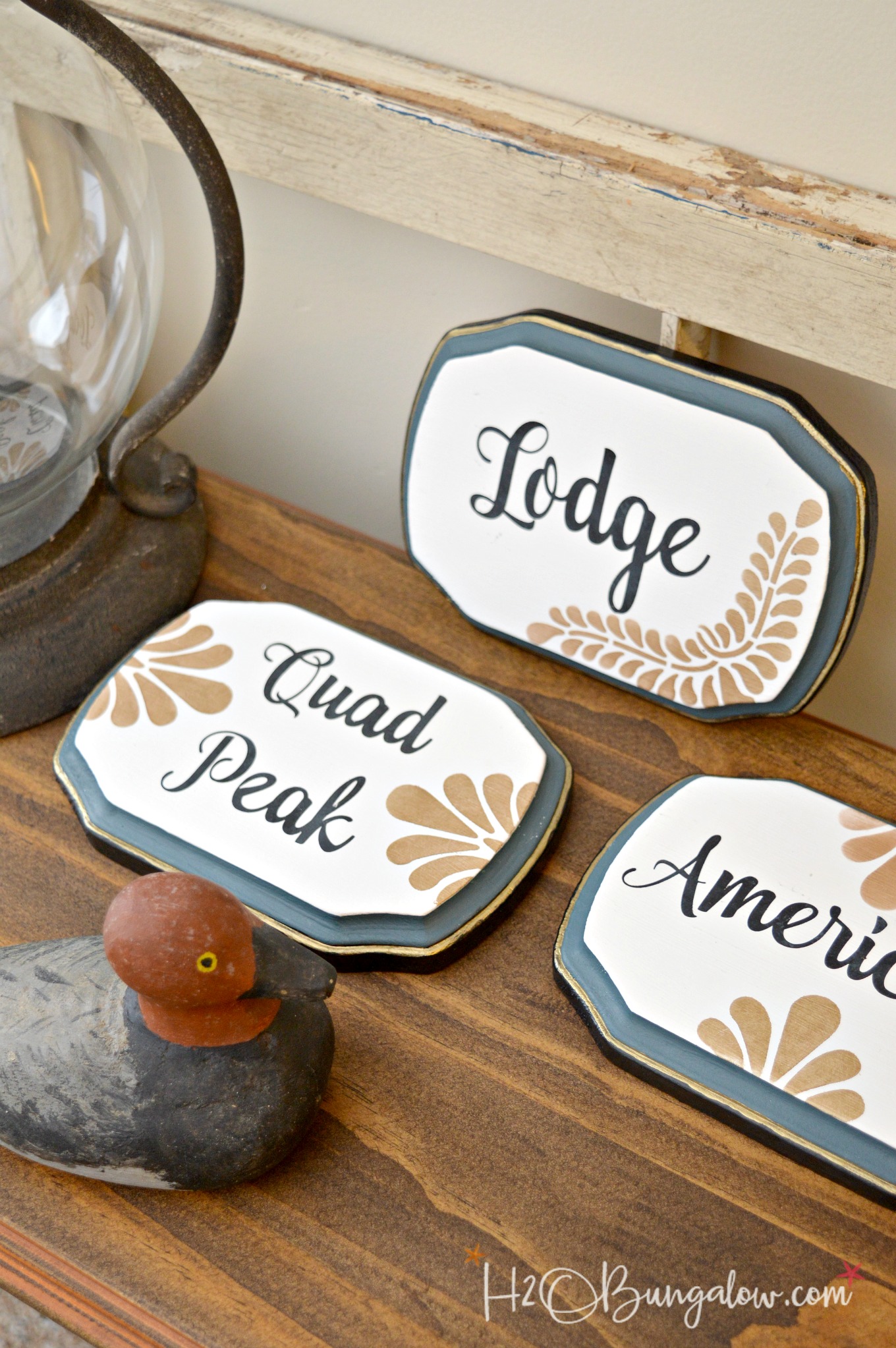 These plaques are now hanging at the door of each room in the North House Lodge.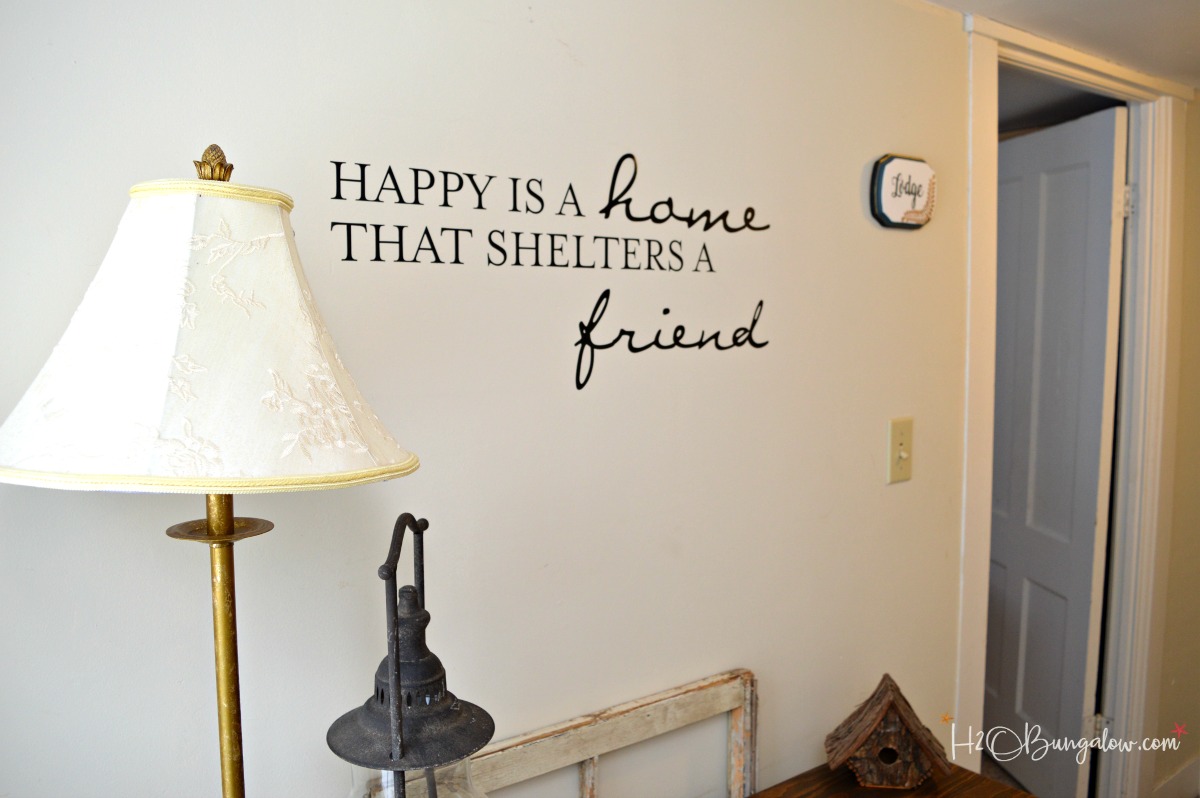 Stenciling is a useful skill, especially for home decor projects. When I look back on a lot of my projects I realized many were done with stencils. I've been planning on sharing stenciling tips for beginners for a long time!
Pin this post for later!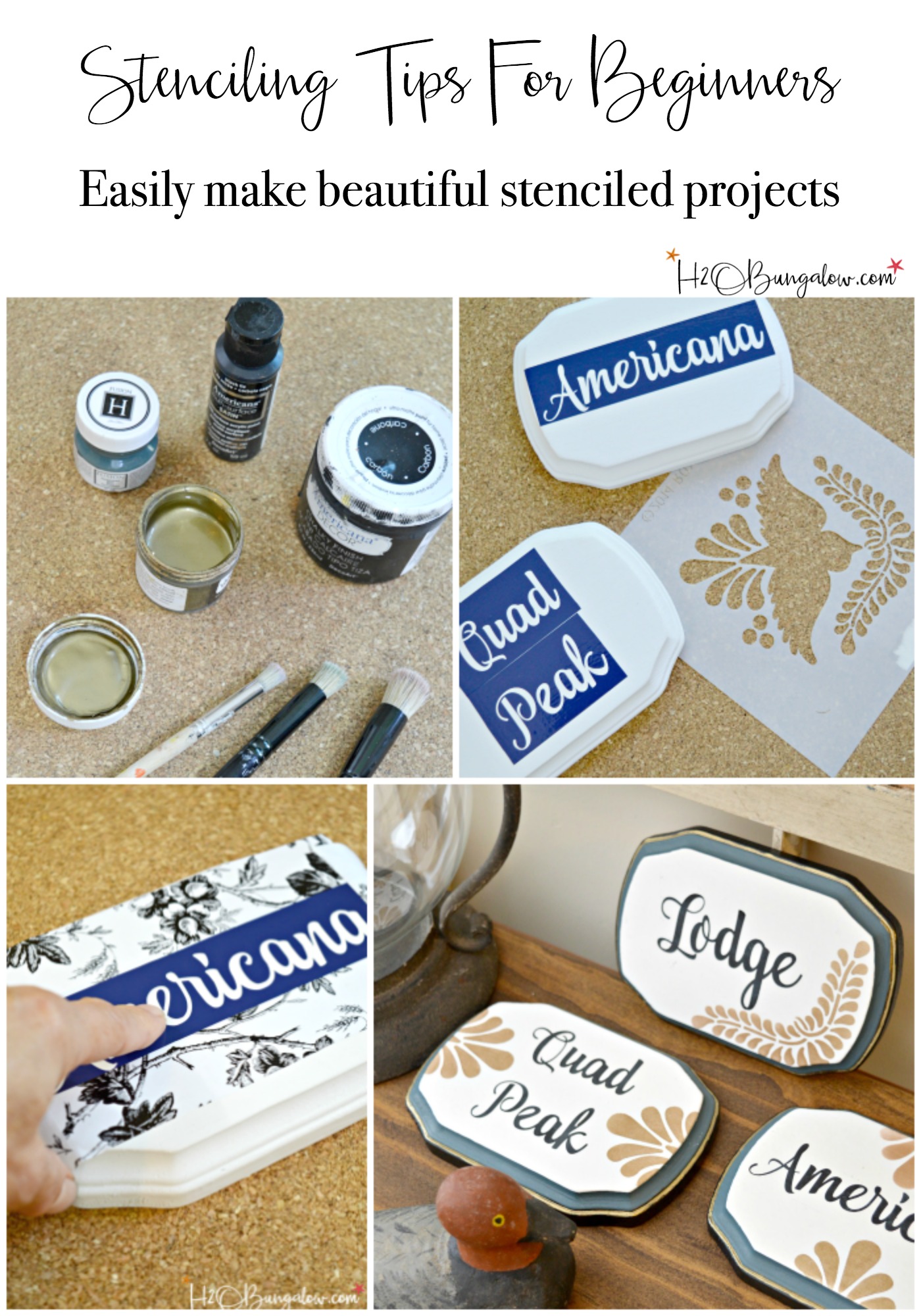 Did you learn something new in my stencil tips for beginners tutorial? Or, do you have a tip to share that I didn't mention? Share in the comment section below!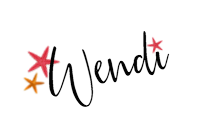 You'll find my project linked up to these fabulous parties!
Love a good dose of DIY home decor, home improvement, the challenge of woodworking and creative ways to make your home look fabulous?
Me too!
I'd love to share mine with you. Click here to sign up for my post emails and I'll send a quick note when I have a new project to share.
I use affiliate links, if you should make a purchase I receive an itty bitty commission which helps to pay for the overhead of running the blog. Thank you for your support!