I'm sharing 13 tough low light indoor plants with you today, one of my top posts of 2018. Some of them are tough as nails plants that you can't kill easily. A few will grow with just about no light or fluorescent lights in an office. Many are forgiving drought tolerant low light indoor plants that accept and even thrive on neglect.
Looking through several older posts and photos of my home it struck me that while decorated and often pretty, some spaces lacked warmth. I've had one very tolerant low light plant that made appearances in several staged rooms and photos over the past three or four years. I was using it to add warmth to my photos. I felt like it was time to step up my game, commit and permanently add a few plants around my home. That way I could enjoy them all of the time and reap the benefits of indoor plants around the house.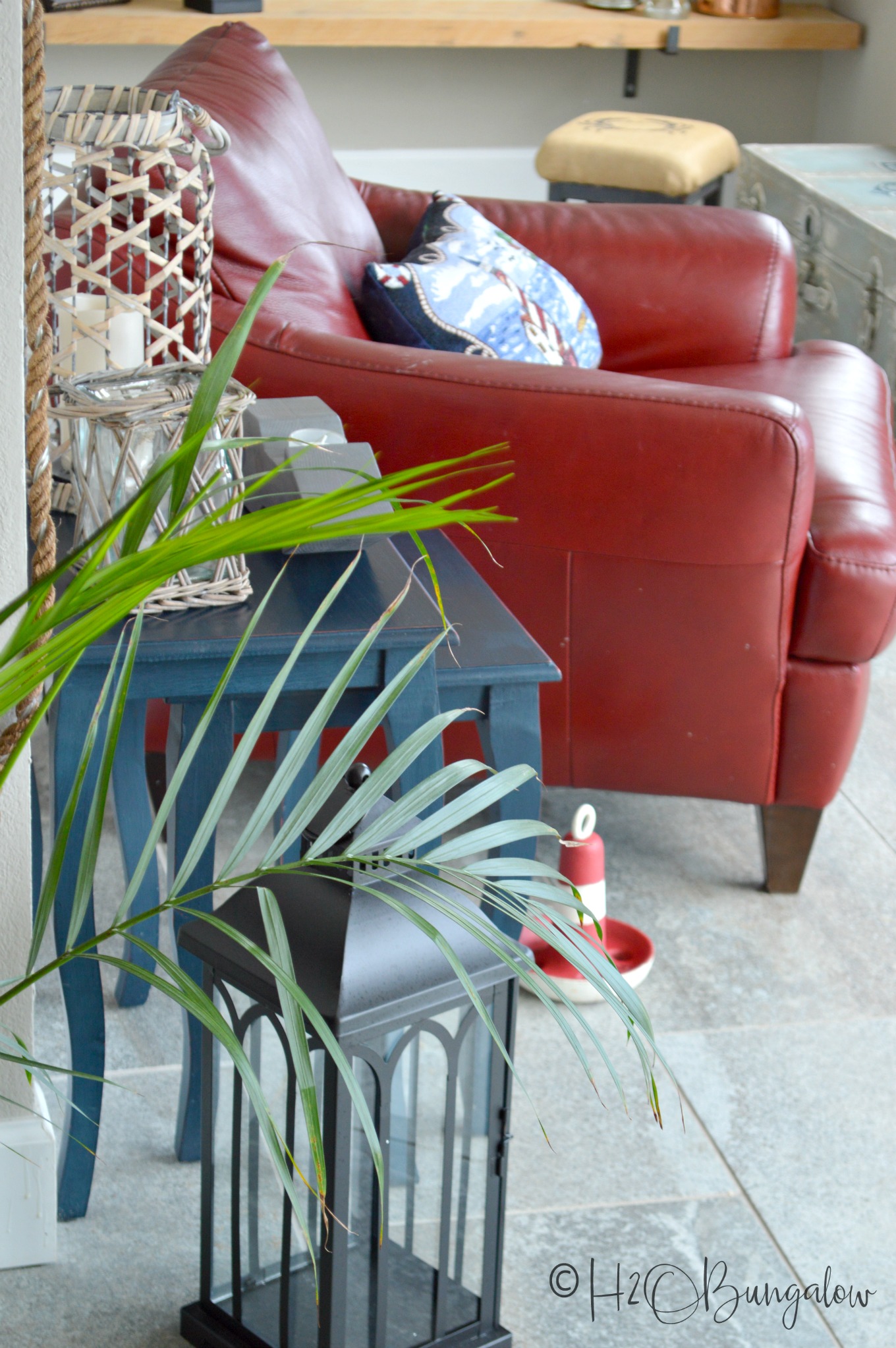 You'd think that living by the water in a Florida beach house we'd be all windows and sunshine. Yeah, that's for magazine photos of dream homes. Our reality, while it is nice, is a long (30 foot long to be exact) living room with only a front window under a porch and back windows that allow filtered light in.
Before I invested in new plants and pretty decor planters, I needed to pick the right low light plants for my home. I thought I'd share my shade loving plant research with you guys!
I use affiliate links to help you find the items I listed and used. You can read my full disclosure policy here.
Best Tough Low Light Indoor Plants for Hanging Baskets
You're probably familiar with many of these low light tough as nails houseplants. I suppose they are around everywhere for a reason, like survival of the fittest. You've heard me say this before, the one thing I swear by with all of my plants is using SuperThrive on my plants! They grow like crazy.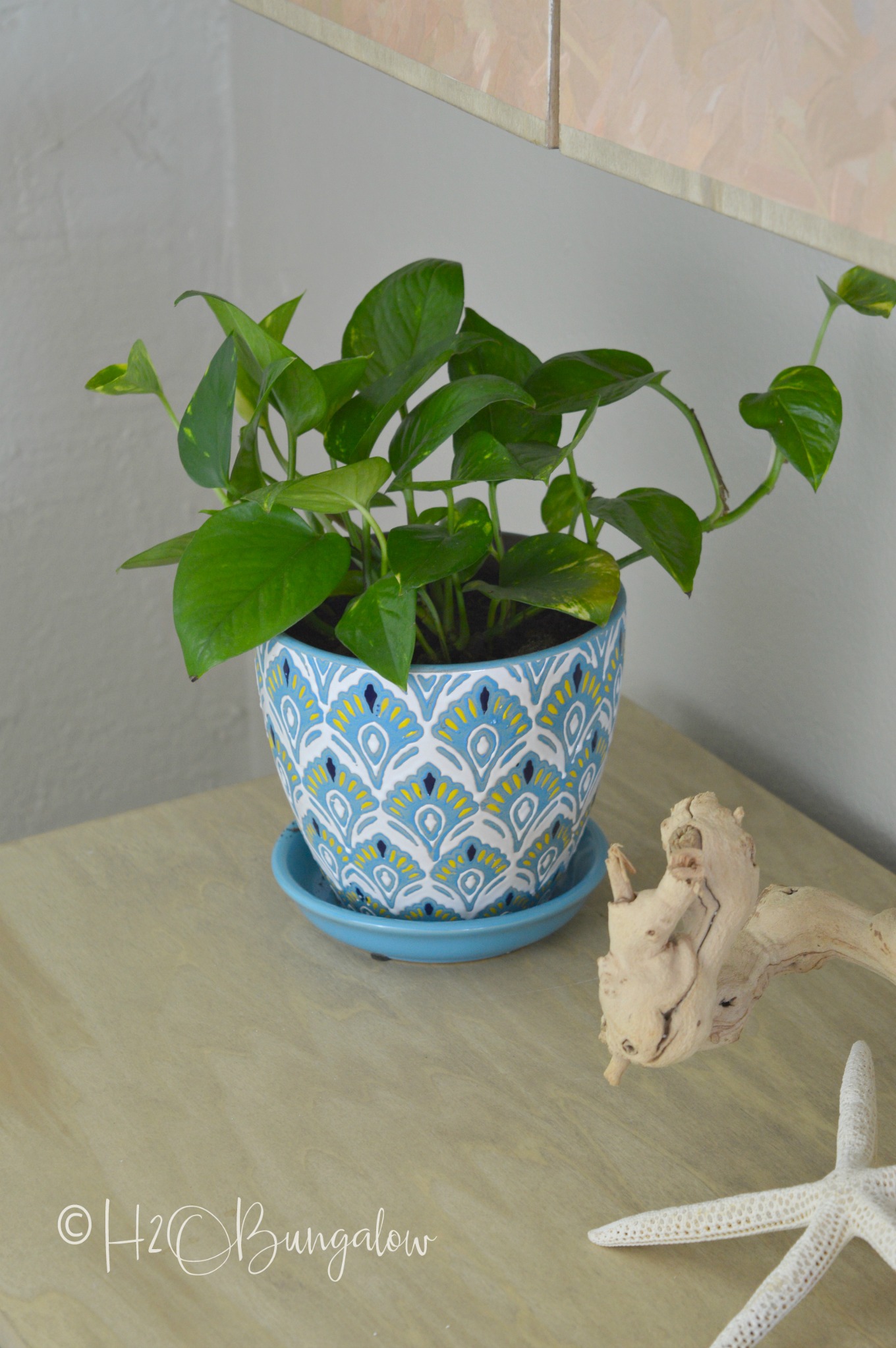 Pothos, Devils Ivy or Epipremnum can be found with plain leaves and variegated. I added a pop of color to a dark corner by my DIY media console . Yes, that is a Wall Mounted TV Cabinet, another DIY project! …let me get back on track with my favorite low light houseplants 🙂
Heart Leaf Philodendron ,Philodendron cordatum, grows anywhere but not in full sun. There are vine and shrub versions.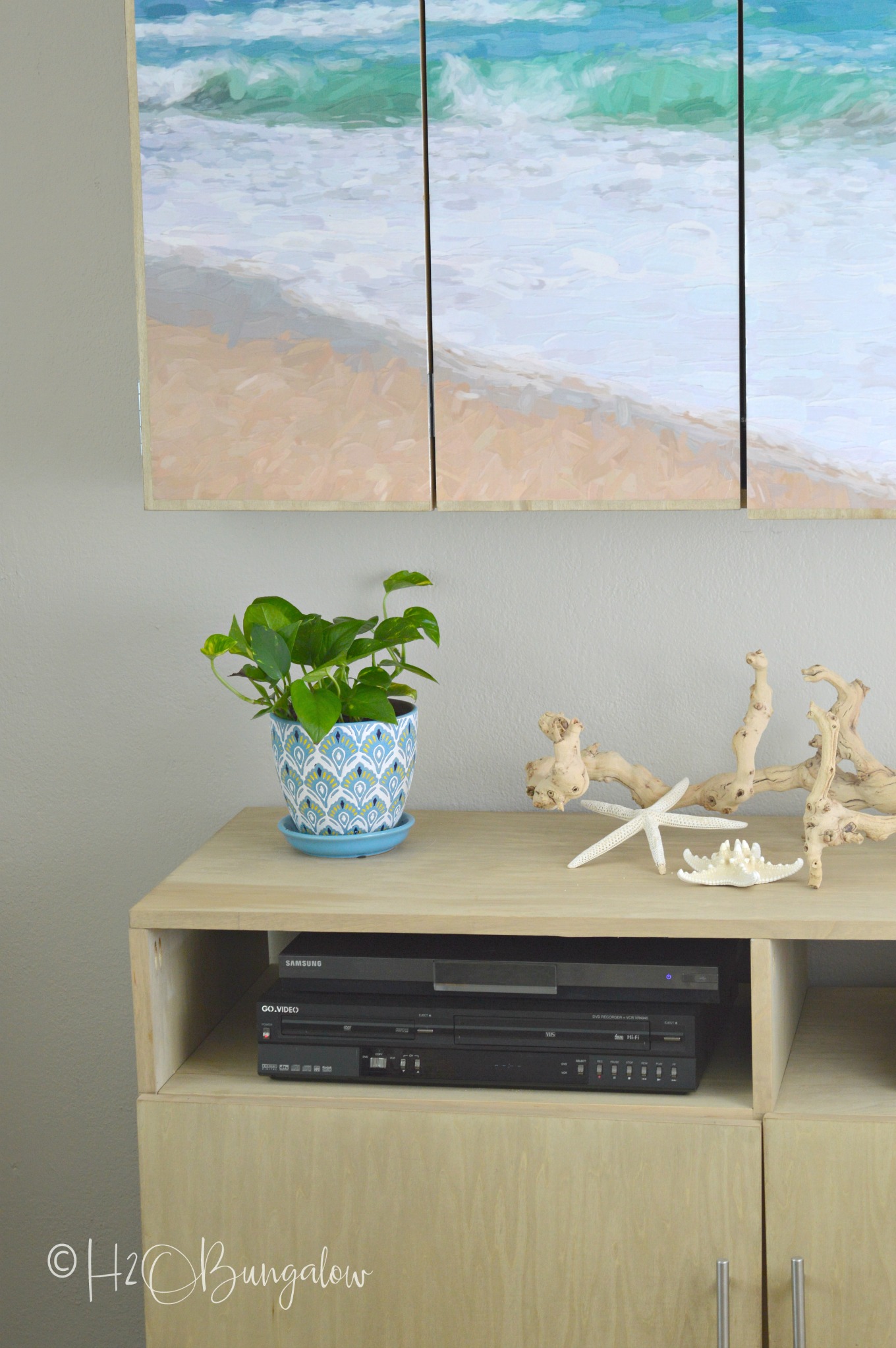 Spider Plant or Airplane Plant– Chlorophytum comosum. Grows fast and spectacular in hanging baskets. I planted this little spider plant in a hanging basket for our heavily shaded front porch. It won't be long before it's full and cascading down.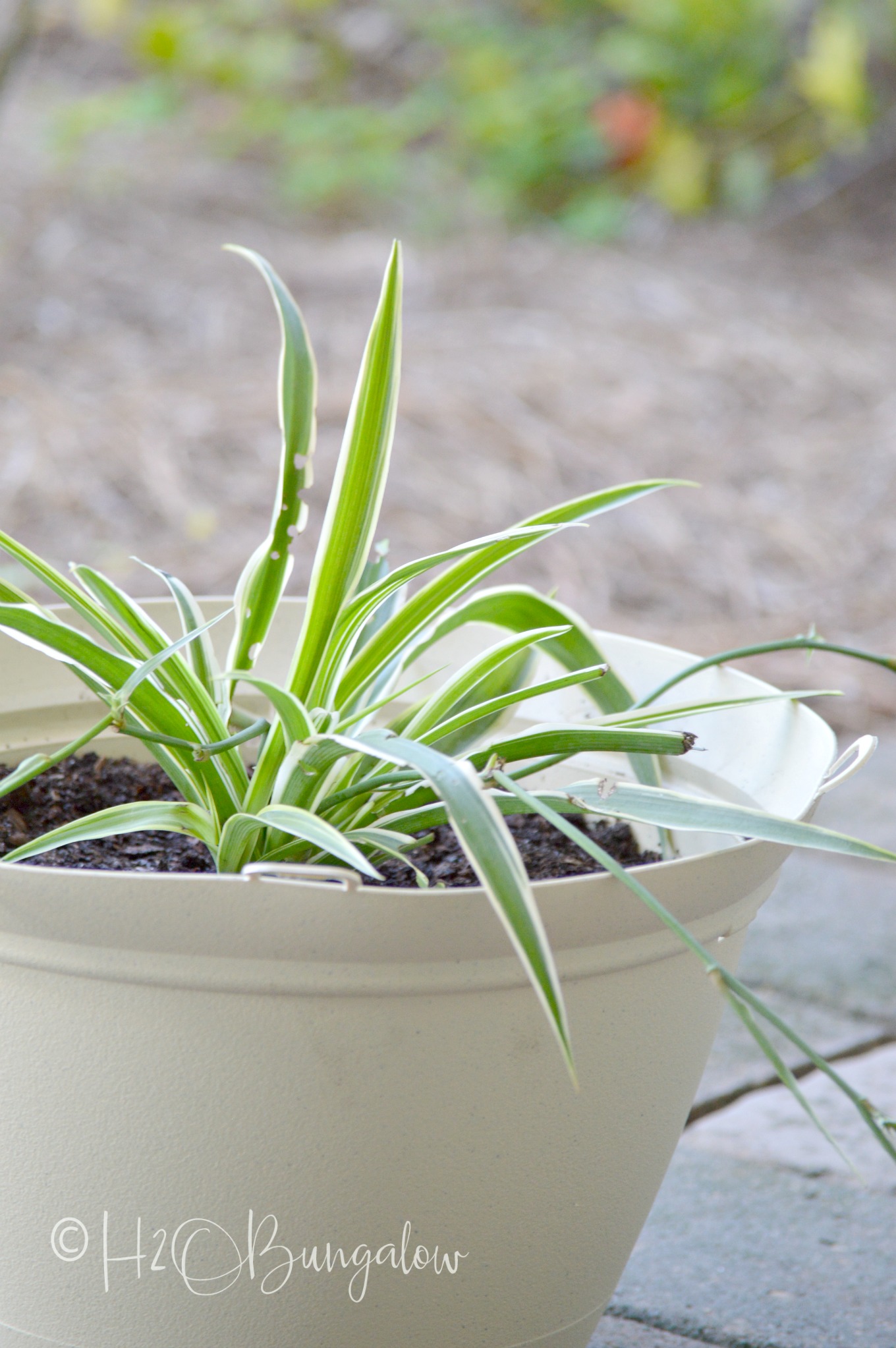 Super Hardy and Tough Low Light Indoor Plants
Cast Iron Plant – Aspidistra , I read this plant even grows when it's neglected! It's also not bad looking either.
Snake Plant– also known as Mother in Law's Tongue or Sansevieria. Very hardy, grows without much light! When the first part of a description reads impossible to kill I know this is my kind of plant! Oddly enough Snake Plants are also listed as a tough as nails outdoor plant. My neighbors have huge pots of these in the direct sunlight and they never die!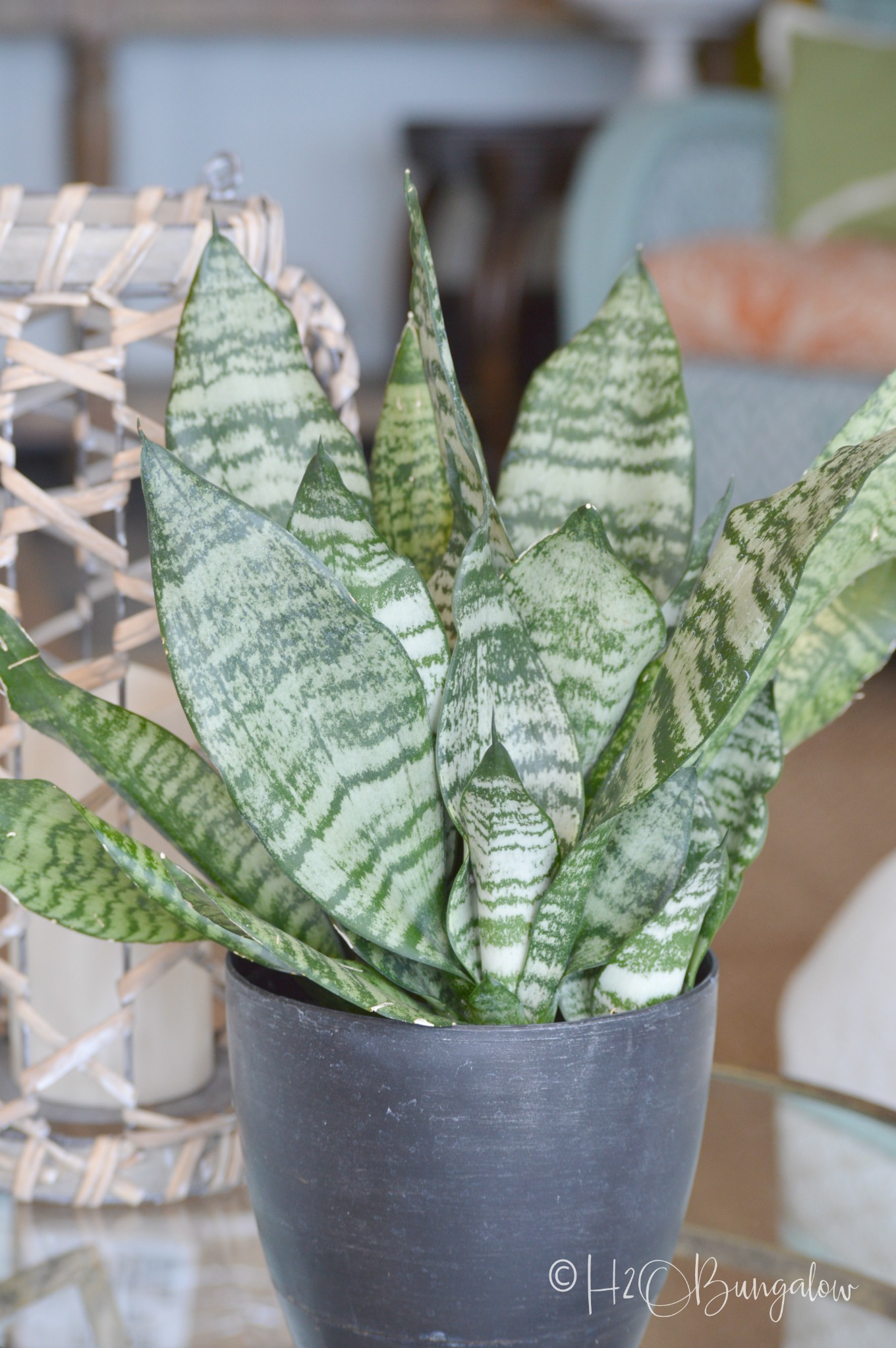 Low Light Loving Palms
Areca Palm – Dypsis Lutesens. I've had this one for about 3 years and it's survived in spite of the neglect. Too much sun and the fronds get yellowish. It likes indirect light and drier soil. Plant it outside (in Florida) and it grows huge. We have them as hedges too.
You guys have seen this low light plant in lots of my photos!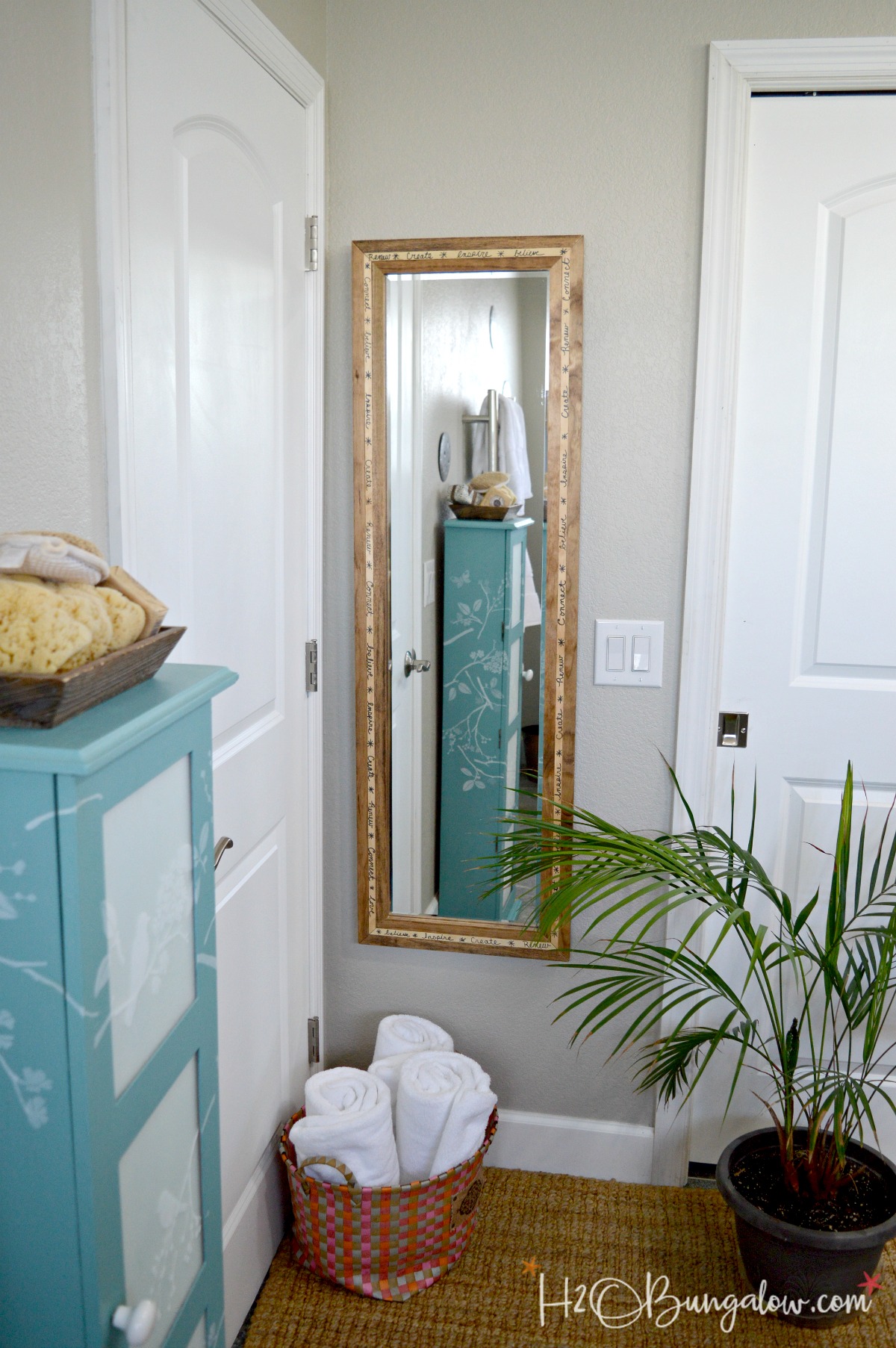 Parlor Palm – Chamaedorea. Been in use since the Victorian times. I read it's ability to put up with low light, drought and general abuse is legendary.
Other Durable Low Light Plants
Peace Lilly – Spathyphyllium. My front door is too shaded and flowers just won't grow there. This is the second time I've had a peace lily plant in this spot. The first one lasted forever until it got too big for the pot. You may remember this DIY Planter Stand I made for the front door. I mixed in some pink polka dot plants and small leaf ivy along with my Peace Lily in an attempt to make a mixed planter. I don't think the polka dot plants are happy here. Not enough sunlight.
Boston Fern – Nephrolepis exaltata. Looks great in planters by a front door. Likes brighter indirect light, but grows fine on my low-light front porch too. Doesn't like to dry out though which makes it fussier in my book.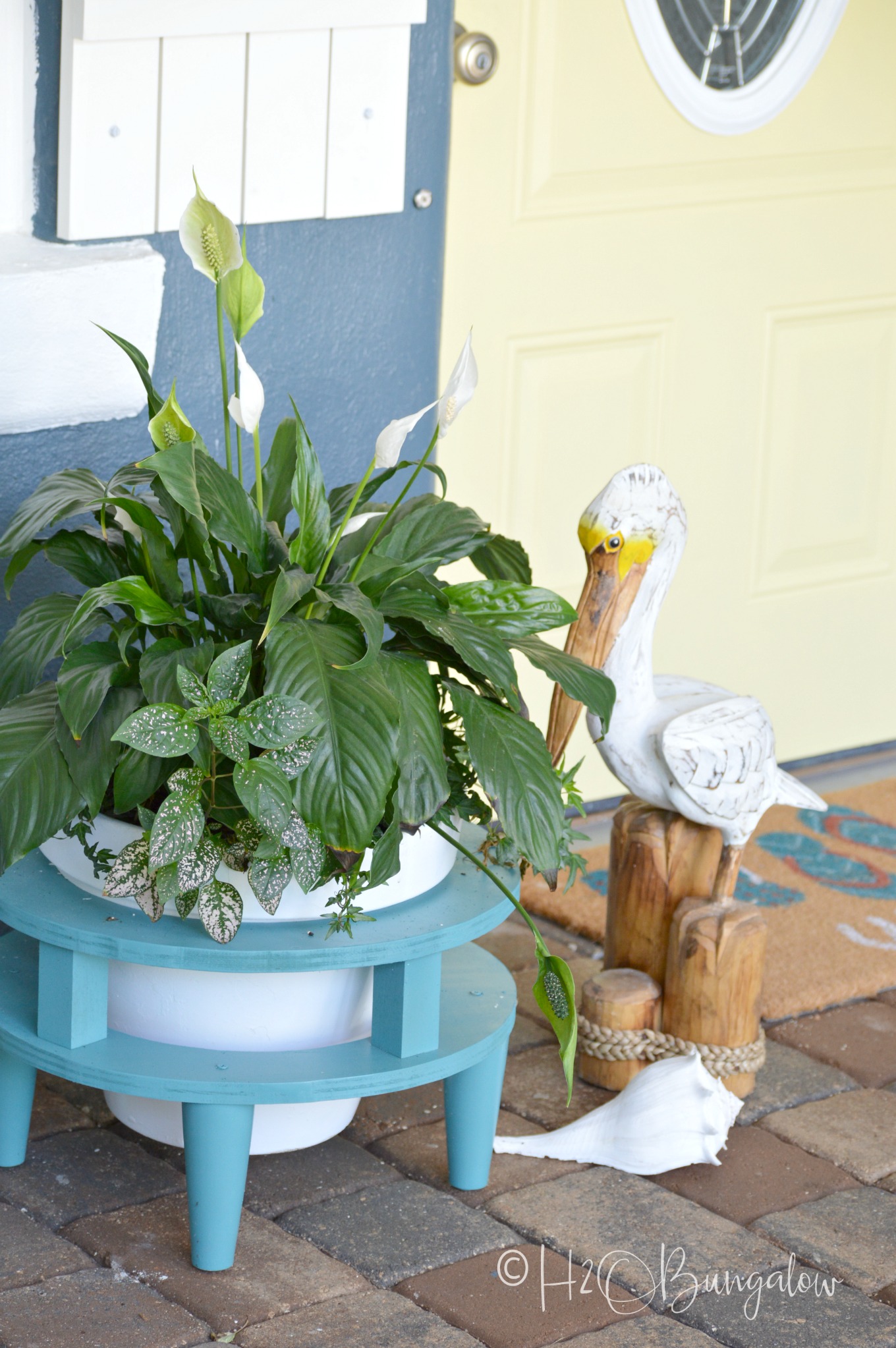 Bromeliads – Guzmania. Slow growing which is great when you want a plant as a decor item on a table top! Can live on florescent light alone, low or medium indirect light, loves humidity. Long lasting blooms come in red, pink, orange and yellow.
Chinese Evergreen – Aglaonema. Super hardy, grows in low, medium or bright light. Lots of varieties and the red variegated is pretty!
Dracaena – Corn Plant, Dracaena fragrans 'Massangeana" Likes indirect light.
Dieffenbachia – Exotica Dumb Cane. While Dieffenbachia loves bright indirect light it does well in low-light too.
Have you found my Is my list of tough low light indoor plants helpful?
Don't forget to share this on Facebook with your friends and pin it for later!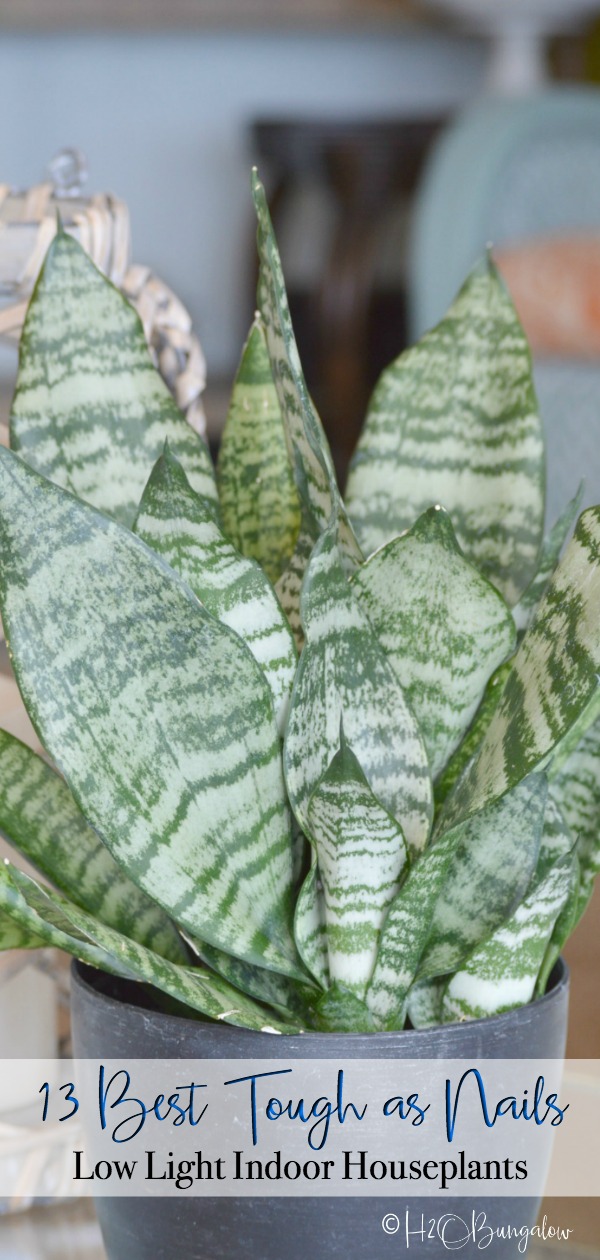 Whew, after shopping for durable low light plants, talking to friends with some plant know-how and a bit of online research I've put together quite a list of tough low light indoor plants for your home. Now, all I need to do is pick out a few more planters that compliment my decor and the style of the plant to turn them into home decor! Remember, you can save money on planters and easily Drill Holes In Ceramic Planters for draining. It's easy!
Do you have any favorite tough low light indoor plants that I didn't list below? I love when our community shares info to help each other out. Share your knowledge below in the comment section!