You know the saying if you don't know where you're going, how are you going to get there? Not too long ago, I realized that I haven't decorated my living area yet. Wait a minute you say, you've done lots of projects in your living room. Yes, I have. What I haven't done is made a master plan for the design and style I want in my living room to evolve into. This week I sat down and created a contemporary coastal living room mood board to help me visualize where I want our living room to look like. It's kind of a wish list of sorts. Check out more projects and updates on my Coastal Home Tour.
My living area has challenges. It's 30 feet long and a narrow 13 feet wide. It has no windows on the sides so natural light is scarce. This photo is already dated since I just made over the white chair in the picture. Take a look at my Painted Chair Makeover to see what they look like now.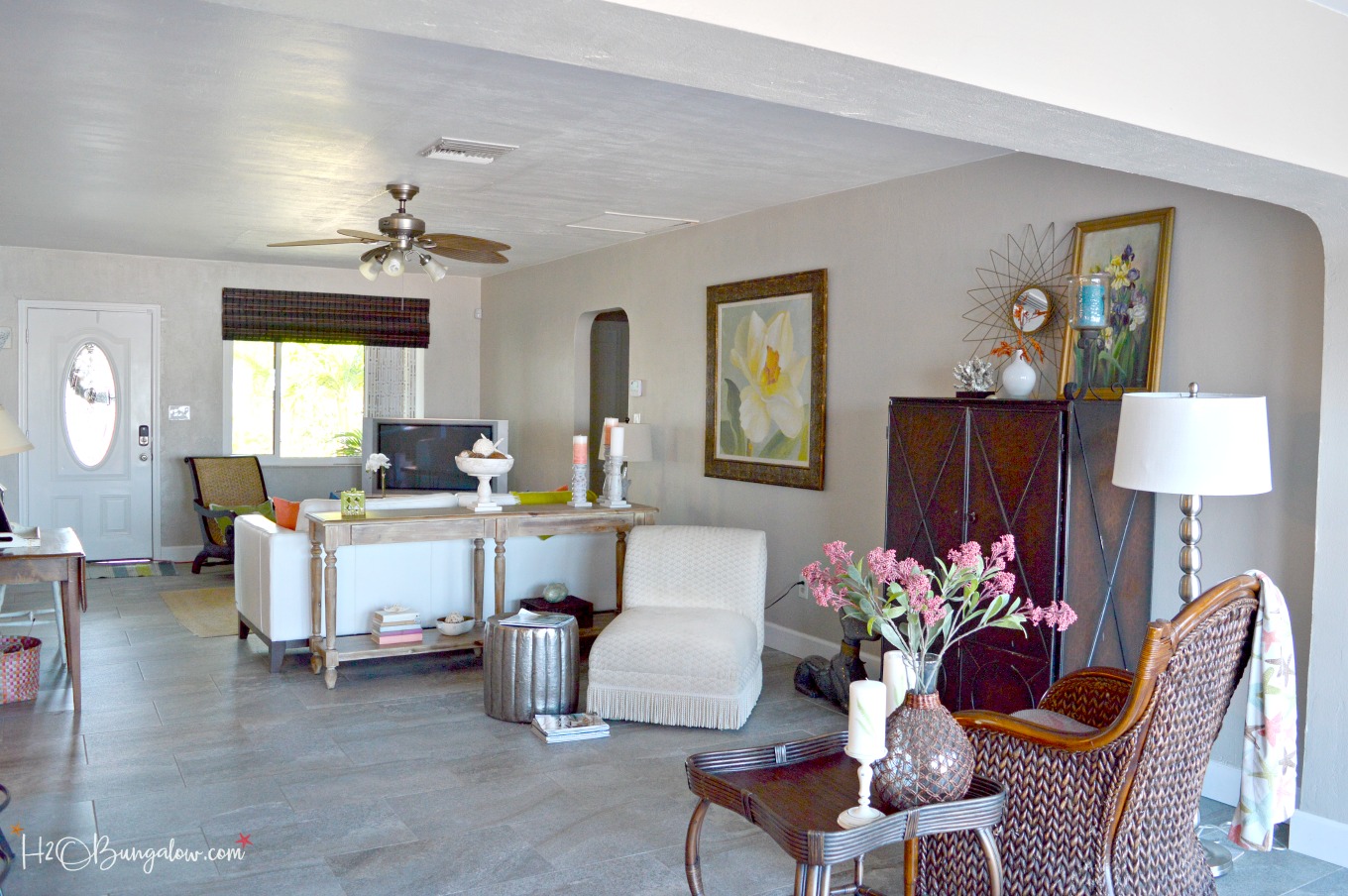 This room is divided into two separate conversation areas. This is the view as you walk in the front door. My decorating style is already coastal, I'd call it transitional coastal, it's a stretch to call it a contemporary coastal decor style. I have several modern home pieces like metal and glass side tables and my live edge coffee table which I'd call rustic modern.
As much as I didn't think I'd lean towards a modern home decor style, I'm starting to appreciate the simple clean lines. I also think it works well in small spaces like my TV sitting area.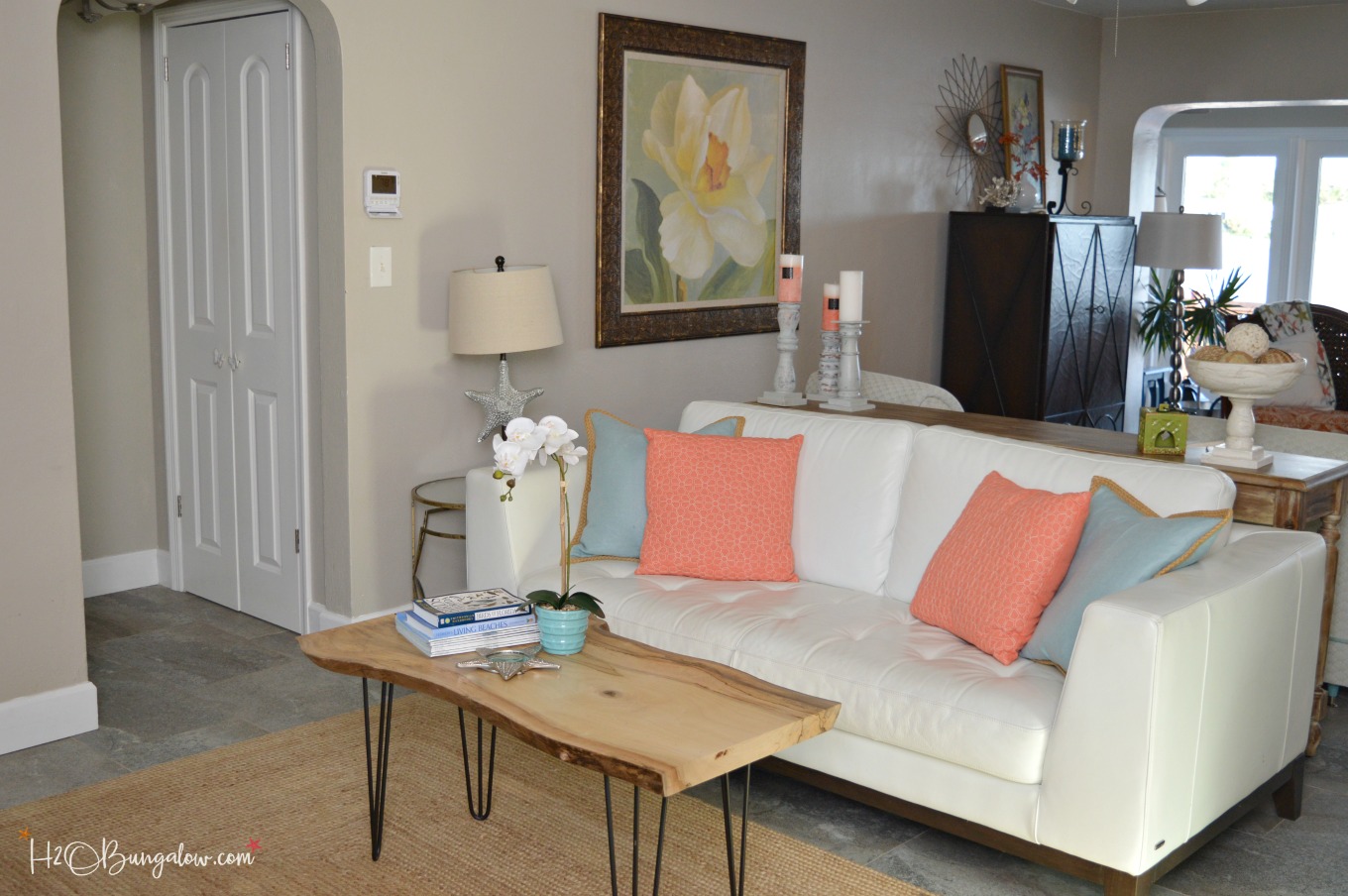 I'm working on the first area, the one you see as soon as you walk in the doorway, specifically the TV corner which has never been in any of my photos on the blog…ever! The TV and stand with one glass door don't do this area any favors, that's for sure!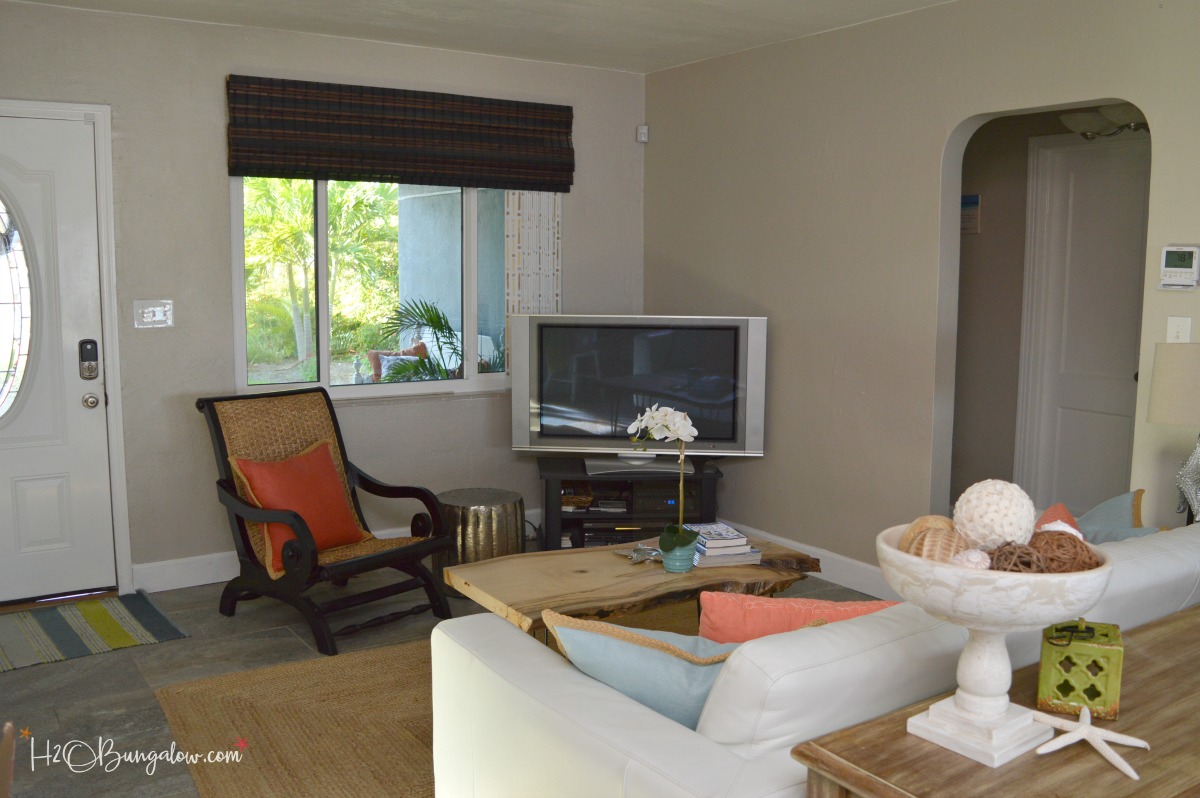 This whole process started when I decided we'd had enough of this dark tv cabinet. I decided to build a mounted on the wall TV cabinet where we could shut the doors and hide the tv when not in use. That's about 90% of the time since we aren't big TV watchers.
That's where the snowball effect started.
Because after I mount the TV on the wall, I'll need to fill in the space on the wall under the new TV cabinet. Then I started thinking about how pretty new drapes would look on our window, which will make the window look larger…and so on. You see my dilemma, right? So, I started planning my contemporary coastal makeover. I'm using as much as I can of what we have already. Decor items like my white leather sofa and my DIY Hairpin Leg Live Edge Coffee Table are staying of course. I made this mood board below to see how my contemporary coastal living room makeover pieces all work together.
Pin these ideas for later!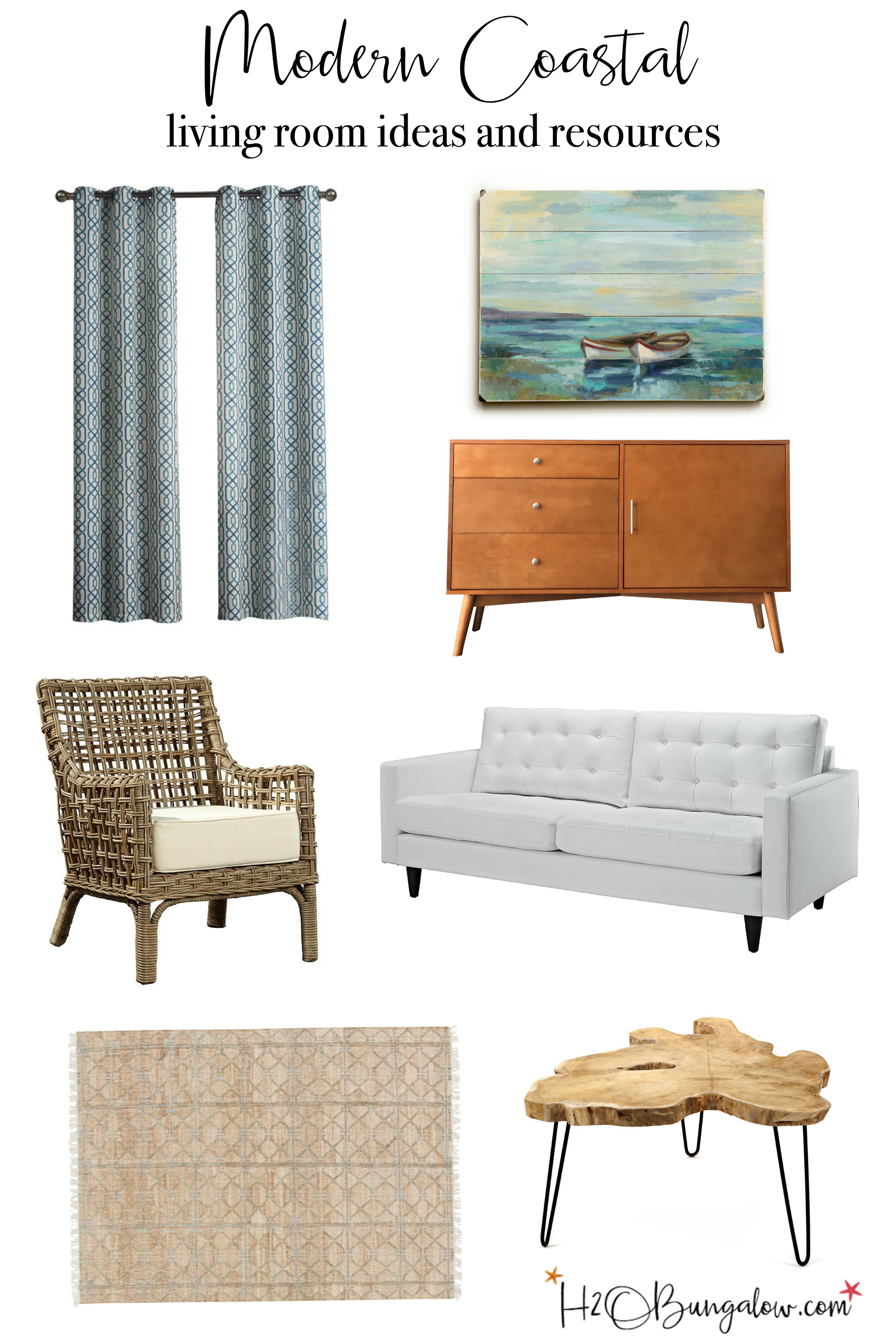 I use affiliate links to help you find the items I've used. You can read my full disclosure policy here.
Click on a link to find the design resources I used in my contemporary coastal living room makeover mood board.
Console – I love the shape of this and even though I found it in the media section I think it would be a pretty and petite console.
Rug – Adding a pattern into a natural jute rug will give the area a little more definition. I plan on having matching rugs for each of the two conversation areas in the living room to add continuity.
Curtains – I like the idea of adding more patterns into the room. This shade of blue would fit in without overpowering the area.
Live edge coffee table – Of course I'm keeping my live edged coffee table I built. I found this premade one and it's priced less than it would have cost me to make mine. A great option instead of the DIY version.
chair – Our natural woven armchair came from Z-Gallerie a few years back. Like ours, this one adds a casual coastal vibe.
sofa – White leather works in our small area. The bright color keeps everything fresh and open looking. I love leather for how easy it is to keep clean as well as how well it holds up.
wood wall art / TV cover- I don't have the full plan in my head yet but this is how I plan on hiding the TV when we aren't watching it!
We've lived here 4 years, 11 months and 5 days. Sometimes it takes one simple event like a new TV cabinet to jump-start a needed change. I'm pretty excited about bringing in, and DIYing a few pieces that (I hope) will work well together for a casual and contemporary coastal living room. We'll see how it all unfolds in the near future 🙂
Do you have design style you follow or do you do your own thing? Share your thoughts in the comments below!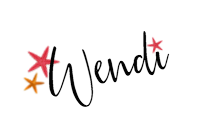 You may like these other room designs I've done too!
Coastal Master Bedroom Makeover
Beachy Coastal Bathroom Makeover