I love birch bark with its rich earthy mixes of neutral whites, browns and textures. So you can imagine I was over the moon excited to find birch trees everywhere when I visited VT a few weeks ago. Today's project, my DIY birch bark candle is a simple fall decor project that you can easily make with your own birch bark collected from a tree. No worries if you don't have access to birch bark, I found an inexpensive resource to buy it online and list the link below.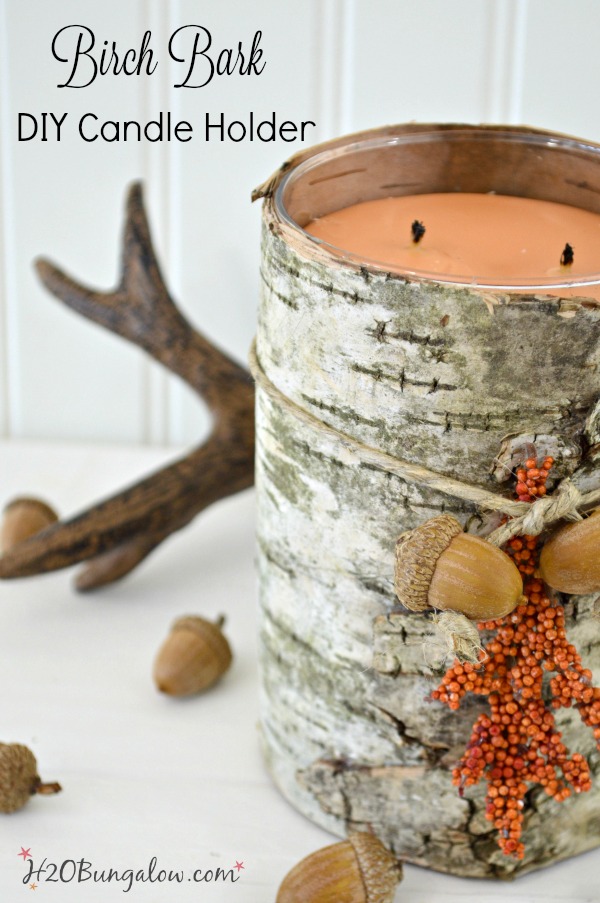 There were many things I fell in love with in VT. One of my favorites was the morning walks with my good friend who opened her home and shared her fabulous VT lifestyle with me. Every turn in the path brought more beauty, and you guessed it more birch bark! It's so pretty. I used it to create these Birch Bark Pumpkins.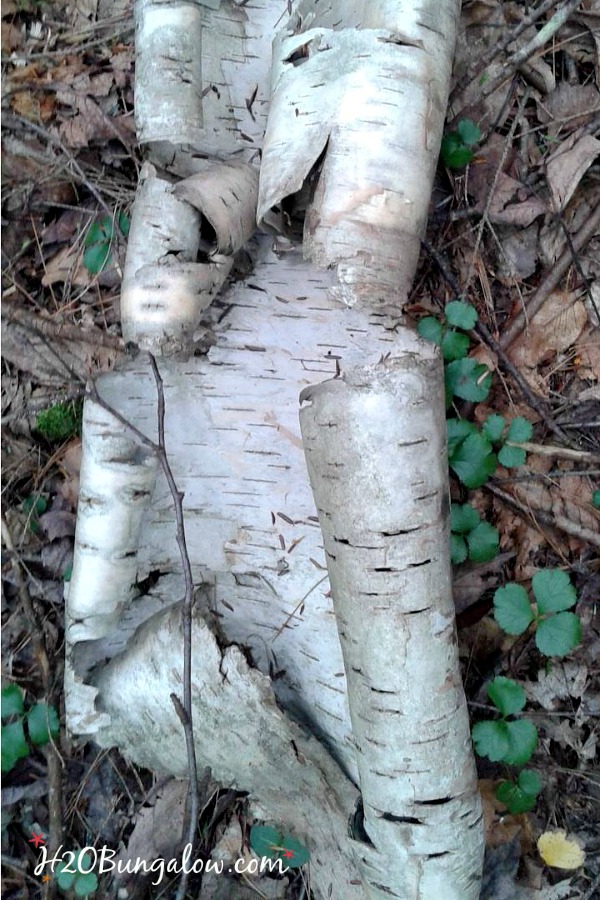 All that goodness, just waiting for me!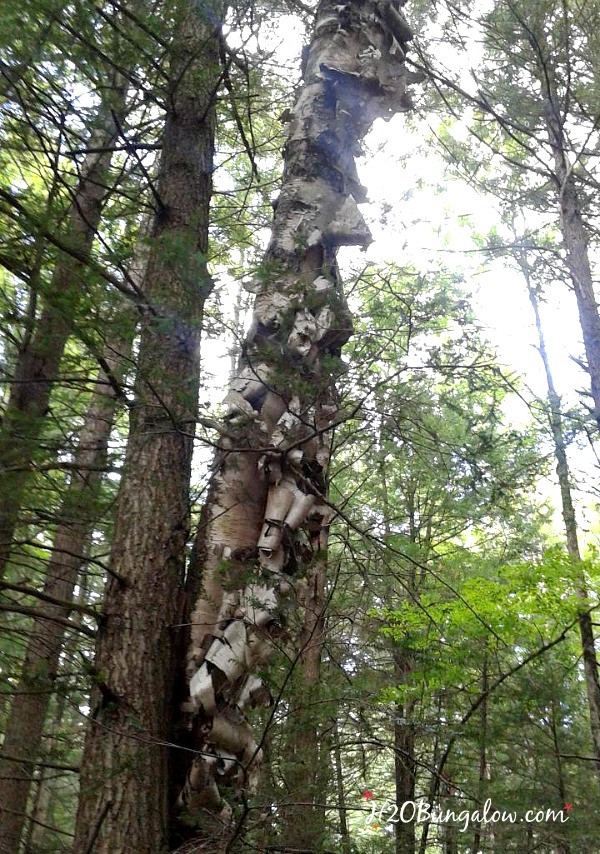 Trees of it in fact 🙂
You know I couldn't resist the temptation to pack some up and bring it home. In case you find yourself wanting to travel with birch bark too, here's an easy way. It travels fine in a suitcase if you lay it between sheets of newspaper and put it in a large plastic bag 😉
If you're looking for bark, be sure to use only what's naturally shedding on a live tree or what you find on a tree that has already died 🙂
How To Make A DIY Birch Bark Candle
Here's my supply list to make a DIY birch bark candle. I use affiliate links to help you find certain products I used.
Making a DIY birch bark candle is pretty easy. Begin by measuring the height and the circumference of the glass on your candle and choosing a good piece of birch bark that isn't too thick. Soak it in water overnight, then roll it loosely and fit it inside of a round cylinder or drinking pitcher. Let it sit again for several more hours or overnight.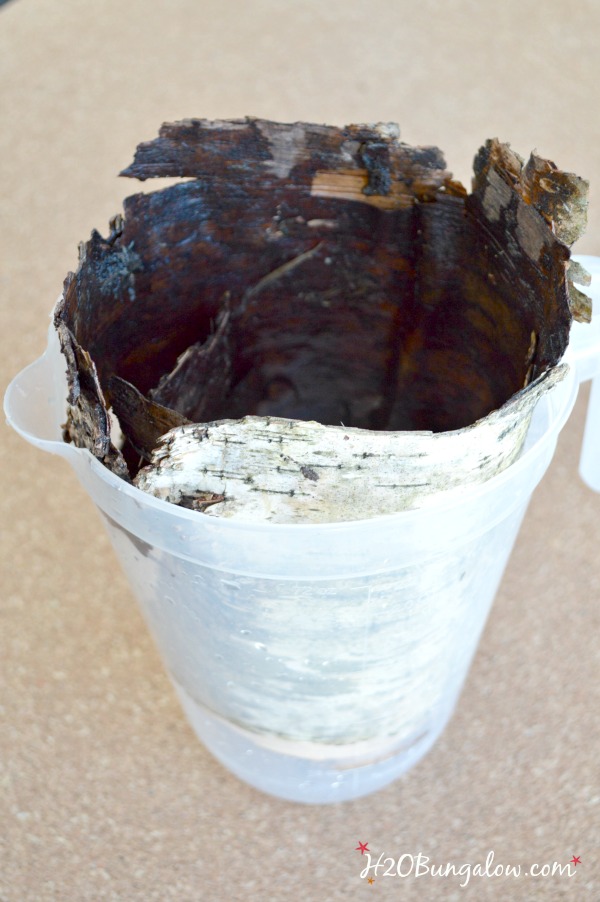 Take out the birch bark and use a paper towel to gently absorb the water. Trim your birch bark to fit the height leaving a few inches to overlap on the width. Plain old scissors work fine. You also may want to peel any extra thin bark layers off the inside (back) at this time.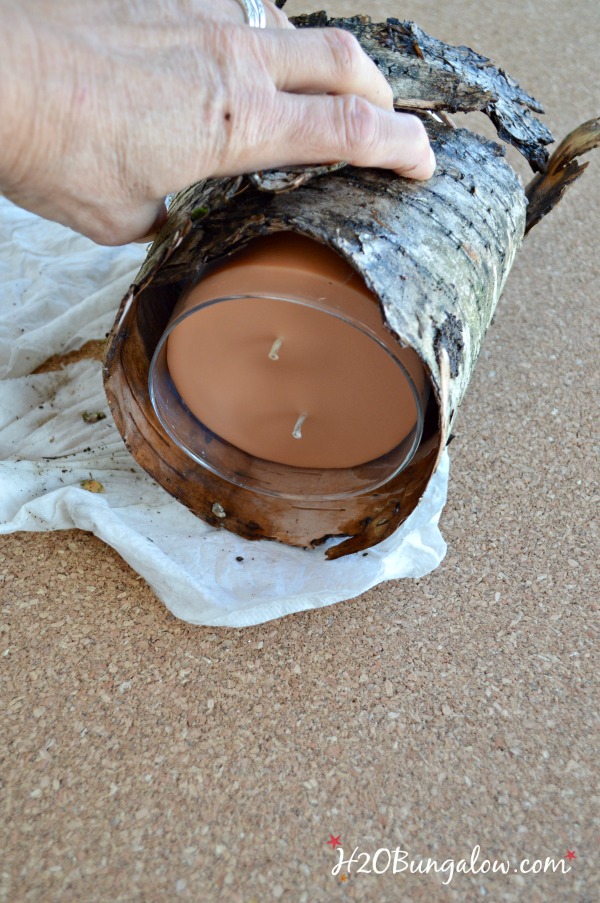 Cut several lengths of jute string long enough to wrap each around the glass of your DIY birch bark candle holder. Tie each string snugly to hold the bark in place. Set aside and wait for the bark to dry.
When the bark is dry, slide the bark off your glass candle, add some glue and slide the birch candle jacket back over the glass. Tie with a string again and let the glue dry. Use a quick dry glue and press the edges down. I used a little hot glue at the outer edge of where the bark overlapped to hold it in place while the glue dried.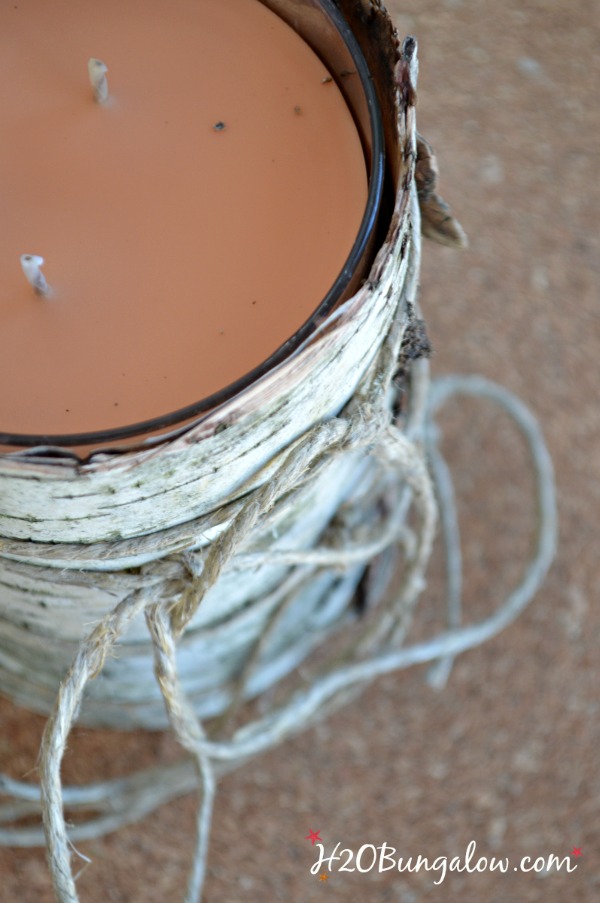 Use a small drill and gently drill a pilot hole in your acorns, followed by a larger bit to open up the hole a bit more. Take some tape and wind it on the end of the jute string and string through the holes. Or, string a few beads onto the jute string and be done with it 🙂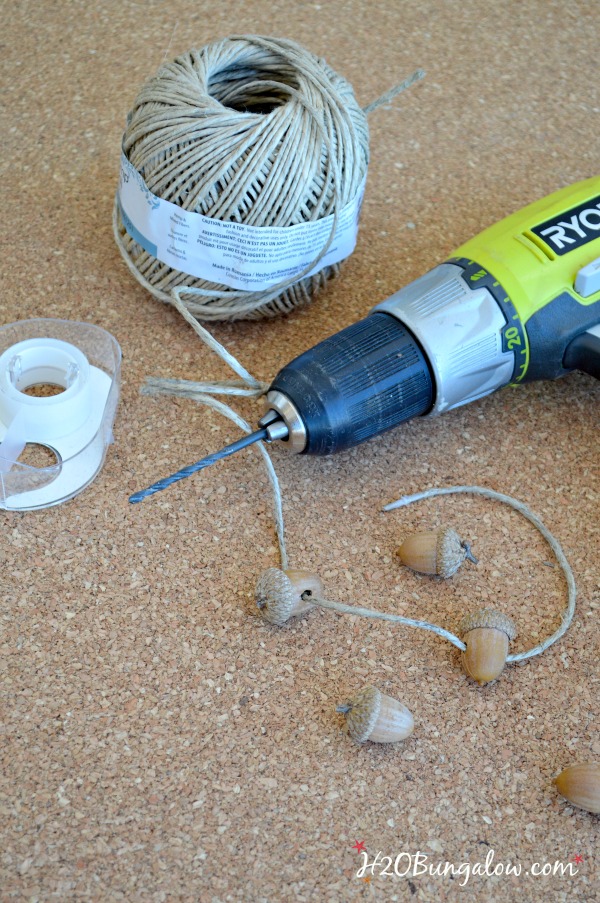 Tie the jute onto your birch bark candle holder with an acorn at each end. I added a little color from a faux berry sprig I had at the last minute. A simple knot at the end of the jute will hold the acorn on the string.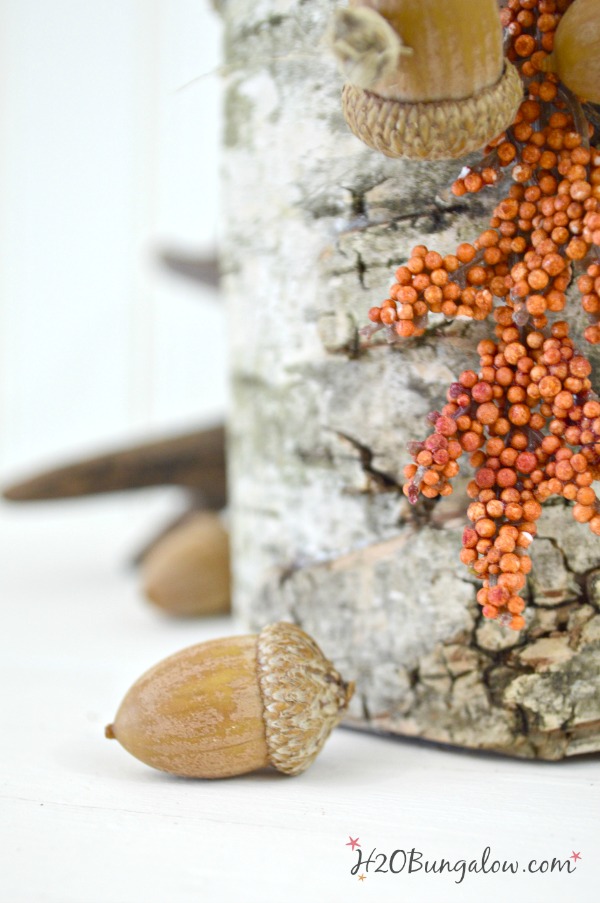 There you have it. A simple and subtle home decor piece you can start enjoying now and it will look beautiful for the fall season.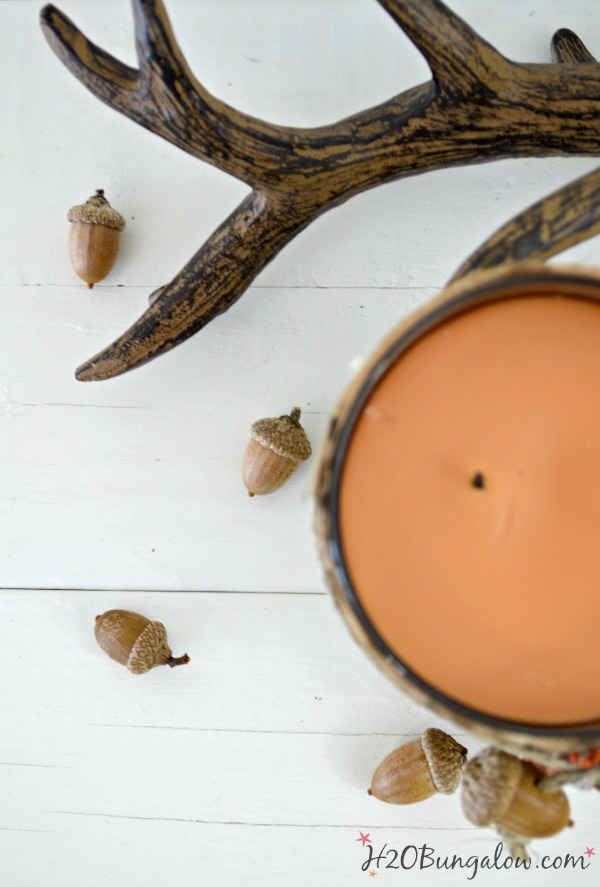 Possibly the best part of this little DIY birch bark candle project is that when you light the fall scented candle, it not only looks beautiful, it smells good too. Filling the room with your favorite scents of the fall season.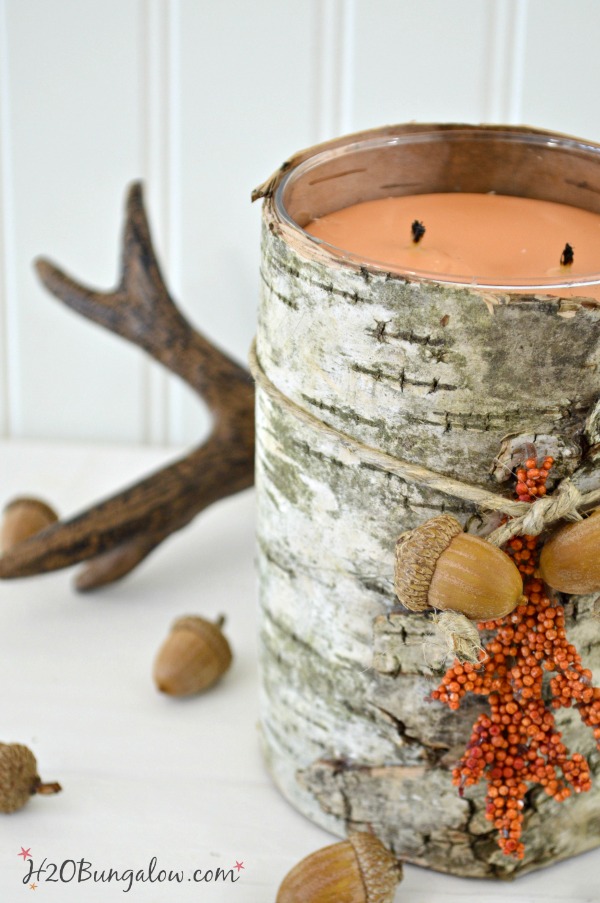 Since we don't get fall colors here in Fl, my favorite part of fall is the scents. I love deep earthy scents. What's your favorite scent for the fall season? Share with me in the comment section below!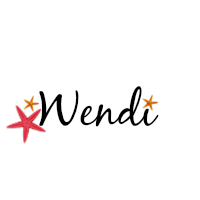 You may like this Simple transfer bench project I worked on while I was in Vermont.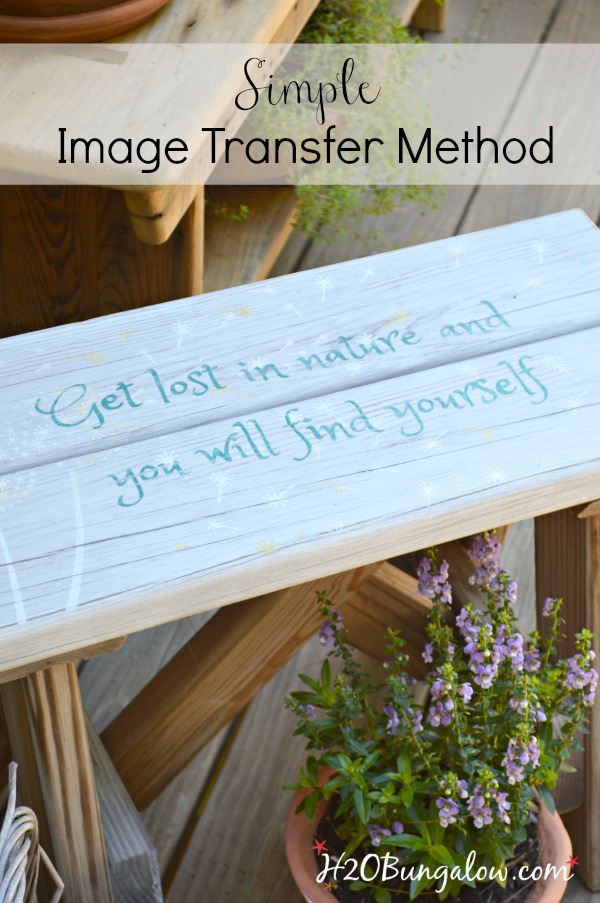 Or it maybe you're ready to think of updating your front door for the season. I made this  Easy Monogram Doormat project  a few years ago and still love it!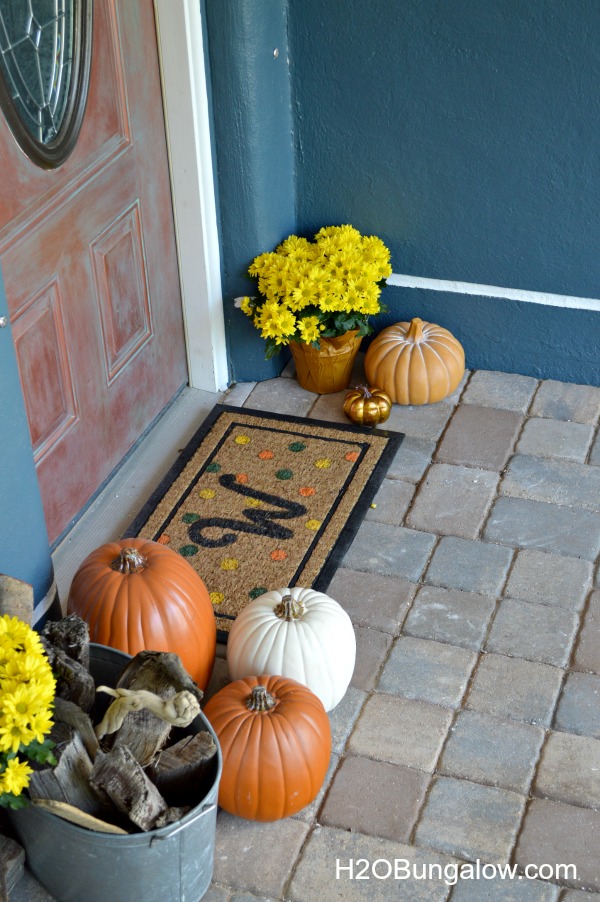 You'll find my project linked up to these fabulous parties!
Love a good dose of DIY home decor, home improvement, the challenge of woodworking and creative ways to make your home look fabulous?
I'd love to share mine with you. Click here to sign up for my post emails and I'll send a quick note when I have a new project to share.
Disclosure: I may have been compensated, given product or tools that I used in this DIY post. All opinions that I share are always 100% my own. I use affiliate links in my posts. If you should make a purchase I will receive an itty bitty commission at no cost to you. Thank you in advance for supporting my blog and two fur-ball cats who believe they are privileged.