Today happens to be one of my favorite days of the month and it's all about sharing fabulous furniture makeovers with a theme. Yep, it's DIY Furniture Girls Theme Day, and this month's theme is knock off. Everyone loves a good knock off! I made this little ZGallerie inspired tree trunk table from an old coconut palm tree stump we've used outside as a side table.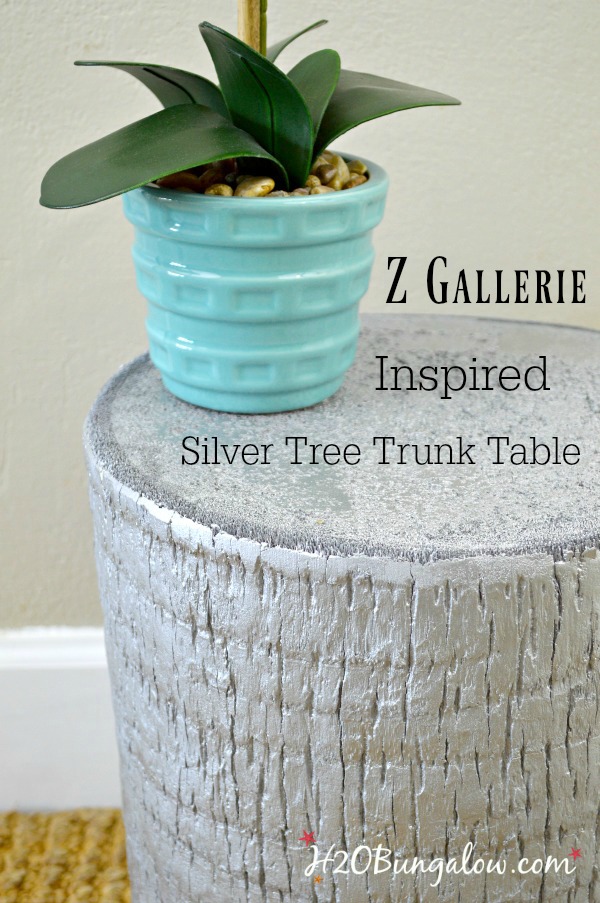 The real version is pricey and done with silver leaf. Using silver or gold foils is a tedious job, especially when it comes to something like a tree trunk table that has lots of nooks and cranies. Stay tuned for next month though because I will be sharing a project with gold leafing:)
Make a ZGallerie inspired faux silver tree trunk table
Supplies to make a silver tree trunk table. I use affiliate links to help you find the products I used. For further information please see my disclosure below.
tree trunk
silver metallic paint This is the best one for this project
primer tinted grey
lazy susan
electric planer
sander
Making a faux silver leaf metallic looking table from a tree trunk isn't too hard. Start by measuring if you need to trim anything off the top to make a flat surface. I measured the lowest section and made a mark at that level all the way around my soon to be silver tree trunk table.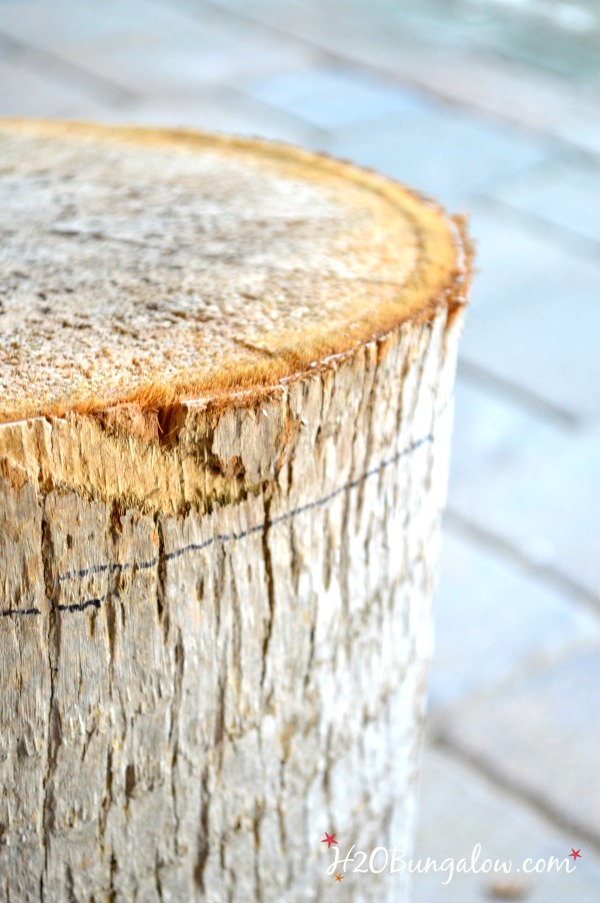 I used a planer to cut sections evenly off the top. It was the quickest way to level out the top. Next I gently sanded the edges and a lightly all over the trunk to smooth any high spots or jagged bark edges off.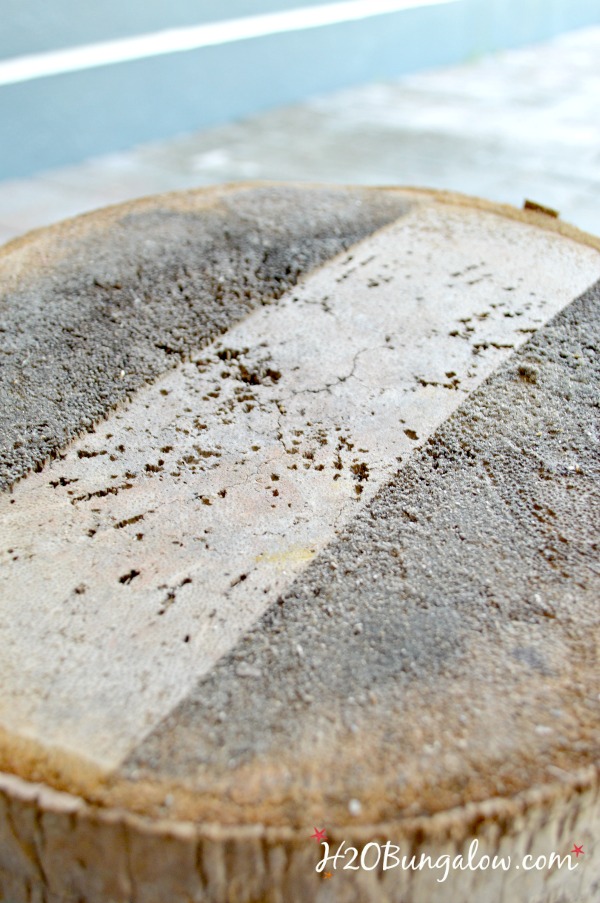 This project wouldn't have been so easy had I not pulled out my new Wagner Small Spray Shelter. I fell in love with this new small model as soon as they announced it! I've been itching to try it and couldn't wait to check out the new compact size.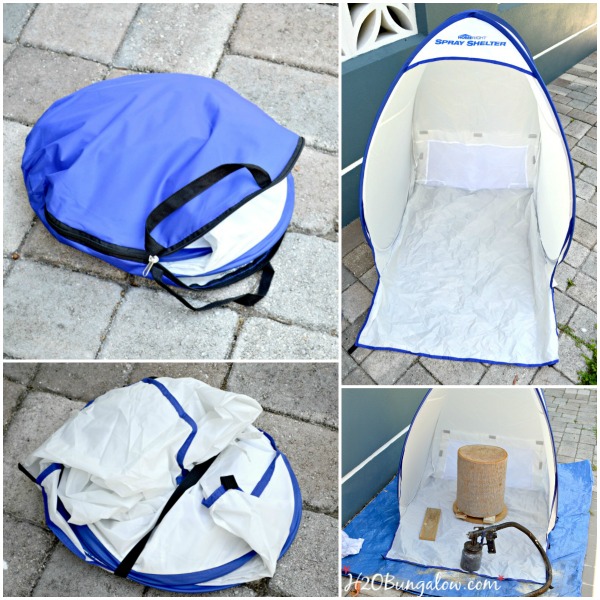 I have the original spray shelter and can fit an entire sofa in it. I used it for my teak outdoor sofa set makeover this summer. This small one is perfect for quick jobs. My project got even easier when I remembered I had a lazy susan I bought for a project that was still sitting in the garage.
Viola!
The lazy susan made a lazy me! I simply sat and spun the turntable as I painted. I never had to move. I applied a coat of grey primer and two coats of silver metallic paint. Opening up the back air vent to promote air circulation helped the paint dry faster between layers.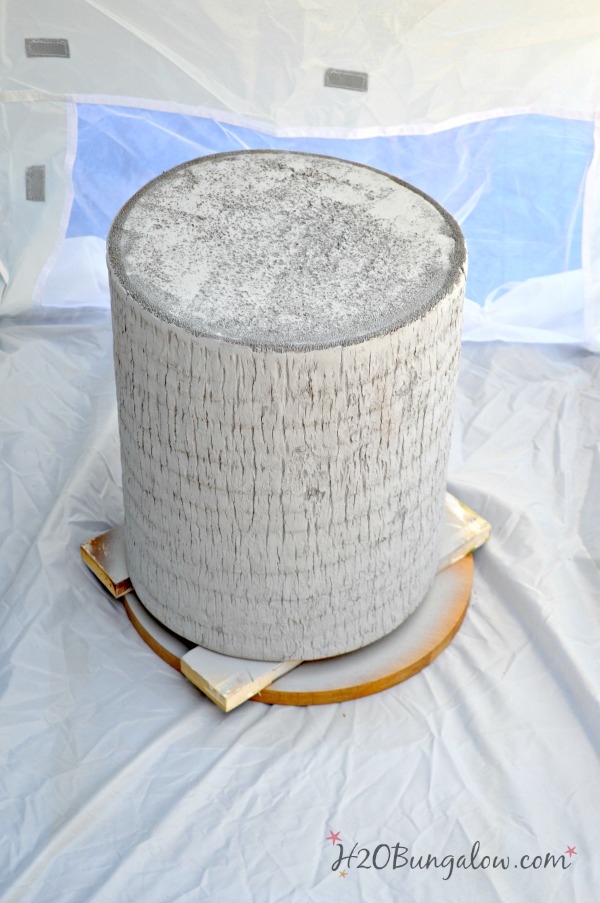 That's it my friends. My ZGallerie inspired tree trunk table was done. Funny thing is, I was sure I'd use it as a small side table…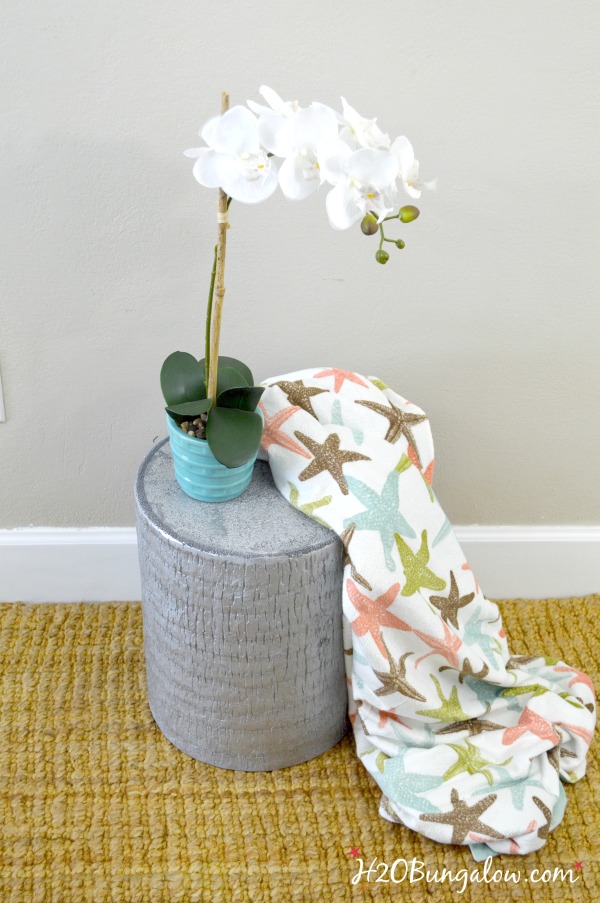 But then I got to thinking it would be great as a stool in the family room when we need an extra seat. It would also fit beautifully in our family bath which after the makeover, has lots of gorgeous silver slate tiles. This is where I go when I need a little table to hold my wine and candles on those days I'm desperate for girl time alone and a bubble bath:)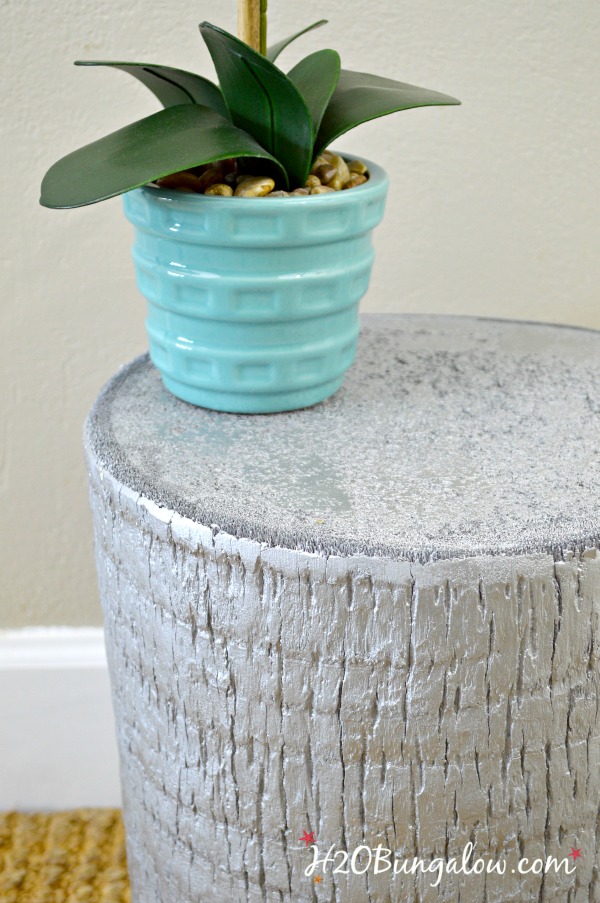 I even tried it out in our contemporary master bath we built, it looks great next to my bird stenciled cabinet I made for another one of our DIY Furniture Girls themes. It would be nice here to sit and use it when I'm putting on my shoes in the morning.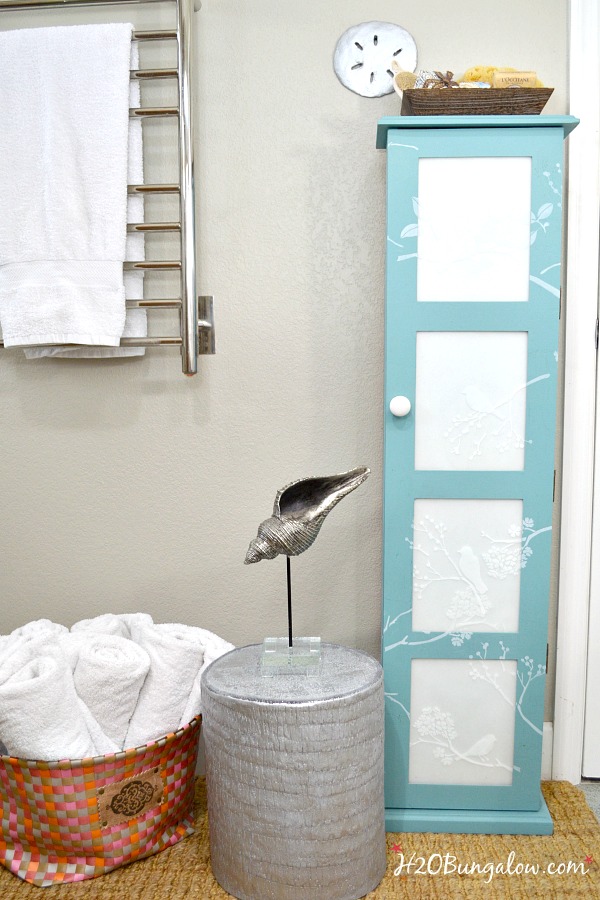 What do you think?
Where should I put it? leave me a comment below and help me decide!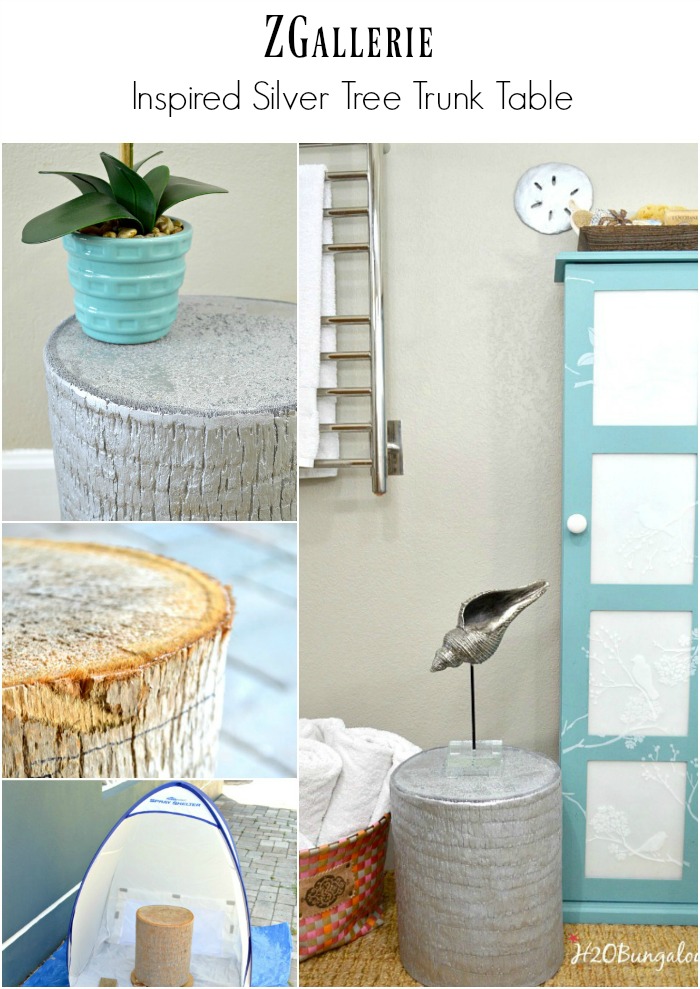 Like I mentioned at the beginning, everyone loves a good knock off. See the rest of the DIY Furniture Girls projects for this month's theme below. Click on any picture and you'll go to that post.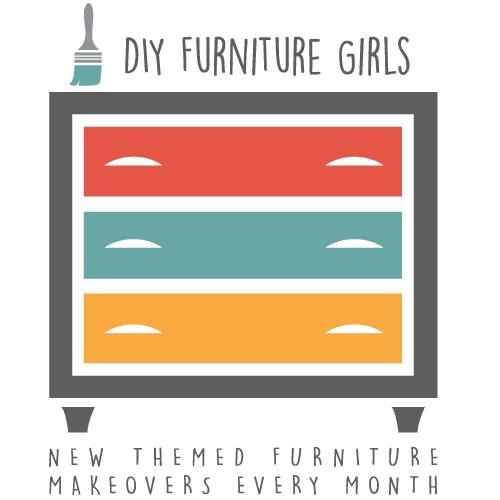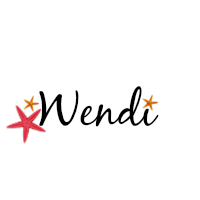 You'll find my project linked up to these fabulous parties!
Love a good dose of DIY home decor, home improvement, the challenge of woodworking and creative ways to make your home look fabulous?
Me too!
I'd love to share mine with you. Click here to sign up for my post emails and I'll send a quick note when I have a new project to share.
Disclosure: I may have been compensated, given product or tools that I used in this DIY post. All opinions that I share are always 100% my own. I use affiliate links in my posts. If you should make a purchase I will receive an itty bitty commission at no cost to you. Thank you in advance for supporting my blog and two fur-ball cats who believe they are privileged.