I know we are still in August, and yes I made a wood pumpkin. Our temps are hovering at about 100 degrees with lots of humidity every day. It's been brutal. This month's Power Tool Challenge Team theme is One Board. I made my easy DIY Wood Pumpkin Cutout from a six-foot piece of 1″x 4″ board. This cute wood DIY wood pumpkin cutout is my way of saying I'd like to boycott the hot weather and move on!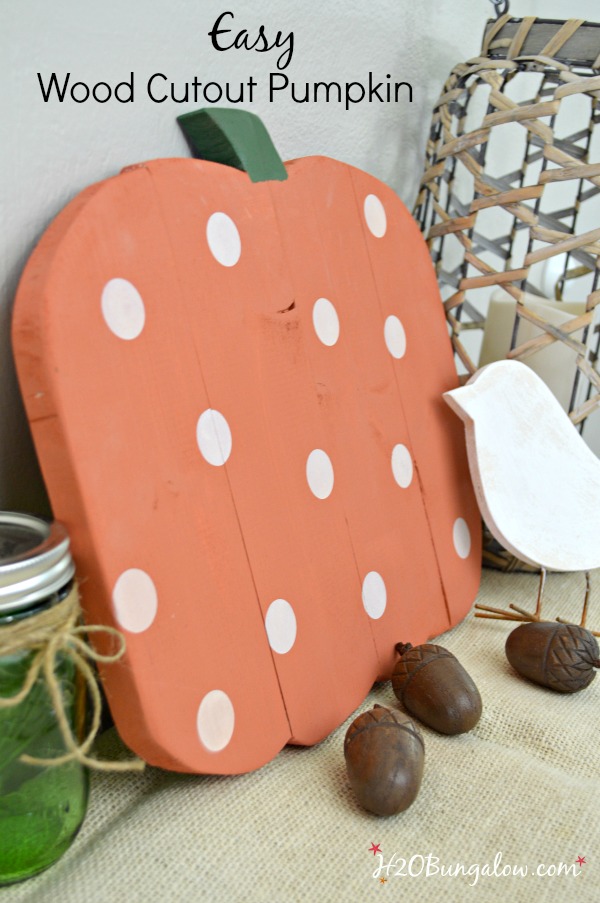 Consider this my rain dance of sorts, if I build a wood pumpkin, fall will come soon.
Supplies needed to make a DIY Wood Pumpkin Cutout
Supply list for DIY wood pumpkin cutout. I use affiliate links to help you find the products I used for this project.
1 – 6 foot 1″ x 4″ board
paint
Use your jigsaw to cut 4 pieces at 12″ each. Cut another at about 10″. Split the 10″ piece in half like I show below. Since this piece was narrow I clamped it in my work bench so I wouldn't need to get my fingers close to the jigsaw. It would be OK to use a 4″ piece in this part and just skip this step if you want super easy.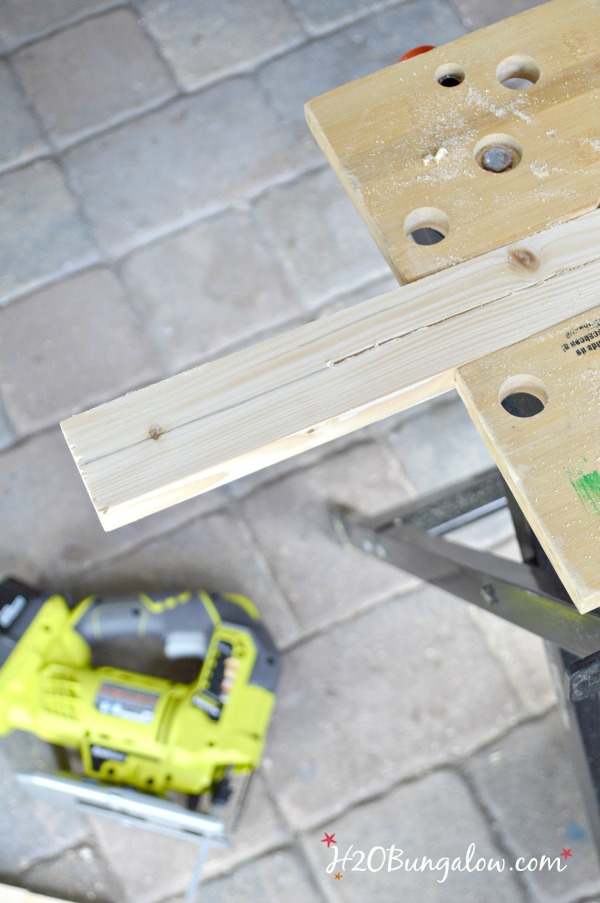 I attached the cut pieces to the back of my board with a little glue and nail gun. If you don't have a nail gun, screws or a plain old hammer and nails would work fine too 🙂
I got to try out my new Ryobi One + cordless drill for this project, and Wow! I loved the easy to use features! It made it easy to cut my DIY wood pumpkin into its shape. I tried making a paper template to use for this project and finally realized it was easier to just round the sides a bit, cut a few dips in the bottom and then round the top after I cut a section for the stem. The charm of this project is in the imperfection. Last I smoothed the edges with my handheld orbital sander.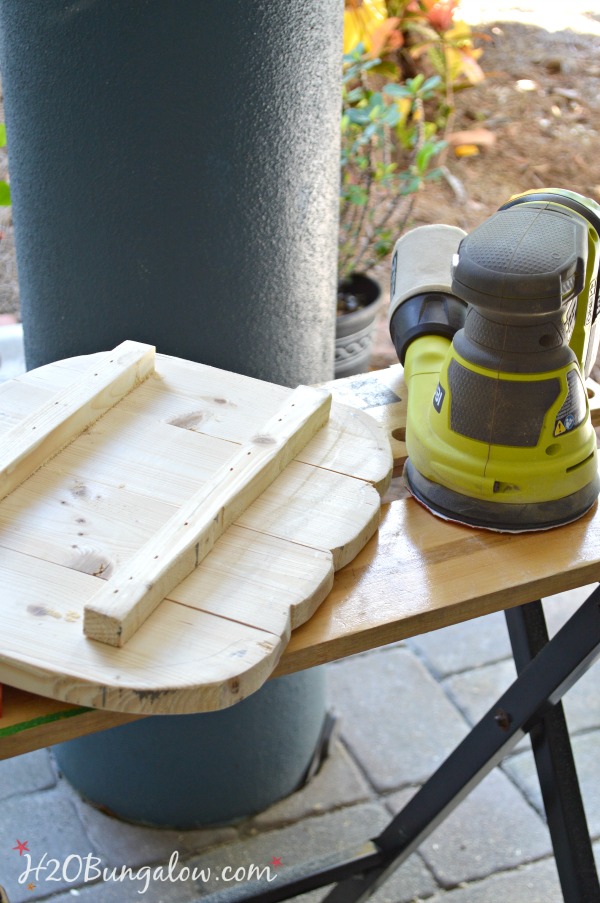 I like to paint both sides of my projects so they look tidy:) I think I'll eventually hang this on my front door so I added hanging hardware. Mostly because you know what happens when we think we'll come back to do something later…
…yup, it doesn't get done 😉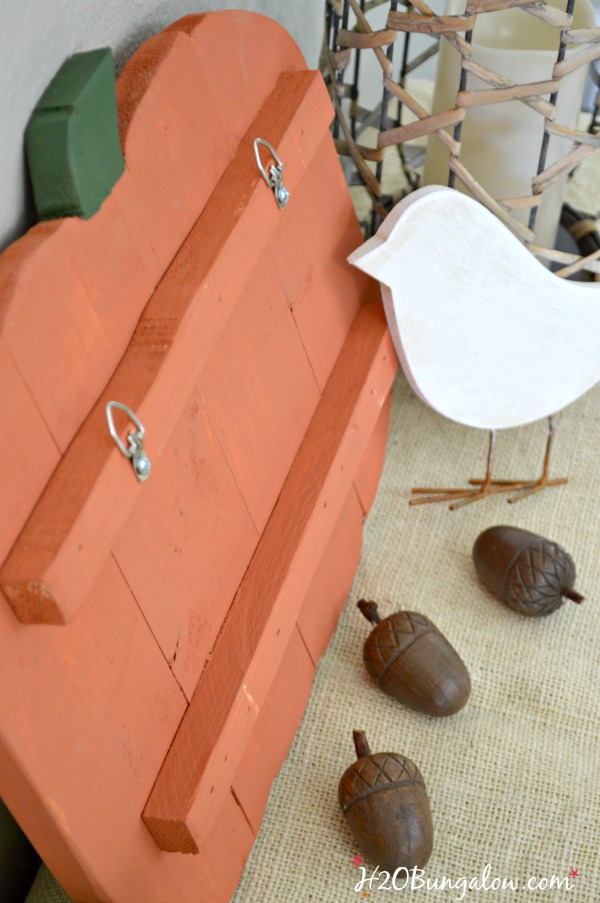 I know it's not time to hang this outside now, and my neighbors would surely think I was the crazy lady down the street if I were to start putting out my fall decor. But you have to admit, it is cute and doesn't it make you want cooler temps and colorful fall decor too?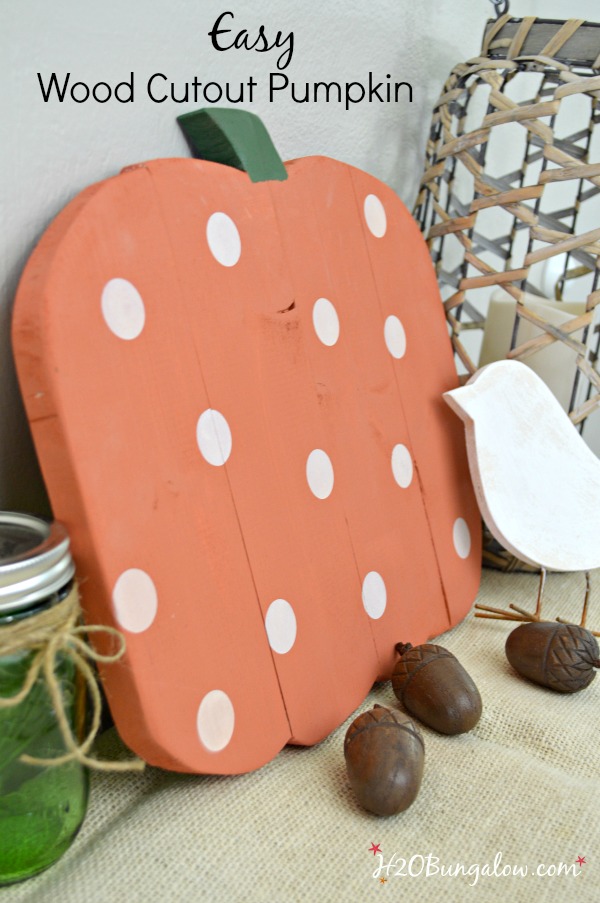 Or do you think I'm the crazy blogging lady who puts out her decor too soon? Share below in comments, It's OK if you do!
If you're not ready for pumpkins, you may like some of my other themed projects
Twin Headboard Bench with Storage Shelves
Like I mentioned earlier, It's time for our monthly challenge of the Power Tool Challenge Team. As always, our team didn't disappoint. Take a look below at the super creative projects they all created using only 1 piece of wood!
Our team comes together each month to inspire our readers and share lots of ways power tools can be used in home decor, crafts, holiday decor and of course home improvement and more. To me, the best part of using a power tool is the freedom it brings and the creative possibilities that come with each new skill. I hope our projects inspire you to pick up a power tool and have some fun too.
Scroll Saw Wooden Basket by Kim Six Fix
Easy DIY Picture Frames by Domestically Speaking
DIY Wood Letter Jewelry Hanger by Designs By Studio C
Circle Back Kids Chair Plans by Her Tool Belt
Easy Wood Pumpkin Cutout by H2OBungalow (That's me!)
DIY Pizza Bread Board by Refresh Restyle
Small Step Stool by My Repurposed Life
DIY Glue Gun Holder by Virginia Sweet Pea
DIY Wooden Movie Projector by Thrift Diving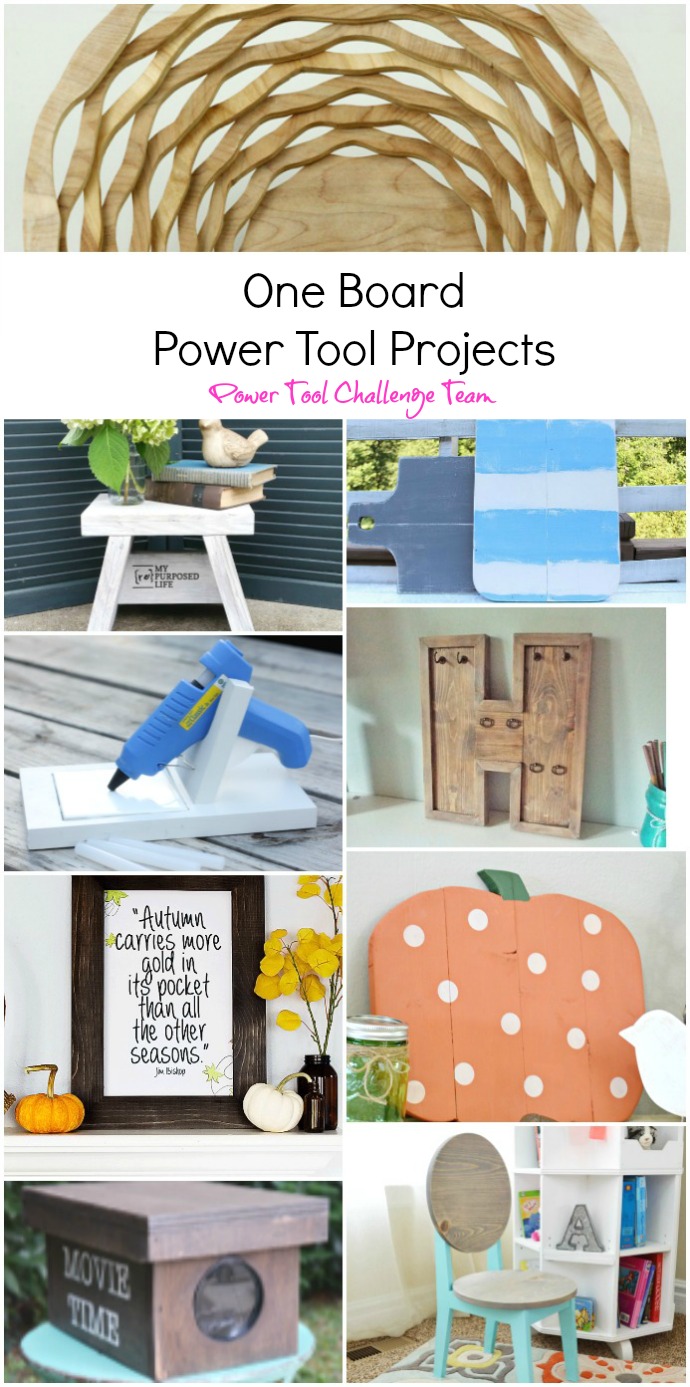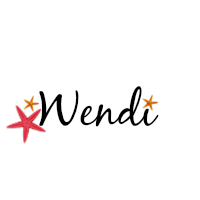 You'll find my project linked up to these fabulous parties!
Love a good dose of DIY home decor, home improvement, the challenge of woodworking and creative ways to make your home look fabulous?
Me too!
I'd love to share mine with you. Click here to sign up for my post emails and I'll send a quick note when I have a new project to share.
Disclosure: I may have been compensated, given product or tools that I used in this DIY post. All opinions that I share are always 100% my own. I use affiliate links in my posts. If you should make a purchase I will receive an itty bitty commission at no cost to you. Thank you in advance for supporting my blog and two fur-ball cats who believe they are privileged.