I'm sharing how to paint a metal light fixture with you guys today. This was the quickest, cheapest way I could get past the uglies in this little bath makeover. You know what? It turned out so good I can't even tell it was a DIY painted light fixture!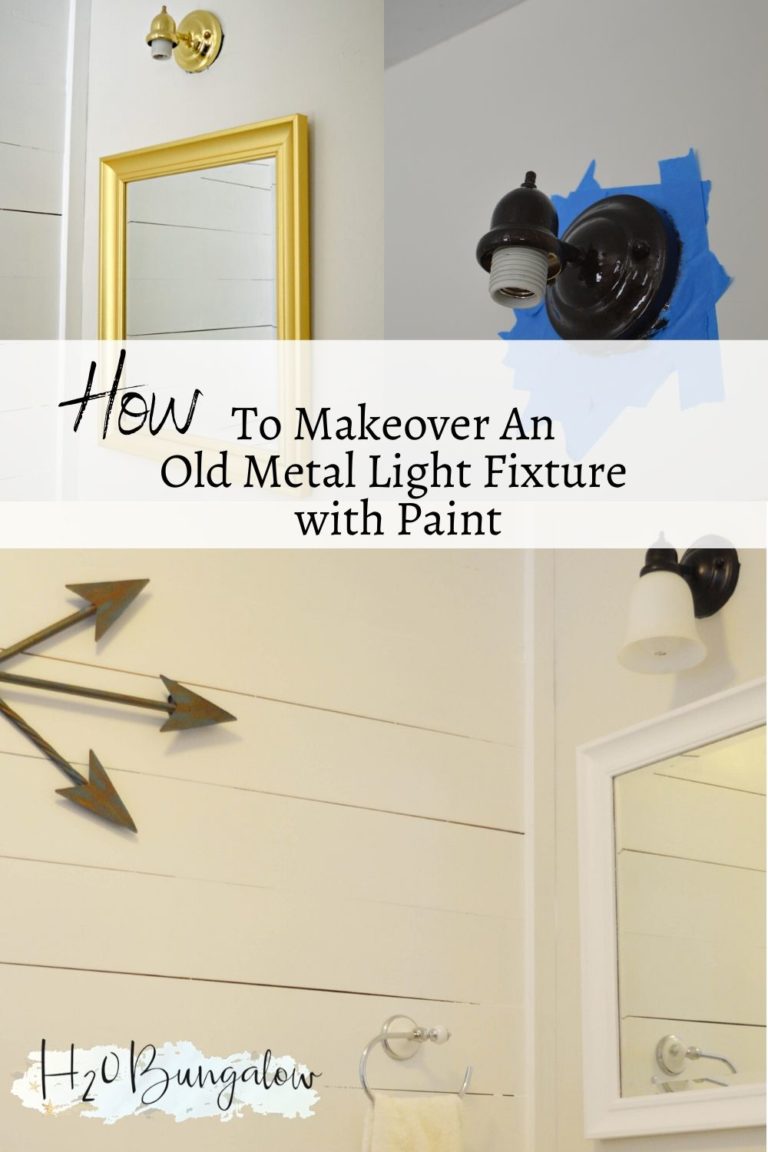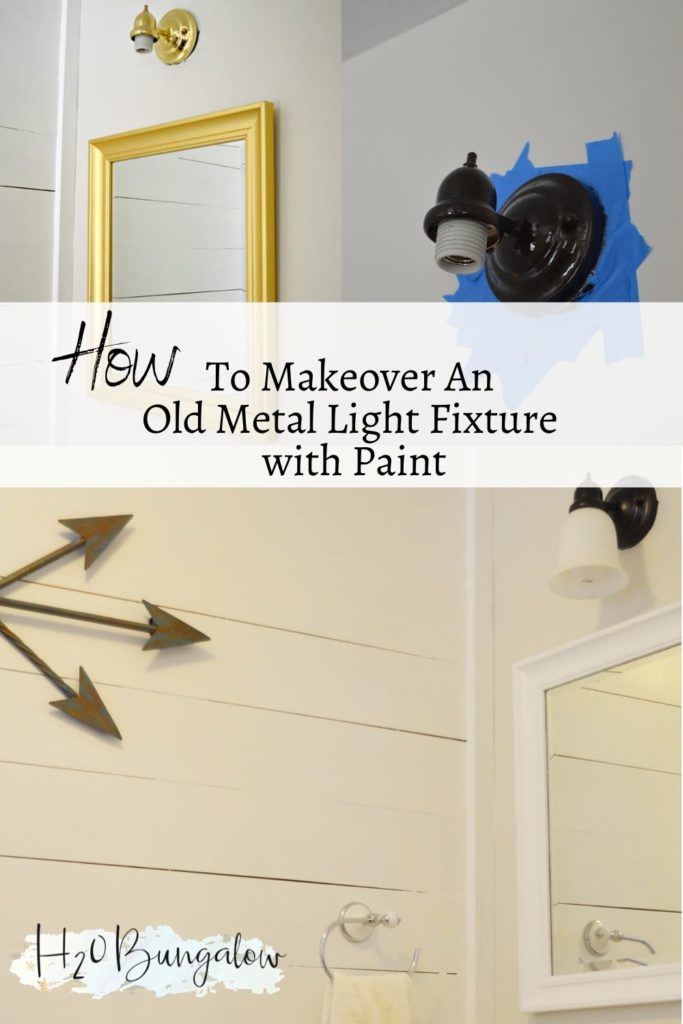 You guys know where I started with this makeover. The room was too busy and didn't reflect the mountains or rustic lodge style I wanted.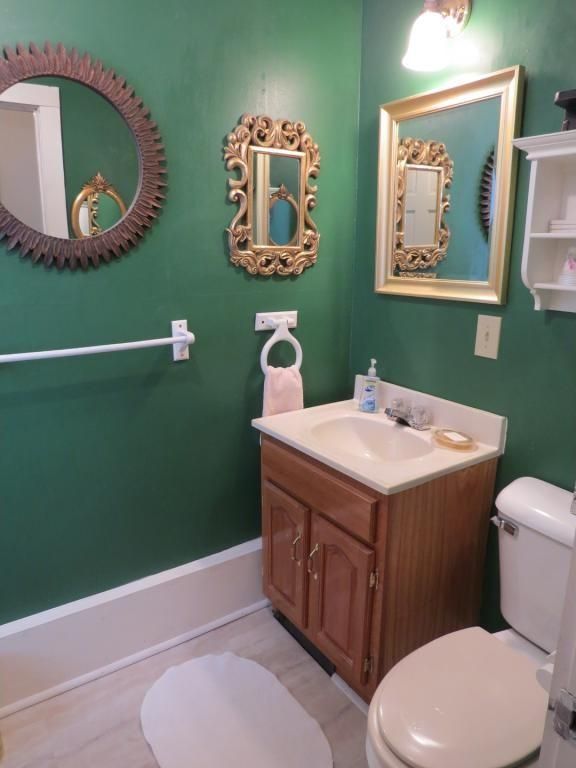 Within the first week or so of being in the North House I was painfully aware that I had to be creative with my available funds as well as stingy with my time scheduled for each project. I'd tackled replacing the off colored toilet seat myself, added a plank wall (more on that soon!), and painted the room and changed all the hardware. It wasn't enough.
Every time I entered the room, and switched on the light it hit me front and center.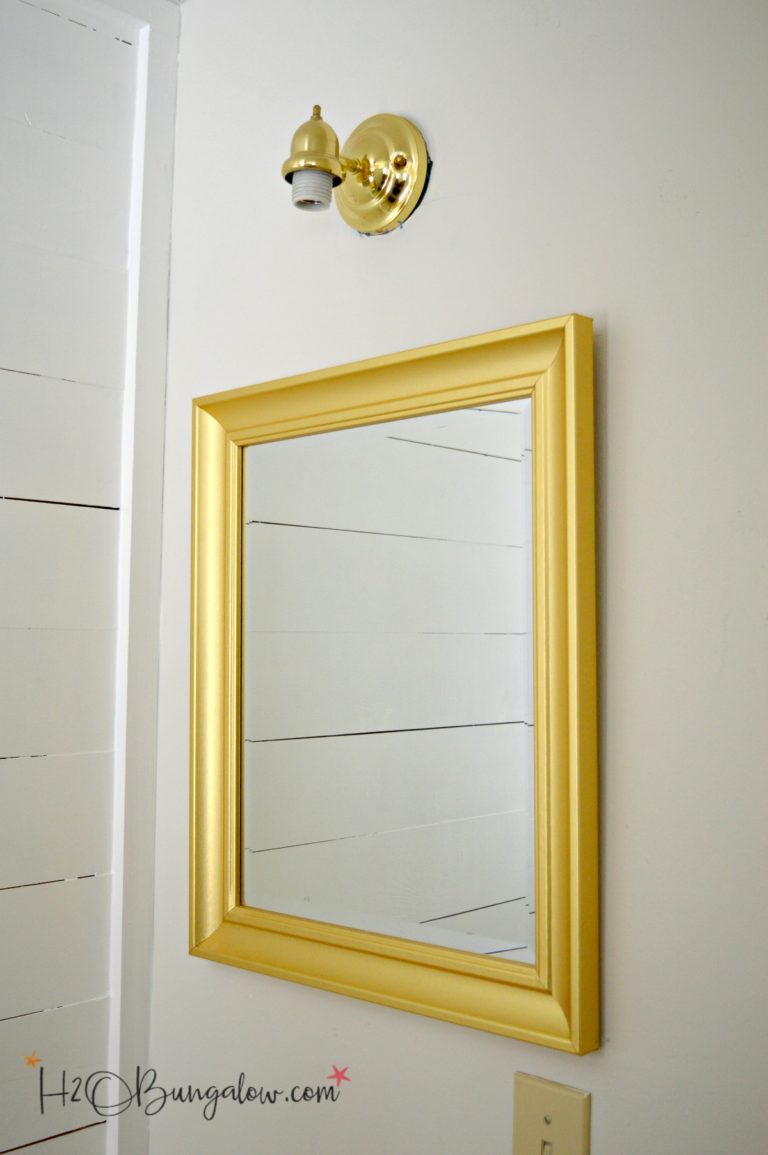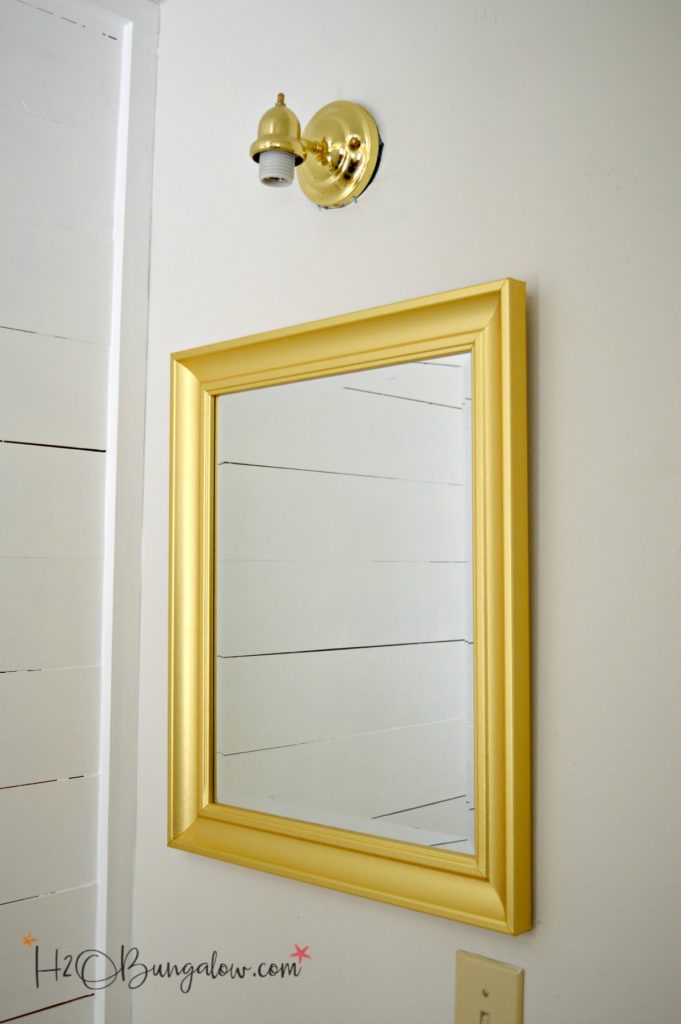 … this ceiling light contraption did too, which I think is two light fixture parts put together.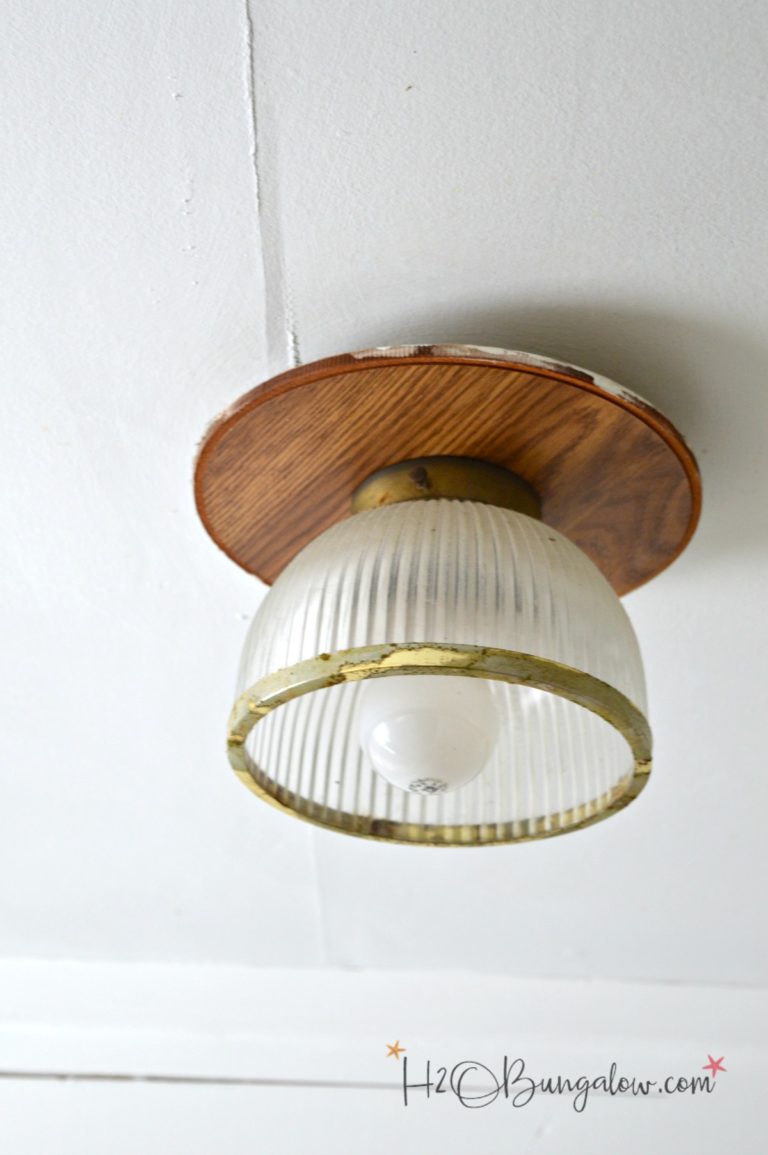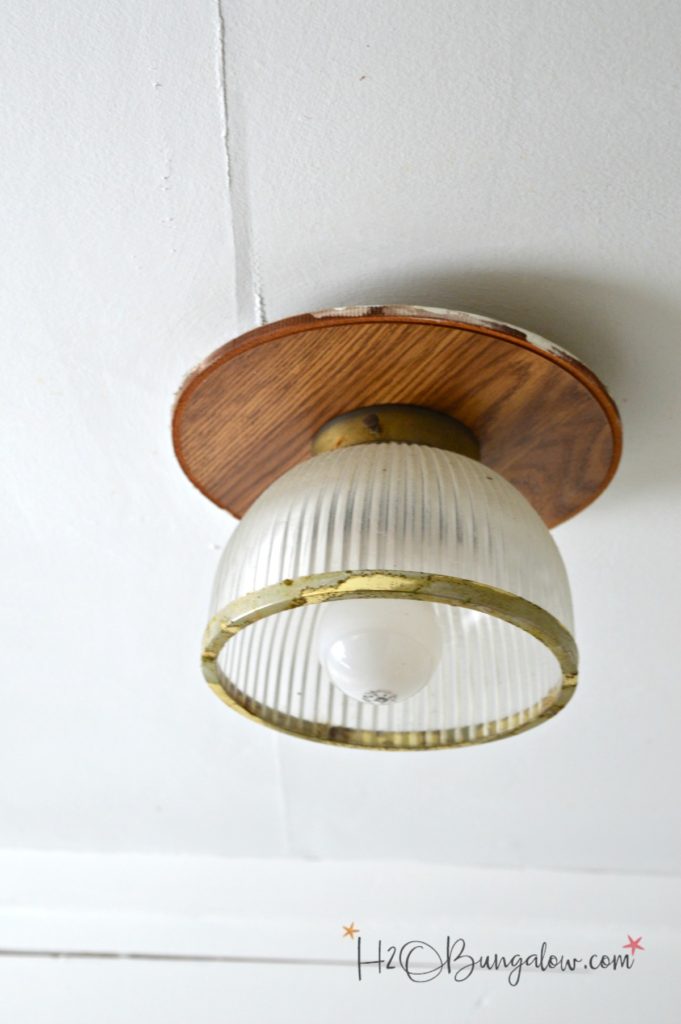 Ugh! I'd run out of time and needed a quick fix to pretty it up.
Why not paint the light fixture? I've done it before when I painted the light fixture in my coastal half bath makeover copper a few years ago. It's lasted beautifully with no problems. So I thought why not paint the gold light fixture antique bronze?
Looking for more tutorials on painting metal? Check out this post on how to spray paint outdoor metal furniture so it will last a long time.
As an Amazon Associate I earn from qualifying purchases. I use affiliate links to help you find the products I used. If you make a purchase I get a small commission at no cost to you.
How To Paint A Metal Light Fixture Antique Bronze
Painting a metal light fixture a different color without removing it from the wall is easy and it only takes a few supplies.
mineral spirits to clean your brushes after painting
lint free painters rags
Step one – Turn off the electricity to the light
Turn off the light switch and breaker for the light. Remove glass shades and set aside.
Step Two – Tape off the area
Loosen the bolts around the wall light fixture if possible just enough to get painters tape under the edge and tape all around the area to protect the walls.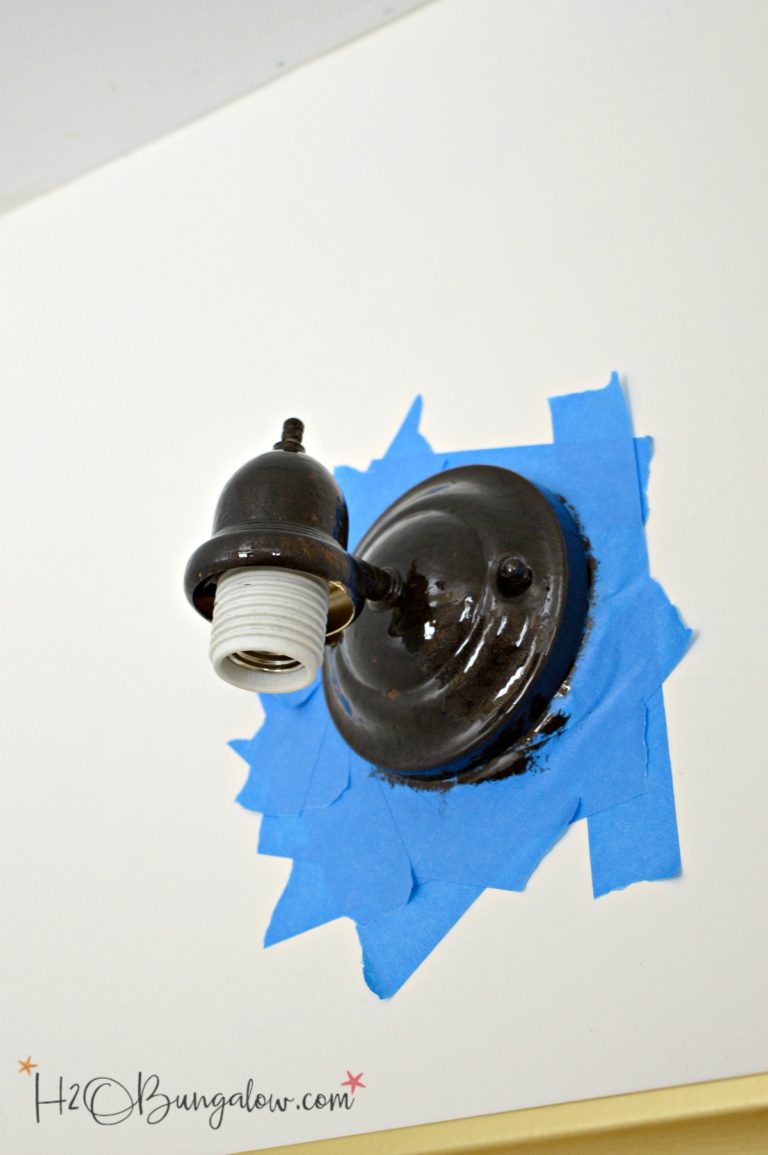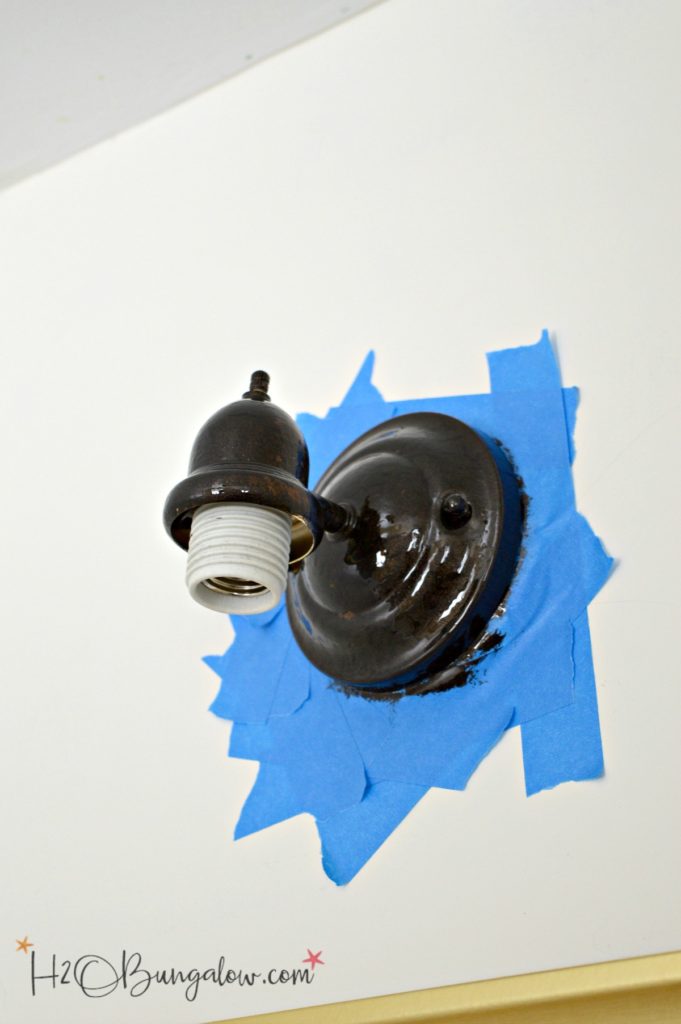 Step three – Clean the light fixture before painting
Use a degreaser like TSP on a damp rag and wipe any dust or dirt off the outside of the light fixture. It's not necessary to clean anywhere but the outside of the light.
Step four – Apply paint
Paint two coats of paint onto light fixture with a small 1/2″ soft bristle paintbrush. Sorry I didn't get a picture of this step, having lots of projects going on at one time makes it difficult to remember which pictures to take when 😉 Allow the paint to dry in between coats. Use a dry brush and apply paint sparingly near switches or screws. Allow the painted light fixture to dry completely.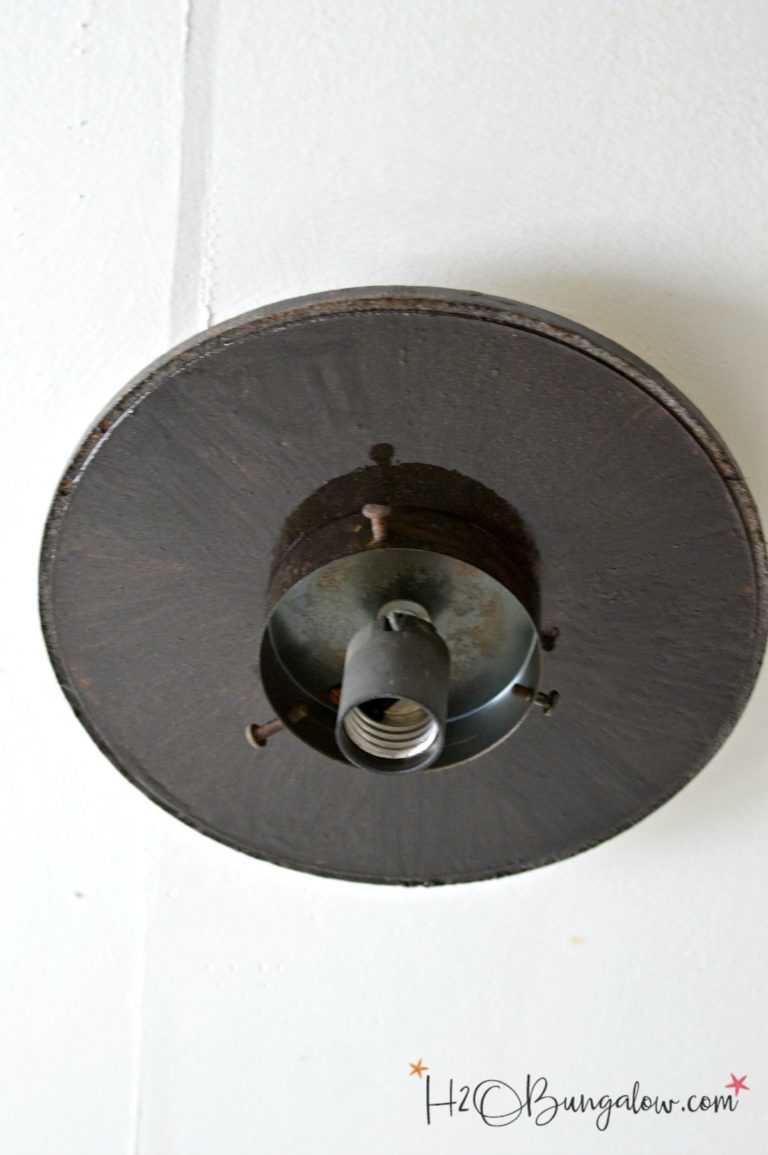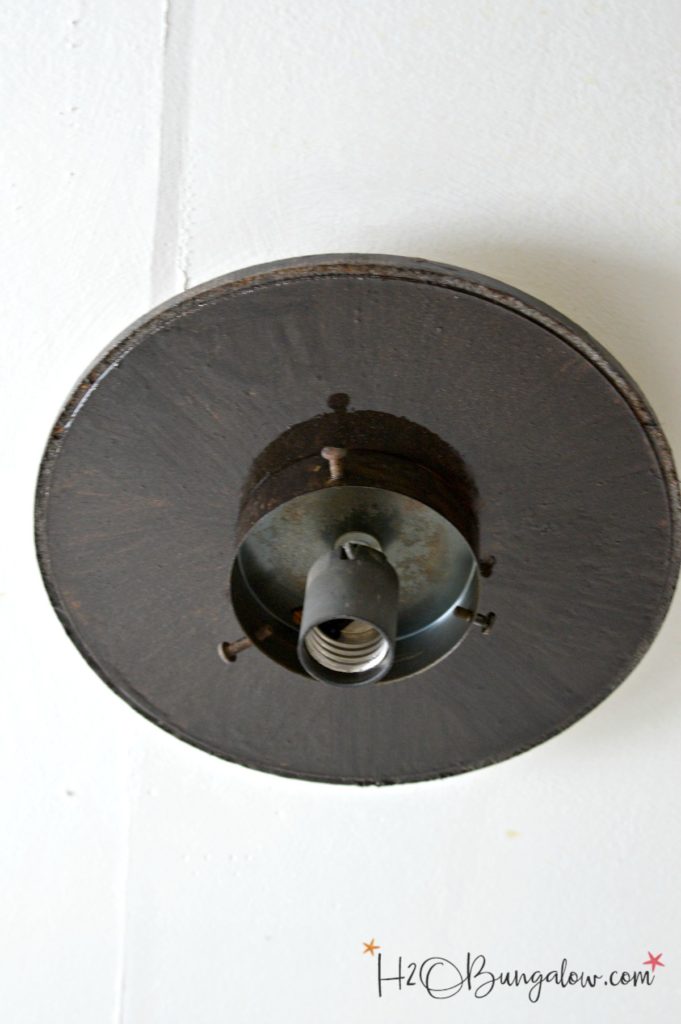 Step Five – Reassemble the painted light fixture
Carefully remove the painters tape. Tighten the wall mounts on the painted light fixture and put the glass globes and the light bulbs back in. Turn on the main breaker, flip on your light switch and admire your handy painted light fixture that took hardly any time and didn't break the bank!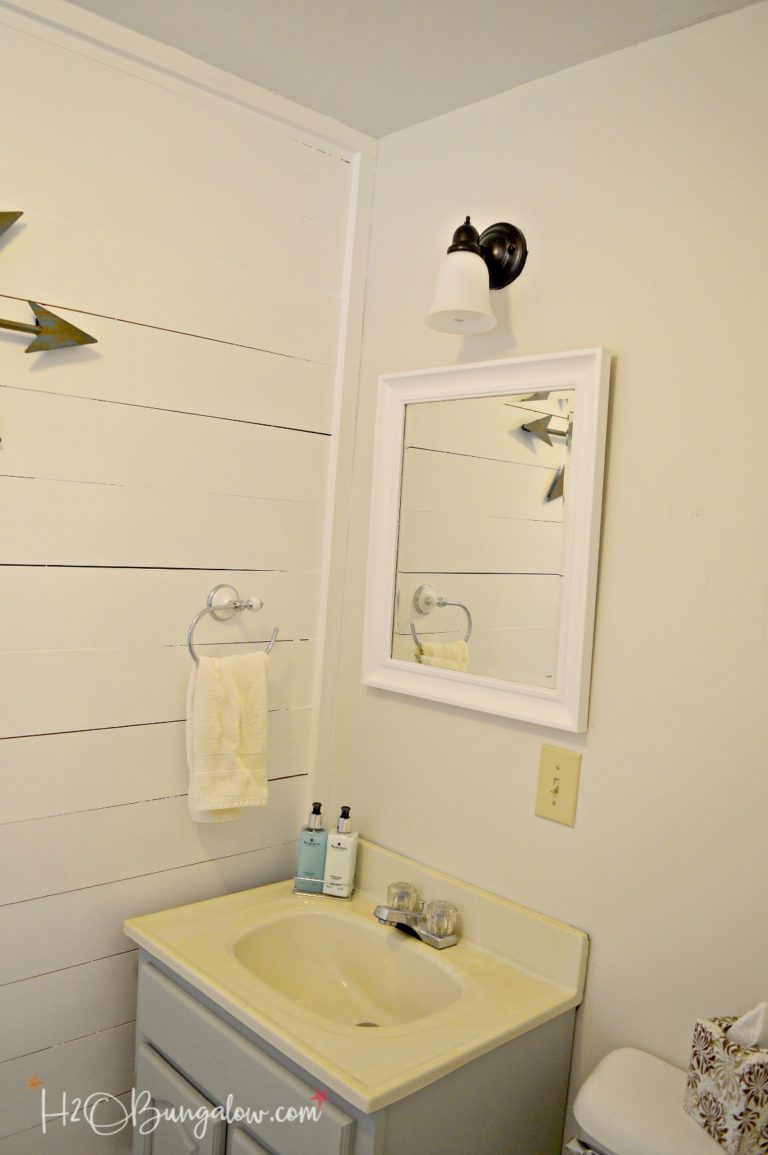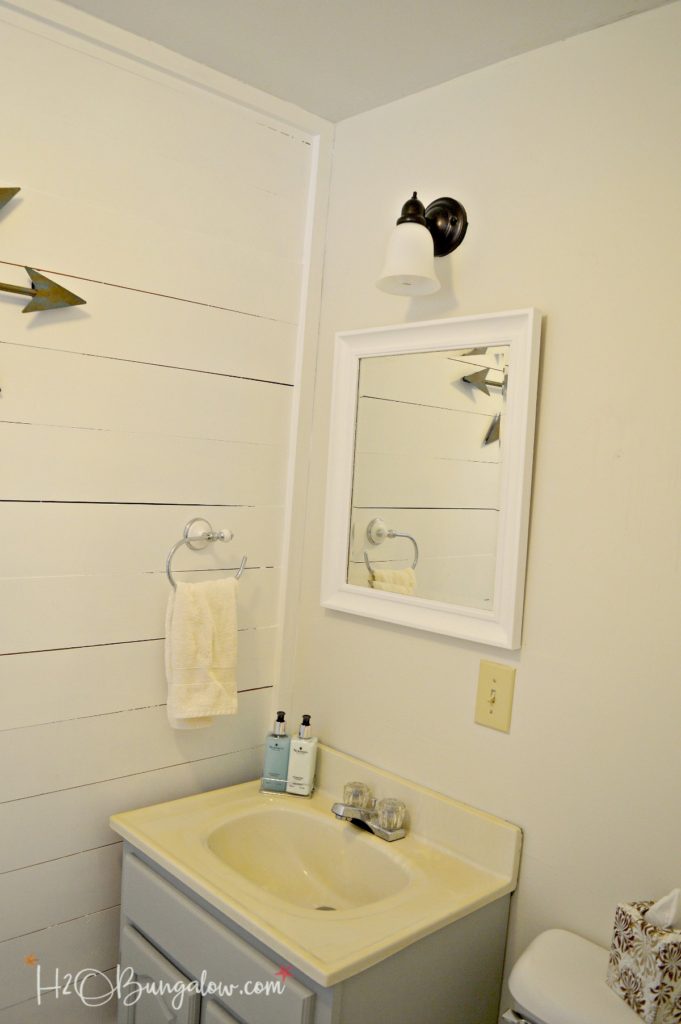 You can paint a metal light fixture for under $10 and completely change the look of it. Glass sconces or globes are mostly interchangeable nowadays too which makes this a super project. I totally changed the look of the painted metal light fixture on the ceiling by adding a round globe. I like it now, it kind of looks vintage instead of "I'm out of funds let me make it work" 🙂
Now my little bath looked every bit as cute as I'd imagined it would.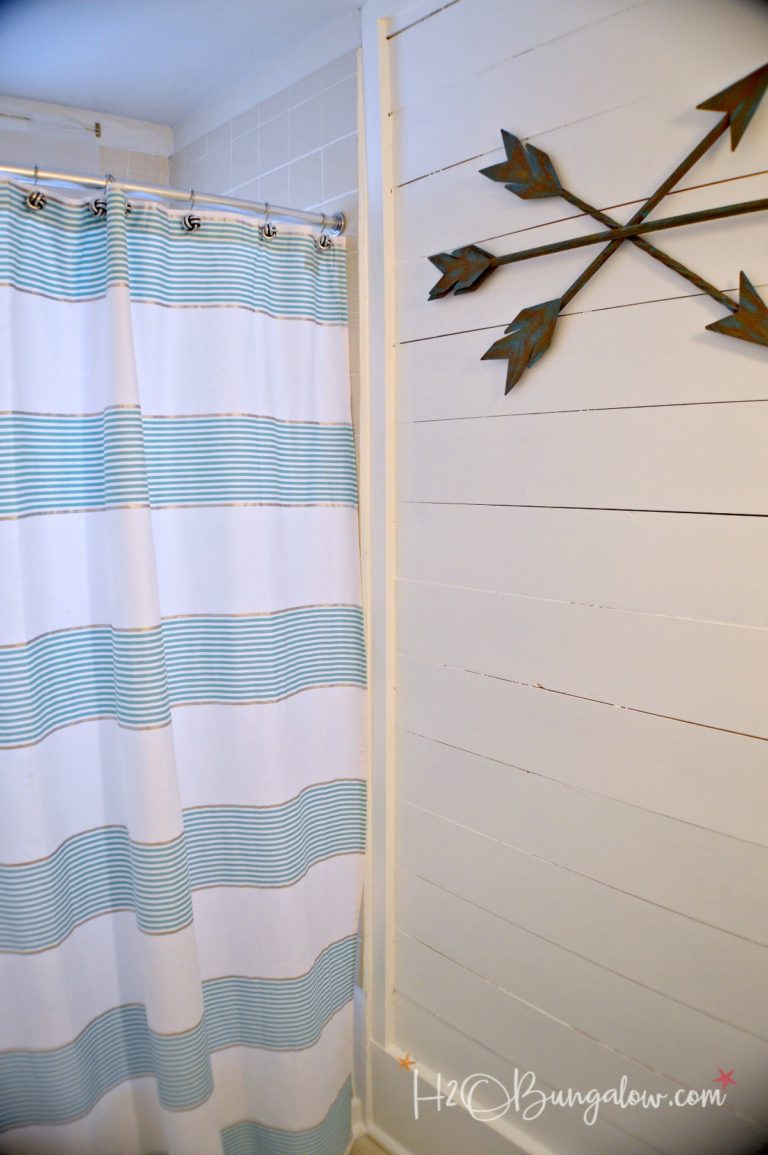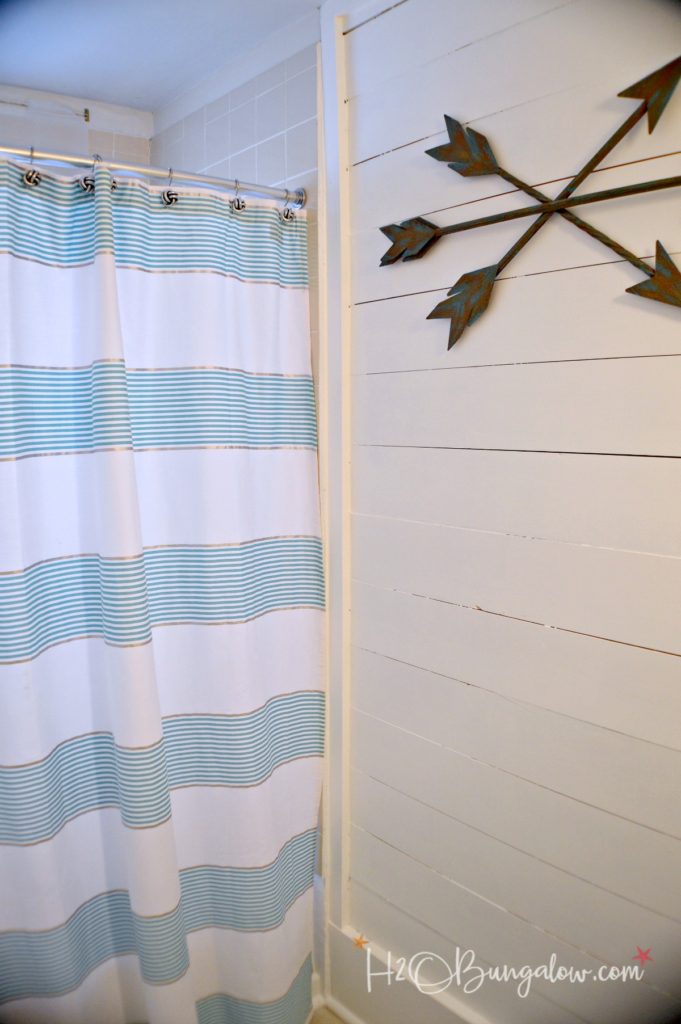 I completely enjoyed walking in and flipping on the lights and kept going back that first night just to flip on the switch and admire my handy work and the painted metal light fixtures. Do you guys ever do that, walk back in a room over and over just to see your "new" look?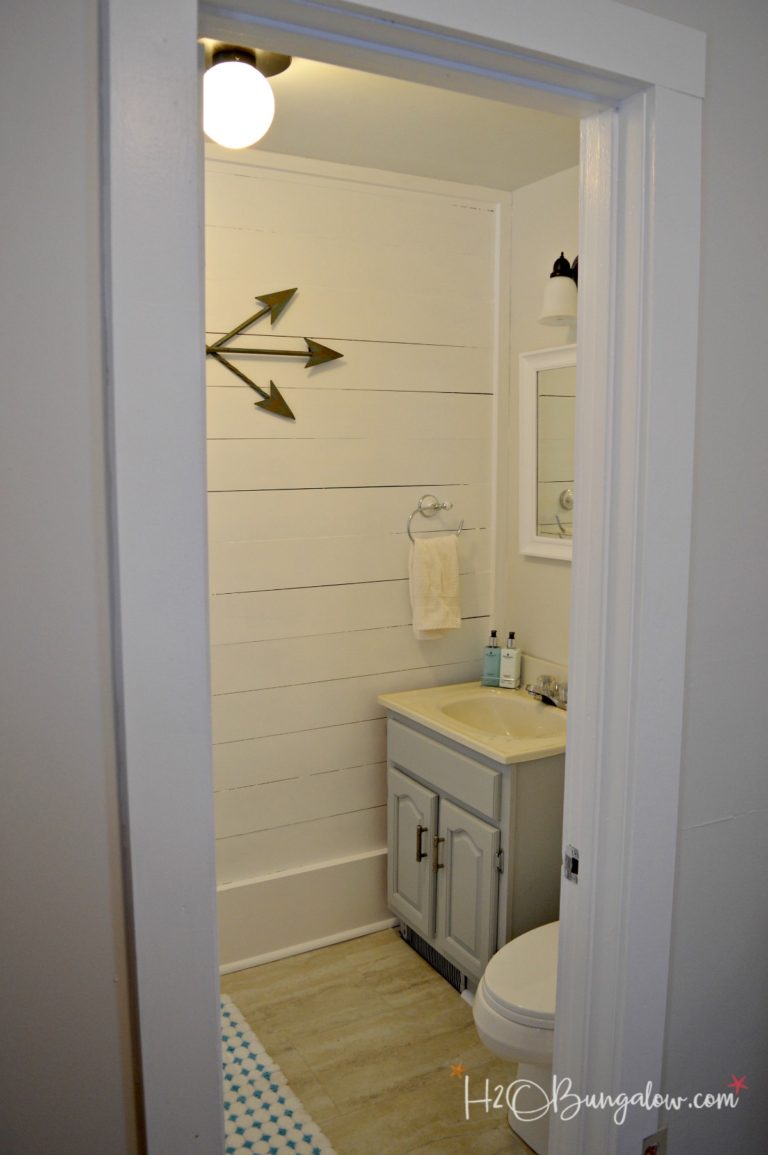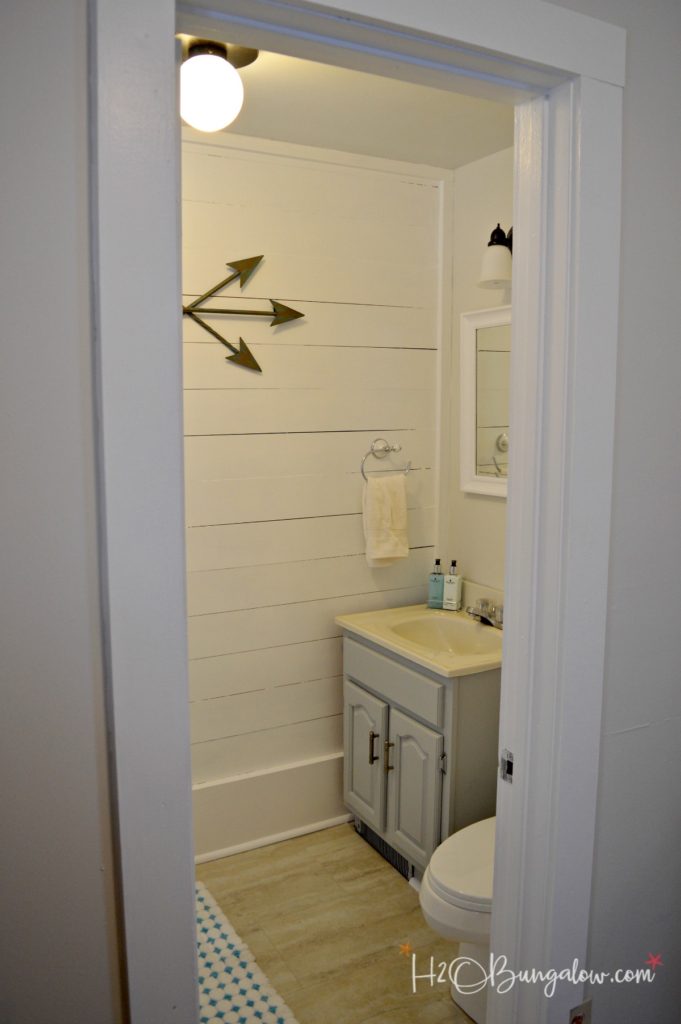 You know the routine if you love this project, pin it..or if you just want to be sweet and share it on any of your social medias, I'm grateful!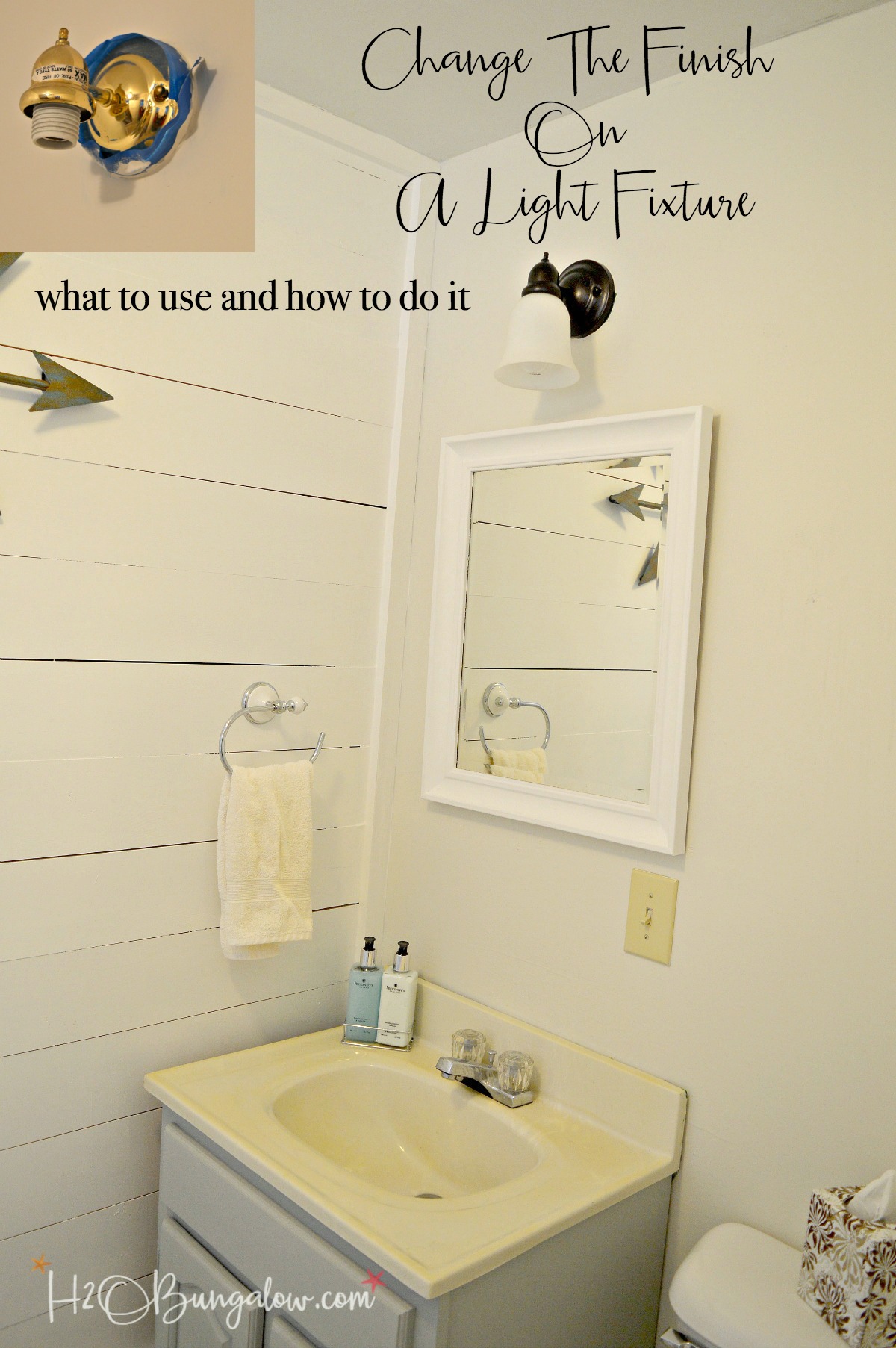 Do you want to paint a metal light fixture too? Share below in the comments, what kind of light it is and what color you'd paint it!