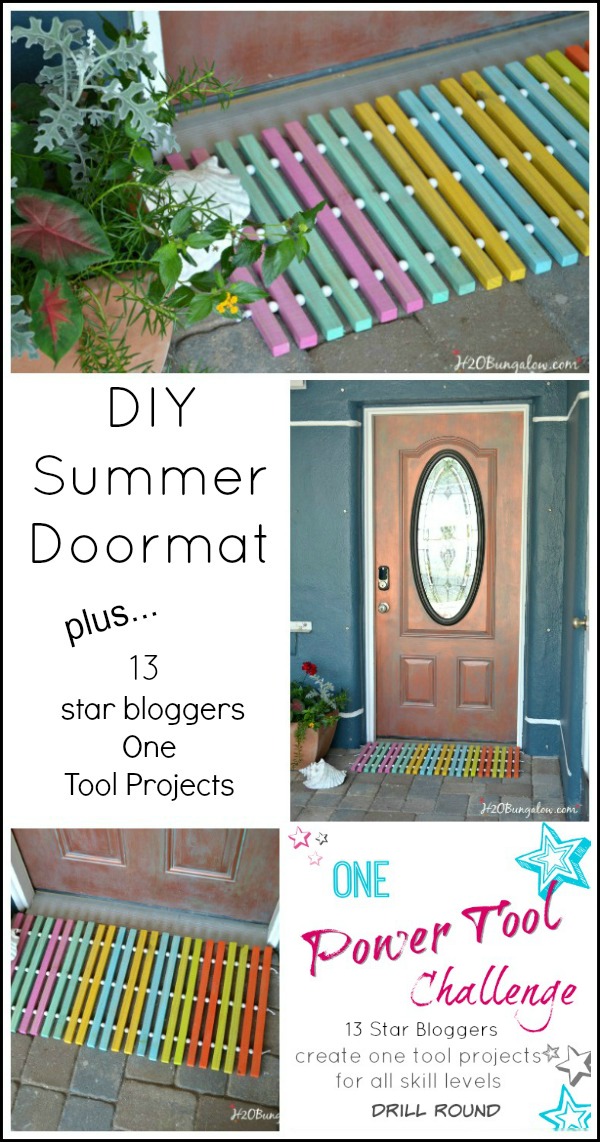 A few years ago, back when I was first blogging I tried something that scared the heebie jeebies out of me. But I did it anyway. I did it to prove to myself that I could. I did it because I hated being held back, left to work within someone else's time schedule and convenience. What has all this got to do with my gorgeous DIY wood doormat for the One Power Tool Challenge?
Everything.
That's me up way up on that high wire. I've always been very… VERY afraid of heights. So much so, that I had trouble changing light bulbs in ceilings. I did this to prove to myself that I could overcome what I choose to overcome. I won't fib, I was scared. I didn't fall ,and I didn't quit…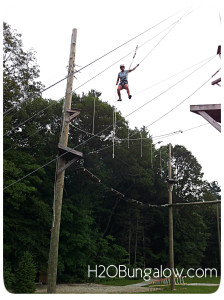 I wrote a short post on stepping out of your comfort zone when I got home. A few little power tools were nothing to be scared of anymore! My first DIY project was adding on to my pantry shelves. They came out pretty good, I had no idea what I was doing, they only wobbled a little, and we still use them today. I've since built our bathroom vanity, patio tables, drawer organizers and do lots of little tasks around the the house on a regular basis.
I can't begin to count how many women and readers I chat with who feel timid about learning to use power tools. You can do it too! Start little, start simple. For some, using a drill for little things around the house and an occasional creative project is the end goal. Others may want to learn more. Do what feels right for you and at a pace that makes you comfortable.
Today, along with a group of extraordinarily talented DIY bloggers, I'm sharing not one, but several "one power tool projects" that beginners could tackle with awesome results.
Let's get started 🙂
My DIY wood doormat is and easy one day project. I made this one 18″ x 36 1/2″ to fit our front door.
Supplies list:
24- 1″ x 1″ @ 18″ long. You'll find 1″x 1″ wood in the trim section by floor molding in your local big box store.
69 – 5/8″ round wood beads. Find them at Michaels.
1 5 feet of 1/8″ braided nylon or polypropylene cord.
Handsaw or have your local big box store cut your slats to size.
power drill and drill bits.
tape measure
medium grit sandpaper
paint
sealer
paintbrushes
paper for the template
sharpie or pencil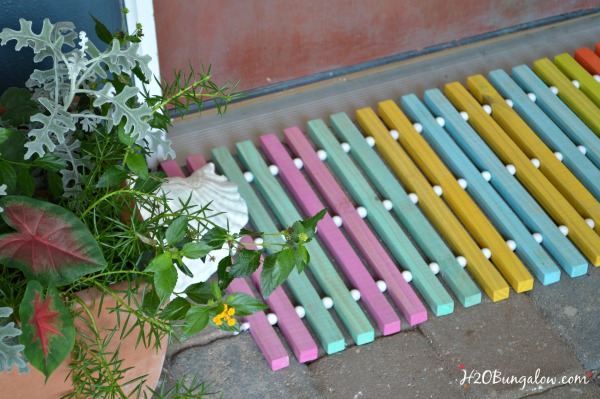 This DIY wood doormat is super simple to make. This is what the 1″ x 1 " wood looks like when you bring it home. I had Home Depot cut these down enough to fit in my car. I used a handsaw to cut my 24 wood slats at 18″ long each. Use a little sandpaper on the ends to smooth any rough spots.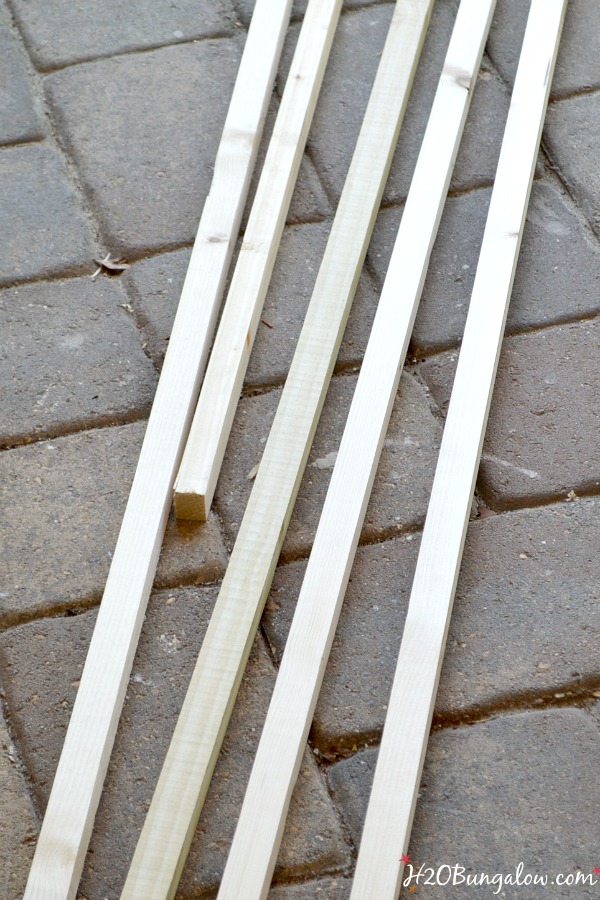 Make a paper template the length of a 18″ slat. Mark three inches in from each end and the middle. Put a hole in the spots where you'll drill the holes for the cord. Mark all the slats using this template.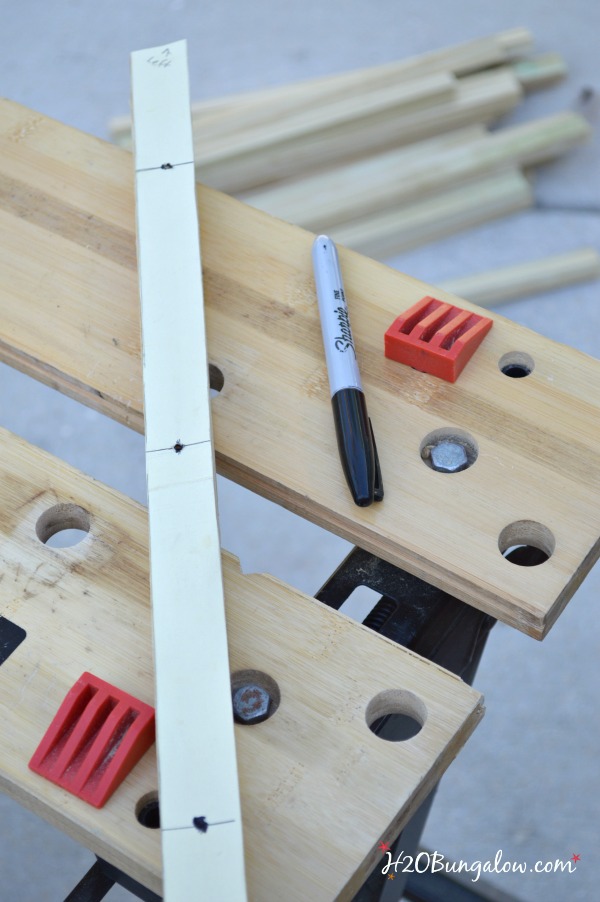 Next, you'll make the holes for the cord to fit through. I started drilling with a much smaller drill bit than the diameter of the cord and made pilot holes first. That's a lot of holes, right? It wasn't so bad because when I followed with the drill bit the size I needed my holes to be, the holes were super easy to make!
Choose a drill bit big enough for your cord to fit through the hole it makes.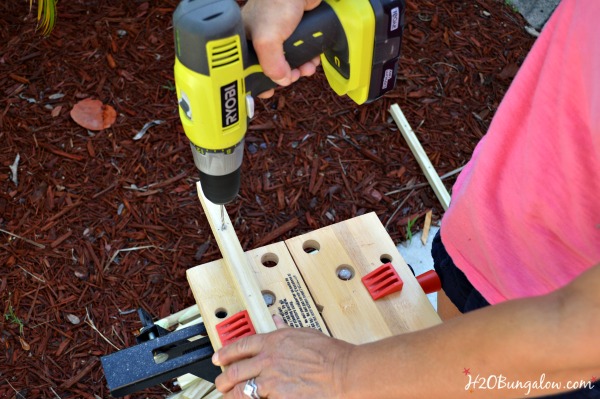 Paint and seal your wood slats and beads. String the wood slats with a bead in between. So simple! I kept the drill handy for a hole or two that needed a little widening to fit my cord through….just put the drill bit in the hole and wiggle it around to open up the hole. I know, that was not a techie description. But I wasn't feeling techie..it's hot as can be outside here in Fl already, so I sat on the floor by my back window and assembled this in the air conditioning. tsk..tsk.. yes, I do bring tool projects indoors. At least the not too messy ones 🙂
Wrap a piece of tape around the end of your cord to make this task easier!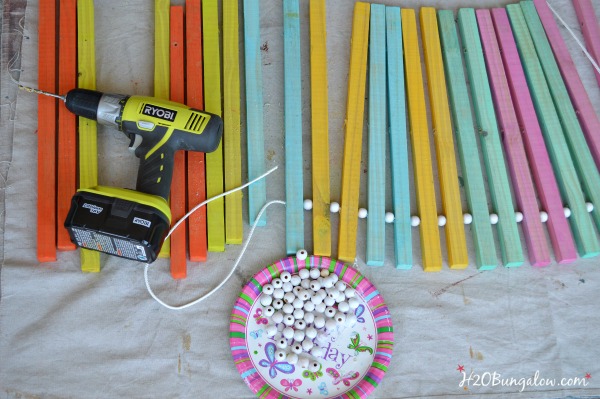 Tie a knot at each end when you're done and seal it with a good weatherproof glue. That's all there is to making a DIY wood doormat.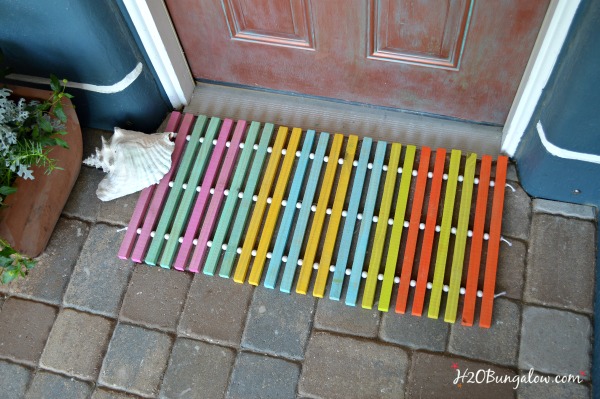 Do you love it? I do! I painted our front door copper last year and I still love it. See how to faux paint a copper door here.
This area is in need of some bright and cheery seasonal color. I think this DIY wood doormat made a huge step forward. I keep opening up the front door to look at it 🙂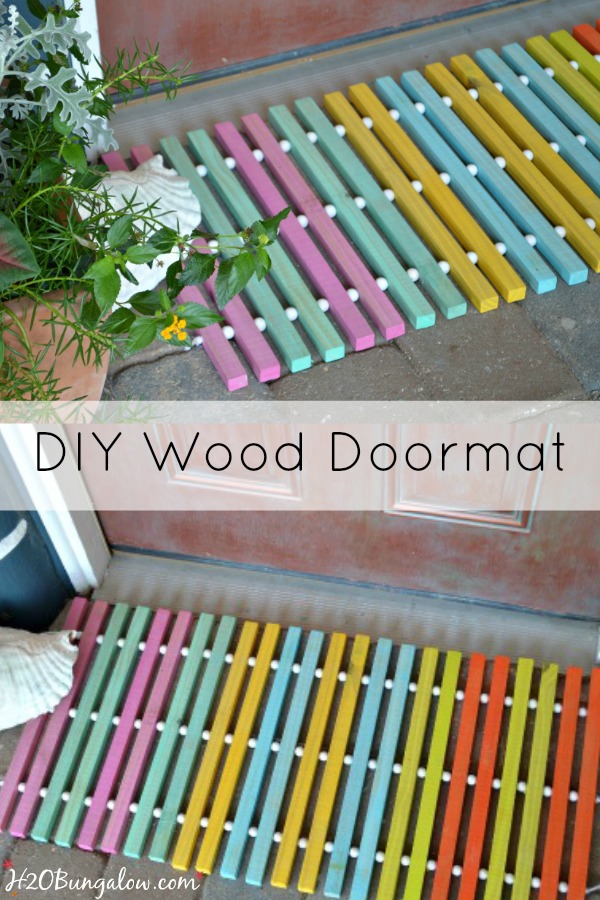 It's time for me to share more doable one tool DIY projects from a star line-up of talented bloggers. Take a look below at their One Power Tool Projects. This is one talented bunch. These projects are easy to make and a great place to start if you're game to pick up a power tool and step out of your comfort zone.