This year I've kept a running list of my favorite finds and gadgets that would make great gifts just so I could share my holiday gift ideas guide. Even though we've pared down our holiday gift list I still feel like a deer in headlights when it comes to picking out the perfect holiday gift sometimes. It's such a challenge to find the little something that my friends and family are happy to get, or use often. I figure you guys may feel the same way too sometimes.
Below are some of my favorite holiday gift ideas, things I wouldn't and couldn't do without. I hope it's helpful to you too!
Best Ever Holiday Gift Ideas
I use affiliate links to help you find the supplies I used. You can read my full disclosure policy here.
My personal favorite gift ideas.
This year I've pulled together a list of my own personal favorite gift ideas. I'm not always a girl in a workshop, so I thought it would be fun to shares some of my favorite gift ideas that aren't necessarily DIY related.
Packing Cubes There are months that I am on the road more than at home. Especially with taking care of the North House Lodge. I've had my EZ-Packing cubes for a few years and will not travel without them! These packing cubes are crazy durable, my clothes stay organized, clean and don't get wrinkled. I wrote a post on my Best Organization Tips for Travel and Packing a Suitcase where you can see more.
One thing I always look forward to when in Vermont weather is pulling out my Flannel Robe from Vermont Country Store. There nothing quite as cozy as their thick and soft flannel. Its a heavy quality flannel that will last for years. Have I mentioned how soft it is?
I keep a Linen Scarf with me whenever I'm out for the day or traveling, especially in FL. It looks great as an outfit accessory and is perfect for a chilly evening or a place with too much AC. I've been eying this one for months, I love the neutral color 🙂
I've used these Personalized Self Inking Address Stamps from Three Designing Women for years. They make wonderful gifts during the holidays and year round! Plus, they offer a convenient gift certificate so your giftee can select their own favorite design to make a their own personalized address stamp from hundreds of designs.
I use interesting luggage tags on my suitcases instead of colored ribbons so I can find them easily at the baggage claim. I'm seriously crushing on these personalized Leather Luggage Tags! If they do't show up under the tree this year, I think I'll order a set as a gift to myself!
Handmade by underprivileged moms, these organic cotton Organimals are a gift that does double good. There are several different animals to choose from and you're helping to support a good cause. These could easily be the favorite toy that's saved and treasured from childhood.
I have this Guru Nada Exotics Collection and love the premixed scents in roller ball bottles. Apply a little on your pulse points, enjoy the benefits of essential oil blends.
Deluxe Canvas Klein Tool Bag I don't have one of these yet, but…I so want one! They have a lifetime warranty, are super heavy duty and built to last forever. I read a reviews where they've had their bag for 30 years and more and they never broke or wore out. A few creative women also wrote that they use these bags as purses or weekend traveler bags. They come in several sizes.
Coolest DIY gadgets, the things I can't live without.
The best gift isn't always the most expensive gift! A few of my favorite DIY gadgets and time savers that I couldn't live without while working on my projects! Some of these you've probably seen over and over in my posts. There's a reason for that!
I've used my Hang n Level for years. This is THE most useful and easy way to hang a picture easily. I've share pictures of it many times and even gave instruction in my post on Accent Wall Tips to Fix Decorating Challenges.
Stocking stuffer idea! These Snap Lights are awesome for night time safety and last forever with LED lighting. Make a nightlight out of any plug simply by changing the faceplate. It turns itself on in the dark. I have a few of these in hallways and by the stairs in the North House Lodge and LOVE them!
I am not a natural when it comes to numbers. I use my self centering tape measure all the time when building or creating a piece of home decor. Measure anything and under the measurement, it lists the halfway distance. This is a huge time saver, I wouldn't do without mine!
I use this one little tool for almost every project I make. No kidding! Set it at whatever measurement you need and just line up and mark. It's a huge time saver when you need multiple measurements that are exactly the same.
My Ryobi Stick Vac is so awesome, we've stopped using our big heavy corded vacuum and now grab this one for all our vacuuming! It uses the same battery as my power tools and is perfect for a quick clean up or zipping around the entire house. It fits well in tight spaces and has tons of suction power.
Best DIY'er tool gadgets.
These are some of my favorite tool gadgets. I'm sure I could add to this list if I gave it some thought, but off the top of my head, these are the most useful.
Everyone with a table saw should have one of these. Safety is no joke when it comes to using power tools. This one tool, GRR-RIPPER 3D Pushblock for Tablesaws makes using a table saw much less intimidating and safer. It holds the wood for you while your ands are away from the blades when making cuts.
I have several models of Kreg pocket hole jigs. I've been using my Kreg K3 Jr Pocket Hole System a lot more lately. It's fast, easy and fit's places where I couldn't go with my larger ones. Plus, it's a good place to start if you're looking on adding a pocket hole jig to your own tool bag since it comes in at a lower cost than it's big brother the K4 Pocket hole Jig.
I got this for Christmas last year and can't begin to share how much this Ryobi 90 pieces Drill and Driving Kit has been used. Aside from being way less expensive than purchasing everything separately, it's handy in many ways. I love that I can easily pick out what I need because it's organized in the case. No more digging in drawers and containers for the right size item!
I have a small Tool Bag with Exterior Pockets in VT and love it. I use mine as a maintenance caddy holding a bunch of everyday items I use often, screwdrivers, drill bits, pliers etc. I also use it to carry my supplies when moving from room working and stuff it with tools needed for that project. It beats running back and forth to get one more item. Plus, the outside pockets are great for keeping things organized.
Painting walls can be such a drag! I've used my Paint Sick by HomeRight over and over again. It probably cuts my painting time in half.
I hope my holiday gift ideas for the DIY'er and more has been helpful! Some of these items make good stocking stuffers too. I always love it when friends share with me their favorite holiday gift ideas. items that they use all the time. To me, the perfect gift isn't always the most expensive, it's the one that get's used a lot or makes something more convenient.
Love a few of the items on my list for you or a friend? Pin this for later and share it with your friends on Facebook!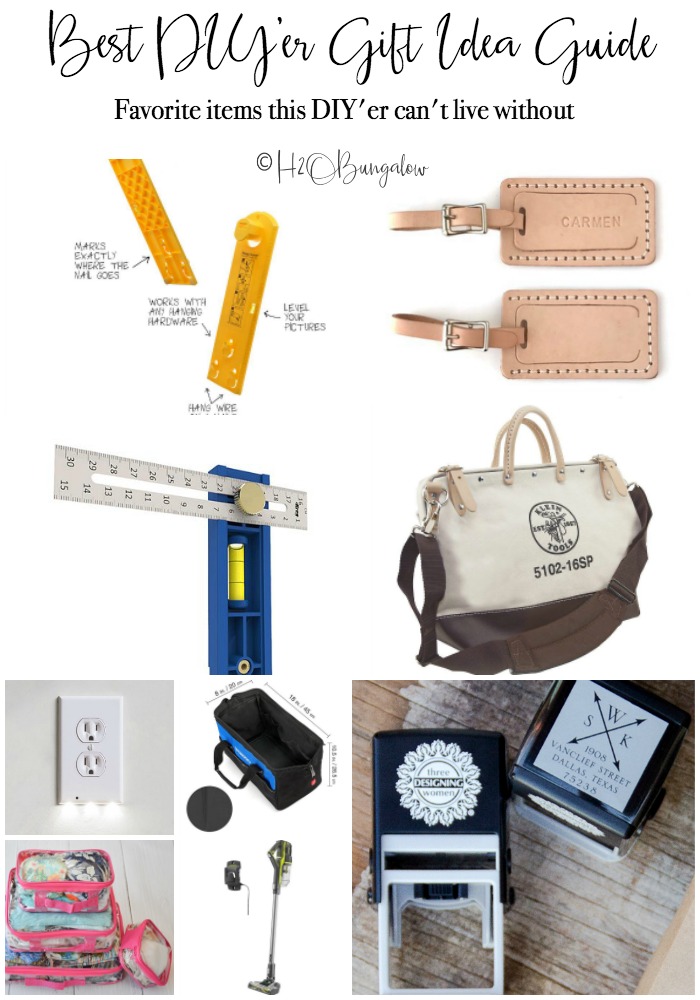 Do you have favorite holiday gift idea to share? Leave me a note in the comment section! I appreciate it and you fellow readers do to!