I'm loving my new blue painted dresser makeover I just finished. I used Beyond Paint in Navy and have to share that this paint is quickly becoming my go to paint for lots of projects. It's been a while since I shared a dresser makeover idea and thought this would be a good opportunity to share the steps I take to paint a dresser or a piece of furniture.
I'm also sharing How to Paint a Dresser in 7 Steps if you are a new to painting furniture. It's a great beginner's guide!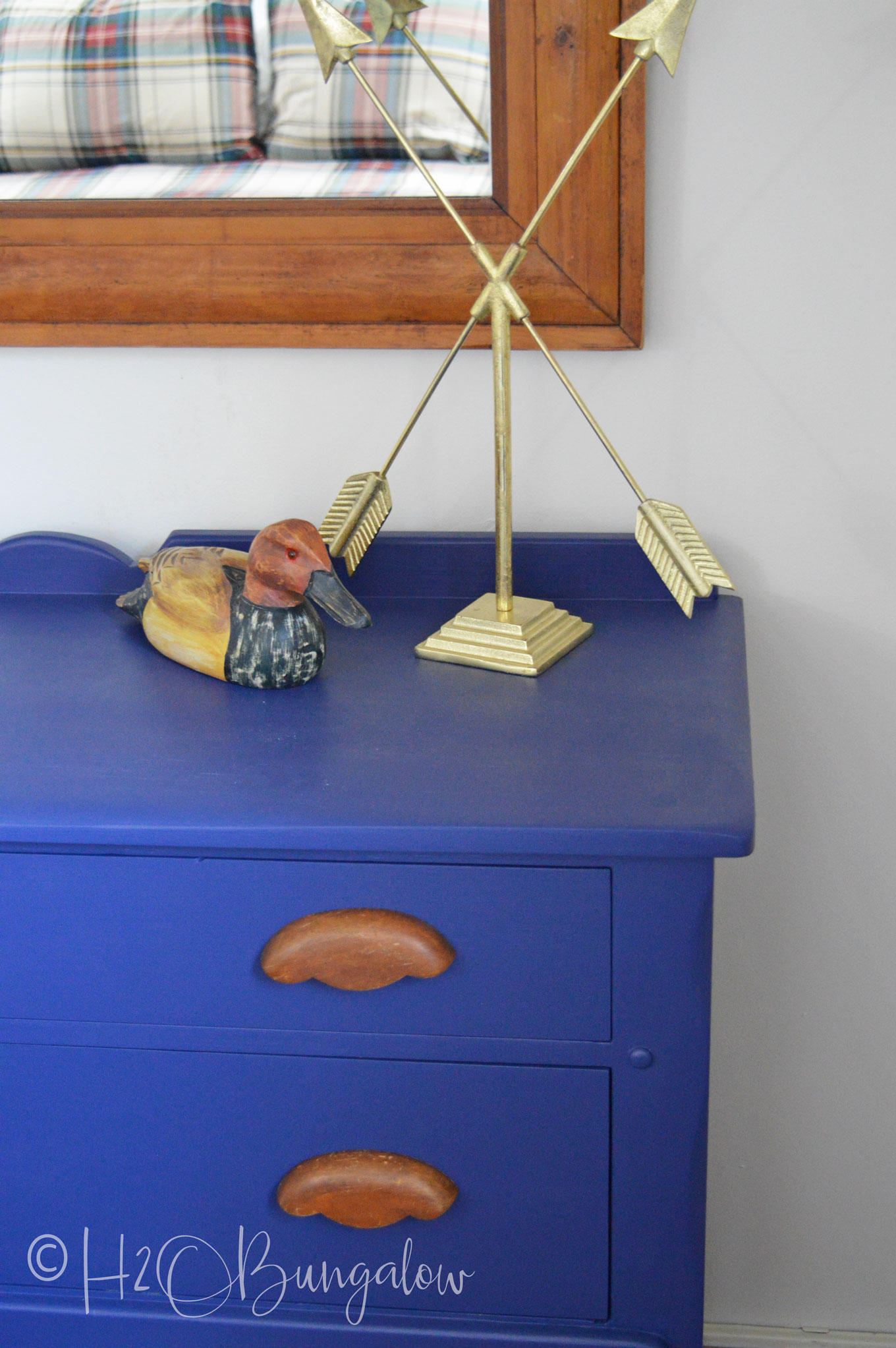 I'd just finished painting the last bedroom of the other side of the duplex in the North House (insert big smile and happy dance here). The drop cloths were already out and the room was empty. This was the perfect time to tackle the painted dresser makeover I needed to finish this room.
Please excuse the awful looking drop cloth I used! It's great for covering floors when painting walls and ceilings, not so much for pretty furniture painting posts! It was all I had to use at the time 🙂
Blue Painted Dresser Makeover Steps
I use affiliate links to help you find the supplies I used. You can read my full disclosure policy here.
Supplies used for this blue painted dresser makeover
quality paint brush
4″ roller and paint tray
drop cloth
Simple Green
clean painters rags
I love the unique shape of this dresser and didn't mind the yellow color of this dresser. But Sunshine yellow just didn't fit the style of room I was creating. The color had to go. I knew this piece would look great as a navy blue painted dresser though, especially with those gorgeous wood handles.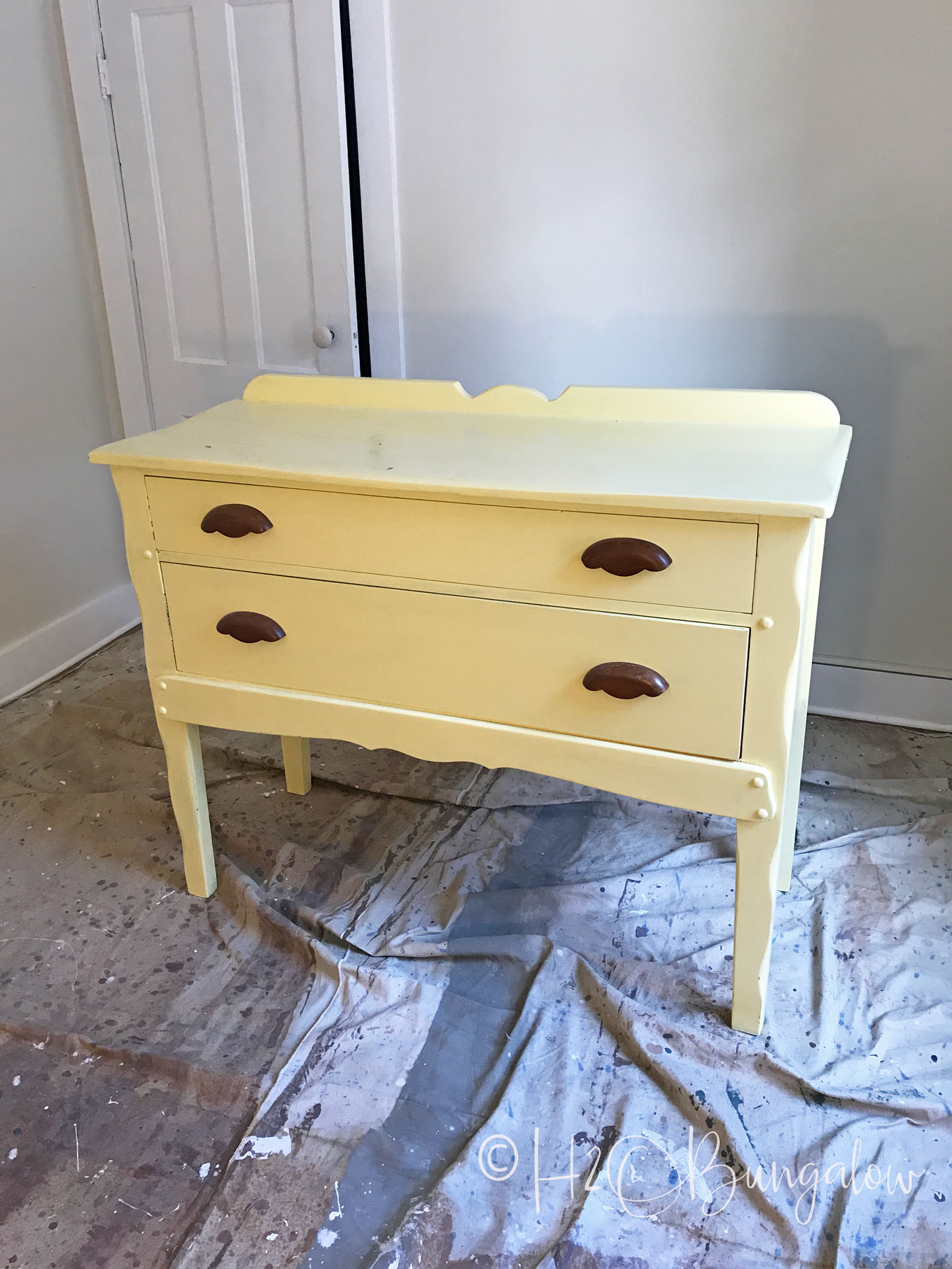 I started by wiping down and de-glossing the dresser with a clean painters rag. Simple Green works great because it doesn't leave a residue behind.
I would normally check the paint by rubbing a cotton ball dipped in rubbing alcohol onto the dresser to see what type of paint I was painting over first. What I love about Beyond Paint is that you can use this paint on just about any surface with good results. It adheres well to lots of surfaces like metal, glass, tiles, and even oil based paint, so this step isn't necessary. Neither is sanding your project first when using Beyond Paints, talk about a time saver!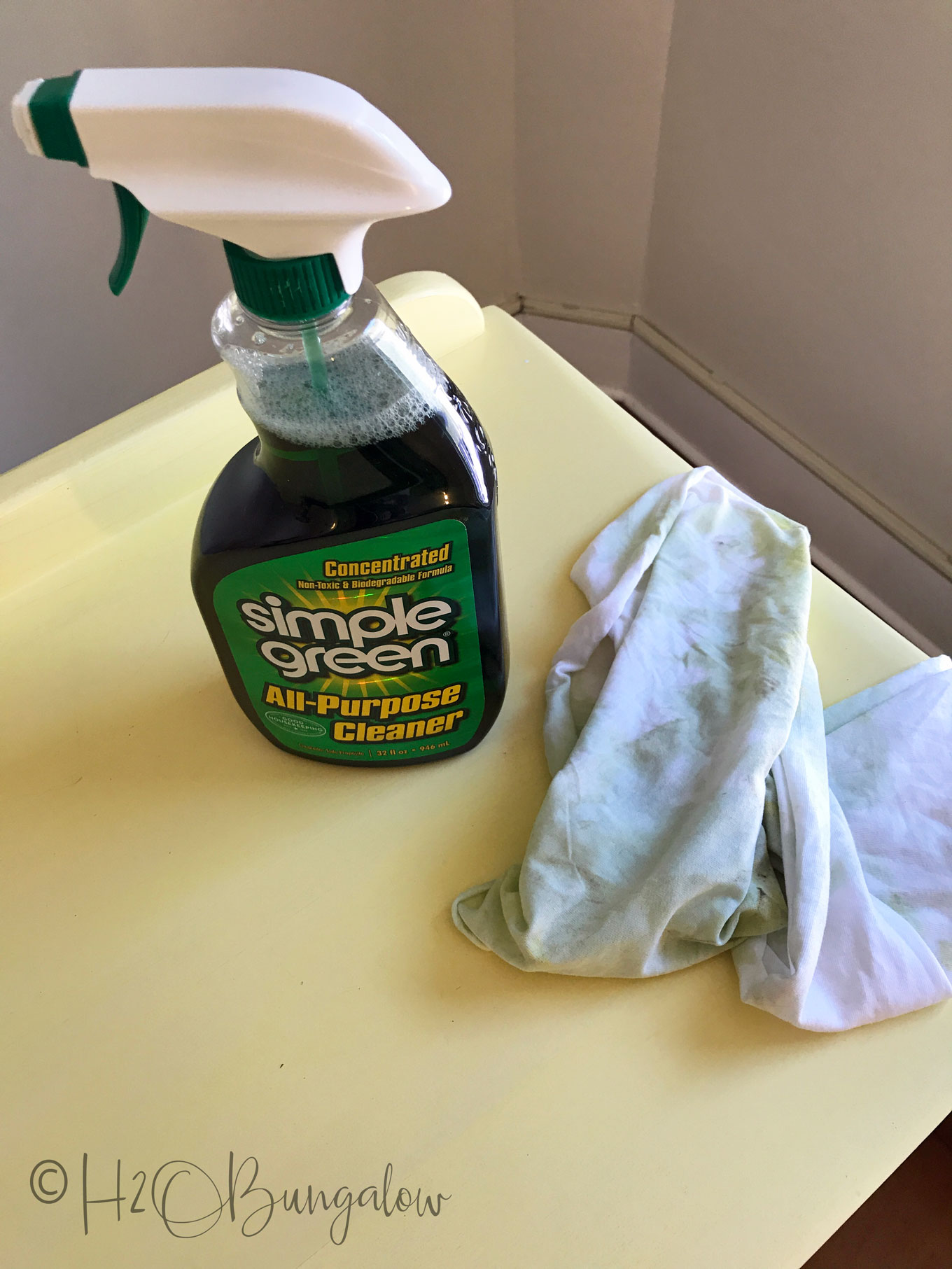 Next take off the drawer handles. I like to put the handles and screws in a baggie or something to keep them together.
Tape off any areas that need to be protected like drawer sides. This dresser had been painted before and the sides were a mess. I taped back enough on the drawer sides to cover the different colors of paint. It may look a little odd but I thought it was the best solution.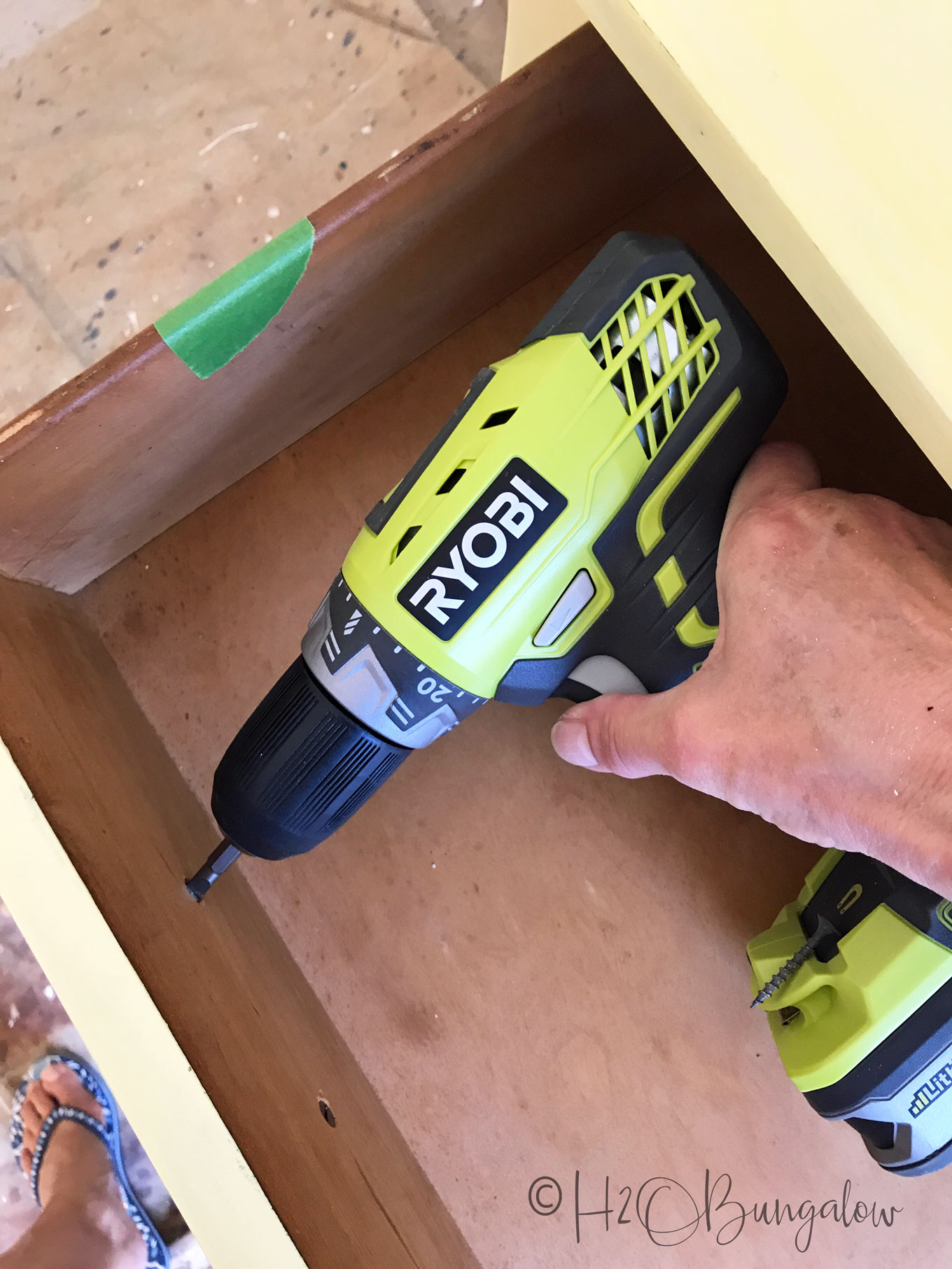 Use a paint brush a four inch foam roller and tray to apply the paint. This paint is thick, has great coverage and goes a long way.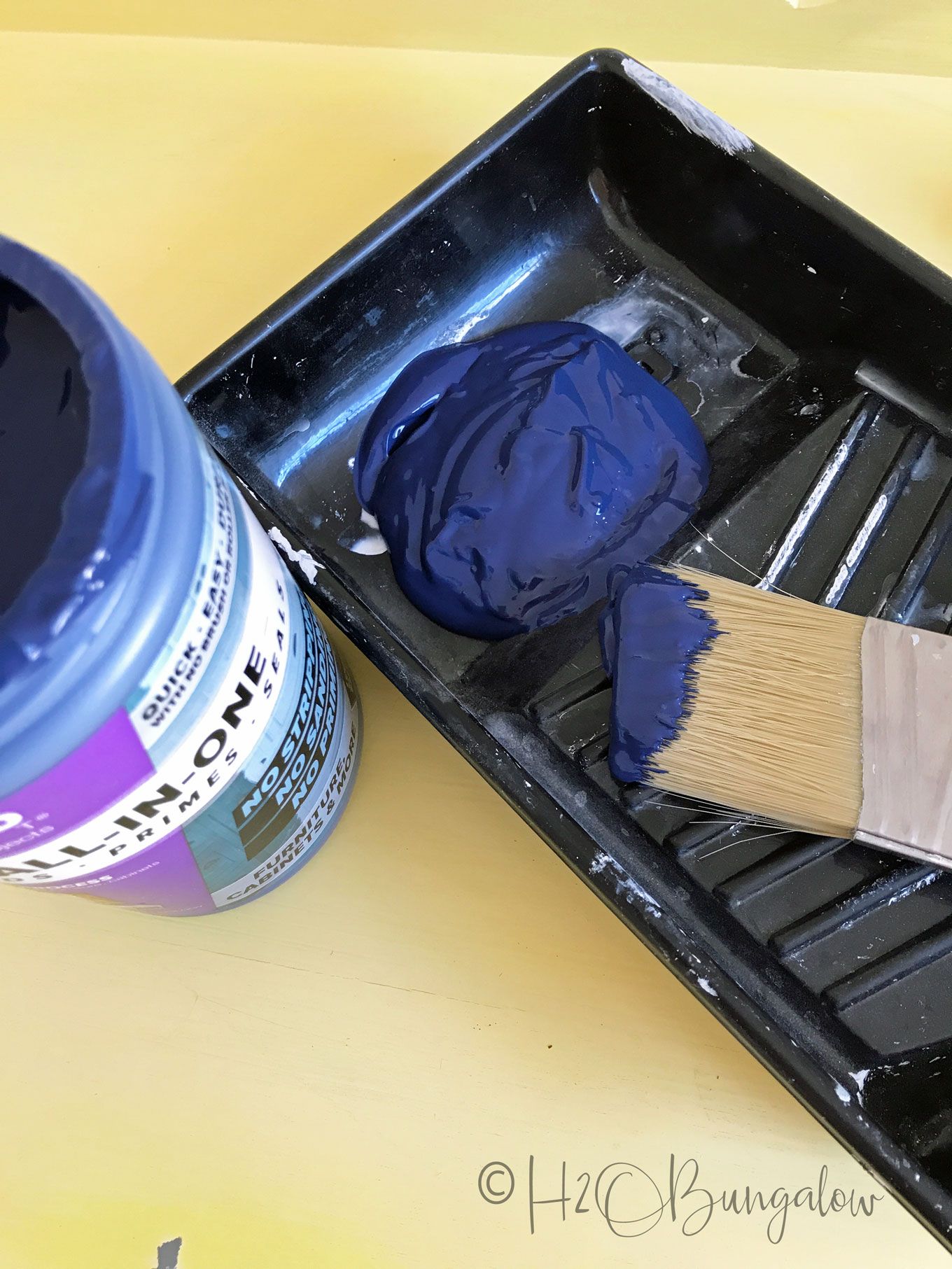 Start by brushing the paint into corners and areas the paint roller won't fit into.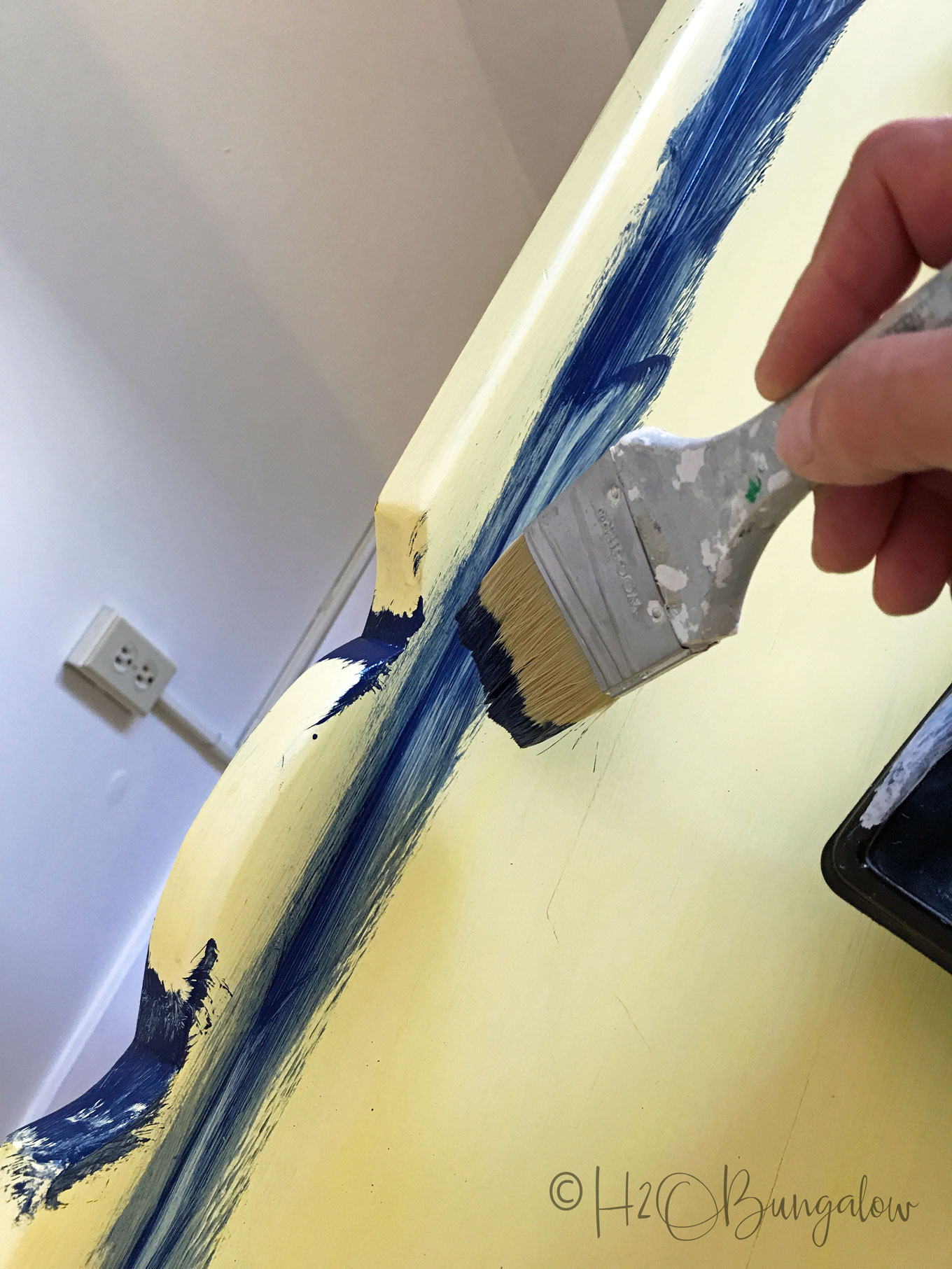 If I'm painting a small furniture piece I like to have it sit eye level on a table; it saves my back. Since this one was big, I had to work on the floor. When I'm painting a dresser or something with legs, I always elevate it with wood scraps to help get the paint on evenly at the base of the legs.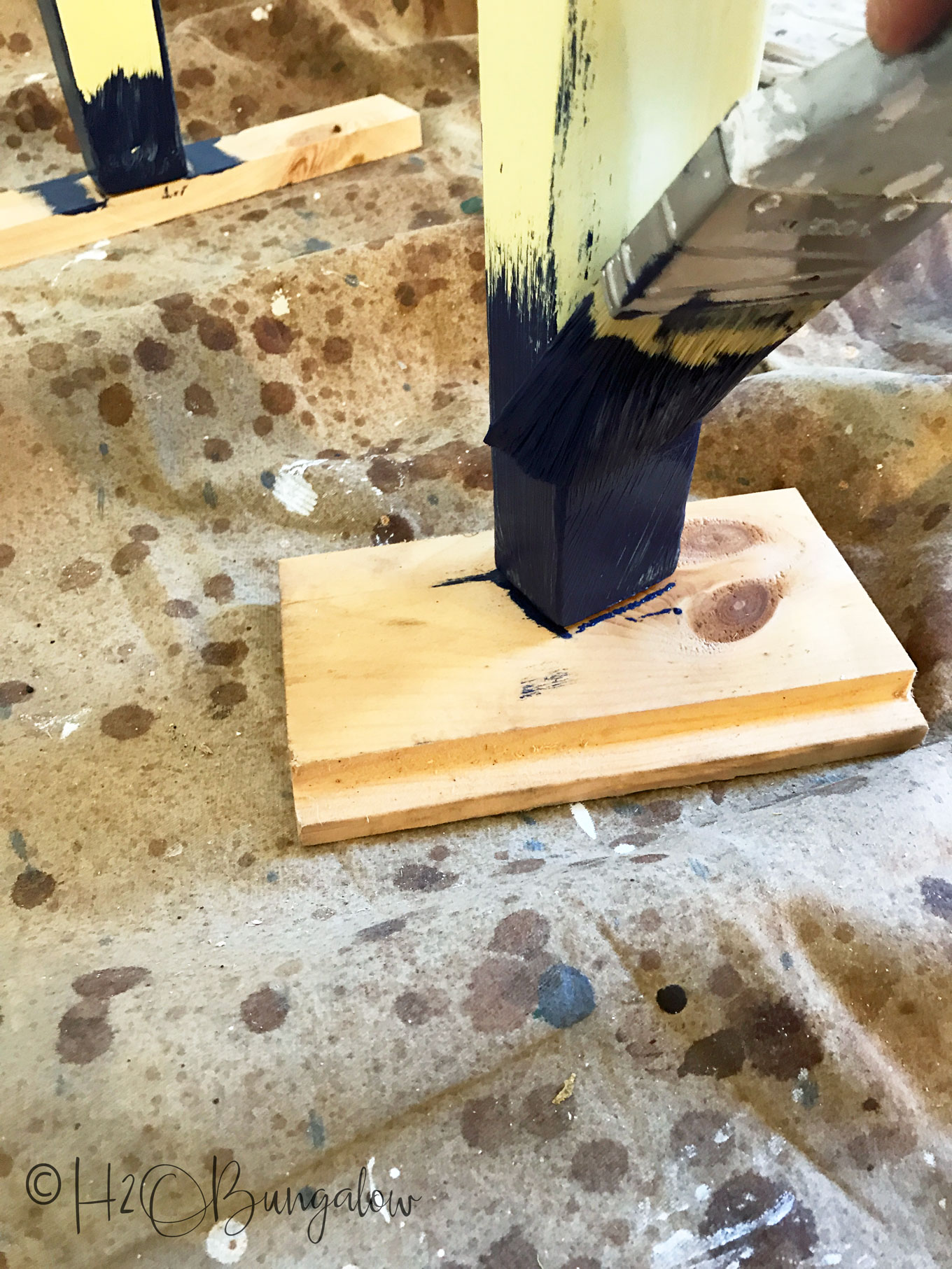 Roll the paint onto the dresser in long even strokes from one side to the next on big surfaces like the top. Don't overload the foam paint roller. It's better to have a few thin coats than one gloppy coat. Usually, two coats of Beyond Paint is all that is needed on a project.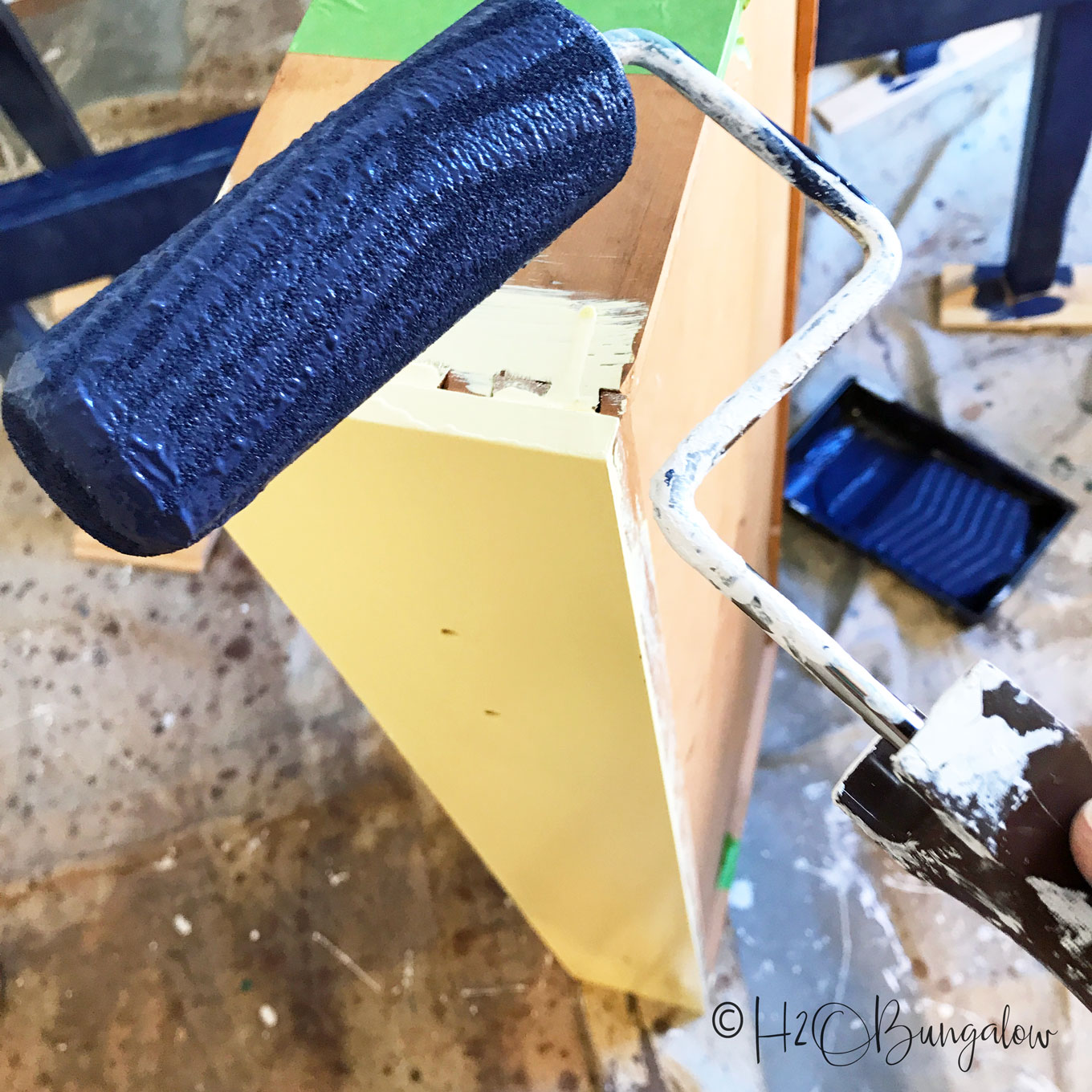 I let my blue painted dresser sit for an hour or so to dry in between coats. After the second coat, I let it sit overnight to dry.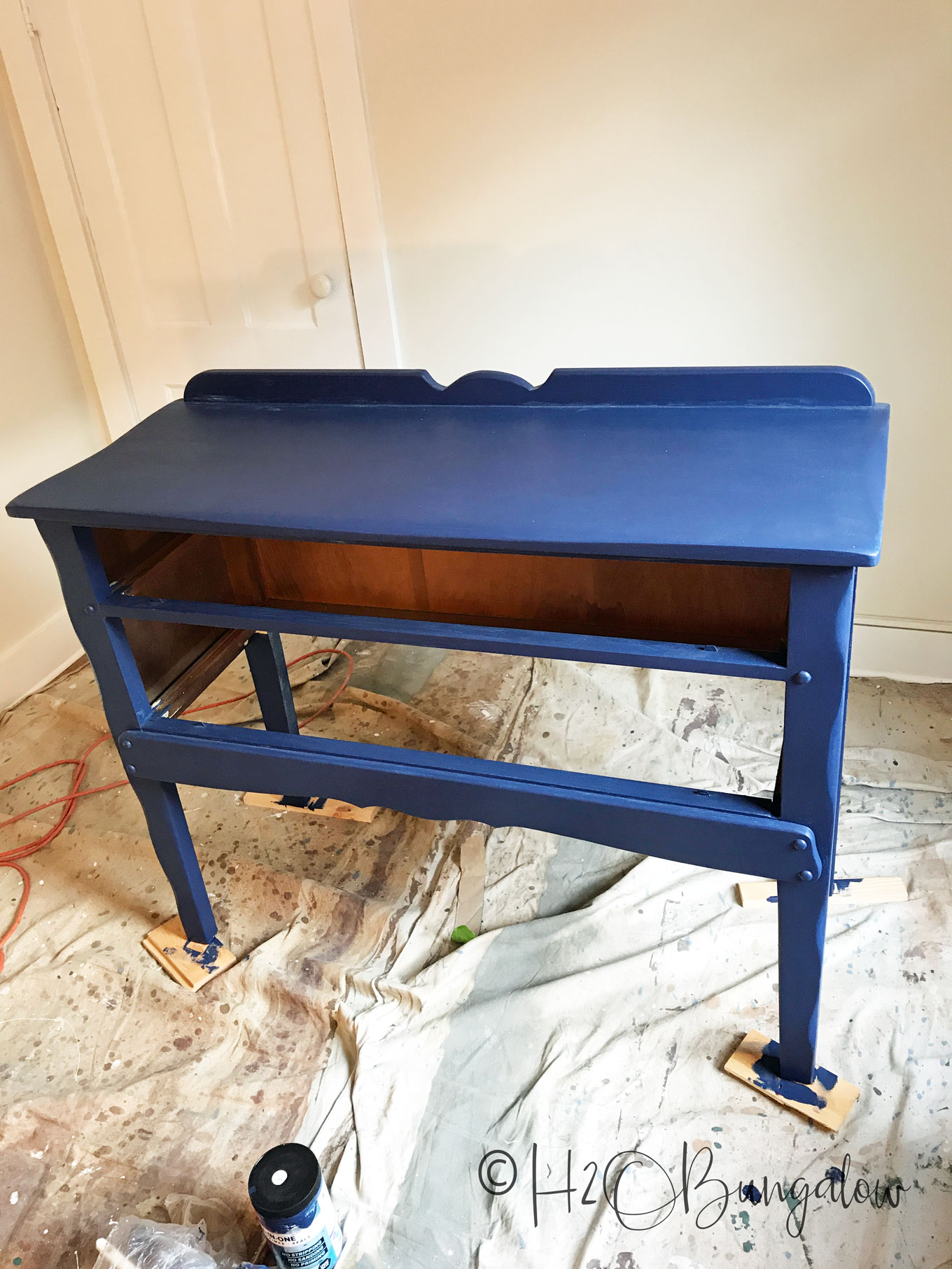 Keep in mind there is always a difference between dry time and cure time when painting furniture. Depending on the weather (we've been having an awful heat wave up here in VT now) it takes twenty four hours for paint to dry completely. Once it's dry, don't lay anything on top of your freshly painted dresser for several days while it's curing.
Now can you see why I needed the dresser painted blue instead of yellow? It's perfect with the flannel bedding and the vintage mirror in this room.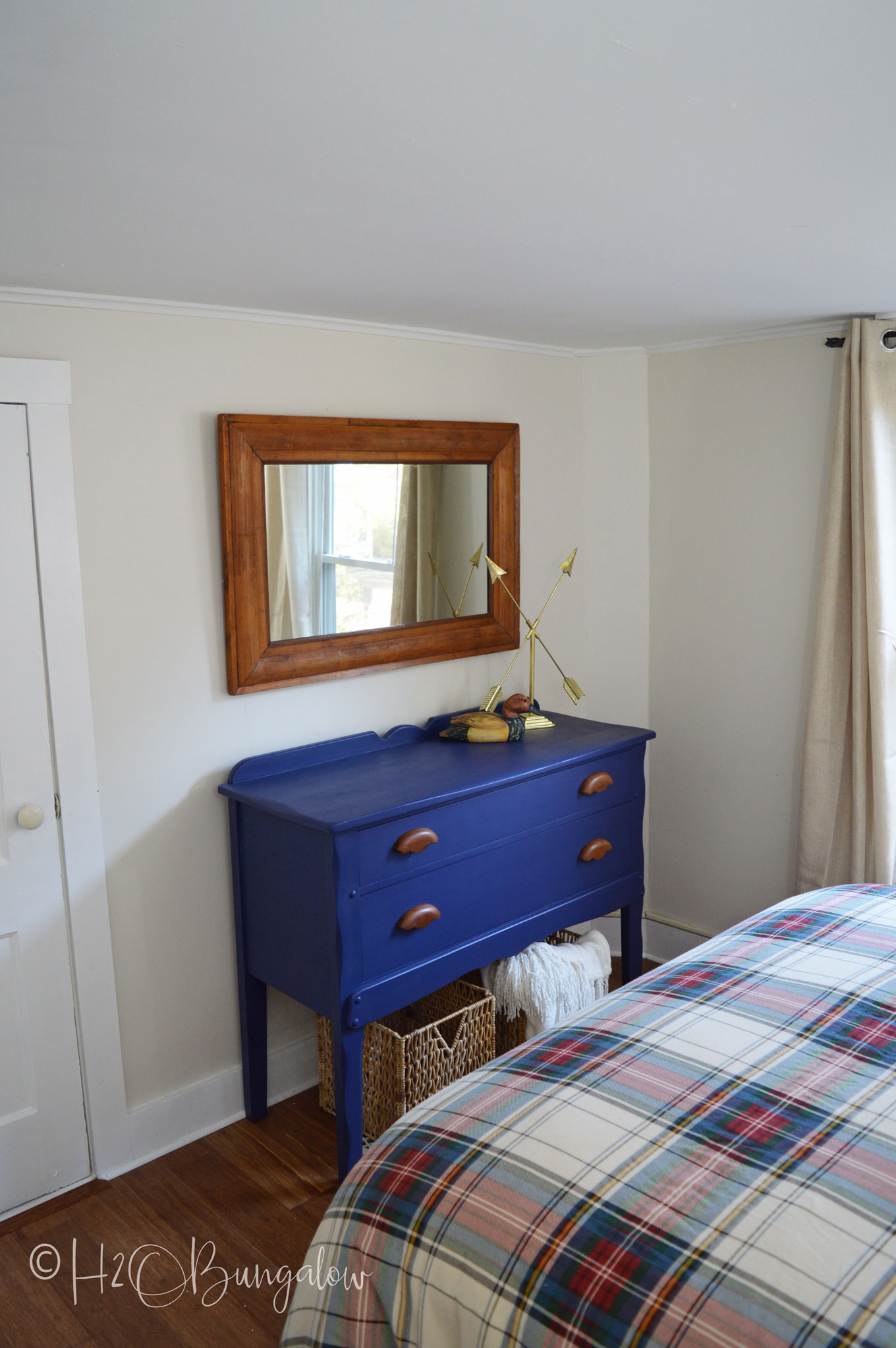 I'm loving the color…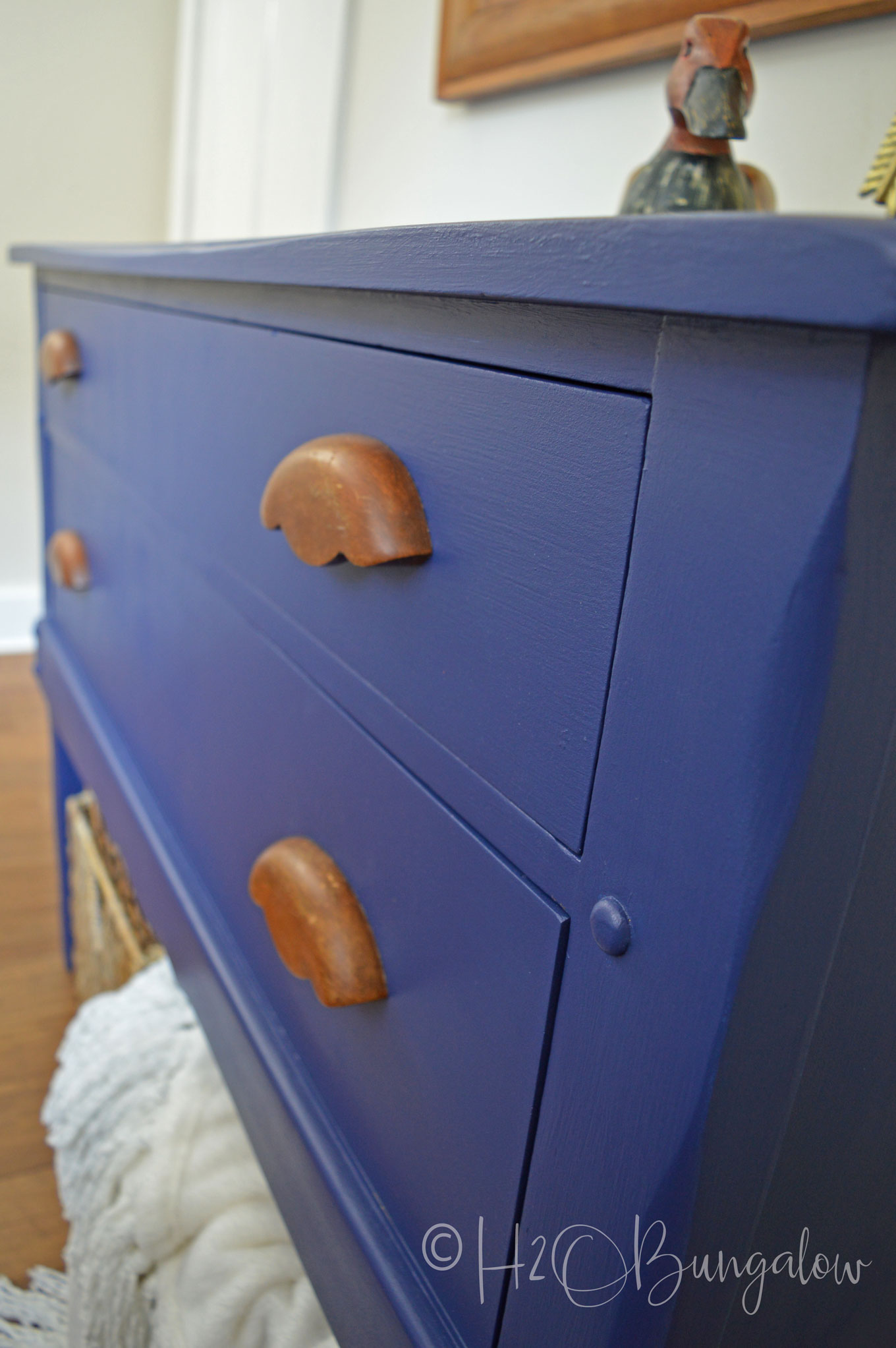 …and the finish.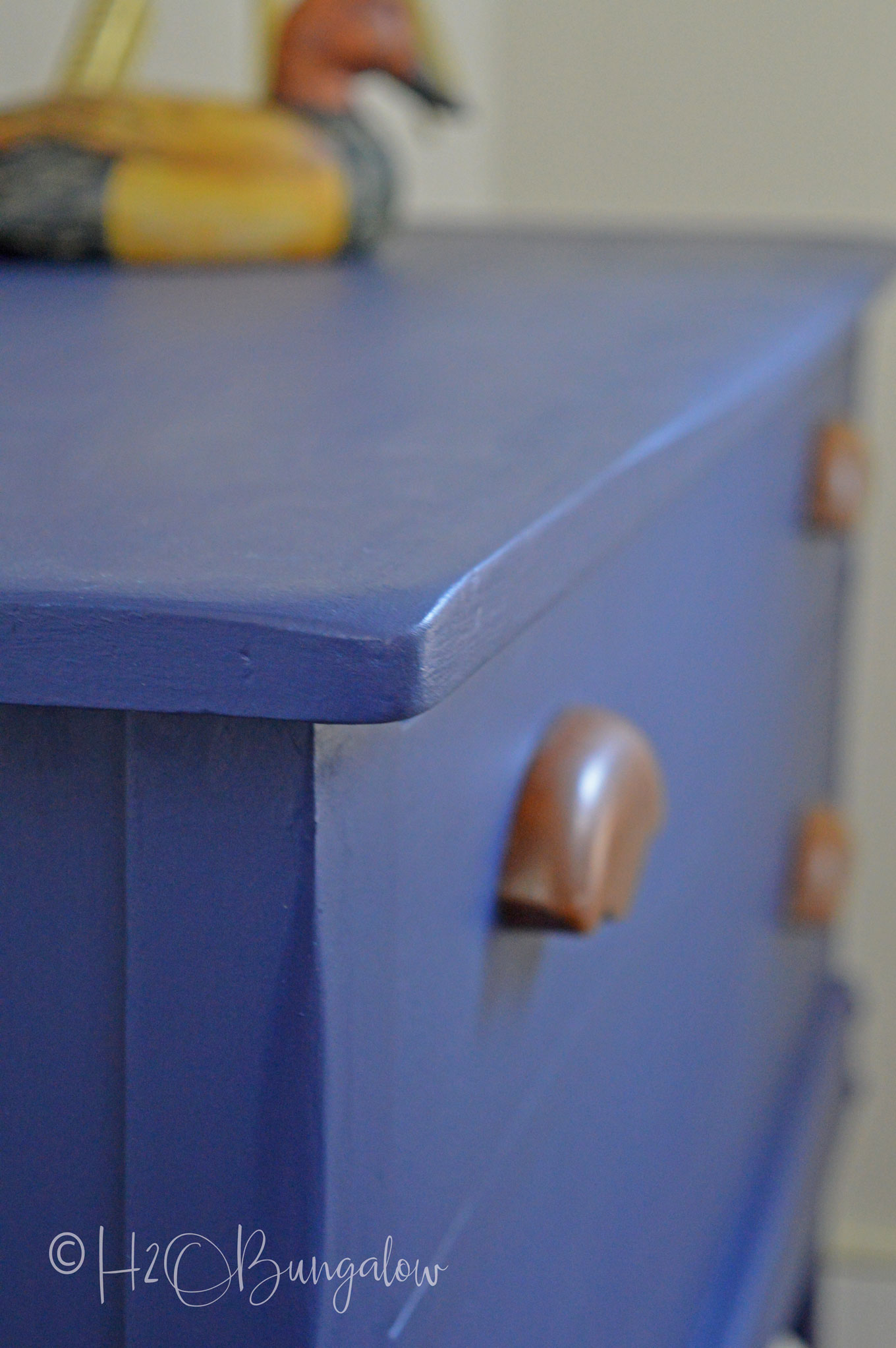 The mirror compliments the handles perfectly. I picked this mirror up last year for a good price. But I made one just like it for free and share how in my DIY mirror project how to remove veneer from wood.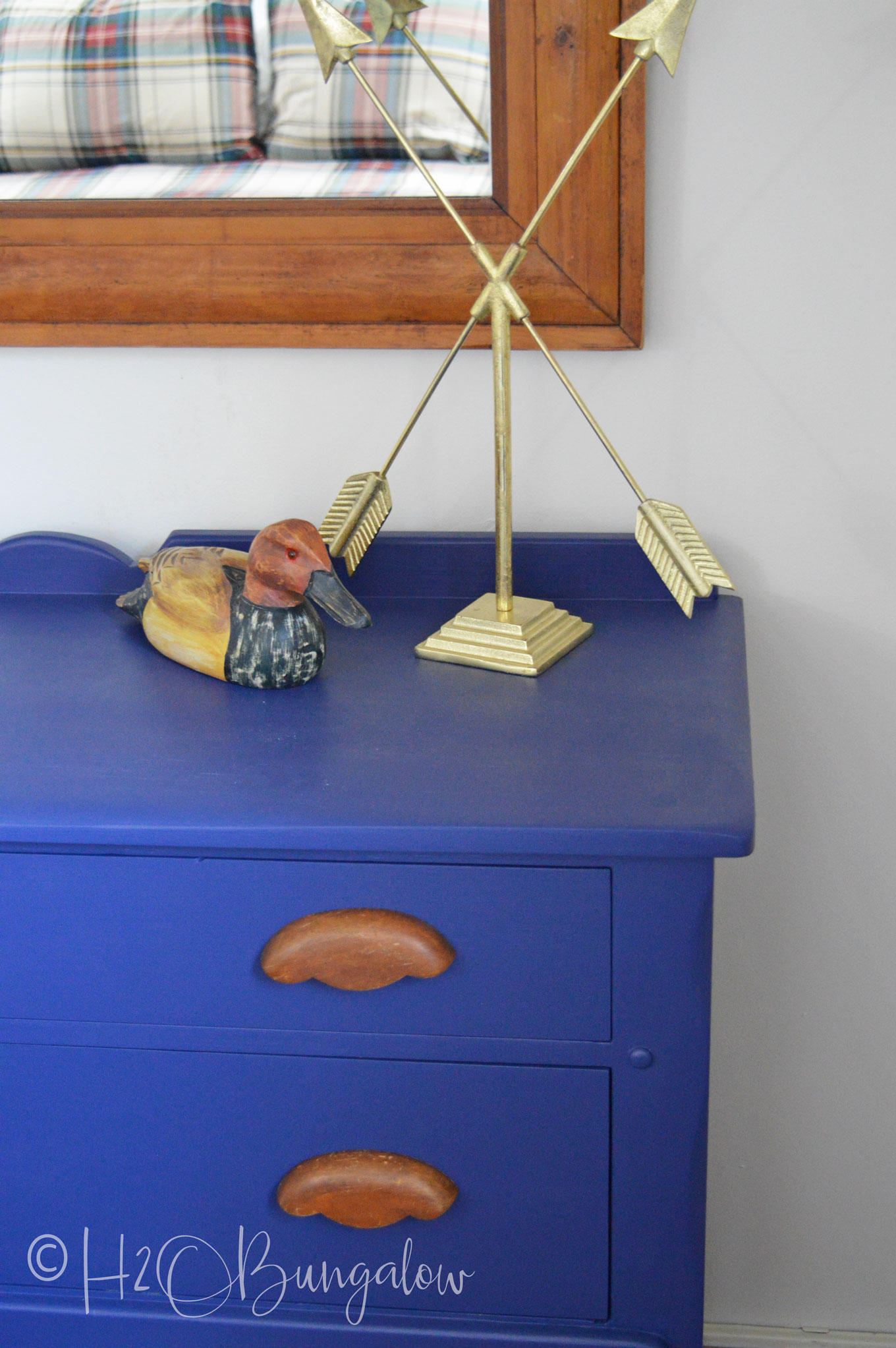 Beyond Paint comes in several different colors. It can be ordered directly from their website or you can find Beyond Paint through Amazon.
You guys have seen other Beyond Paint projects here before. I shared my Step by Step Guide on How to Paint Kitchen Cabinets and my beautiful Nantucket Blue Console Table Makeover earlier this year. Just last week I shared one of the new Beyond Paint metallic colors on my Repurposed Metal and Wood Side Table Power Tool Challenge project. You might also like this Stained Top, Painted Bottom Furniture Makeover, which is on the #52 side of the North House Lodge.
Pin my blue painted dresser makeover project for later!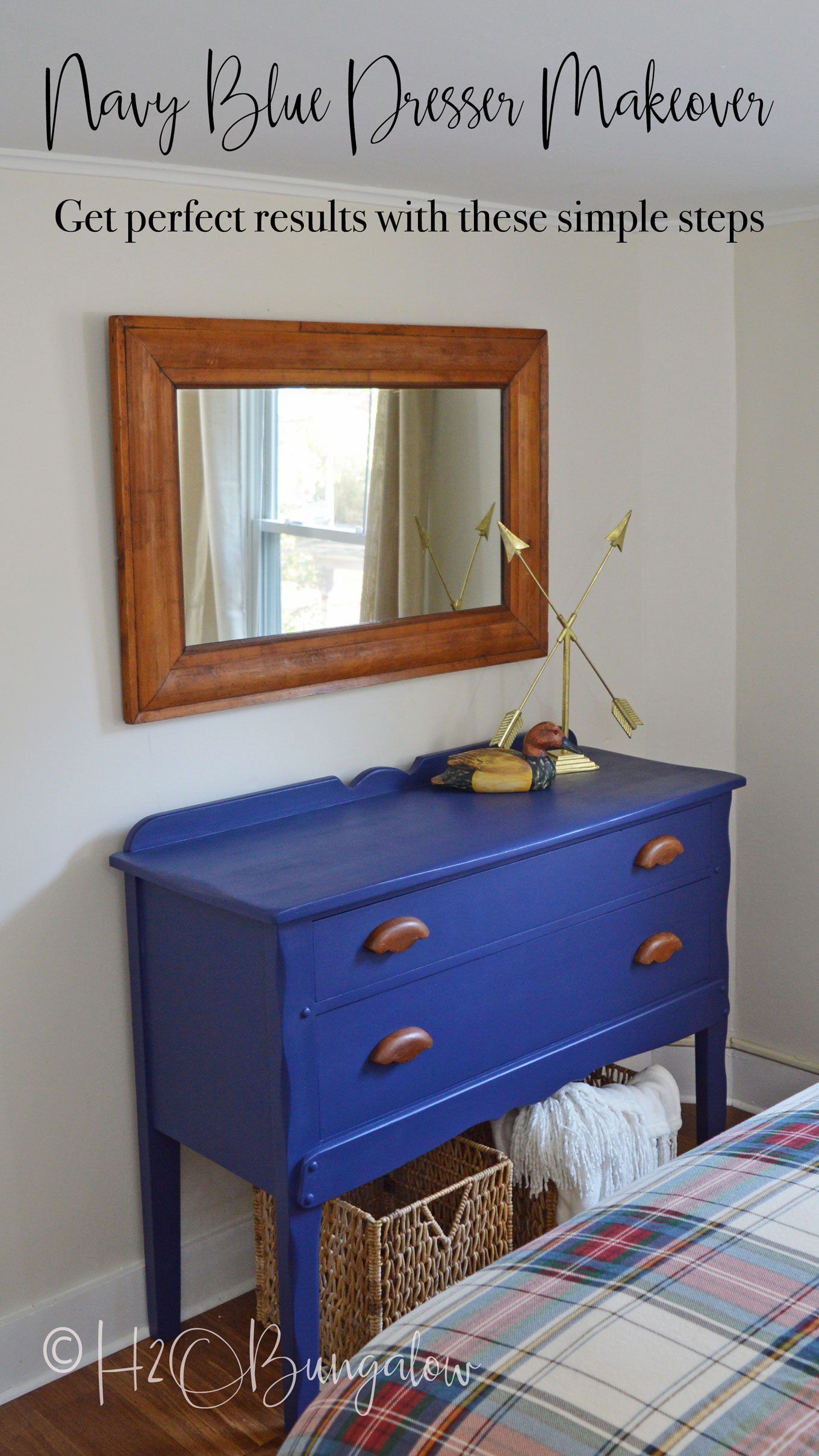 Do you have a furniture piece you love but the color has to go? Are you thinking of ideas for a dresser makeover or painting another piece of furniture now? Share your thoughts and what piece in the comments below!
I'm sending out a big thank you to Beyond Paints for sponsoring my blue painted dresser makeover. Of course, all creativeness and opinions are my own. You guys know I only share products I use myself and believe in.