I made this repurposed metal and wood side table out of a thrift store find for under ten dollars. Repurposing or upcycling a dated metal side table into a contemporary piece of furniture was easy. All I needed was a power tool to cut my wood and a little paint!
Today is one of my favorite days of the month, it's PTC or Power Tool Challenge Day, be sure to scroll down to see the creative DIY projects and home decor idea from my team mates!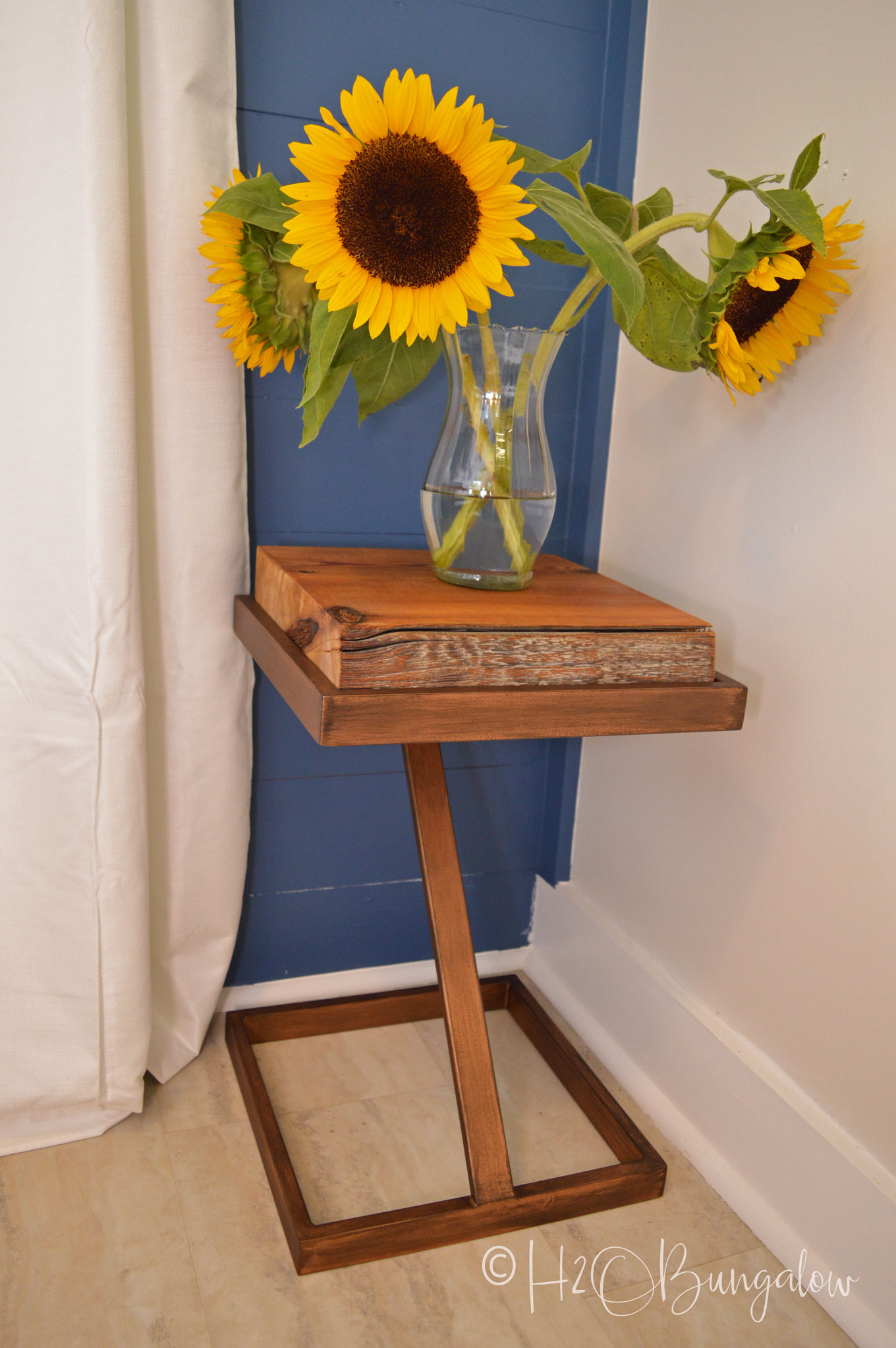 I found this little table at our one and only thrift store up here in Ludlow. Looked at it and passed it up. Later that day I realized I could upcycle this dated metal table into a fashionable repurposed metal and wood side table that would fit perfectly in the new living room of the North House. I quickly wished I'd had the "vision" to see its potential earlier!
Our thrift store is only open Saturday and Sunday. I obsessed over this silly table for an entire week thinking someone else would pick it up in the meantime. Yep, I was at the door pretty much the first morning they were open again to claim my old beat up metal side table.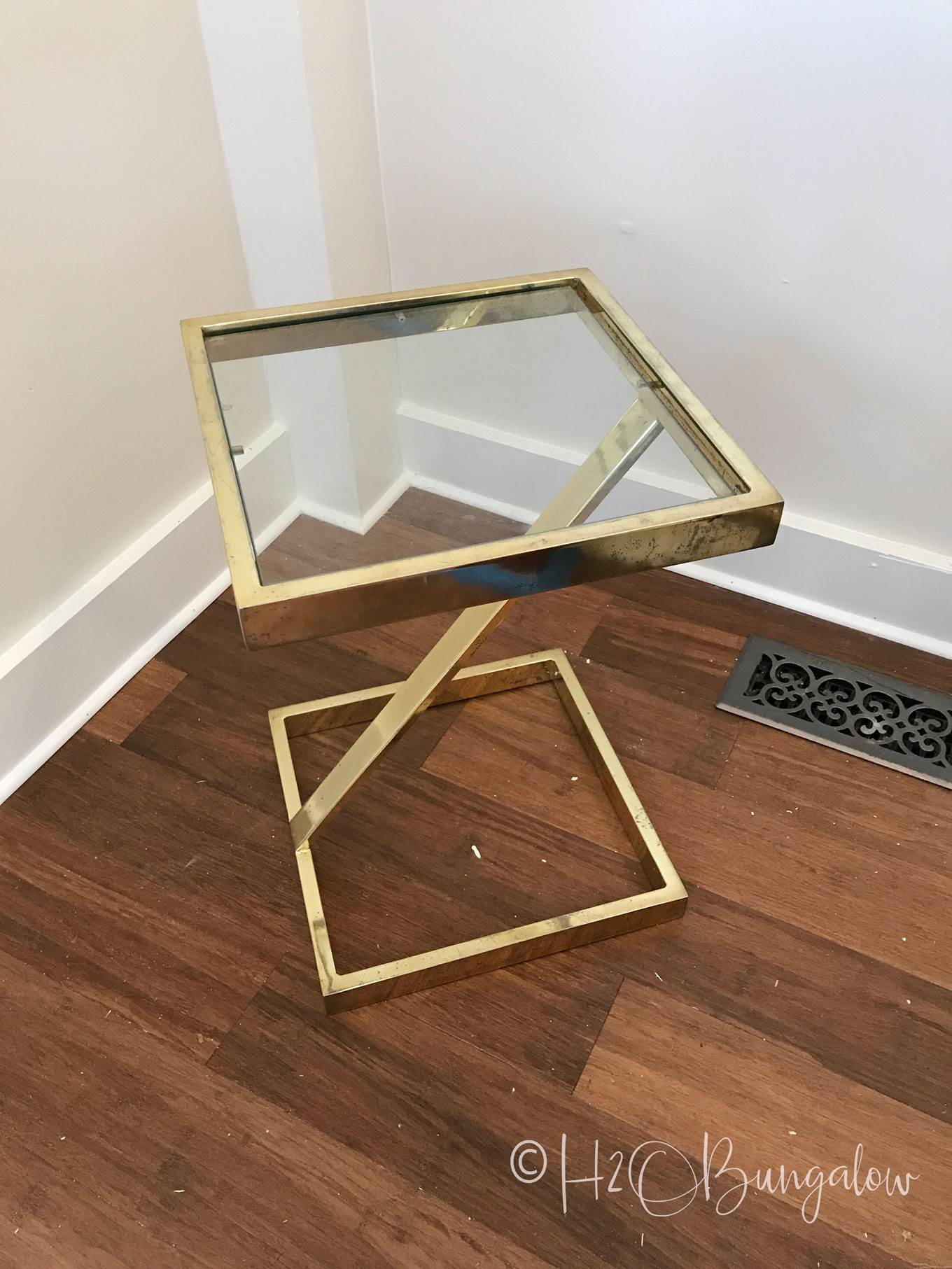 I use affiliate links to help you find the supplies I used. You can read my full disclosure policy here.
Repurposed Metal and Wood Side Table
Supplies needed to make this repurposed metal and wood side:
metal and glass table
wood insert
cutting power tool, depending on the thickness of your wood, jigsaw, table saw or circular saw
Simple Green
4″ foam roller for smoother finish or low nap foam roller for slightly textured finish
paint brush
#1. Remove the glass and wipe down the metal surface thoroughly with Simple Green to de-gloss the surface.
#2. Use a small paintbrush and dab paint into corners and areas the roller won't get to easily. Roll a thin coat of Beyond Paint over the entire surface. Let dry and follow up with one or two more coats as needed. Allow to dry overnight.
I used Beyond Paint because it adheres well to metal. I'm loving this paint ever since my DIY painted kitchen cabinet project I finished.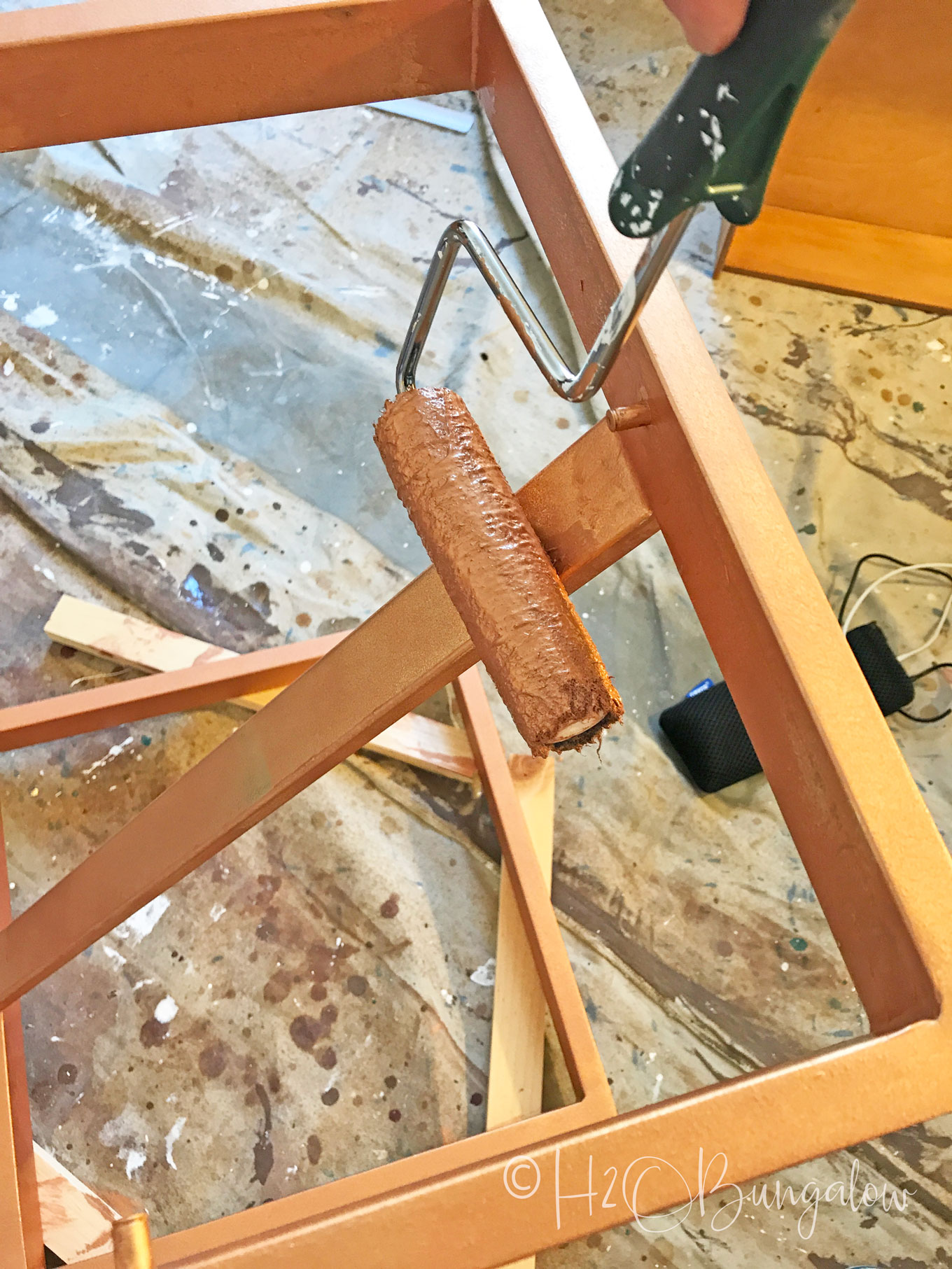 I loved the bold color of the metal paint alone, but knew it wouldn't look good in the room I wanted to use it in. I toned the color down a lot by dry brushing.
#2. Dry brush on the black paint. Dip just the tip of your paintbrush into black or contrasting paint, unload most of the paint onto a piece of cardboard or paper towel and "dry brush" color onto the metal table frame with long sweeping motions.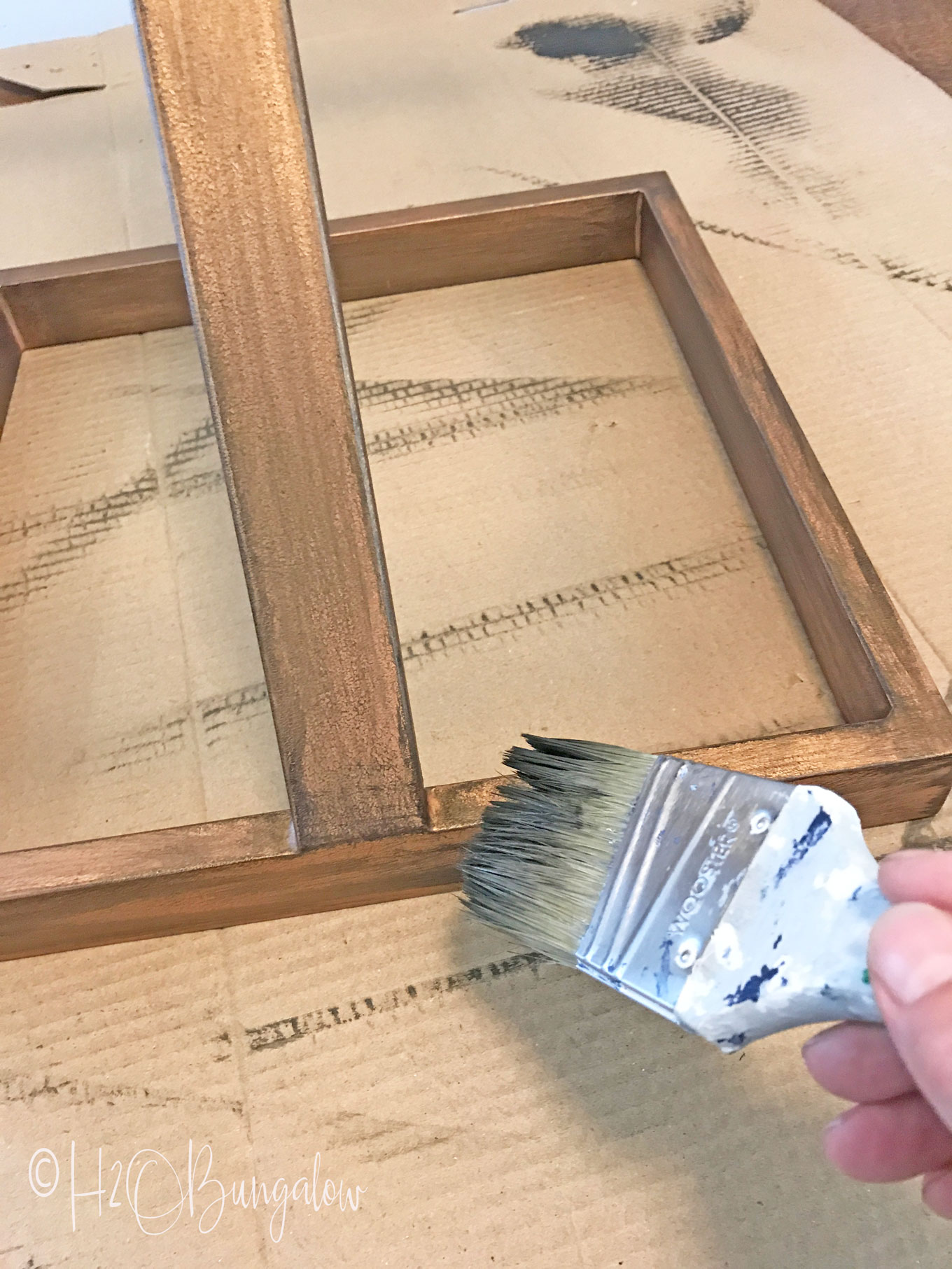 #3. Cut a piece of wood the same size as the glass top.
I used a scrap from my western red cedar projects. Do you remember my floating bathroom shelves? I made the most out of two wood slabs and added a few rustic DIY reclaimed wood shelves in my kitchen too.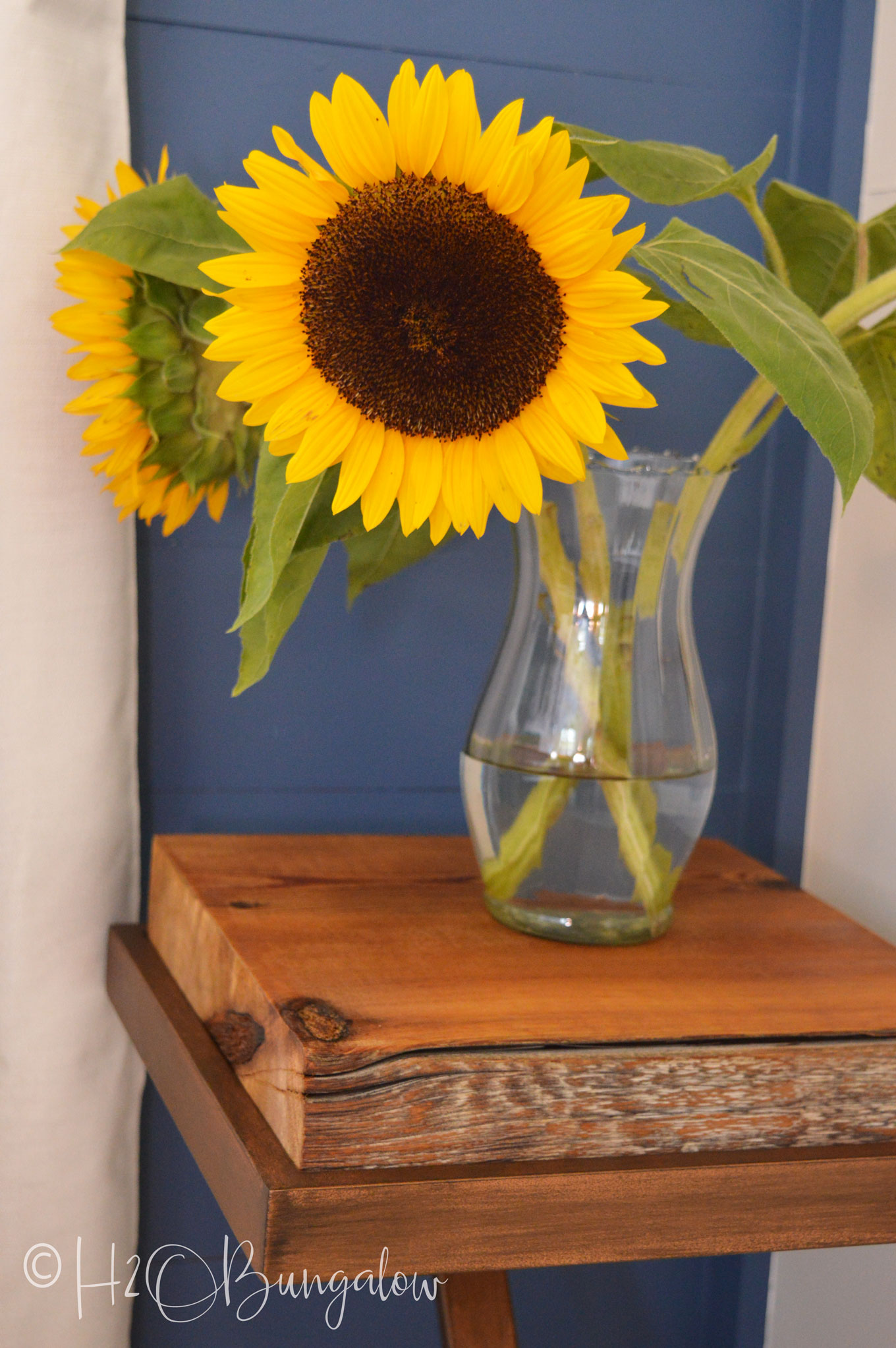 #4. Finish the wood as desired.
I sanded the cut edges lightly and gave it two coats of poly. Just like I did in my hairpin DIY live edge coffee table project.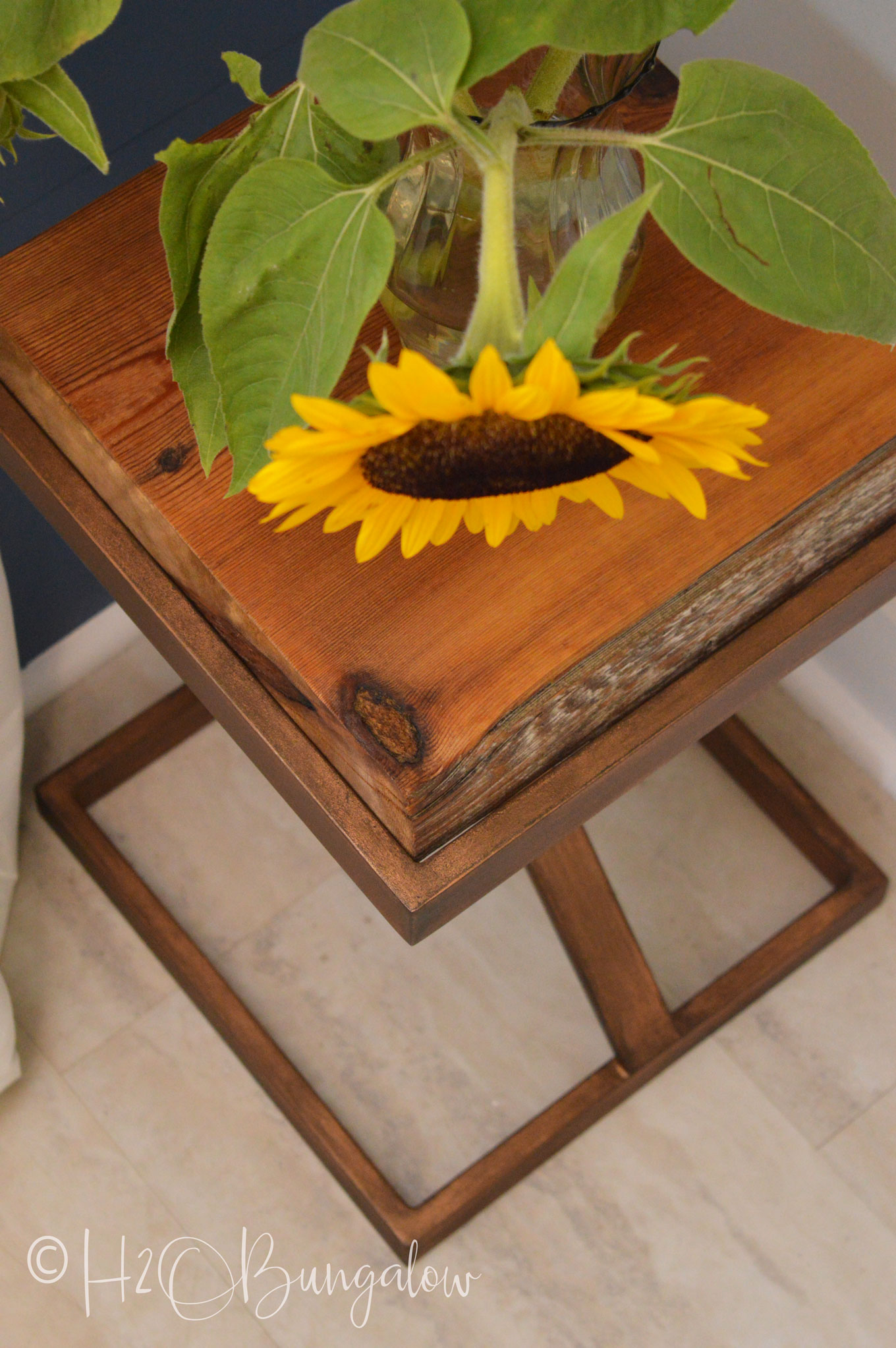 #5. Place the new wood top onto the table where the glass top was. The small support pieces that held the glass hold the wood.
I made my repurposed metal and wood side table in an afternoon. Upcycling or repurposing old gold metal glass furniture is easy my friends! Depending on the type of insert you replace the glass with you can make a DIY industrial metal with wood top side table or a sleek and modern side table from the same metal frame.
Pin this project for later or share it with your Facebook friends!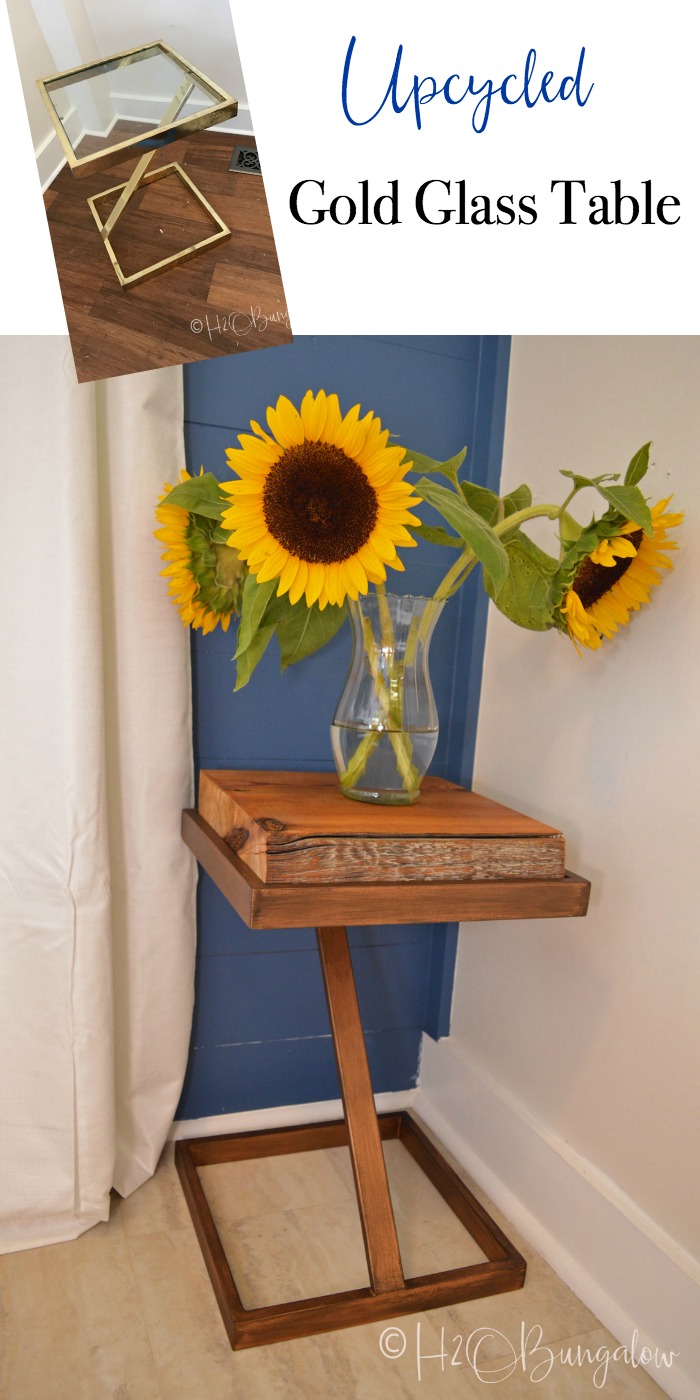 Don't forget to take a peek at what my creative team mates came up with for this months Power Tool Challenge!
The Kim Six Fix Vintage Surveyors Tripod Lamp
Virginia Sweet Pea DIY Candlesticks Using Upcycled Bedposts
H2OBungalow Repurposed Metal and Wood Side Table – that's me!
Create and Babble Little Round Stool
My Love 2 Create Small Decorative Caddy
My Repurposed Life Easy One Pallet Project
Designed Decor Build Your Own Tufted Bench
Pin this too!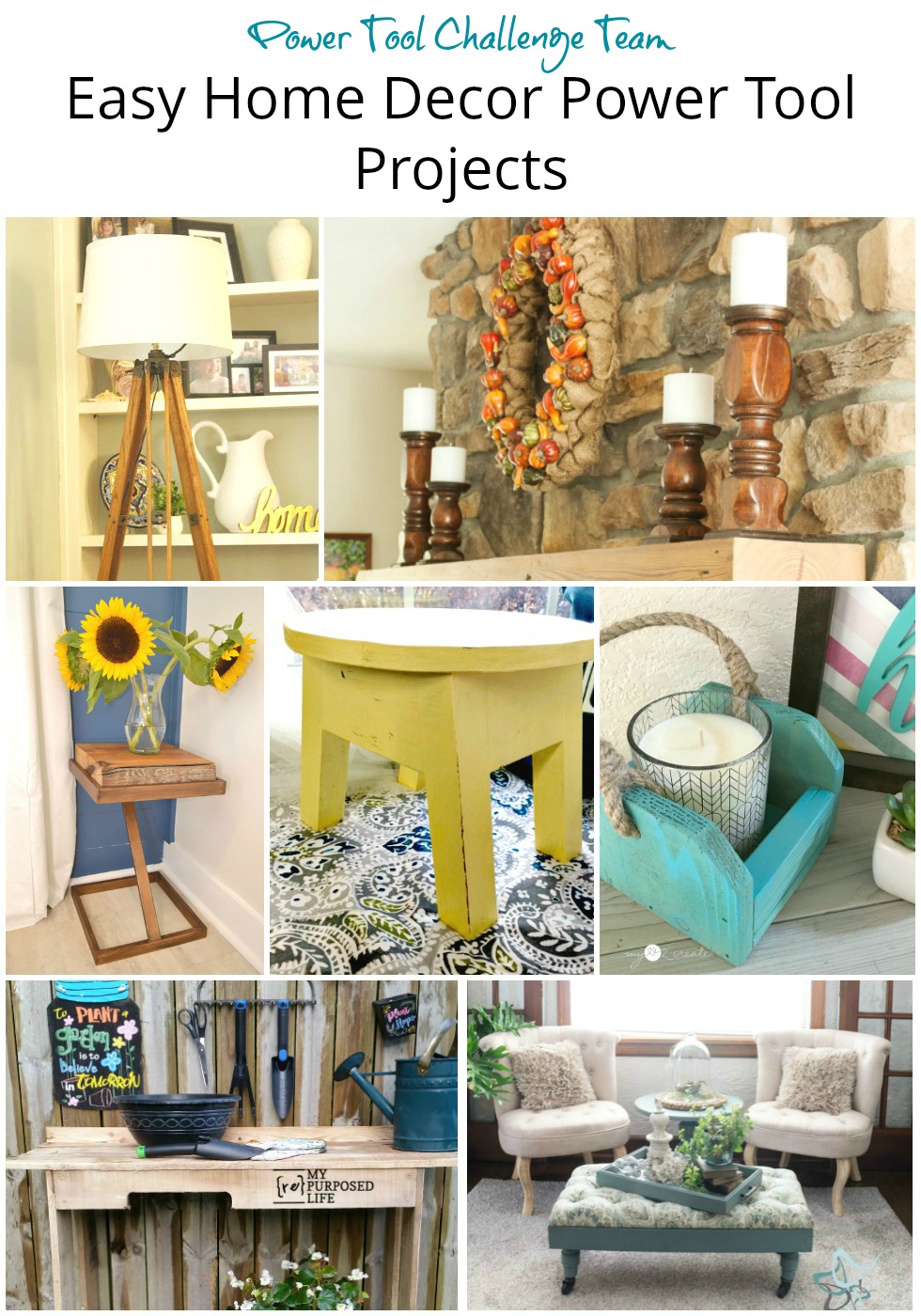 Can you think of other ways to upcycle metal and glass tables like my repurposed metal and wood side table? I can see adding tile inserts for the top, or maybe slate. I also liked reusing the glass top for this metal table after the frame is painted and updated.
Share your ideas and thoughts below!