This DIY outdoor standing towel rack was the perfect solution to wet towels from the beach!
Now that we are fully in summer mode, I need to brace myself for the onslaught of weekly laundry loads of beach fare. Wet bathing suits and towels strewn about outside, and sandy toes at the door. When it's hotter than you know what in FL, there's only one place to be…the beach! I finally have a plan to help cut down the challenge of drying the piles of wet suits and towels. I made a DIY outdoor standing towel rack for this month's Power Tool Challenge Team's theme of "Summer".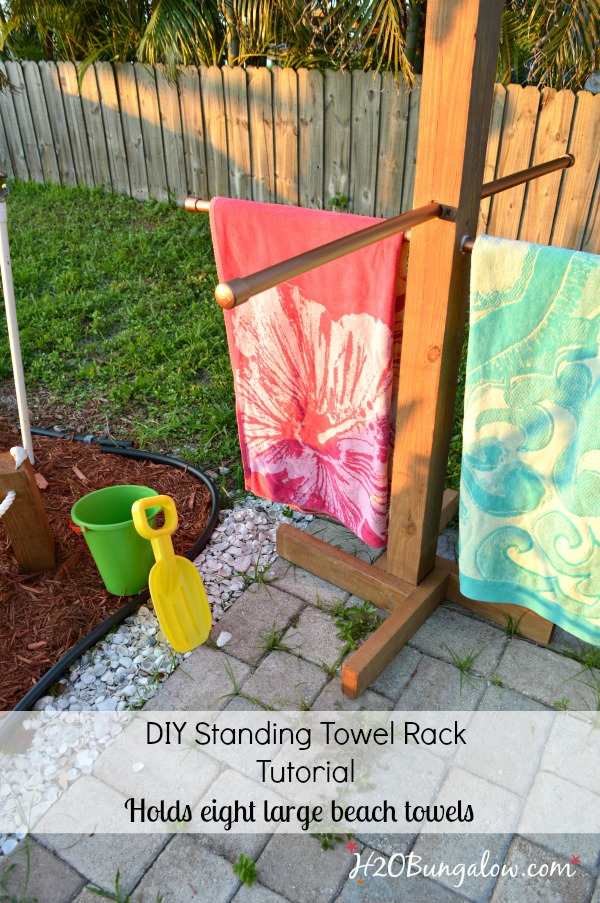 Which is perfect, because this project is part of my 30 days To Fabulous Backyard Makeover!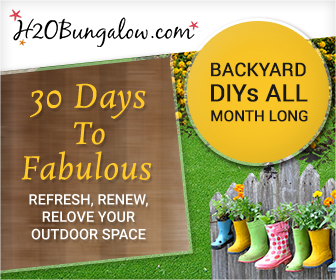 There's only one thing worse than a pile of wet beach towels…
…a pile of musty wet beach towels!
Which happens really fast in the summer. My DIY beach towel drying rack holds eight large towels or bathing suits.
How to make a DIY outdoor standing towel rack
One of the best parts of belonging to a group like this is the learning and inspiration that goes on between members. Last month, when Christy from Confessions Of A Serial DIY'er showcased her free-standing plant holder, a light bulb went off in my head. I knew immediately how I was going to solve my wet towel problem!
DIY outdoor standing towel rack cut list
1- 4″ x 4″ cut to 6′
4 – 1″ PVC pieces cut to 50″ each
4- pressure treated 2″ x 4″ cut to 16″ each
DIY standing towel holder tool and supply list
spade bit 1 1/4″ – like this one, Don't use the type with the point threaded like a screw!
2 1/2″ outdoor screws
measuring tape
pencil
There are few options to make this project if you don't have a drill press, which I'll share below. I just happened to get my new Ryobi Drill Press, and couldn't wait to try it out!
Since I was drilling a six foot 4 x 4 that was heavy, it was easiest to drill it close to the ground. Besides, I didn't have anything tall enough to prop up the end as high as my table plus the height of the jigsaw! You'll see my set-up in the picture below.
Mark the 4 x 4, 3″ and 35″ from the top on one side, and 6″ and 38″ from the top on the next side. This will give you two top hanging bars and two lower hanging bar positions.
Three options for attaching the towel bars to the DIY outdoor standing towel rack.
Use a drill press to drill four holes all the way through the 4 x 4 with a 1 1/4″ spade bit. I drilled pilot holes first and moved to the bigger bit after. Be sure to change the belt speed on your drill press to 900 rpms for the bigger size bit 🙂
Use a 1 1/4″ Forester bit and a drill or drill press, drill in about an inch or so. Cut the pvc pipe so it has enough length to fit in the hole, and extend 24 inches from the post with the end cap on. Glue it in the hole with the Locktite Power Grab adhesive that Kim Six used on last month's Power Tool Challenge.
Use hose clamps to attach the pvc to the side of the 4 x 4 like I suggested in my DIY Coastal Rope Garden Border Fence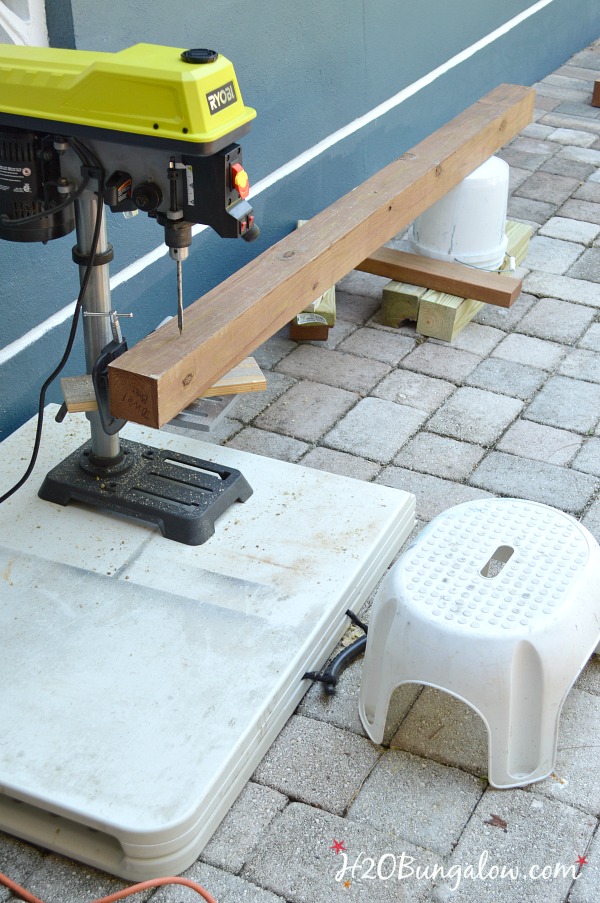 Do not attach the pvc towel bars until after base is assembled!
Attach the base to the towel stand
Drill two pilot holes 2″ from the end of each 2 x 4 base piece.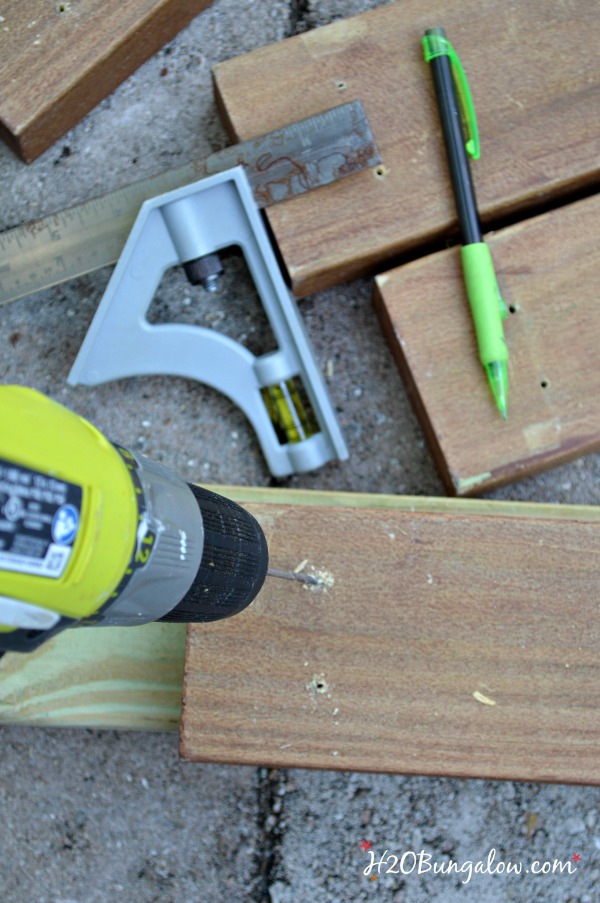 Assemble the base like the picture. It's easiest if you attach one base piece to one side, flip over the 4 x 4 and attach the next base piece. Then prop it up on something sturdy, (like this cat litter box, LOL) and attach the next leg, flip it again and attach the last leg.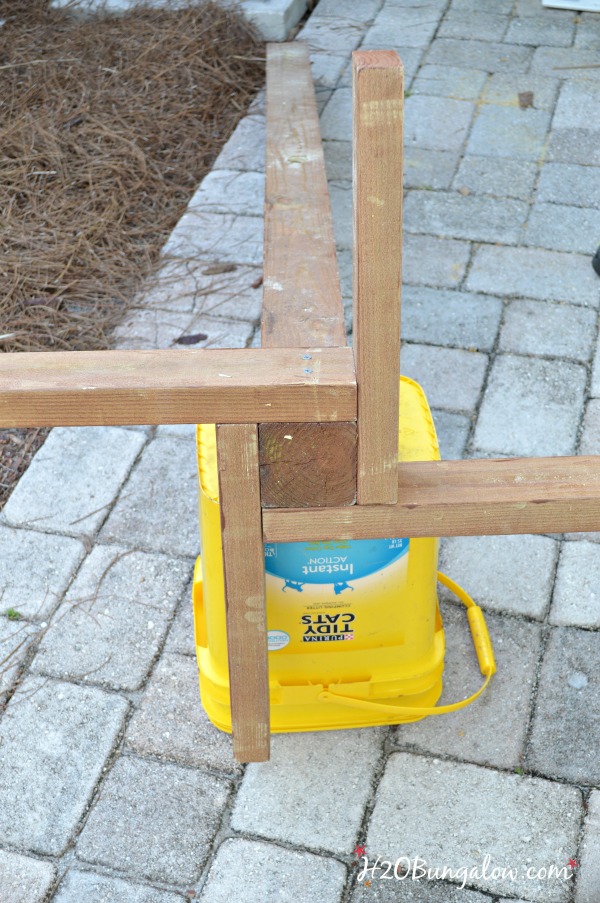 This baby is big, and will hold eight large wet beach towels and bathing suits! This is the perfect spot for it since our outdoor shower is right around that corner. It looks good with my new coastal rope border fence and my DIY hammock stand. If you'd like a smaller towel or coat rack to hang on the house or inside on a wall, you might like this DIY coastal whale coat rack.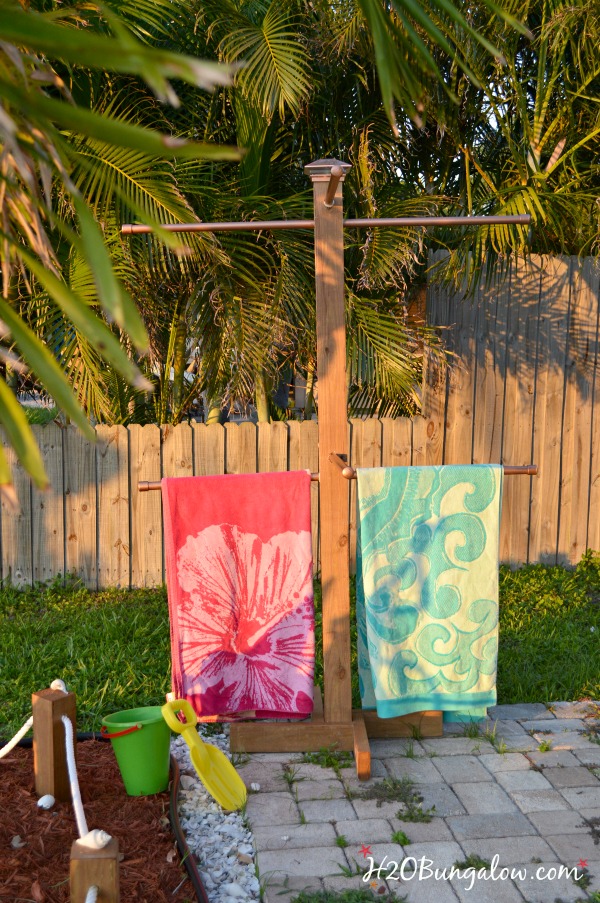 I added a copper solar cap to the top.
Since I had to reposition the post when I was drilling it several times, my holes are slightly larger than 1 1/4″. I wanted my pvc bars to be extra snug, so I wrapped some double sided sticky tape around the center and worked it into the drilled hole.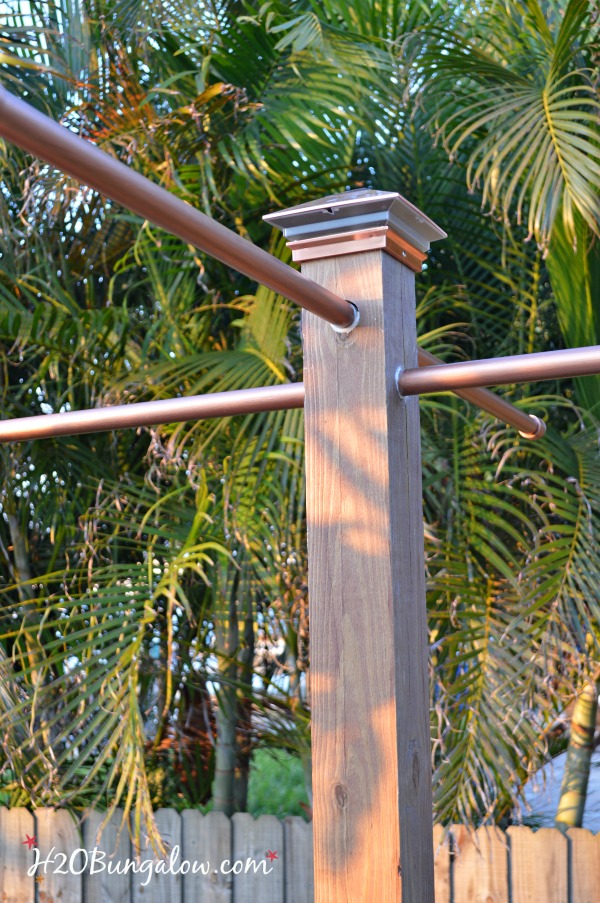 I filled my extra space with with an adhesive I had on hand.
Someone has to get some weeding done 😉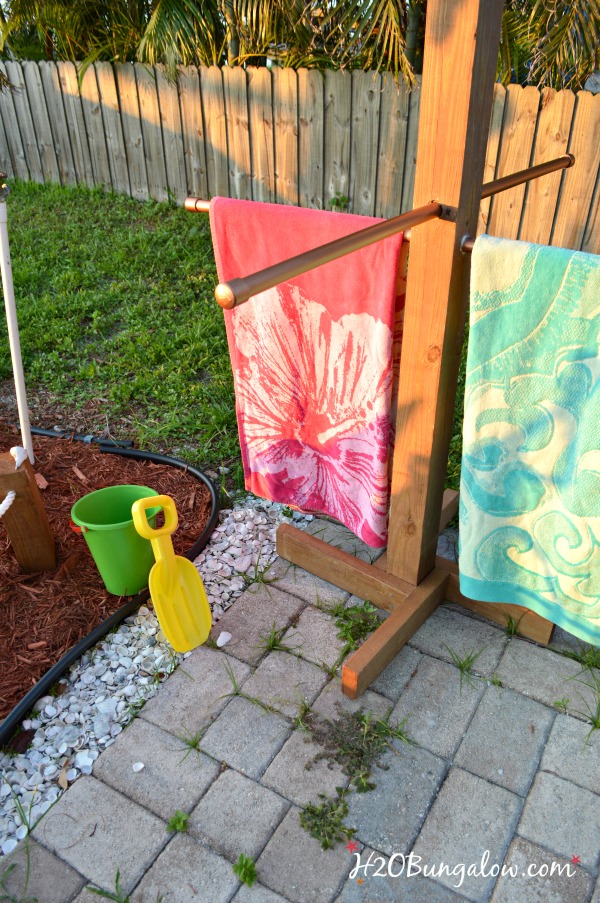 My post has a coat of my new favorite outdoor wood treatment, my Thompson's WaterSeal Semi-transparent finish. I painted my PVC bars copper to match the copper solar light cap and used Modern Masters, which is an authentic copper paint. Be sure to use their primer f you are using this paint!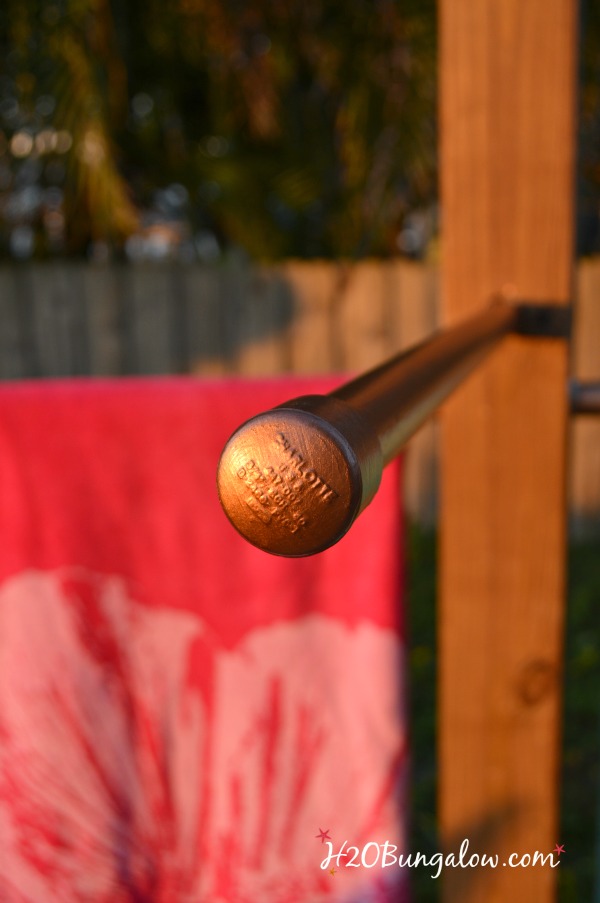 Of course building the towel rack was the easy part!
My challenge may be getting everyone to hang their beach towels on my DIY outdoor towel rack as soon as they get home.
If I threaten them with laundry duty, it may just work;)
Looking for more outdoor and backyard summer inspiration? See my other 30 days To Fabulous Backyard Makeover Projects!
Project #5 of my 30 Days To Fabulous Backyard Makeover
See my other 30 Days To Fabulous Backyard Makeover Projects below!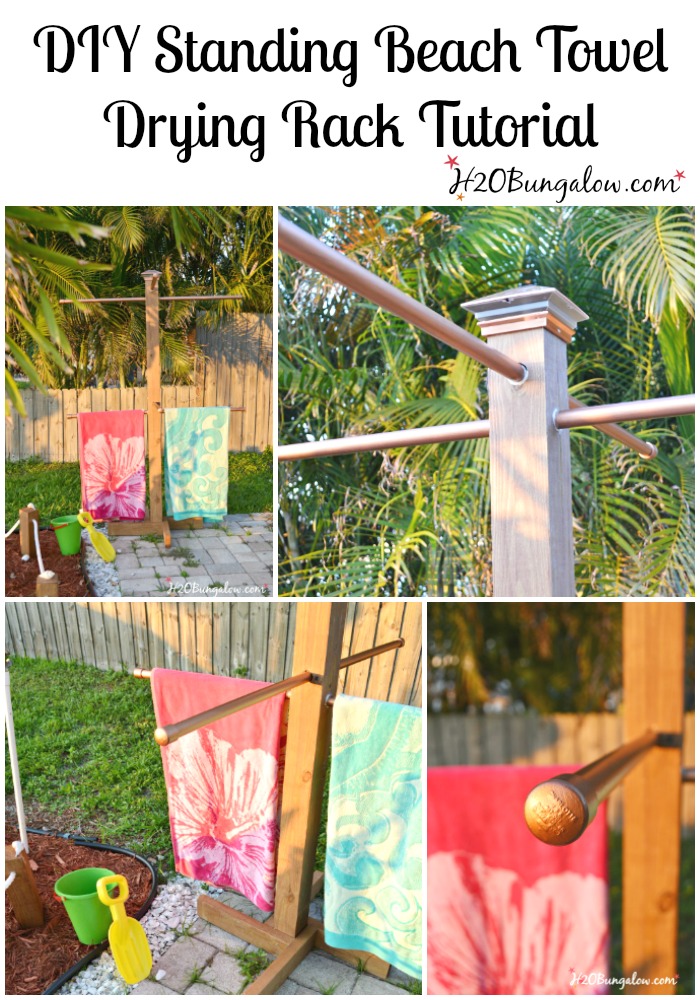 This freestanding outdoor DIY towel drying rack is perfect for a pool, beach, lake house or any household who uses lots of summer beach towels.
Where would you use one?
Summer is all about outdoor and outdoor fun. Take a look below to see what the rest of the Power Tool Challenge Team created this month!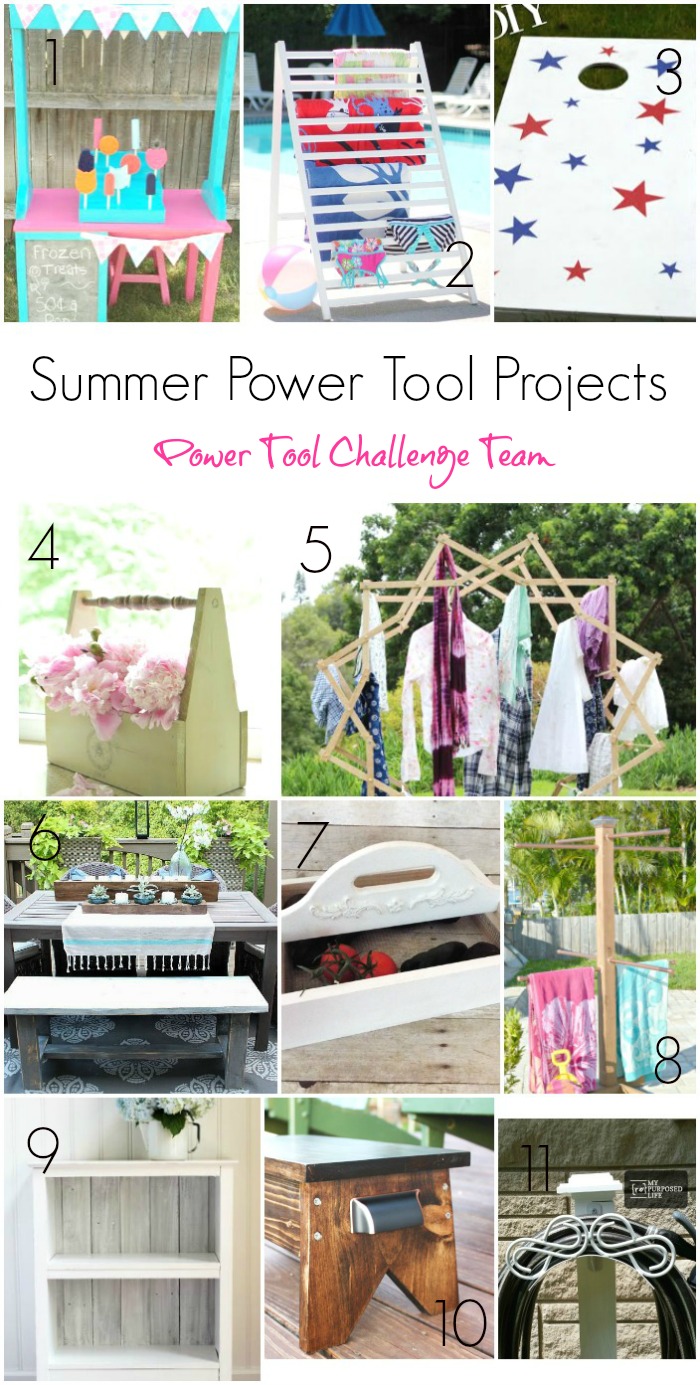 1 Frozen Treat Stand by My Love To Create
2 Red White And Blue Cornhole Game by Create And Babble
3 Drying Rack From Old Crib Rail by The Kim Six Fix
4 Chair Spindle Wooden Garden Caddy by Interior Frugalista
5 Star Clothes Drying Rack by A Piece Of Rainbow
6 Farmhouse Bench Building Plans by Refresh Restyle
7 Vegetable Gathering Basket by Designs By Studio C
8 DIY Standing Towel Rack Tutorial by H2OBungalow (That's me!)
9 Reclaimed Wood Bookcase by Confessions of A Serial DIY'er
10 DIY Footstool by Virginia Sweet Pea
11 DIY Hose Hanger by My Repurposed Life