Hey friends! Today I'm sharing how to make Scrabble wall art using the Scrabble wall art generator I made. You can easily make DIY Scrabble tiles for a wall using words from your favorite places, activities, family names, just about anything! I'm making it even easier for you, since you can download my Scrabble layout tool for free and make your own design. It's easy to use. Promise!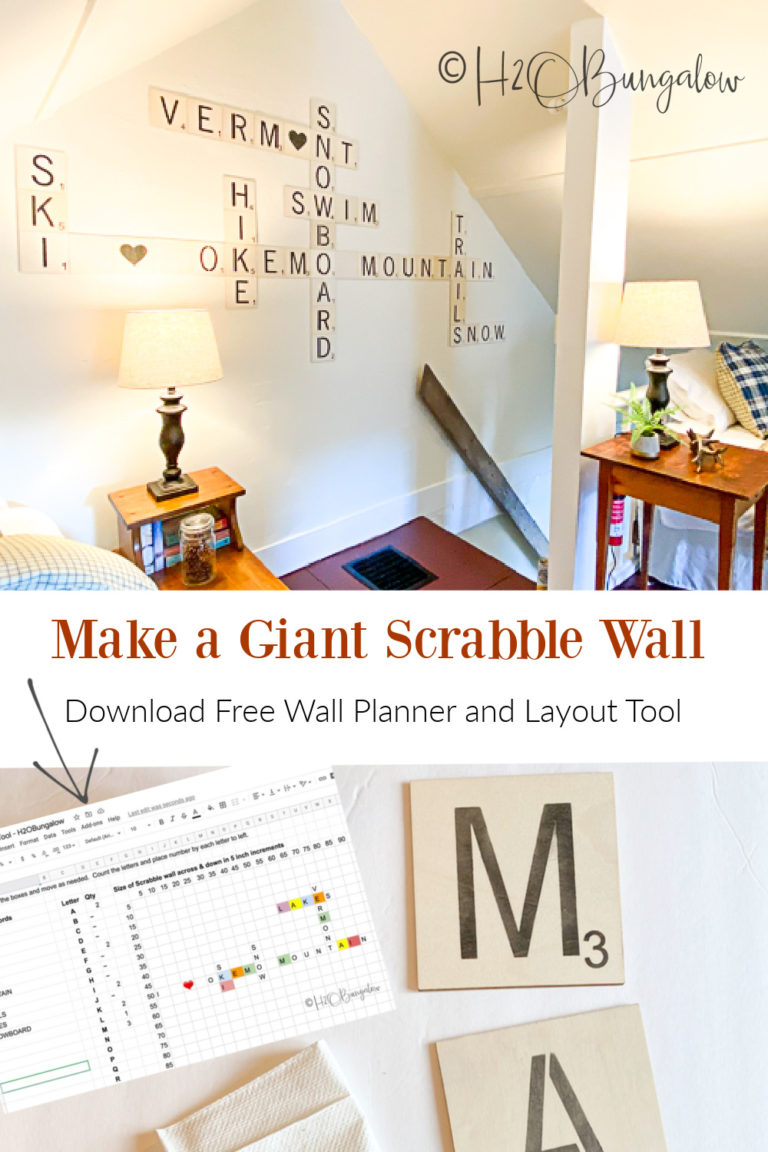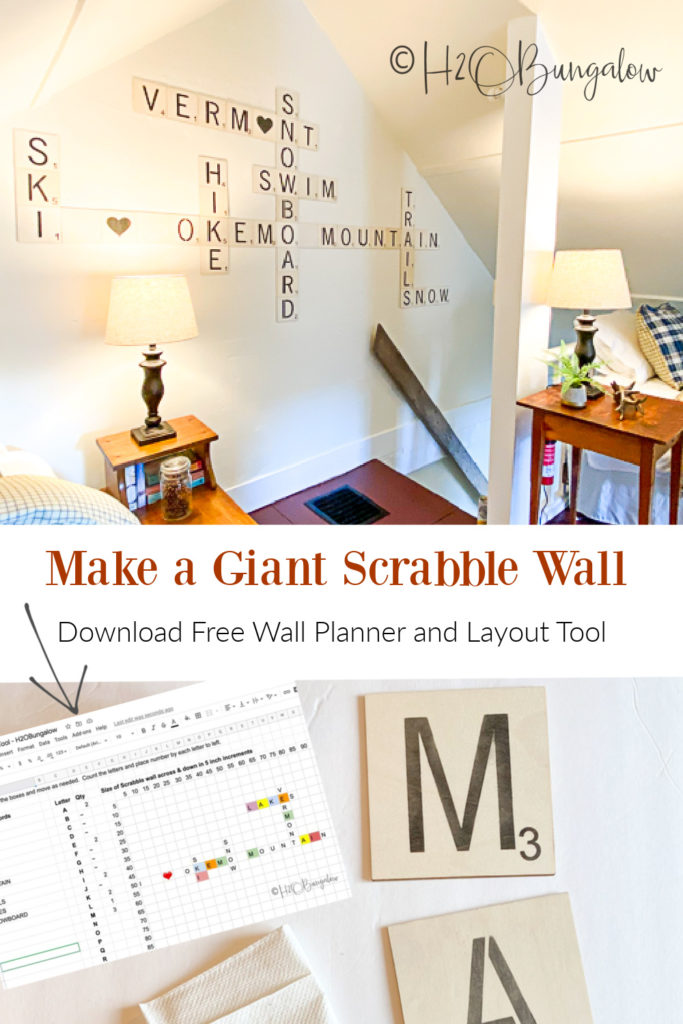 I just finished decorating the third floor of the North House Lodge and my scrabble wall art was the perfect inexpensive way to to make a bold statement on a big blank wall without breaking the bank! Large DIY Scrabble tiles are easy to make. You can cut your own wood, or do what I did and just buy the precut wood Scrabble tiles.
This post contains affiliate links, as an Amazon affiliate I earn a fee from qualifying purchases at no additional cost to you. Thank you for supporting H2OBungalow!
How to Make Scrabble Wall Art With the Scrabble Generator
This is what I used:
Step 1. Measure the wall space for your scrabble wall art and choose a theme.
I planned on using the odd shaped wall on the third floor. We had a big blank wall starting at the handrail and it was the perfect spot.
Double check your scrabble wall art will fit in the width and height of the space and not be blocked by anything before making letter tiles!
Step 2. Use the free Scrabble generator to make a tile layout.
Download a copy my free Scrabble wall art generator and layout tool. Make a copy of the generator so that you can use it. Start with a long phrase as the center of your scrabble wall art. A long phrase or large word will give you a lot more to build on when adding letter tiles and words.
If you need help finding words try this Scrabble word finder.
Use blank tiles between words. Next, begin filling in words down and across in the grid. I knew I wanted to use a Vermont theme so I started writing down a few words that fit. There's a heart stencil in the link I shared above.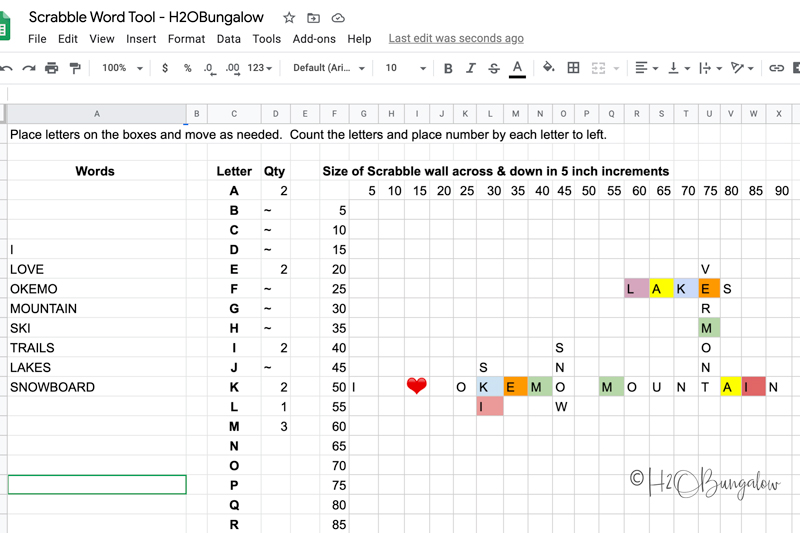 Once you're happy with the size and shape of your scrabble wall, count how many letters you'll need.
Start with the A's and work your way through the alphabet. I added a color to each letter as I worked. For example, make all A's blue.
I'd count the letters and add the number by each space on the left of the DIY Scrabble wall art generator. Next, move on and color all the B's yellow and so forth. There's no set color, just use the color tool and mark a color for each letter. This will help you not miss any letters.
Step 3. How to make DIY Scrabble tiles.
Now get yourself comfortable, turn on your tunes or a good TV show and start stenciling.
To make the scrabble tiles hold the letter stencil over the 5″ wood tiles. Dab the stencil brush in the paint, blot it off on a paper towel and swirl the color on with almost a dry brush.
If you need more stenciling help or tips check out my post on Stencil Tips For Beginners.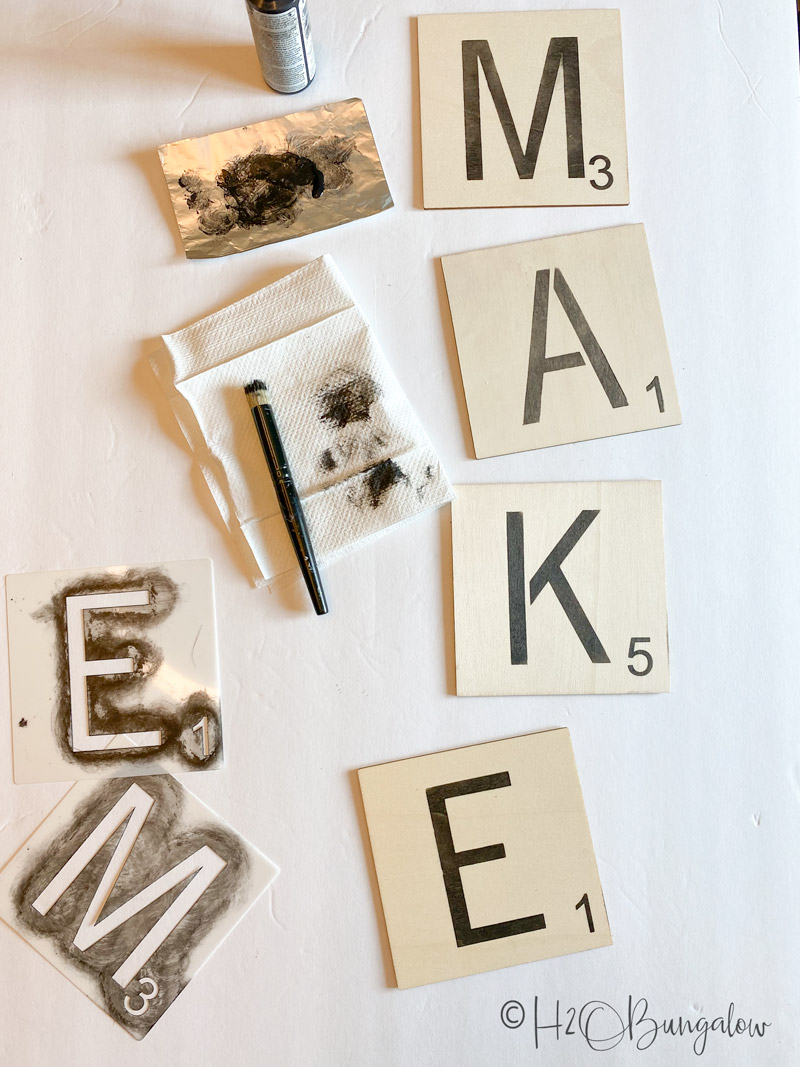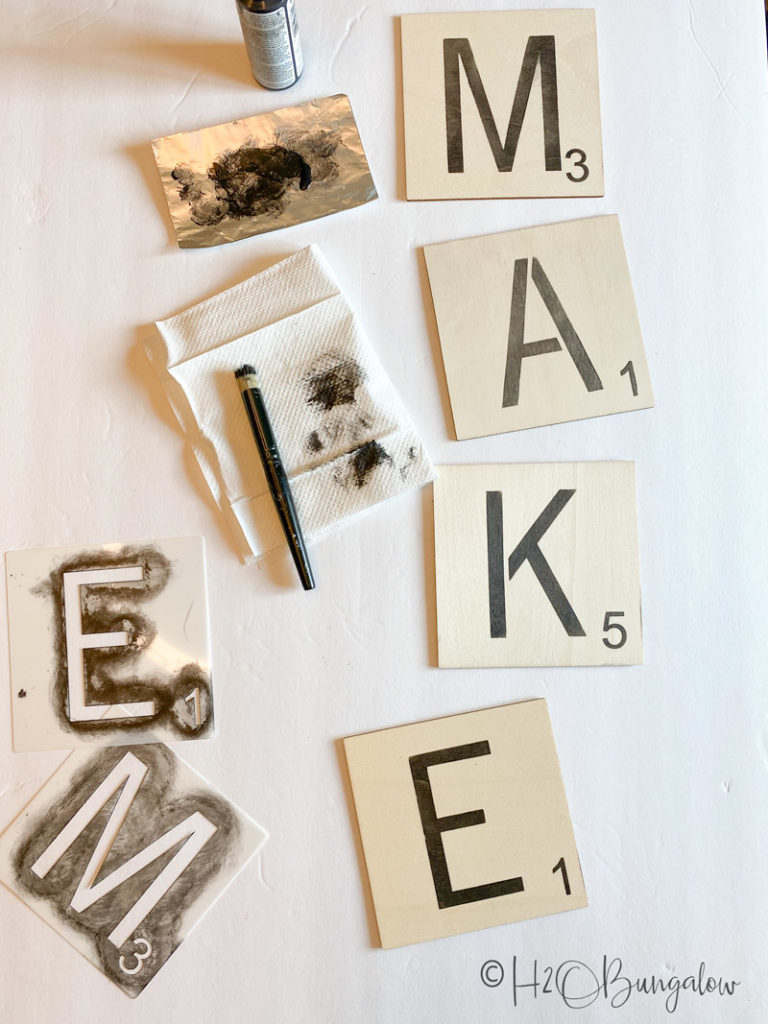 Step 4. Layout the Scrabble wall art on the floor.
Once the DIY scrabble tiles are done, lay out your design on the floor and double check it one last time. This is your last chance to make a change if needed.
I'm glad I did this step. With the sloped ceilings of the 3rd floor wall and the hand railing at the staircase I miscalculated my space and letters. I was able to fix it before hanging my first letter!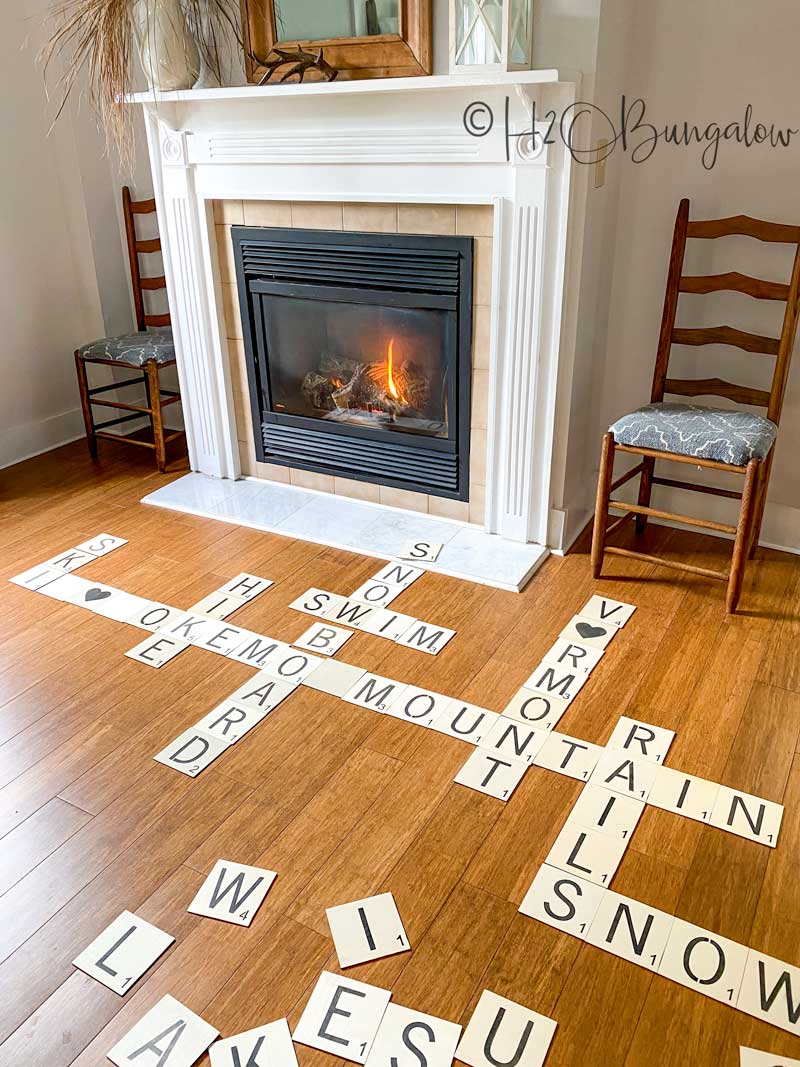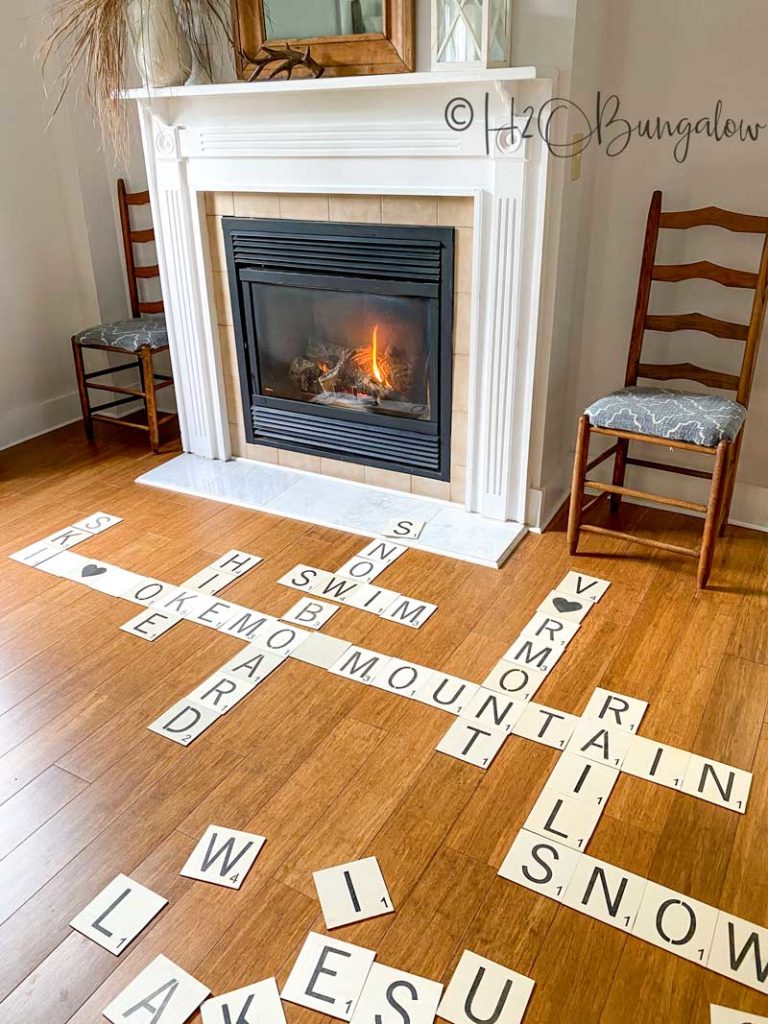 Step 5. Use a level and mark a straight line along the wall.
I know what you're thinking. How do you hang scrabble wall art and get it straight? It's easy when you use a 36″ level to mark a line at the height of where you'd like the bottom of the center of your word design to fall. Make the line long enough to fit the phrase or long word you used as the anchor.
Step 6. Attach Scrabble tiles to the wall.
The best way to attach Scrabble tiles to the wall is using double sided sticky tape. I cut 4 slices of tape and mounted one at each corner of the back of the wood tiles.
You'll work faster by grouping words or phrases together. I started with the long center phrase, and then added individual words one at a time.
Peel off the backing of the double sided tape and line up the tile from one side first, making sure the edges line up with the one already on the wall. Press firmly down at the four corners where the tape is to help it firmly set in place.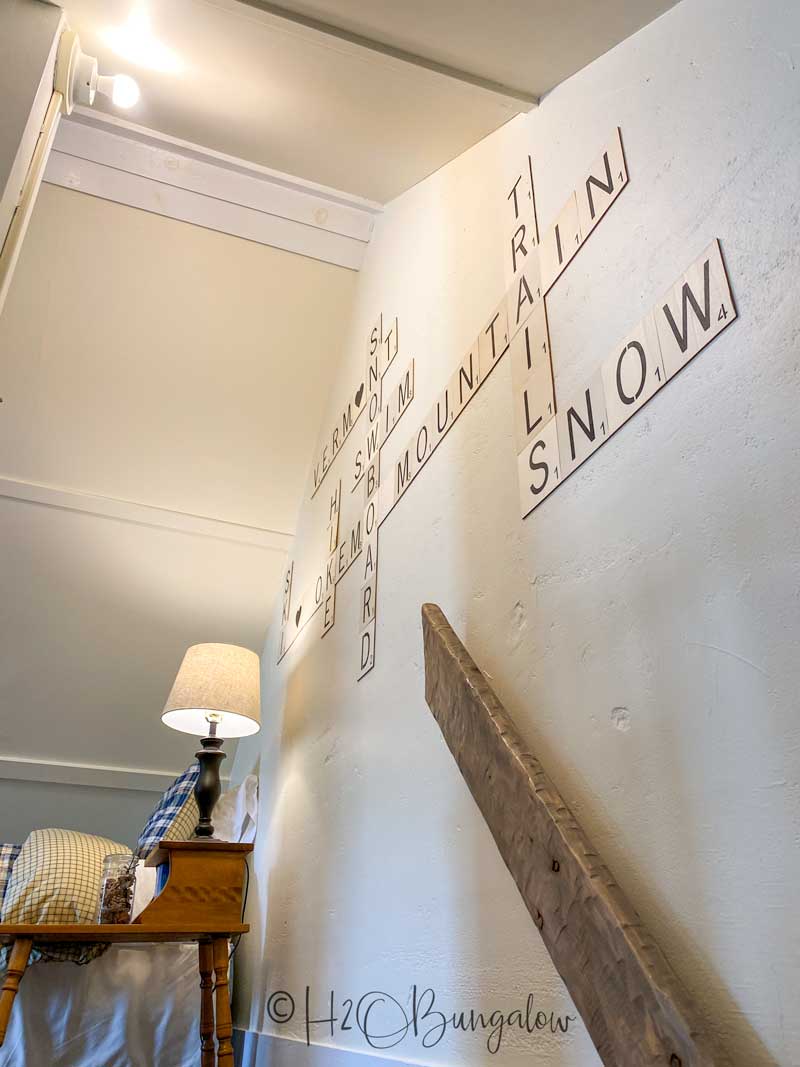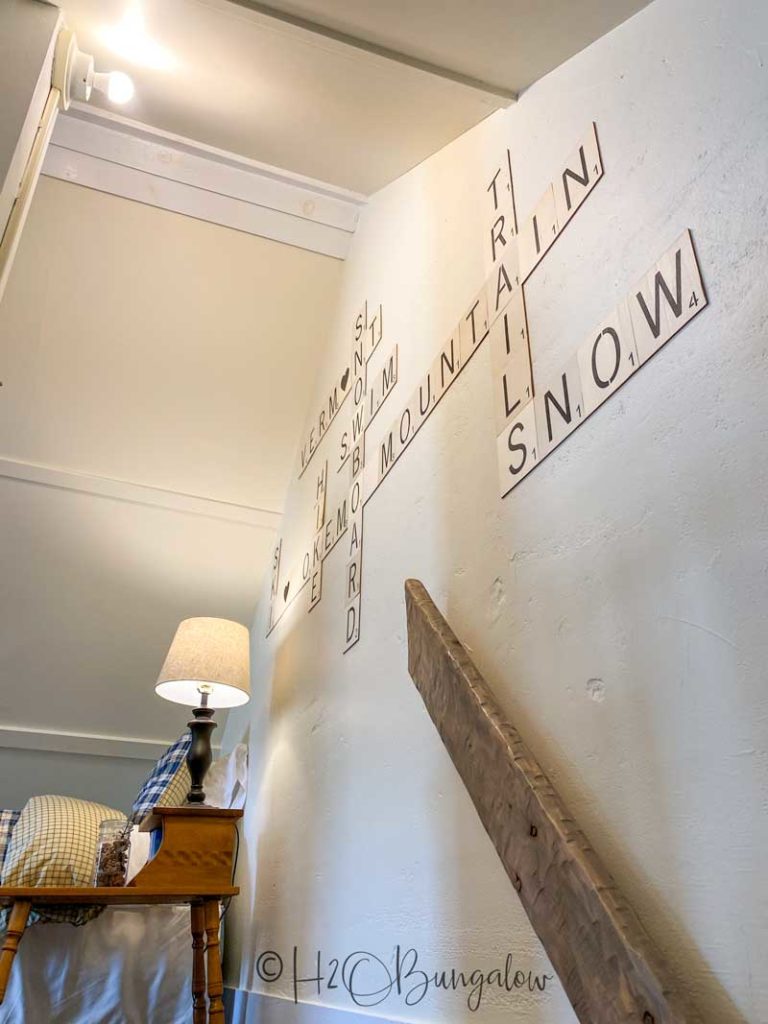 That's it! With just a few hours and a few supplies I've made my own DIY Scrabble tiles and a large DIY Scrabble wall art that's fun.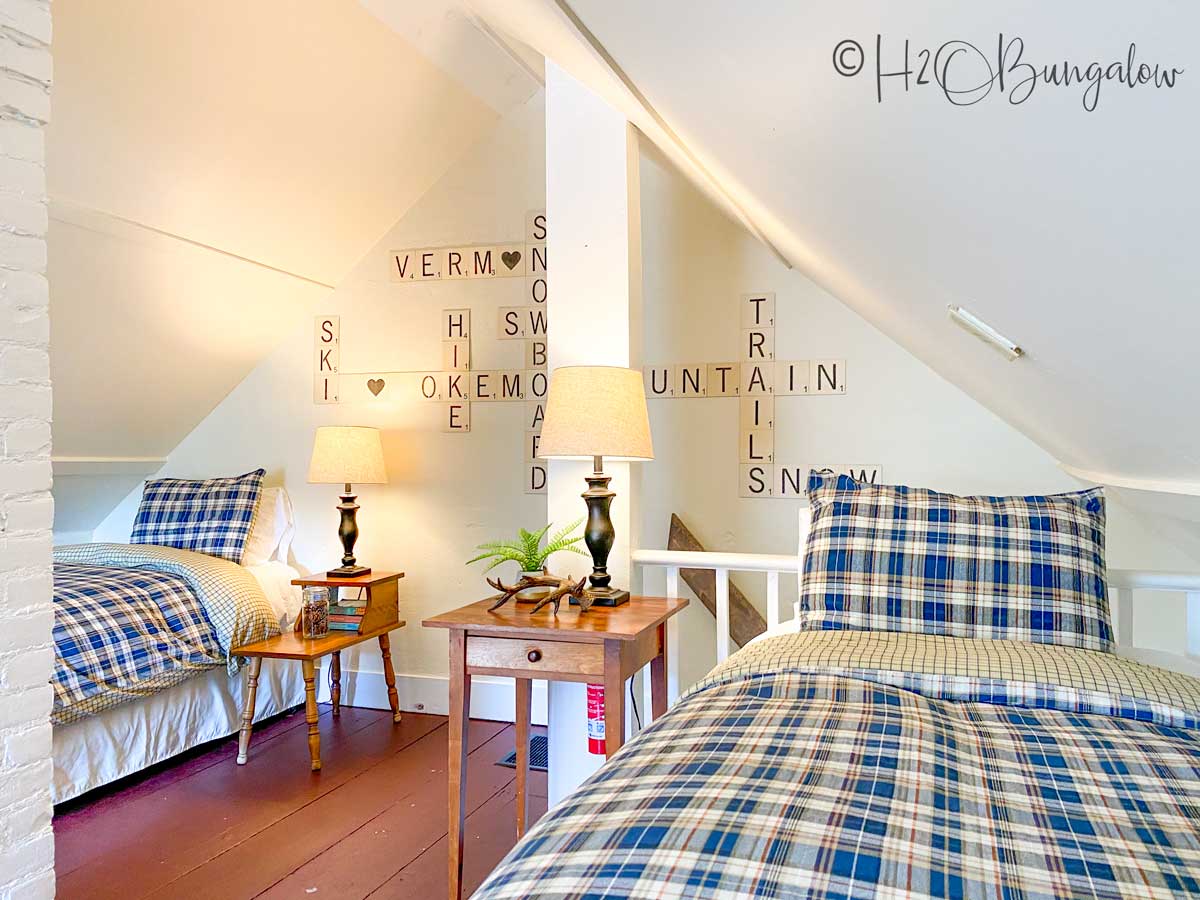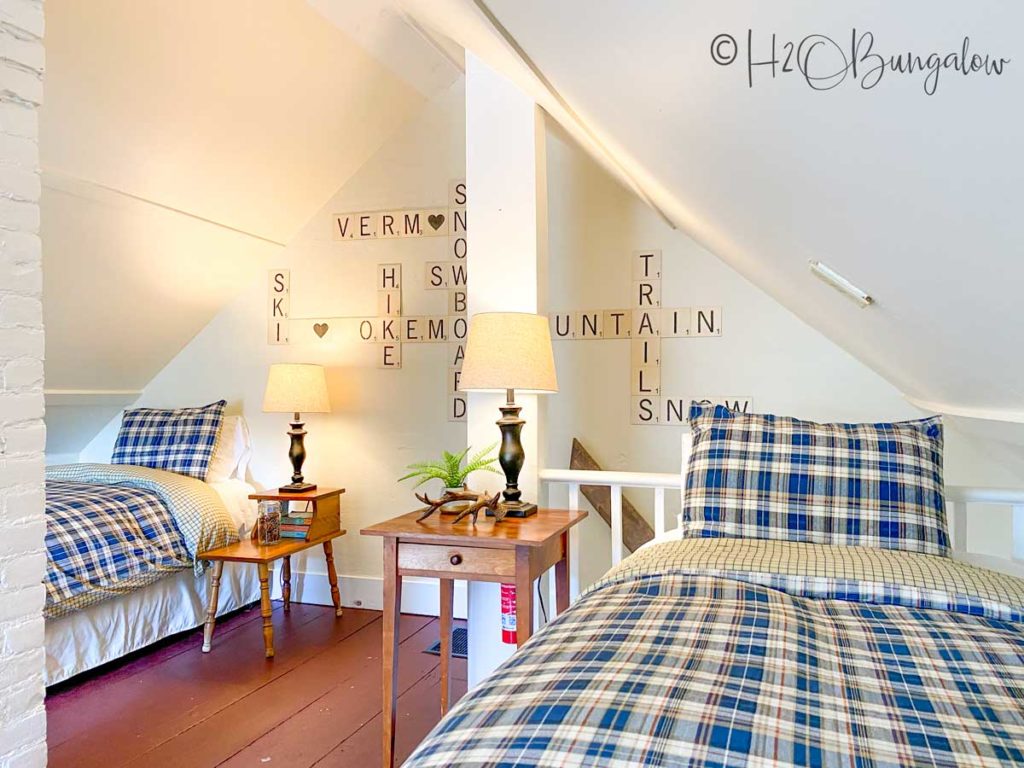 It's perfectly fitting in the rustic ski lodge style of this room.
Speaking of style, I gave this room a quick update by moving the furniture around and finding a few awesome pieces of furniture in our local antique stores!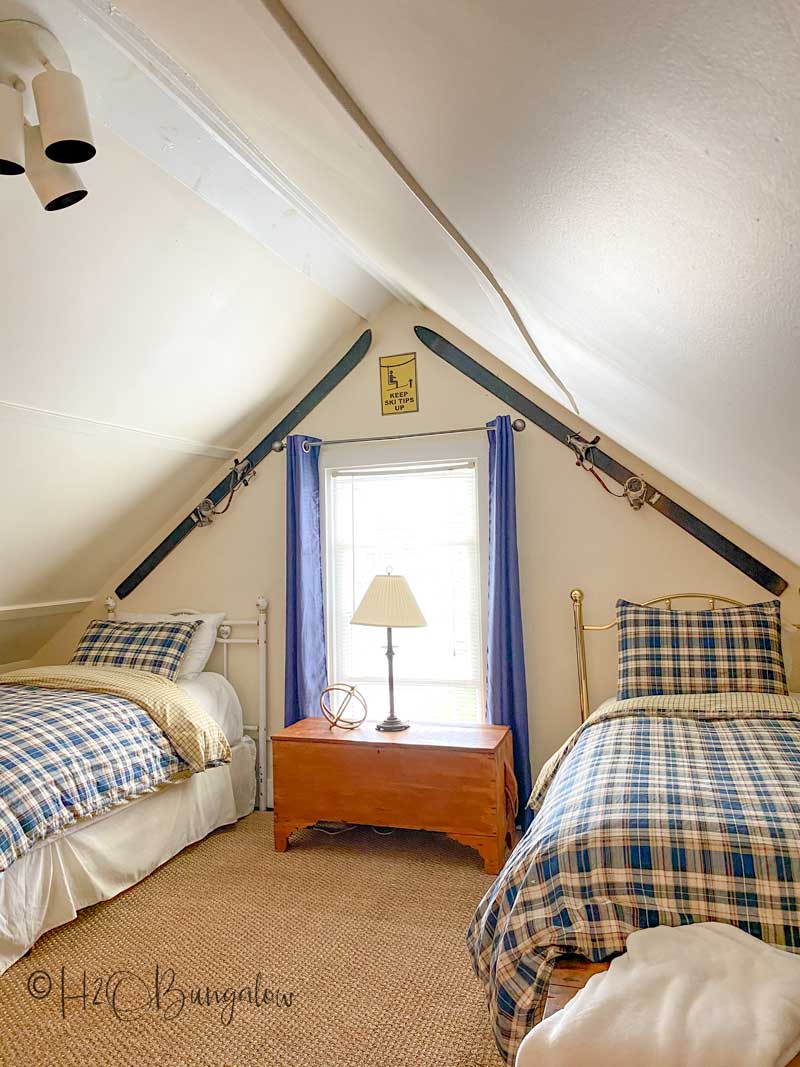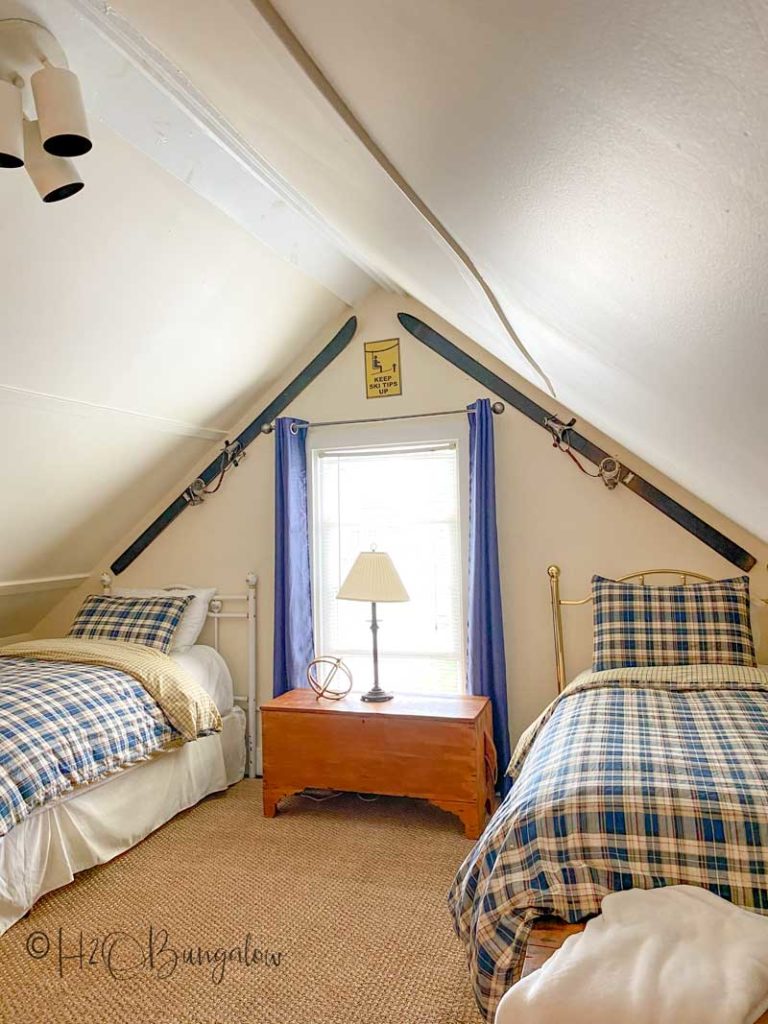 I shared what this room looked like before I gave it a mini-update earlier this week in my H2OBungalow Instagram feed. Follow me i!
Those skis were my dad's from 1950! We used drawer pulls to mount them to the wall without drilling holes in them. I found the Keep Ski Tips Up sign here. A steal at under $10!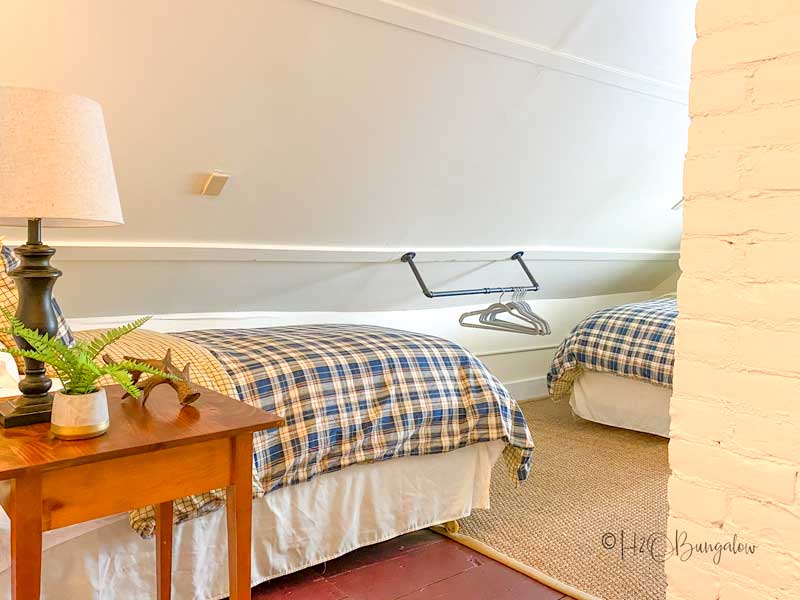 We added an industrial hanging clothes bar that mimics vintage pipes. There's a darling 4 drawer cottage pine dresser across from it that I didn't get in any of my photos.
But the biggest wow factor in the room is my DIY Scrabble wall art. Don't you think so? I love how it makes use of an odd shaped wall and extends down into the staircase over the handrail.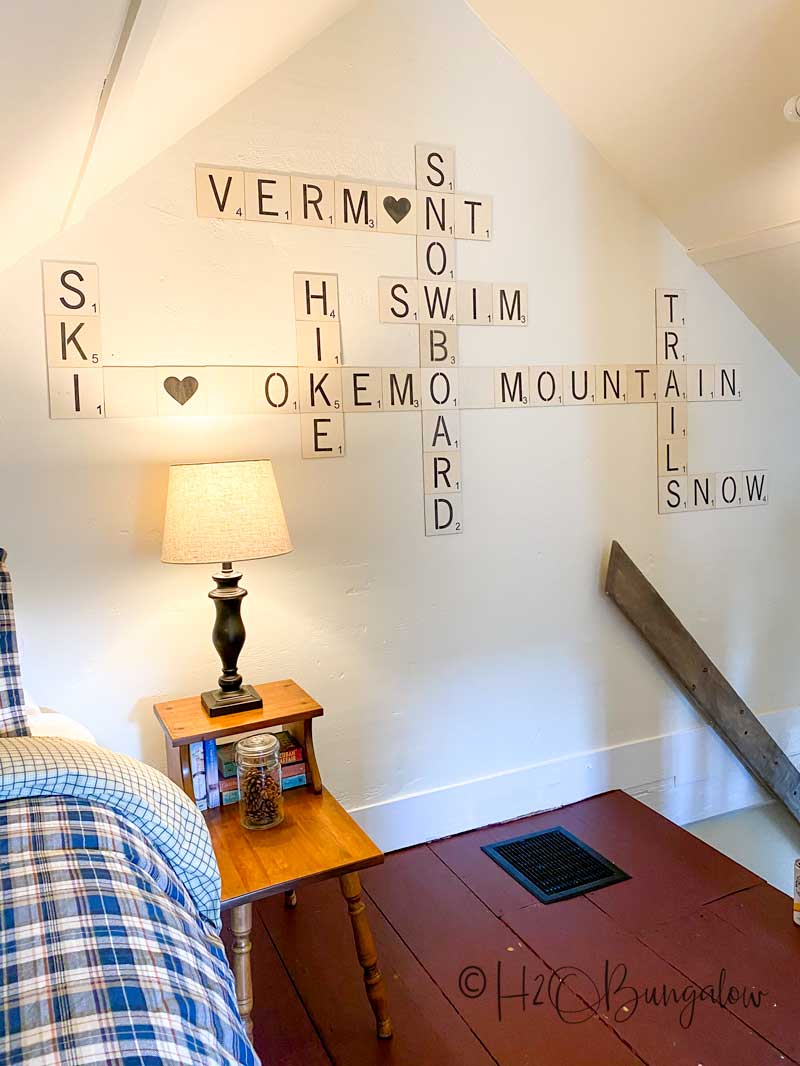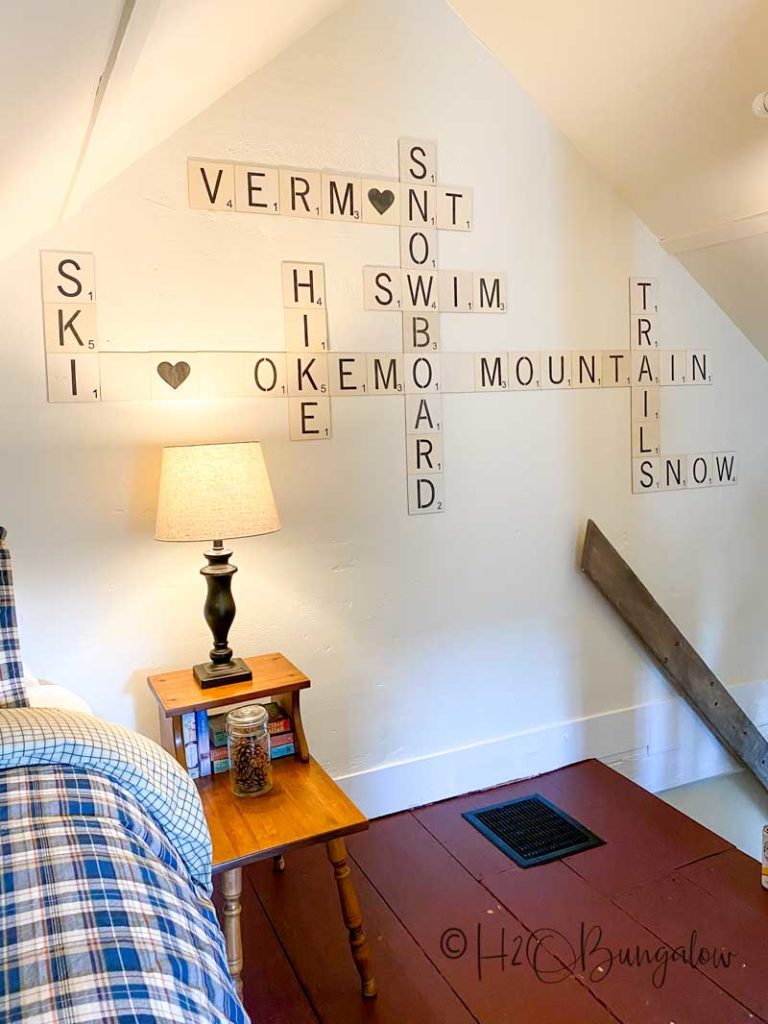 What sayings, phrases or family member names would you use if you were to make a scrabble tile wall?
Pin my Scrabble wall art project and share my free scrabble word generator and layout tool with your friends on Facebook!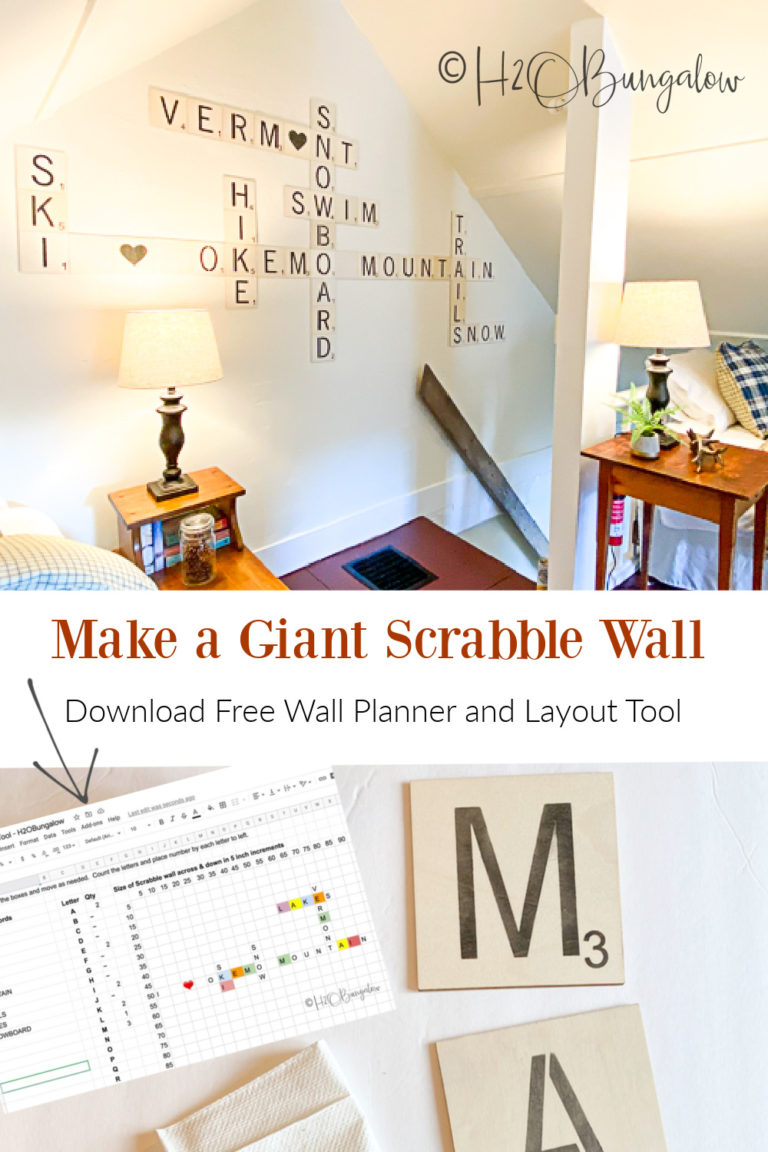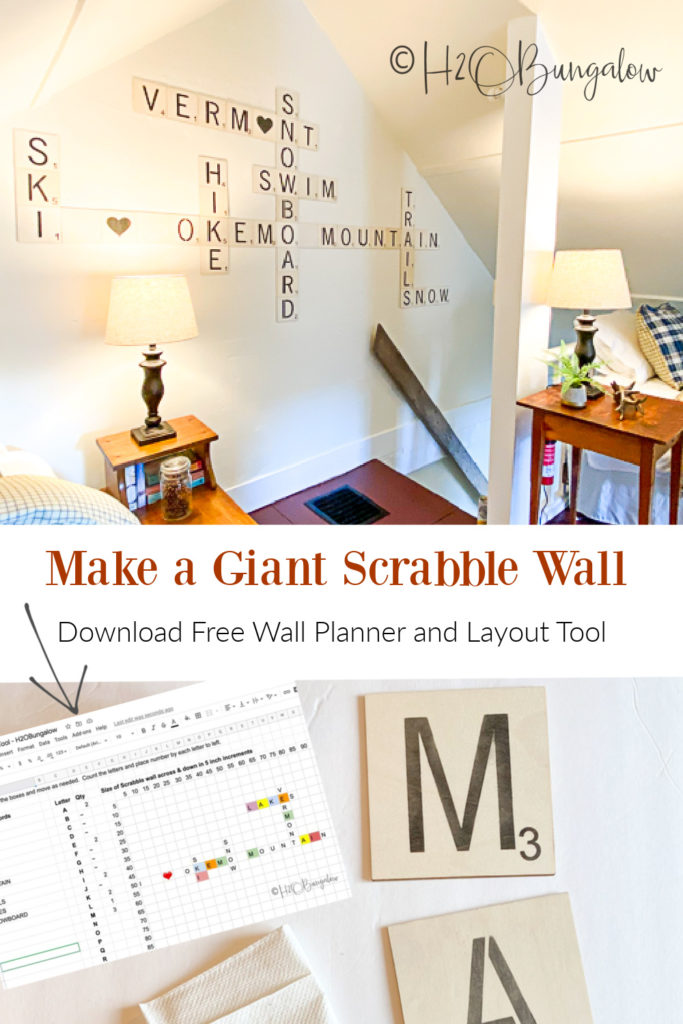 Looking for more wall decorating ideas? You may also like these other wall decor projects I've done.
DIY Large Modern Inspirational Wall Art
Rustic Modern DIY Picture Ledge